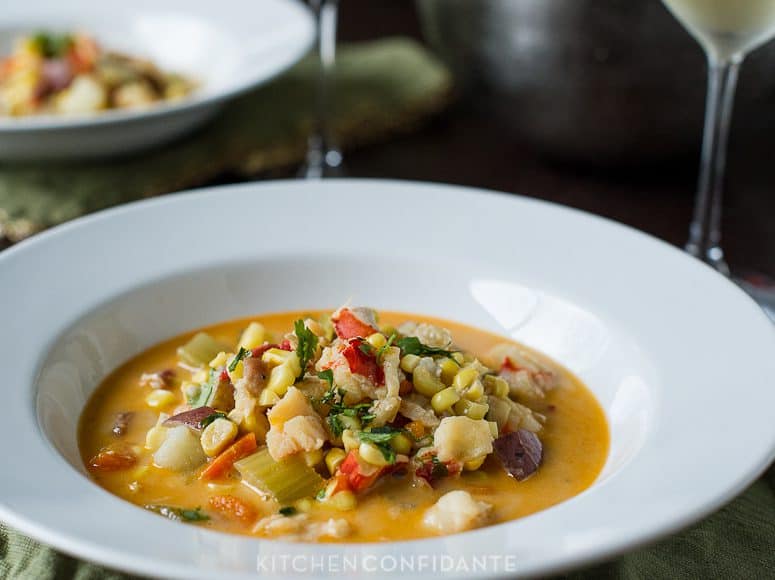 Lobster Corn Chowder
Most days, I fly solo in the kitchen. Sometimes it's easier (read: faster) that way. Other than the dog, I'm more efficient when I don't have to worry about stepping on toes, bumping into anyone, or supervising little ones handling knives. The thing is, it's…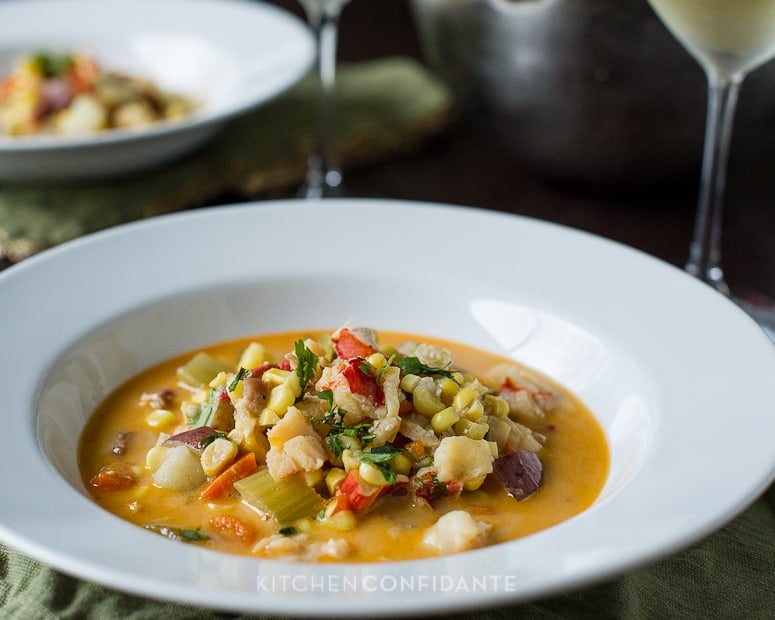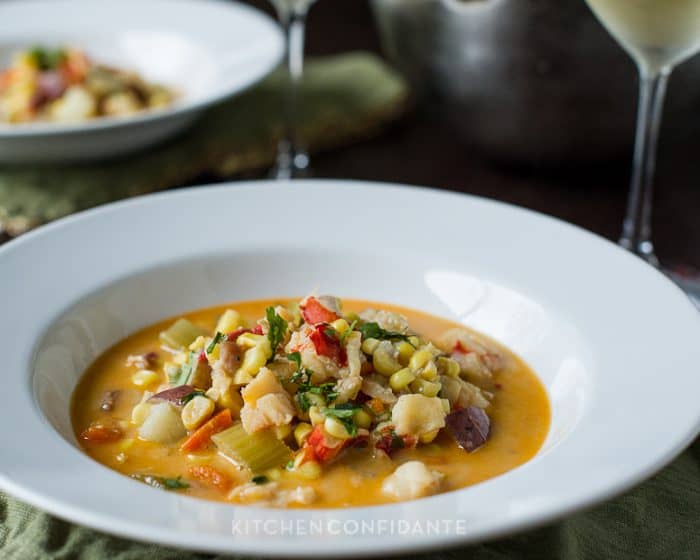 Lobster Corn Chowder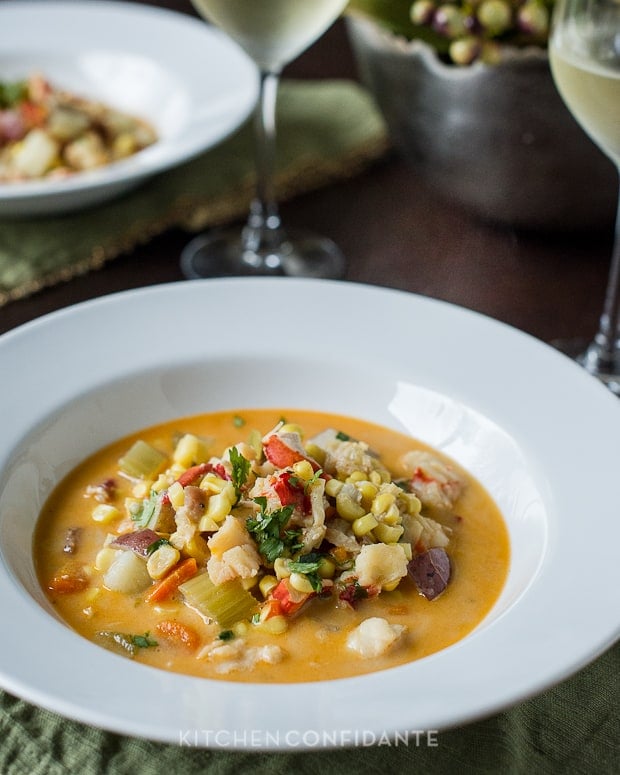 Most days, I fly solo in the kitchen. Sometimes it's easier (read: faster) that way. Other than the dog, I'm more efficient when I don't have to worry about stepping on toes, bumping into anyone, or supervising little ones handling knives.
The thing is, it's more fun when you have company. I love when I can handle the seasoning and hand off marinated meats to my husband to grill. I love when I can call on my daughter to mash the garlic or slice the cranberries. And when the holidays give you the gift of time with your family, having the extra hand in the kitchen means so much more than simply additional help. It's the joy of creating a special meal to share together. It's the best part of the holidays.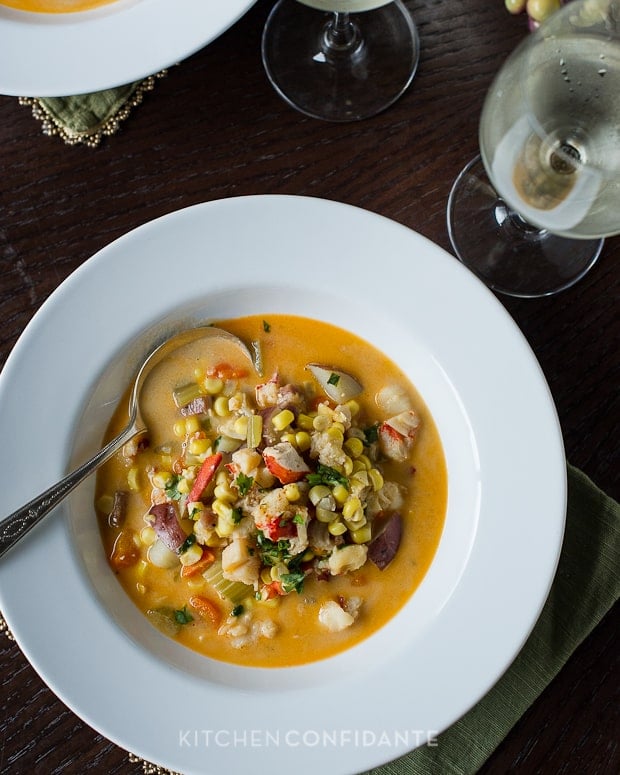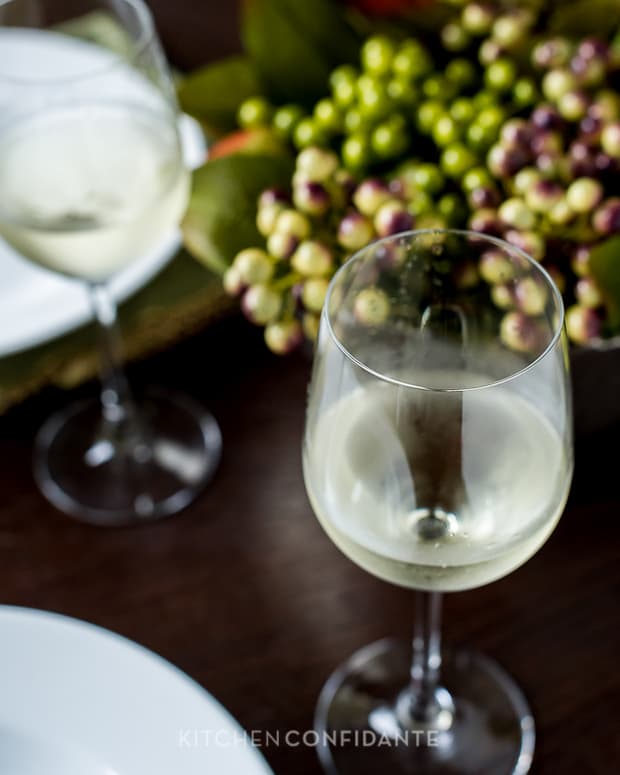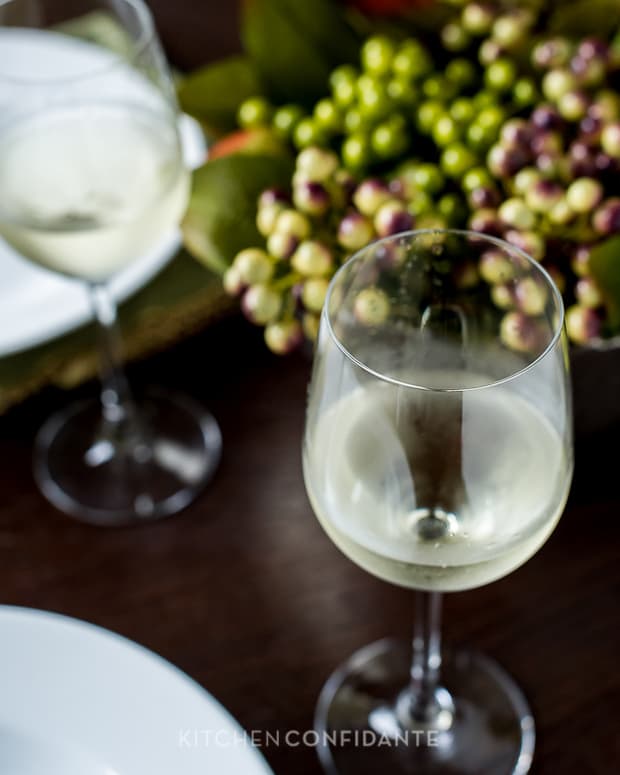 We've been enjoying this extra time. More moments in the kitchen, more Legos built, more board games, more movies. Together.
My husband surprised us all with some gorgeous lobsters earlier this week. As soon as I heard the scurrying of claws in the paper bag, I knew this wasn't going to be a simple lobster boil. I was going to make something special. Lobster Corn Chowder sounded really good.
With my husband in the kitchen, we tackled this labor of love. He worked on the lobster, cooking them, dismantling the shells and retrieving the precious meat. I set upon using the shells and lobster heads with corn cobs to create a rich broth. And between the two of us, the soup became something magnificent.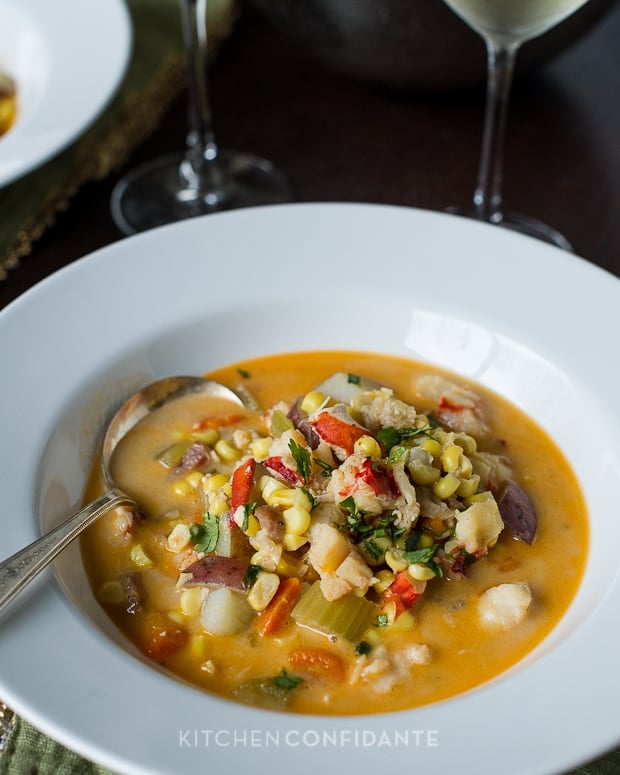 Gathered around the table, ladle-fuls of chowder transformed each place setting with its brilliant flavors. A humble soup made extraordinary, not because of ingredients, but because of time.
This holiday season, I wish this for all of you. Whether you make this chowder or breakfast, or a dozen cookies, I wish you time together. It truly is the best gift of all.
There's no way around it, making this chowder requires a little extra work (and pots and pans). This is not to be tackled for a typical weeknight supper. But for the holidays, this is perfect. New Year's Eve dinner, perhaps? Yes. And if you have the help from the ones you love, even better.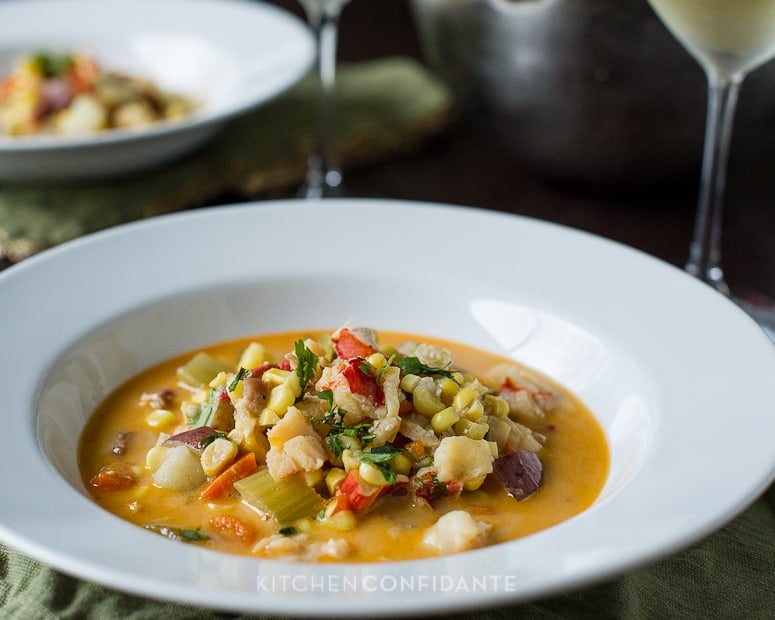 Print Recipe
Ingredients
4 1 1/2 lb live lobsters*
2 tablespoons olive oil
4 oz pancetta, diced
1 yellow onion, diced
3 stalks celery, diced
2 carrots, diced
2 teaspoons thyme
1/2 teaspoon cumin
1/2 teaspoon coriander
1/2 teaspoon cayenne pepper
1/2 teaspoon paprika, plus extra for serving
kosher salt, to taste
freshly ground pepper, to taste
2 cups white wine
2 cups heavy cream
3 ears corn, kernels sliced off cob, and cobs cut into thirds
6 medium red potatoes, diced
3 tablespoons cilantro, roughly chopped
1 medium jalapeño , thinly sliced (optional)
Instructions
Prepare a large stock pot of water and bring to a rolling boil. Prepare an ice bath, as well. Drop the lobster(s) in (working in batches if necessary), and boil for about 10 minutes. Plunge the lobsters briefly in the ice bath to stop the cooking process. Crack each lobster, removing meat from tails and claws, and reserve the shells: body, head, claws. Reserve 2 cups of the water used for the boil. Chop the lobster meat into bite sized pieces. Refer to my tips on how to boil lobster.
In a Dutch oven or large pot, heat the olive oil over medium heat. Add the pancetta and cook until it starts to brown. Add the onions and continue cooking until they are transparent and wilted. Retrieve the pancetta and set aside.
Add the celery, carrots, thyme, cumin, coriander, cayenne pepper, and paprika, cooking until the vegetables begin to soften, about 5 minutes. Add the reserved lobster shells/heads and stir in the white wine. Cook for several minutes, until the wine has cooked off and the liquid has reduced by half. Pour in the cream, and add the corn cobs and 2 cups of water reserved from boiling the lobster. Bring to a gentle boil, then lower heat and cover. Simmer for about 50 minutes, stirring periodically. Strain the broth using a colander, pressing the shells, cobs, etc. to extract as much broth as possible. Remove the shells and cobs and discard.
Put the broth back into the pot, and if you like a hearty chowder as I do, return the cooked vegetables from the colander, making sure there are no shells or extraneous particles. Season with salt and pepper to taste. Add the potatoes and reserved pancetta. Let the chowder simmer until the potatoes are fork tender. Add the reserved and chopped lobster meat to the chowder and heat through.
Serve hot, garnishing with cilantro, a few slices of jalapeño (if desired), and an extra sprinkling of paprika.
Adapted from Lobster-Sweet Corn Chowder, The Union Square Cafe Cookbook (Meyer & Romano, 1994).