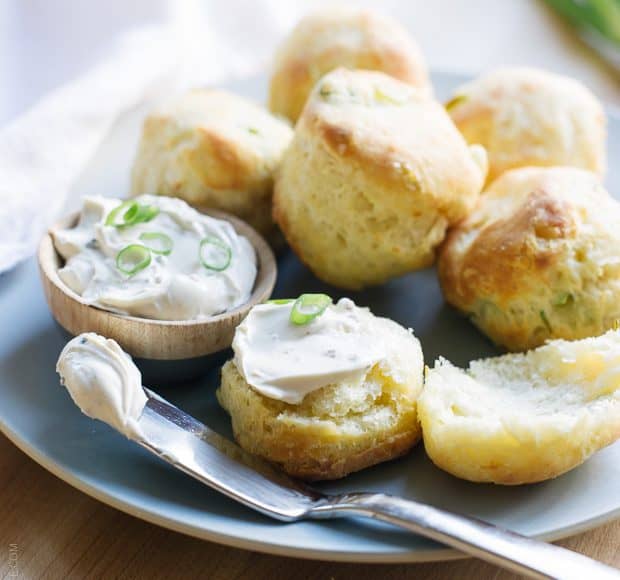 Cream Cheese and Green Onion Biscuits
When homemade flaky goodness is this easy, you'll be tempted to make Cream Cheese and Green Onion Biscuits every day.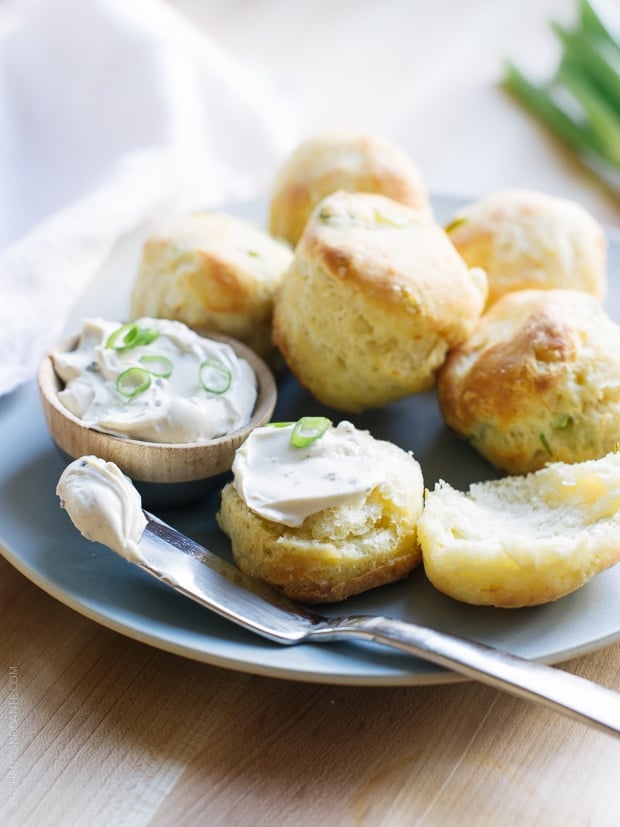 Cream Cheese and Green Onion Biscuits
This recipe for Cream Cheese and Green Onion Biscuits is easy to make ahead. Give it a try and enjoy the flaky goodness of homemade biscuits.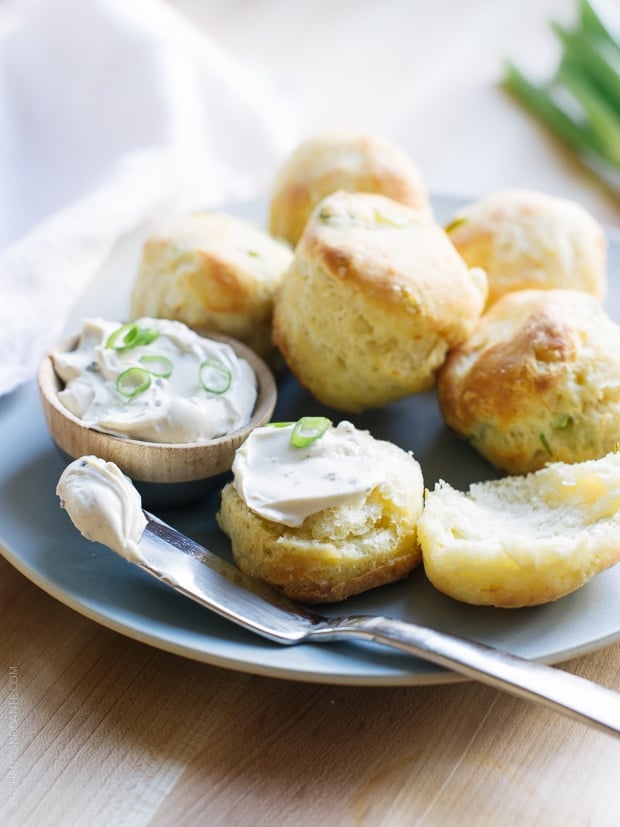 There are some foods that say, "I love you." A perfect, hot cup of coffee, stirred just so, placed on the nightstand before your eyelids flutter. A freshly baked chocolate chip cookie, made with love, that bends as you lift it up off the baking sheet, chocolate melting onto your fingertips. A bowl of chicken noodle soup, each spoonful of thick noodle and rich broth reminding you that someone cares.
I'm going to add another one to the list: biscuits. Tender, flaky, creamy pillows of dough that rise in the oven, each warm bite buttery and perfect. You can taste each press of the hands on the dough, each turn of the mold as each round is cut, and the magic of flour and butter kissing to make something so comforting.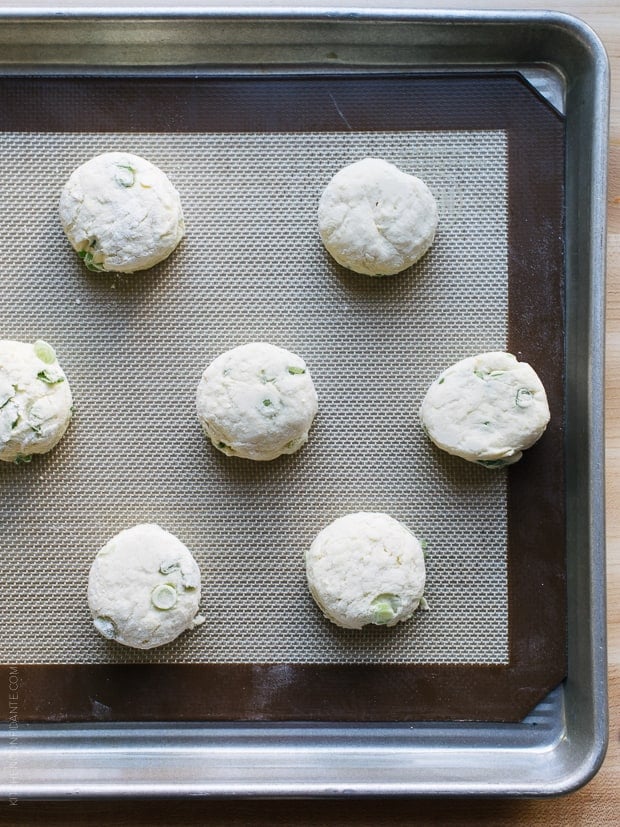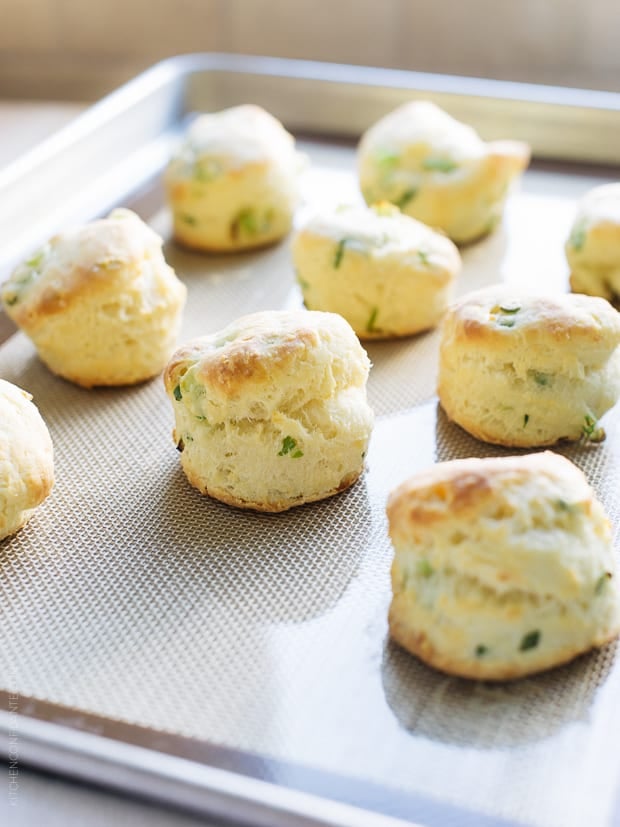 I do think that biscuits are an example of that comfort food that we all crave, one of those simple foods that are magical because they don't require too much time or effort, yet they give so much pleasure. Because it's the kind of food that says, "P.S. I love you."
These Cream Cheese and Green Onion Biscuits have been my way of showing a little love the last several months. They were part of our Thanksgiving table, they showed up on New Years eve, they were on the table one busy weeknight in the middle of December. And if it were up to me, there would be biscuits every day, to go with every meal.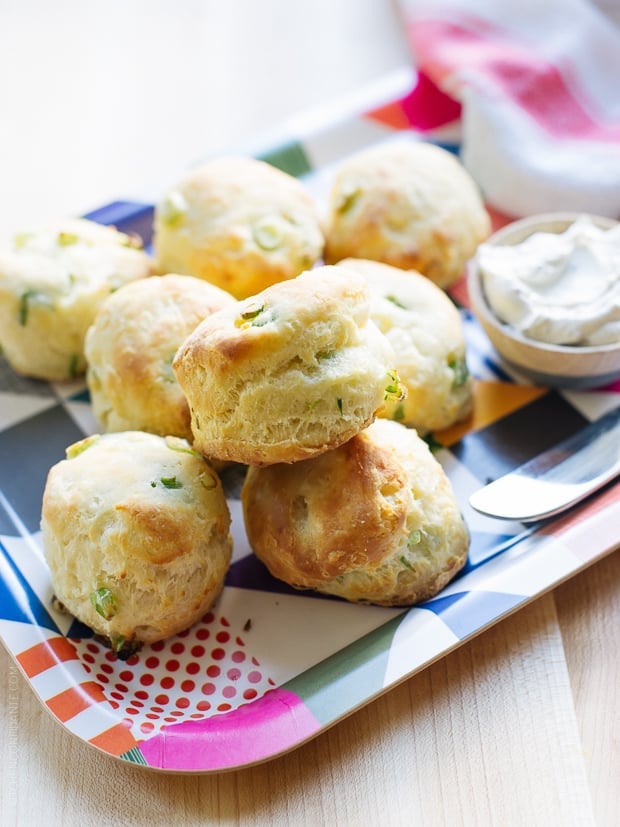 MORE HOMEMADE BISCUIT AND SCONE RECIPES TO TRY
Pumpkin Cheddar Biscuits
Boursin Garlic and Herb Buttermilk Biscuits
Baked Eggs with Cheesy Pancetta Biscuits
Sun-dried Tomato and Thyme Vegan Scones
Savory Scones with Zucchini, Feta and Thyme
Savory Olive Cheese Scones
Cream Cheese and Green Onion Biscuits
When homemade flaky goodness is this easy, you'll be tempted to make Cream Cheese and Green Onion Biscuits every day.
Servings
18
2-inch biscuits
Ingredients
2

cups

all-purpose flour

plus more for working the dough and cutting

1

tablespoon

baking powder

1

teaspoon

kosher salt

1/4

teaspoon

baking soda

6

tablespoons

unsalted butter

cold and cut into cubes

5

oz

cream cheese

cold and cut into cubes

4

tablespoons

sliced green onions

1

cup

buttermilk
Instructions
Preheat the oven to 450° F. Line a baking sheet with parchment paper and set aside.

In the bowl of a food processor, mix together the flour, baking powder, salt and baking soda until blended. Add the butter, and pulse until you have coarse crumbs. Add the cream cheese and green onions, and pulse a few more times until it is mixed into the crumbs. Add the buttermilk and mix until it just combined, making sure not to overwork the dough. The dough should be rather wet and sticky.

On a floured working surface, dump out the dough and gently pat it until it is about 1/2 inch thick. Fold the dough over 5 times, then gently press the dough until it is 1 inch thick. There is no need to use a rolling pin, but try to make sure the dough is a uniform height.

Flour a 2 inch cutter and cut the biscuits out and transfer to the baking sheet, placing them about 1/2 to 1 inch apart. Take any scraps of dough and gently form and cut the biscuits again.

Bake for about 10 minutes, or until the biscuits are golden and fluffy. Enjoy as soon as possible out of the oven.
Notes
Leftovers? Leftover biscuits can be reheated in a 350° F oven for 10-15 minutes.
Make-ahead: Making the biscuits in advance is easy. Make the dough and cut the biscuits. Place the cut biscuits in a freezer-safe container on a sheet of parchment paper and freeze until ready to bake. Then bake at 450° F for 15-20 minutes.
Adapted from Southern Buttermilk Biscuits, Food.com.
Nutrition
Calories:
120
kcal
|
Carbohydrates:
12
g
|
Protein:
2
g
|
Fat:
7
g
|
Saturated Fat:
3
g
|
Cholesterol:
10
mg
|
Sodium:
215
mg
|
Potassium:
115
mg
|
Fiber:
1
g
|
Sugar:
1
g
|
Vitamin A:
141
IU
|
Vitamin C:
1
mg
|
Calcium:
55
mg
|
Iron:
1
mg