Eggnog Mousse
Love holiday eggnog? This recipe for Eggnog Mousse is an easy make-ahead holiday dessert you can really sink your spoon into.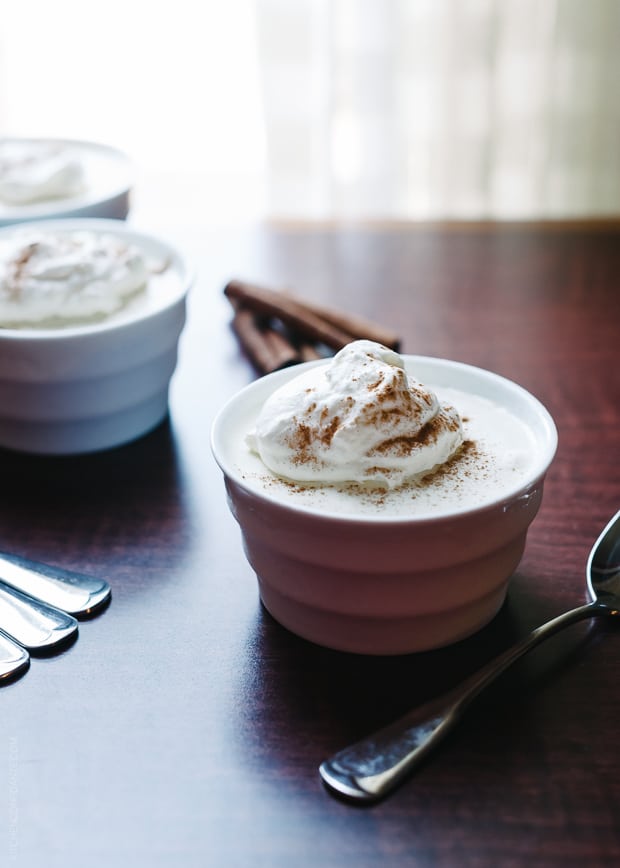 Eggnog Mousse
This recipe for Eggnog Mousse is an easy make-ahead holiday dessert you can sink your spoon into.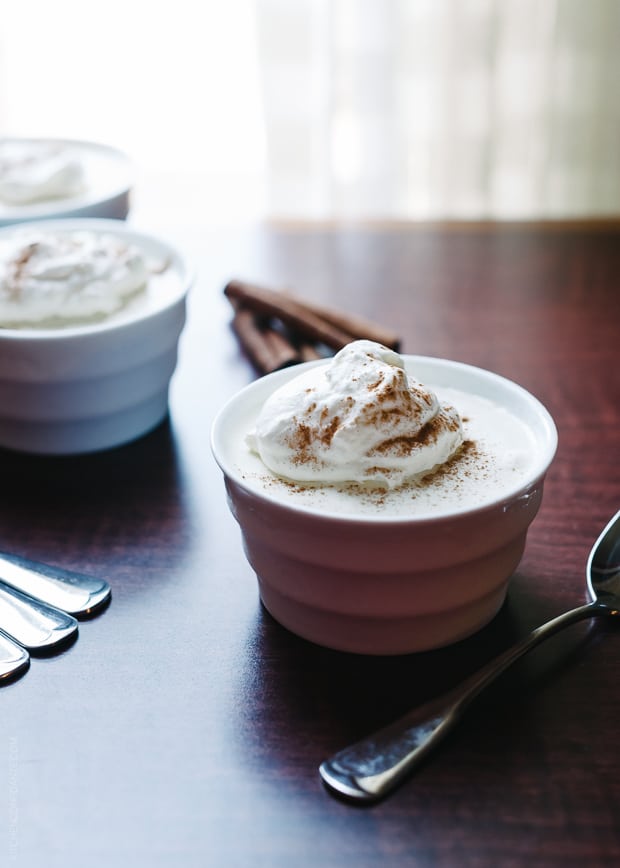 "Mom, wanna know the trick for getting rid of a song out of your head?" My daughter turned to me in the car on our way to pick up the turkey. "Yes, please." If she had the answer to this, one of life's mysteries would be forever solved.
"Okay, so here's the trick: you have to listen to it. Then it goes away forever."
"Are you sure?" I was dubious. "Seems to me that would just make it worse!"
"It works! I've tested it!" she insisted.
Well, maybe I should try it.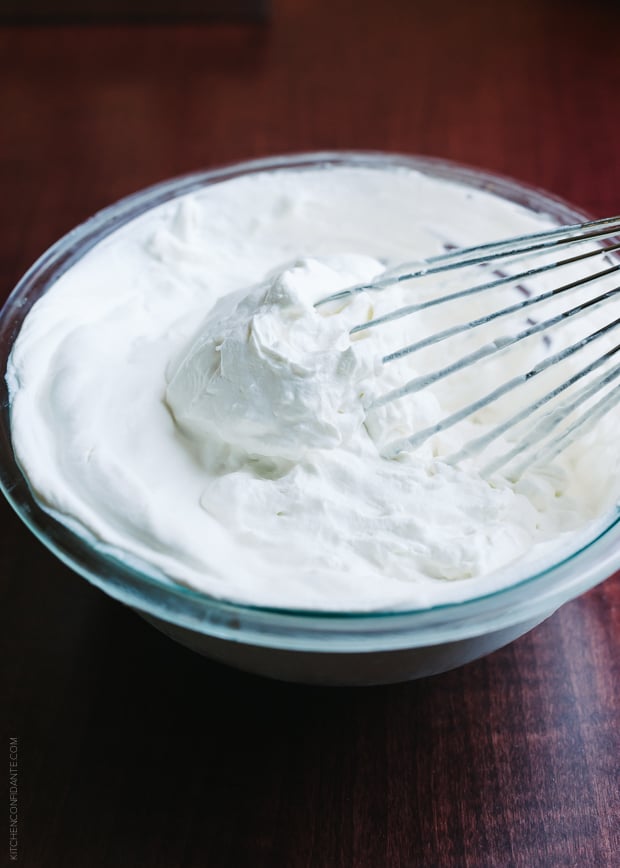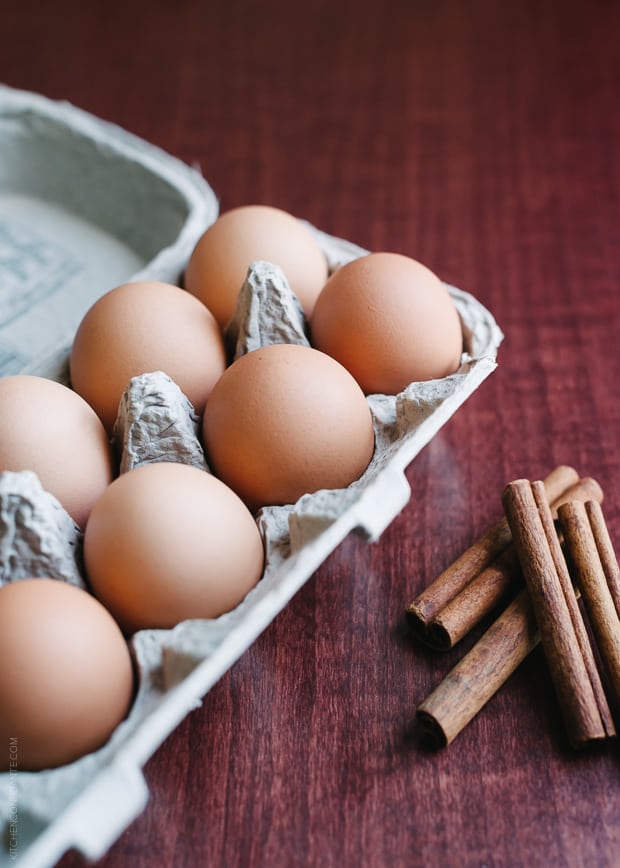 For the last 24 hours, a song has been replaying in my head. I can't seem to shake Merry Christmas, Darling – Karen Carpenter's sorrowfully beautiful voice reminding me of greeting cards and the Christmas rush. But here it is, a day before Thanksgiving, and I have yet to begin any of the above, and this song simply feels ingrained in my head.
I had a little head start in the food department, though. I made this Eggnog Mousse to share on SheKnows.com recently, and maybe that's what put me in the Christmasing spirit.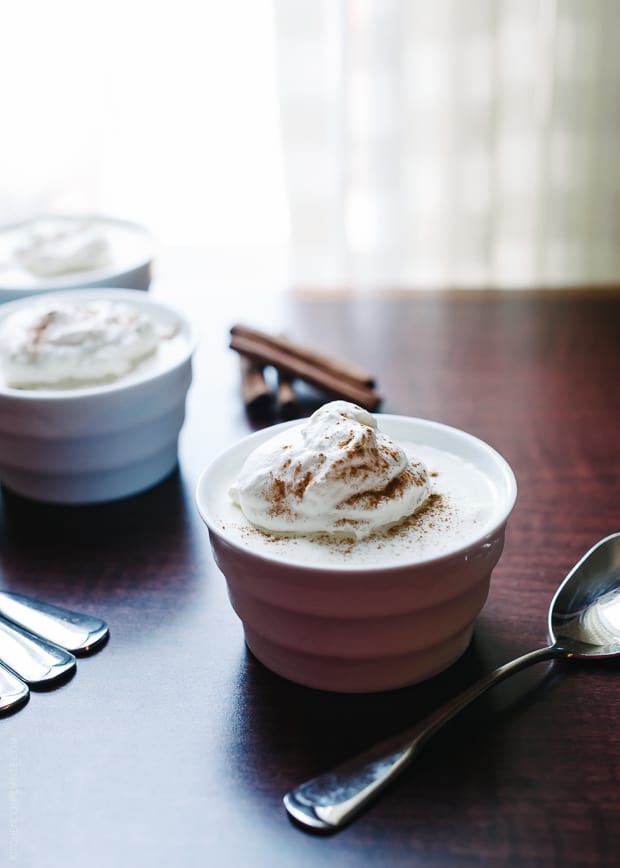 Eggnog Mousse
A little behind the scenes — I developed this recipe during our period of transition between homes. I was grateful to have access to a kitchen at our hotel, but it of course was pretty bare bones. But whipping cream by hand takes nothing more than some arm power, and you feel pretty darned good afterwards. This Eggnog Mousse is simple enough to make with just a few ingredients and basic kitchen tools, which leaves you more time for Christmasing, if you ask me.
Another great thing about this recipe? Eggnog Mousse is the perfect make-ahead dessert. You can prepare it and pop it in the fridge for up to 2-3 days in advance of your holiday festivities.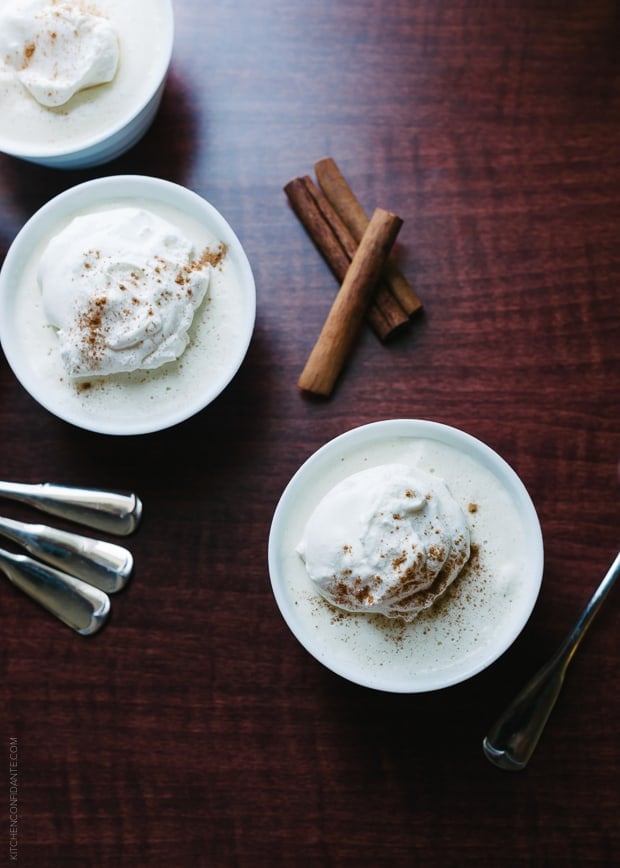 Disclosure: This post was originally part of a collaboration with Energizer MAX Batteries and SheKnows. Sponsored posts such as these help behind the scenes at Kitchen Confidante. Thank you so much for your visits and making my blog part of your day!
More Holiday Desserts
Cranberry Curd and Hazelnut Shortbread Bars
Cassava Pumpkin Pie with Graham Cracker Crust
Cinnamon Toffee Butterhorns (Rugelach)
Maple Glazed Cranberry Bread
Dorie Greenspan's World Peace Cookies
Eggnog mousse
Love holiday eggnog? This recipe for Eggnog Mousse is an easy make-ahead holiday dessert you can really sink your spoon into.
Ingredients
1

pint

heavy cream

2

tablespoons

cold water

1

teaspoon

unflavored gelatin

2

cups

whole milk

1/2

cup

granulated sugar

divided

1

teaspoon

vanilla

4

large

egg yolks

1/2

teaspoon

cinnamon

1/4

teaspoon

nutmeg
Instructions
Using a mixing bowl and whisk attachment that has been chilled in the freezer, whip the heavy cream until stiff peaks form. Store in a tightly sealed container in the refrigerator until needed.

In a small bowl, place cold water and sprinkle the gelatin. Let it stand for about 10 minutes, until the gelatin is soft.

Prepare an ice bath and set it aside.

In a medium saucepan, heat the milk, 1/4 cup of the sugar and vanilla over medium low heat, whisking periodically until the sugar is fully dissolved and the milk begins to steam and slowly comes to a gentle simmer. As the milk heats up, whisk the remaining sugar into the egg yolks, beating continually until the eggs are paler in color and smooth in texture.

When the milk is just scalded, pour about 1/4 cup of the milk in a gentle stream into the egg yolks as you whisk it together. Add another 1/4 cup of milk and whisk thoroughly. Pour the warmed egg yolks into the saucepan and whisk into the rest of the milk. Add the cinnamon and nutmeg and stir constantly over medium low heat until it begins to thicken, about 3-5 minutes.

Remove the custard from the heat and stir in the softened gelatin until it dissolves.

Place the saucepan into the ice bath and stir as the eggnog cools to room temperature.

Fold in 1 1/2 cups of the whipped cream into the custard. Chill the remaining whipped cream for serving.

Divide the eggnog mousse into individual ramekins or serving cups. Cover each cup with plastic wrap and store in the refrigerator until ready to serve. The mousse can be prepared up to two days in advance.

When ready to serve, sweeten the remaining whipped cream with a tablespoon of confectioners sugar, whisking well to combine. Place a dollop of whipped cream on each serving of mousse, and garnish with a sprinkling of cinnamon. Enjoy immediately.
Notes
Make it ahead: Prepare the eggnog mousse in advance of your holiday festivities and leave it in the refrigerator for up to 2-3 days.
Nutrition
Calories:
645
kcal
|
Carbohydrates:
35
g
|
Protein:
10
g
|
Fat:
53
g
|
Saturated Fat:
31
g
|
Cholesterol:
370
mg
|
Sodium:
109
mg
|
Potassium:
269
mg
|
Fiber:
1
g
|
Sugar:
32
g
|
Vitamin A:
2196
IU
|
Vitamin C:
1
mg
|
Calcium:
238
mg
|
Iron:
1
mg