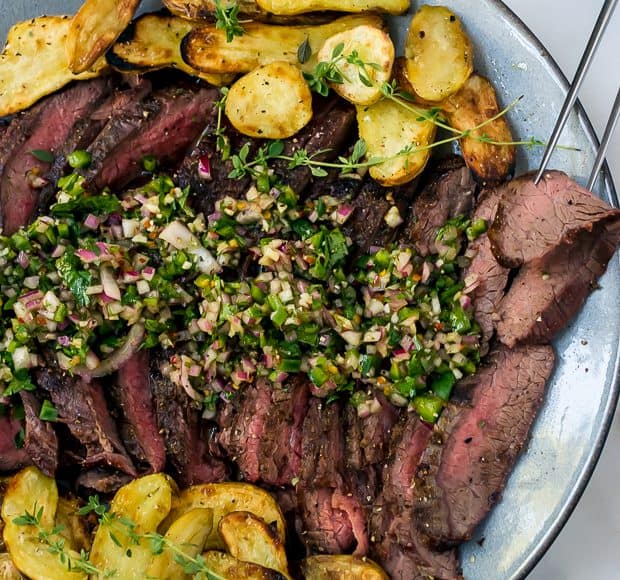 Simple Sundays | Grilled Flank Steak and Fingerlings with Chimichurri
TBH. To be honest. I notice this abbreviation on my daughter's instagram, so-called friends leaving honest (and thankfully sweet) sentiments. It took me a while to understand; this is a form of communication common to them but foreign to me. I often scratch my head…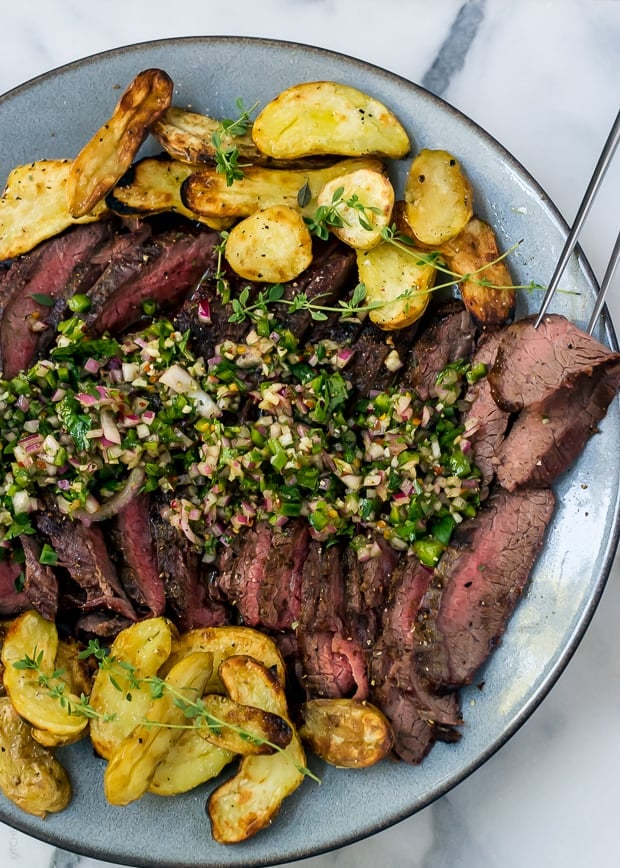 Simple Sundays | Grilled Flank Steak and Fingerlings with Chimichurri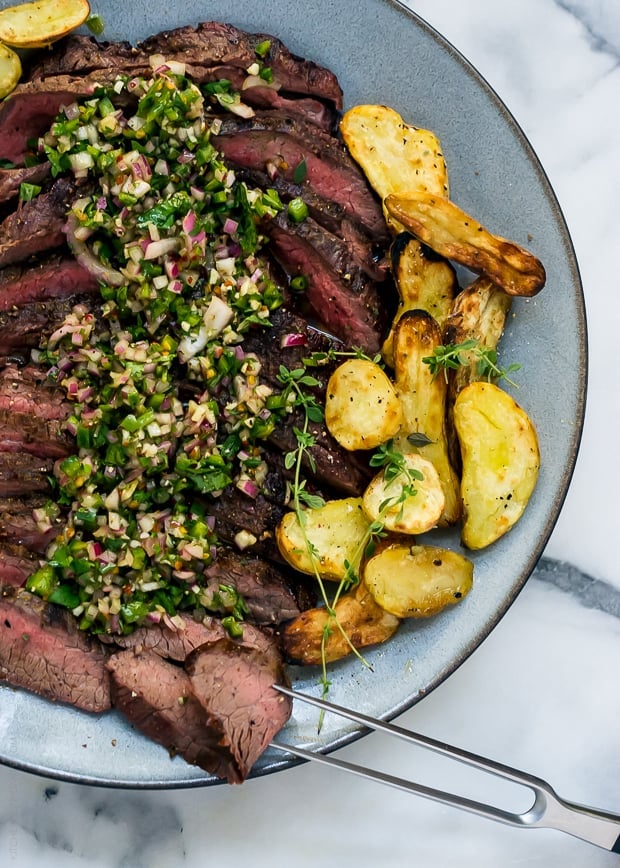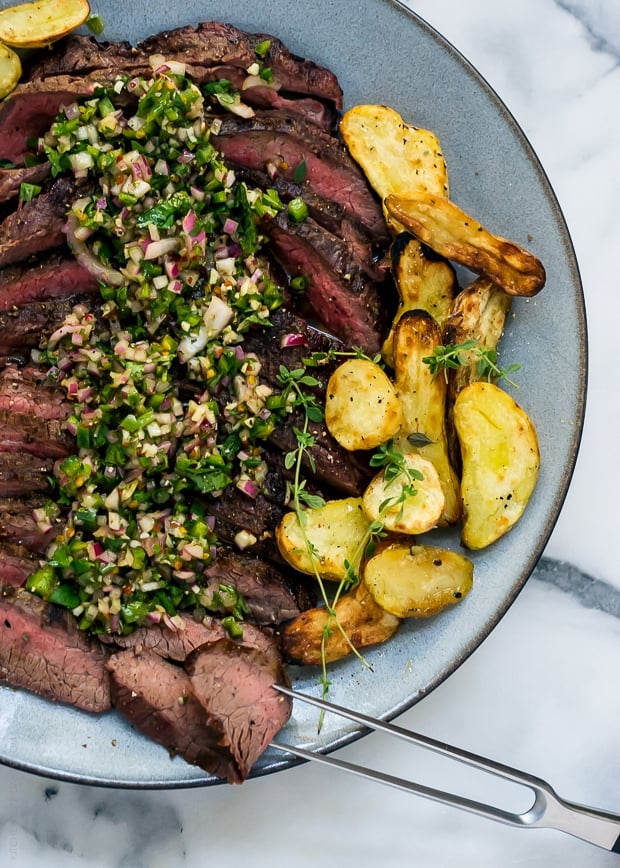 TBH. To be honest. I notice this abbreviation on my daughter's instagram, so-called friends leaving honest (and thankfully sweet) sentiments. It took me a while to understand; this is a form of communication common to them but foreign to me. I often scratch my head at how children use social media quite differently than we do – for them to be "friends" on instagram may or may not mean they are "friends" in real life. I can't tell you how many times I will recognize a girl from my daughter's class, knowing they are connected on instagram, leaving messages ("TBH, you're really nice and pretty…"), only to pass one another on the street, without a smile or a wave of acknowledgement.
TBH, I just don't get it.
Kids these days. It really is a whole different world out there, and I don't envy my children one bit. Social is not so social, and honest is not so honest.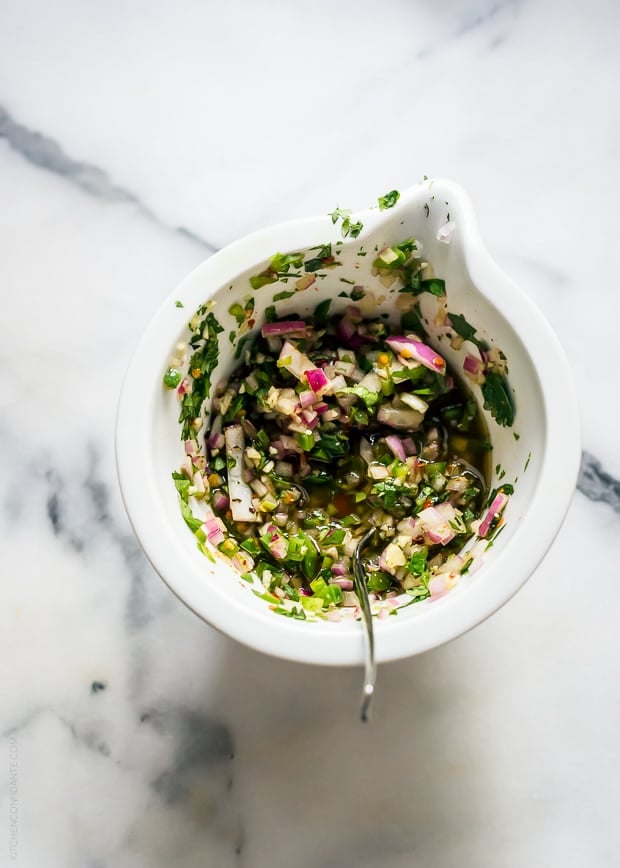 TBH, what you see on my instagram feed is what you get. If you saw me in person, believe me, I want to say hello to you. If you came to my house, you would find this food. Yes, you would see this Grilled Flank Steak and Fingerlings with Chimichurri. I make variations of it very often – it is the food I love to make because it is simple, straightforward cooking. It's not fussy. It's real. You would see the messy bowl with the chimichurri hurriedly stirred. You would see the juices dripping onto the cutting board. You would see my family gathering at the table.
And TBH, I think you'll like it. A lot.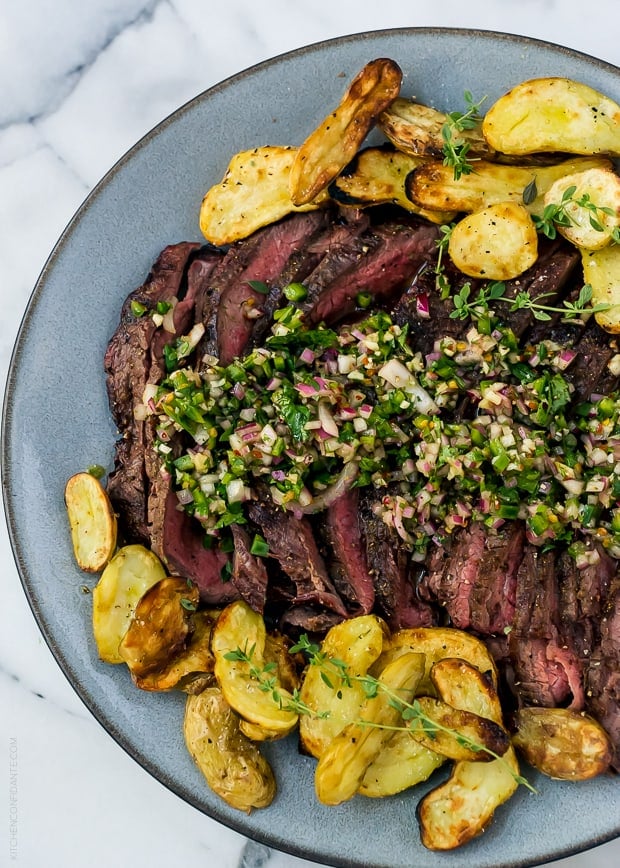 Grilled Flank Steak and Fingerlings with Chimichurri
Flank steak is one of my go-to cuts of meat - I probably grill it weekly! It's a cut that doesn't break the bank, is full of flavor, and tender. It cooks quickly and tastes especially delicious with a bright and tangy chimichurri sauce. And if there's leftover for the next day, even better - I'll throw it in burritos or into a hearty sandwich.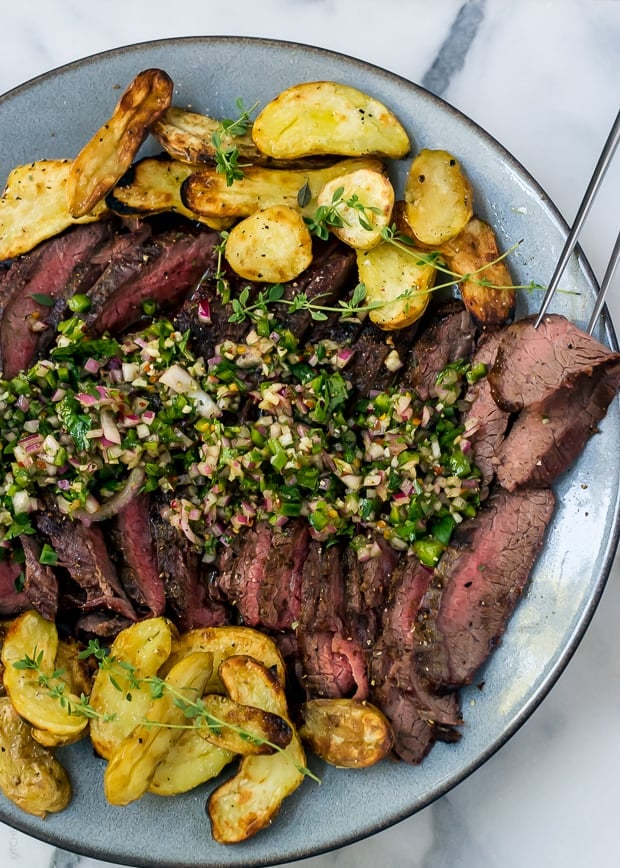 Print Recipe
Ingredients
1/3 cup plus 2 tablespoons extra-virgin olive oil
1 cup chopped cilantro
1/2 small red onion, minced
1 jalapeño, minced
3 tablespoons sherry vinegar
2 tablespoons thyme
3 garlic cloves, minced
1 teaspoon red pepper flakes
1/4 teaspoon cayenne pepper
kosher salt
freshly ground black pepper
1 flank steak
1 teaspoon ground cumin
1 teaspoon ground coriander
2 cups fingerling potatoes, halved
Instructions
In a small bowl, stir 1/3 cup of olive oil with the cilantro, red onion, jalapeño, sherry vinegar, thyme, garlic, red pepper flakes, and cayenne pepper. Season with salt and pepper, and set aside.
Lightly brush both sides of the flank steak with 1 tablespoon olive oil. Season both sides of the flank steak generously with salt and pepper, cumin and coriander. Set aside to rest.
Preheat the grill.
Meanwhile, place the fingerling potatoes in a small pot with some water to just cover. Bring to a boil and let it cook for several minutes on medium high heat until the tip of a knife pierces the potatoes. Do not overboil or let the potatoes become mushy. Drain and toss in remaining tablespoon of olive oil and season with salt and pepper.
Grill the flank steak for about 6-7 minutes per side. Grill the fingerling potatoes (using a grill pan if necessary to prevent the potatoes from slipping through the grates) until the potatoes are golden on all sides. Transfer the flank steak to a cutting board and let it rest before slicing against the grain into thin slices. Transfer the flank steak to a serving plate, and place the grilled fingerling potatoes on the side. Season the fingerling potatoes with additional salt and pepper if necessary. Top the steak with the chimichurri, and serve with any remaining sauce on the side.