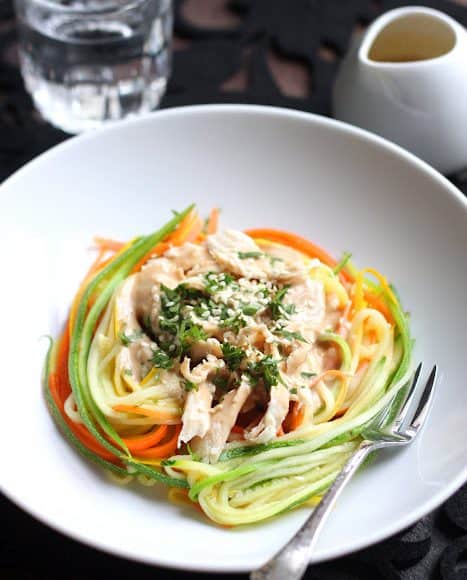 Zucchini Noodles with Chicken and Tangy Peanut Sauce
Time Away | A Guest Post from The Cilantropist I'm taking a little time off to spend some much needed R&R with my family and an early celebration of my upcoming 10th wedding anniversary. By the time you read this, I will hopefully be relaxing…
Zucchini Noodles with Chicken and Tangy Peanut Sauce
Time Away | A Guest Post from The Cilantropist
I'm taking a little time off to spend some much needed R&R with my family and an early celebration of my upcoming 10th wedding anniversary. By the time you read this, I will hopefully be relaxing on the beach, Piña Colada in hand, a straw hat on my head, and a book on my lap. The kitchen has been cleaned spotless and I am looking forward to not cooking for a full week! But I have a few things planned in my absence, the first of which is a beautiful guest post from Amanda Opaluch, who writes The Cilantropist. If you haven't yet encountered Amanda's gorgeous blog, you will find someone who shares my passion for the freshest foods, mouthwatering recipes, and tantalizing photographs. The recipe she graciously shares here is just my kind of dish –  I can't wait to make when I return! Amanda, thank you, the stage is yours.
I want to thank Liren so much for giving me the opportunity to share a post with her lovely readers!  I really enjoy the recipes Liren shares here on Kitchen Confidante because I find they match with many of my food philosophies – specifically that I like to use a lot of fresh, seasonal ingredients – but also because a lot of her recipes strike a chord with memories I have of food and family.  When she asked me to create a post for her blog, I let a few ideas run around in my head (I have been obsessed with cherries lately, seems Liren has too) but I ultimately wanted to do a recipe that would be a healthy weeknight meal for family, but could also be a quick meal for one.
I have been wanting to try and make zucchini ribbons or 'noodles' for ages now, because they are a healthy and fun alternative to pasta, and plus they just look really neat.  But here's the thing, despite the fact that I have a million kitchen gadgets, I can't say I own a mandoline for julienning these types of vegetables. And while I do work hard in my kitchen, you can bet I am not about to slice these up by hand (I am far too accident prone for that).  So what is a girl to do?
Well turns out, all she had to do is stand in line at Williams and Sonoma, where they had a neat little demo of their Swissmar Julienne Peeler
.  When I went there, they had vegetables on display, and that peeler cut them into strips like a hot knife through butter.  I was sold.  I bought a cute little set
, and I could barely wait to get home to try them out on the summer squash I had picked up from the farmer's market the day before.
I was completely amazed at how easily and quickly the peeler could slice up vegetables – even tougher ones like carrots – and my inner perfectionist squealed with glee at how neat and uniform the vegetable slices turned out.  And all with just a peeler!  I can imagine using this to slice up other fruits and vegetables (think matchstick potatoes), so I know it will get a workout in my kitchen.
To turn these vegetable slices into noodles for a healthy dish, I merely blanched them, topped them with cooked, shredded chicken, and then poured on an awesome peanut sauce recipe I got from a friend.
My friend told me he learned to make this type of sauce from his family growing up, and they used to put it on all sorts of dishes with chicken, tofu, or just noodles.  The tangy peanut sauce is slightly sweet, slightly sour, but the nutty taste and texture are not overpowering.  I will probably be using this same peanut sauce with other dishes, because it is really easy to whip up (no cooking required) and tastes good either hot or cold.
But here is the thing I liked most about this dish: It doesn't just taste good, it is really good clean food.  And by that I mean that the vegetables are kept pure – no oil or frying to bog down the flavor, or leech out good nutrients – the chicken is healthy, and the peanut sauce is made-from-stractch, family-style.  Go ahead and use a natural peanut butter and you can feel really good about yourself.  This is the kind of food I can imagine wanting to feed my family, and the kind of food I want to eat to keep myself fit and happy.
And of course, it doesn't hurt that I get to use a fun kitchen tool to make it.
Zucchini Noodles with Chicken and Tangy Peanut Sauce
Though you can certainly slice the squash and carrots into ribbons by hand, a julienne-style peeler or mandoline will make the job a breeze. If you want to use a peeler to julienne the squash, it is best to choose medium to small zucchini and summer squash - they should be no wider than than the width of the peeler. Also, topping these zucchini 'noodles' with chicken and peanut sauce is just a suggestion for a simple healthy meal, but these fresh vegetables are a great foil for tomato based sauces as well.
Print Recipe
Ingredients
2 cooked chicken breasts, either boiled or pan-fried
4-6 medium-sized zucchini and summer squash
2 large carrots
About 1/4 cup chopped cilantro
About 1-2 tbsp sesame seeds
Peanut Sauce:
1/2 cup peanut butter
1 tbsp soy sauce
3 tbsp rice vinegar
2 tsp sesame oil
1/2 tsp minced garlic (or more)
1/2-1 tsp granulated sugar (depending on taste)
At least 1/4 cup water, add 1-2 more tablespoons depending on texture
Instructions
First, prepare your chicken breasts by either shredding the chicken (if you prefer to boil it) or by dicing it (if you prefer to pan-fry it). Set the chicken aside.
Next, make the peanut sauce by whisking all the ingredients together in a medium bowl. Start by adding 1/4 cup water as the recipe suggests, and if the sauce is too thick for your taste, add additional tablespoons water to reach desired consistency.
Lastly, prepare the zucchini, squash, and carrot ribbons by using a mandoline or by using a peeler designed to julienne vegetables. If using the peeler, hold the stem end of the squash in one hand and drag the peeler from the top to the bottom to create the ribbons. Julienne all the vegetables, keeping the carrots separate from the squash and zucchini. Briefly blanch the vegetables in a pot of boiling water by adding the carrots first for about 2-3 minutes, and then adding the zucchini and squash for another 1-2 minutes (it gets tender very quickly). Drain the hot water, immediately add cold water to stop the cooking, and once the vegetables have cooled, drain the water again.
Assemble the dish by putting some of the vegetable ribbons on a plate and topping them with diced or shredded chicken, then the peanut sauce, and chopped cilantro and sesame seeds. Serve at room temperature, but can also be served cool (if you would like to refrigerate ingredients before serving).