Zucchini, Corn and Pesto Flatbreads
Use the summer's abundance of zucchini and corn in these Zucchini, Corn and Pesto Flatbreads! We've been tending our friend's garden this week. While they are soaking up some sun on the beach and splashing in the surf, we've been spying the tomatoes growing on…
Zucchini, Corn and Pesto Flatbreads
Use the summer's abundance of zucchini and corn in these Zucchini, Corn and Pesto Flatbreads!
We've been tending our friend's garden this week. While they are soaking up some sun on the beach and splashing in the surf, we've been spying the tomatoes growing on their vine, ripening to redness, marveling at the serrano chiles budding in the heat, and breathing in the peppermint nestled next to the English thyme. I say we, but really, it's my daughter whose job it is to water the garden; my son and I go to keep her company.
Every summer, I regret another season that I did not plant a legitimate garden. And now that we are in the new house, with the landscaping project 99.999% complete, I wish that I had set aside a dedicated space to grow some food. But perhaps next season, my son will hold me accountable. After tasting one of the ripe tomatoes, he is urging us to plant some tomatoes. And now that he seems to have inherited my mother's green thumb, spending the weekend happily pruning our flowers and deadheading the roses, I may have my gardener.
Next year. For sure. And I mean it this time.

We will have to plant zucchini. This is the time of year that I mysteriously can't get enough of it. The odd thing is, I don't consider zucchini one of my "favorites," yet here I go again, putting it in everything. There was the Double Dark Chocolate Zucchini Bread last week. This morning, I revisited my Zucchini Oat Chocolate Chunk Muffins. And for lunch, last week, I binged on these Zucchini, Corn and Pesto Flatbreads.
I may not have a bumper crop of zucchini, but I'm cooking like I have one.
Swirls of zucchini have been going in everything. I don't have a spirilizer, but I do have the julienne peeler I used to make Spicy Shrimp with Zucchini Noodles several years ago. It comes in handy every zucchini season. Nestled on a bed of pesto, sharp shavings of parmesan cheese and sweet kernels of corn, this flatbread is my idea of the perfect meal on a hot summer day.
I love zucchini. There, I said it. I have come to a realization: zucchini is a favorite of mine, that dark horse each summer that inspires me to put it in everything I can possibly think of. Is it one of yours?
Eat Seasonal
I'm not the only one who loves zucchini! It was one of the favorites in this month's delicious Eat Seasonal roundup that is orchestrated by Becky of Vintage Mixer. Join us and our friends as we share dishes that embrace eating seasonal! Check out the seasonal food guide and these recipes for more #EatSeasonal inspiration.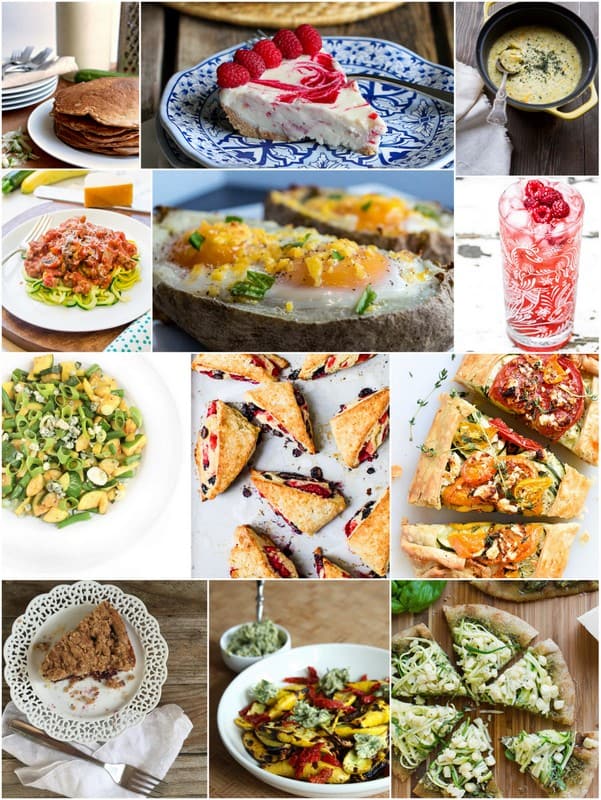 Healthy Whole Grain Zucchini Bread Pancakes by Bless This Mess
Raspberry Swirl Frozen Yogurt Pie by Cookin' Canuck
Savory Summer Squash Custard by Vintage Mixer
Zucchini and Yellow Squash Noodles with Turkey Sausage Bolognese by Flavor the Moments
Potato and Egg Breakfast Boats by From Gate to Plate
Raspberry and Brown Sugar Bourbon Fizz by Floating Kitchen
Zucchini and Green Bean Sauté by The Lemon Bowl
Triple Berry Scones by Simple Bites
Heirloom Tomato, Zucchini, Caramelized Onion and Feta Galette by FoodieCrush
Blackberry Buckle by Mountain Mama Cooks
Grilled Summer Squash with Sun-Dried Tomatoes and Basil Ghee by Project Domestication
Zucchini, Corn and Pesto Flatbreads
Swirls of zucchini and sweet kernels of corn make the perfect topping for this summer flatbread. Zucchini, Corn and Pesto Flatbreads are a great way to enjoy summer by the slice!
Print Recipe
Ingredients
2 naan flatbreads (see notes below)
1/4 cup pesto (storebought or homemade)
1/3 cup crumbled or shredded cheese (a sharp parmesan or feta works well)
1-2 medium zucchinis, shredded with a julienne peeler, spiralizer, mandoline or grater
1 ear corn, kernels removed from the cob
1 tablespoon olive oil
kosher salt
freshly ground black pepper
parmesan cheese for serving
2 tablespoons finely sliced fresh basil
Instructions
Preheat oven to 400°F. Line a baking sheet with parchment paper. Arrange the naan/flatbread on the baking sheet and lightly spray or brush with water. Set aside.
Spread the pesto over the naan/flatbread, and top with most of the cheese. In a large bowl, toss together the zucchini, corn and olive oil, evenly coating the vegetables. Season with salt and pepper. Arrange the vegetables on top of the flatbreads. Sprinkle with remaining cheese.
Place the naan pizzas into the oven and bake for about 10 minutes, or until the zucchini and corn are cooked but still have texture, the cheese is oozy, and the naan is toasted. Remove from oven, sprinkle with parmesan and basil, and enjoy immediately.
Notes
I love using Stonefire Naan for the flatbreads. In this recipe, I used the Whole Grain Naan.