Cherry Basil Sorbet
Basil adds an extra hint of summer in this easy and refreshing Cherry Basil Sorbet recipe. Think of it as your favorite childhood Italian ice, all grown up!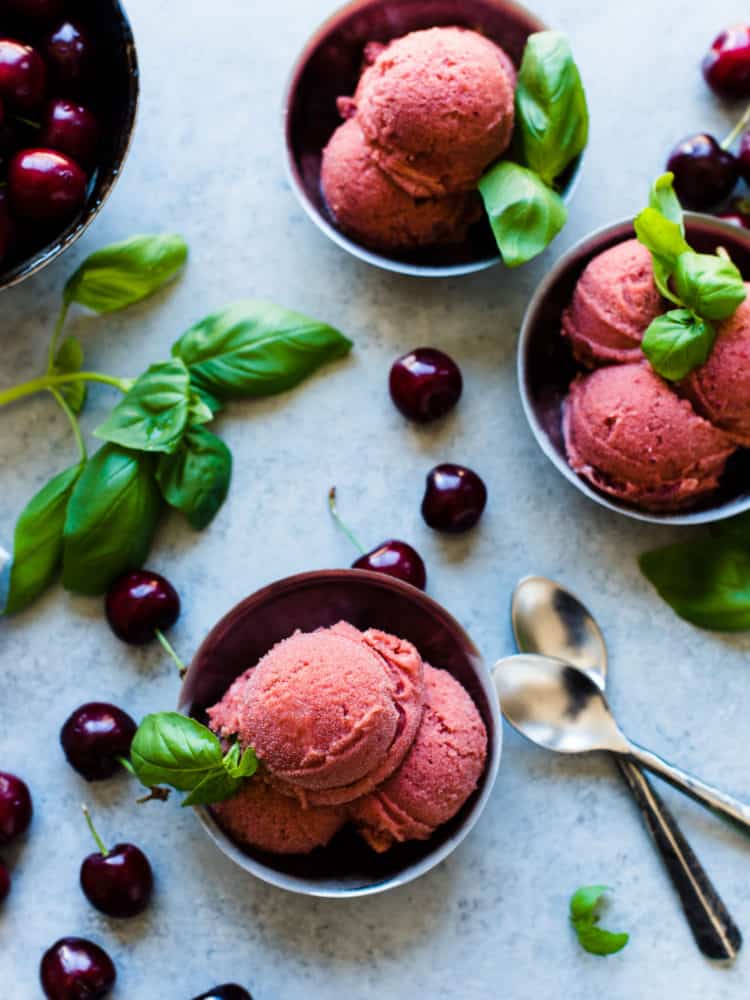 Cherry Basil Sorbet
Basil adds an extra hint of summer in this easy and refreshing Cherry Basil Sorbet. Think of it as your favorite childhood Italian ice, all grown up!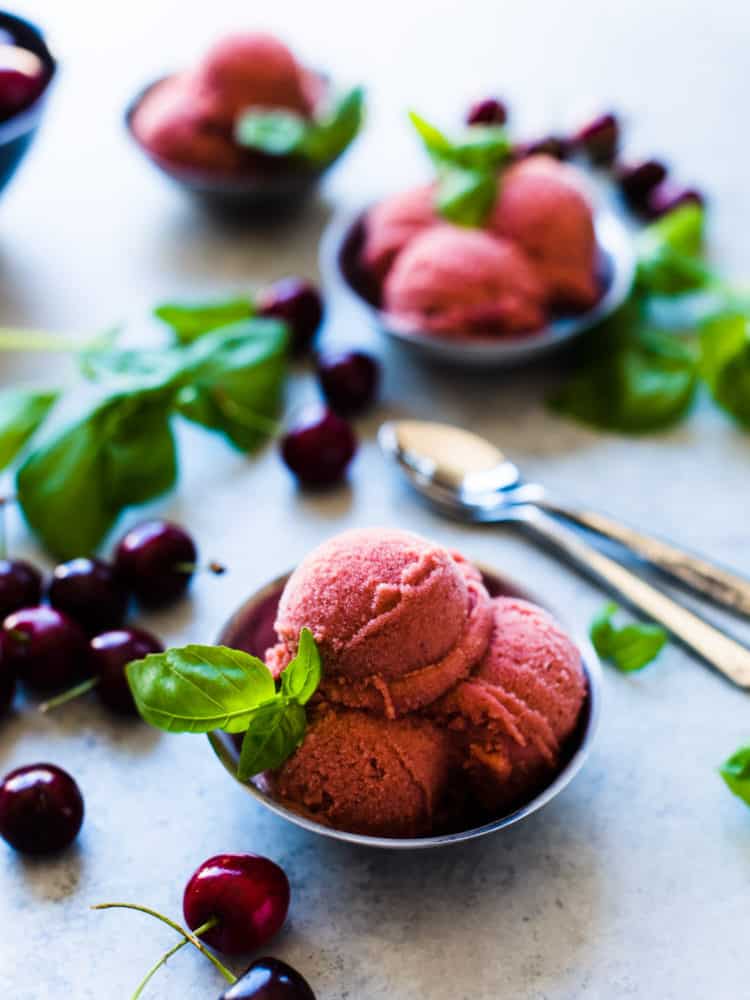 Everything comes full circle somehow. It doesn't matter if it is fashion, food, or even life experiences. I'm starting to realize that despite 29 years, geography, and even historical placement, my daughter and I are more similar than I expected.
On her last day of school, I helped out in the classroom as they had their year end party. One of her sweet friends politely greeted me. And all I could do was stare at her dress. You see, I had one just like it, once upon a time…layers of ruffle, a gauze-like floral, pretty (but itchy) smocking, and adorable straps that tied on bony shoulders.
That was the age I devoured the adventures of Laura Ingalls, paperback after paperback, episode upon teary episode.  Those were the summers of Atari and pretend camp-outs with my cousins in their backyard. We would smuggle Styrofoam cups of steaming ramen into our makeshift tents (if that's what you could call little tables covered with sheets), because that was camping food, of course. We would emerge from our hiding places into the hot sun to walk to the corner store for those yellow cups of Italian Ice. I would get cherry because each scrape of the wooden spoon would guarantee that my lips would be left with that bright stain. Like my lipstick? we would ask one another, giggling.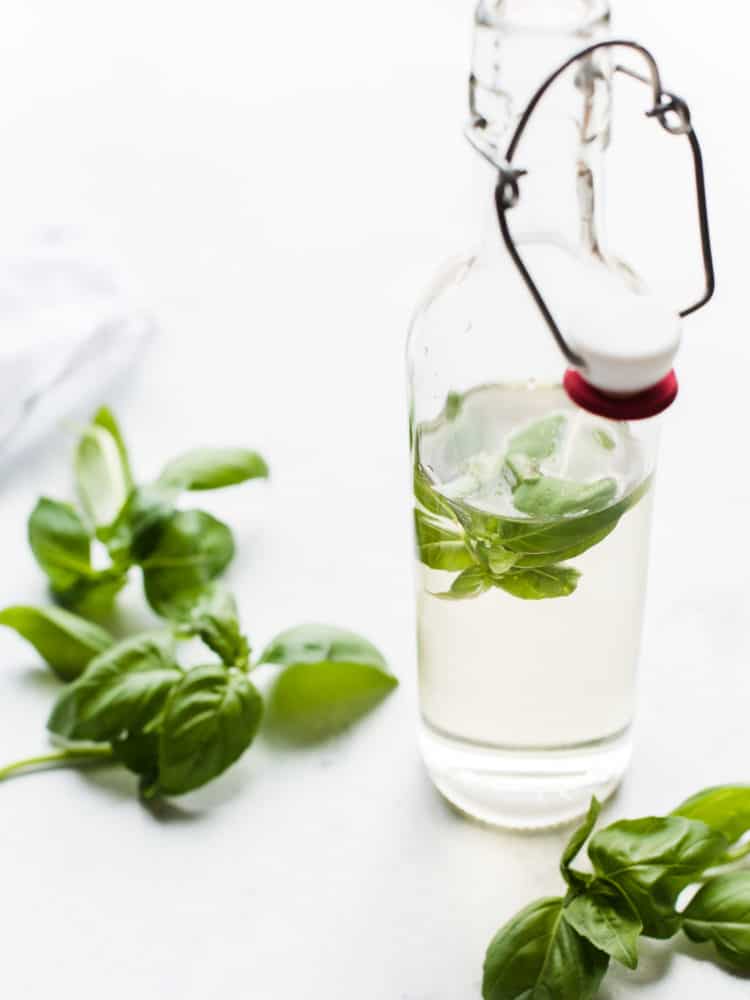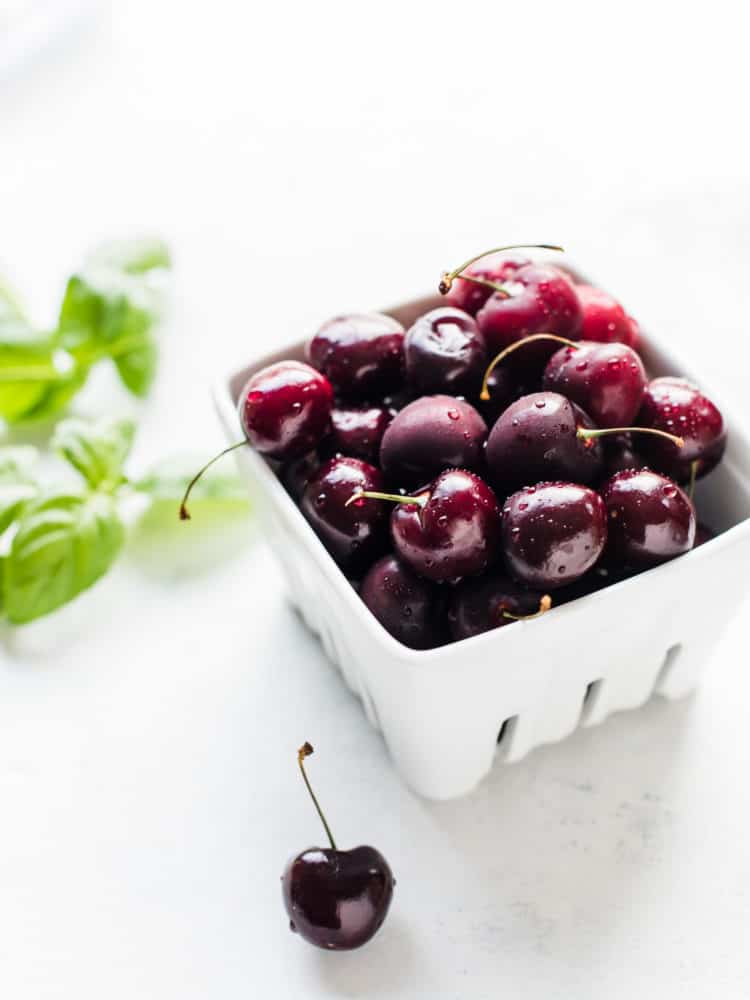 These days, I look forward to when my daughter and I re-read the Little House on the Prairie books before bed. She recently discovered re-runs of the show and when she comes home from camp, begs to watch an episode. Ataris are replaced by DSI's, and backyard tents are always in demand.
Out here, there are no Italian ices at the local pizzeria. But there's a frozen yogurt shop near every Starbucks. And moms like me who make homemade sorbet, Cherry Basil Sorbet, in this case.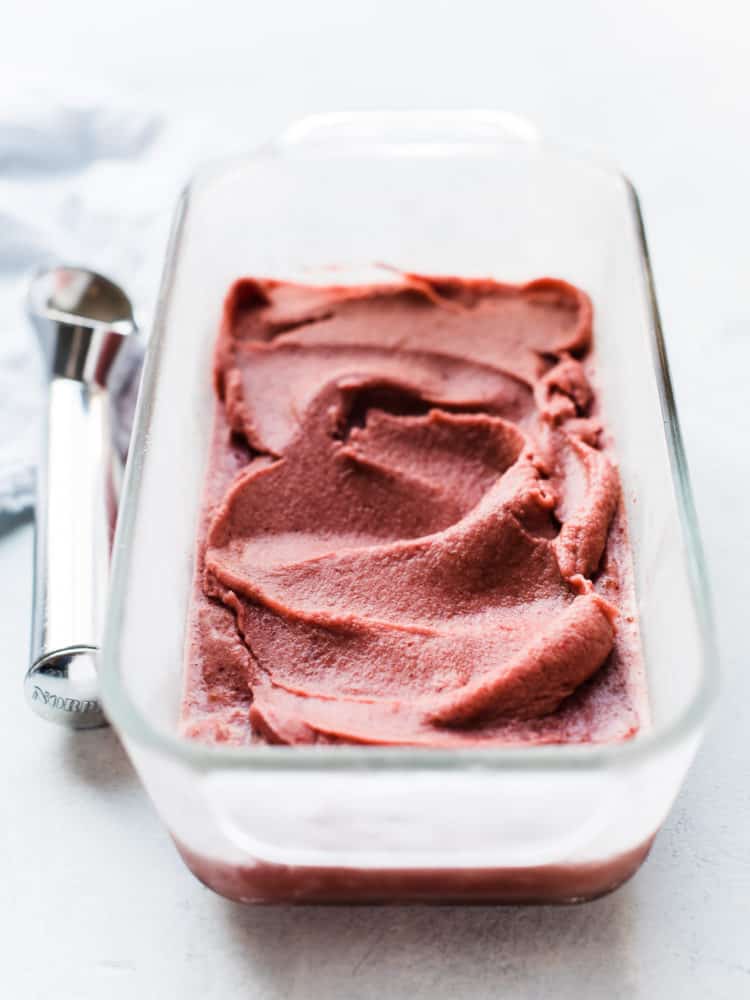 My cherry sorbet grew up, like its maker. Made with freshly pitted cherries, and a simple syrup infused with a hint of fresh basil, one icy spoonful brought me back to those sticky summers of not-so-long-ago. The past is not so distant, after all.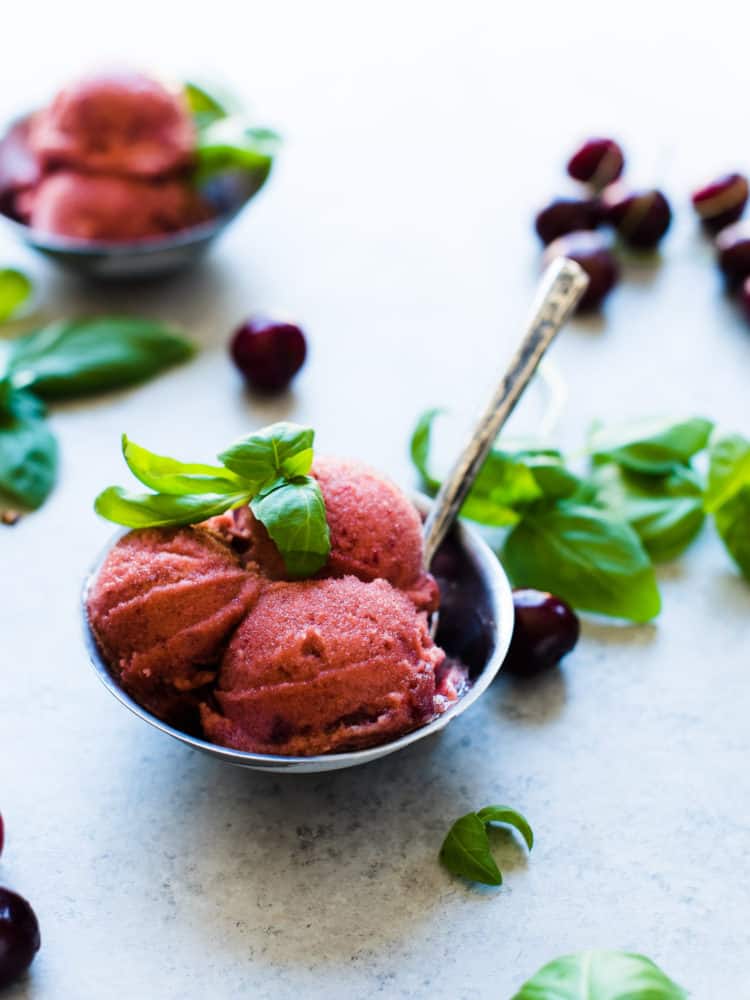 Note: This post first appeared June 17, 2011. The recipe has been updated from the archives with updated photographs and improved kitchen notes and recipe annotation. I hope you enjoy this favorite from my kitchen.
If you enjoyed this Cherry Basil Sorbet recipe and are looking for more ways to cool off this summer, check out these other frozen treats:
Mango Ginger Sorbet
Coconut Water Sorbet Floats
Peach Sorbet Mojito Float
Red White and Blue Berry Sorbet Floats
Sparkling Mango Sorbet Floats
Strawberry Cointreau Sorbet
Cherry Basil Sorbet
Basil adds an extra hint of summer in this refreshing sorbet. If you prefer a simpler version, by all means, omit the basil.
Ingredients
1

cup

water

1

cup

granulated sugar

2-3

leaves/sprigs fresh basil

to taste

12-16

oz

cherries

fresh or frozen and slightly thawed, pitted

1

tablespoon

lemon or lime juice
Instructions
Combine water and sugar in a small saucepan and bring to a boil over medium-high heat. Reduce heat to low and simmer until sugar dissolves, stirring periodically, about 3-4 minutes. Remove the simple syrup from the heat and drop in your basil, using more or less depending on how pronounced of a basil flavor you wish. Place in the refrigerator to cool for 1 hour. Remove and discard basil. You can use the basil simple syrup as soon as it is cool or store it in a tightly sealed glass jar until you are ready to use, up to several days in advance.

Place cherries, 1 cup of basil simple syrup, and lemon juice in a blender. Adjust sweetness as necessary with remaining simple syrup, depending on the sweetness of the cherries. Blend and strain. Chill for at least 2 hours or overnight. The sorbet mixture can be made up 24 hours in advance.

Put mixture into an ice cream maker and churn for 20 to 30 minutes. Transfer to and store in an airtight container in the freezer to firm for at least 5 hours, ideally overnight.
Notes
This recipe makes approximately 1 quart.
Nutrition
Calories:
123
kcal
|
Carbohydrates:
31
g
|
Sodium:
1
mg
|
Potassium:
94
mg
|
Sugar:
30
g
|
Vitamin A:
25
IU
|
Vitamin C:
3.7
mg
|
Calcium:
6
mg
|
Iron:
0.1
mg