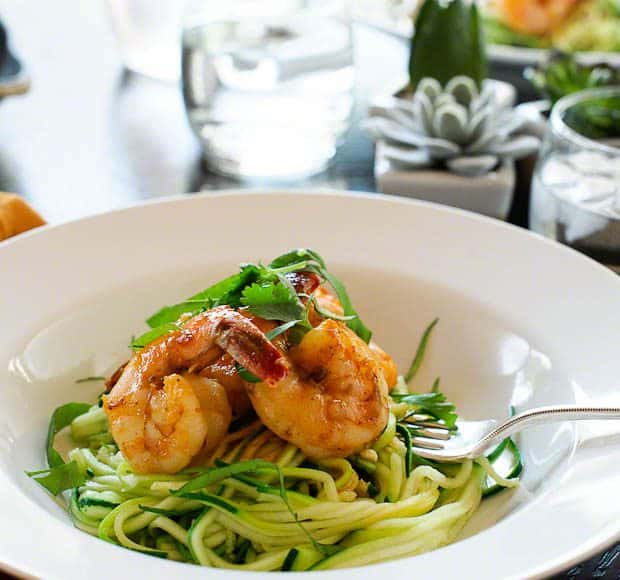 Spicy Shrimp with Zucchini Noodles
Spicy and satisfying, the Asian-style shrimp spiked with sriracha pairs well with healthy ribbons of zucchini noodles. When zucchini is abundant, it makes for a perfect summer meal. I'm obviously not a big believer in diets. My last post will attest to that. But I…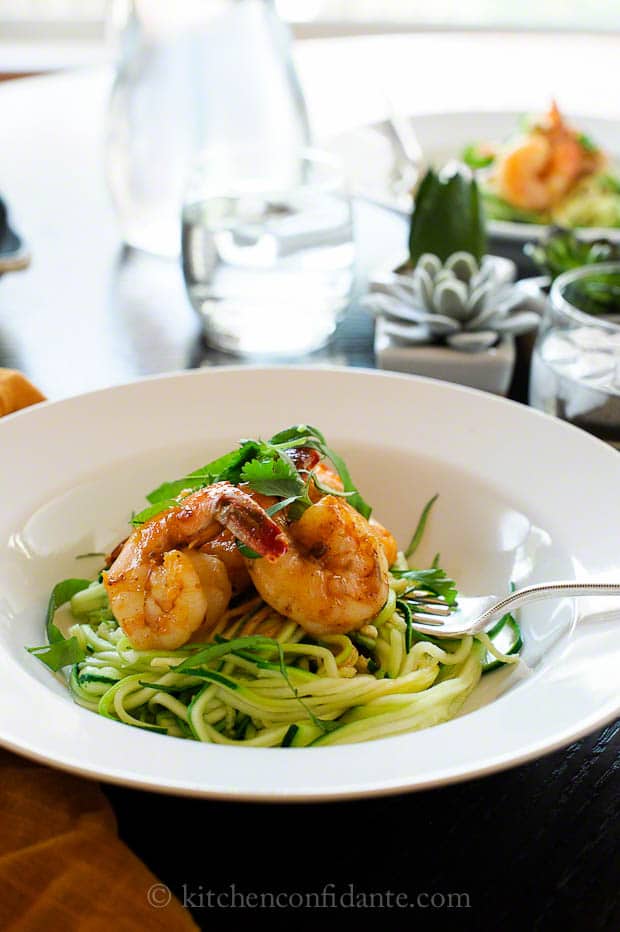 Spicy Shrimp with Zucchini Noodles
Spicy and satisfying, the Asian-style shrimp spiked with sriracha pairs well with healthy ribbons of zucchini noodles. When zucchini is abundant, it makes for a perfect summer meal.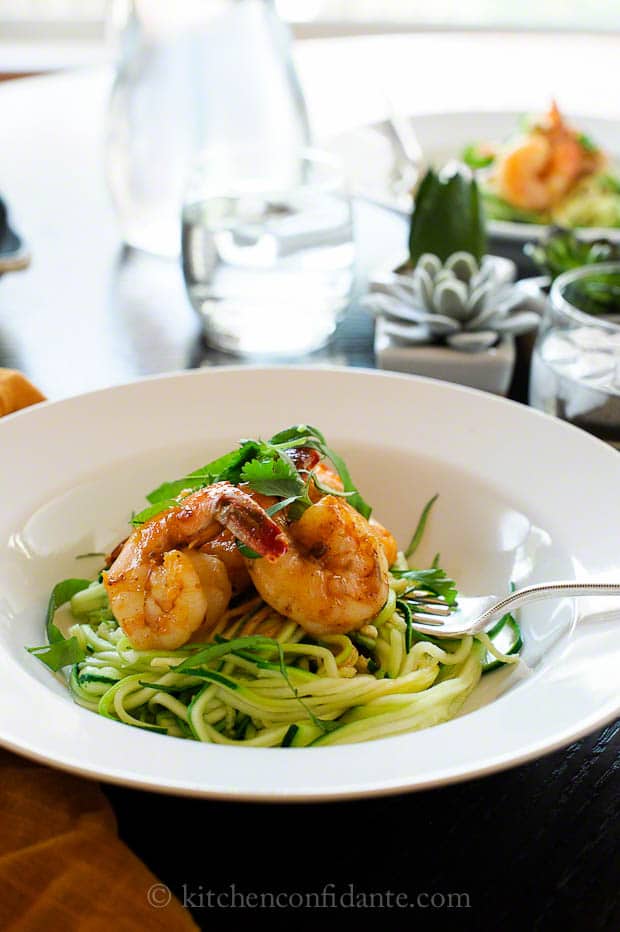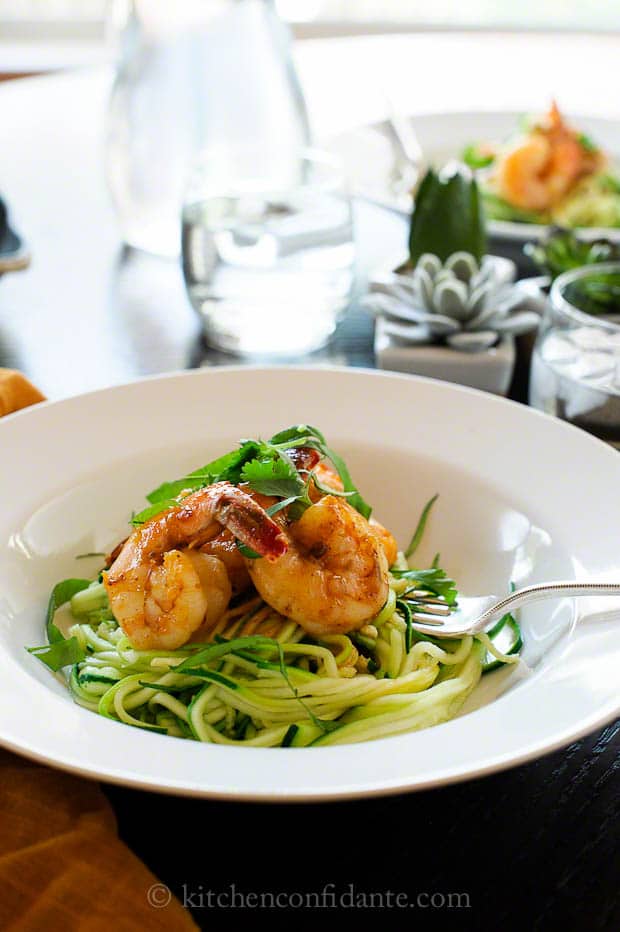 I'm obviously not a big believer in diets. My last post will attest to that. But I do firmly believe that life and the food we eat should be in balance. Yes, yes, I'm one of those everything in moderation and exercise is the key people. So last time I brought you an over-the-top ice cream pie — today, I have a dish for you that will tip the scales back to balance.
If I were to diet, this is what it would look like, and quite honestly, this doesn't look so scary, does it?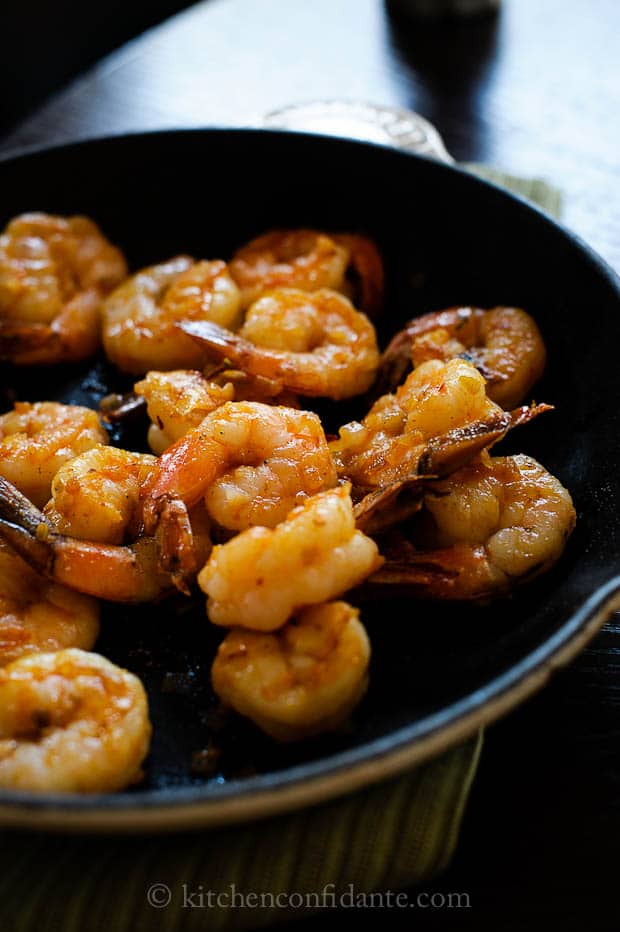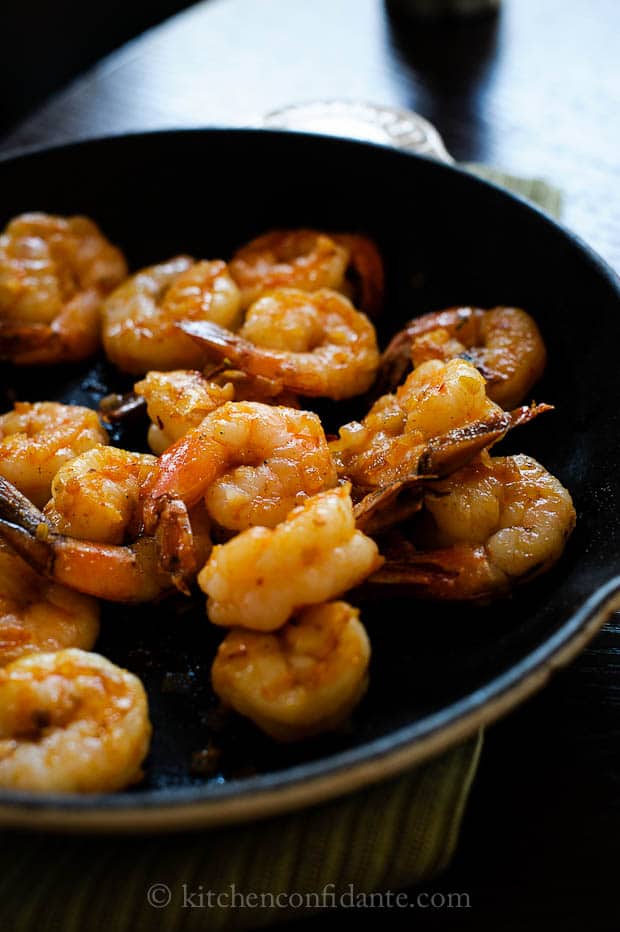 People who eat spicy foods tend to eat less, not so much because of the burn, but I believe because the depth of flavor brings so much to a dish that it is satiating.
These plump shrimp sizzling in the pan have the kick of sriracha, and I placed them on a bed of zucchini "noodles" (for those of you who are gluten-free, this meal is for you). But there's a little more in the pan that gives it extra oomph.
I have been playing around with a new product from Land O'Lakes – when I first saw it, it just seemed like genius. Butter with Olive Oil & Sea Salt. Right? Okay, not diet material, but what I love about it is that when you're cooking, this combination makes complete sense. How many times have you started a dish with olive oil and finished it off with a wee bit of butter for extra silkiness and flavor? Using some to finish off my sautéed shrimp was just right in making a little spicy pan sauce to drizzle over my zucchini noodles.
And who knows pan sauces better than Ree Drummond? Yes, as in The Pioneer Woman. I was happy to participate in a webinar with Ree and Land O'Lakes recently – she has been playing around with the Butter with Olive Oil & Sea Salt too. I am excited to share a giveaway with Ree's Cooking Essentials – which includes two Pioneer Woman cookbooks, some kitchen goodies and a chance to play around with LAND O LAKES® Butter with Olive Oil & Sea Salt in your own kitchen.
Come join the fun and enter the giveaway (details below). A little bit of butter makes everything better.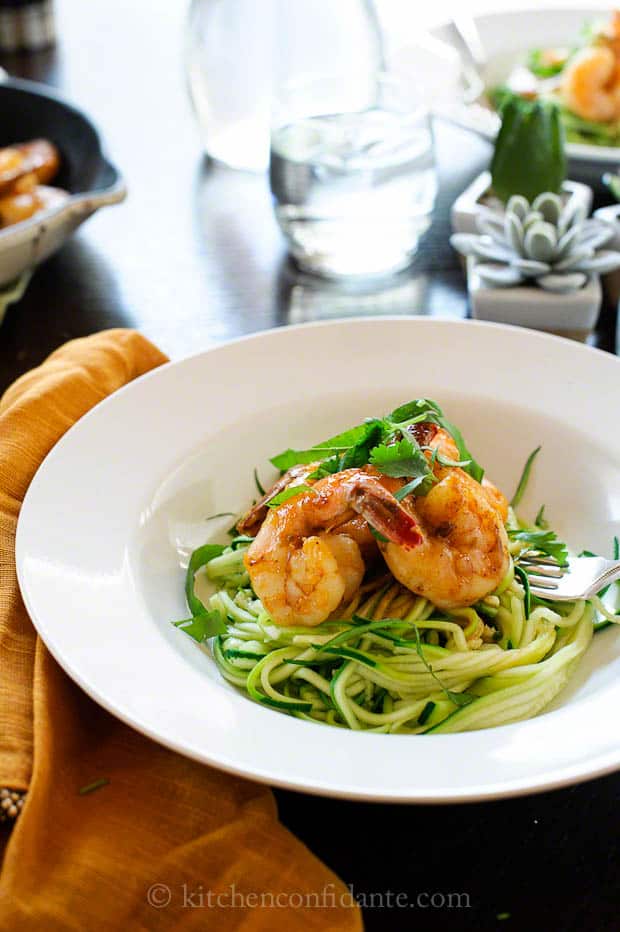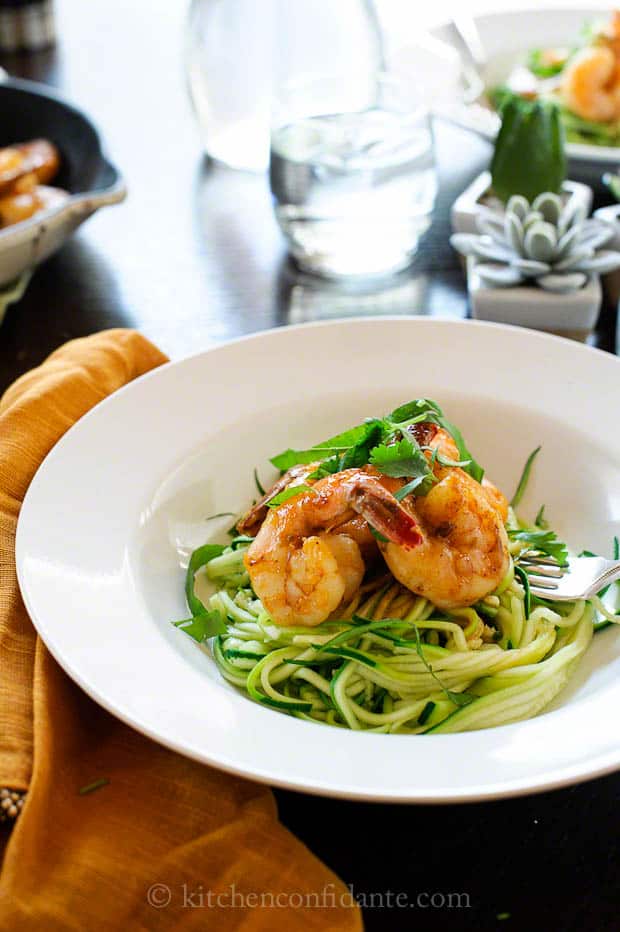 Ree's Cooking Essentials Giveaway
This giveaway is officially closed. Congratulations to Rachel on being the random winner!
Ready to enter? Here's how:
Please leave a comment below and feel free to share: Diets – yay or nay?
Entries/Comments accepted until 10 pm Pacific, Monday, 25 June, 2012.
One winner will be randomly selected and notified by email.
This contest is open to US residents only, my apologies to my international friends!
Disclosure: The author received a gift package from Land O'Lakes, including two cookbooks, a whisk, a slotted spoon, tongs and a full-value coupon redeemable for LAND O LAKES® Butter with Olive Oil & Sea Salt, for recipe development and review purposes. All opinions are my own.
Spicy Shrimp with Zucchini Noodles
If I were to diet, this is just the type of food I would eat. Spicy and satisfying, the Asian-style shrimp spiked with sriracha pairs great with healthy ribbons of zucchini noodles. Of course, the shrimp would be fabulous on regular rice noodles, but when zucchini are so abundant this time of year, it makes for a perfect summer meal.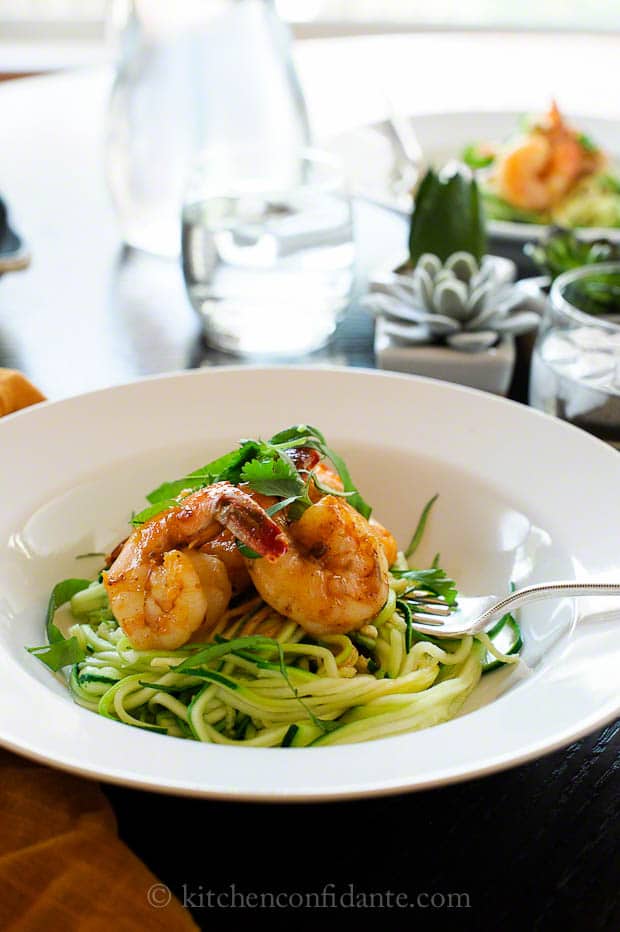 Print Recipe
Ingredients
8 medium zucchinis
1 lb shrimp (16 pieces), peeled and deveined, tails on
1 tablespoon olive oil
1 shallot, finely sliced
2 tablespoons sriracha sauce
1/2 teaspoon fish sauce
1 teaspoon sugar
Freshly ground black pepper
1-2 tablespoons butter with olive oil and sea salt
cilantro, chopped
basil, thinly sliced (chifonnade) (optional)
Instructions
Bring a medium pot full of water to a boil. Salt generously.
Using a julienne peeler or mandoline, create ribbons of zucchini noodles. Blanch the zucchini briefly in the boiling water, for about 2 minutes, until just wilted. Drain the zucchini noodles and set both the vegetables and water aside.
In a saute pan, heat olive oil over medium heat. Add the shallots and cook until just translucent. Add shrimp, sriracha sauce, fish sauce, sugar, and a little black pepper, to taste. Stirring frequently, cook until the shrimp is just cooked through and pink, about 3 minutes. At the tail end of the cooking process, stir in about 1/2 cup of the reserved water to create a sauce, as well as the butter. Serve the shrimp on a bed of zucchini noodles, and drizzle with the pan sauce. Garnish with cilantro and basil (if desired), and enjoy!