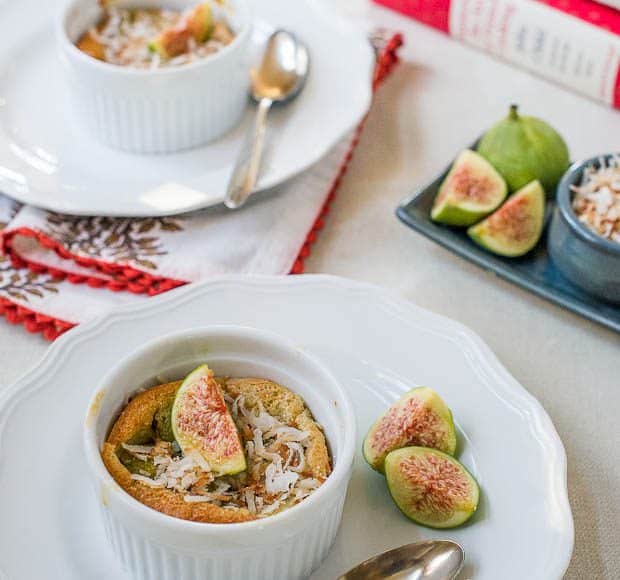 Homework with Julia | Coconut Fig Clafoutis
I never liked sitting at a desk. I ignored the teachers and I ignored my parents. But I never ignored my homework. I just liked doing it at the piano bench. It was probably an odd sight, if you were to go back in time…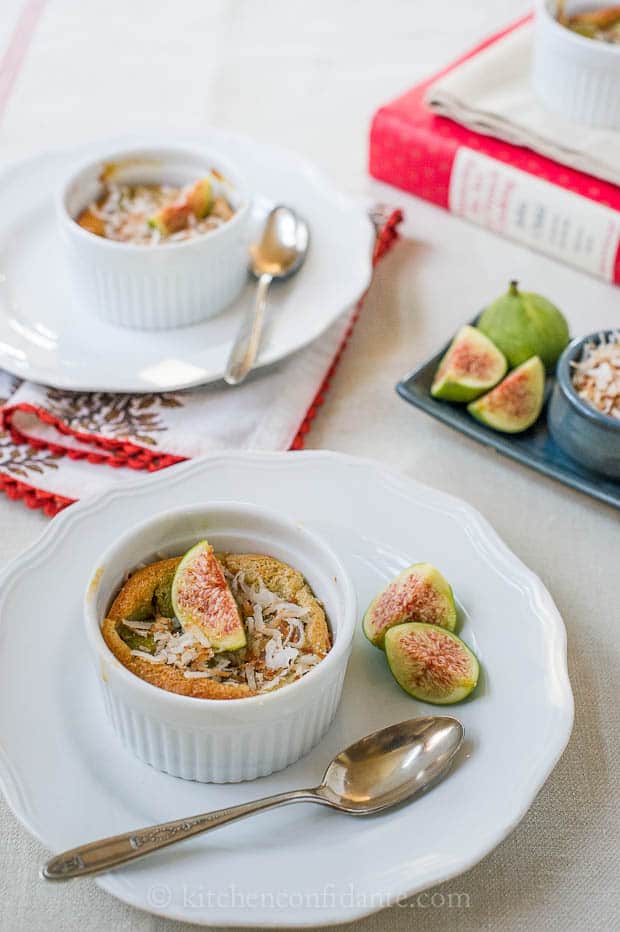 Homework with Julia | Coconut Fig Clafoutis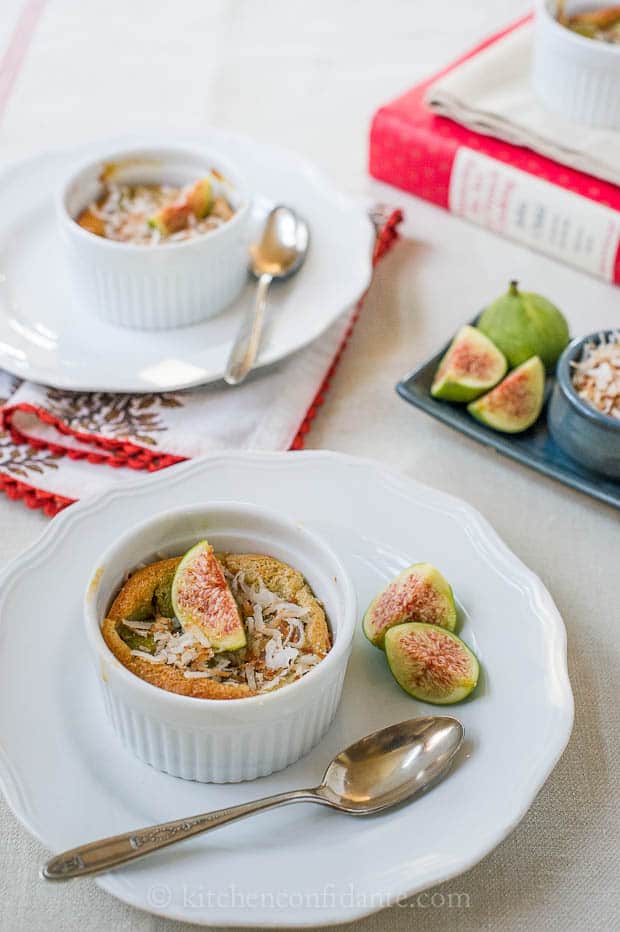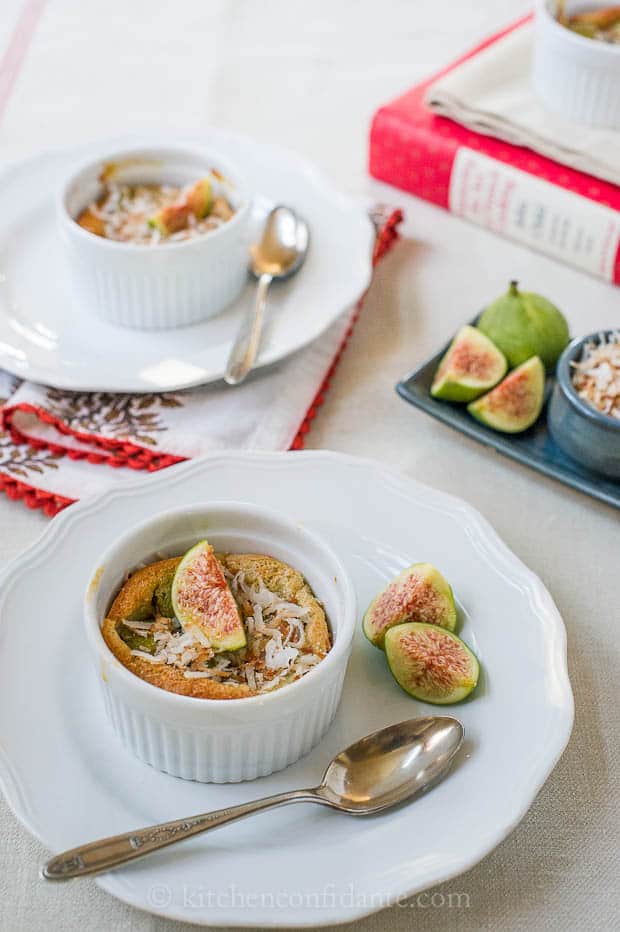 I never liked sitting at a desk. I ignored the teachers and I ignored my parents. But I never ignored my homework. I just liked doing it at the piano bench.
It was probably an odd sight, if you were to go back in time to my home in New York, in the little living room where the upright piano anchored one wall. I claimed the piano bench every afternoon — it was my favorite little spot, and I would teeter on the balls of my feet as I worked on language arts and math. Maybe I liked it because I loved tracing the dark wood grain, maybe I liked it because I liked to imagine it was an antique desk, maybe I liked it because with one quick glance, I could see what my mom was cooking up in the kitchen. Or maybe it was for the company.
Julia joined me on many afternoons in that living room. As my number two pencil moved efficiently through my workbooks (you see, despite not being at a proper desk, I was, without a doubt, very good at finishing my homework), her bubbly and endearing nasal chuckle would echo through my television set. She would debone a chicken while I figured out fractions. She would frost a cake while I analyzed sentence structures.
She was, perhaps, my first teacher in cooking, even before my mother. Little did I know that while I was working on academics, she was teaching me, too, leaving an indelible mark. I just thought at the time that she was an entertaining lady.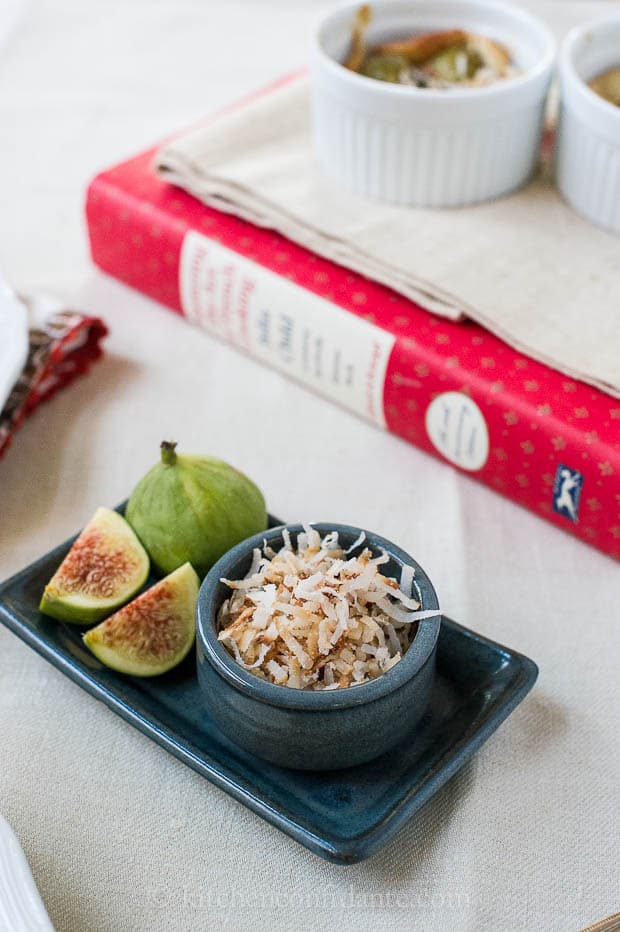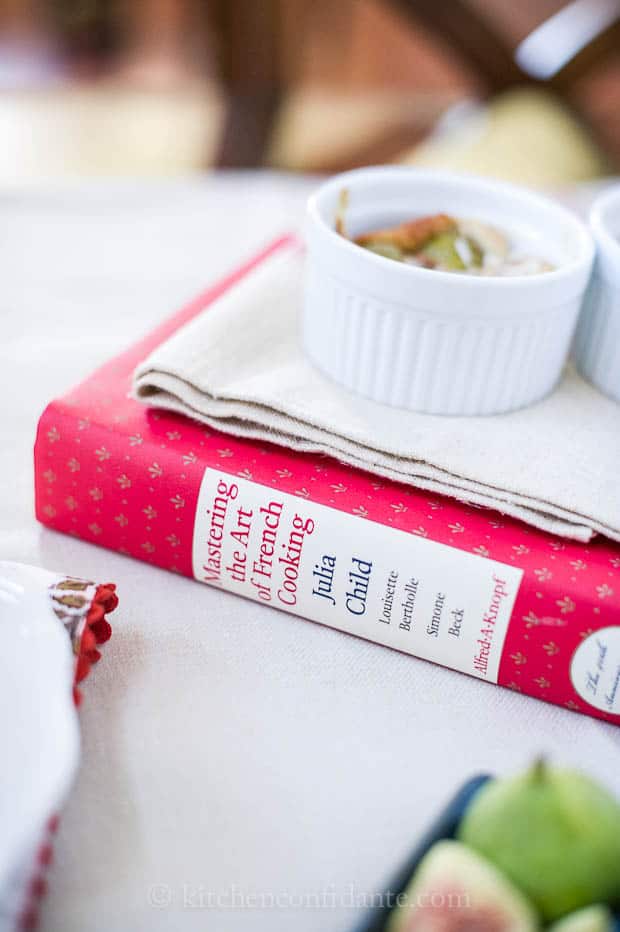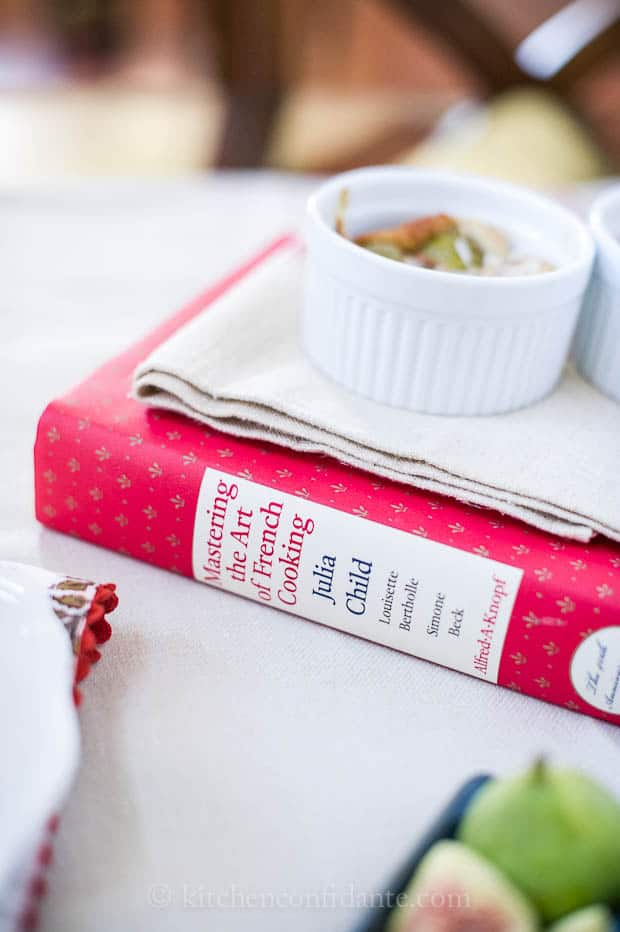 It wasn't until adulthood that I picked up a copy of Mastering the Art of French Cooking, but when I cooked my first dish from that book, I felt her presence as I seared my chicken and stirred the mushroom sauce. And I know I am not alone in feeling as though I have a guardian angel in the kitchen when I work from her book.
So, as the world celebrates Julia Child's legacy on what would have been her 100th birthday, I must raise my glass as well. Thank you, Julia, for those afternoons, thank you for doing homework with me. Thank you for being a teacher.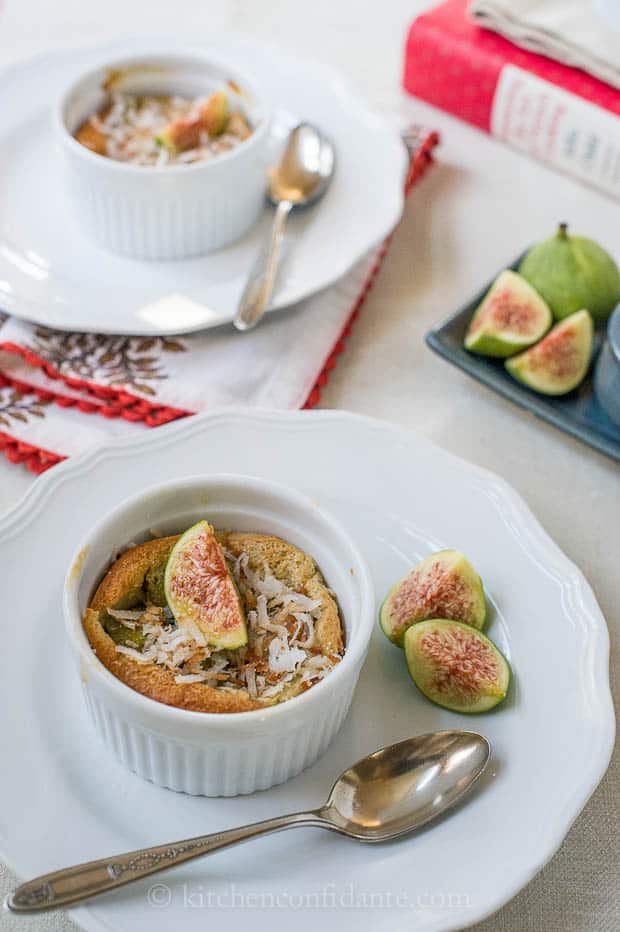 To celebrate, I made Coconut Fig Clafoutis. It is rustic and custardy, and I do believe Julia would be happy to sink her spoon into one. I hope you do, too.
What I loved best about Julia Child was how she embraced French cooking - both the complex and the rustic - with her sensibility. I felt inspired to make my version of her Clafoutis. It combines the sensibility of the rustic French custard cake with my beloved Californian figs and the coconuts of my roots. I can only hope that she would approve.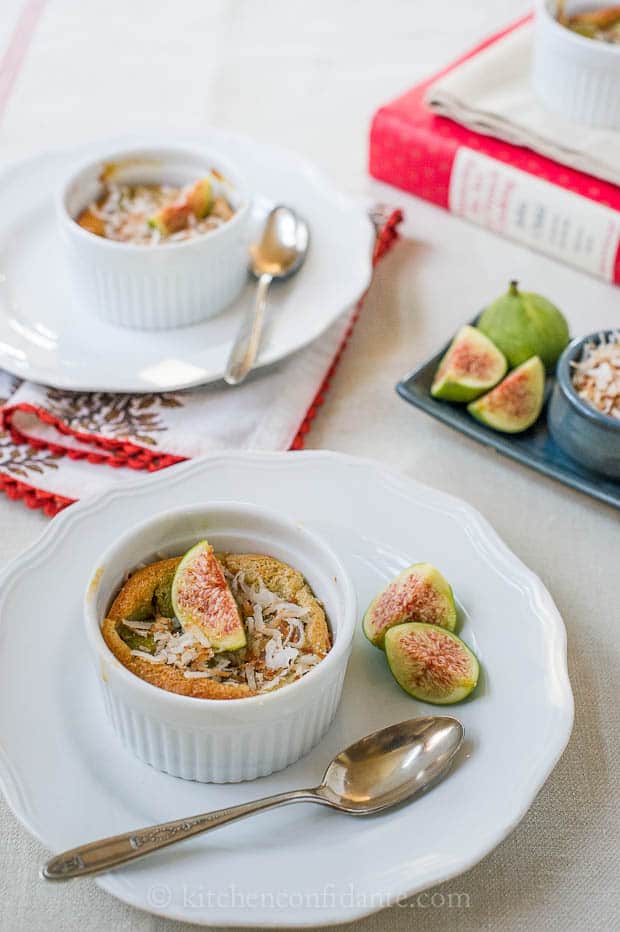 Print Recipe
Ingredients
1 lb fresh figs, trimmed and quartered
1 cup light coconut milk
1/4 cup heavy cream
1/3 cup sugar
3 eggs
1 tablespoon vanilla extract
1/8 teaspoon salt
1/2 cup flour
1/4 cup sugar (optional, if fruit is not sweet)
Coconut Sugar Topping
1/2 cup coconut flakes
2 tablespoons sugar
Instructions
Preheat the oven to 350 degrees.
In the jar of the blender, place the coconut milk, heavy cream, sugar, eggs, vanilla extract, salt and flour (Julia recommends following this precise order). Blend at high speed for 1 minute. Strain into a bowl or pitcher and set in the refrigerator while preparing the ramekin dishes. This can also be done the night before.
Butter 6-8 ramekin dishes and place on a baking sheet. Pour a little batter into each (about 1/2 inch) and place into oven for about 5 minutes. Remove from oven, and arrange the figs in each ramekin, sprinkle a little sugar on the fruit, then pour remaining batter over the figs. Return the ramekins into the oven and bake for about 35 minutes, or until the clafoutis has puffed and turned a golden brown.
Meanwhile, toast the coconut flakes in a medium skillet over medium heat, stirring frequently. When the coconut is golden, stir in the sugar and set aside.
Remove from oven. The clafoutis will collapse. Sprinkle coconut sugar over each and serve while warm.
Adapted from Clafoutis, Mastering the Art of French Cooking (Child, Bertholle & Beck, 1961).