Lentil Stuffed Peppers
We were heading back to my daughter's dance studio when my son stopped to tell me he had three reasons why he was lucky: 1. I have the food I need. 2. My family. 3. A happy heart. Three simple things. Three very profound things.…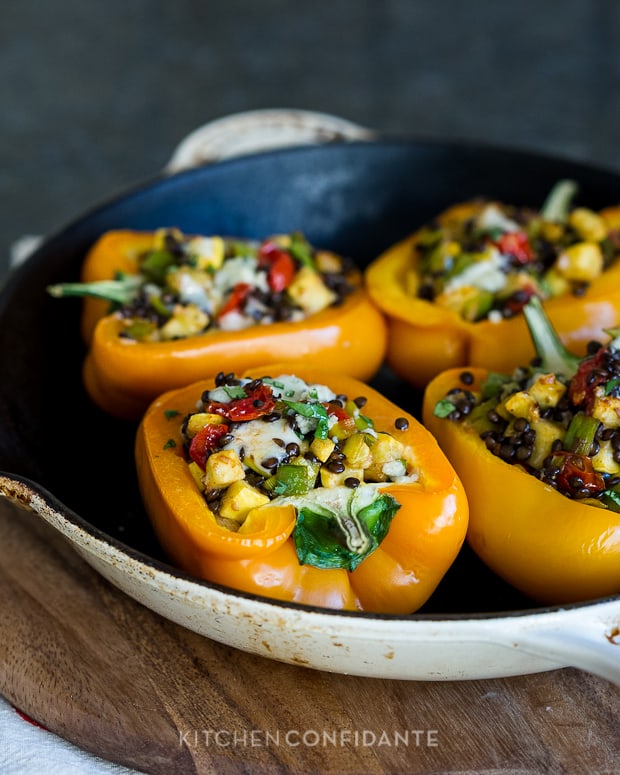 Lentil Stuffed Peppers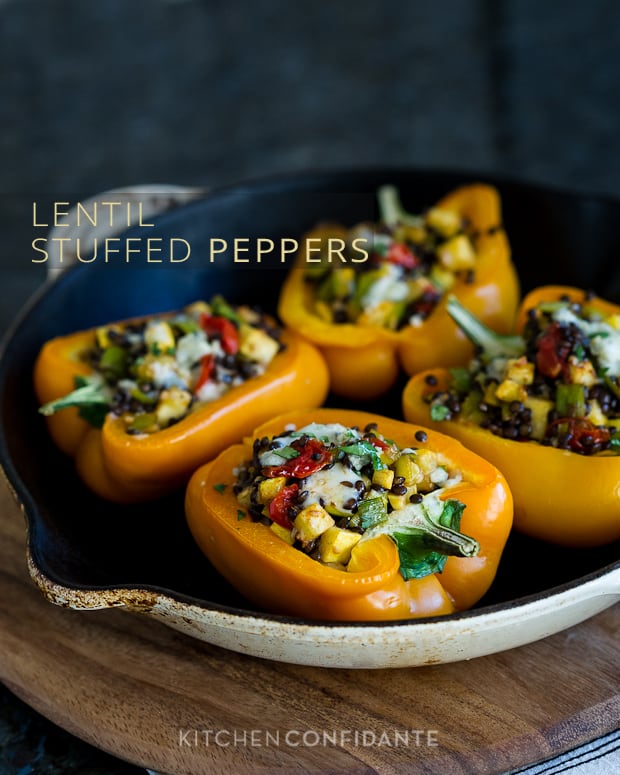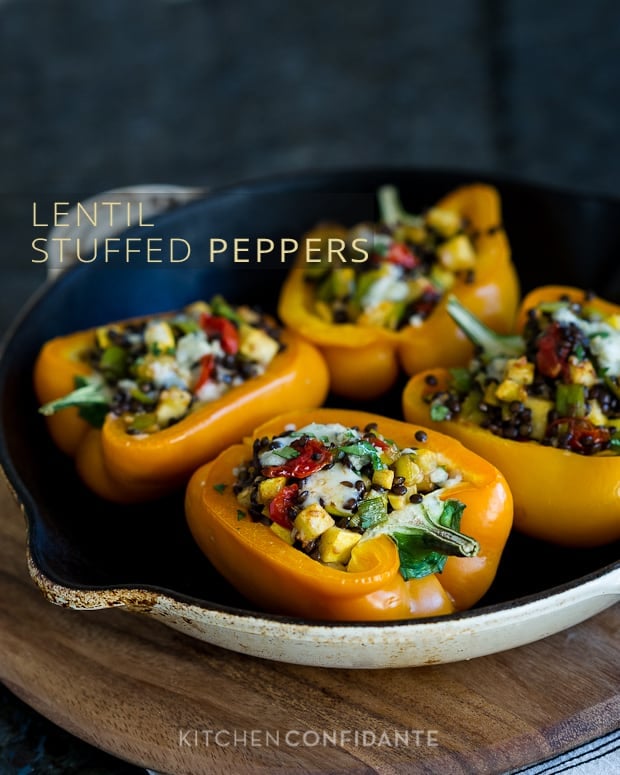 We were heading back to my daughter's dance studio when my son stopped to tell me he had three reasons why he was lucky:
1. I have the food I need.
2. My family.
3. A happy heart.
Three simple things. Three very profound things. I didn't want to forget, so I asked him to repeat it for me, and I recorded his little voice so I could always remember. I wanted to share it with you:
3 Reasons I Am Lucky
You can hear him for yourself…and if you listen through to the end, you will also hear me trying to figure out how to work Evernote.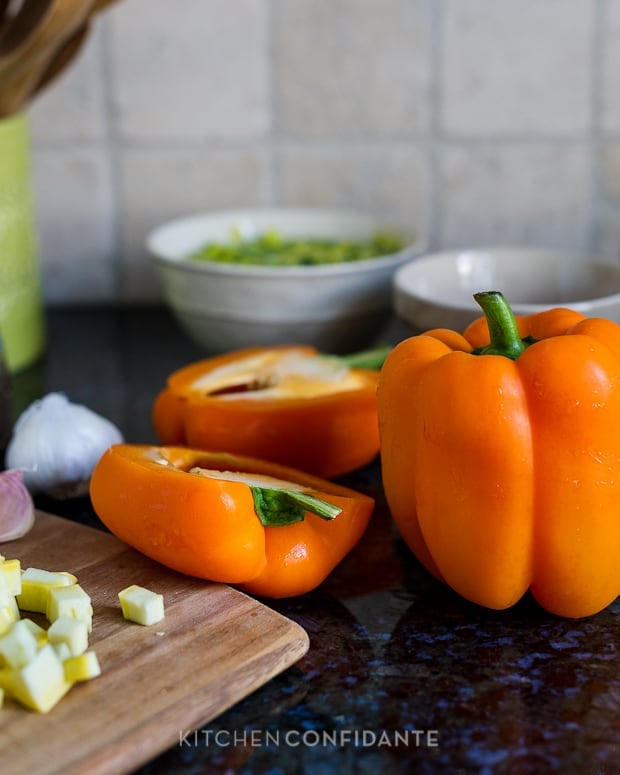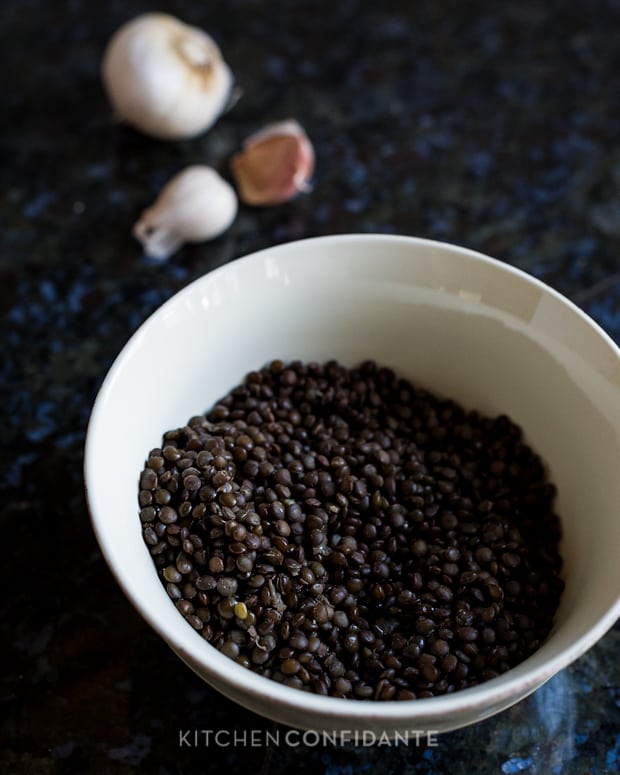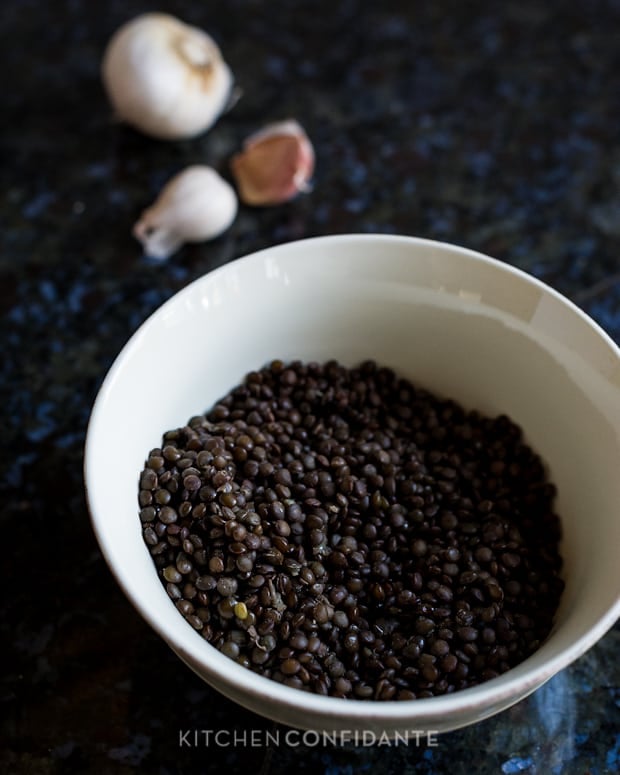 What's most important is a happy heart, mama. So true, I nodded. You're so wise, where did you learn that? I asked.
Kermit the Frog.
Naturally.
The same frog who brought us rainbow connections has taught my children a valuable lesson that many adults overlook.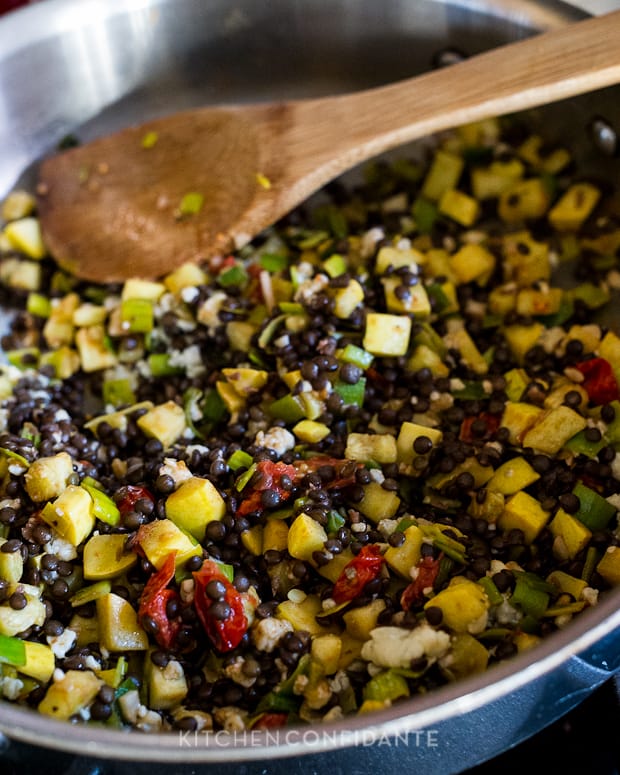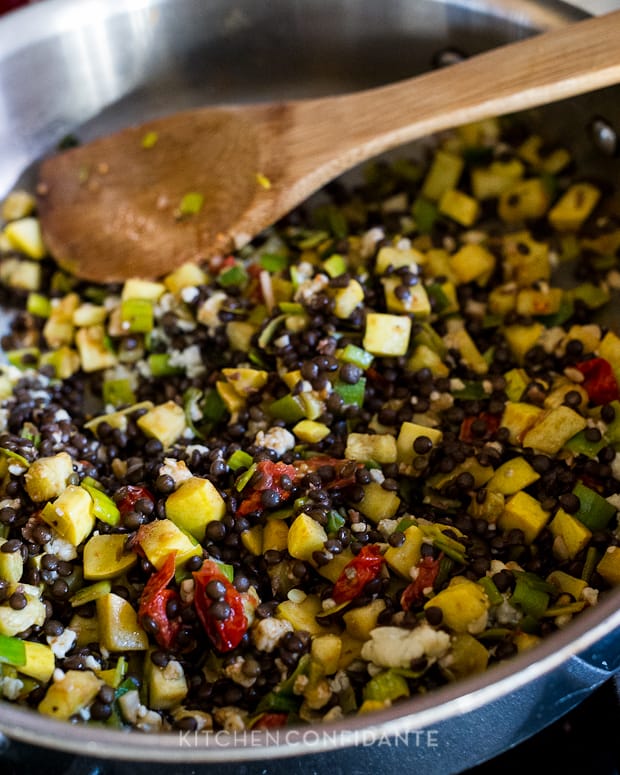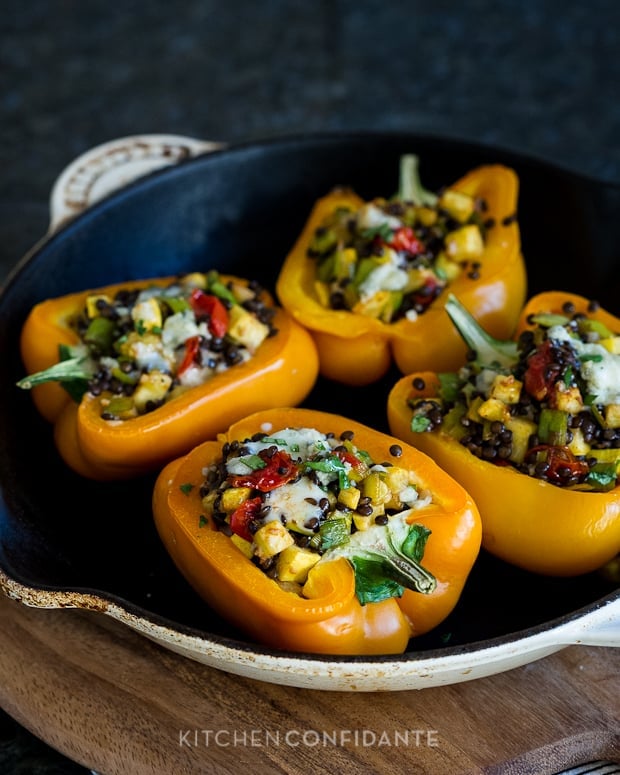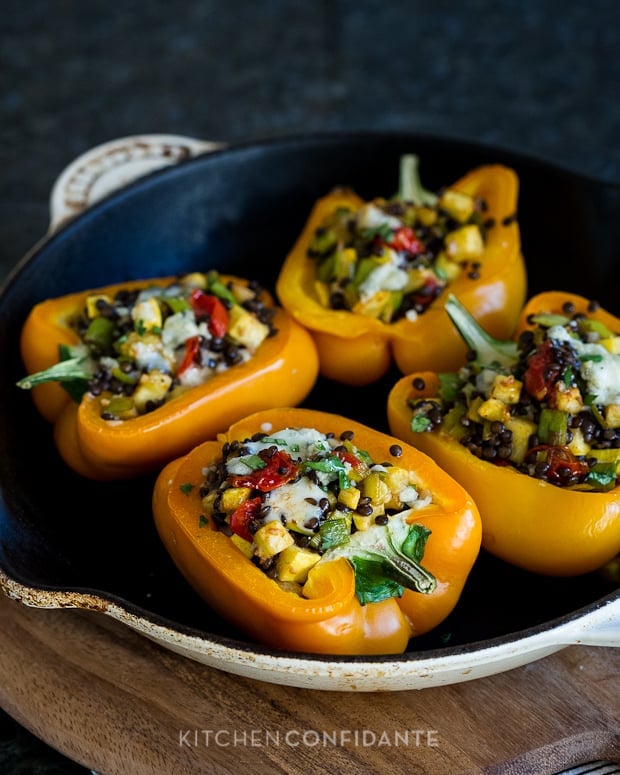 I thought of rainbows as I sautéed vegetables to create the filling for these Lentil Stuffed Peppers. Green leeks, yellow squash, red tomatoes, mixed with inky beluga lentils in the orange bell peppers. The bright hues and my son's happy heart brought a smile to my face. I filled the peppers with the colors of the rainbow, healthy vegetables that I know I am lucky to have. I can thank my little guy…and Kermit…for reminding me.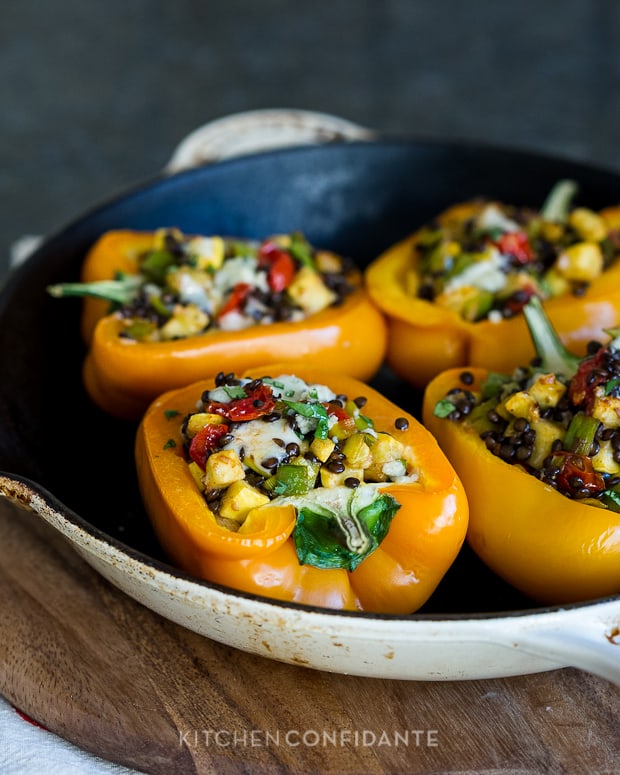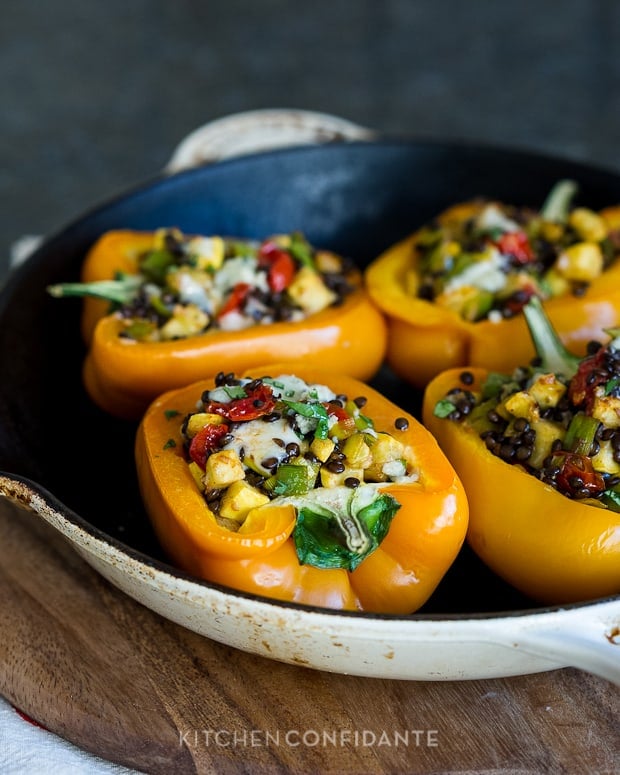 The term "eat the rainbow" comes to mind when I made these Lentil Stuffed Peppers: it's chock full of colorful vegetables, plus nutrient rich lentils, it can be a side dish or a meatless meal on its own. Of course, if you prefer, you can also add meat to this - crumble in some chicken sausage if you like something even heartier!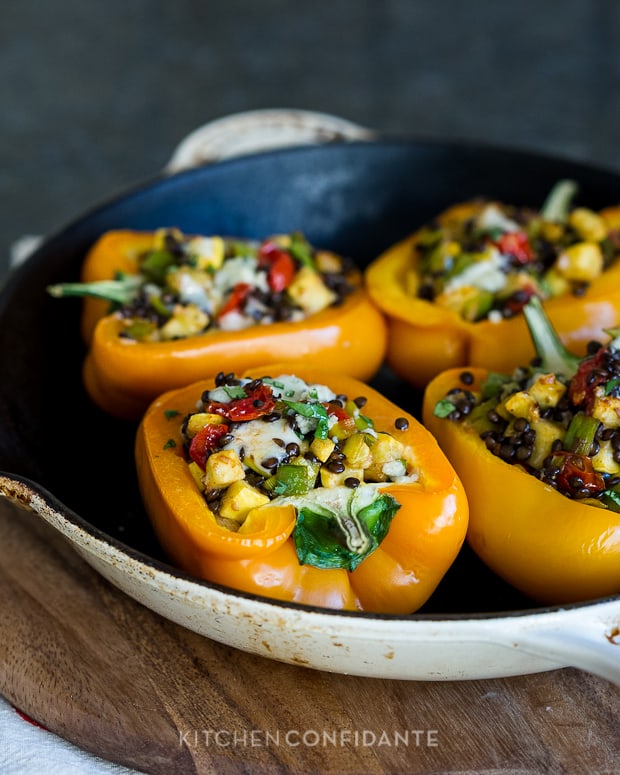 Print Recipe
Ingredients
2 large bell peppers
1/2 cup black Beluga lentils
2 tablespoons olive oil, plus extra for drizzling
1 leek, quartered, sliced and washed
3 cloves garlic, minced
2 medium yellow squash, finely diced
1 cup grape tomatoes, halved
Kosher salt
Freshly ground black pepper
1 teaspoon cumin
1 teaspoon coriander
1/2 teaspoon marjoram
1/2 teaspoon paprika
1/4 teaspoon balsamic vinegar
1 cup crumbled/grated cheese, such as feta, Gorgonzola, mozzarella
Fresh parsley, chopped, for garnish
Instructions
Bring a medium pot filled partially with water (about 3 inches deep) to a boil. Halve the bell peppers, removing the pith and the seeds. Place the peppers in the boiling water, and let it cook for about 5 minutes. Remove and drain cavity side down on a paper towel or kitchen towel.
Cook the lentils in 1 1/2 cups water (for more flavor, use vegetable or chicken stock). Bring to a boil, then simmer for about 15 minutes. Drain and set aside.
Preheat the oven to 350 degrees.
Heat the olive oil in a deep sided sauté pan over medium heat. Add the leeks and the garlic, and cook until the leeks begin to wilt. Add the yellow squash and tomatoes, season to taste with salt and pepper, as well as the cumin, coriander, marjoram, and paprika. Cook for about 5 minutes, stirring occasionally. Adjust seasoning if necessary, then stir in the balsamic vinegar, cooked lentils and 3/4 cup of the cheese.
Place the peppers in an ovenproof dish and fill with the lentil stuffing. Top with remaining cheese and drizzle lightly with a tiny bit of olive oil. Bake for about 15 minutes, or until the cheese is melted and the peppers are tender. Garnish with parsley and serve.