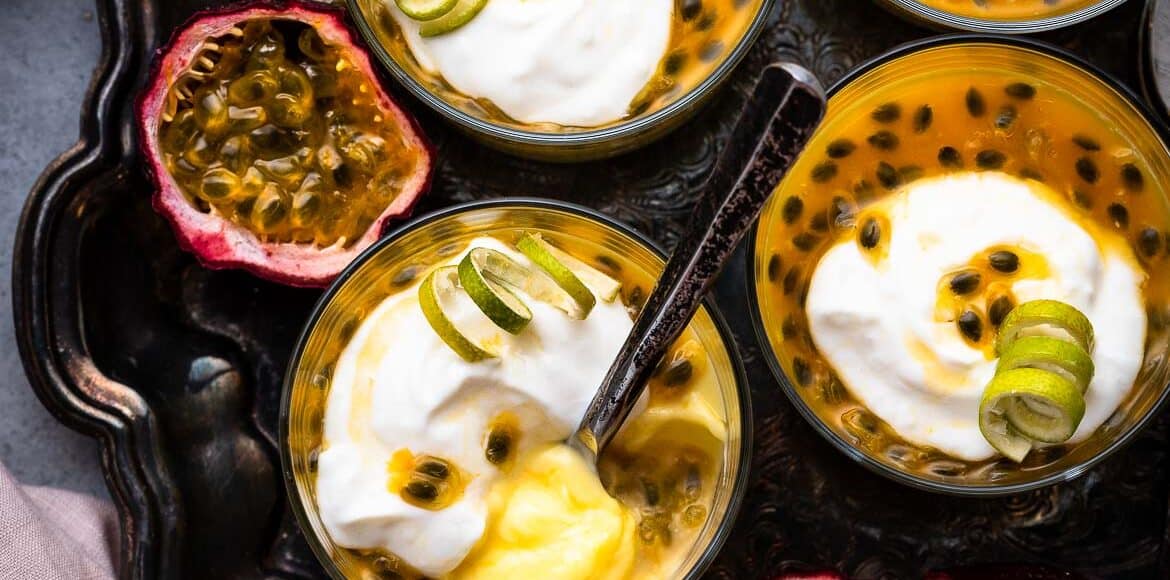 Passion Fruit Possets
If you love lemon posset, you will adore this tropical twist! This passion fruit posset is simple, sweet and tangy, each creamy spoonful like vacation in a glass!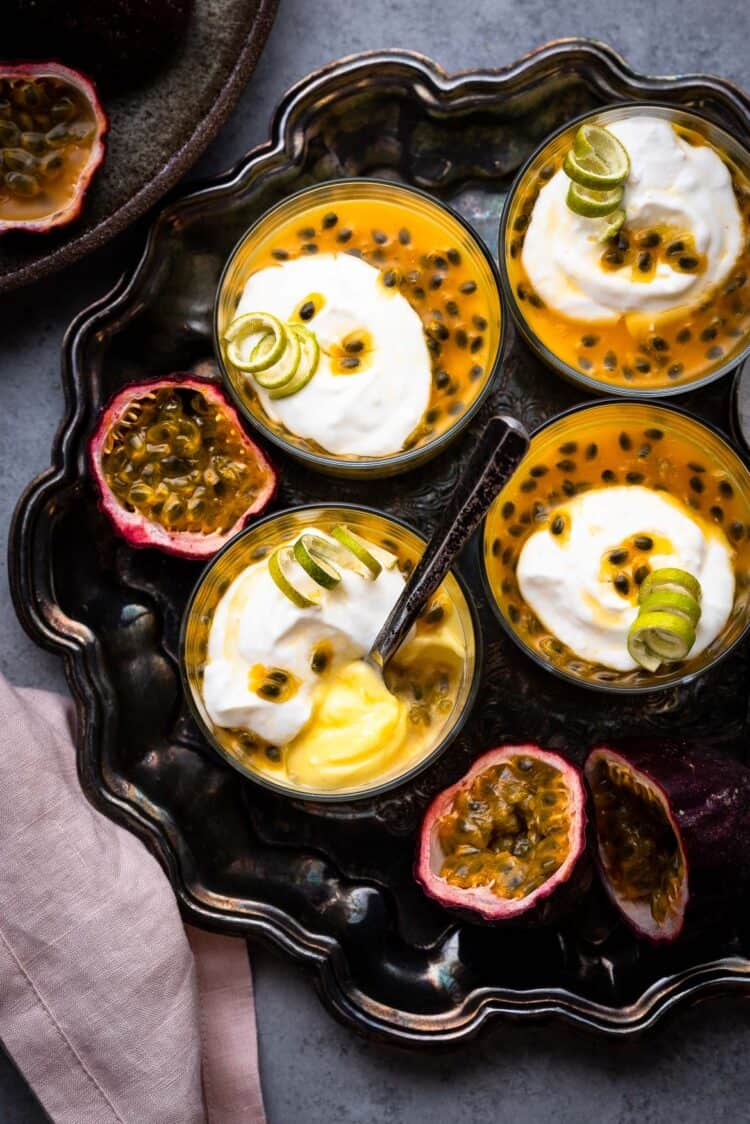 Passion Fruit Possets
Passion Fruit Possets – If you love lemon posset, you will adore this tropical twist! This passion fruit recipe is a simple, sweet and tangy custard, and one of the simplest desserts you can make!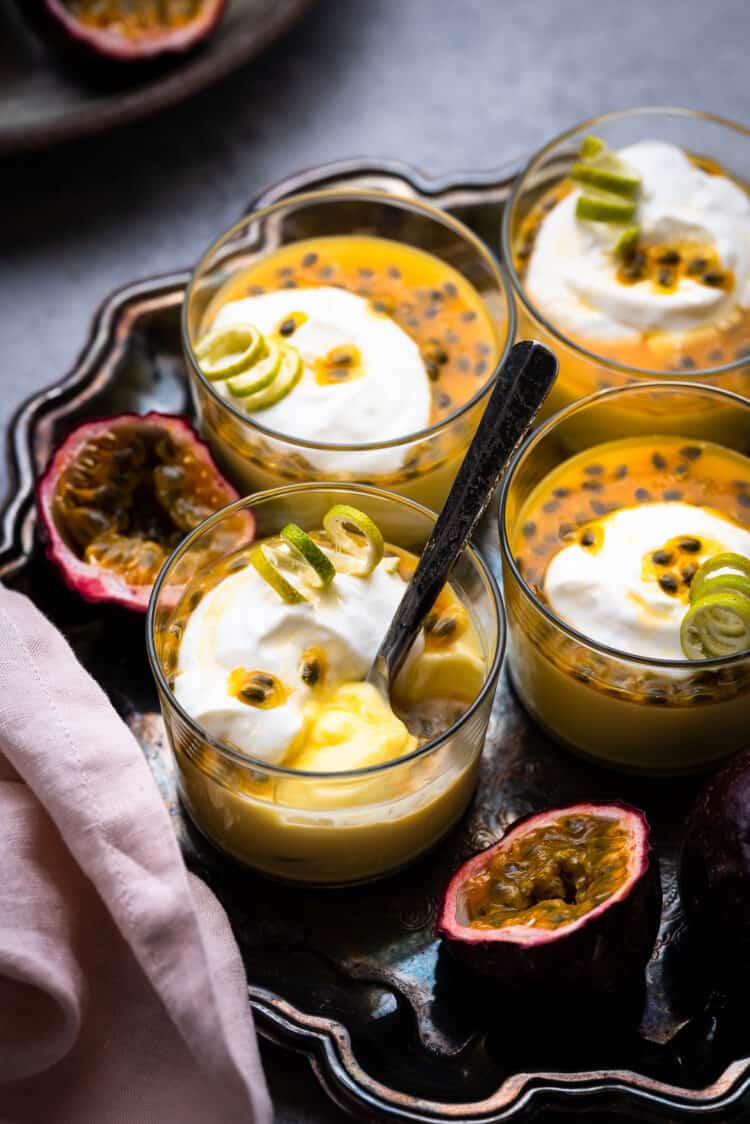 The first time I recall encountering passion fruit was during a high school trip to Australia. It took nearly 24 hours of travel across the world and hemispheres to meet the wrinkly, fragrant fruit, with its vivid, liquid gold, and mouth-puckering tropical flavor. I first tasted it drizzled over the most heavenly pavlova (which I proceeded to order every night I could for dessert during my visit, but that's another story), and fell in love.
Over the years, passion fruit has been that treat I could never resist — whether traveling in Hawaii and enjoying all the lilikoi (passion fruit) treats, tasting passion fruit desserts on trips to South America, or marveling at the climbing passion fruit sprawling beautifully on my sister's fence down in San Diego. To me, it's the flavor of vacation, the scent alone enough to make me feel instantly relaxed.
Recently, I received a very generous box of exquisite passion fruit from Rincon Tropics – what a gift! — and I have been playing with it, between my other projects. I feel badly that I've been keeping these passion fruit recipes from you, since they are among some of my most favorite things to have come out of my kitchen this spring, so I shan't keep this one from you any longer.
I present to you the passion fruit posset.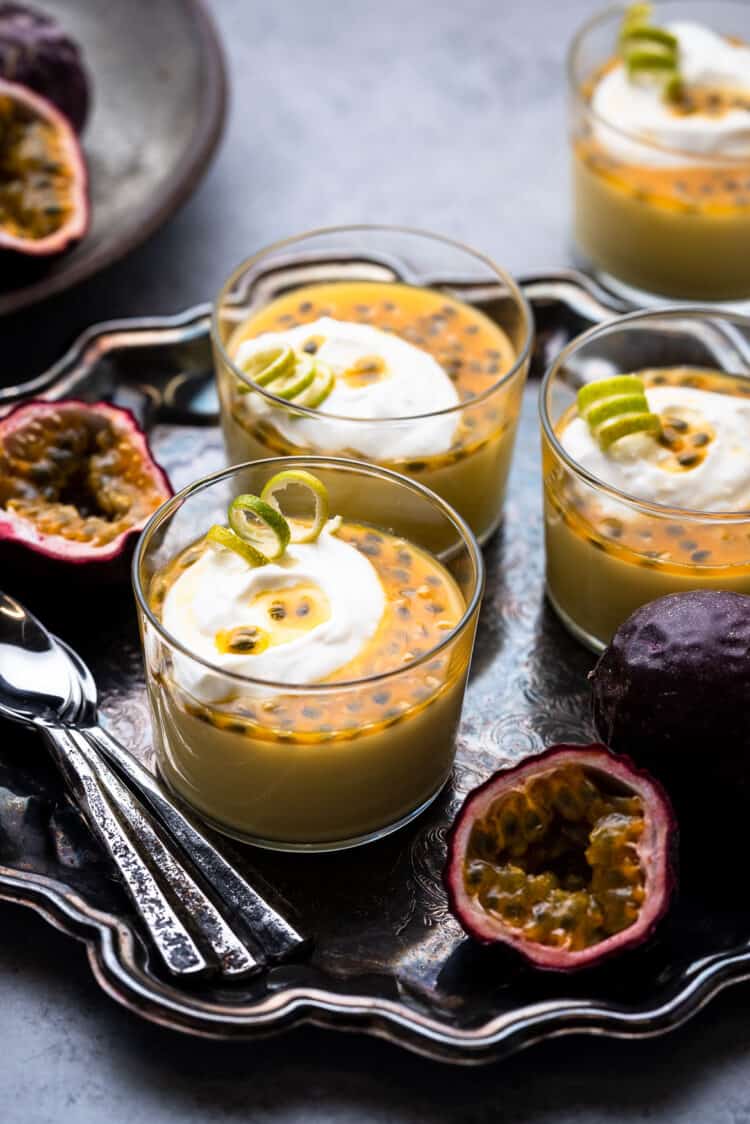 What is a posset?
According to Merriam-Webster, a posset was historically "a hot drink of sweetened and spiced milk curdled with ale or wine," however, nowadays, we use the word posset to describe a cold set dessert, similar to a clotted cream, with its roots based on the historic drink.
Lemon possets are the most popular, and made by heating the cream, which allows the liquid to stabilize the whey protein and casein, resulting in a smooth, creamy consistency, much like a pudding, that doesn't curdle when you add an acid like lemon juice.
Think panna cotta, or pudding, but maybe 50x easier. That is a posset. And it's beautiful.
How to Extract Passion Fruit Juice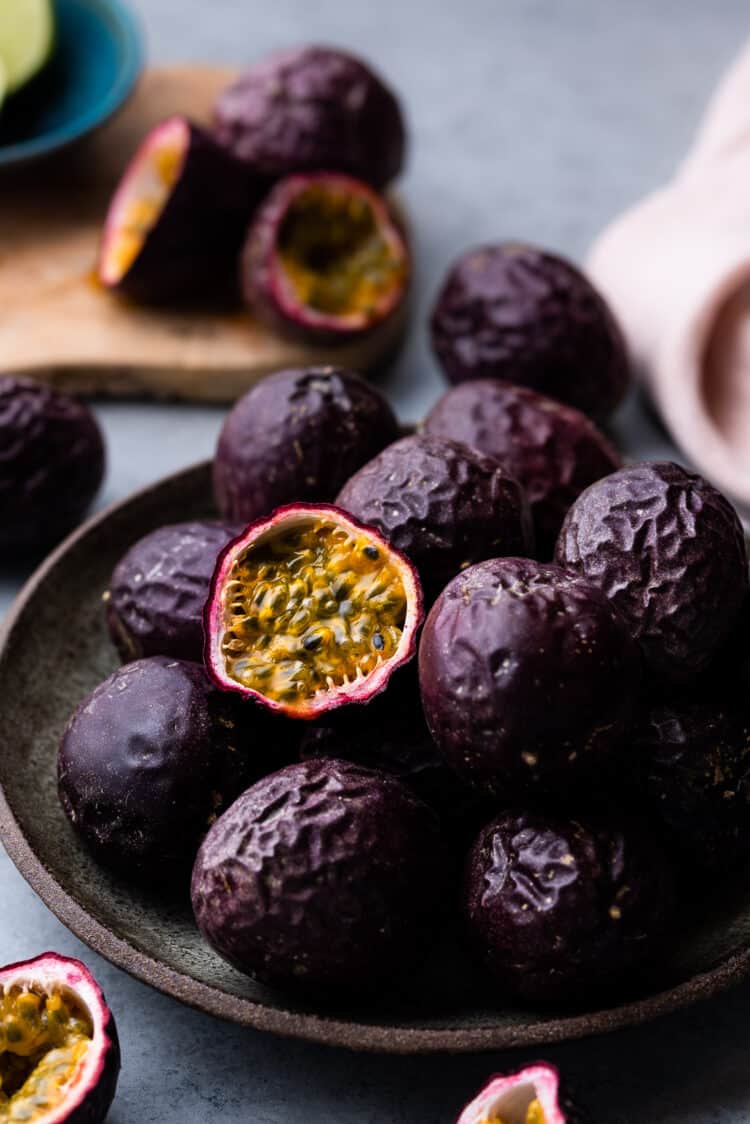 When working with fresh passion fruit, the trickiest part might be figuring out how to extract the juice. The seeds tend to stick to the thick pulp, so it can be tricky. I like to spoon the pulp and seeds into a food processor outfitted with the dough blade. The reason I prefer the dough blade is because it agitates the fruit without chopping up the seeds, so you end up with whole seeds perfectly separated from the juice, which you simple pass through a sieve.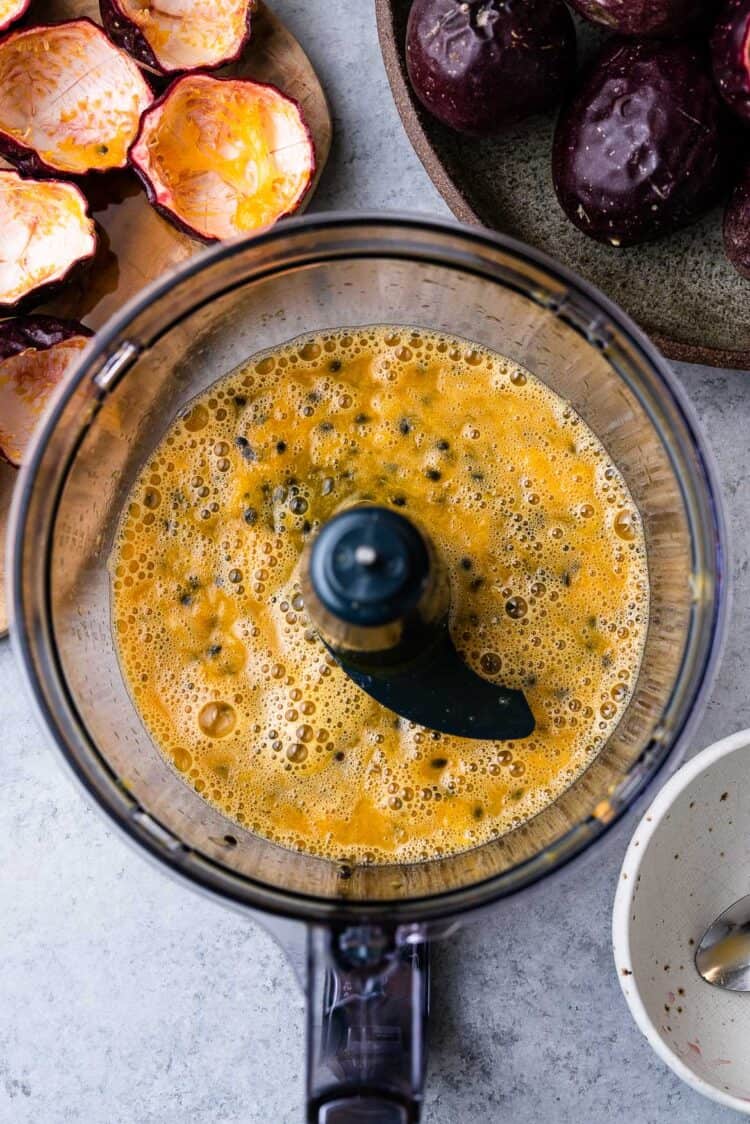 You can also use a regular food processor blade or a blender, just be sure to use a fine sieve. And if you don't have either appliances, you could also use some elbow grease – pass the fruit through a sieve and use the back of a spoon to push the juice out.
How to Make Passion Fruit Possets
We use the base method of heating cream and sugar and adding passion fruit to make passion fruit possets, which is naturally acidic. I also add a touch of lime juice, for extra measure.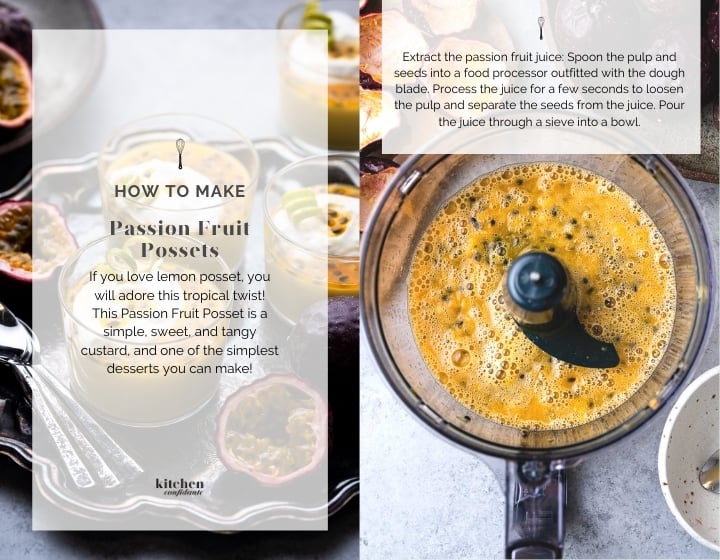 The recipe couldn't be simpler. Heat the cream and sugar, stirring constantly — the cream can easily bubble over, so once you reach a boil, lower the heat to allow it to simmer for a few minutes. Remove from the heat and stir in the passion fruit and lime juices; you will notice the consistency thicken, almost like a warm pudding. Let it sit for about 10 minutes, then transfer to a refrigerator to chill for at least an hour, or overnight.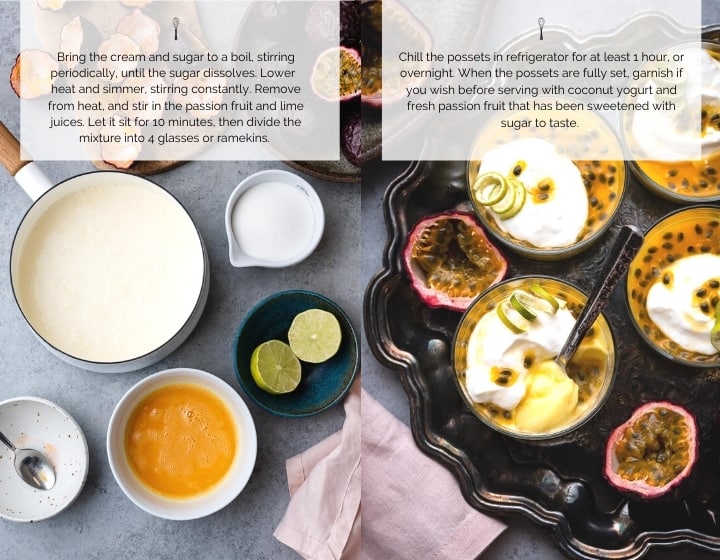 You could serve the possets as they are, but they're also delicious with a little extra garnish! I love a dollop of coconut yogurt or whipped cream on top. For an extra passion fruit touch, scoop out some fresh passion fruit and sweeten it to taste with sugar, and drizzle it on top.
Passion Fruit Tips
When selecting passion fruit, remember, the smooth skinned fruit will need time to ripen. Select ones that feel heavy in the hand, and only open them when they are wrinkled for the sweetest flavor.
Ripen the passion fruit at room temperature. Once they are wrinkled and ripe, you can refrigerate them for a couple of days.
Once you extract the passion fruit juice, store in the refrigerator.
More tropical recipes to try
10 Easy Filipino Desserts with Coconut Milk
Passion Fruit Blood Orange Trifle
Simple Sundays | Sparkling Mango Sorbet Floats
Coconut Panna Cotta with Papaya Gelee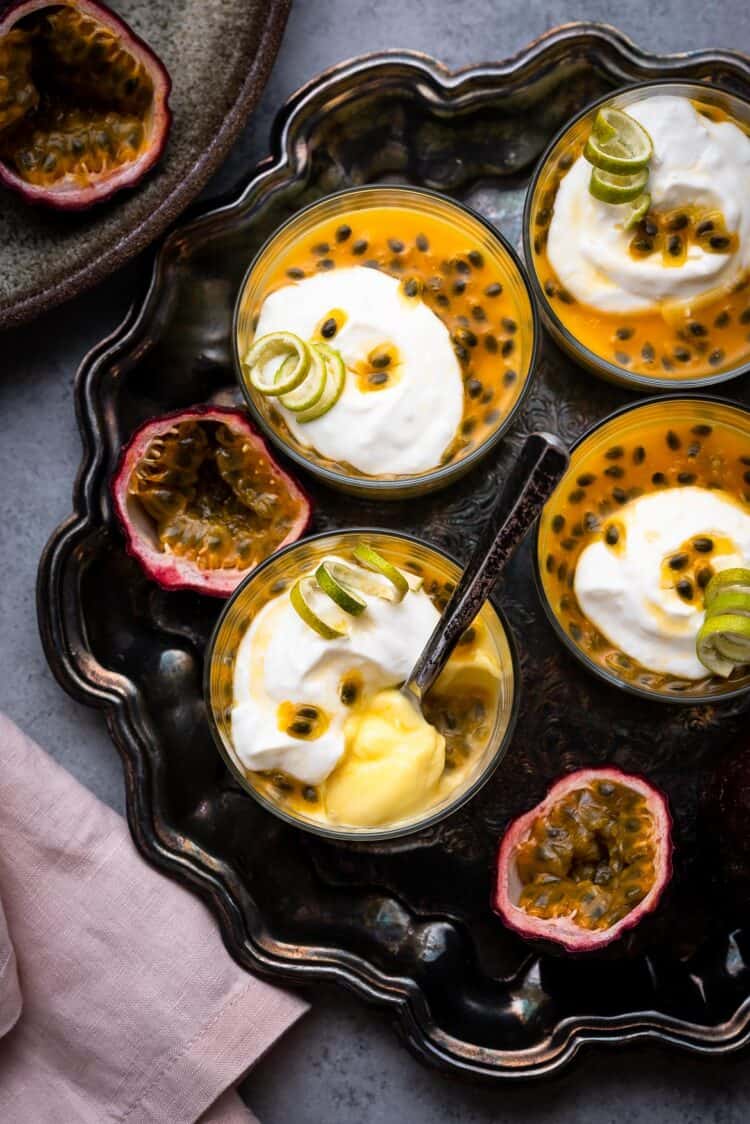 I was gifted a box of passion fruits from Rincon Tropics, however this post is not sponsored. I am simply sharing because I truly love this beautiful fruit and recipe!
Passion Fruit Possets
Passion Fruit Possets – If you love lemon posset, you will adore this tropical twist! This passion fruit recipe is simple, sweet and tangy!
Ingredients
For the Passion Fruit Posset
1/4

cup

passion fruit juice

(about 4 to 6 passion fruits)

16

oz

heavy cream

3/4

cup

granulated sugar

2

tablespoons

lime juice
Garnish options
coconut yogurt

whipped cream

1

passion fruit

sweetened to taste with sugar or honey
Instructions
Extract the passion fruit juice:
Spoon the pulp and seeds into a food processor outfitted with the dough blade. Process the juice for a few seconds to loosen the pulp and separate the seeds from the juice. Pour the juice through a sieve into a bowl.
Make the possets:
Pour the cream and sugar into a saucepan and bring to a boil over medium-high heat, stirring periodically, until the sugar dissolves. Lower the heat to medium-low and simmer for another 3-5 minutes, stirring constantly, taking care not to let it boil over.

Remove from heat, and stir in the passion fruit and lime juices. Let it sit for 10 minutes, then divide the mixture into 4 small glasses or ramekins.

Cover the glasses/ramekins with plastic wrap. Chill the possets in refrigerator for at least 1 hour, or overnight.

When the possets are fully set, garnish if you wish before serving with coconut yogurt or whipped cream, and fresh passion fruit that has been sweetened with sugar to taste.
Nutrition
Calories:
546
kcal
|
Carbohydrates:
43
g
|
Protein:
2
g
|
Fat:
42
g
|
Saturated Fat:
26
g
|
Cholesterol:
155
mg
|
Sodium:
45
mg
|
Potassium:
137
mg
|
Fiber:
1
g
|
Sugar:
40
g
|
Vitamin A:
1781
IU
|
Vitamin C:
8
mg
|
Calcium:
76
mg
|
Iron:
1
mg