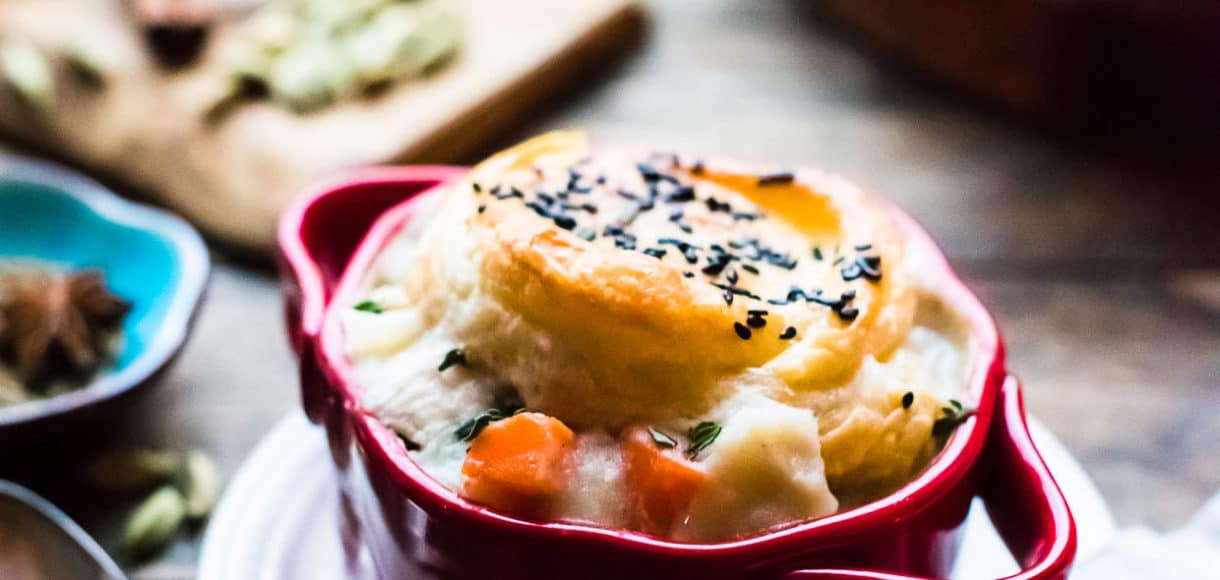 White Chicken Curry Pot Pie
Simple and fragrant White Chicken Curry Pot Pie with puff pastry lends an Indian twist to classic comfort food. This chicken pot pie with puff pastry is one of many delicious recipes from the cookbook Masala & Meatballs by Asha Shivakumar. Fill in the blank:…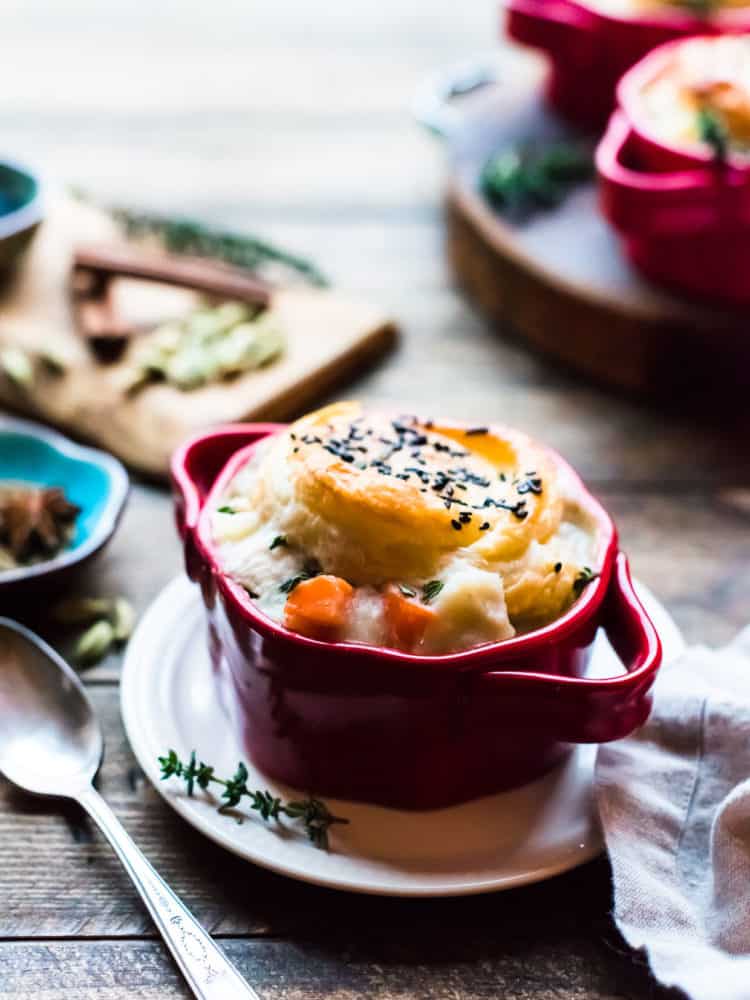 White Chicken Curry Pot Pie
Simple and fragrant White Chicken Curry Pot Pie with puff pastry lends an Indian twist to classic comfort food. This chicken pot pie with puff pastry is one of many delicious recipes from the cookbook Masala & Meatballs by Asha Shivakumar.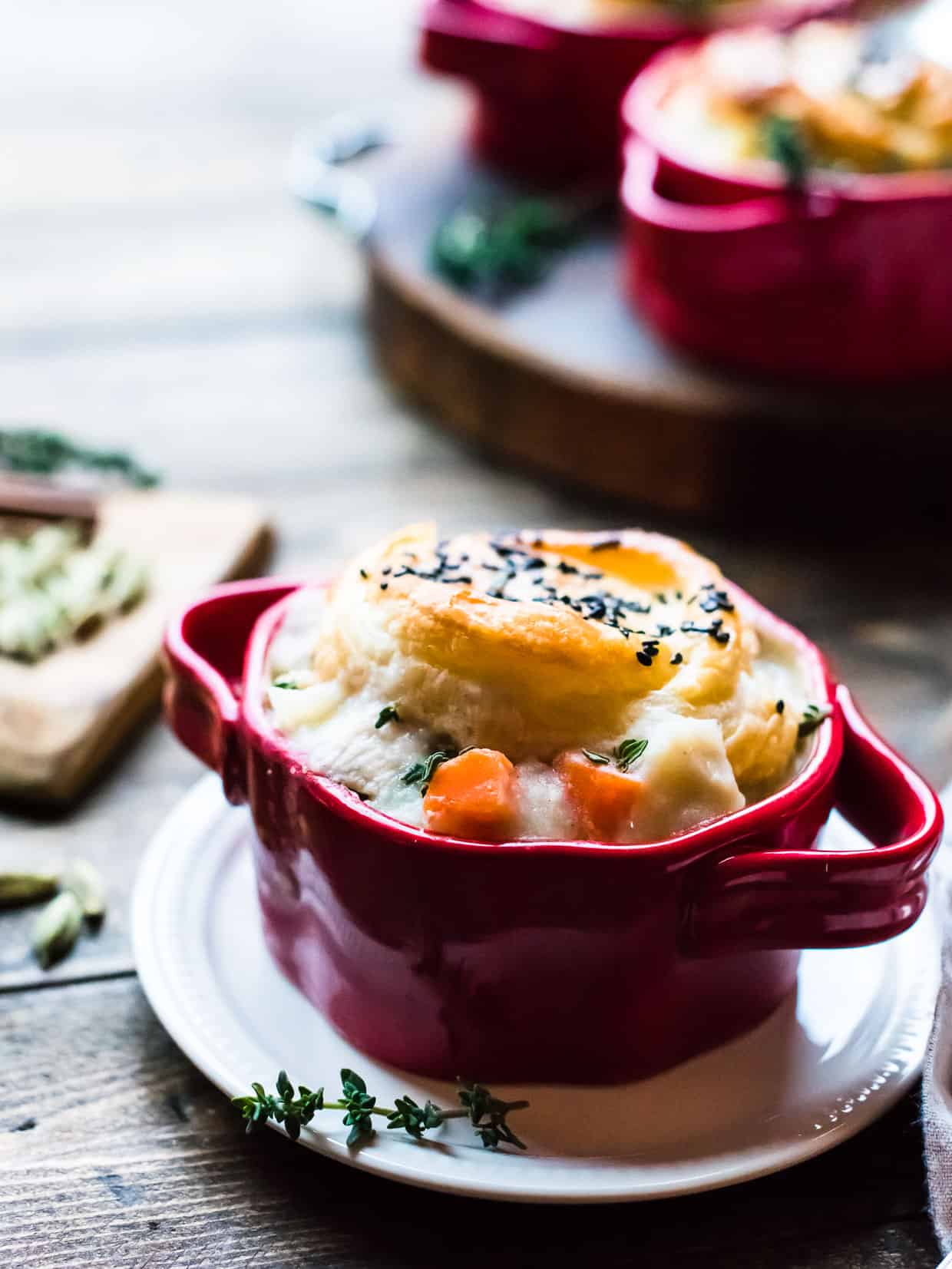 Fill in the blank: The best part about pie is the _________.
Is it the filling? Or is it the crust?
For me, it's the crust! Buttery, flakey, a little bit salty — the crust is what seals the deal, wouldn't you agree?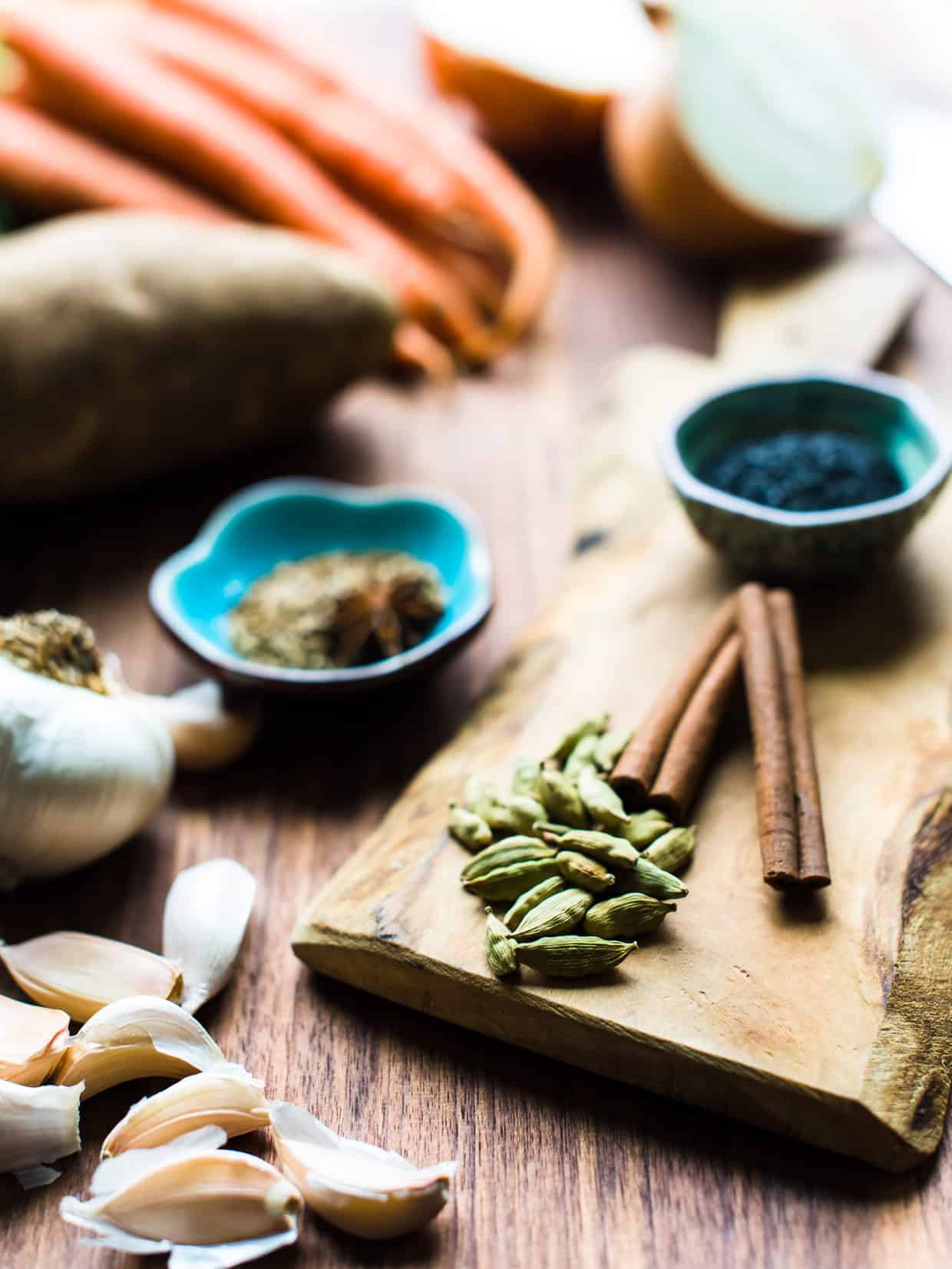 But there is an exception, and that is for chicken pot pie with puff pastry. Savory upon savory, with a creamy filling, tender potatoes, and a creamy sauce — how does it get any better?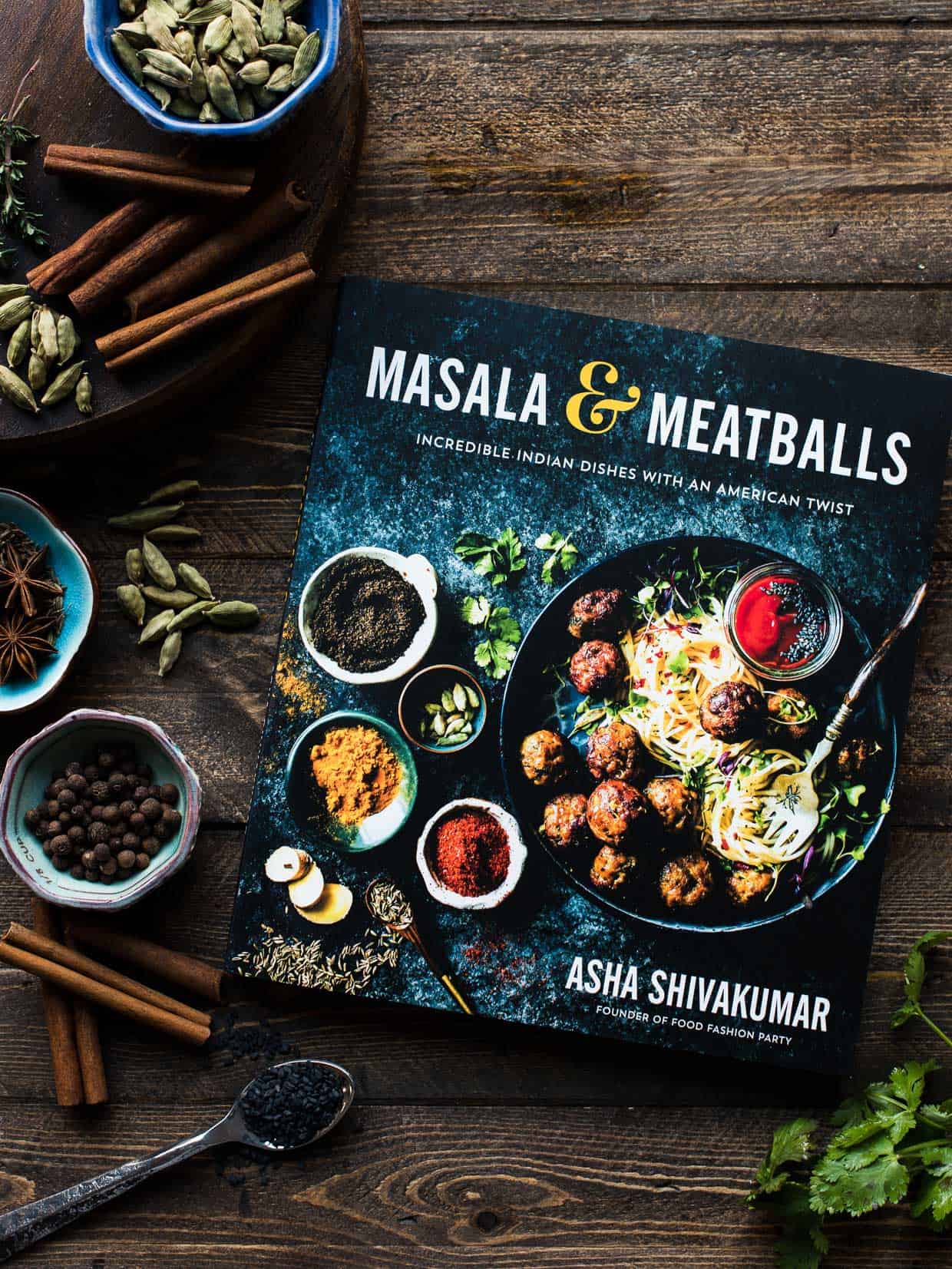 Turns out, there is a way. A touch of Indian spice, in the form of a subtle curry infused sauce, fragrant with cardamom, cinnamon, cumin, cloves and star anise. This recipe for White Chicken Curry Pot Pie drew me in as I thumbed through the pages of my friend Asha's new book, Masala & Meatballs, where she shares Indian dishes with an American twist, and what's more American — or comforting — than chicken pot pie?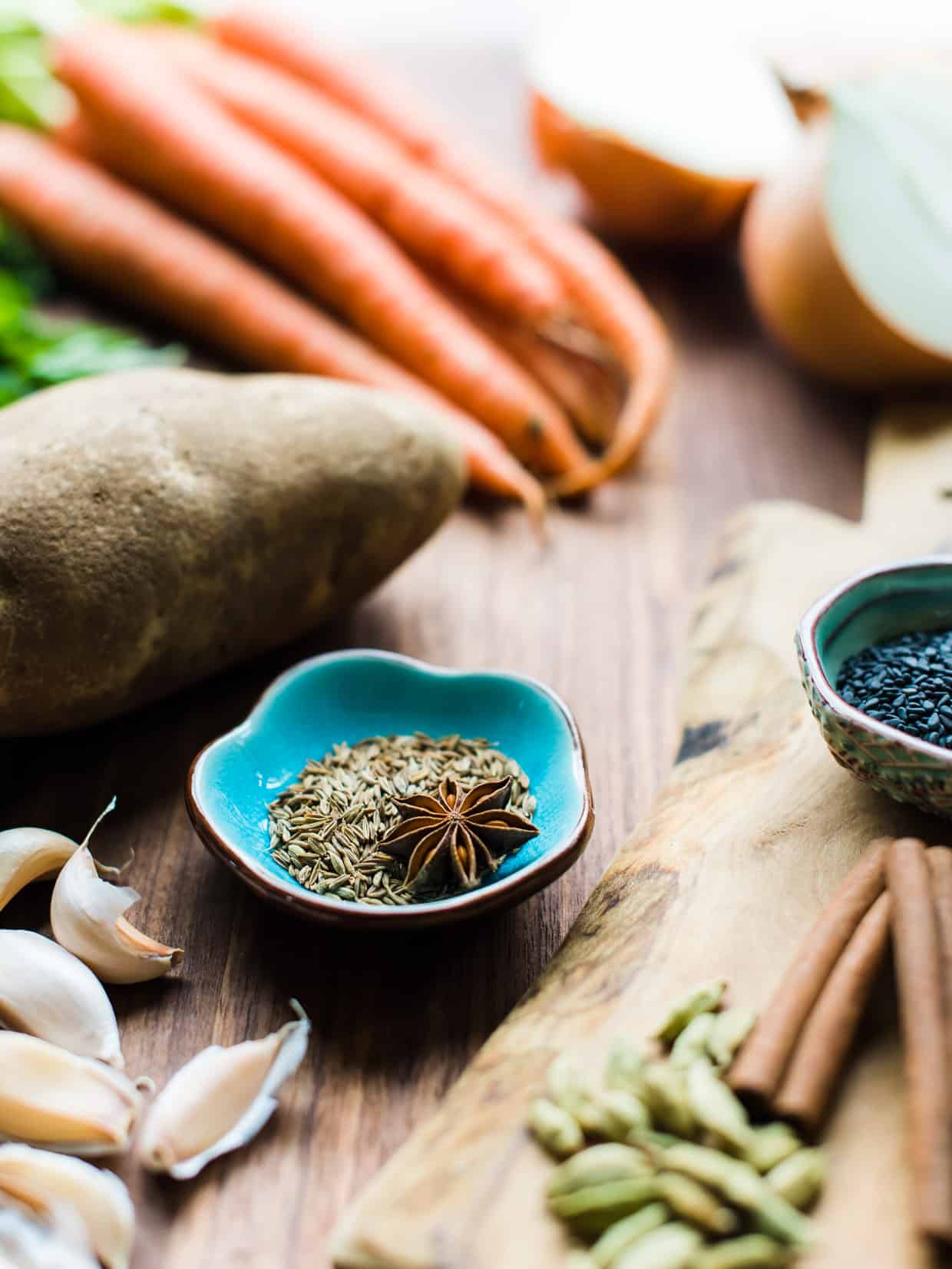 The sauce is creamy and lightly infused with a perfumed curry, and quite simple to put together, topped with a crown of puff pastry. When I pulled it out of the oven, the potatoes and carrots bubbling underneath the halo of pastry, it smelled like heaven.
This is just one of the many recipes in Asha's beautiful book, with the flavors of her beloved India greeting us with each turn of the page, from quick snacks to weeknight meals, to decadent desserts. I'm working my way through her book, but knew I had to stop and share this one with you. It's sure to keep you cozy as we power through the winter chill.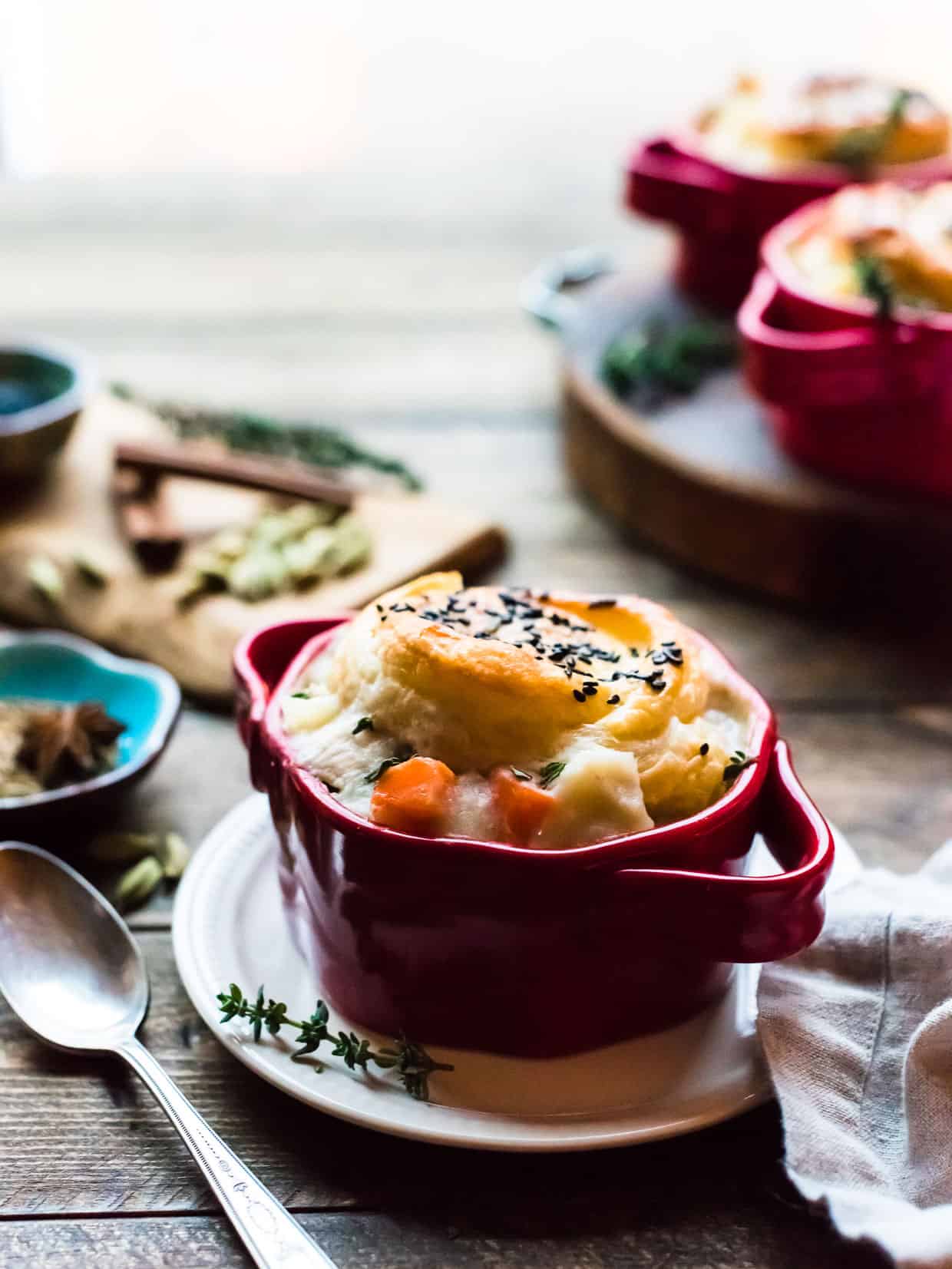 So back to the original question: crust or filling? Well tonight I say both, because when you have chicken pot pie, you can't have one without the other. Or at least with this pot pie, you may change your mind.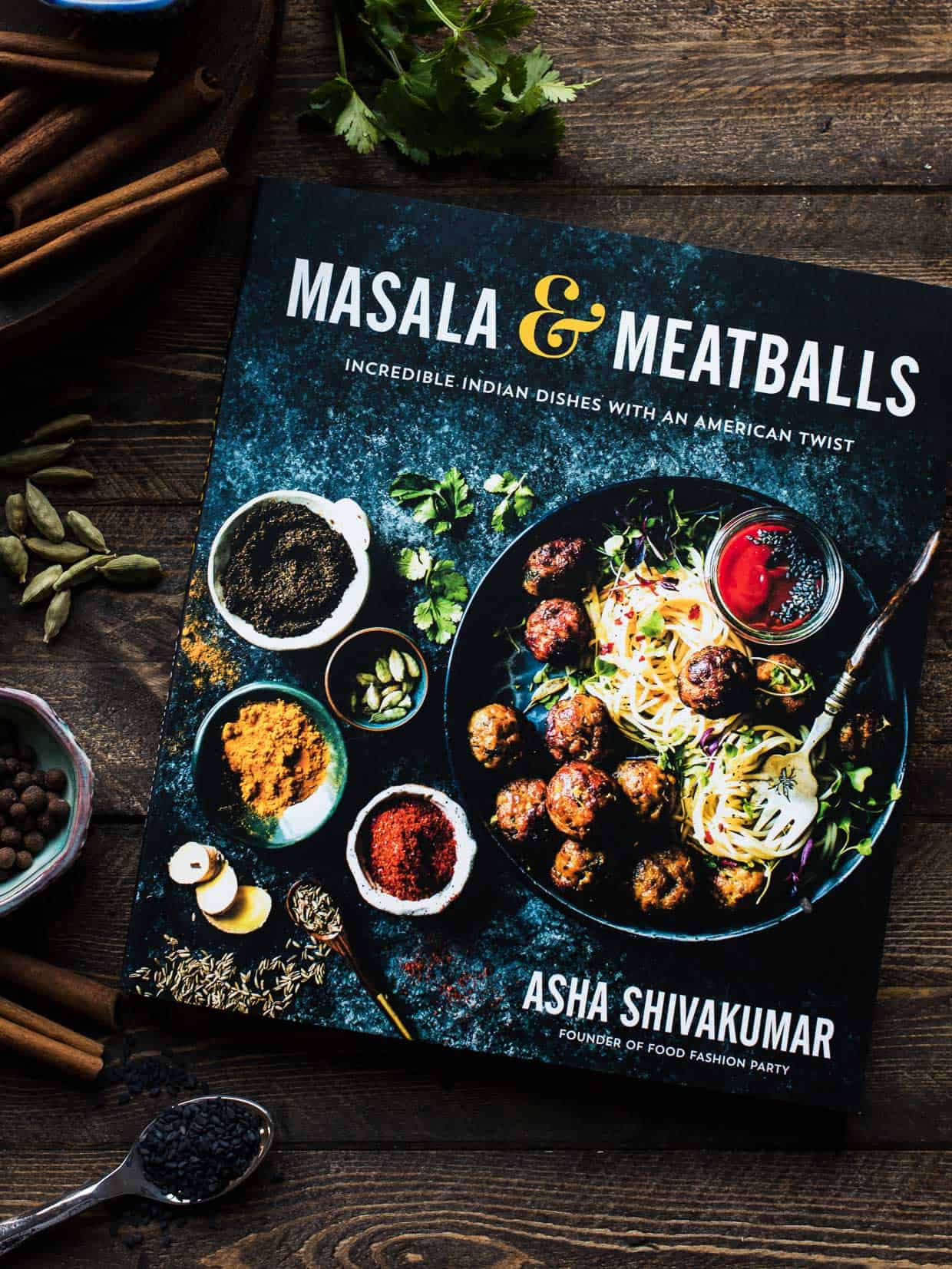 Disclosure: I was sent a copy of Masala & Meatballs for review. All opinions, are of course, my own. There may be affiliate links in the post, see my Disclosure page to learn more.
Recommended Tools & Products
More Savory Pie Recipes to Love:
Turkey Pumpkin Pot Pie
Savory Chicken Sausage and Vegetable Galette
Brussels Sprouts and Baby Greens Feta Pie
Savory Onion Galette
White Chicken Curry Pot Pie
This simple and fragrant White Chicken Curry Pot Pie with puff pastry lends an Indian twist to classic comfort food and is one of many delicious recipes from the cookbook Masala & Meatballs by Asha Shivakumar.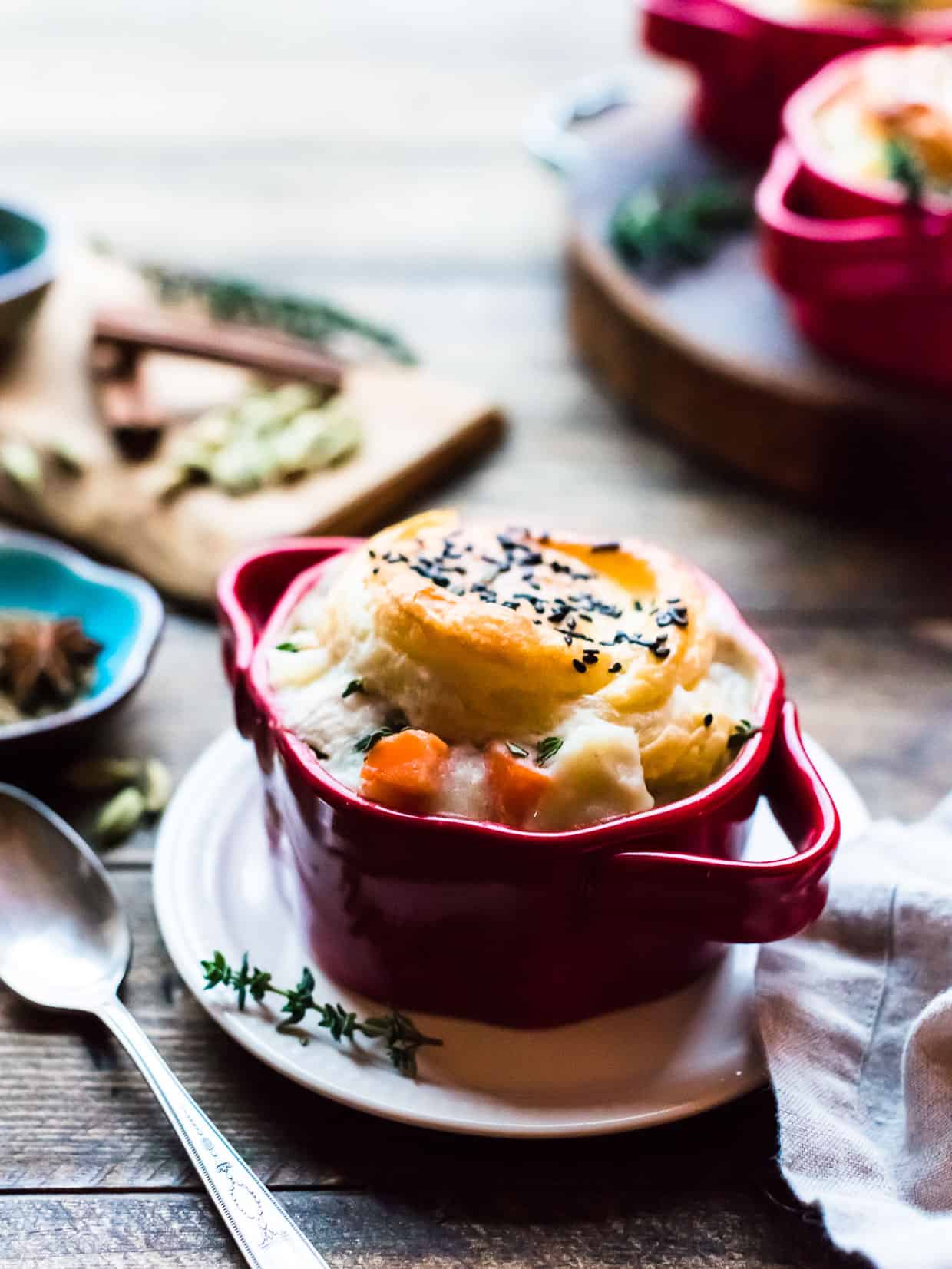 Print Recipe
Ingredients
For the filling:
2 lbs boneless, skinless chicken breasts (about 3 chicken breasts)
3 cups water, divided
2 onions, peeled and quartered
10 cloves garlic, peeled
1-inch piece of ginger
small handful of cashews
1 teaspoon cumin seeds
1 teaspoon coriander seeds
4 cloves
4 cardamom pods
1 star anise (optional)
2 bay leaves
2 tablespoons vegetable oil
4 green chiles, slit slightly
2 large potatoes, peeled and cut in 1-inch dice
2 carrots, peeled and cut in 1-inch dice
kosher salt, to taste
1/2 cup coconut milk, or more as needed
1 teaspoon white or black pepper
For the crust:
1 sheet puff pastry, thawed
1 large egg, beaten
1 tablespoon black sesame seeds
Instructions
Cut the chicken into 1-inch bite sized pieces. Set aside.
In a saucepan, combine 2 cups of the water and the quartered onions garlic, ginger and cashew pieces. Bring to a boil, lower the heat to a simmer and cook for about 15 minutes. Turn off the heat and let cool completely. Transfer the onion mixture to a blender and blend to a smooth paste.
Place the cumin seeds, coriander seeds, cinnamon, cloves cardamom, start anise (if using) and bay leaves in a piece of cheesecloth and bring the corner up to make a bag; tie. Crush it ever so lightly with a knife or a garlic pounder.
Heat the oil in in a heavy-bottomed pan over medium heat. Add the spice sachet to the hot oil. Add the onion mixture and bring to a simmer. Do not let the mixture get brown at all. Add the green chiles, salt and pepper. Add the chicken, potatoes, carrots and remaining cup of water. Cover and cook for about 20 minutes, or until the veggies are tender and the chicken for another 5 minutes, or until the desired consistency is reached. If you want a thicker consistency, boil uncovered for a few minutes longer; if you prefer it thinner, add a little bit more coconut milk. Adjust the season to taste with salt and pepper. Turn off the heat and let it cool.
Preheat the oven to 425°F. Spoon the chicken mixture into individual ramekins or a baking dish.
Unroll the puff pastry and cut into your desired shape. Place on top of the chicken, brush with the egg wash and sprinkle with the sesame seeds.
Bake for 10-15 minutes, or until the crust is golden and the sauce is bubbling.
Notes
The puff pastry can be baked separately on a baking tray, then topped on the chicken pot pie — this method allows for the puff pastry to cook through more.
---
The information shown is an estimate provided by an online nutrition calculator. It should not be considered a substitute for a professional nutritionist's advice.
Recipe reprinted with permission from Masala & Meatballs: Incredible Indian Dishes with an American Twist by Asha Shivakumar (Page Street Publishing, 2017).