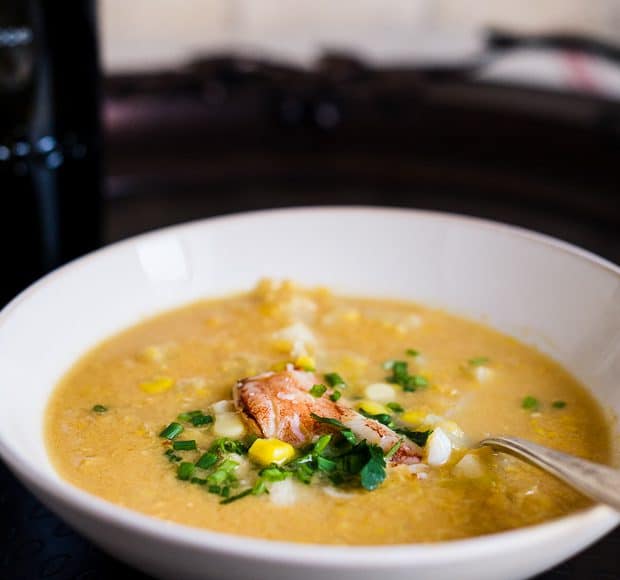 Thai-Style Crab & Corn Chowder
We're in the middle of a mini renovation. The family room is getting a little makeover, and some minor construction is taking it from the early 90s to the present, which for us means getting a new, fancy flat screen that is probably larger than…
Thai-Style Crab & Corn Chowder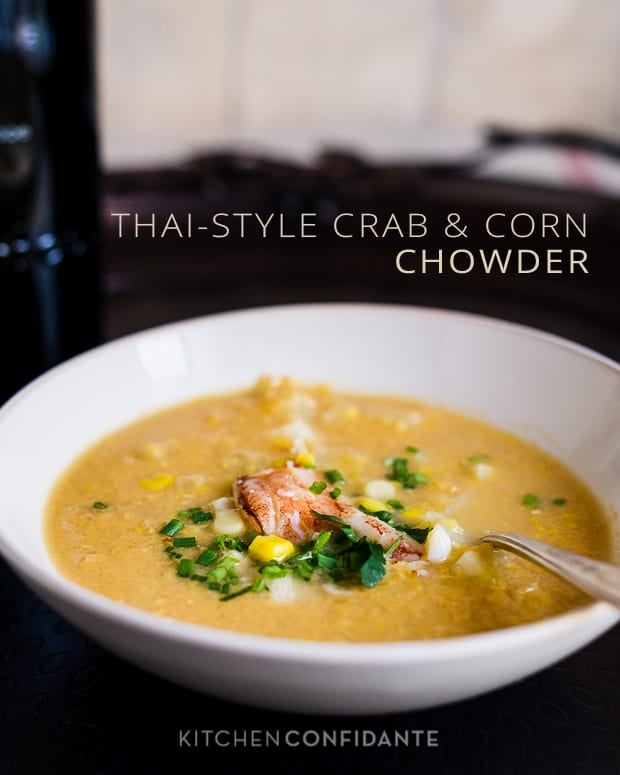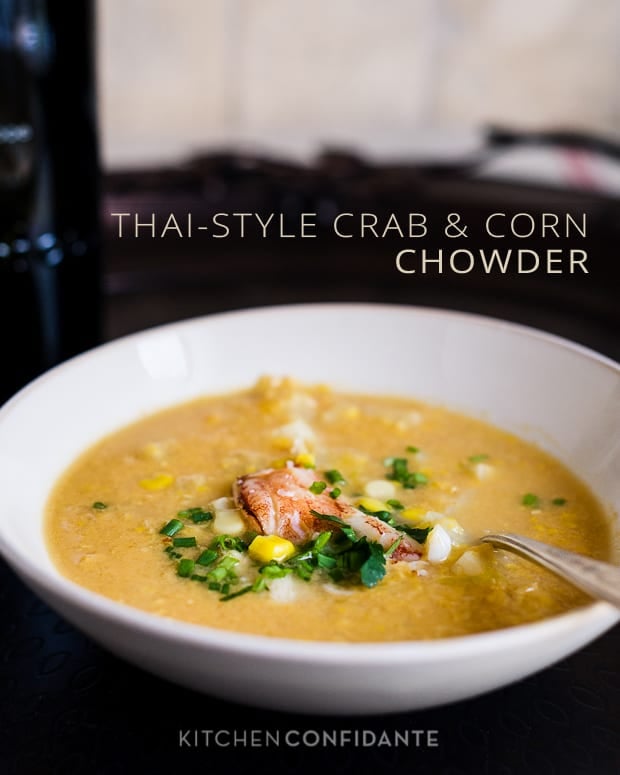 We're in the middle of a mini renovation. The family room is getting a little makeover, and some minor construction is taking it from the early 90s to the present, which for us means getting a new, fancy flat screen that is probably larger than necessary, and mounting it on the newly renovated wall. It really is rather funny to me, given how very little television we watch in general.
The last time we shopped for televisions was nearly eight years ago, so I was in practical shock when we walked into the showroom. I felt like Dorothy who had just emerged from her fallen house into Munchkinland. Everything was more brilliant, more colorful, and very beautiful. Who knew tv's have come such a long way in eight short years?
The thing is, I really don't watch t.v. I barely have time to read as it is, so shows take very low priority. When it comes down to it, I really only watch two shows. Yes, just two.
One of them is Top Chef.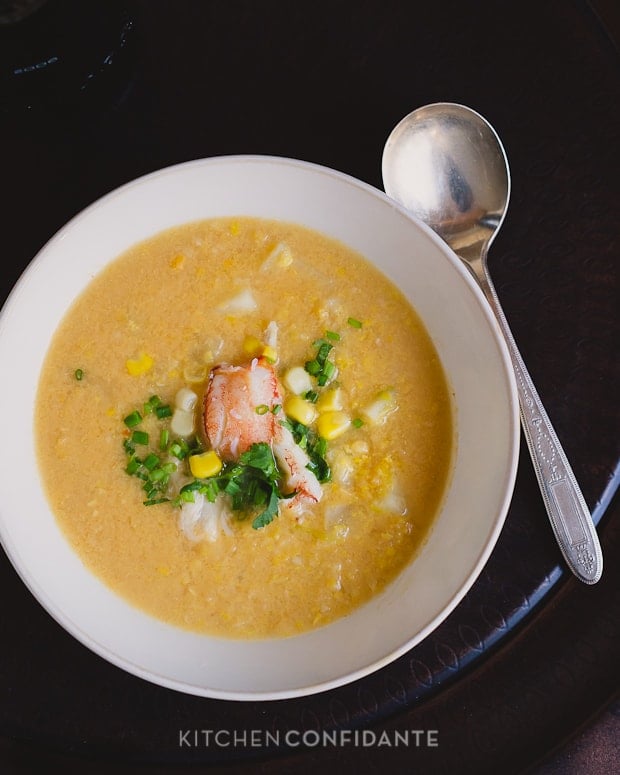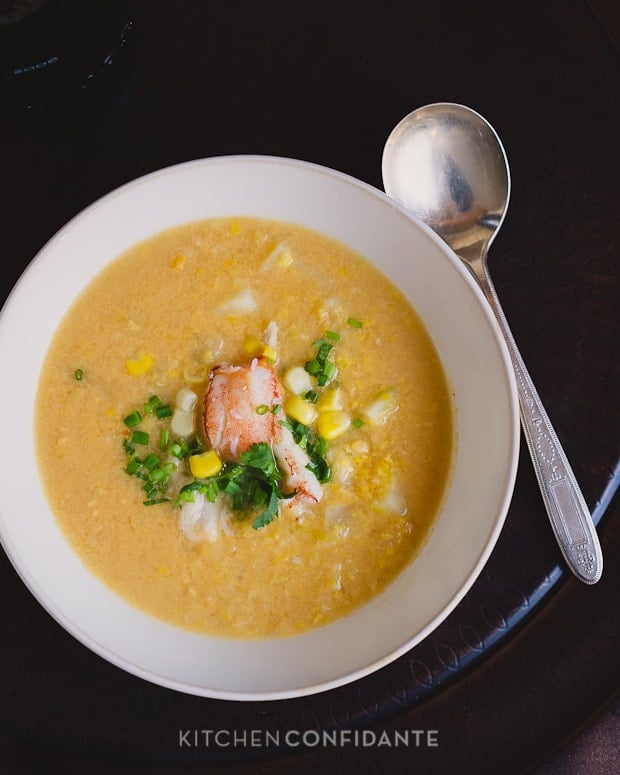 Are you a fan? It's my weakness, I have to admit. When I was invited to participate as a Top Chef A-Lister, I did hesitate. TV recaps aren't exactly what I do here. But given how big of a fan I am of the show, I thought, heck, why not? It'll be fun! So as this season comes down to the final chef'testants, you will see a couple of posts here inspired by the show.
Content and/or other value provided by our partner, Bravo.
In the last episode, the chefs cooked with Alaskan King Crab in their Quickfire Challenge in Juneau, Alaska. I am loving the synergy between the remaining contestants, and I have to admit that Sheldon's dishes evoke nostalgia and pride for their island flavors. It is wonderful to see the flavors of my Filipino heritage elevated and featured on Top Chef!
The Quickfire inspired me to make this Thai-Style Crab & Corn Chowder, using the currently abundant dungeness crab that I so love this time of year. With a broth thickened with corn puree and chunks of tender potato, I think you'll really enjoy the heat of the Thai-inspired spices. I know my family did – they cleaned their bowls and asked for more. And since this can be done in about half an hour, I can easily oblige.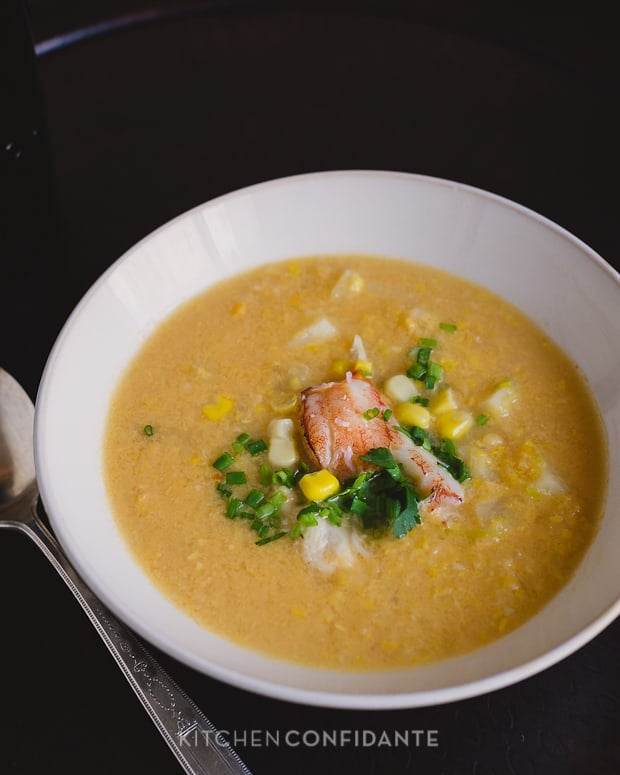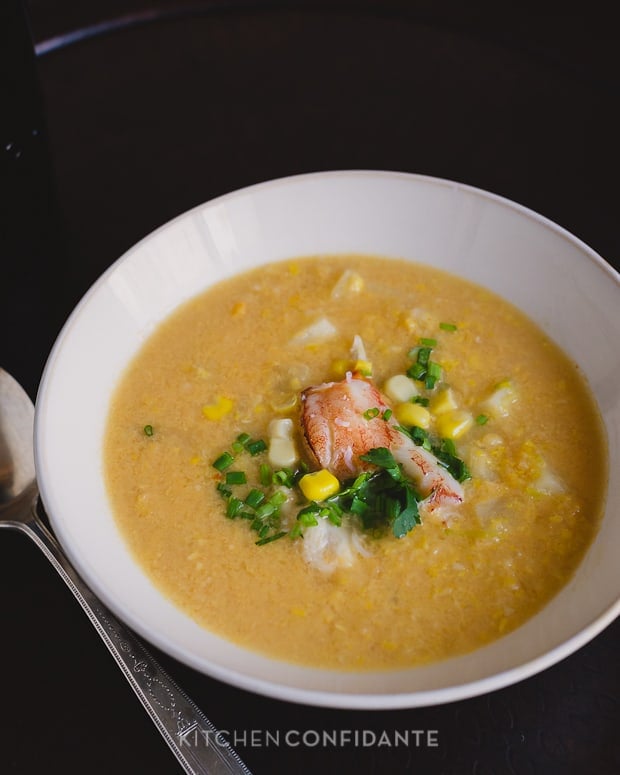 By the way, the folks at Top Chef are sponsoring a giveaway for one 12-month Food & Wine Magazine subscription. It's one of my favorite magazines, so if you don't already subscribe, I hope you win! Here are the details:
Giveaway
This giveaway is now closed. Congratulations to Buddy for winning the subscription to Food & Wine Magazine!
Ready to enter? Here's how:
Please leave a comment below and share: What is your favorite episode, recipe(s) or Top Chef challenge/moment?
Entries/Comments accepted until 10 pm Pacific, Thursday, 14 February, 2013.
One winner will be randomly selected on 15 February, 2013 and notified by email.
Subscriptions codes will be emailed after March 6th.
Disclosure: This was a sponsored post and sponsored giveaway from Bravo's Top Chef. Video content and/or other value provided by our partner, Bravo. Sponsored posts such as these help support the work behind the scenes on Kitchen Confidante. Thank you so much for your visits and making my blog part of your day. As always, all opinions are my own.
Who stays? Who goes? You decide! This week, you can vote via Twitter for your favorite chef'testant: #savecheflizzie or #savechefcj.
Thai-Style Crab & Corn Chowder
Traditional chowders can take hours to make, but this is a quick and satisfying recipe that tastes like you've been slaving away for hours. It has quickly become a family favorite!
Print Recipe
Ingredients
3 cups corn kernels
1 leek, washed, trimmed and sliced
1 clove garlic, minced
1 15 oz can light coconut milk
2 cups clam stock
2-3 teaspoons red curry paste
1 potato, peeled and diced
8 oz cooked crab meat (preferably Dungeness)
1 teaspoon lime juice
1/2 cup cilantro, roughly chopped
1/4 cup chives, chopped
kosher salt
freshly ground black pepper
Instructions
Set aside 1/2 cup corn.
In a medium saucepan, stir the remaining 2 1/2 cups corn kernels, leeks, garlic, coconut milk, clam stock, and red curry paste and bring to a boil over medium heat. Let it cook for about 5 minutes, then carefully pour into a blender. Blend for a few seconds on low speed, taking care to hold cover down with a towel to prevent any spills with the hot liquid. The soup should still have some body, and not too smooth. Return the soup to the saucepan.
Season the soup with salt and pepper, to taste. Add the potatoes and reserved corn kernels. Return the soup to a boil, then lower to a simmer. Cook until the potatoes are fork tender, about 10 minutes, stirring periodically.
Add the crab meat and stir until it is just heated through. Stir in lime juice. Pour into bowls, and serve garnished with cilantro and chives.