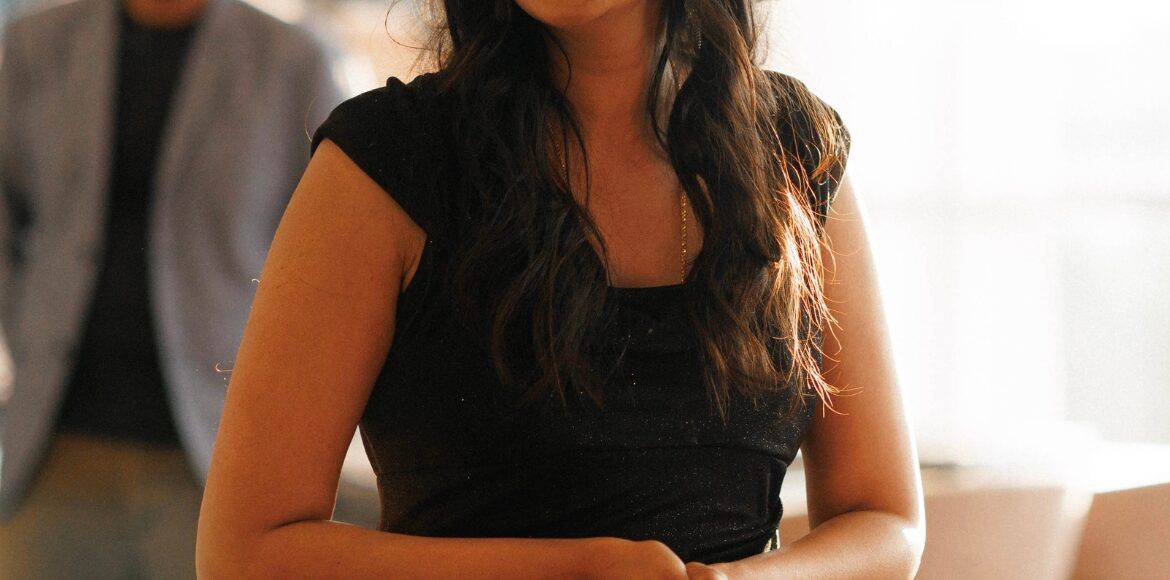 The Effortless Baker with Janani Elavazhagan
In Episode 86 of the Kitchen Confidante Podcast, Liren talks to Janani Elavazhagan of Skillet to Plate about about her love of fusion baking, how she hones her photography craft, and some of the wonderful recipes in her new book, The Effortless Baker.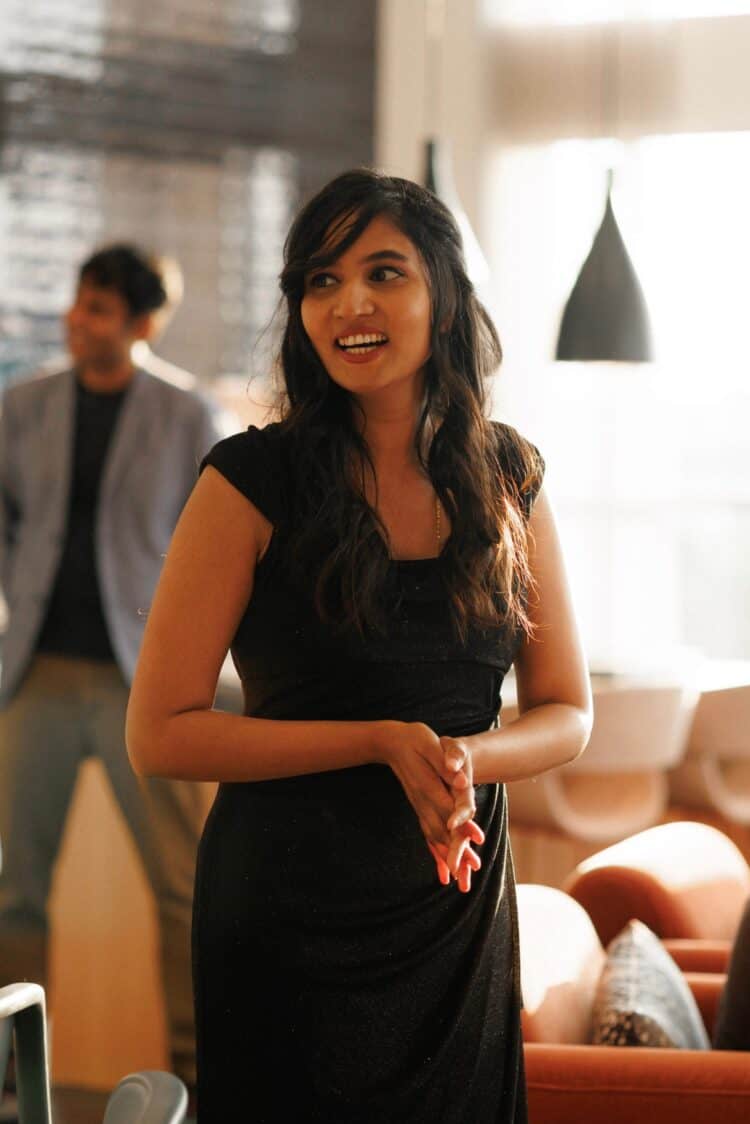 The Effortless Baker with Janani Elavazhagan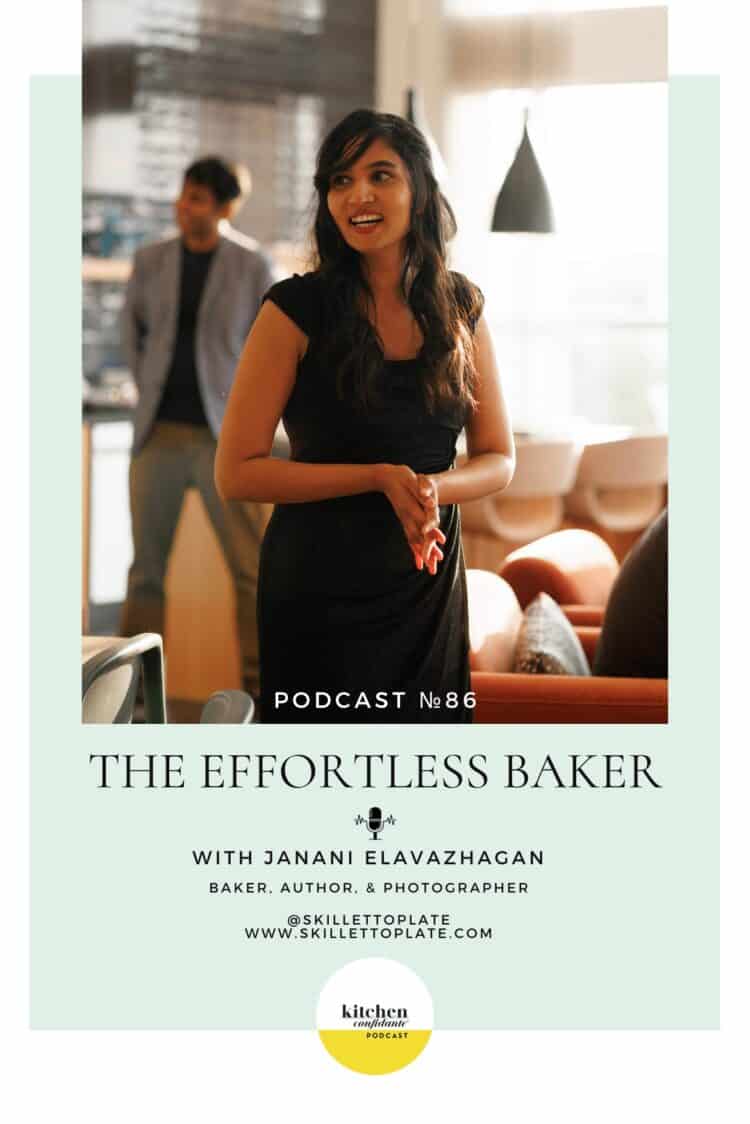 The Effortless Baker — with Janani Elavazhagan
On the podcast, I recently spoke with Janani Elavazhagan, the baker, recipe developer, blogger, and food photographer of the food blog Skillet to Plate. Born in India and based in Portland, Oregon, Janani's stunning photography accompanies her simple recipes, which have led to her first cookbook, The Effortless Baker: Your Complete Step-by-Step Guide to Decadent, Showstopping Sweets and Treats (affiliate link). The Effortless Baker blends the best of Indian and classic American desserts, making traditional Indian sweets more accessible by integrating simple baking techniques.
In this episode, we chat about her love of fusion baking, how she hones her photography craft, and some of the wonderful recipes in her new book. Listen to the full episode or keep reading for some of the highlights from Janani.
How did you get started as a food blogger and food photographer?
While working on my master's degree in computer engineering, I started food blogging as a way to document my recipes for myself. I had recently moved to the U.S. from India, and I was baking a lot because I was so excited to have an oven. In India, most people did not have ovens in their homes. My grandfather was one of the few people to have an oven, and it was always a rewarding treat to get to bake with him.
The blogging was just for fun until it came time to make a decision. I had to choose between a technical career in computer engineering and following my heart with cooking and baking. I chose to follow my heart, and now I work in food full-time.
My food photography started after I decided to take food blogging seriously. My initial pictures were terrible, but I practiced every day and learned how to use a camera and master lighting. I knew that photography was critical to food blogging, so I was determined to master it.
The dishes are deeply connected to the presentation and storytelling. I style my photos to be very simple, inviting, and natural. I focus on highlighting natural, naked foods in a way that makes them stand out instead of relying on busy, over-the-top frostings and decorations. Instead, I highlight the story behind the food and make things simple and accessible, so you want to cook or bake them too.
Tell us more about your book, The Effortless Baker
My food blog, Skillet to Plate, has savory and sweet recipes, but I love baking very much. My publisher approached me with the idea for a baking cookbook, and I was very excited by the idea so that's what we decided to do.
The recipes in this book are a beautiful concoction of Indian, American, French, and many other cuisines. It is very unique. My goal was to invite people to taste the richness and delicious flavor of Indian desserts by making them more accessible and easier for everyone. Many traditional Indian dessert recipes can require a lot of patience, but much of my book is done in the microwave, making the recipes fast, simple, and mess-free.
I also put my heart and soul into the photography of this book, which includes 65 stunning tablescapes that invite you in and make you want to try the recipes.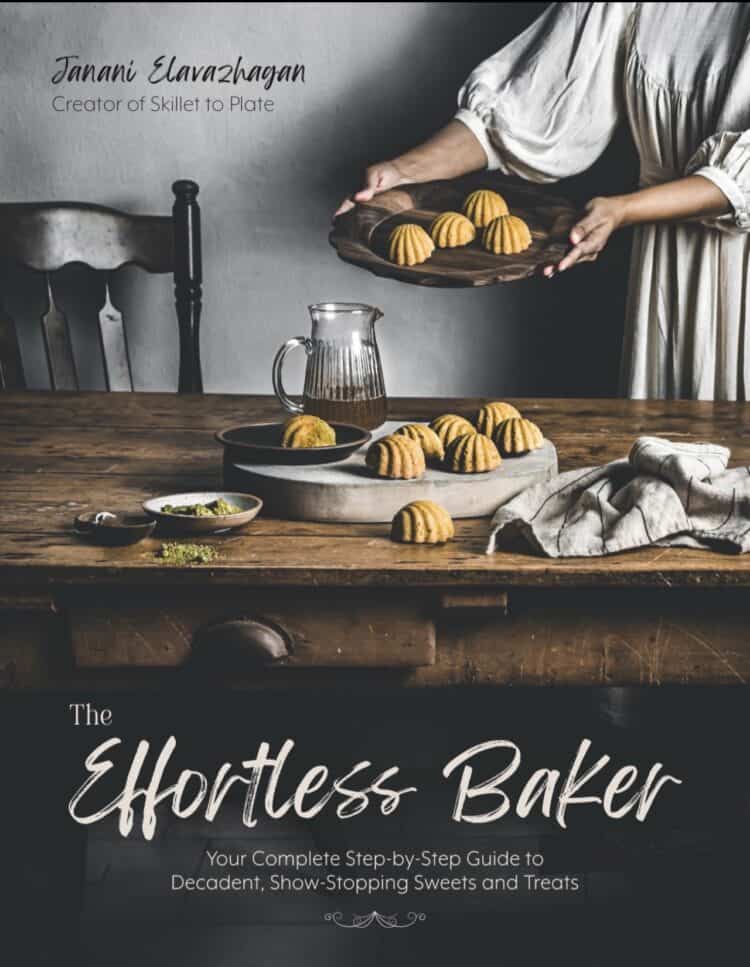 Learn more
Listen to the full podcast episode with Janani here, learn more on her website, skillettoplate.com, and see her amazing photography on Instagram. You can get her book, The Effortless Baker, anywhere books are sold.
Related posts
Janani's Gulab Jamun Recipe
Indian and Indian-inspired Recipes
White Chicken Curry Pot Pie
Chana Masala Soup: Spiced Chickpea Soup {Instant Pot, Canned Chickpeas}
Sweet Potato Bebinca: Goan Pudding Cake
Butternut Squash Butter Chicken