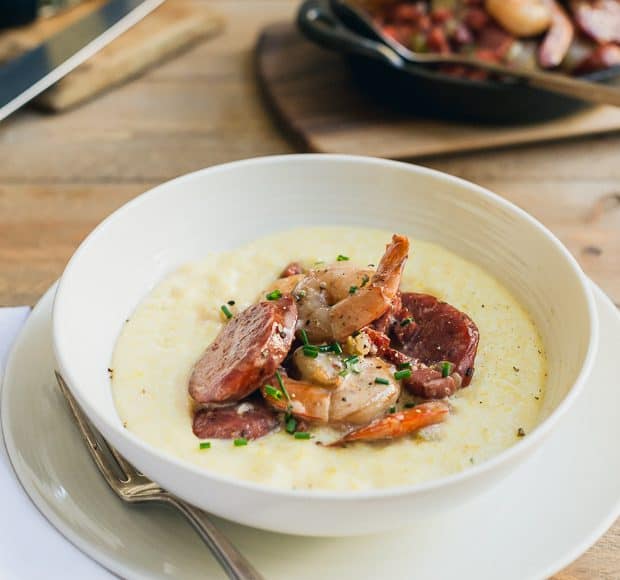 Shrimp and Smoked Sausage with Aged Cheddar Grits + Scenes from a Visit to Tillamook
The mist hung like a bridal veil, in eager anticipation of lifting, revealing brilliant blue skies, the depth of the seas, and the tops of the evergreens towering above. But for now, everywhere I turned, there was a cloak of mystery, and without a doubt,…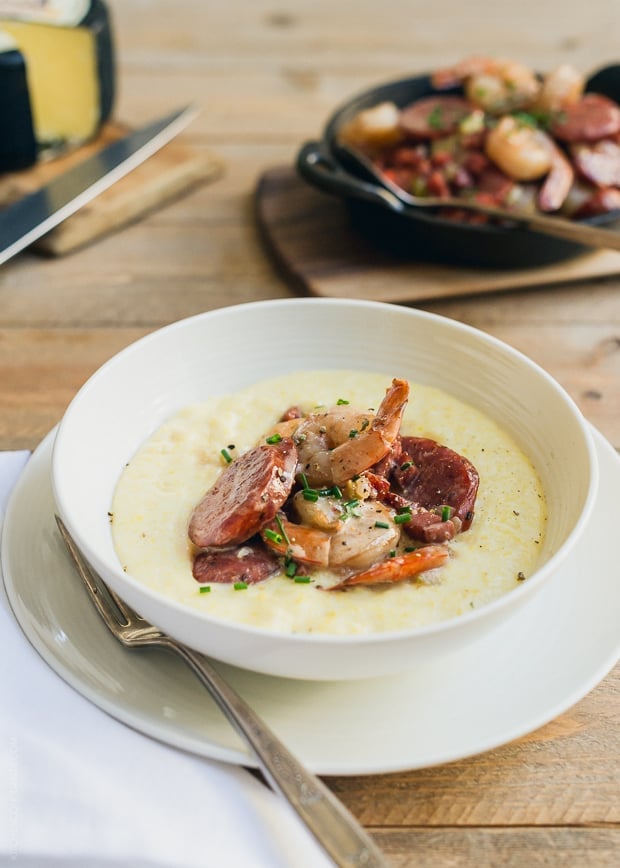 Shrimp and Smoked Sausage with Aged Cheddar Grits + Scenes from a Visit to Tillamook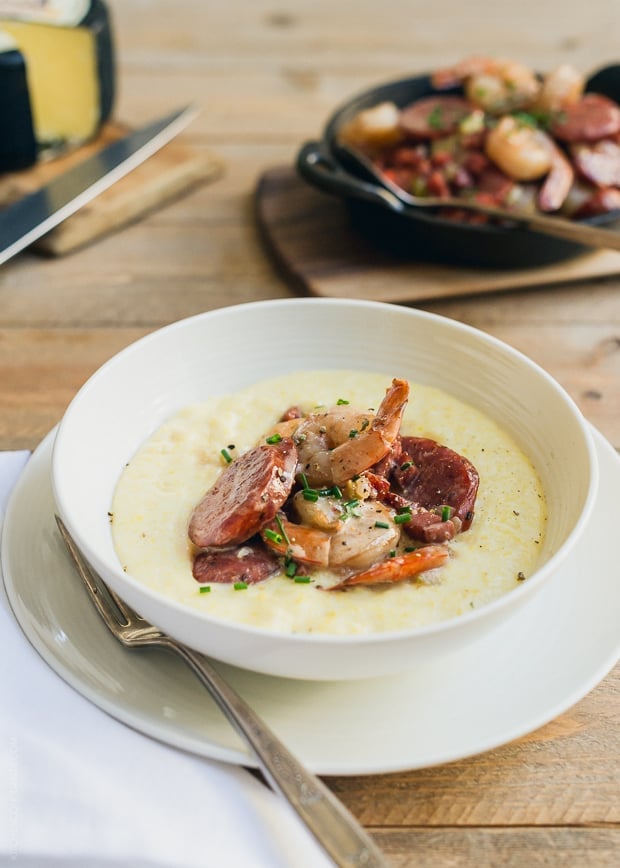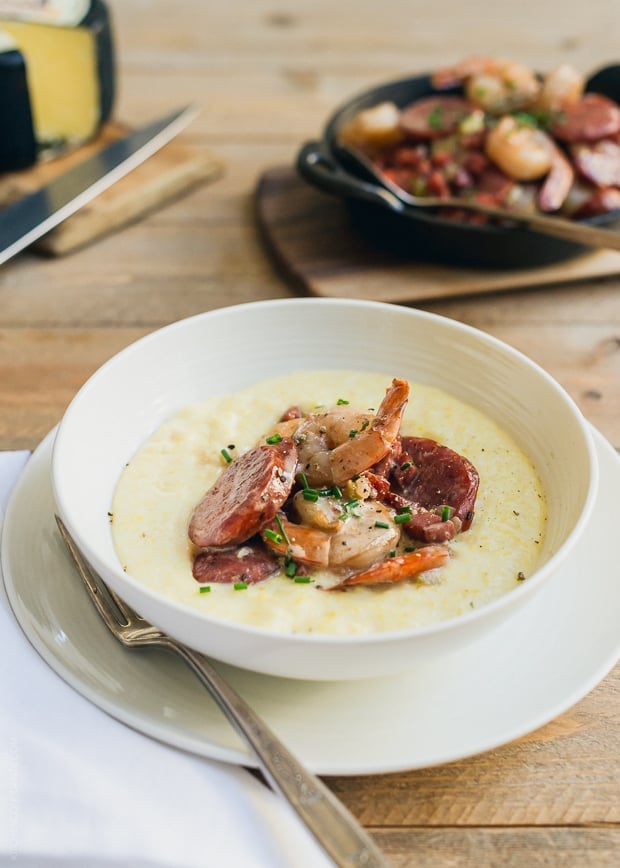 The mist hung like a bridal veil, in eager anticipation of lifting, revealing brilliant blue skies, the depth of the seas, and the tops of the evergreens towering above. But for now, everywhere I turned, there was a cloak of mystery, and without a doubt, a sense of place like no other I have experienced.
When I think of a dairy farm, I picture the green pastures of the small dairies of the Amish in the Northeast, the rolling hills and 'happy' cows of California, and the Holsteins of Wisconsin. But when I had the opportunity to travel to Oregon and visit the home of one of my favorite cheeses, Tillamook, I was not sure what to expect.
It was my first time in Oregon, a visit that was long awaited and made possible by my friends behind the scenes at Tillamook. I was lucky to learn that my dear friend Lisa was also invited, and having her company on the flight out of Oakland to meet blogger friends new and old was such a treat.
Portland was our first stop, with just enough hours to explore the quirkiness it promised. Portlandia, my friends, is real.
The streets are walkable, each neighborhood tatooed with the aura of Berkeley and the grit of the Village. Lisa and I browsed the awe inspiring aisles of Powell's Books, were tempted by the scent of irreverent fried dough at VooDoo Doughnuts, and fought the urge to taste every single morsel from all the food trucks. We had to pace ourselves, after all, as we were to have a delicious welcome Tillamook inspired dinner by Chef Vitale Paley at the Imperial that evening.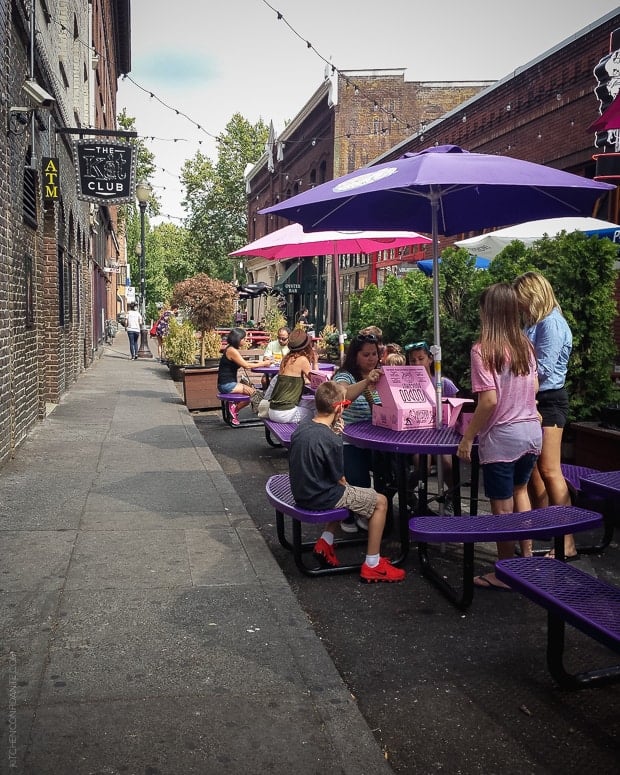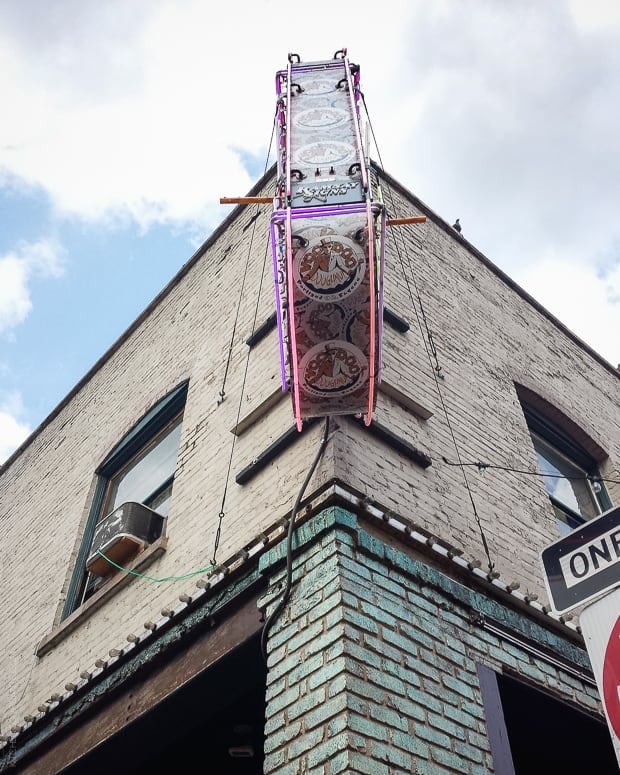 Tillamook dairy in all its forms was the star of that evening's dinner at Imperial, integrated throughout the meal. The cheese paired beautifully with the house-made charcurterie (I do highly recommend stopping by for a taste of their homemade sausages, if you are in town. Sit at the bar as Lisa and I did and you will not be disappointed), the yogurt balanced the spice of the Grilled Tikka Masala Quail, and the cheddar (my favorite!) highlighted the Welsh Rarebit. But the shining star that evening, and I know my blogger friends agree, were the Tillamook Ice Cream Sandwiches. This self professed chocolaholic is still thinking of the PB&J inspired ice cream sandwich featuring Tillamook Strawberry Ice Cream squished between pillows of peanut butter cookies. I was so glad to see that Glory of Glorious Treats recreated it when she returned home. Do visit her and get the recipe. It's a must.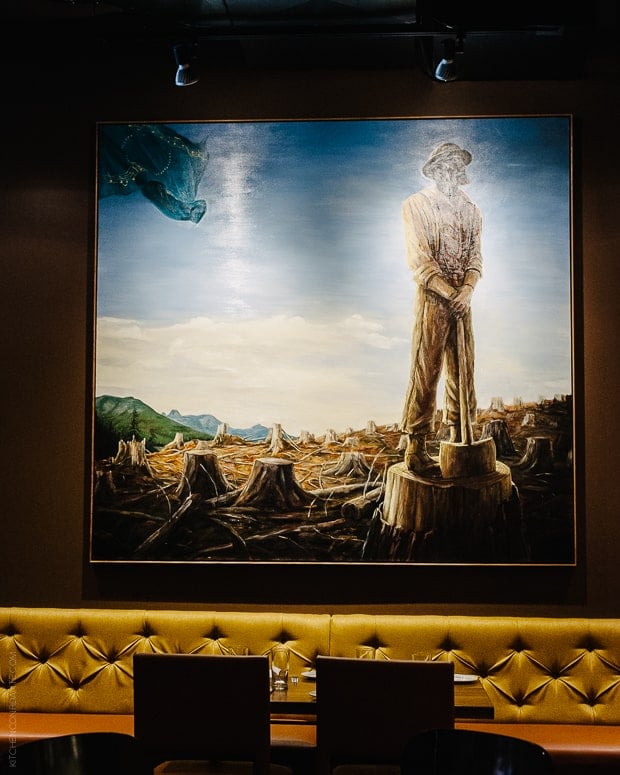 Early the next morning, we left Portland behind and headed into a land so green, a welcome sight for my eyes that are used to California's drought parched hills. As our bus weaved through the forests, there was a magical spell that seemed to pervade with the fog – there were stories as we passed the little towns and through the dense evergreens. When we emerged on the other side, the land flattened to pasture, and I came to realize that Tillamook isn't just a factory. It's a real place. It's a community with a sense of pride and work ethic. The more and more we spoke with the people at Tillamook, this became more evident. For the people of Tillamook – and for the people of Oregon, for that matter – Tillamook went beyond a household name, it went deeper than that. For some, it was building their life around crafting delicious cheese, for others, it was pursuing innovation to make Tillamook even better. For some, it was their life's work to let others learn of how wonderful their cheese is. From summer jobs scooping ice cream to visits to the coast with a trip to eat at Tillamook, it seemed as though it was very personal. Memories were made around this community.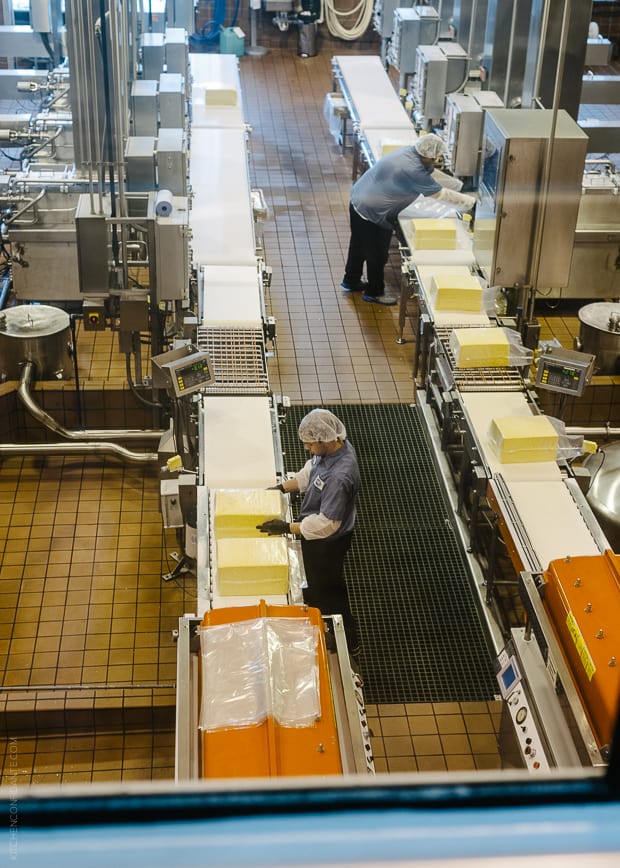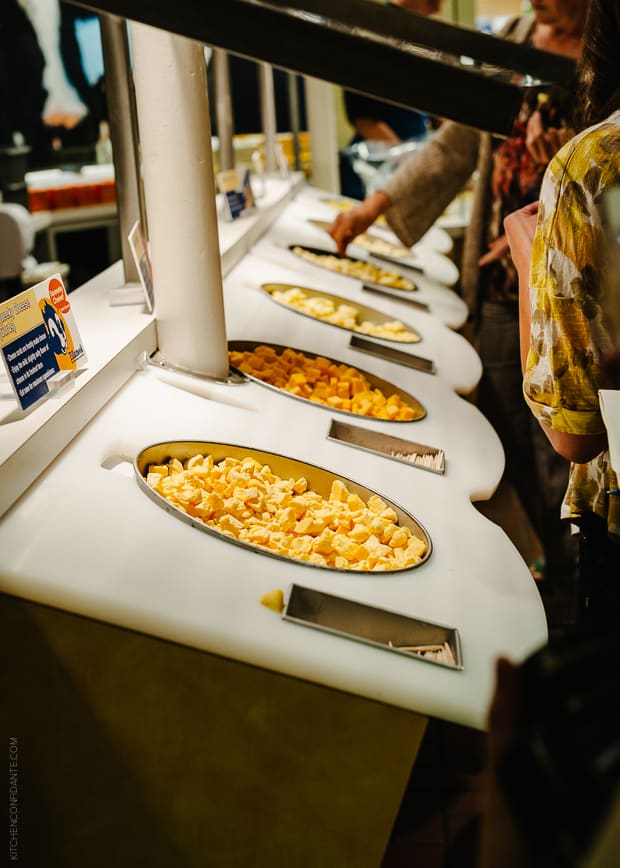 Anyone can visit Tillamook Factory and learn for themselves, first hand, how there is a purity to the way they make their cheese. It's a round the clock process, each batch started from scratch, to the highest standards. I thought of my family and their favorite blocks of cheese as I watched the conveyer belts churn and listened to head cheesemaker Dale Baumgartner. I came to appreciate the heritage behind each block of cheese. It's not just a factory – there are so many hands that touch the products, in so many different ways.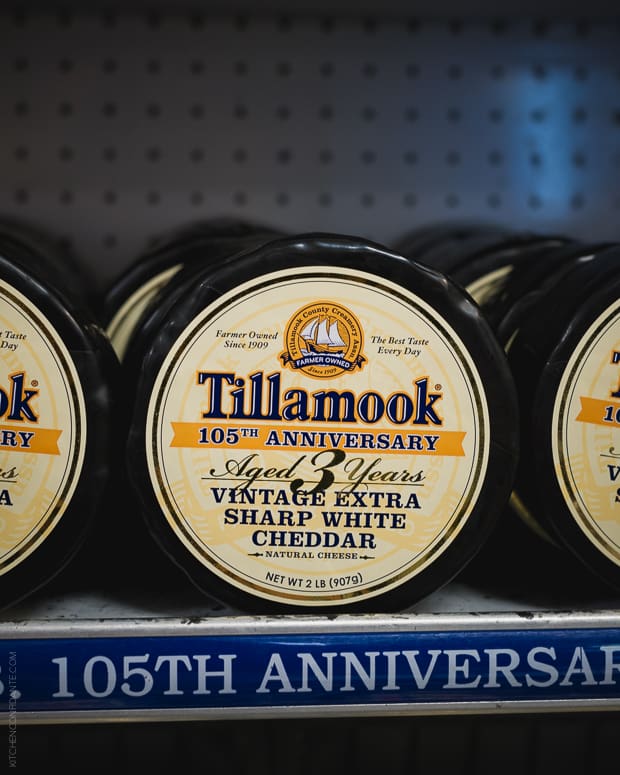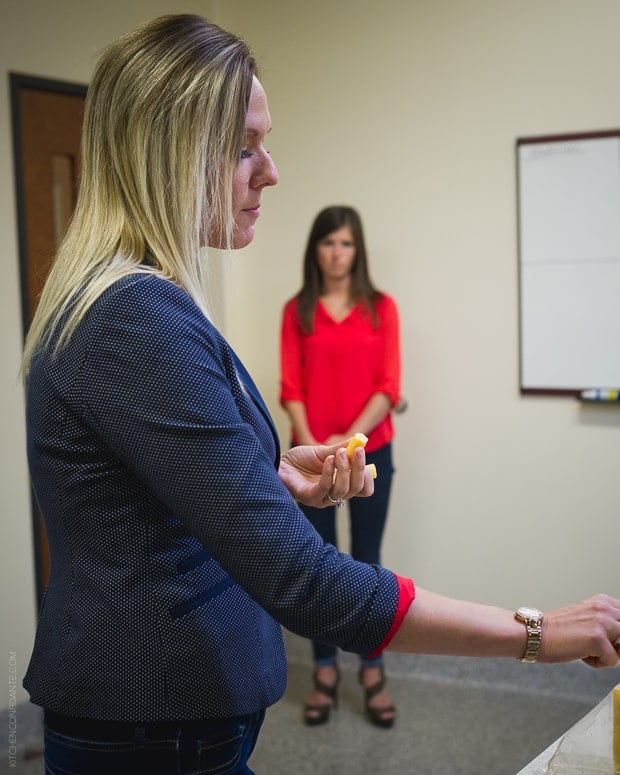 Jill Allen, Manager of Product Quality, amazed us all in our behind the scenes look into Tillamook's research and development. I secretly think she has the dream job. Not only does she have a hand in making sure the cheese tastes delicious, but she gets to dream up new ways for Tillamook to create new products and flavors and see it come to life. We were able to learn more about why Tillamook is so so good, and to see some of the exciting products they have in the works. We as bloggers, definitely had to pace ourselves as we tasted our way that entire day.
Tastebuds exhausted, it was time to head to the coast, where we had time to relax at Cape Kiwanda. Along the way, we took a stop at Cape Meares Lighthouse to breathe the sea air and try to glimpse past the creeping fog over the Pacific.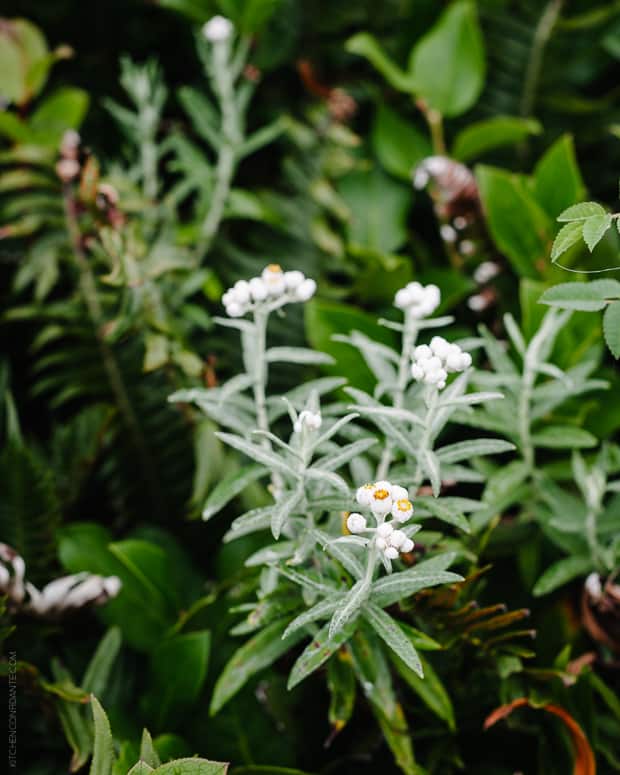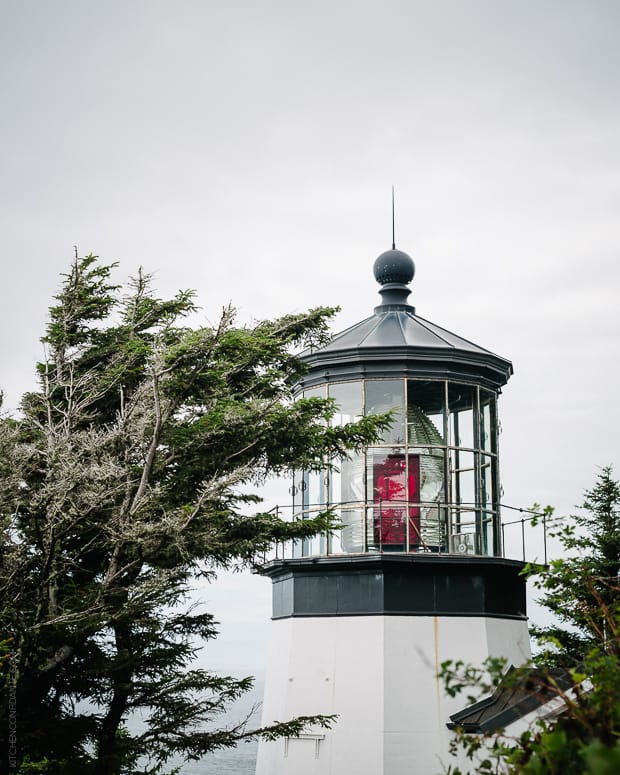 That evening, we were in for a treat. At the beach, overlooking the elusive Cape Kiwanda, we settled to a memorable dinner. With sand beneath us and a firepit at the ready, we delighted in a perfect beachfront meal. We were greeted by gigantic Netarts Bay Oysters, Clam Chowder Shooters, and Three Capes Crab Fritters. Slices of my absolute new favorite Tillamook Anniversary Aged Cheddar rounded out each bite and each sip of Oregon Pinot Noir. And for dessert – Tillamook Tillabars and a s'mores bar were the perfect way to close out the evening seated by the firepit. I can't tell you how nice it was to be surrounded by such good company, it really made for one of the most memorable blogging trips I have taken.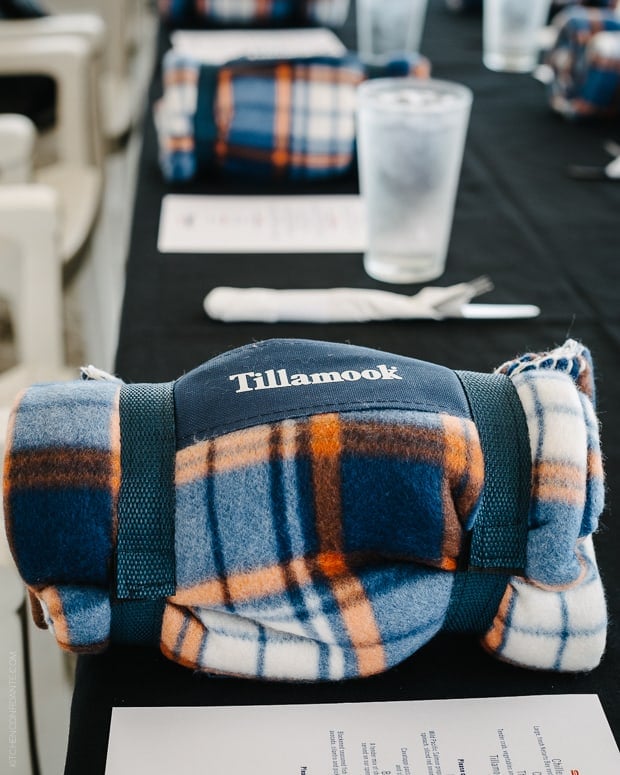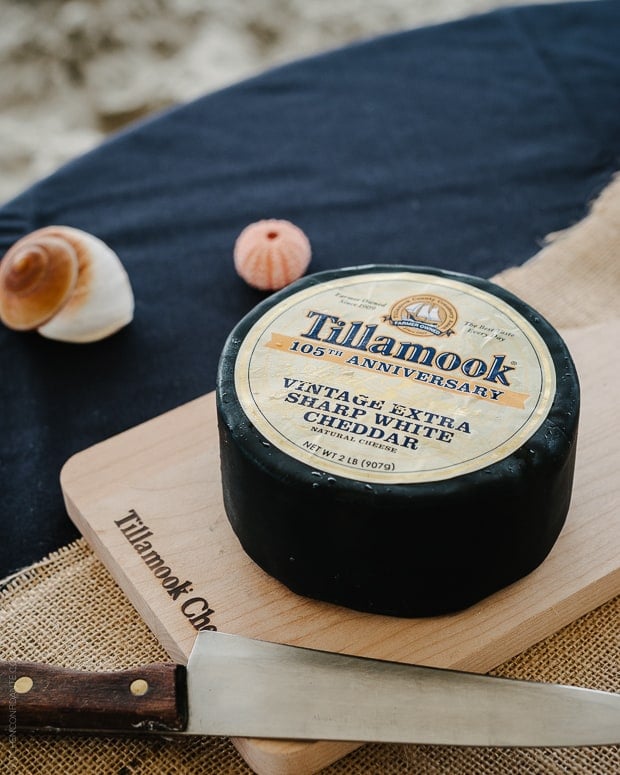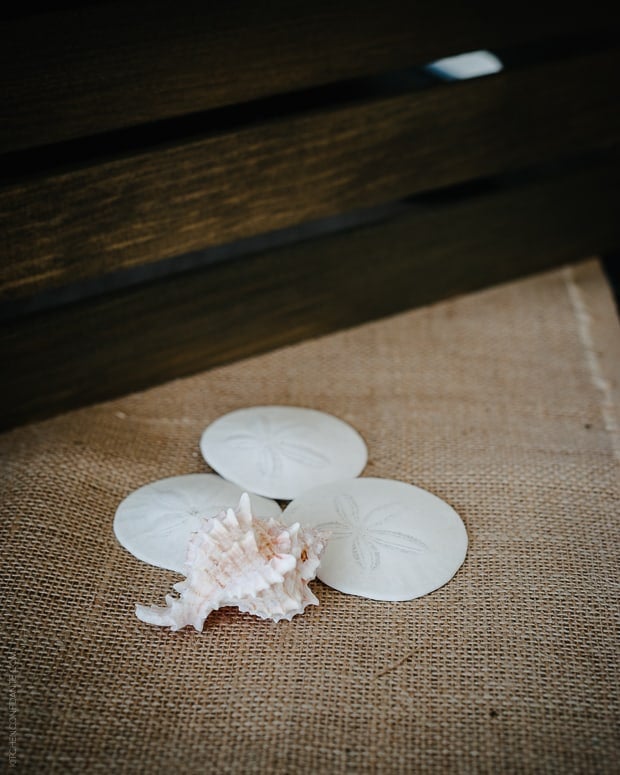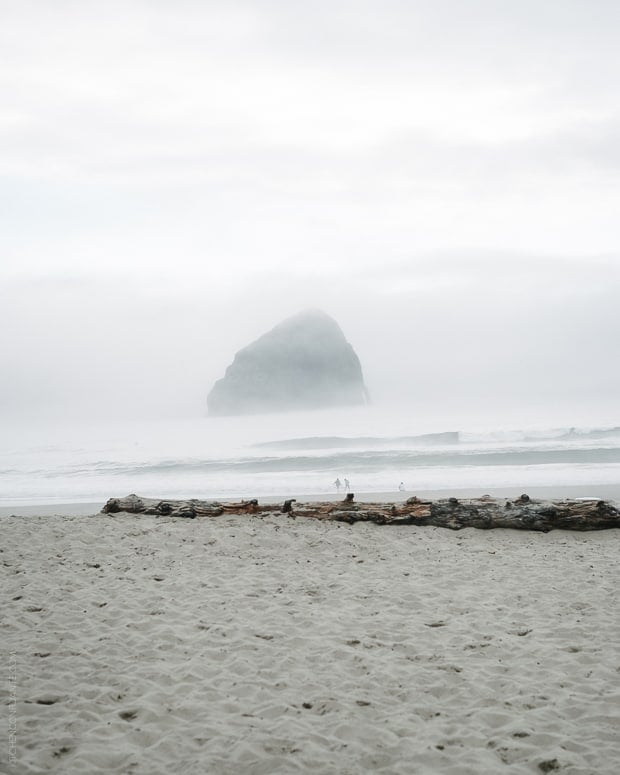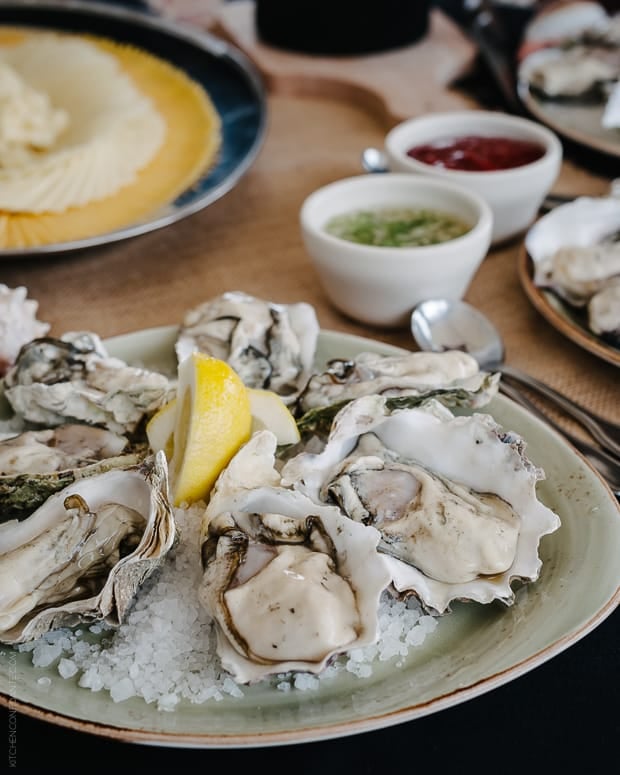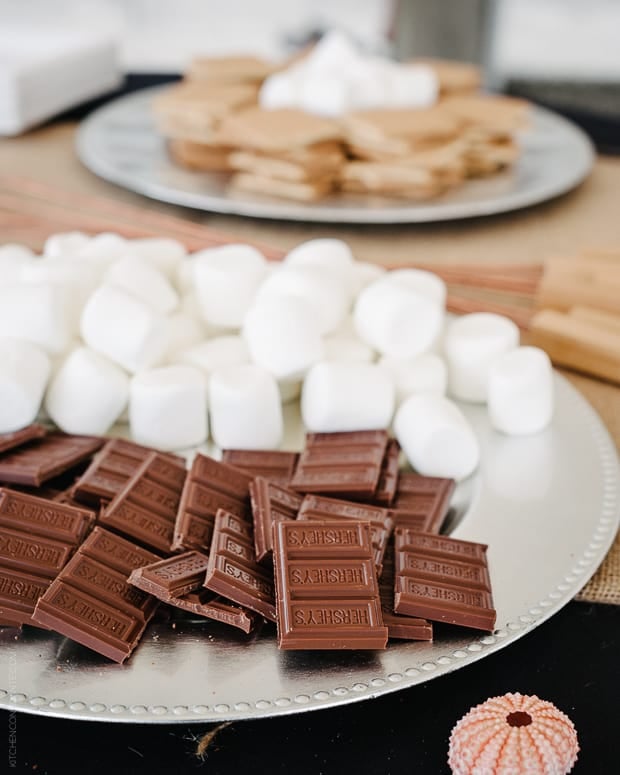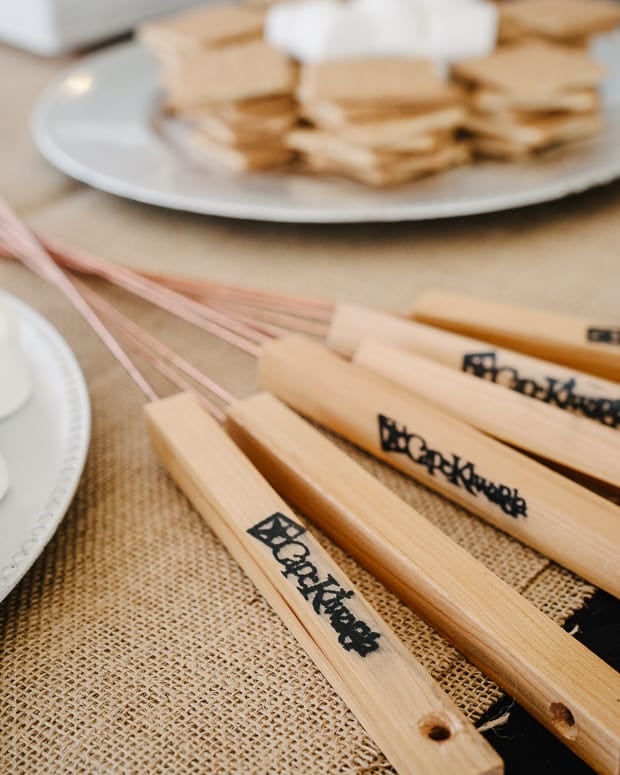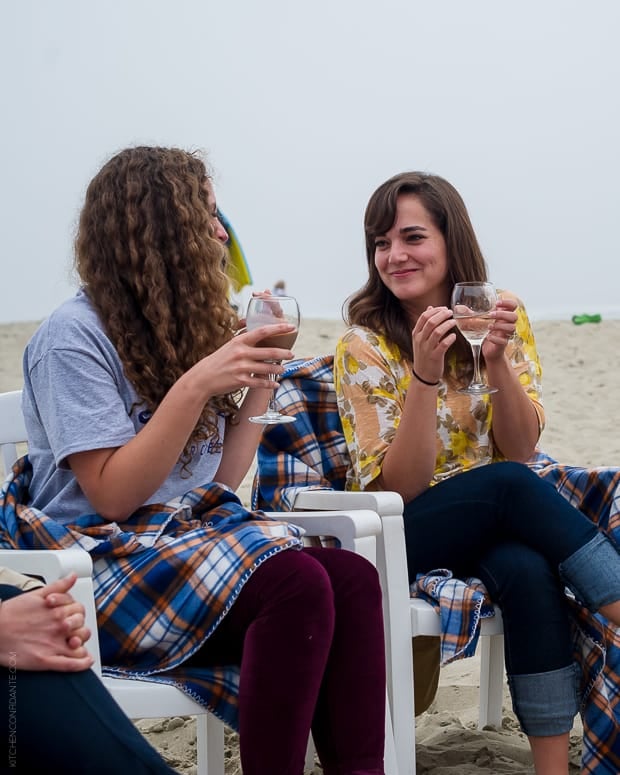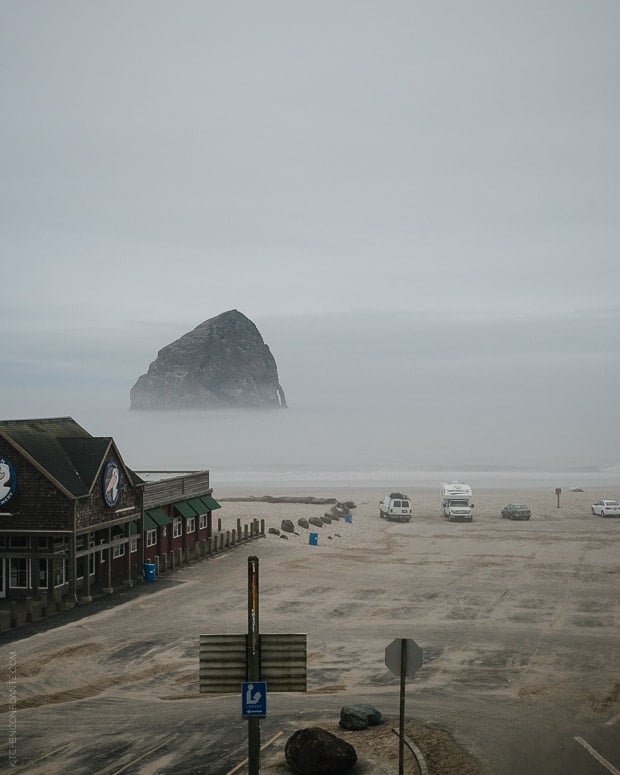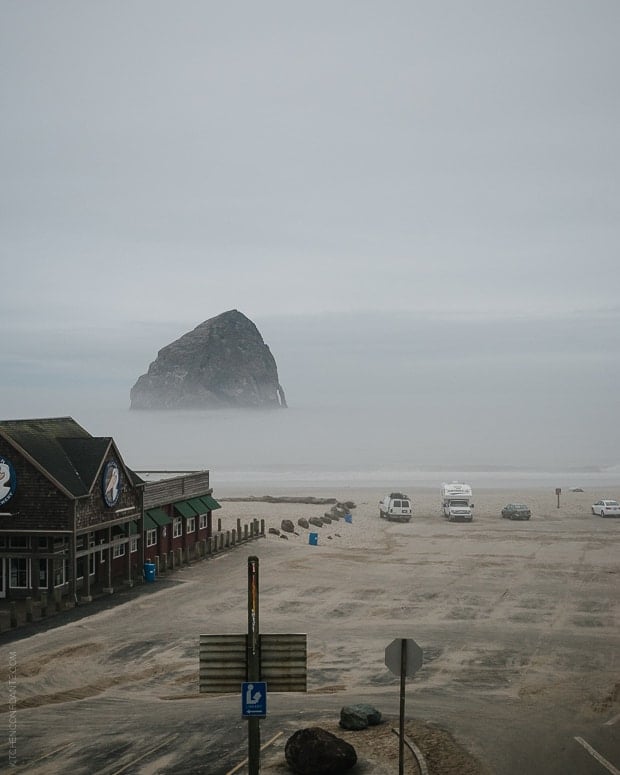 On our last day in Oregon, it was time to meet the true stars and the hardest workers of Tillamook. The ladies, the dairy cows, with their eager eyes and curious expressions greeted us as we visited the dairy farm of husband and wife Wendy and Ryan. They guided us through their farm, introducing us to not just these lovely bovine ladies, but to a way of life so dedicated that it makes you truly appreciate even more every single ounce of milk that goes into a single block of cheese. It's a vocation, I do believe, to be a dairy farmer, and one that requires such dedication to the animals they raise. It was clear to me that Wendy and Ryan love what they do, and that was evident in the way they patted the cows, calling them by name, with affection and sincerity. Their farm is one of over a hundred that work together as the Tillamook County Creamery Association – reminding me again that it's not just one dairy farm or one factory – it's a collective of farms that all have an invested interest as a farmer-owned coop.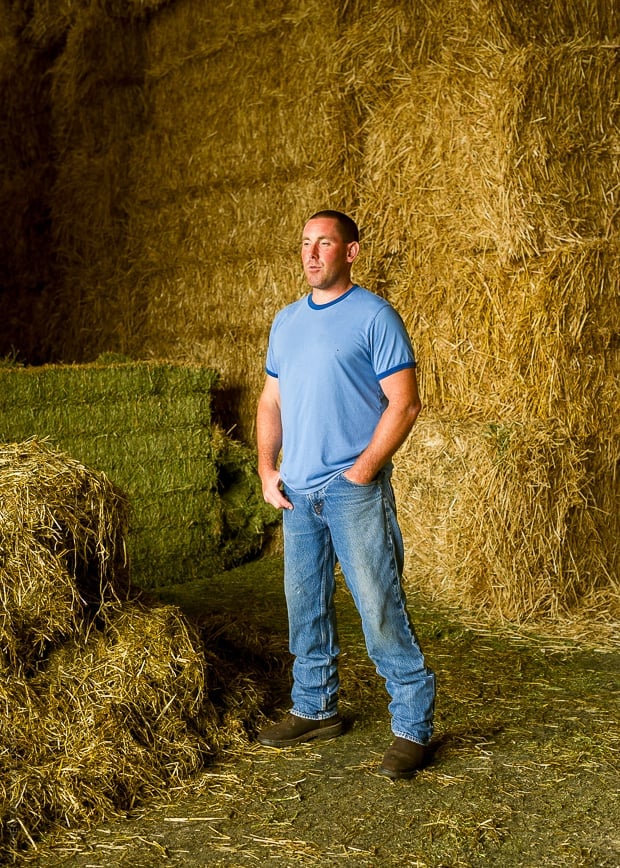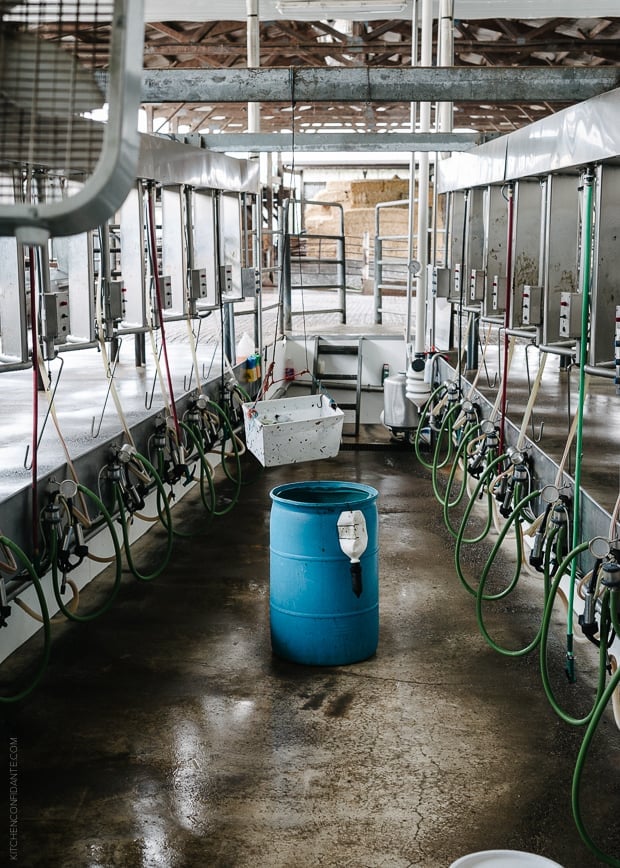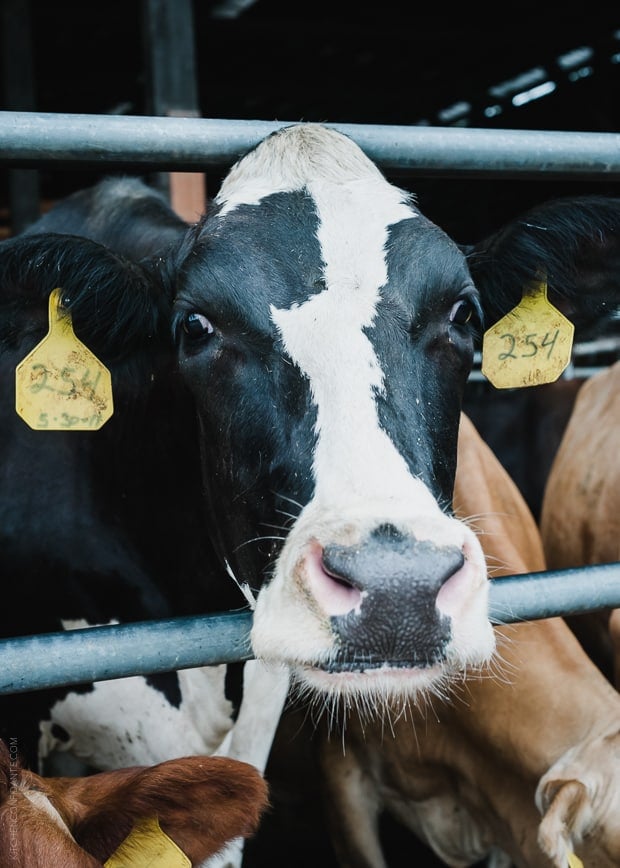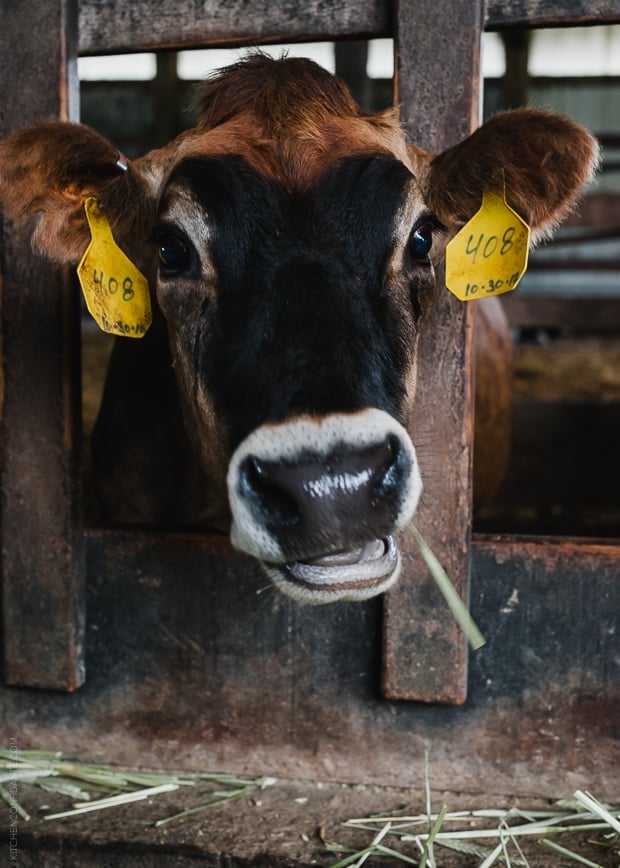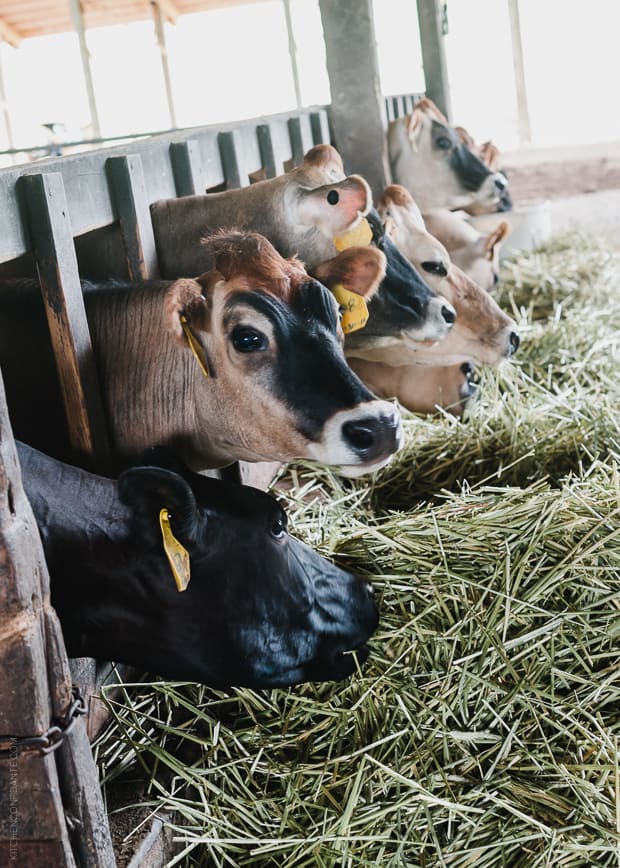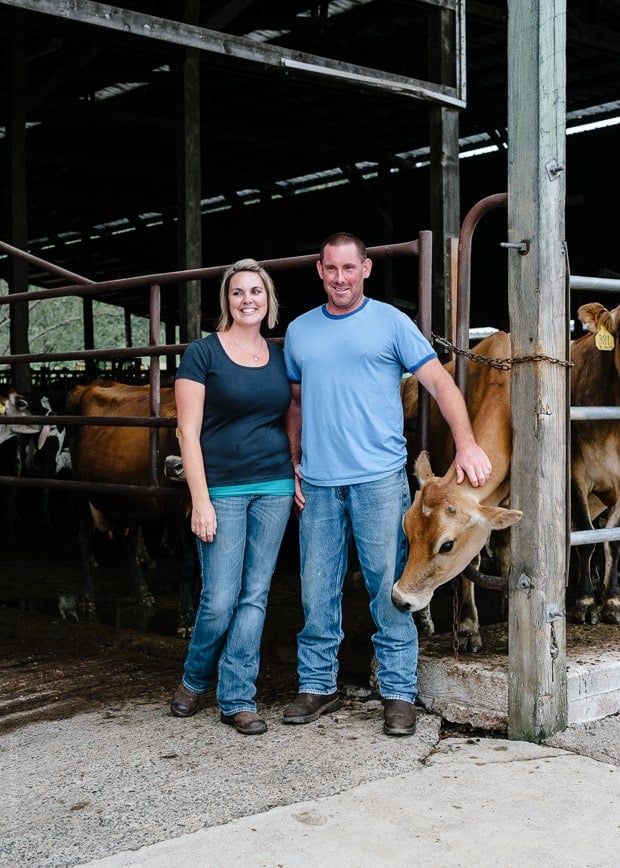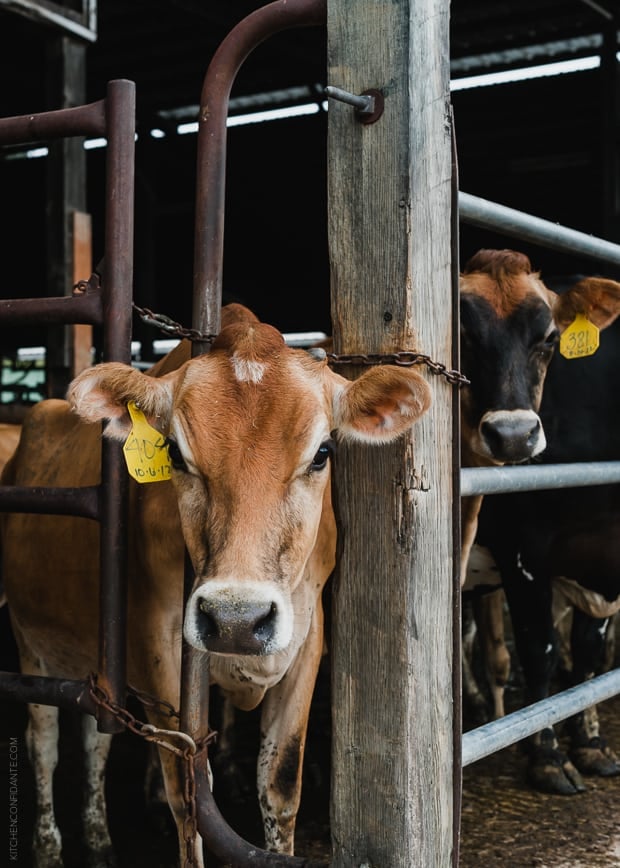 As our bus left Wendy and Ryan's farm and headed back to Portland to the airport, I was already thinking of all the wonderful ways I would enjoy cooking with Tillamook back at home. I already do, but, now I was going home with a broader sense of the cheese and also some new favorites. The 105th Anniversary Aged Cheddar was haunting me, and when Tillamook was kind enough to send me a wheel of this beautiful cheese, I already knew that I wanted to make a creamy batch of grits. As soon as I opened the package of cheese from Tillamook, I began to devein shrimp and slice some sausage – this Shrimp and Smoked Sausage with Aged Cheddar Grits was ready to come to life.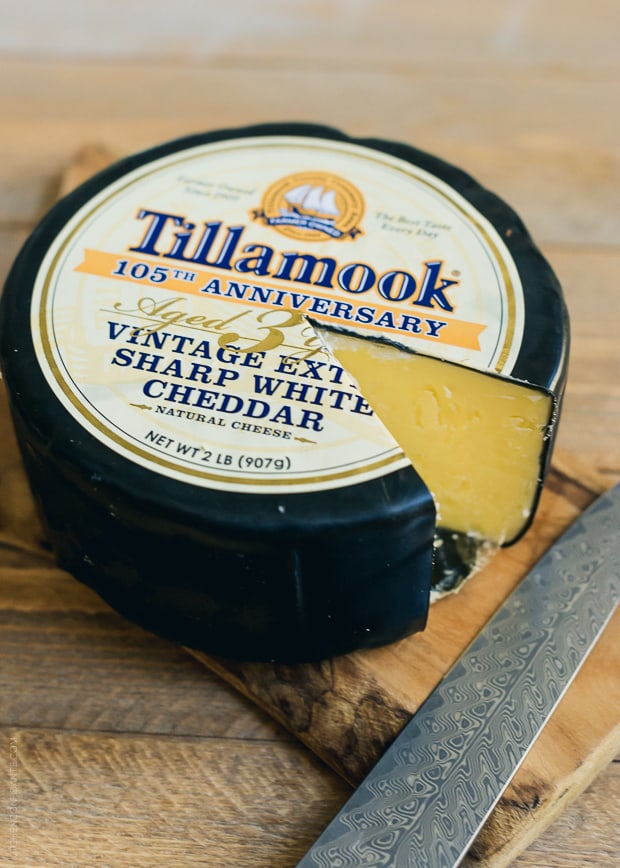 I wish you could have been there to experience this memorable trip to Tillamook – perhaps one day, you'll go, and if you do, have a scoop of Tillamook ice cream for me and some squeeky cheese! But even if you don't, Tillamook isn't that hard to find at your local market. Promise me you'll make some of these cheesy grits. It's a comforting and homey dish, it will keep you warm in the foggiest of days, and the rainiest of nights. I know each time I make it, I'll be thinking of those hardworking ladies in the little town of Tillamook. They're udderly awesome.
Looking for more Tillamook inspiration? Visit my fellow bloggers for more recaps and inspired recipes:
52 Kitchen Adventures
Authentic Suburban Gourmet: Post 1 and Post 2
Crazy for Crust
Glorious Treats
This Week for Dinner
Heather's French Press
Life's Ambrosia
Dessert First
One Sweet Appetite
Set the Table
Your Cup of Cake
Disclosure: I was invited on this trip as a guest of Tillamook. All opinions in this post are my own.
Shrimp and Smoked Sausage with Aged Cheddar Grits
I never fully appreciated shrimp and grits - or grits, for that matter - until I tasted the most incredible grits at the 2012 James Beard Awards. From that moment on, I realized that done well, grits were a very, very good thing indeed. This has become a new family favorite.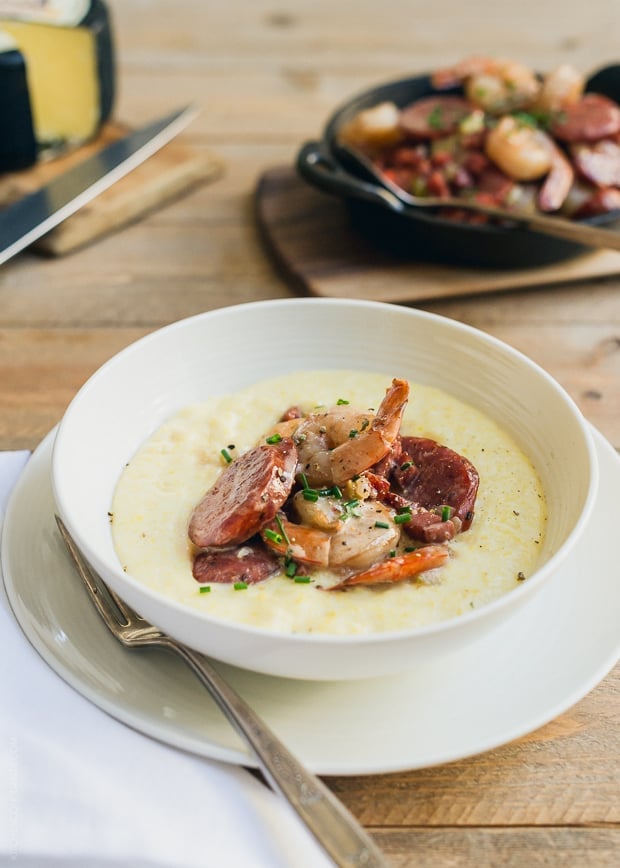 Print Recipe
Ingredients
3 cups chicken stock
3 cups milk
1 cup stone-ground grits
1 tablespoon olive oil
1 cup onion, cut into small dice
1 cup celery, cut into small dice
1 cloved garlic, minced
1 lb smoked sausage, half finely diced, half sliced on the bias
2 tablespoons creole seasoning
1 lb shrimp (26/30 count), peeled and deveined
1/2 cup white wine
1 cup half and half
3 tablespoons butter
3/4 cup aged cheddar cheese, shredded
Minced chives, for serving
Kosher salt
Freshly ground black pepper
Instructions
In a medium saucepan, combine the chicken stock and milk, and bring to a simmer over low heat. Stir in the grits and let it cook, stirring occasionally, until the grits has thickened into a pudding like consistency, about 20-30 minutes.
As the grits cook, heat the olive oil in a deep sided saute pan over medium low heat. Cook the onion, celery and garlic until the onions are translucent, about 5 minutes. Add the smoked sausage. When the sauages have browned, stir in the creole seasoning and cook for 30 seconds, then add the shrimp and a pinch of salt, stirring well. Deglaze the pan with white wine, then slowly stir in the half and half and butter. Cook a few minutes more until the shrimp is cooked through and the sauce is creamy.
Finish the grits by stirring in the cheddar cheese and seasoning with salt and pepper.
To serve, place the grits in a bowl, and top with the shrimp, sausage and sauce. Garnish with chives. Serve immediately.
Adapted from Southern Shrimp and Grits, Rina Rapuano for NPR (April, 2013).
http://www.npr.org/2013/04/02/176040906/true-grits-getting-in-touch-with-your-inner-southerner