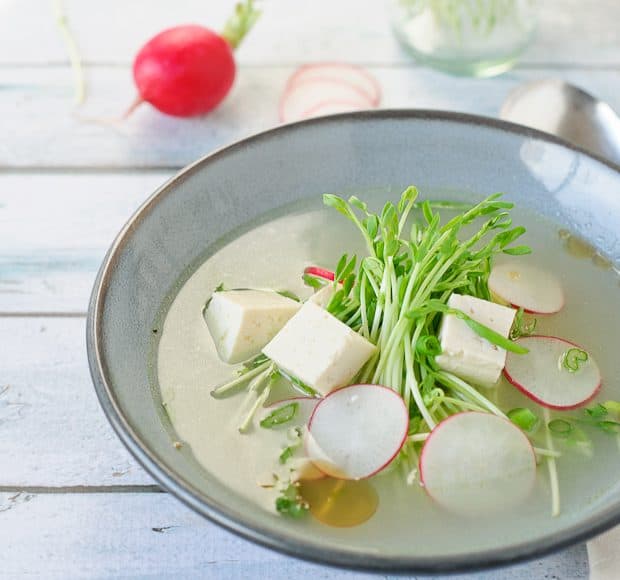 Tofu Soup with Pea Shoots and Radish
Do you cleanse? The word has taken a new meaning recently – we hear of detox diets and juice cleanses as part of the public norm. Seems like everyone is doing it. I personally have not tried a juice cleanse (I fear I would be…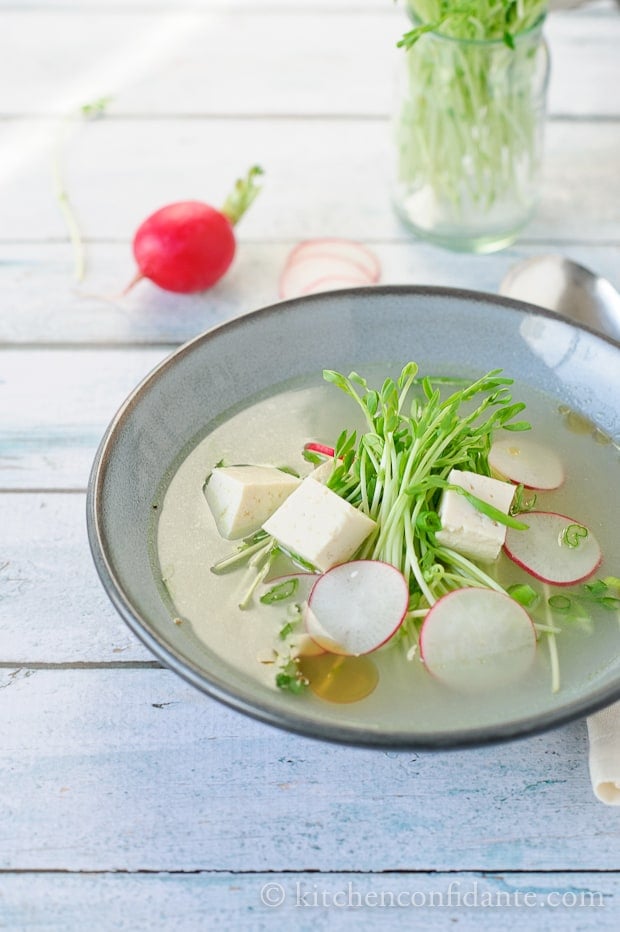 Tofu Soup with Pea Shoots and Radish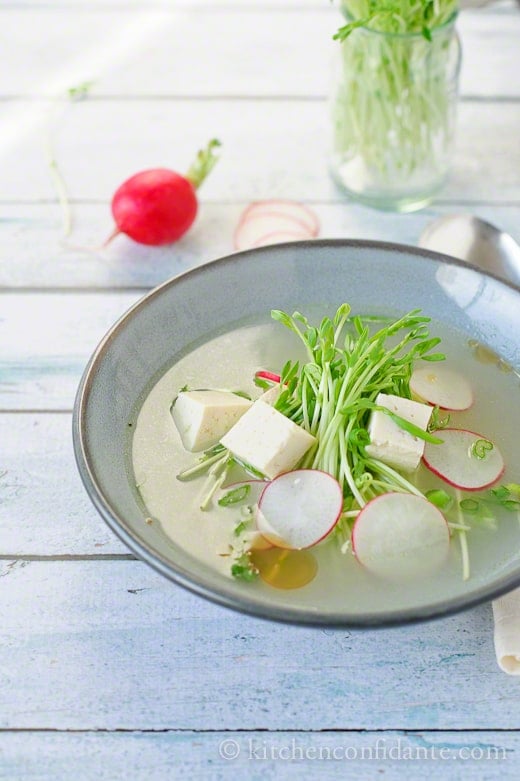 Do you cleanse? The word has taken a new meaning recently – we hear of detox diets and juice cleanses as part of the public norm. Seems like everyone is doing it. I personally have not tried a juice cleanse (I fear I would be too cranky if I limit myself to a liquid diet) or a detox diet (because diets and I just don't jive; see first point). But I do follow my body's cravings, and I have noticed that part of its cycle is one that craves foods that are pure, light, and yes, probably cleansing.
I am a firm believer in listening to your body and the signals it sends. For me, that means understanding that the craving for red meat is the signal that my body needs iron and protein after a strenuous workout. Your body just knows what it needs. After a weekend of a little indulgence (a little too much baking, maybe, or a barbecue with friends), I may find myself craving foods that will restore the balance.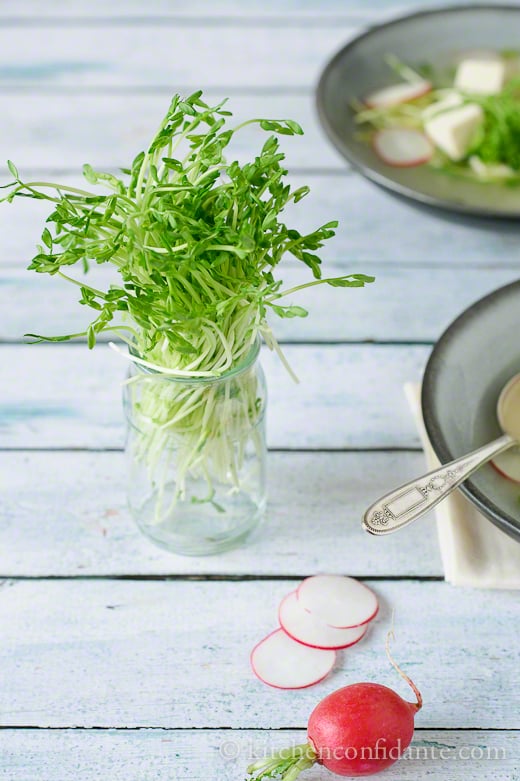 With spring just around the corner, this is the time of year when I want to emerge from my cave and embrace freshness. The weather may still be brisk, so soup is often what I crave, and this Tofu Soup with Pea Shoots and Radish has all the nutrients and lightness my body is yearning. It warms my belly and nourishes without weighing me down.
To cleanse. Whether it is physically or spiritually, it's nice to take a moment to check in with your body. Listen to its needs. Give it the extra attention. Besides, Easter is around the corner, and the chocolate will be back again soon.
Speaking of spring cleaning – what do you think? My little home on the web just got a major spiffying up, and I am so in love with its new look, I hope you are too. Lindsay from Purr Design did an ah-ma-zing job, don't you think? Have fun looking around, I hope you find it easy to navigate and find your way around!
Tofu Soup with Pea Shoots and Radish
Nothing signals the arrival of spring like the appearance of pea shoots in the market. I just love how it is a sign of all the fresh produce to come this growing season. The tendrils are almost like noodles in this light broth.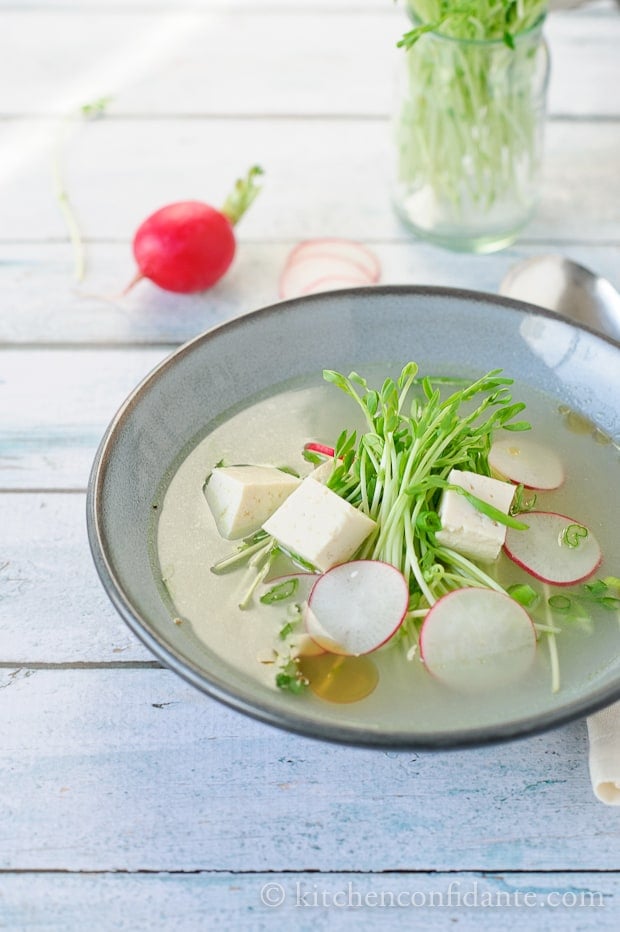 Print Recipe
Ingredients
1 teaspoon canola oil
2 garlic cloves, minced
1 teaspoon grated ginger
4 cups chicken or vegetable broth
kosher salt and freshly ground black pepper, to taste
firm tofu, sliced in cubes
1 cup pea shoots
4 radishes, thinly sliced
2 scallions, thinly sliced
1 teaspoon sesame oil
1 teaspoon rice wine vinegar
Instructions
Heat canola oil in a saucepan over medium heat. Add garlic and ginger to infuse the oil with flavor, taking care not to brown the garlic. Stir in the chicken or vegetable broth and bring to a boil. Season with salt and pepper, if necessary. Remove from heat, and strain, if desired.
Divide the tofu, pea shoots and radish in 4 bowls, and ladle the broth over top. Garnish with scallions. Drizzle lightly with a few drops of sesame oil and rice wine vinegar. Serve immediately.