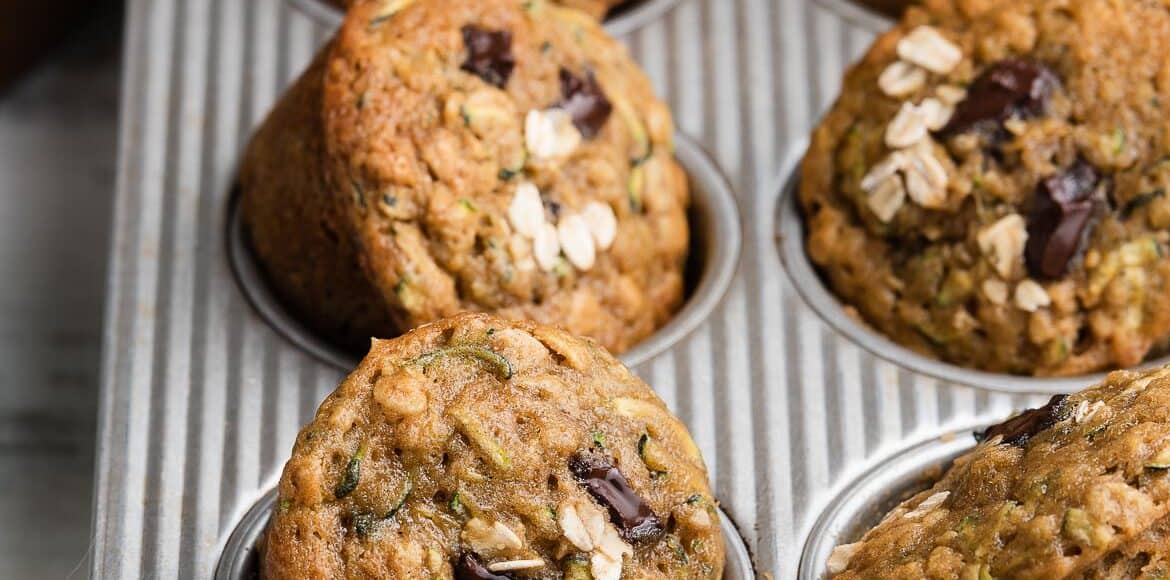 Zucchini Oat Chocolate Chunk Muffins
These Zucchini Oat Chocolate Chunk Muffins are moist from summer's best zucchini, hearty with a helping of oats, and a treat with chocolate chunks! This zucchini oat muffin recipe will become your go-to!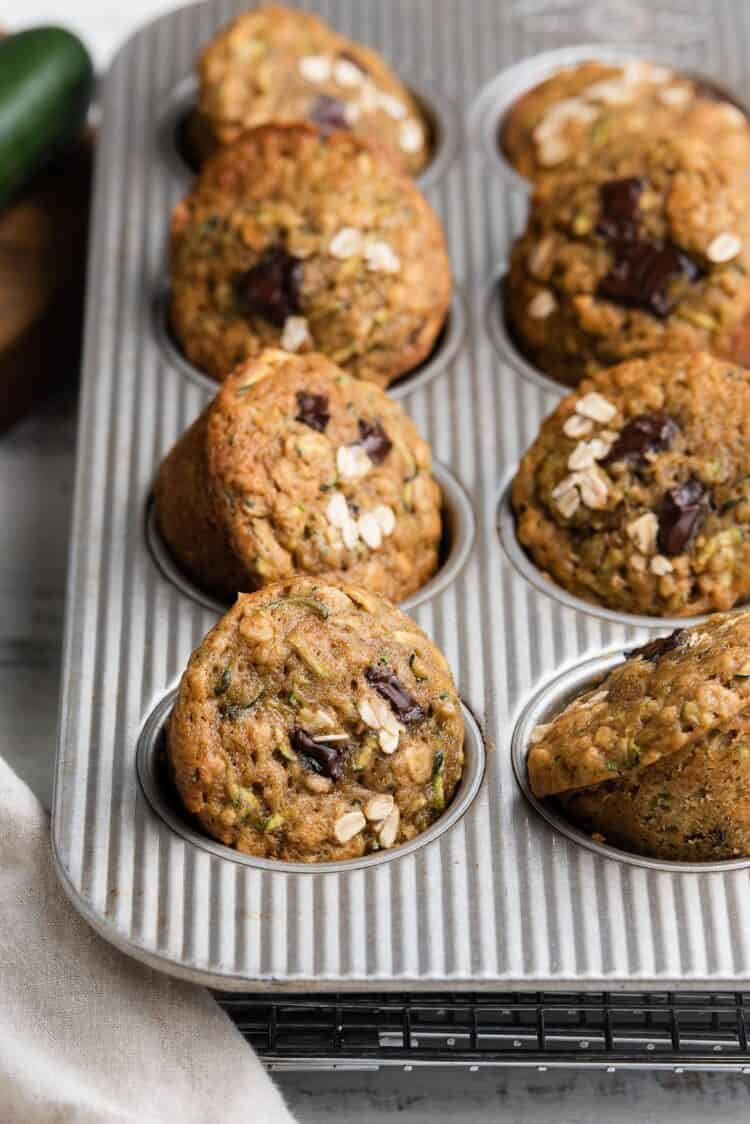 Zucchini Oat Chocolate Chunk Muffins
These Zucchini Oat Chocolate Chunk Muffins are bursting with zucchini, hearty oats, and chocolate chips! An easy zucchini oat muffin recipe!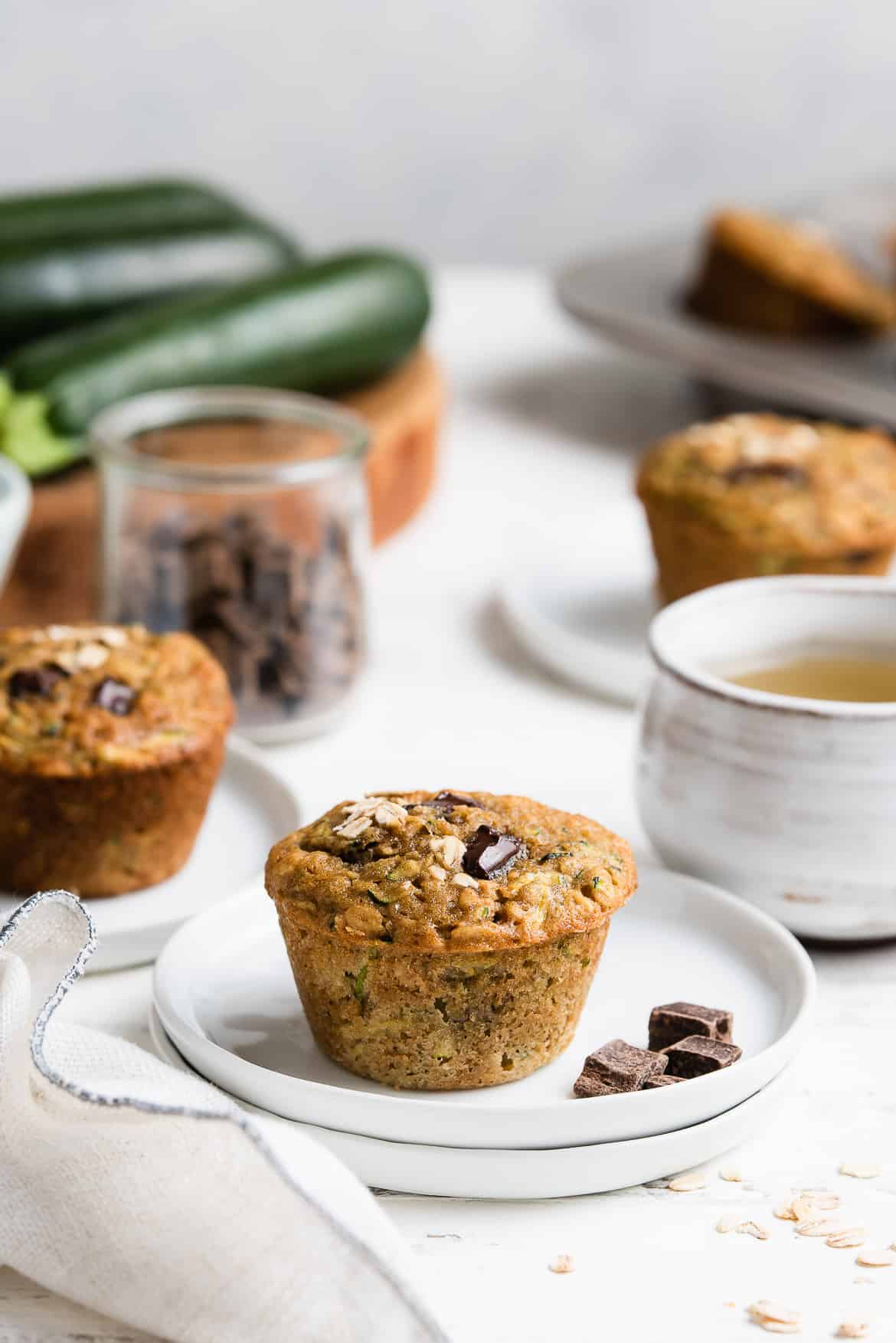 Note: This post first appeared on July 6, 2014. The recipe has been updated from the archives with updated content and photographs, as well as improved kitchen notes and recipe annotation. I hope you enjoy this favorite from my kitchen.
"Mom, stop getting old!" my son called out from the living room. I had just spent the last 60 seconds in a fluster. "Where did I put the yogurt!?!" I was like a headless chicken, looking for its head, until I opened the freezer. "Gah!" There it was, perched atop the filo dough, exactly where it shouldn't be.
That made for the third time this week that I succumbed to what my husband tells me is OPS:
Old People Syndrome. Two weeks into my 40th year, and I've come home to find a half-gallon of nearly full milk in the cupboard with the glasses, and earlier this morning I caught myself before I put the half eaten avocado in the drawer with the oven mitts.
Perhaps it's time to start doing sudoku puzzles.
I'm holding on to one bit of solace from my son, though. We were walking the dog a few evenings ago, when he wrapped his arms around my waist. "Mommy, you're so beautiful. Even for 40." "Thanks," I laughed at his frank but sweet opinion. "Really! You look like you're 20 or even 18!" he rolled on.
Yeah. He lays it on pretty thick.
It may not be true, but I'll take it.
I may be getting old, but hey, I can make a mean muffin. With zucchinis coming into season, and children on summer vacation who just want to sleep the morning away, I've been making batches and batches of these Zucchini Oat Chocolate Chunk Muffins for breakfast. They're loaded with zucchini (and I will, for now, embrace that this is the only way my daughter will eat zucchini), and not too sweet. The occasional chocolate chunk keeps them interested, and overshadows the oats mixed in.
Now as long as I don't misplace the muffins, we'll be just fine.
How to Make Zucchini Oat Muffins
These muffins have been a family favorite and are one of our favorite ways to use up zucchini when they're plentiful. It takes just a few minutes to throw together, come out of the oven perfectly moist, and are great to make in advance for easy breakfasts!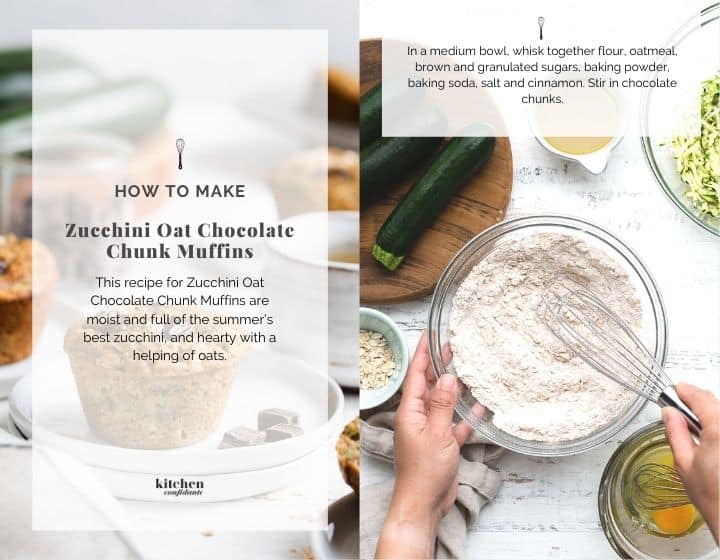 First, give the flour a quick whisk with all the dry ingredients, along with the chocolate chips.
Then it's time for the zucchini! Shred the zucchini with a box grater — if you find that your zucchini is a little on the wet side, then press it carefully between some paper towels or a clean towel. Between you and me, I often skip this step, but if the zucchini really has too much moisture, it's worth the extra step.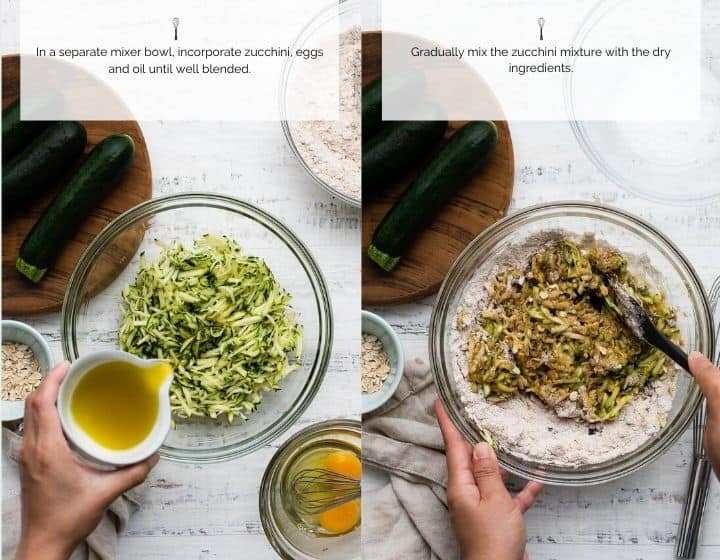 Stir the zucchini with the eggs and oil. I usually use extra-virgin olive oil or canola oil – both work great.
Then it's time to bake, and enjoy!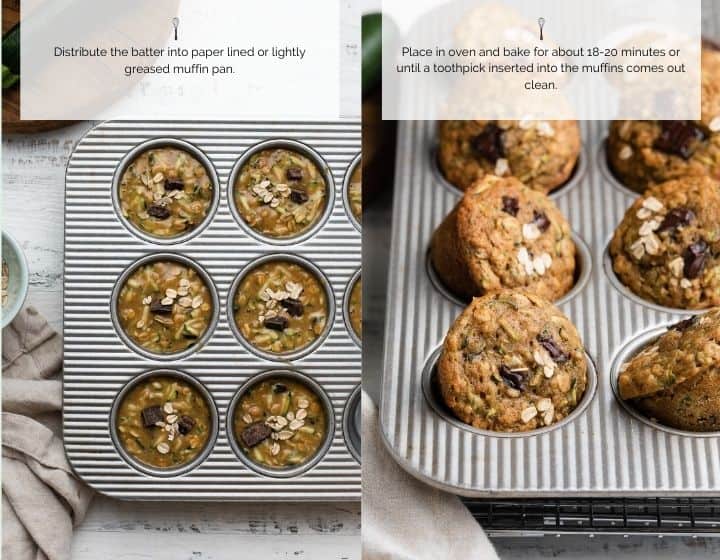 More Zucchini Recipes to Bake
Double Dark Chocolate Zucchini Bread
Zucchini Bread
Savory Zucchini Scones with Feta and Thyme
Zucchini Banana Brownies
Coconut Zucchini Coffee Cake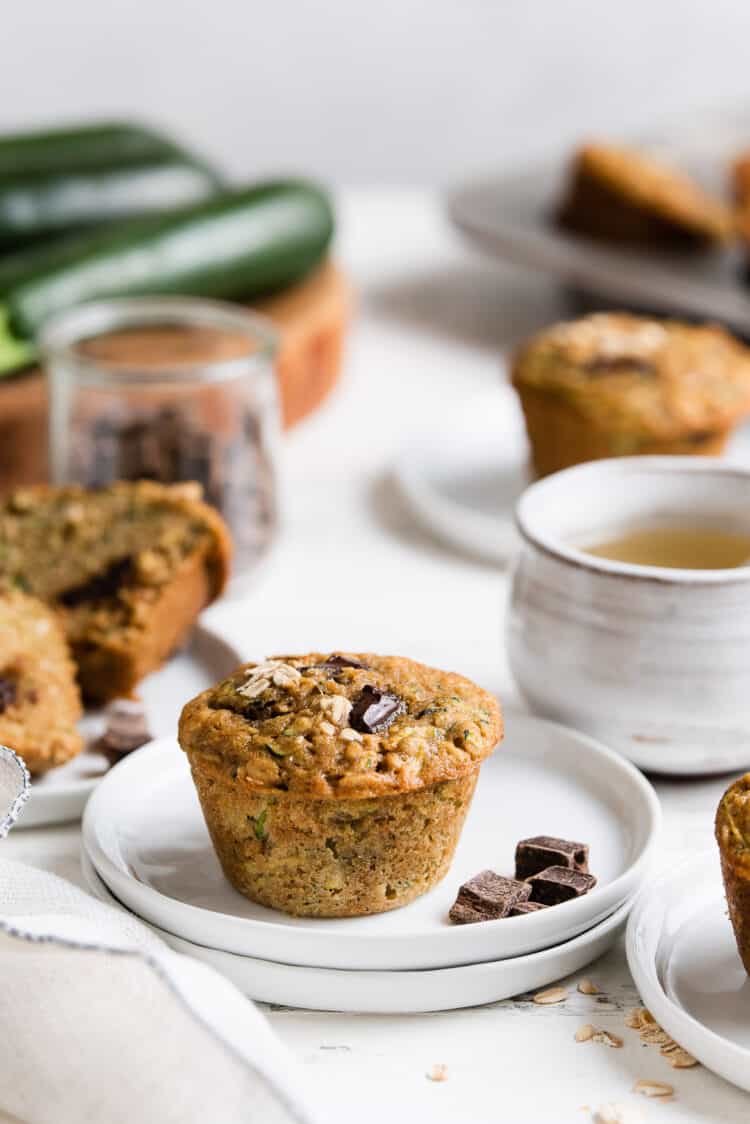 Zucchini Oat Chocolate Chunk Muffins
These Zucchini Oat Chocolate Chunk Muffins are bursting with zucchini, hearty oats, and chocolate chips! An easy zucchini oat muffin recipe!
Ingredients
1

cup

all-purpose flour

1/2

cup

rolled oats (old-fashioned oatmeal)

1/3

cup

brown sugar

1/3

cup

granulated sugar

2

tsp

baking powder

1/4

tsp

baking soda

1/2

tsp

kosher salt

1

tsp

cinnamon

1/4

cup

chocolate chunks

or chocolate chips

2

cups

shredded zucchini

(about 2-3 zucchinis)

2

large

eggs

lightly beaten

1/3

cup

extra virgin olive oil
Instructions
Preheat the oven to 350°F with a rack placed in the center of the oven.

Whisk together flour, oatmeal, brown and granulated sugars, baking powder, baking soda, salt and cinnamon in a medium bowl. Stir in chocolate chunks.

In a separate bowl, mix the zucchini, eggs and oil until well blended. Add the zucchini mixture to the dry ingredients until just combined. Do not over-mix.

Distribute into paper lined or lightly greased muffin pan, place in oven and bake for about 18-20 minutes or until a toothpick inserted into the muffins comes out clean.
Notes
This recipe makes 1 dozen muffins.
Do I need to squeeze the zucchini? In a pinch for time, I've been known to skip this step, but when I notice that the zucchini is especially liquidy, I do take the time to lightly press the shredded squash between some clean paper towels to remove any excess moisture. If you can, I do recommend that you take the time to do so.
What kind of oil should I use? I love baking this with the best quality extra-virgin olive oil I can find (such as Cobram Estates). Canola oil can also be used in this recipe.
Nutrition
Calories:
180
kcal
|
Carbohydrates:
24
g
|
Protein:
3
g
|
Fat:
8
g
|
Saturated Fat:
2
g
|
Cholesterol:
31
mg
|
Sodium:
140
mg
|
Potassium:
196
mg
|
Fiber:
1
g
|
Sugar:
13
g
|
Vitamin A:
86
IU
|
Vitamin C:
4
mg
|
Calcium:
56
mg
|
Iron:
1
mg