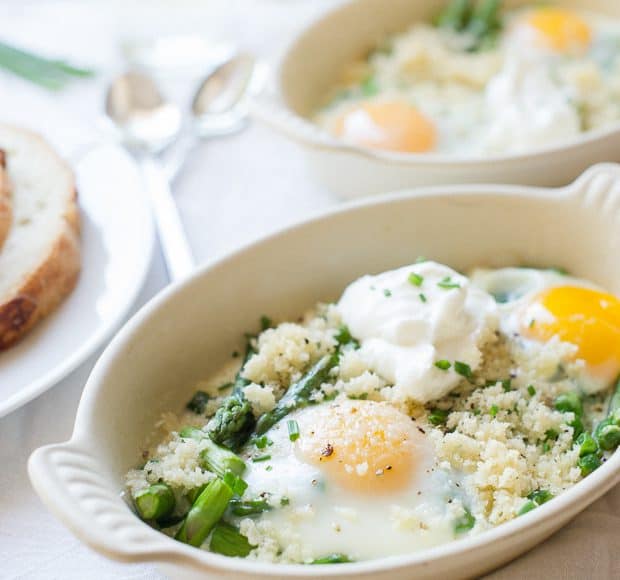 Baked Eggs with Asparagus and Peas
Crack the egg. Split the shell. Release the yolk, perfect and whole, golden and shimmering in the bowl. Eggs – scrambled – were the very first thing I learned how to cook. I was seven, and the simple act of cracking an egg was awe…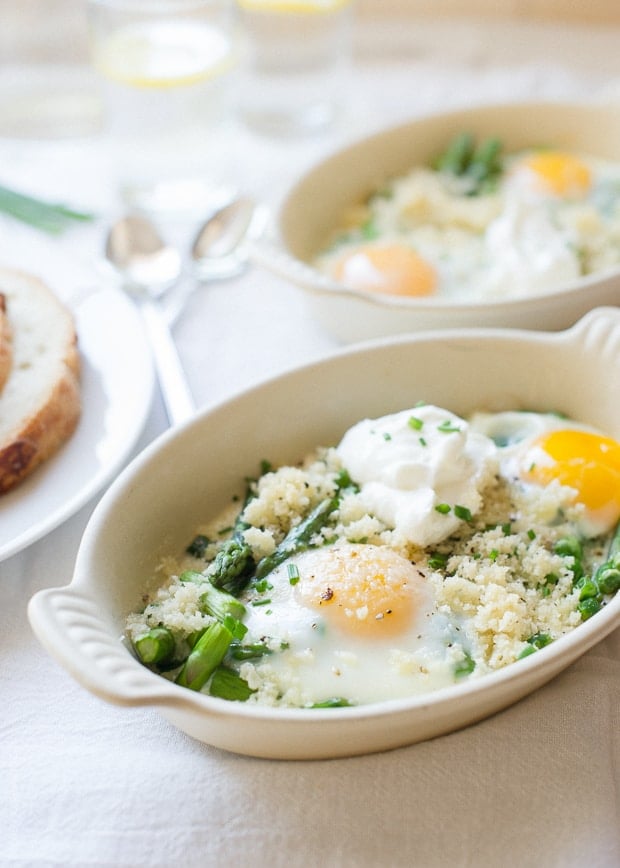 Baked Eggs with Asparagus and Peas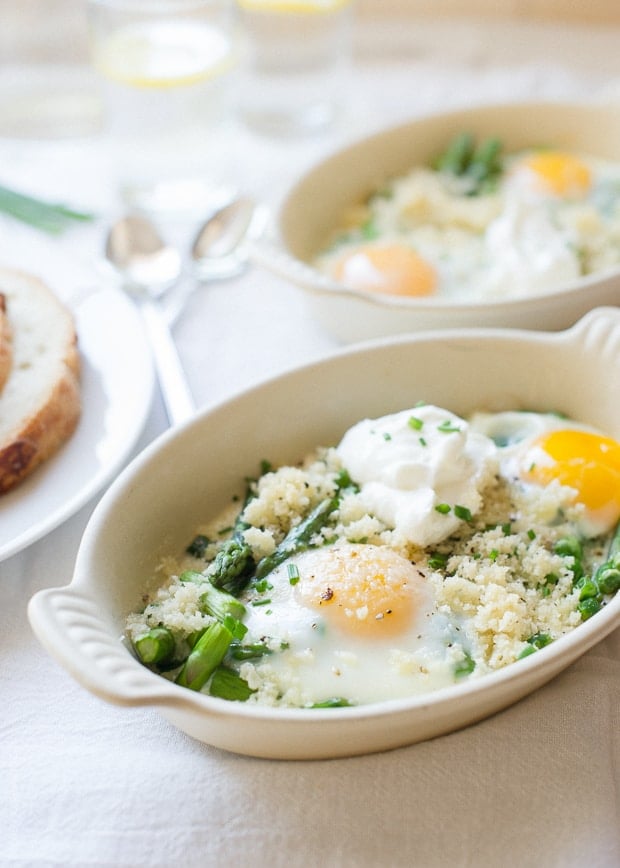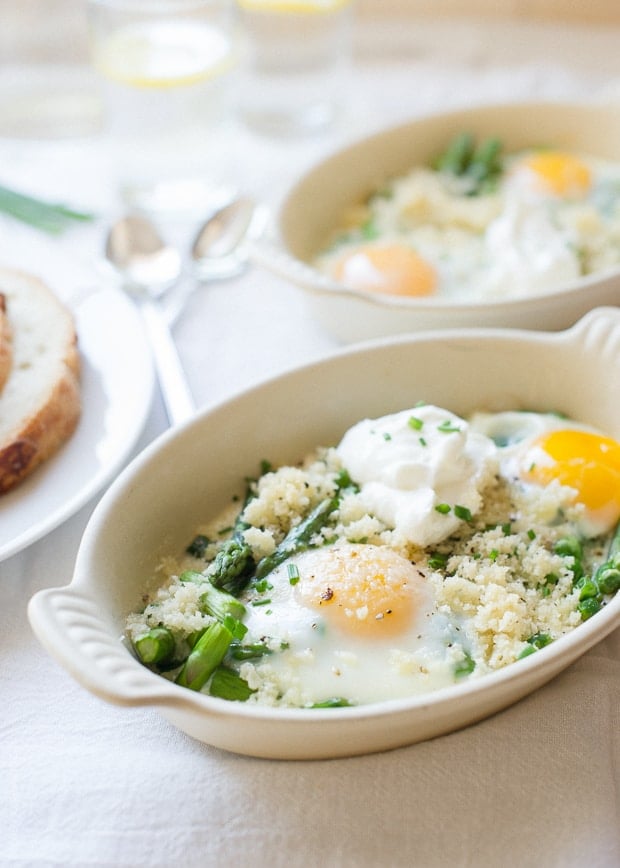 Crack the egg. Split the shell. Release the yolk, perfect and whole, golden and shimmering in the bowl.
Eggs – scrambled – were the very first thing I learned how to cook. I was seven, and the simple act of cracking an egg was awe inspiring and challenging, and something I wanted to try. All. By. Myself.
You remember, right? Cracking your first egg?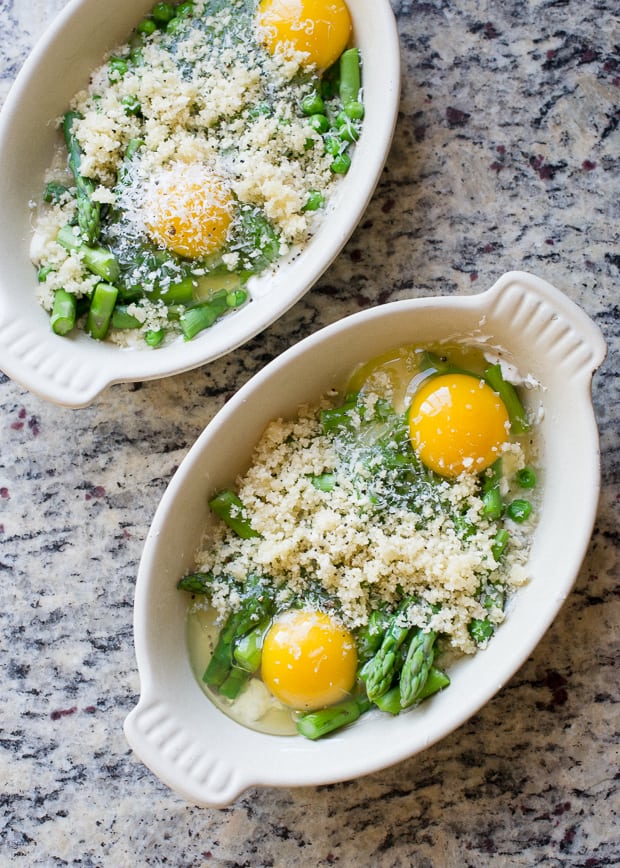 Its mystery all came back to me years later, when I moved out to Illinois for grad school. A friend of mine brought me a handful of fresh eggs, straight from the farm. I tapped the egg on the counter. I cracked the grey shell. Out came the most beautiful, brilliantly hued yolk, of the deepest orange. It made every grocery store egg of my life pale in comparison. I cooked it, sunny side up, to preserve the gem of the yolk, and when I ate it, I knew going back to grocery store eggs would never be quite the same.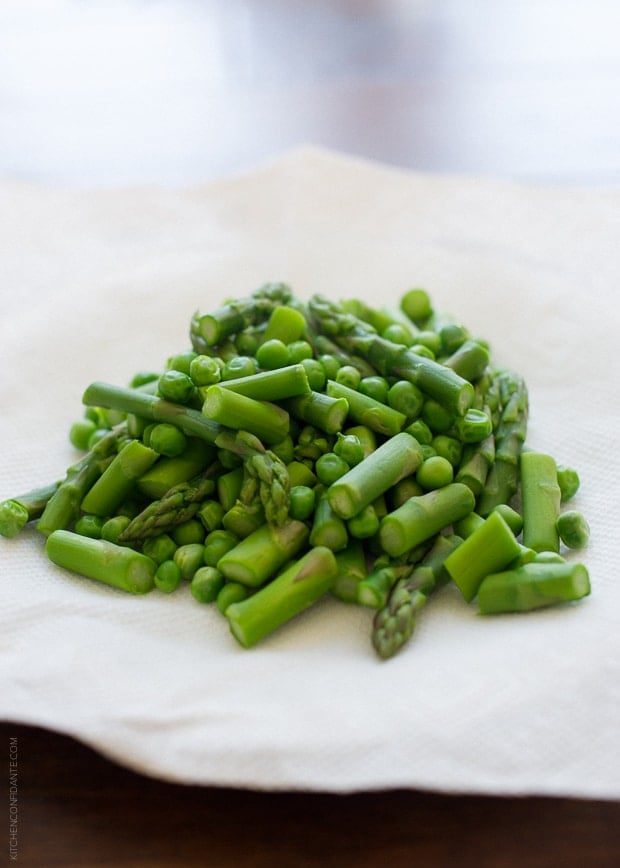 These days, putting an egg on any dish may come across as passé, but there's a good reason why we just can't stop. An egg promises so much. There are cakes and quiche and ice creams and sauces and so much more hiding within its shell.
With winter nearly behind us, I am looking forward to all things spring and sunny, aren't you? This simple Baked Eggs with Asparagus and Peas was all I wanted for brunch the other day – tender asparagus still with snap, sweet peas, and the hero, the egg, baked in a nest of green and with crunchy breadcrumbs dusted on top. It's my way of welcoming the season.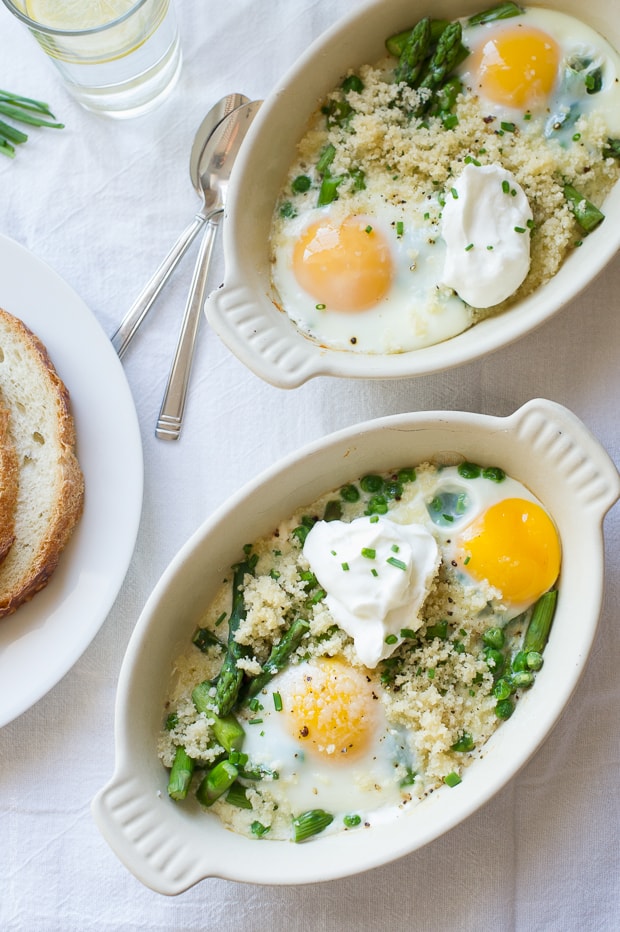 Eat Seasonal
I am back, joining Becky from Vintage Mixer and our friends this month as we share dishes that embrace #EatSeasonal! March is here and spring greens are calling – check out these dishes that are all about freshness!

Whipped Lemon Ricotta Open Faced sandwich – A Zesty Bite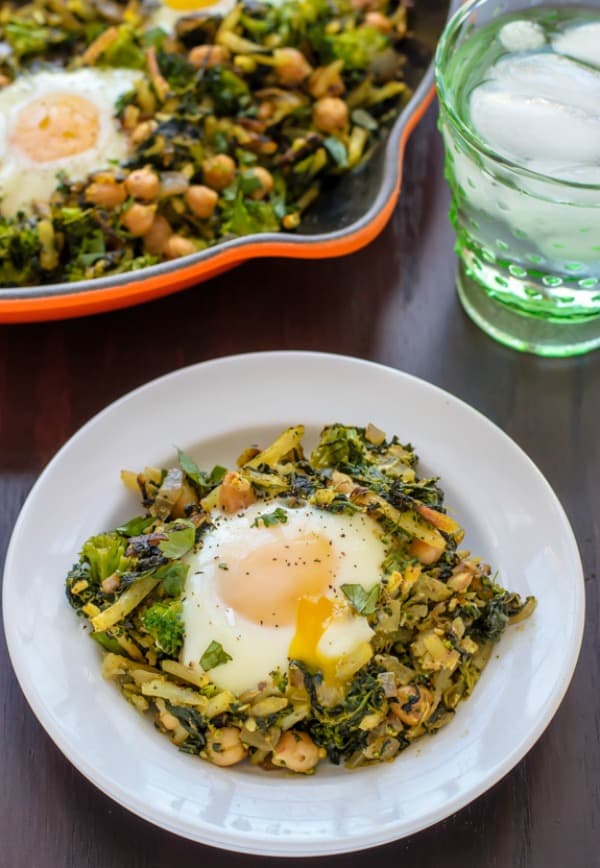 Well Plated – Curried Broccoli Chickpea Hash – Well Plated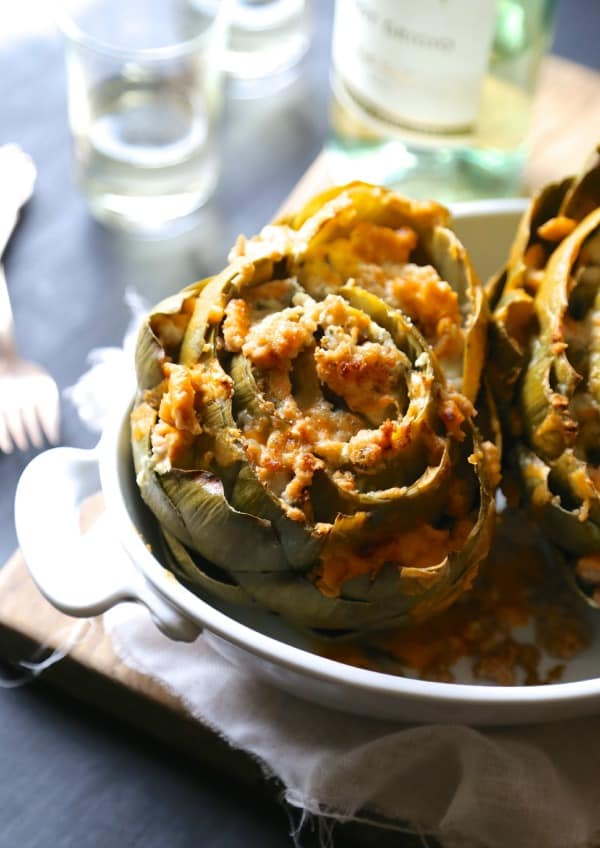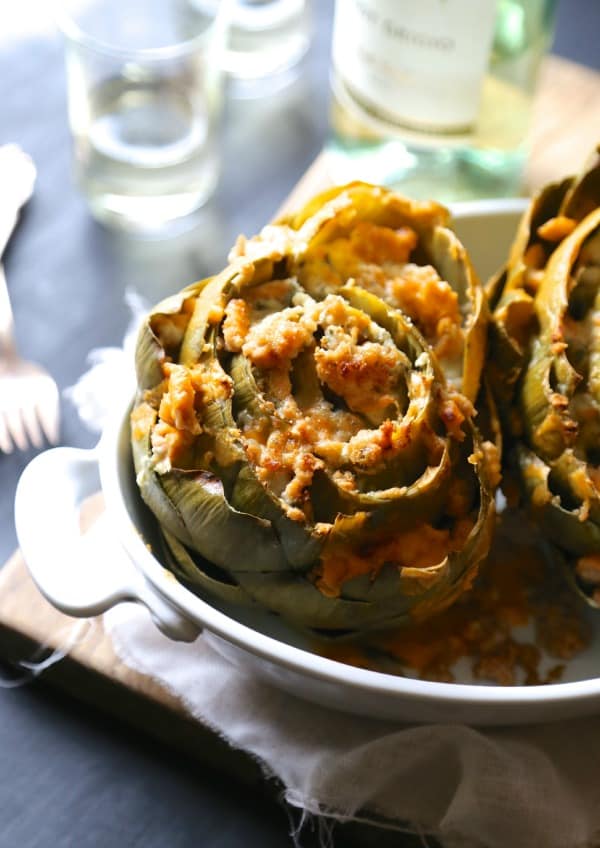 Baked Buffalo Chicken Stuffed Artichokes with Blue Cheese – Climbing Grier Mountain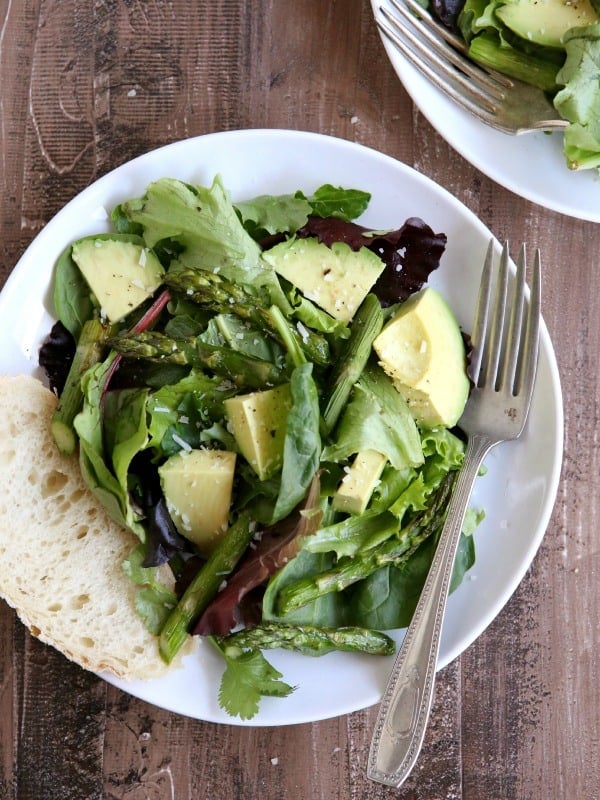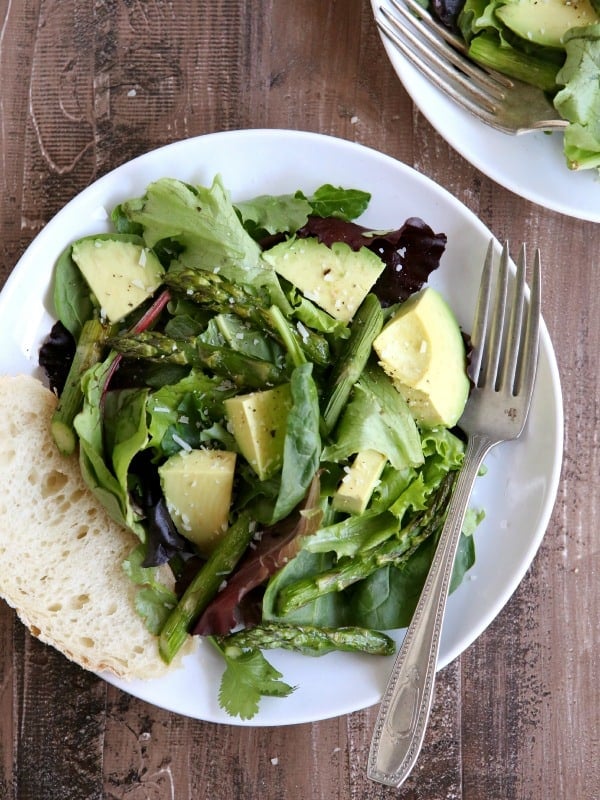 Roasted Asparagus and Avocado Salad with Lemon Vinaigrette – Completely Delicious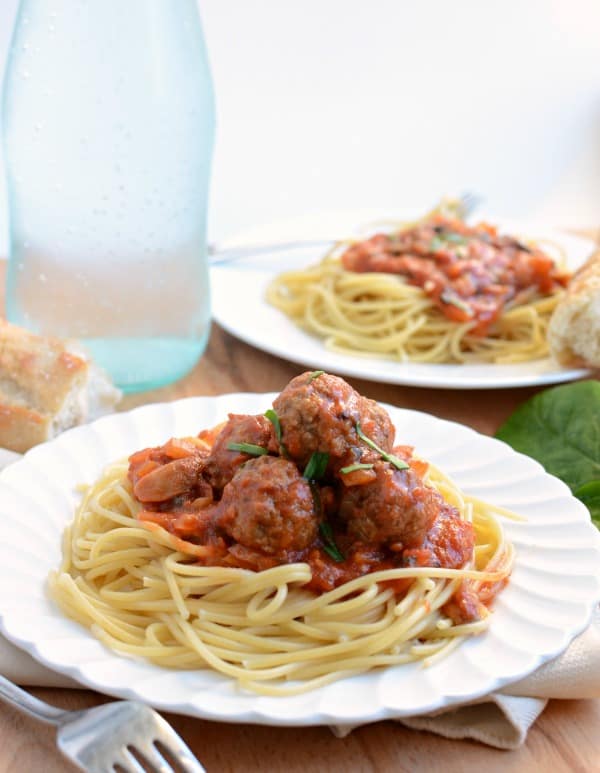 Spinach and Mushroom Marinara with (or without) Meatballs – Bless this Mess

Greek Broccoli Salad – Cookie and Kate

Lemon Ricotta Pancakes – Vintage Mixer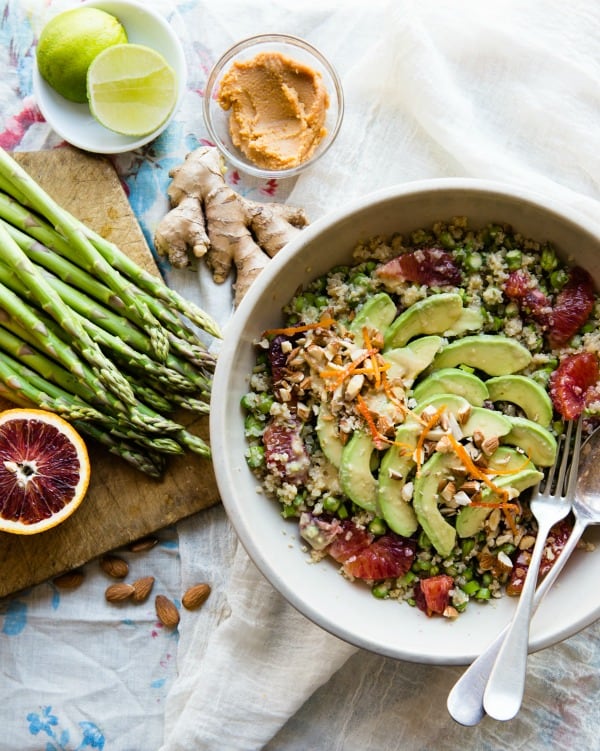 Blood Orange Asparagus Salad with Ginger Miso Dressing – Cafe Johnsonia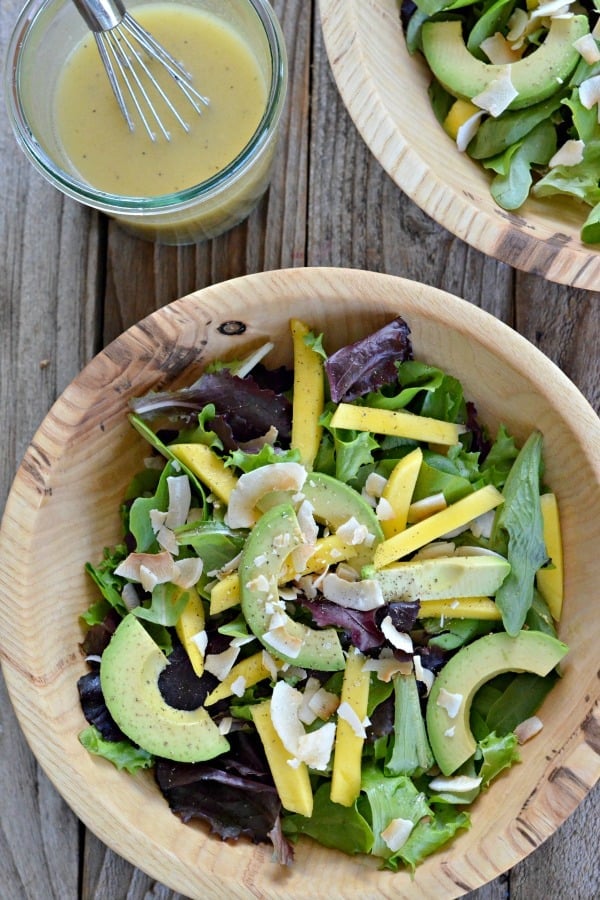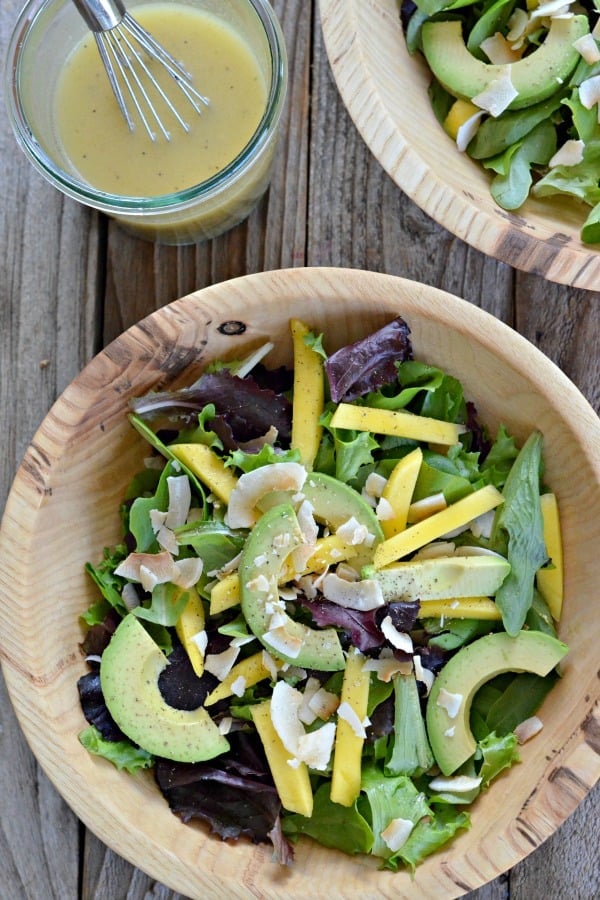 Avocado and Mango Salad with Citrus Poppyseed Dressing – Mountain Mama Cooks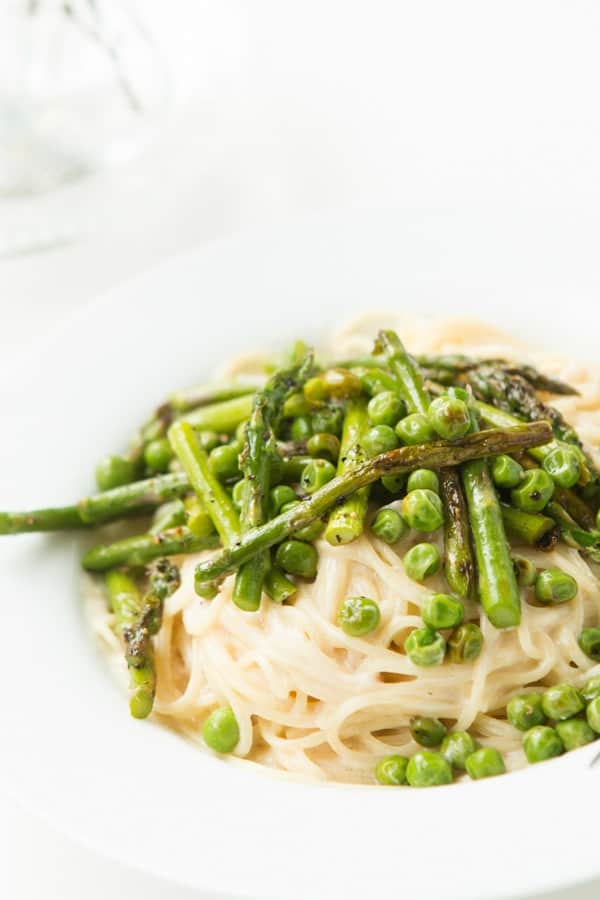 Creamy Garlic Lemon Butter Pasta – Oh, Sweet Basil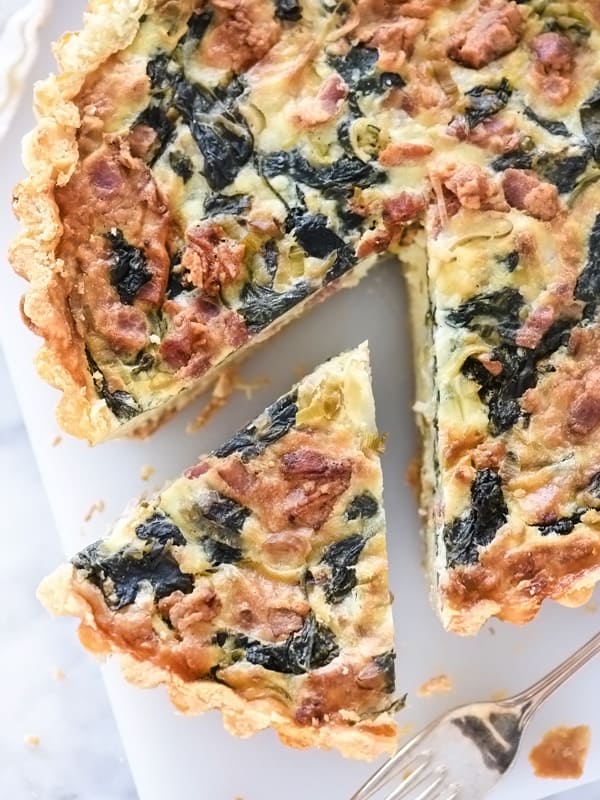 Spinach, Leek and Bacon Quiche – Foodie Crush
Baked Eggs with Asparagus and Peas
Spring brunch just got sunnier.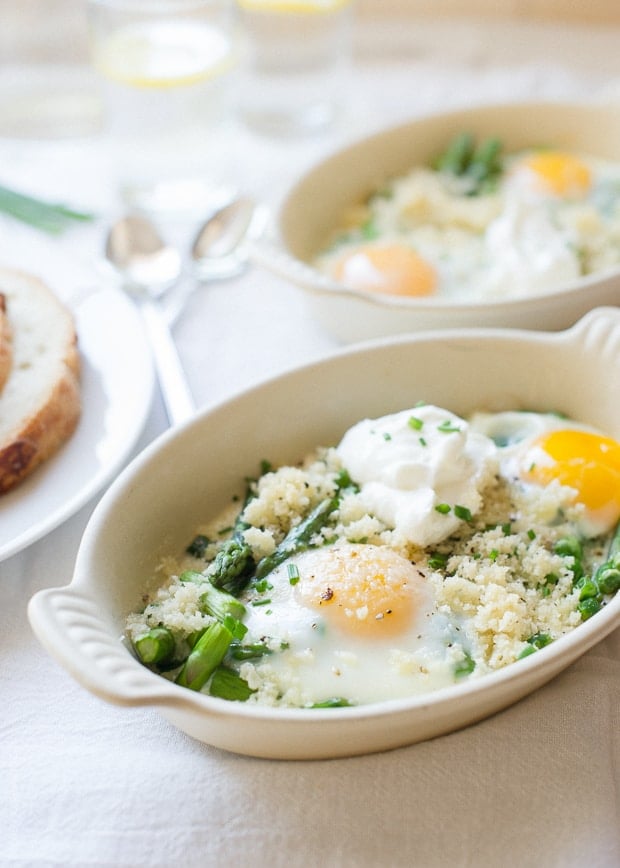 Print Recipe
Ingredients
1 cup chopped asparagus (cut in 1 inch pieces)
1 cup peas
kosher salt
5 tablespoons melted unsalted butter, divided
1/4 cup heavy cream or half and half
2 tablespoons greek yogurt, plus more for serving
freshly ground black pepper
1 garlic clove, crated
4 large eggs
1/2 cup Emmentaler cheese
1 cup panko breadcrumbs
1 tablespoon chopped chives
Instructions
Preheat the oven to 350 degrees F.
Bring a small saucepan of water to a gentle boil over medium heat. Season the water with salt, then drop in the asparagus and peas. Blanch for about 2 minutes, or until the asparagus and peas are a bright green. Strain and rinse under cold water. Set aside.
Whisk 2 tablespoons melted butter with heavy cream and greek yogurt. Stir in the grated garlic and season with salt and pepper. Divide the mixture between two baking dishes or ramekins.
Arrange the asparagus and peas in the cream. Carefully break two eggs into each dish, taking care not to pierce the yolk. Sprinkle with Emmentaler cheese.
Stir the remaining melted butter into the panko breadcrumbs and sprinkle on top. Season with salt and pepper.
Bake for about 8-10 minutes, or until the egg whites are cooked but the yolks are runny. Be careful not to overcook, as it can quickly do so.
Remove from oven, garnish with chives, and serve immediately with crusty bread. If you wish, serve with a dollop of greek yogurt seasoned to taste with salt and pepper.