Chickpea Salad
Chickpea Salad
The one salad that is our true warm-weather staple is this Chickpea Salad. Chock full of summer's best, it's fresh, vibrant, and goes with everything!

Can it really be? Is Labor Day Weekend just a few days away? A friend of mine mentioned that starting next week, Starbucks will begin brewing their Pumpkin Spice Lattes; I actually learned that if you're really yearning for a taste of fall, you can probably even order one now. But as much as I adore pumpkins and spice and all things nice, I think I want to hang on to summer just a wee bit longer.
In my neck of the woods, we're in that gorgeous time of year, where the early mornings and evenings require sweaters and slippers. Those little glimpses of the fall weather to come give way to a warm (sometimes hot) mid day, and it's back to tank tops and cravings for summer food. For me, that means salads. Hearty ones like this Chickpea Salad.
The markets now are full of so much freshness, it is the perfect time of year to dice up those gorgeous heirloom tomatoes, crunchy cucumbers and vine-ripened jalapeño peppers. The herbs are in full swing, too. Toss the season's best into a salad with creamy flaxen chickpeas, and a zingy lemon garlic dressing, and you have a salad that is not just full of ripe and vibrant flavor, but is incredibly good for you.
If you're looking for a perfect side dish to serve for your Labor Day barbecues, you will love this one. Make it early in the day, let the garbanzo beans soak in that sunshine flavor. After all, they need to savor summer, too.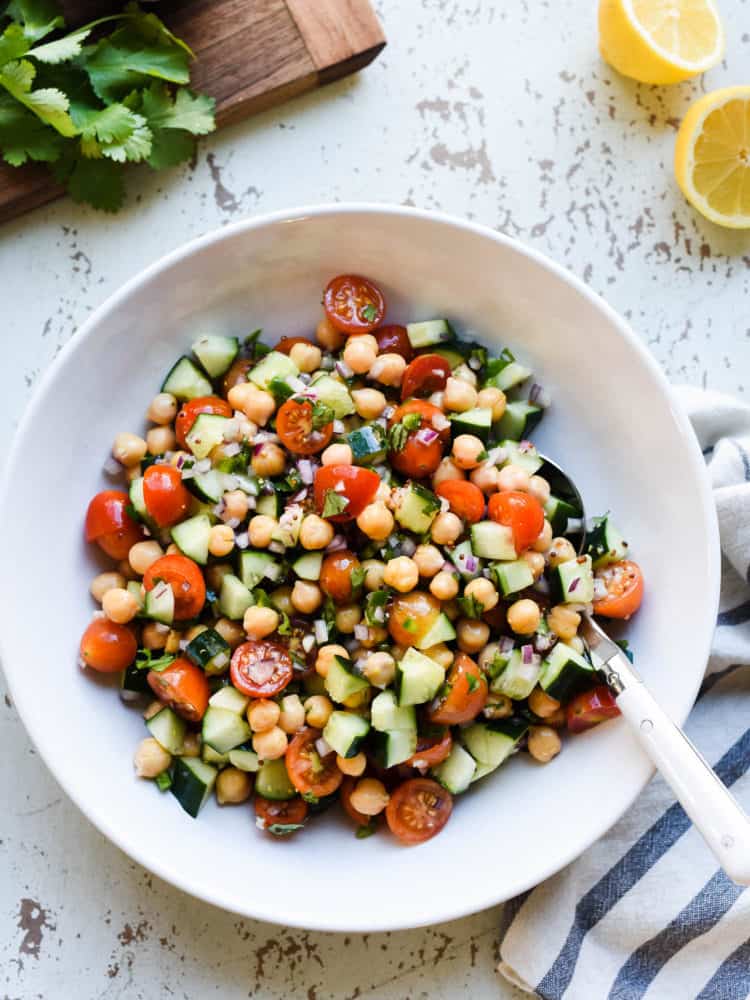 Note: Images to this family favorite recipe were updated on March 12, 2017.
The one salad that is our true warm-weather staple is this. Chickpea Salad is fresh, vibrant, and goes with everything!
Print Recipe
Ingredients
1 15-oz can of garbanzo beans (chickpeas)
1 1/2 cups peeled and diced English cucumber
1 1/2 cups diced tomatoes
1 jalapeno, seeds and pith removed, finely diced
1/2 cup finely diced red onion
1/2 cup cilantro, minced
2-3 tablespoons minced basil
2-3 tablespoons minced mint
2 garlic cloves, mashed
1 teaspoon salt
2 tablespoons freshly squeezed lemon juice
1 teaspoon Dijon mustard
2 teaspoons rice vinegar
3 tablespoons extra virgin olive oil
freshly ground black pepper
Instructions
Rinse and drain chickpeas. In a medium bowl, combine the chickpeas, cucumber, tomato, jalapeno, red onion, and herbs. In a small bowl, mash together the garlic and salt. Whisk in the lemon juice, mustard, vinegar and olive oil. Season to taste with pepper. Toss the dressing into the chickpeas and vegetables. Let it sit for at least an hour in the refrigerator. Give it one final toss before serving.