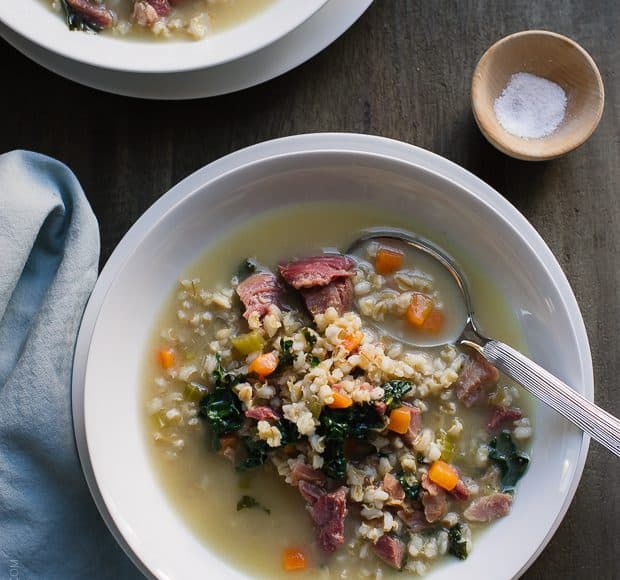 Ham, Barley and Kale Soup
Use what is left of your holiday ham in this hearty, wholesome Ham, Barley and Kale Soup. My husband came home with the biggest smoked ham I have ever seen. "We're going to be eating ham for a month," I thought to myself. My mind…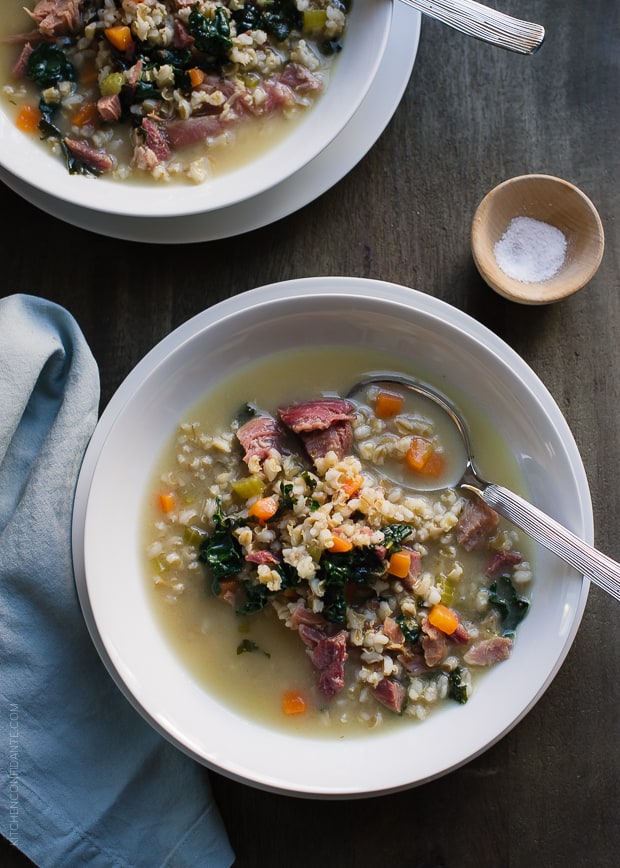 Ham, Barley and Kale Soup
Use what is left of your holiday ham in this hearty, wholesome Ham, Barley and Kale Soup.
My husband came home with the biggest smoked ham I have ever seen.
"We're going to be eating ham for a month," I thought to myself. My mind began to rattle off the possibilities, Bubba Gump style. Ham sandwiches. Grilled cheese with ham. Ham omelets. Fried eggs and ham. Ham and split pea soup. Ham macaroni and cheese. Ham chowder. I started to fatigue just thinking about it.
The funny thing is, I didn't tire of the ham. This year's holiday ham has been so good, and despite the fact that I'll be using up the very last of it this morning in a breakfast quiche, I will actually miss it when it's gone. It served us well.
Out of all the ways our leftover ham was reincarnated, Ham, Barley and Kale Soup was my favorite. As we welcome the new year with evening frosts and movies in front of the fireplace, all I continue to crave is soup. I hope you're not tiring of it, but if a hot, steaming bowl of rich broth, chewy barley and nutrient rich kale sounds like a good way to keep warm and wholesome, then this soup is for you.
Next holiday, I'll remind my husband to bring home a big ham again…maybe even bigger. I've run out of soup, you see. 
Ham, Barley and Kale Soup
Use what is left of your holiday ham in this hearty, wholesome soup.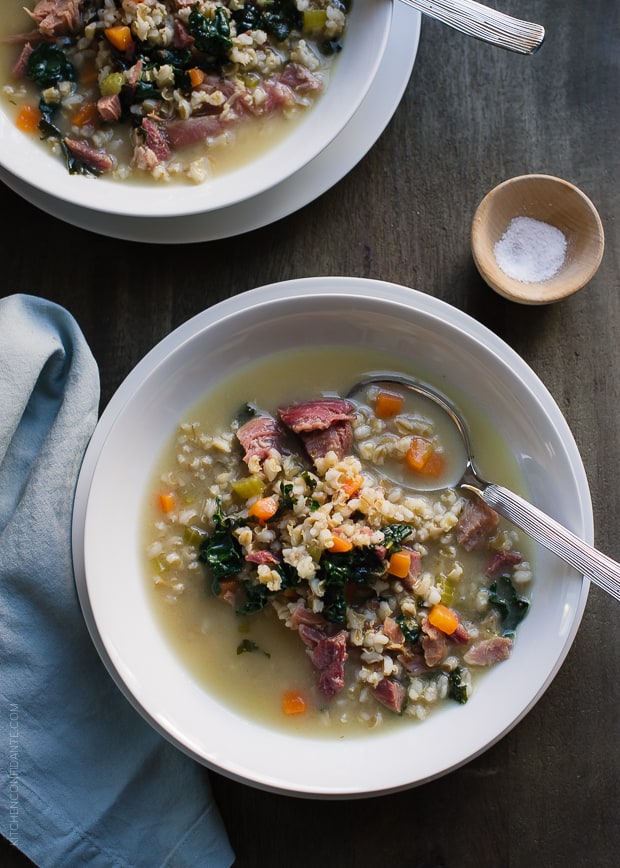 Print Recipe
Ingredients
10 cups low sodium chicken stock
1 leftover baked ham bone, with some meat (about 2-3 lbs)
1 1/2 cups diced carrots (about 2 medium carrots)
1 1/2 cup diced celery (about 3 stalks)
1 cup pearl barley, rinsed
kosher salt
freshly ground black pepper
4 stalks Tuscan kale (also known as lacinato kale or dinosaur kale), trimmed and chopped
1 tablespoon sherry vinegar
Instructions
In a Dutch oven or large pot, place the chicken stock and ham bone over medium high heat and bring to a boil. Lower heat to a simmer, cover, and cook for about 15 minutes.
Stir in the carrots, celery and barley and season to taste with salt and pepper. Continue cooking, stirring occasionally, for about 30 minutes, or until the barley is just starting to soften.
Retrieve the ham bone and remove the meat from the bone. Chop the meat into 1/2 inch pieces and return to the soup. Discard the ham bone.
Stir in the kale and sherry vinegar and cook for about 10-15 minutes longer, or until the barley is fully cooked. Season to taste with salt and pepper. Serve immediately.</p>