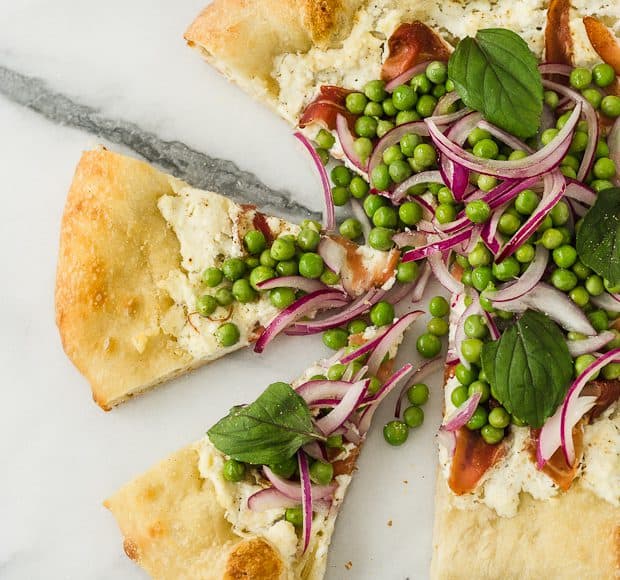 Simple Sundays | Ricotta Pizza with Prosciutto and Fresh Pea Salad
I think I had a mini mid-life crisis. It all started when my daughter asked to listen to the satellite radio station 80's on 8 on the way to school. Bananarama started blasting through the car speakers: Goddess on the mountain top…Burning like a silver…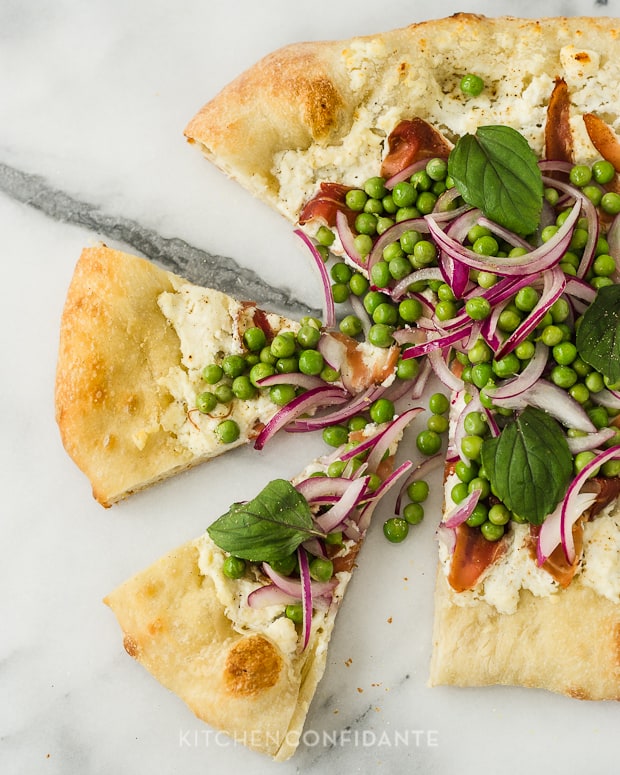 Simple Sundays | Ricotta Pizza with Prosciutto and Fresh Pea Salad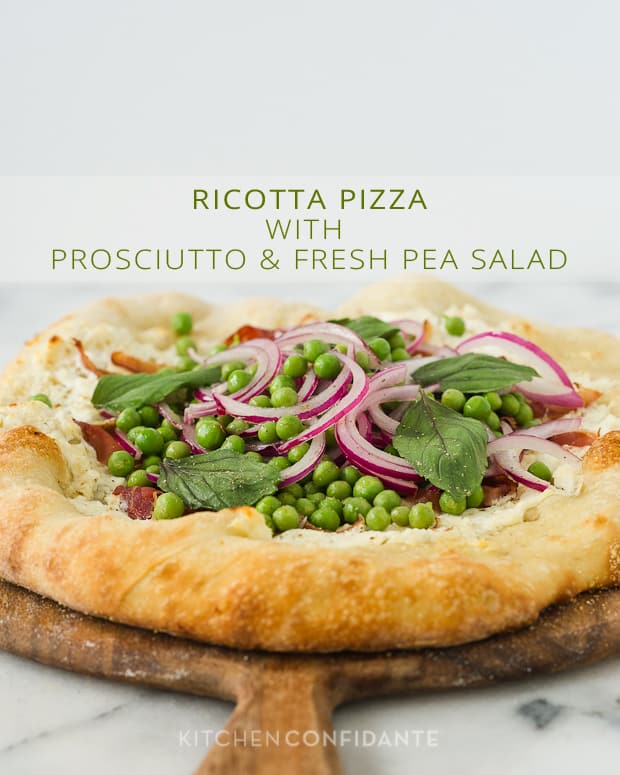 I think I had a mini mid-life crisis. It all started when my daughter asked to listen to the satellite radio station 80's on 8 on the way to school. Bananarama started blasting through the car speakers: Goddess on the mountain top…Burning like a silver flame… The jingly tune was so familiar, and brought me back to 1985, when I would rock out in my plaid uniform jumper and knee high socks. I was just a tad older than my daughter is now.
Then there was the visit to the zoo. My daughter and I were having some girl time last week, and I spotted the dad with the Baby Bjorn and the mom with the Petunia Picklebottom backpack. They fussed over their toddlers. And they looked so young.
I drove down the boulevard and glanced at the rolling green hills in the park. There was a circle of moms on a playdate with their little babies. And they looked so young.
There was the photo album my kids pulled from the shelf. It was our honeymoon and our lives were so different. Children were still a dream, and a food blog would have been a crazy thought. And we looked so young.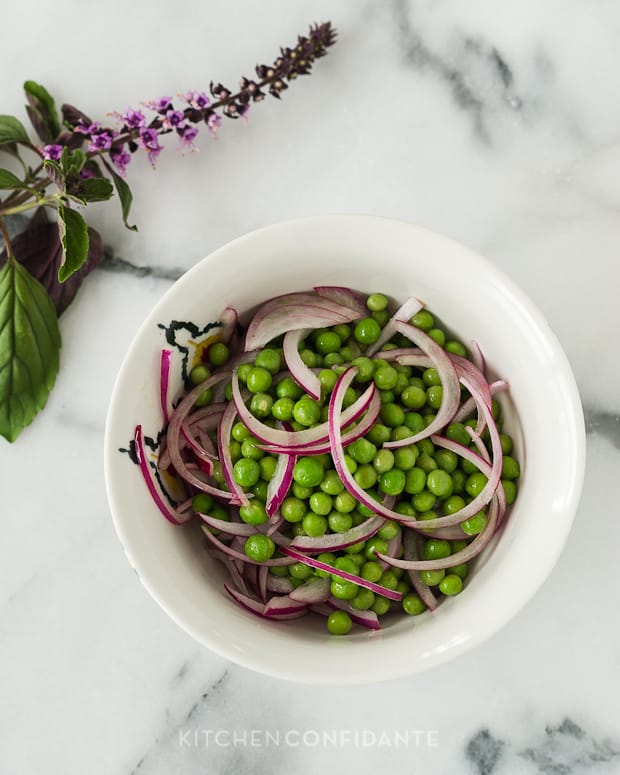 But after each of those little mini-crises, my mind calmed. I reflected on those memories and thanked God that those sleepless nights with infants and backbreaking toddler chases were behind us. I take solace in how much my husband and I have grown, closer than I imagined, from our wedding day. If I could tell the young versions of us in the honeymoon album how much we would change, I'm not sure they would believe me.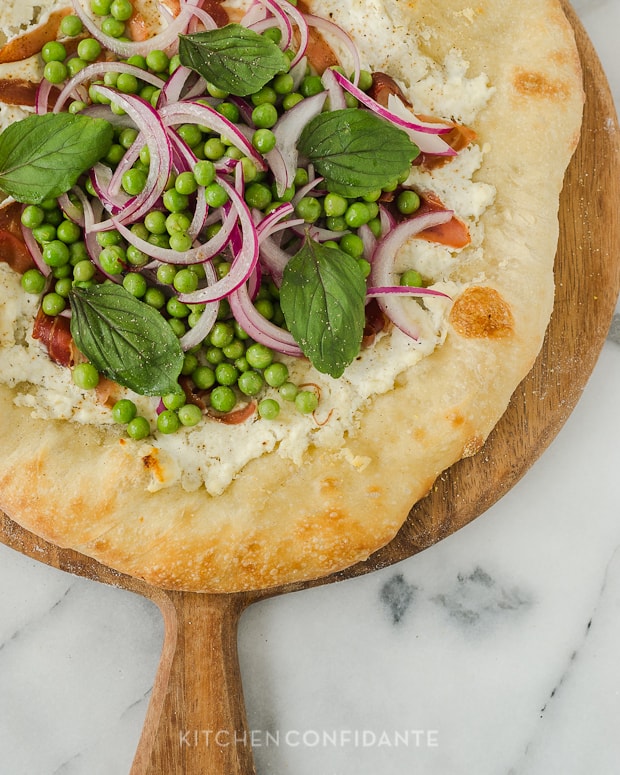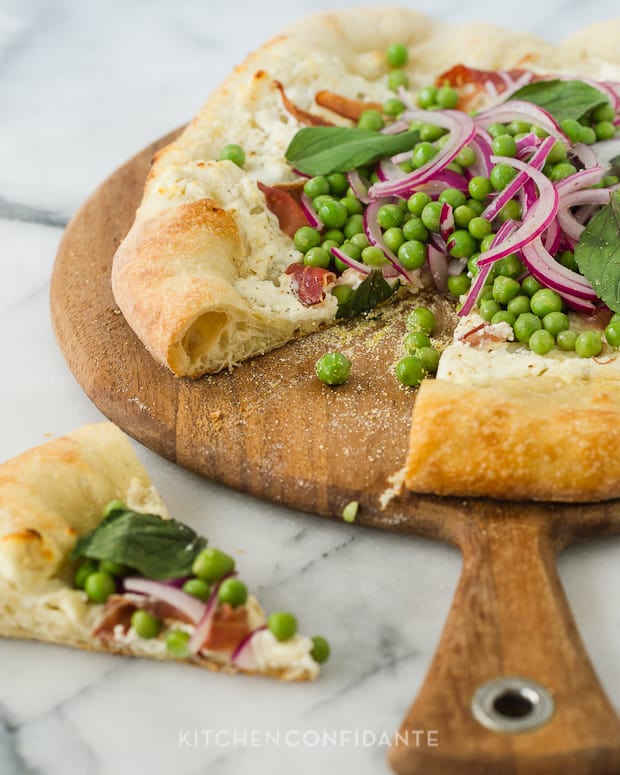 And what does this have to do with pizza? Not much, really. Except that it is another example of how we grow and change and find new joys. Pizza goes beyond tomato sauce and mozzarella. Beyond toppings that are cemented into gooey cheese. There's nothing wrong with that, of course, but there's something just as awesome in a Ricotta Pizza with Prosciutto and Fresh Pea Salad. It just took me almost half a lifetime to learn that.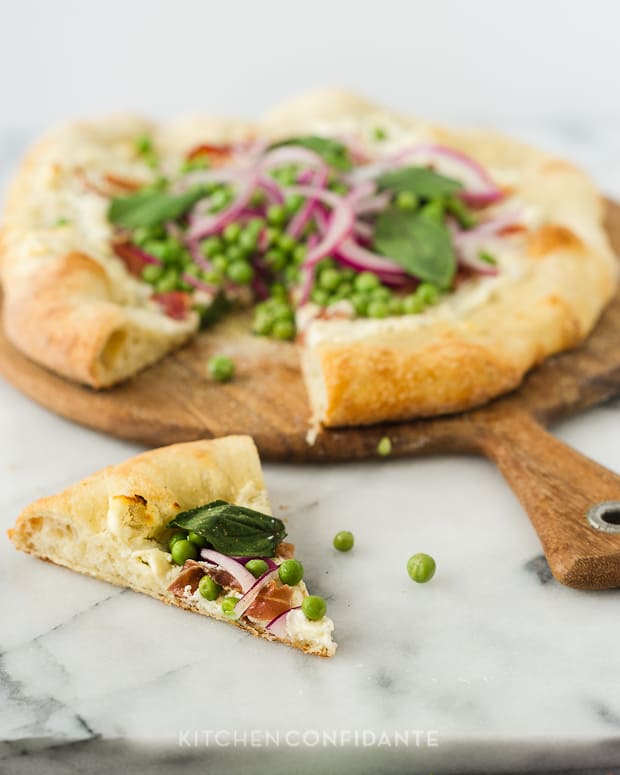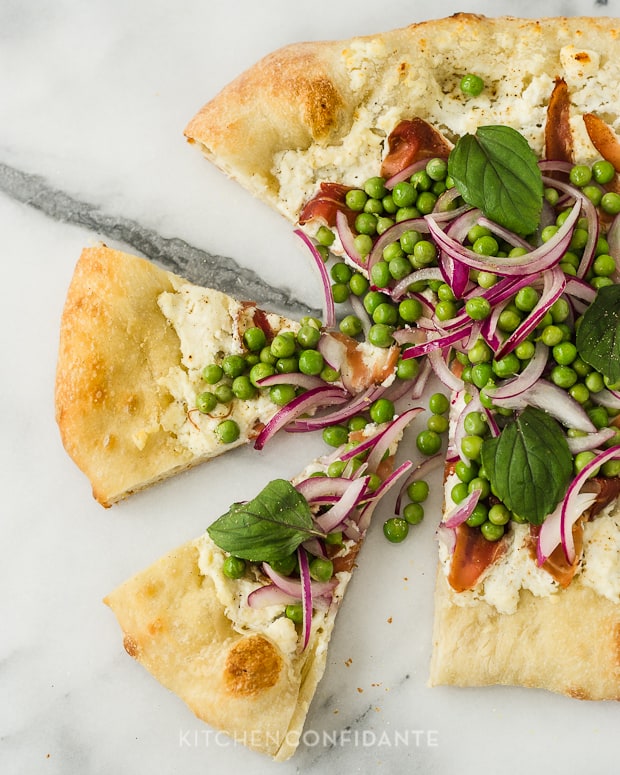 Ricotta Pizza with Prosciutto and Fresh Pea Salad
This is my new favorite way to enjoy a pizza bianca. Topped with a fresh pea salad, each bite has the lovely pop of sweet peas, salty prosciutto and creamy cheese.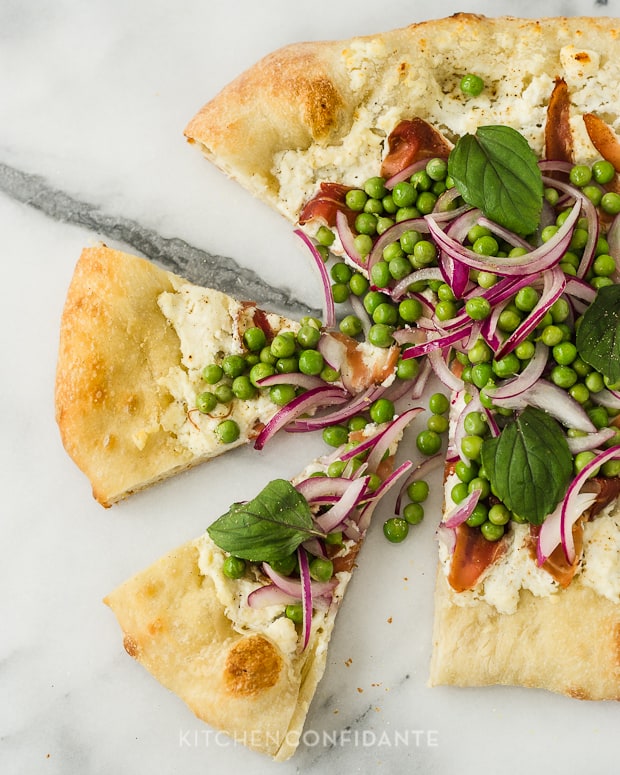 Print Recipe
Ingredients
For the Pizza
Pizza dough
1 cup whole milk ricotta cheese
1/2 cup feta cheese
3 oz smoked prosciutto
Kosher salt
Freshly ground black pepper
2-3 tablespoons best quality extra virgin olive oil
Cornmeal, for dusting
For the Fresh Pea Salad
1 1/2 cups fresh English peas
1/2 cup thinly sliced red onions
1-2 tablespoons best quality extra virgin olive oil
1-2 tablespoons white balsamic vinegar
Kosher salt
Freshly ground black pepper
1/4 cup feta cheese
4-5 fresh basil leaves
Instructions
Place a pizza stone in the lowest rack of the oven and preheat the oven to 450 degrees.
Bring a small saucepan of water to a rolling boil. Drop in the fresh English peas, cook for 90 seconds, and strain. In a medium bowl, combine the fresh English peas with the red onion, and toss in the olive oil and white balsamic vinegar. Season to taste with salt and pepper. Set aside to cool in the refrigerator.
On a floured surface, roll out the pizza dough to about 12 inches in diameter. Transfer to a pizza paddle dusted with cornmeal (or a baking sheet lightly greased with olive oil). Press dimples into the dough, as well as a ridge around the perimeter to prevent the cheeses from oozing. Brush the dough lightly with olive oil. In a bowl, mix the ricotta and feta cheeses, and season to taste with salt and pepper. Spread the ricotta mixture over the dough and scatter the prosciutto. Bake for 15-17 minutes, or until the pizza crust is golden.
Toss the remaining feta cheese in the pea salad. Top the pizza with the salad and the fresh basil. Slice and serve immediately.