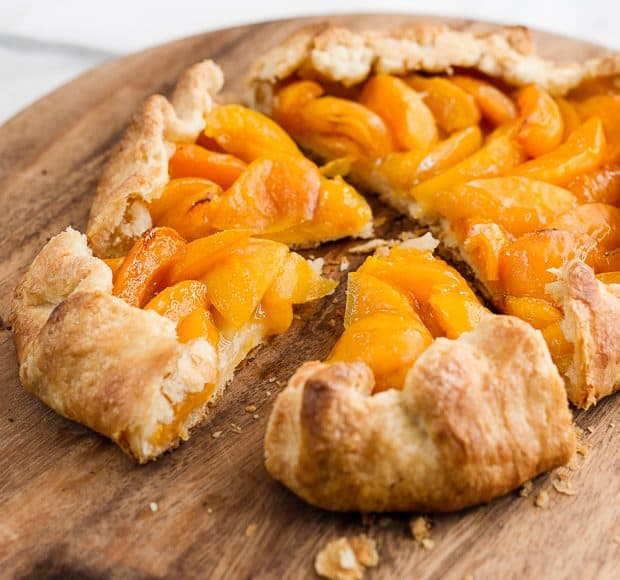 Simple Sundays | Apricot Galette
Galettes are humble, they are rustic, they're the down-and-dirty, let's-get-to-the-good-stuff version of pie. Try this Apricot Galette when apricots are in season!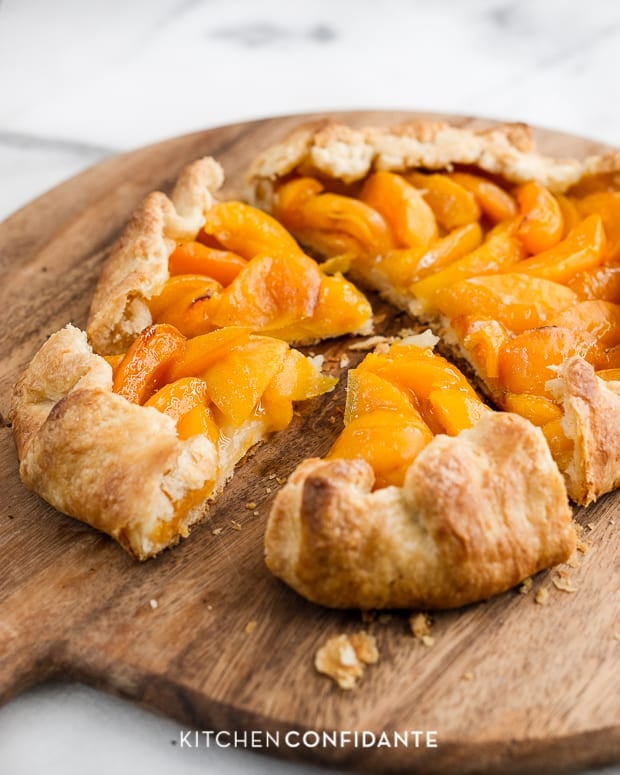 Simple Sundays | Apricot Galette
I was at the stove this morning, having a not-so-awesome moment, silently annoyed with some gyoza I was browning for my children who were waiting at the kitchen table. It's dumplings for Pete's sake, I thought to myself. How am I messing this up?
"Ugh!!!!! This is a mess!" I complained out loud.
My son consoled, "It's okay, it's not like you're on Top Chef." "Yeah," my daughter piped in, "You're a home cook."
I cringed.
"Home cooks make everything look bad, but actually it's good," my son followed through.
Clearly, my kids have seen a few cooking shows here and there.
Home cook. It's not a dirty word, but I will admit that each time I hear Joe Bastianich refer to a contestant on Master Chef as one, my insides do a weird twist of shame. He makes it sound so demeaning. But I have to get over it, because, I am a home cook. And there is some truth to what my son says: a home cook's food may not be beautiful, but it sure can be delicious.
Need proof? Let's look at the galette.
Galettes are humble, they are rustic, they're the down-and-dirty, let's-get-to-the-good-stuff version of pie. Everyone's making a galette these days, but it's actually been a while since I made one. Trips to the farmer's market tends to remedy that drought.
I adore galettes for the simple fact that I am pretty miserable at making pretty pies. There's something about the double crust thing that I still can't get. But tarts and galettes? Easy peasy. All I need is something to make the yummy filling.
I kept this Apricot Galette simple. An easy crust, not too sweet. I didn't even bother dirtying the food processor. I filled it with sweet apricots, tossed in just a wee bit of sugar and cornstarch. Nothing fancy. I'm a home cook, after all.
Apricot Galette
In the past, I have favored crusts with a tad more sweetness. For this galette, I was inspired by Food52's version in their post How to Make any Galette (or Crostata) in 7 Steps. Simply put, I liked it. It was just the right balance to the naturally sweet apricots nestled within.

Ingredients
2

cups

all-purpose flour

1

tablespoon

granulated sugar

1/8

teaspoon

coarse salt

1 1/2

sticks

unsalted butter

chilled, diced

1/4

cup

ice water

12

apricots

pits removed and cut into quarters

2

tablespoons

granulated sugar

more or less, depending on the sweetness of your fruit, plus extra for the crust

1

tablespoon

cornstarch

2

tablespoons

heavy cream or half and half
Instructions
Preheat the oven to 400 degrees. If using a pizza stone, place it in the lower third of the oven.

In a large bowl, stir together the flour, sugar and salt. Using a pastry cutter or two forks, cut in the butter until the mixture resembles course crumbs. If you wish, this can also be done in a food processor. Slowly drizzle in the ice water, about tablespoon at a time and toss until the dough just comes together. It will still be crumbly (take care not to make the dough too wet). Place in the center of a sheet of plastic wrap, using the wrap to bring it into the shape of a ball, wrapping as you go. Press it into a disk form and chill in the refrigerator for at least 30 minutes.

Toss the fruit in a bowl with the sugar and cornstarch and set aside as you shape the dough.

Place the dough between two sheets of parchment paper and roll out into a disk about 12 inches wide and 1/8 inch thick. It does not have to be perfect. Arrange the fruit in the center of the disk. Gently bring up the edges of the dough, folding and crimping a little along the way towards the center of the galette. Lightly brush the exposed dough with heavy cream or half and half. Sprinkle the washed dough with sugar, if you wish.

Transfer the galette on the parchment to the pizza stone in the oven or on a baking sheet. Bake for about 45 minutes, or until the center is bubbly and the crust is golden brown. Remove from the oven when it is fully baked, and transfer to a cooling rack. When the filling has had some time to rest, slice the galette and enjoy, either plain or a la mode.
Nutrition
Calories:
1396
kcal
|
Carbohydrates:
282
g
|
Protein:
32
g
|
Fat:
16
g
|
Saturated Fat:
8
g
|
Cholesterol:
41
mg
|
Sodium:
325
mg
|
Potassium:
1355
mg
|
Fiber:
15
g
|
Sugar:
75
g
|
Vitamin A:
8530
IU
|
Vitamin C:
42
mg
|
Calcium:
112
mg
|
Iron:
13
mg