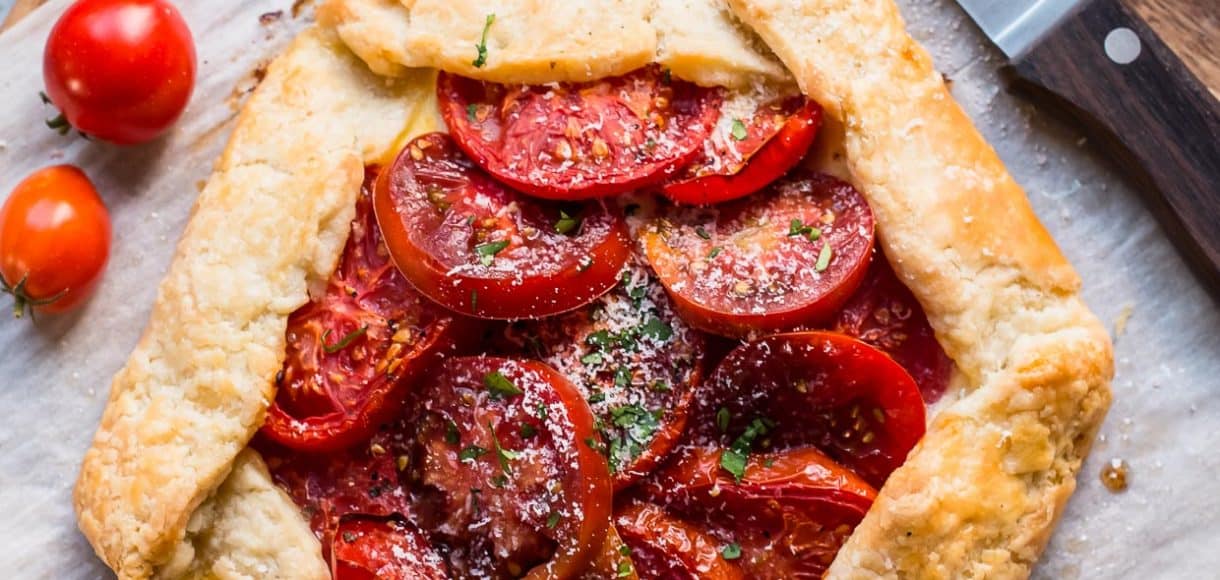 Tomato Ricotta Galette
Featuring ricotta, parmesan and feta cheeses, you'll love this very savory Tomato Ricotta Galette.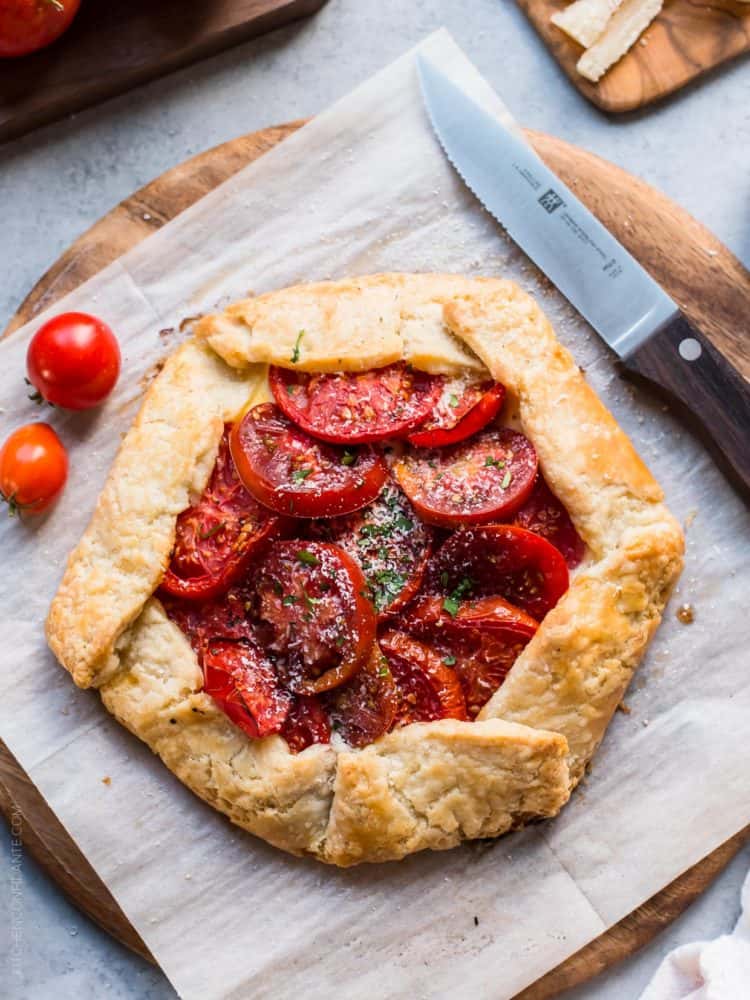 Tomato Ricotta Galette
Tomato Ricotta Galette – this rustic pie marries the flavors of a pizza with a flaky crust and juicy heirloom tomatoes.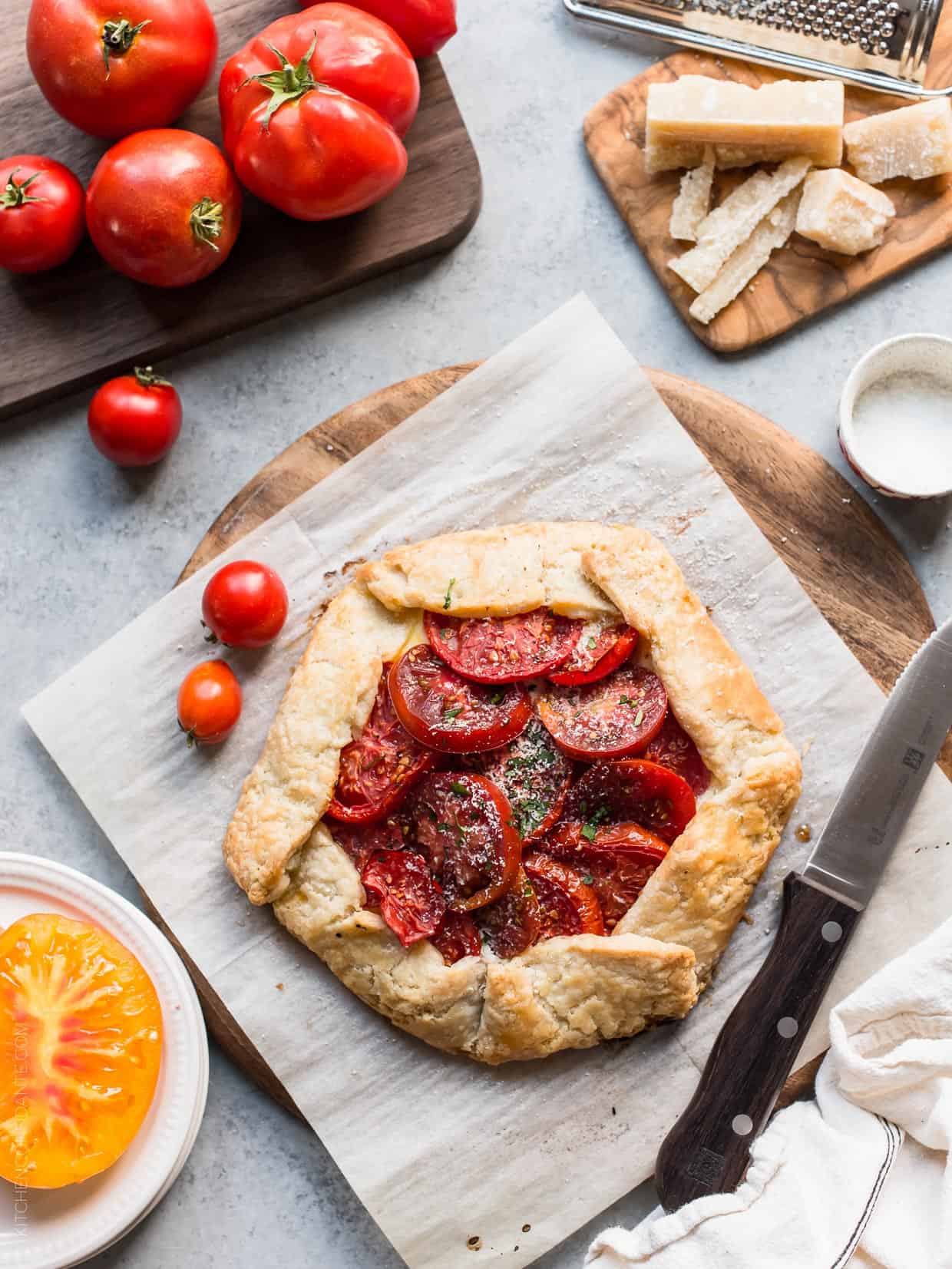 I thought I was ready to move on to apples, and even to pumpkins. But the other morning, my friend Leslie surprised us with a brown paper bag of gorgeous tomatoes. Beautiful, plump, home grown tomatoes, a few juicy heirlooms, and I knew I had to set some aside before my tomato loving son devoured them all.
Turns out I wasn't quite ready to say farewell to tomatoes yet.
Or galettes, for that matter.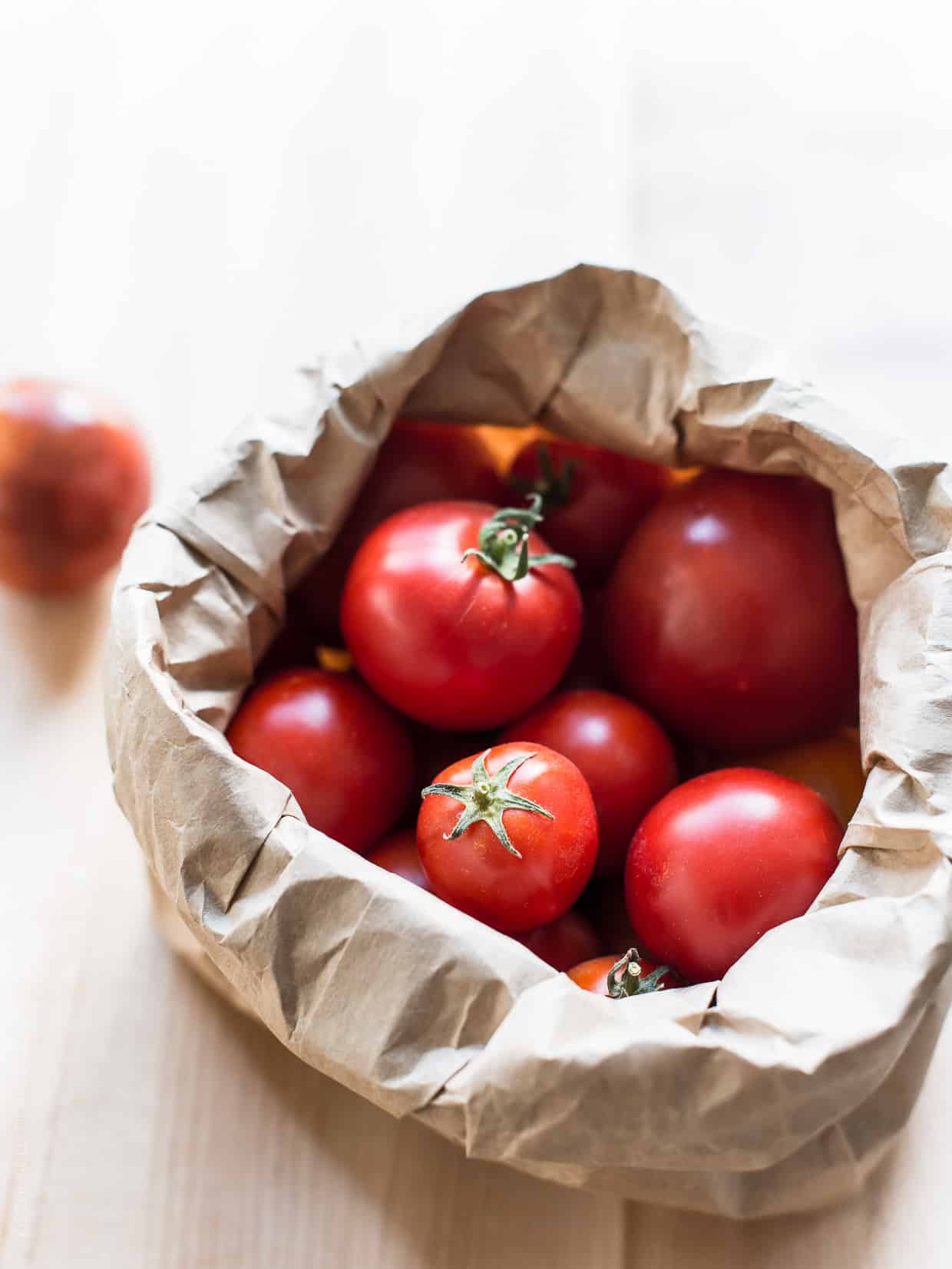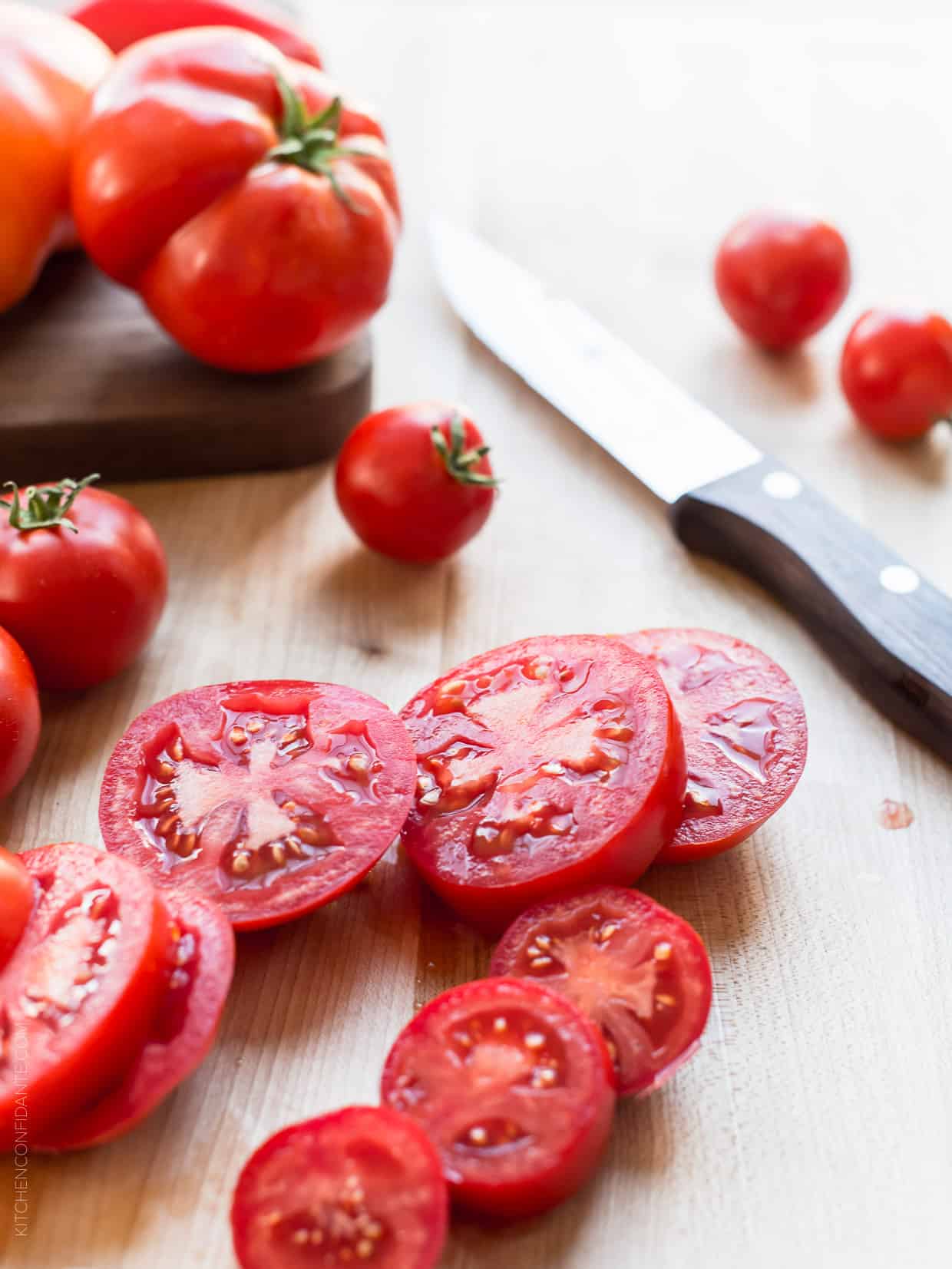 So here we are, with my farewell galette to summer, before the calendar insists that it is fall.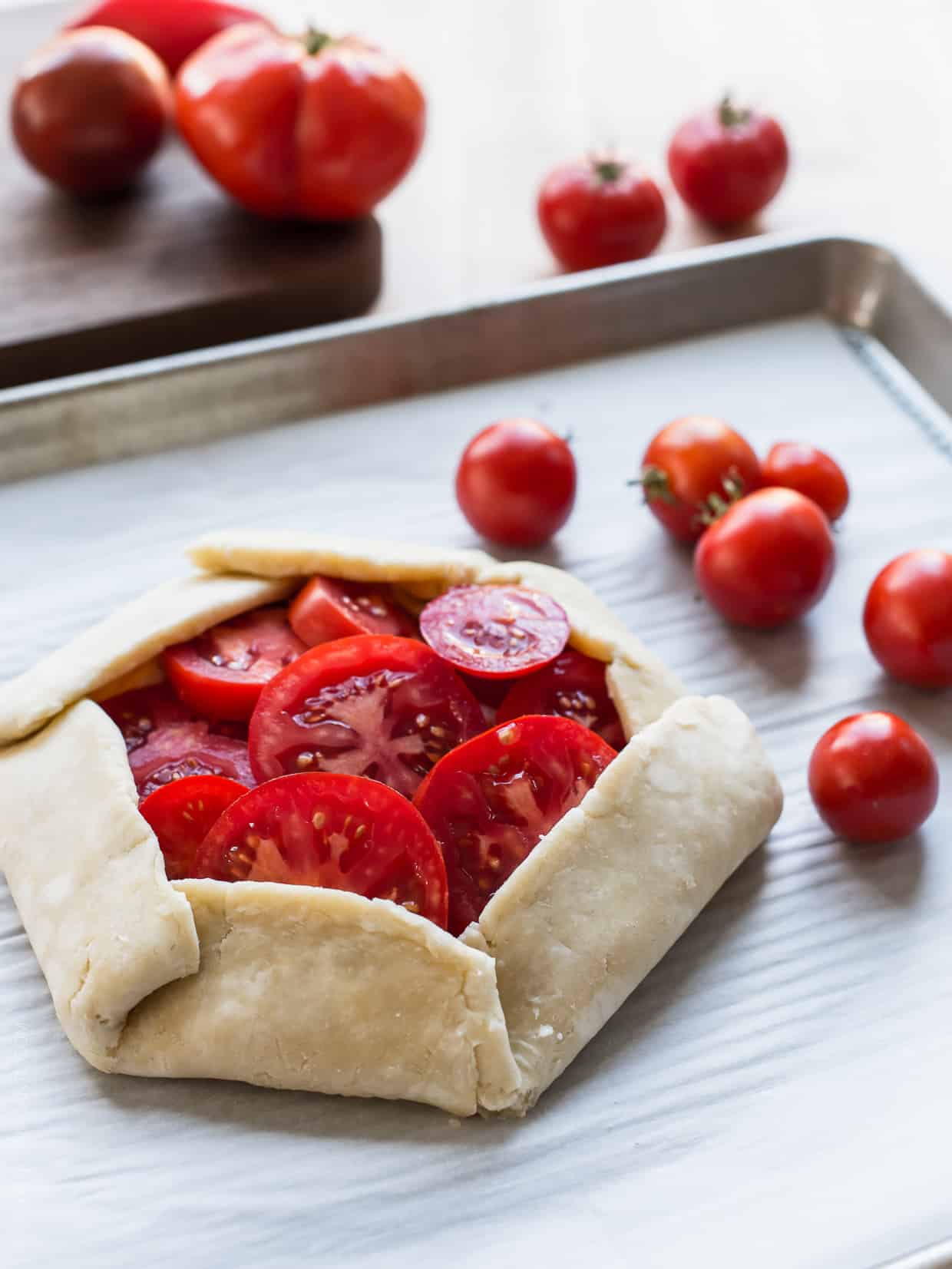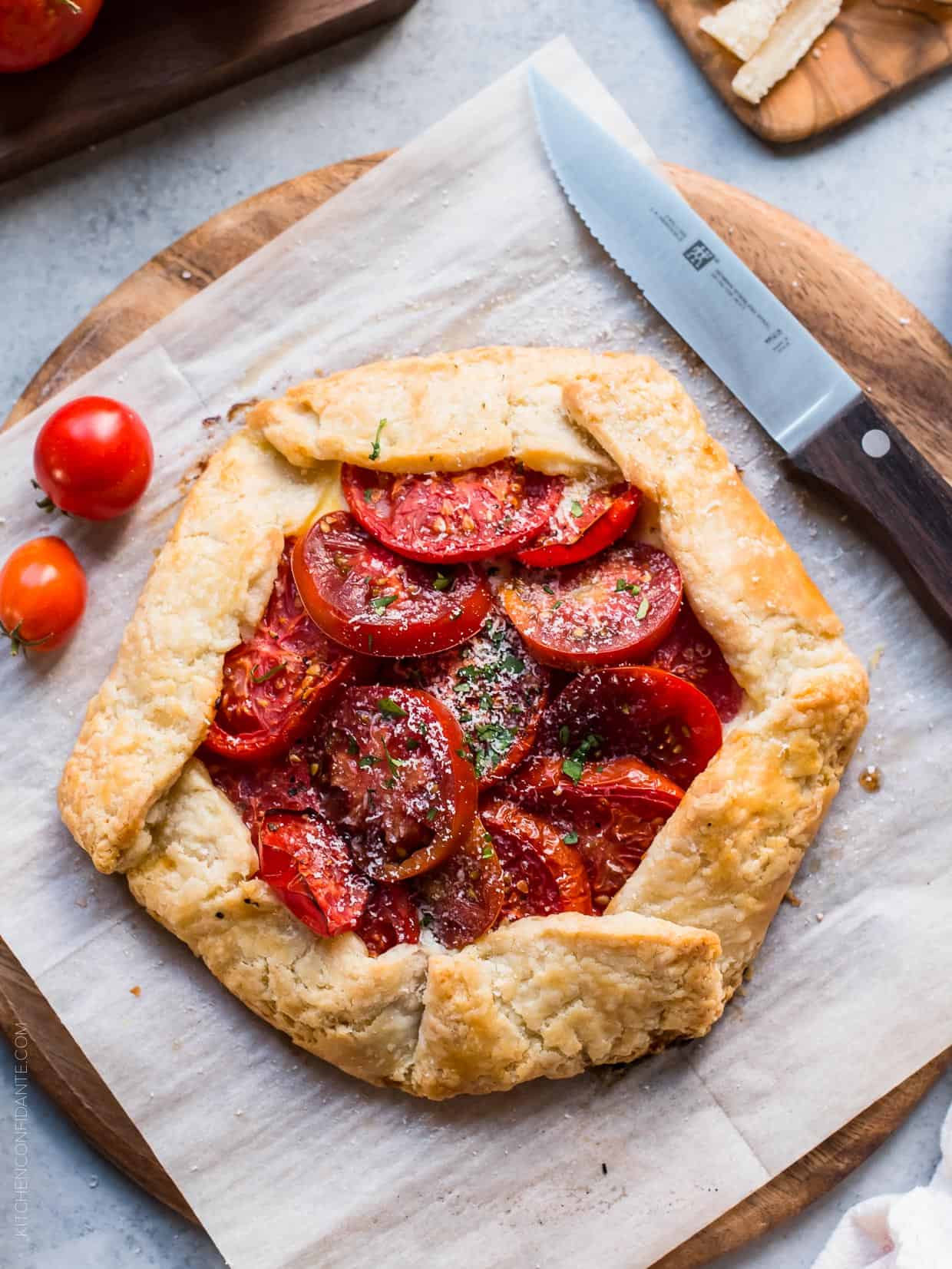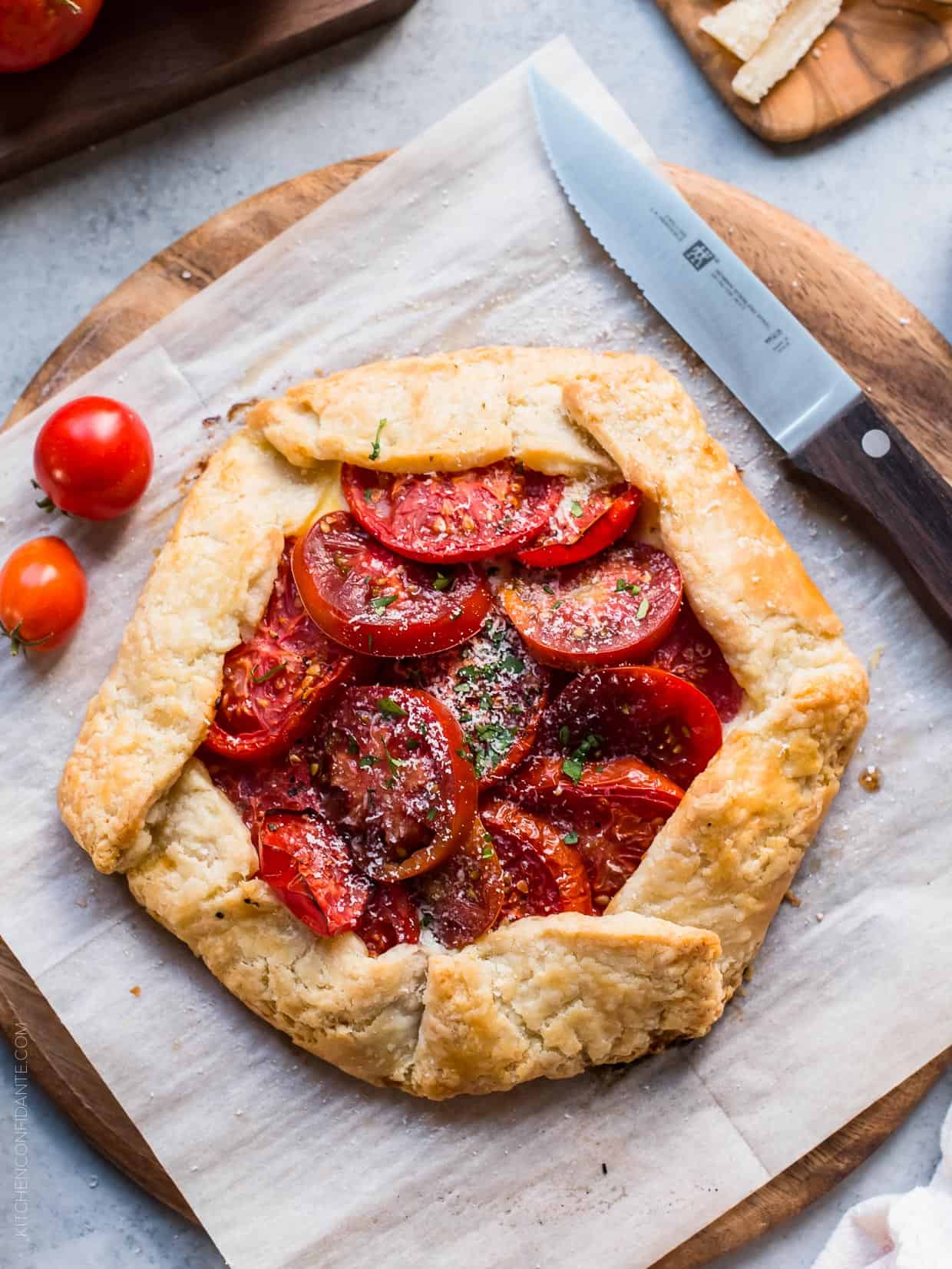 I rolled out the dough with a tomato-ricotta filling in mind, almost like a deep-dish pizza with a flaky, buttery crust. Ricotta, parmesan and feta cheeses bring a sharp savoriness to this very savory tomato galette.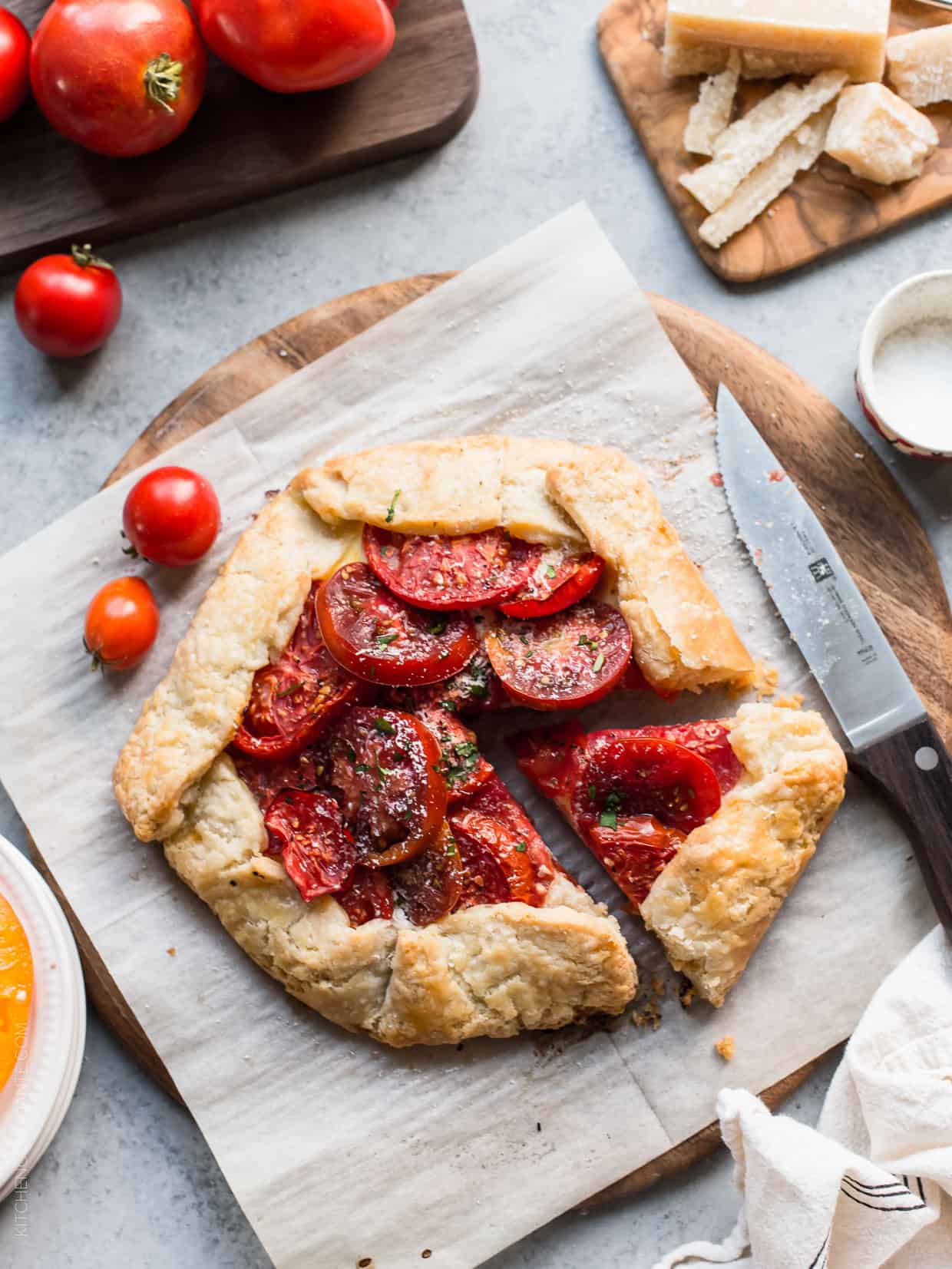 "How is it?" I asked my son. He still had some remnants of tomato juice on his fingers from sneaking some of the tomatoes as I photographed.
"It's like a pizza croissant," he said between chews.
Yeah, that pretty much sums it up.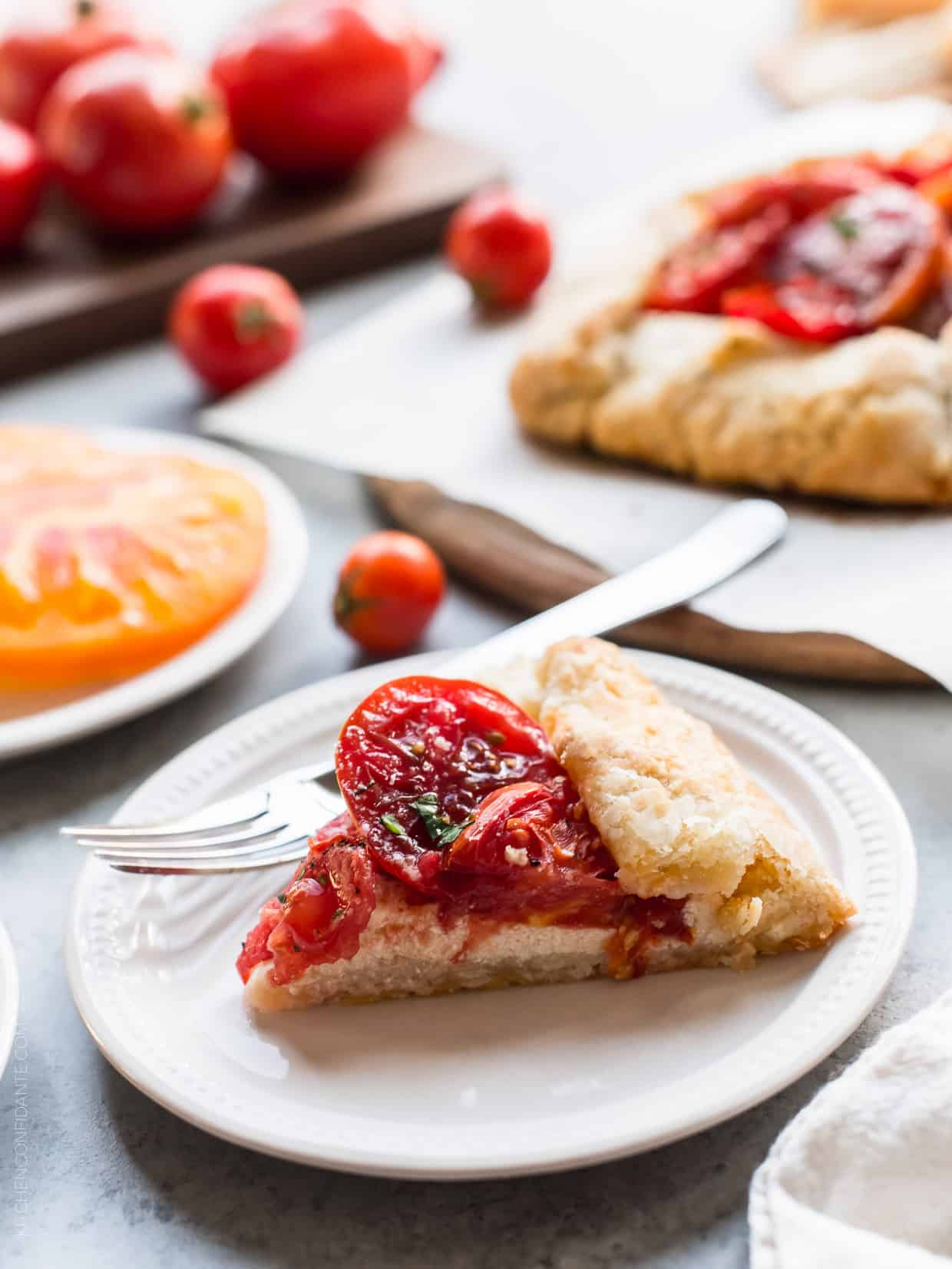 MORE RECIPES WITH FRESH TOMATOES
Orzo Stuffed Tomatoes
Roasted Tomato Caprese Skewers
Fried Heirloom Tomatoes with Buttermilk Fried Oysters and Green Pepper Aioli
Burrata with Heirloom Tomatoes
Tomato Jam
MORE GALETTE RECIPES
Fig, Honey and Goat Cheese Galette
Mixed Berry Cornmeal Galette
Savory Chicken Sausage and Vegetable Galette
Cranberry Wine Galette
Apricot Galette
Savory Onion Galette
Tomato Ricotta Galette
Tomato Ricotta Galette – this rustic pie recipe marries the flavors of a pizza with a flakey crust and juicy heirloom tomatoes.
Servings
1
8-inch rustic galette
Ingredients
Dough
1

cup

all-purpose flour

1/2

teaspoon

salt

1/2

cup

1 stick unsalted butter, frozen

1/4

cup

ice water
Filling
2

teaspoons

olive oil

plus extra for drizzling

1/3

cup

finely chopped onion

5

oz

ricotta cheese

about 1/2 cup

1

oz

grated Parmesan cheese

about 1/2 cup

1

oz

feta cheese

scant 1/4 cup

1/4

teaspoon

kosher salt

2-3

tomatoes

sliced 1/4 inch thick (about 1 1/2 cups sliced tomatoes)

kosher salt and pepper
Assembly
1

large egg

1

tablespoon

water

fresh parsley leaves

chopped, for garnish

grated Parmesan cheese

for garnish
Instructions
Make the dough:
In a medium bowl, stir the flour and salt together with a fork or a whisk. Grate the butter with a box grater and add to the flour. Using your fingers, begin to work the butter into the dough until you have coarse crumbs. Stir in the water a tablespoon at a time, using a fork to incorporate it into the dough, checking it with your fingers by pinching the dough together. You can also do this with a food processor, if you wish. Do not over work the dough – you want to be able to see bits of butter within the dough, and it will still be rather shaggy and loose. Turn the dough out onto a lightly floured surface and use your hands to bring it together into a ball, but be careful not to overwork the dough. When the mixture pulls together into a ball, wrap the dough in a piece of plastic wrap, form it into a disk, and refrigerate for at least an hour or overnight.
Make the galette:
Preheat the oven to 400°F.

Roll the dough into a 10-inch disk about 1/4-inch thick on a sheet of parchment paper. Return to the refrigerator while you make the filling.

In a small pan, heat the olive oil over medium-low heat. Cook the onions, season with a pinch of salt and pepper, stirring occasionally, until soft and translucent. Set aside to cool.

In a small bowl, use a fork to cream the ricotta, Parmesan and feta cheese. Stir in the cooked onions and salt. Spread in the center of the dough, leaving a 2-inch perimeter. Arrange the tomatoes on top of the cheese, then fold the edge of the dough up on the tomatoes, pleating as you make your way around the galette. Lightly drizzle tomatoes with a touch of olive oil and season with salt and pepper.

Whisk together the egg and water. Lightly brush the dough with the egg wash. Transfer the galette with the parchment paper onto a heavy baking sheet.

Bake in the oven for about 30 minutes, or until the crust is golden brown. Remove from oven and sprinkle with fresh parsley and more grated Parmesan cheese. Let it sit for about 5 minutes before slicing. Enjoy while warm.
Notes
Dough based on Mini Egg Pies, Kawaling Pinoy
Make it ahead:
The dough can be prepared in advance, which can come in handy if you are making this for entertaining.
Make the dough up to three days in advance (or longer, by storing tightly sealed in the freezer).
If you like, you can even roll out the dough and then freeze, making it easy to fill when it is time to assemble.
Nutrition
Calories:
1912
kcal
|
Carbohydrates:
117
g
|
Protein:
53
g
|
Fat:
139
g
|
Saturated Fat:
82
g
|
Cholesterol:
530
mg
|
Sodium:
2709
mg
|
Potassium:
1040
mg
|
Fiber:
7
g
|
Sugar:
11
g
|
Vitamin A:
6119
IU
|
Vitamin C:
38
mg
|
Calcium:
855
mg
|
Iron:
8
mg