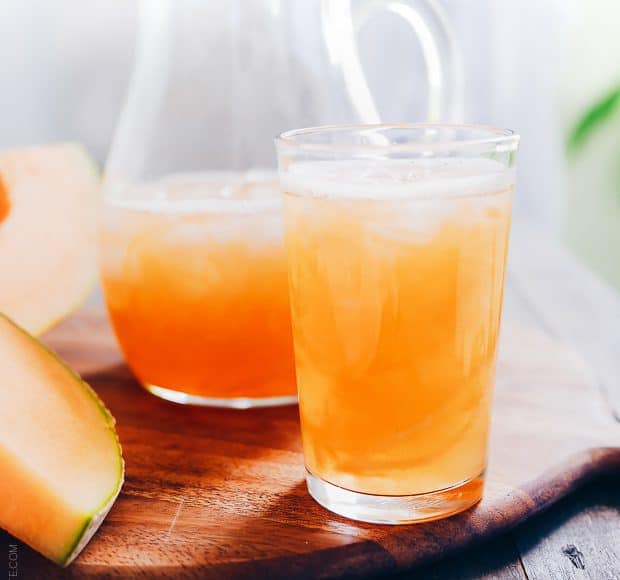 Cantaloupe Juice
There's nothing more refreshing on a hot summer day than an icy glass of sweet Cantaloupe Juice, with juicy bits of shredded melon! 104 degrees. Just sitting still leaves you with beads of perspiration, slowly following gravity's pull. The sweltering heat sounds horrible, but I…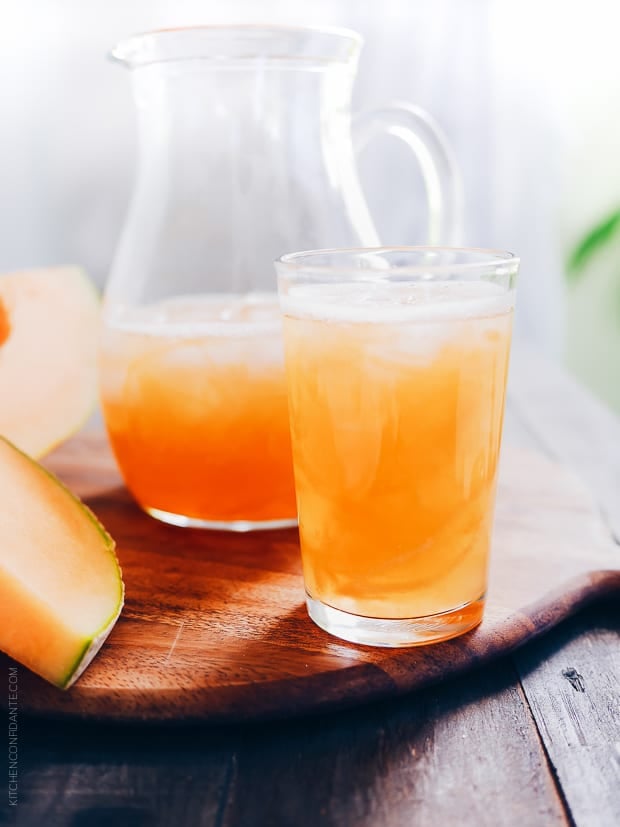 Cantaloupe Juice
There's nothing more refreshing on a hot summer day than an icy glass of sweet Cantaloupe Juice, with juicy bits of shredded melon!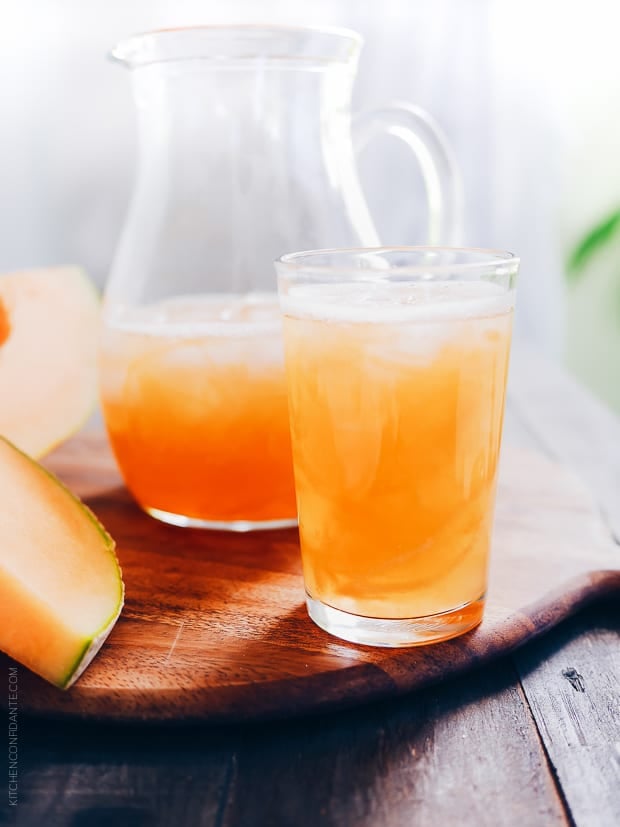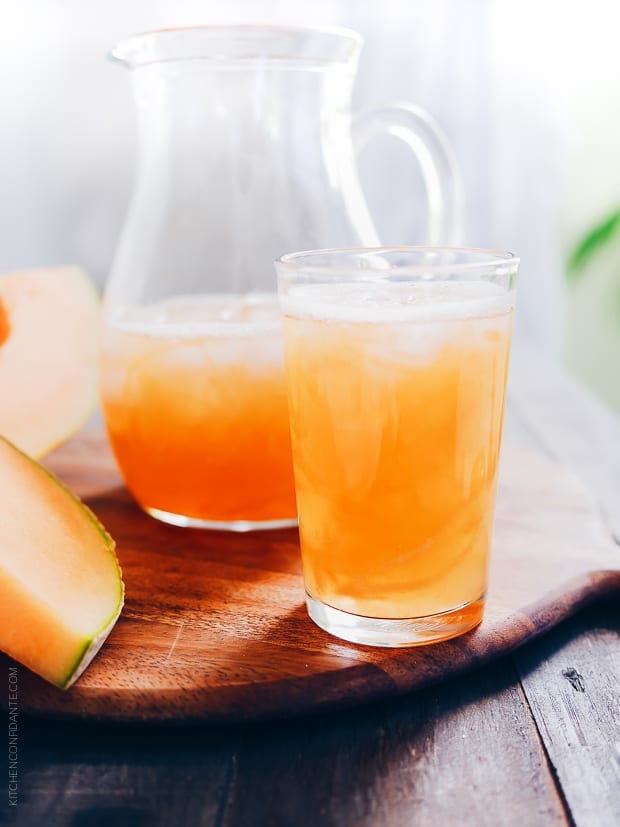 104 degrees. Just sitting still leaves you with beads of perspiration, slowly following gravity's pull. The sweltering heat sounds horrible, but I secretly enjoyed it yesterday.
Granted, I spent a lot of time in the air conditioning. But we haven't had many of these heat waves lately, so it kind of officially felt like summer, if that makes any sense. Besides, the markets are brimming with melons, and I sliced them up for the kids yesterday. They were going to need something cool and juicy when they got home. My son loves watermelon, icy cold, and my daughter favors cantaloupe. Between the two of them, the melons just disappear as quickly as I slice them.
When I cut into the cantaloupe, though, I stopped to get my sieve. Into the sieve went scoops of melon seeds and the sweet pulp around it. My mother use to make cantaloupe juice when I was a little girl – it's quite popular in the Philippines, and there's even a special melon scraper that makes ribbons of delicious melon – you can usually find one in most Filipino kitchens. Shredding cantaloupe was one of my favorite (and first) kitchen tasks growing up whenever we would get ready for a summer family party.
Drops of cool water clung to the pitcher as I stirred the ribbons of melon in the sweet cantaloupe juice. Between the kids and I, the pitcher was empty in minutes, each sip relished. It was cool, it was refreshing. It was just what we needed.
There's nothing more refreshing than an icy glass of sweet Cantaloupe Juice, with juicy bits of shredded melon!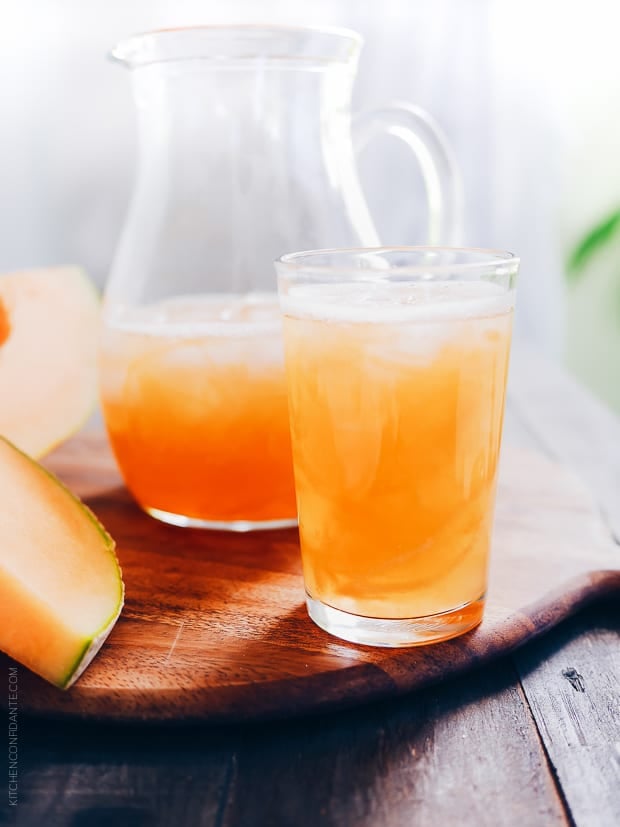 Print Recipe
Ingredients
For the cantaloupe juice:
1 ripe cantaloupe, halved
simple syrup (see below), to taste
ice
For the simple syrup:
3 cups water
3 cups sugar
Instructions
To make the simple syrup, combine water and sugar in a saucepan and bring to a boil over medium-high heat. Reduce heat to low and simmer until sugar dissolves, about 3-4 minutes. Cool completely.
Place the melon seeds and pulp into a sieve set over a bowl. Run about a cup of cold water though the seeds, pressing with the back of a spoon to extract any juice. Using a melon scraper, shred the cantaloupe into long strips into the bowl, along with any juice. Put melon strips and juice into a pitcher with lots of ice, and flavor to taste with your simple syrup. As you adjust the flavor, you can always add water if it is too sweet. Serve cold.