Simple Sundays | Chicken and Herb Spaetzle Soup
Chicken and Herb Spaetzle Soup is simple comfort food. If you've never tried homemade spaetzle, you'll love these easy mini dumplings!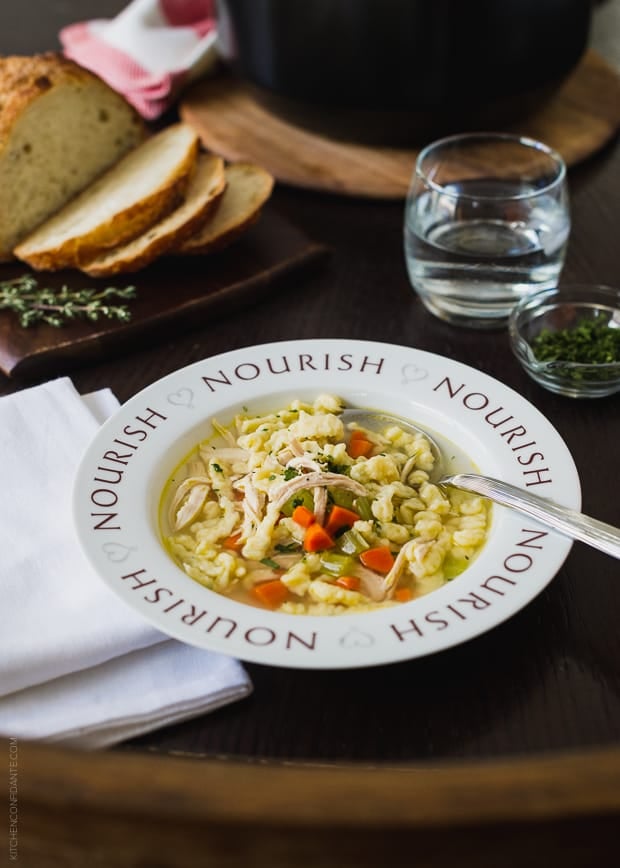 Simple Sundays | Chicken and Herb Spaetzle Soup
Chicken and Herb Spaetzle Soup is simple comfort food. If you've never tried homemade spaetzle, you'll love these easy mini dumplings!
Disclosure: This post was originally made possible by The Pampered Chef. All opinions are my own. There are affiliate links in this post (see my Privacy Policy & Disclosure).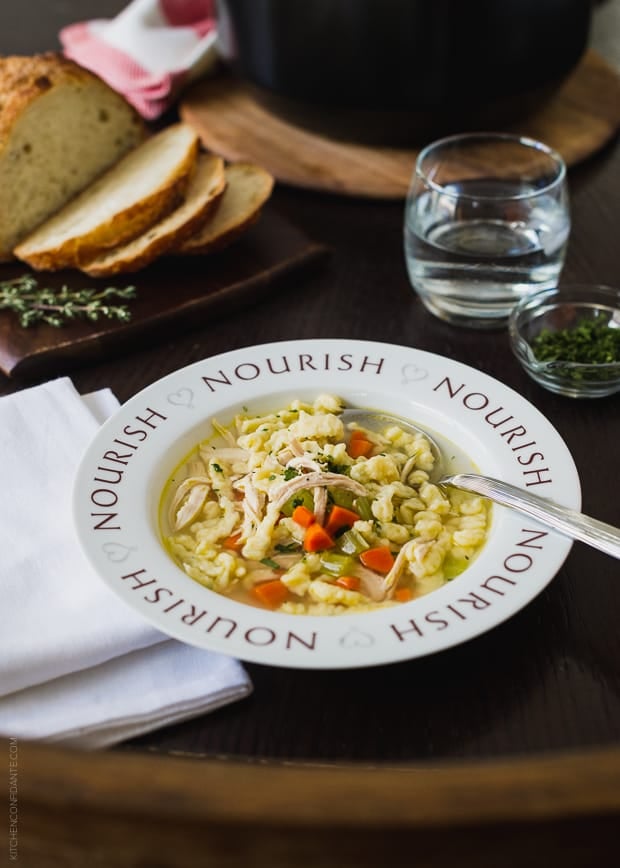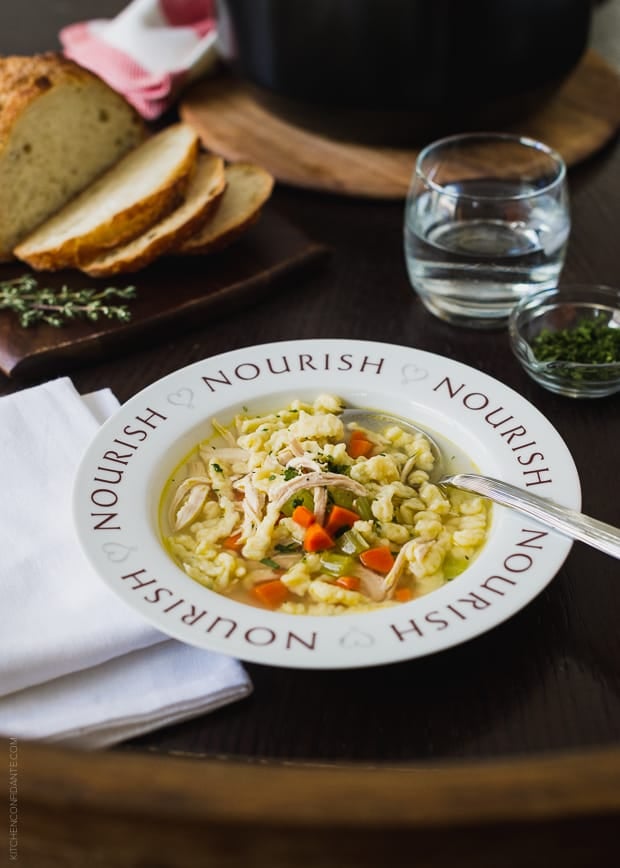 Our kitchen table is round, the wood showing little nicks of wear and tear from years of breakfasts, lunches, dinners and snacks, not to mention toys and textbooks and homework and projects of all kinds. It's been well used and well loved, and even the chairs have been replaced over the years. But the table remains, and I am constantly tidying up, reminding the children to bring their toys upstairs and clear books off the table.
It's when the table is cleared and set for dinner that I can finally relax. Knowing that we, as a family, can gather around the table for dinner is more important than my kids realize. It is the reason I won't allow our schedules to be overrun by activities and sports, it's the reason I always want to be home by the dinner hour.
I know how fortunate we are to know that there will be a meal, every single night. I always say a prayer of thanks that there is food on the table, whether it is a simple sandwich or an elaborate roast. With 1 in 6 Americans facing hunger today, it can be quite sobering.
When I learned about The Pampered Chef's Round-Up from the Heart Campaign, I wanted to get involved. Since 1991, the campaign encourages their guests to "round-up" their product orders to the nearest dollar or more, and funds are distributed to Feeding America. Since the program's inception, over $24 million has been contributed.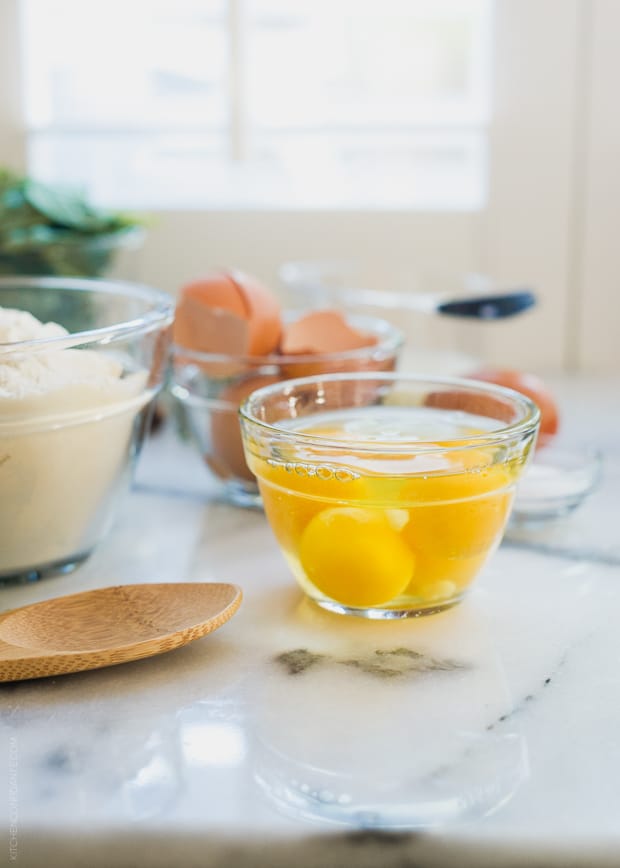 Nourish. This word is printed on the new Round-Up from the Heart Soup Bowls. For each limited edition bowl purchased, the Pampered Chef contributes $2 to Feeding America.
I thought about what I would want to serve in these bowls, and I knew right away that it would have to be Chicken and Herb Spaetzle Soup. Please visit The Pampered Chef for more information on Round-Up from the Heart and consider supporting this worthy cause.
Chicken and Herb Spaetzle Soup Recipe
Homemade spaetzle – have you ever tried it? My daughter fell in love with these miniature dumplings when we ate at an old German restaurant in San Francisco a couple of years ago, and she has been begging me to make it ever since. Part of her love for spaetzle is surely a bit of pride for her heritage, but the other part is the fact that it is impossible for a child to dislike a dumpling! For me, spaetzle is comfort food, and in a chicken soup, I can't think of anything more comforting on a chilly autumn day.
Making homemade spaetzle is perhaps just as fun as eating it, and surprisingly easy. If you don't have a spaetzle maker
, do not fret. A colander works, or even a box grater with 1/4 inch holes. Part of the fun is that they don't look perfect, even if they taste perfect.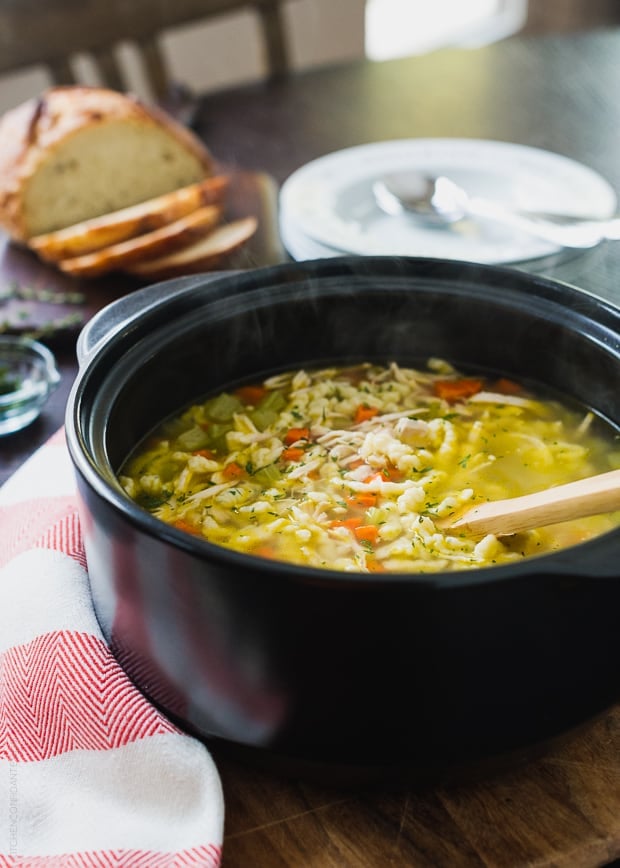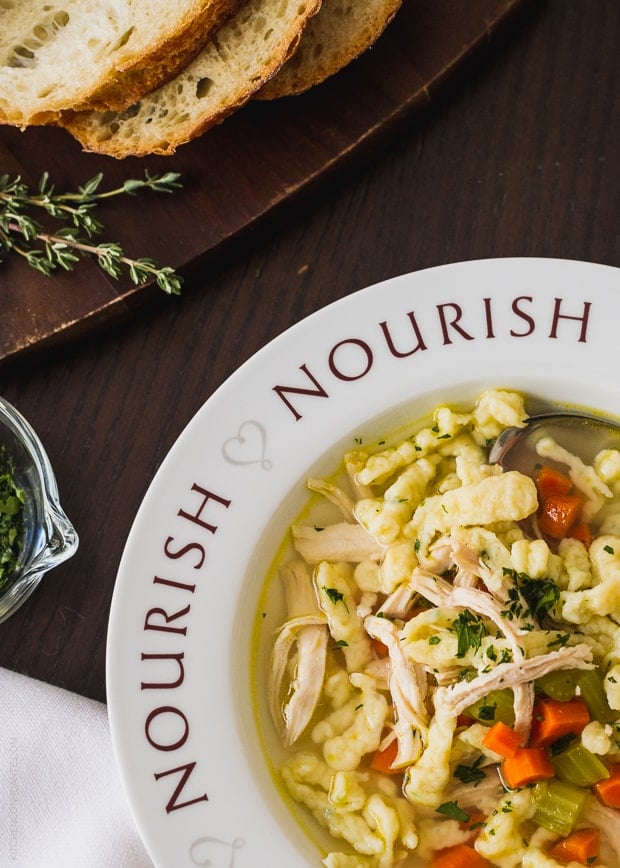 Disclosure: This post was originally made possible by The Pampered Chef. As always, all opinions are my own. Sponsored posts such as these help support the work behind the scenes on Kitchen Confidante. Thank you so much for your visits and making my blog part of your day. There are affiliate links in this post. Please see my Privacy Policy & Disclosure page for details.
More Chicken Recipes
15 Simple Leftover Chicken Recipes
Thai-Spiced Mandarin Orange Roasted Chicken Thighs
Simple Sundays | Chicken Chili
Pressure Cooker Creamy Rotisserie Chicken and Wild Rice Soup
Roasted Tomatillo Chicken Soup
Chicken and Herb Spaetzle Soup
Chickenand Herb Spaetzle Soup is simple comfort food. If you've never tried making homemade spaetzle, you're in for a wonderful surprise. It's easy! And fun. And the whole family will love it.
Ingredients
2 1/4

cups

all purpose flour

1

teaspoon

kosher salt

1/4

teaspoon

white pepper

1/8

teaspoon

ground nutmeg

3

large eggs

3/4

cup

whole milk

4

teaspoons

fresh herbs

e.g. thyme, parsley, etc, divided

1/2

tablespoon

olive oil

3

carrots

finely diced

2

stalks celery

finely diced

8

cups

chicken stock

2

bone-in chicken breasts

1/2

onion

skin on

freshly ground black pepper
Instructions
Make the spaetzle dough by whisking together the flour, salt, pepper and nutmeg in a large bowl. In a separate small bowl, beat the eggs with the milk until well combined. Add the egg mixture to the flour, and using a wooden spoon or spatula, gently stir together until you have a sticky dough. Stir in 3 teaspoons of the fresh herbs. Let it sit in the refrigerator while you start the soup. This can even be done the night before.

Start the soup: In a large pot, heat olive oil over medium heat. Add the carrots and celery and cook, 2 minutes. Add the chicken stock, chicken breast and onion, bring to a boil and cook for about 20 minutes, or until the chicken is poached. Remove the onion and discard. Take the chicken out of the pot, and when it has cooled slightly, remove the bone and skin and discard. Shred the chicken and return to the soup. Season to taste with salt and pepper.

Bring a pot of salted water to a boil. Using a spaetzle maker or colander, pass the dough through the holes and drop it into the water. The dumplings will cook quickly and float to the top. Use a slotted spoon to retrieve the spaetzle and transfer it to the soup. If you wish, you can also drop the spaetzle directly into the soup pot. Stir in the remaining teaspoon fresh herbs. Serve the soup immediately.
Nutrition
Calories:
715
kcal
|
Carbohydrates:
80
g
|
Protein:
45
g
|
Fat:
22
g
|
Saturated Fat:
6
g
|
Cholesterol:
200
mg
|
Sodium:
1427
mg
|
Potassium:
1073
mg
|
Fiber:
4
g
|
Sugar:
13
g
|
Vitamin A:
7985
IU
|
Vitamin C:
5
mg
|
Calcium:
131
mg
|
Iron:
6
mg