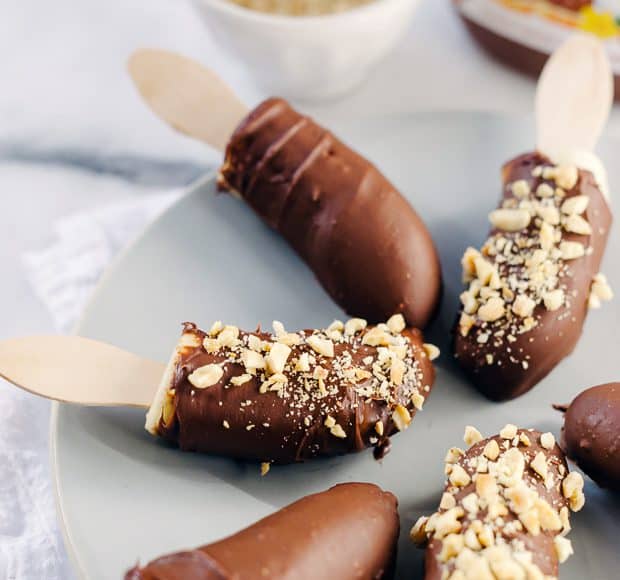 Nutella-Dipped Frozen Bananas
Dip bananas into Nutella and freeze to make Nutella-Dipped Frozen Bananas. A delicious update to classic chocolate-dipped bananas!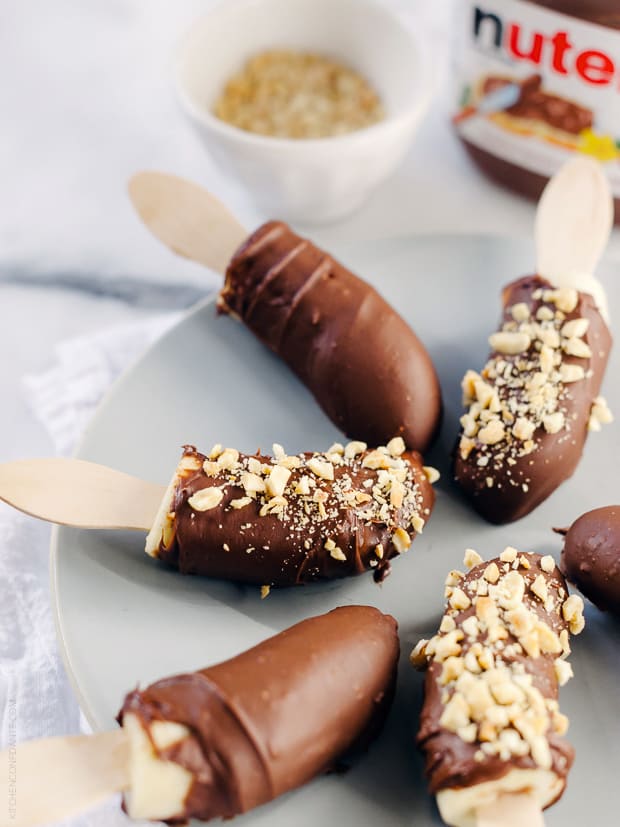 Nutella-Dipped Frozen Bananas
Looking for an easy Nutella dessert? Chocolate dipped bananas are a classic treat – Nutella-Dipped Frozen Bananas are a delicious update. This post was originally sponsored by Nutella. All opinions are my own.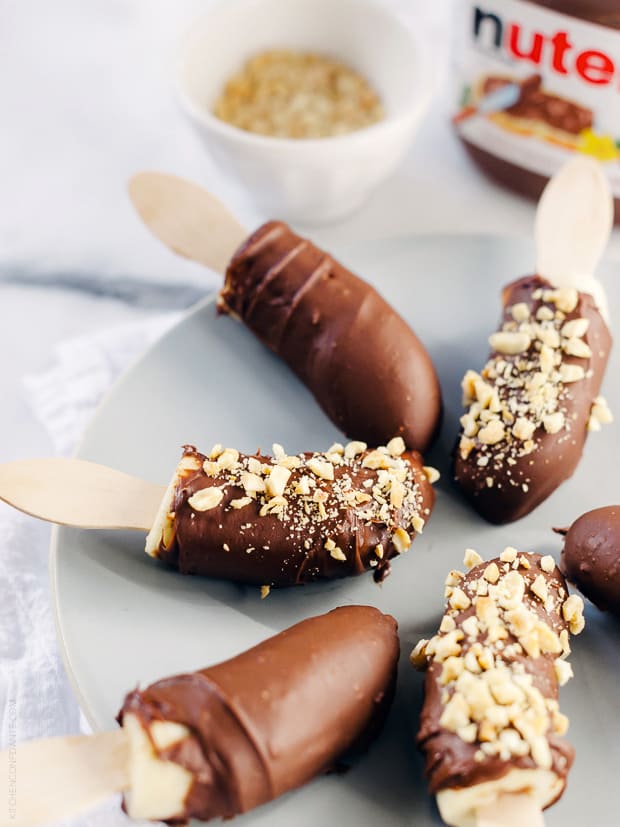 I would pile into the back of the van, scoot myself into my favorite seat: always on the left, driver's side, by the window. And there I would gaze out the glass, content to watch the world blur by, for hours on end. Pre-dawn departures would turn into mid day picnics in remote places along the eastern seaboard, and back into the van again, the city scapes turning into lush green farmlands and back again. Starship would blare on the radio, and the cousins would sing along, snacks passed back and forth. And as day turned into night, the radio would turn down, and the grown ups would take over, their stories brightening up the dark van as we drove to that evening's destination. If the kids were lucky, my aunt would begin telling one of her delicious ghost stories – all true, of course – or at least we liked to believe.
Summers were for roadtrips, and for extended family. Cousins would visit for months at a time, and long weekends were made for exploring. Over the years, there were road trips to Maine, to find fresh lobster and feel the brisk sea breeze through our hair. There was the time we visited Washington DC, or further along to the beautiful trees of the Shenandoah Valley. Wherever we went, there were the elaborate picnics my aunts prepared, and when that was gone, it was all about exploring the local eats.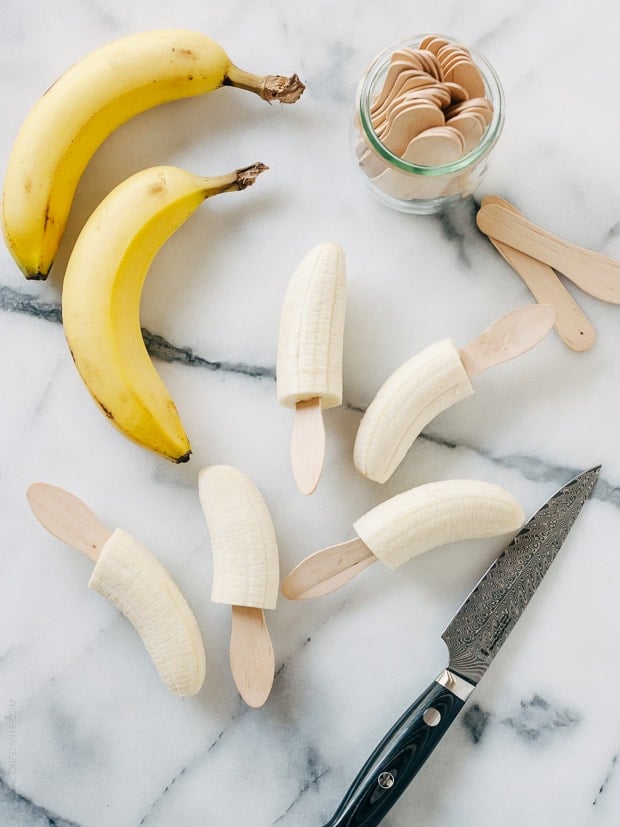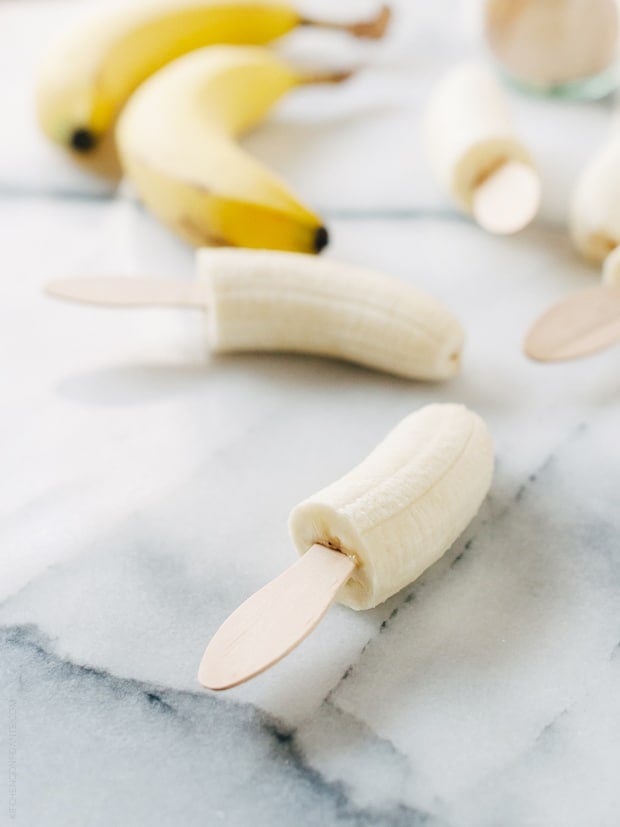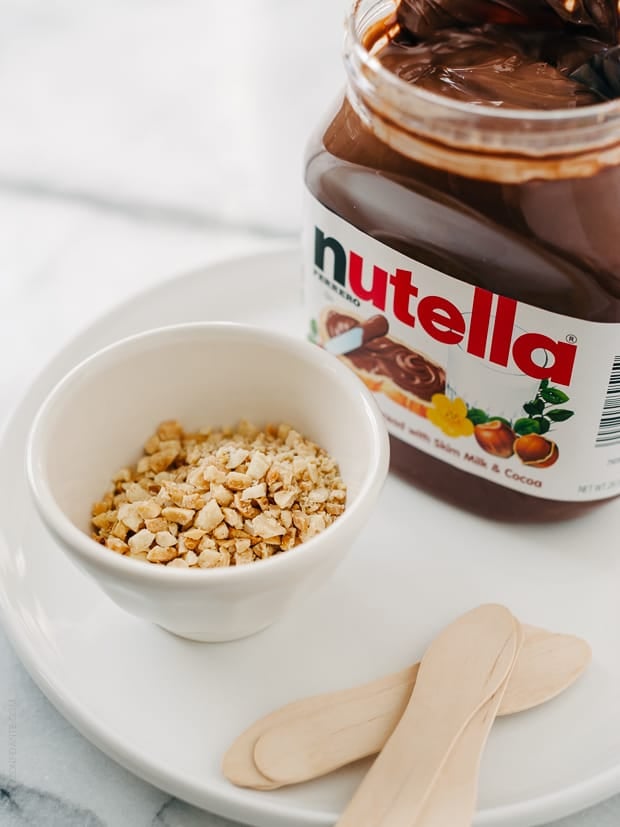 There was one stop that got one aunt to rally everyone to attention. The sign in front of the little country restaurant coaxed her curiosity — "Hand Scooped Ice Cream" it read. Certain that this was a novelty, she had imagined an ice cream shop where the ice cream was, indeed, scooped with bare hands. I mean, seriously, who wouldn't find that intriguing? A few short minutes later, I saw through the window my disappointed aunts returning to the van. And we all laughed along with her. Hand scooped was not a term we had ever encountered in NY, or anywhere else, so we were all a little confused as to why the ice cream was even advertised as Hand Scooped when it was simply scooped with an ice cream scoop, just like anywhere else. Oh, the nuances of English expressions!
Between you and me, though, I was secretly relieved that it wasn't a literal description.
Ah summer. You were definitely meant for road trips. And family. And frozen treats.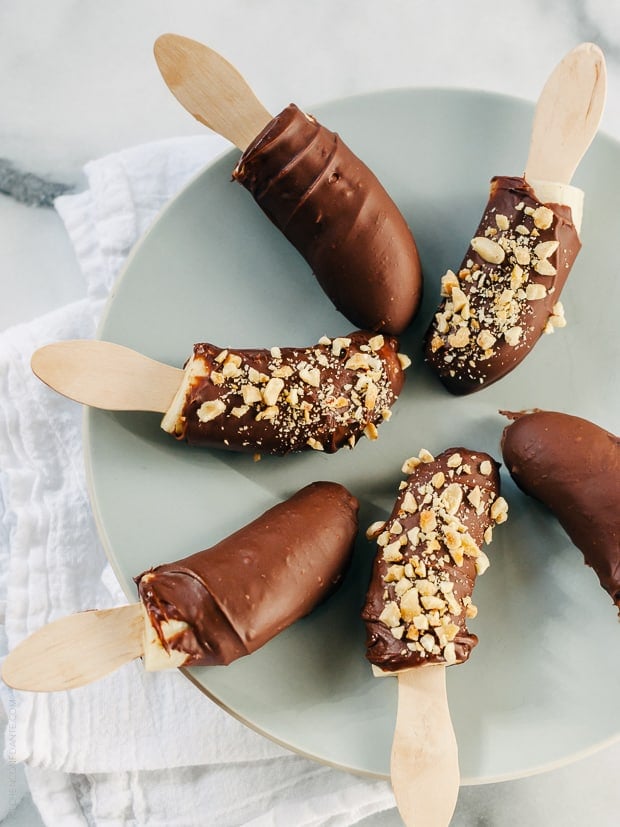 Nutella-Dipped Frozen Bananas
These Nutella-Dipped Frozen Bananas are, I can assure you, truly frozen, and truly dipped. By hand. My daughter was craving chocolate frozen bananas, so I thought I would put a little happy into her summer by making these little bites. Dipping the bananas into Nutella gives the classic treat a boost, and definitely put a smile on all our faces now that summer is officially here.
Halve bananas and insert a popsicle or lollipop stick into each half. Line a baking sheet and place the bananas in the freezer to chill. Then, roll the bananas in Nutella, garnish with nuts, coconuts, or sprinkles and freeze for another 30 minutes. Enjoy!
More Nutella Recipes
Nutella Greek Yogurt Fillo Cups
Coconut Banana Bread with Nutella
Nutella S'mores Parfaits
Cherry Nutella Scones
Braided Nutella Bread + a 4 Year Blog Anniversary
Nutella® hazelnut spread is a happy start to every day! Pick up a jar of Nutella in the spreads aisle and enjoy it with whole wheat toast, waffles, pancakes, strawberries, bananas and many other foods. Nutella. Spread the Happy™.
Disclosure: Compensation was provided by the makers of Nutella via Mode Media. The opinions expressed herein are those of the author and are not indicative of the opinions or positions of Nutella.
Nutella-Dipped Frozen Bananas
Dip bananas into Nutella and freeze to make Nutella-Dipped Frozen Bananas. A delicious update to classic chocolate-dipped bananas!
Ingredients
3

bananas

(ripe but firm)

1

cup

Nutella

crushed nuts

coconut, sprinkles for garnish (optional)
Instructions
Peel and halve the bananas crosswise. Insert a popsicle or lollipop stick into each half. Place the bananas on a parchment lined baking sheet and chill in the freezer for 20 minutes.

Place the Nutella in a small bowl. Roll each banana in the Nutella or spread using a small spatula. If you find your Nutella is too firm, you can warm it very briefly (15 seconds or so) in the microwave, stir it well, and roll the bananas to coat. Garnish with nuts, coconut, or sprinkles if you wish. Place the bananas back on the parchment lined sheet and return to the freezer to chill for 30 minutes, then enjoy!
Nutrition
Calories:
323
kcal
|
Carbohydrates:
45
g
|
Protein:
3
g
|
Fat:
15
g
|
Saturated Fat:
14
g
|
Sodium:
21
mg
|
Potassium:
415
mg
|
Fiber:
4
g
|
Sugar:
34
g
|
Vitamin A:
39
IU
|
Vitamin C:
5
mg
|
Calcium:
57
mg
|
Iron:
2
mg