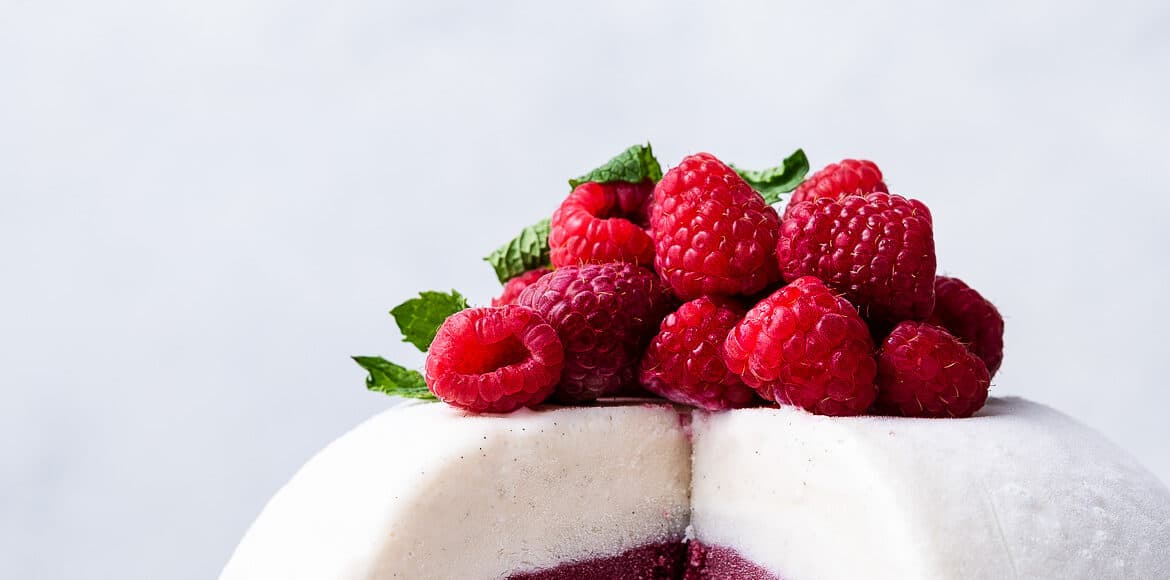 Vanilla Raspberry Ice Cream Bombe
Vanilla Raspberry Ice Cream Bombe – cool off this summer with a simple bombe dessert made with raspberry sorbet and creamy vanilla ice cream!
Vanilla Raspberry Ice Cream Bombe
This is a sponsored post written by me on behalf of Safeway. All opinions are 100% mine.
Vanilla Raspberry Ice Cream Bombe – cool off this summer with a simple bombe dessert made with raspberry sorbet and creamy vanilla ice cream!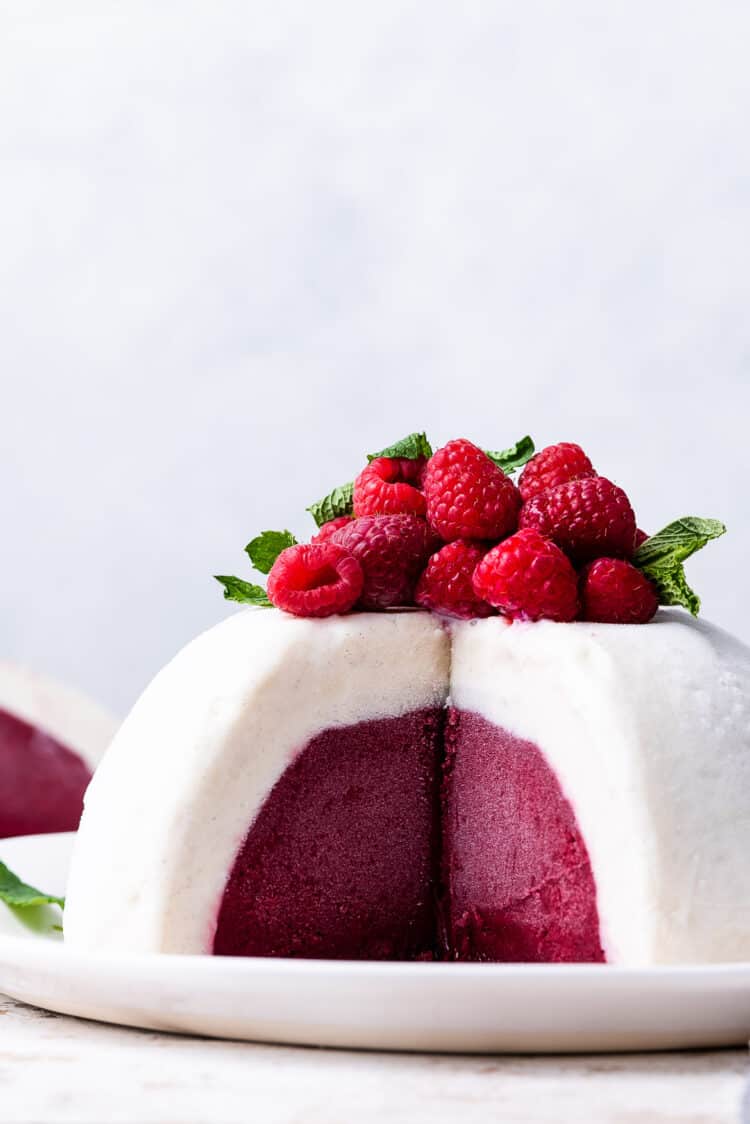 When it comes to ice cream and frozen desserts, my family doesn't wait for summer. You can find all kinds of frozen treats in our freezer no matter what time of year! It's a weakness for all of us, and a scoop of something cool and creamy is quite possibly our favorite way to end the day! You read that correctly: almost every day. (It's all about small, sweet indulgences!) But when summer's heat amps up, so do the occasions to celebrate! They can be big – summer birthdays (that's me!), Father's Day, 4th of July – and they can be small – a family picnic, a scenic hike, a backyard campout – whatever the moment, summer is definitely the time to treat ourselves with a sweet treat. One way to make any day extra special is with something unexpected – an ice cream bombe dessert!
What is an Ice Cream Bombe?
An ice cream bombe, or a bombe glacé, is a dessert with French roots made with ice cream that is frozen in a sphere to resemble a cannonball. These days, ice cream bombes can take many shapes and can also be filled with other frozen desserts, such as sorbet and sherbet! Some may even have a cake base, a ganache topping, or even a baked meringue, such as the famed Baked Alaska! Ice cream bombes have been served at royal weddings and formal events, but they're so simple and just as wonderful for your next backyard barbecue! They truly make any day special.
Frozen Desserts Made with Open Nature
There's nothing better than eating ice cream right out of the pint, but with just a couple of steps, you can make it truly celebration worthy, and I'm so excited to show you how I did it with frozen desserts from Open Nature® from Safeway. I love Safeway offers an huge assortment of Signature SELECT and Open Nature ice cream and non-dairy frozen dessert – the quality is incredible for such good value!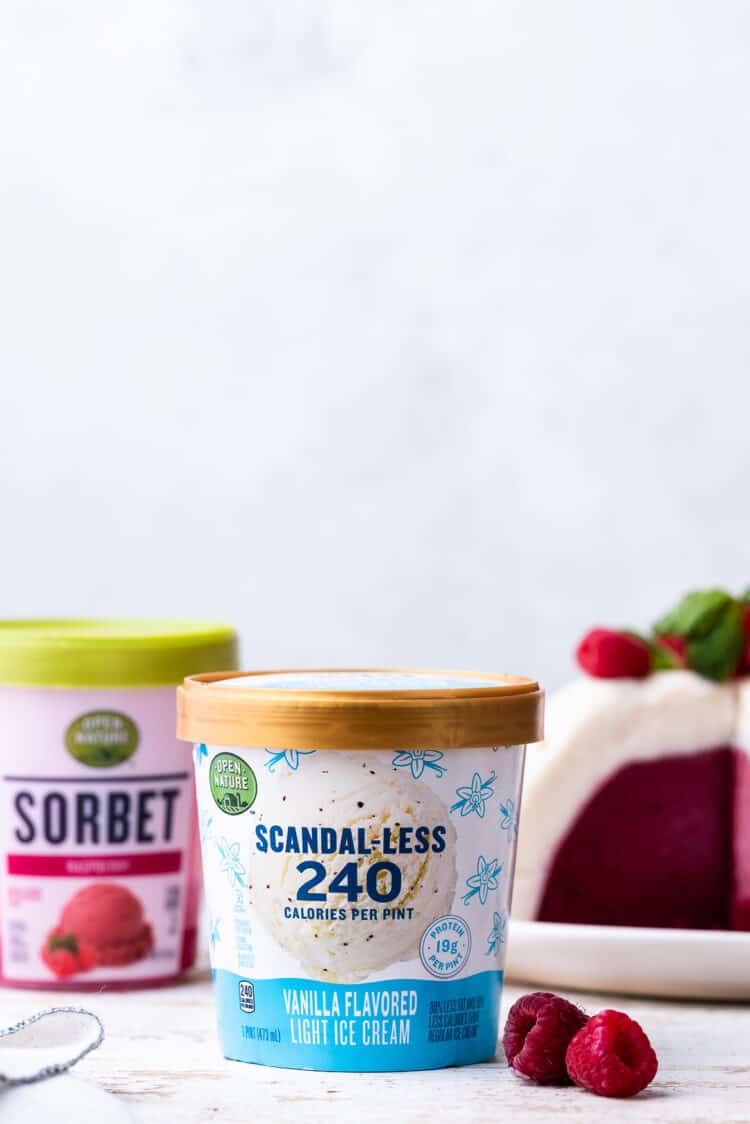 The Open Nature
non-dairy desserts are a great alternative to traditional ice cream with sorbet, almond milk, cashew milk, oat
milk, and coconut milk options — perfect for the non-dairy folk in my family! In this recipe, I use their gorgeous raspberry sorbet for the inside of the dessert, and it's made with
n
o artificial colors or flavors, just all clean ingredients!
And for the creamy outside, I used the new-to-me
Open Nature Scandal-less light ice cream! I love that the Scandal-less products are also made without
artificial colors or flavors. The vanilla Scandal-less is a light and creamy guilt-free indulgence — with 60-80%
less calories than regular ice cream, it has
40-50% less fat than regular ice cream and is b
etween 240 and 370 calories per pint!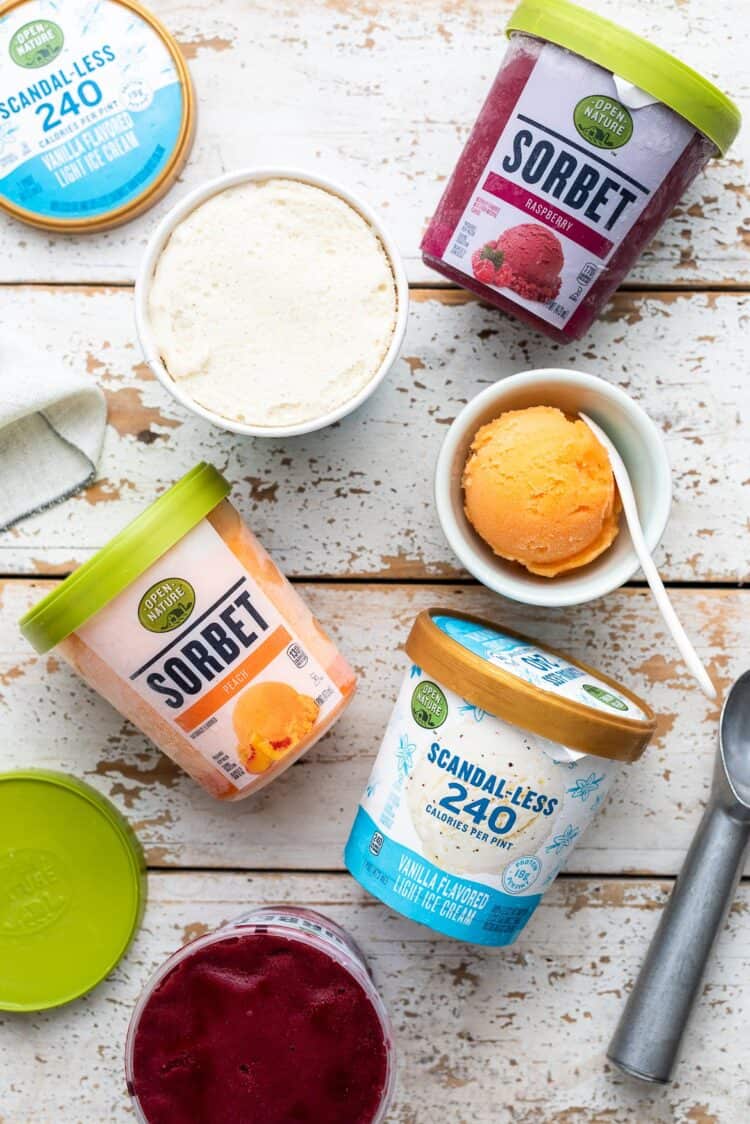 Since we love our frozen desserts, you can imagine how much we love these Open Nature products — it makes our daily guilty pleasure, well, less guilty! I shop for Open Nature products here in the Bay Area at my local Safeway, but you can also find Open Nature frozen desserts exclusively at the Albertsons Companies family of stores, including Albertsons, ACME Markets, Jewel-Osco, Vons, Randalls, Shaw's Supermarket, Star Market, Tom Thumb, and Vons.

How to Make an Ice Cream Bombe
It may have a lot of wow-factor, but between you and me, making an ice cream bombe dessert is the easiest thing ever! The trick is time. As long as you allow time for the ice cream and sorbet to freeze between layering, you can transform humble pints of your favorite frozen dessert into something celebration worthy!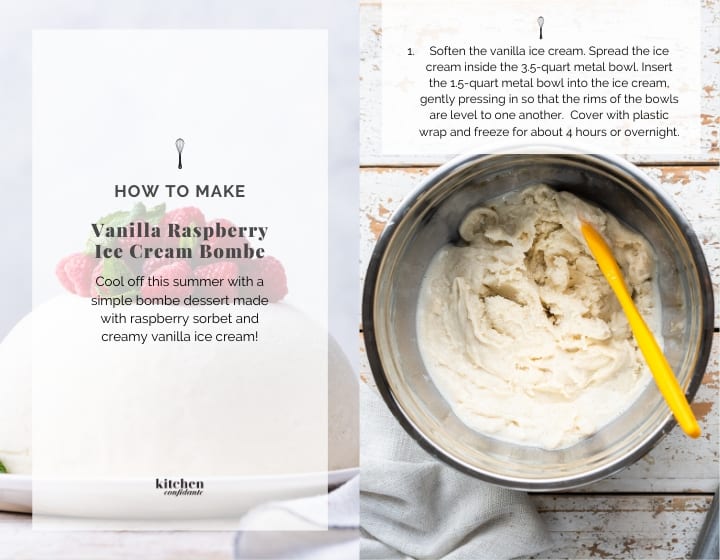 You will need two freezer safe bowls, with one that fits inside the other. I recommend using metal bowls if you have it – it works especially well for refreezing the ice cream, as well as unmolding. For this dessert I used a 3 1/2 quart and 1 1/2 quart metal stainless steel bowls.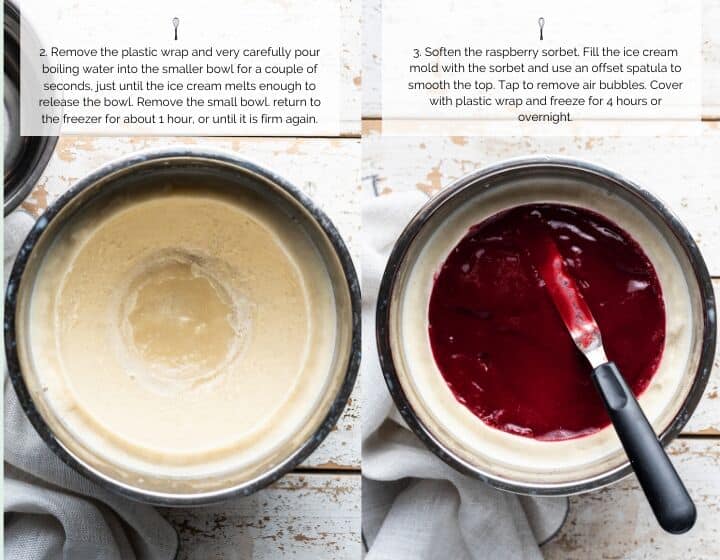 Start by softening the vanilla ice cream and spreading in the larger metal bowl. Insert the smaller metal bowl and pop in the freezer! Once it is frozen, a quick pour of boiling water in the smaller metal bowl will release it (it doesn't take long!). Then it's back to the freezer! Spread the raspberry sorbet in the hardened vanilla ice cream and smooth the top. Then it's back to the freezer!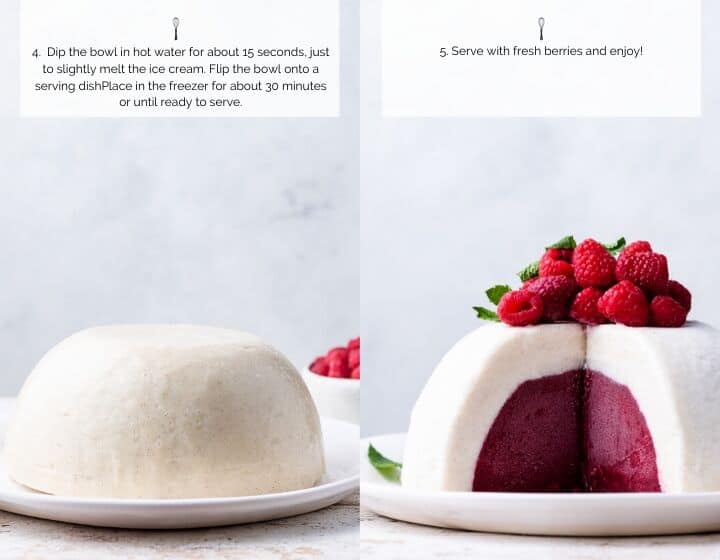 To unfold the dessert, dip the large metal bowl in hot water and flip onto a serving platter. Pop it back for a quick freeze, and then you're ready! To serve, top it with fresh raspberries and slice into your ice cream bombe to reveal the beautiful layers!
Like this Ice Cream Bombe? Here are more Summer Dessert Recipes to Try!
Sparkling Mango Sorbet Floats Red White and Blue Berry Sorbet Floats Churro Doughnut Holes with Ice Cream and Cherry Chipotle Sauce Fresh Cherry Wine Sauce with Ice Cream
Products Used In This Recipe
3 1/2 quart metal bowl (affiliate link) 1 1/2 quart metal bowl (affiliate link)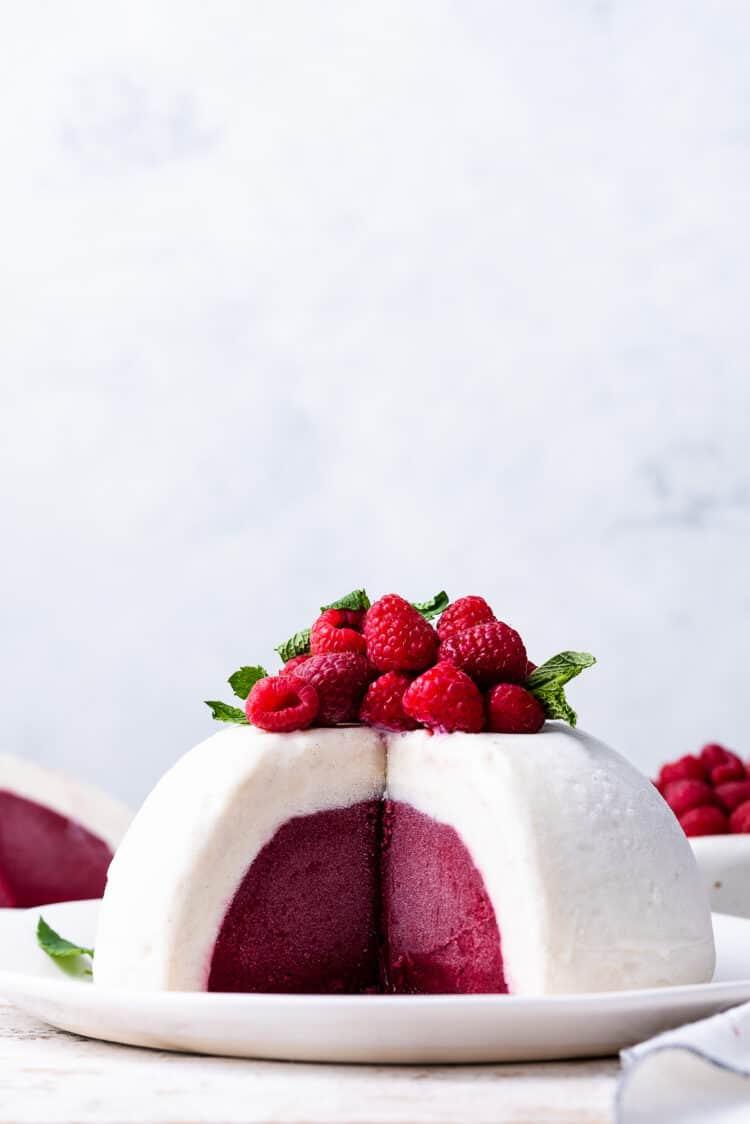 Disclosure: This post was created in partnership with Safeway. Thank you for supporting brands that matter to me; sponsored posts such as this help behind the scenes at Kitchen Confidante. All opinions in this post are, as always, my own.
Vanilla Raspberry Ice Cream Bombe
Vanilla Raspberry Ice Cream Bombe - cool off this summer with a simple bombe dessert made with raspberry sorbet and creamy vanilla ice cream!
Ingredients
2

pints

Open Nature Scandal Less Vanilla Ice Cream

2

pints

Open Nature Raspberry Sorbet

1

pint

Raspberries

for serving
Instructions
Soften the vanilla ice cream. Spread the ice cream inside the 3.5-quart metal bowl. Insert the 1.5-quart metal bowl into the ice cream, gently pressing in so that the rims of the bowls are level to one another. The ice cream will not reach the top of the rim; if needed, insert a small offset spatula between the bowls to smooth and even the edges. Cover with plastic wrap and freeze for about 4 hours or overnight.

Remove the plastic wrap and very carefully pour boiling water into the smaller bowl, taking care not to get any water on the ice cream. Let it sit for a couple of seconds, just until the ice cream melts enough to release the bowl. Carefully remove the small bowl.

Use a spatula to smooth out the ice cream core, then return to the freezer for about 1 hour, or until it is firm again.

Soften the raspberry sorbet. Fill the ice cream mold with the sorbet and use an offset spatula to smooth the top. Tap to remove air bubbles. Cover with plastic wrap and freeze for 4 hours or overnight.

Dip the bowl in hot water for about 15 seconds, just to slightly melt the ice cream, loosening the edges with an offset spatula. Flip the bowl onto a serving dish, and remove the metal bowl. Clean any drips from the serving dish and smooth the ice cream as needed with a spatula. Place in the freezer for about 30 minutes or until ready to serve.

Serve with fresh berries and mint.
Notes
Method from The Bombe by Jeni Britton Bauer, from Cherry Bombe: The Cookbook (Clarkson Potter, 2017).
How to slice ice cream bombe: The easiest way to cut an ice cream cake is:
Letting the cake thaw at room temperature for about 10 minutes.
Run a knife under hot water to warm up the blade. Lightly wipe away excess water with a clean towel.
Slice the cake. Rinse the knife under hot water, wipe, and cut to extract your slice.
Repeat until the cake is completely sliced!
Products Used In This Recipe
3 1/2 quart metal bowl (affiliate link)
1 1/2 quart metal bowl (affiliate link)
Nutrition
Calories:
312
kcal
|
Carbohydrates:
59
g
|
Protein:
7
g
|
Fat:
5
g
|
Saturated Fat:
3
g
|
Cholesterol:
26
mg
|
Sodium:
134
mg
|
Potassium:
268
mg
|
Fiber:
5
g
|
Sugar:
41
g
|
Vitamin A:
440
IU
|
Vitamin C:
14
mg
|
Calcium:
164
mg
|
Iron:
1
mg