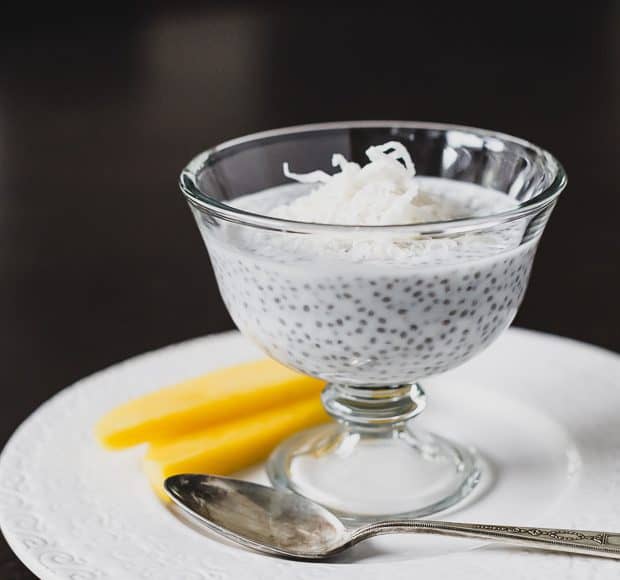 Simple Sundays | Coconut Chia Pudding
The weather has thrown me for a loop. It has caused me to slow down, made me drowsy, even. I just woke up from a rare nap, and one step outdoors caused me to retreat back into the air conditioned house to avoid the muggy…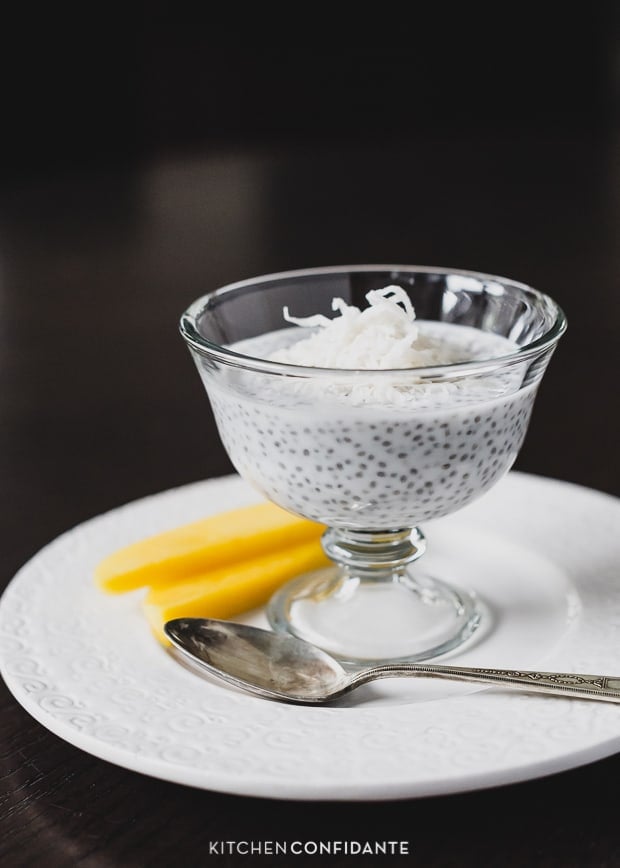 Simple Sundays | Coconut Chia Pudding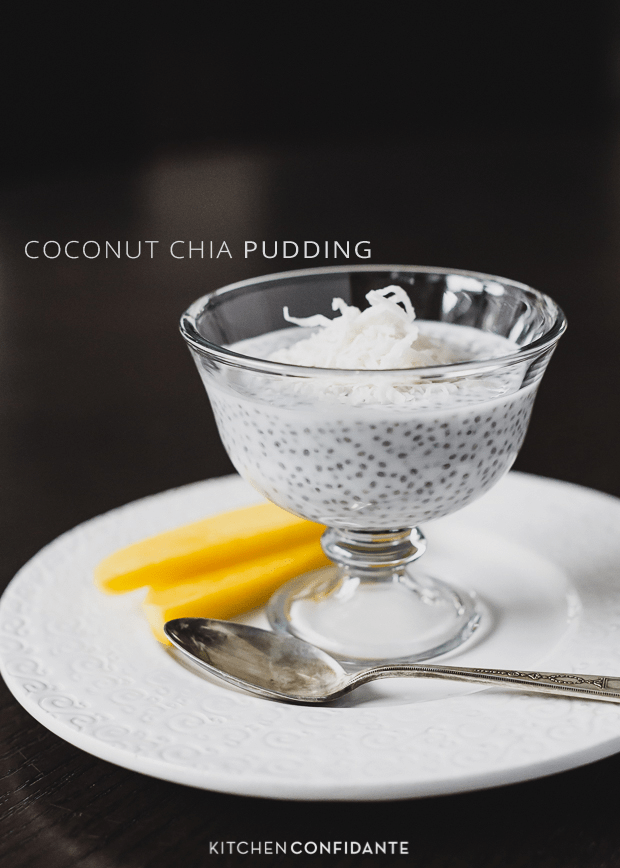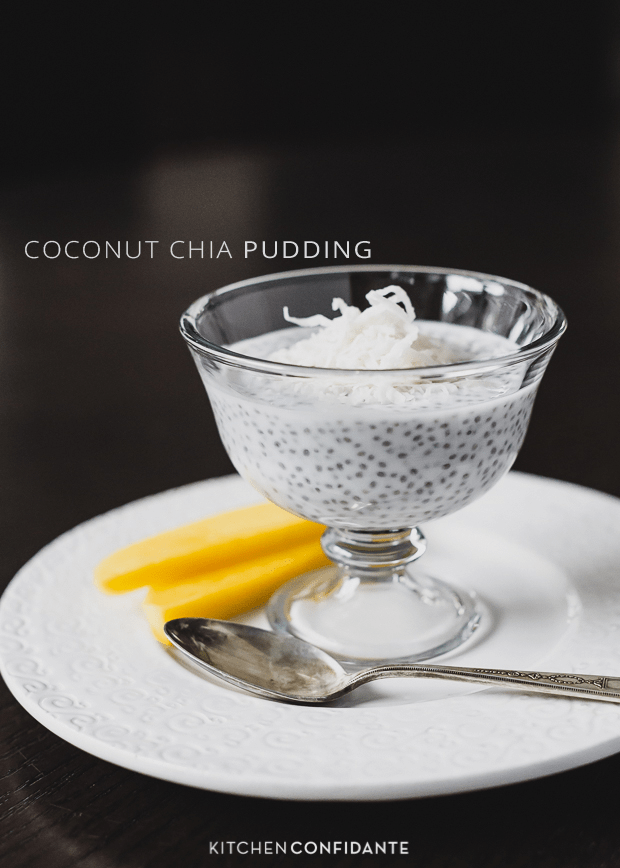 The weather has thrown me for a loop. It has caused me to slow down, made me drowsy, even. I just woke up from a rare nap, and one step outdoors caused me to retreat back into the air conditioned house to avoid the muggy heat over the threshold.
On my first full weekend back home, I find it ironic that the heat and humidity of Texas followed us back to California. The skies have erupted with puffs of clouds, and there is a haze and lethargy to the neighborhood. I haven't had the motivation to cook lately, perhaps I got used to eating out from all the travel, and I am embracing simplicity and convenience.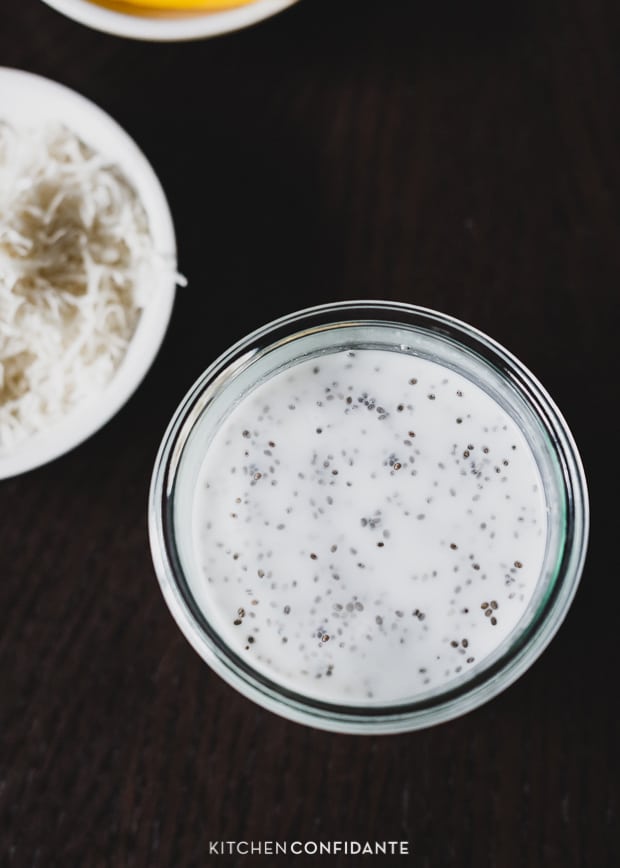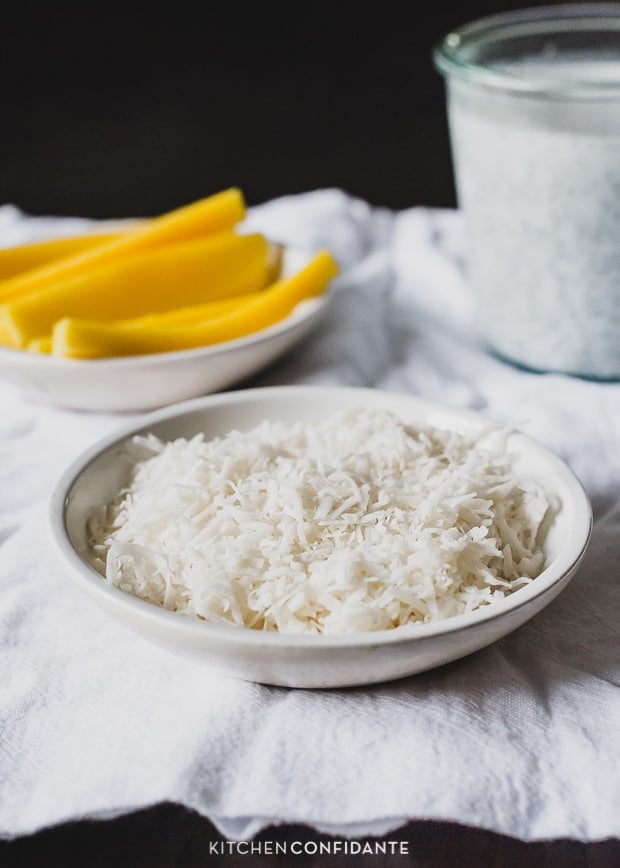 I am cooking familiar foods, ones that can be executed swiftly, to avoid overheating the kitchen. I've even picked up a rotisserie chicken and pre-marinated cut of tri tip this week. Gasp, I know. It's unlike me. All I really feel like preparing are fresh salads to accompany the meal, or rinsing and slicing fragrant, fresh fruits. For dessert, I am favoring a scoop of ice cream, or quick desserts such as this Coconut Chia Pudding.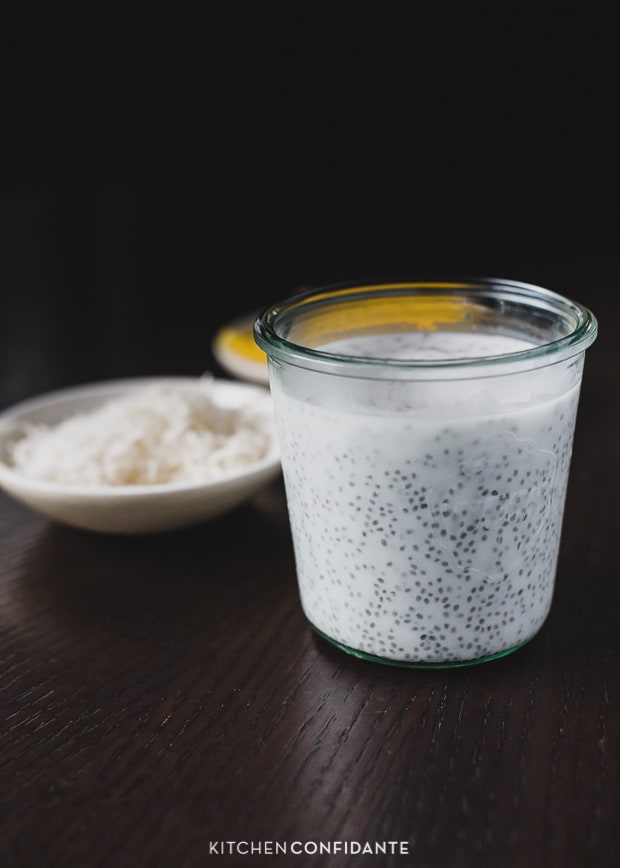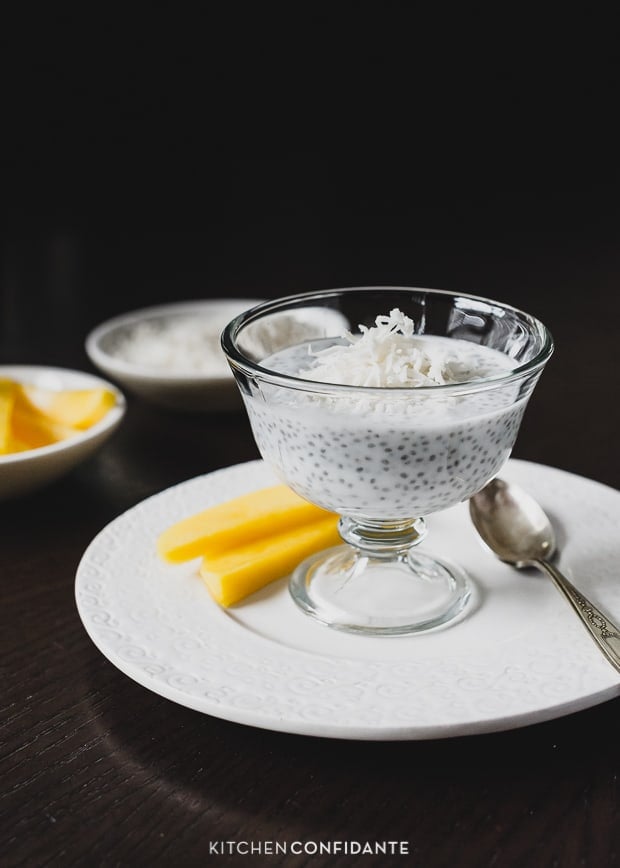 My daughter was dubious when she first encountered the chia seed. She knows that I love them in my overnight refrigerator oatmeal each morning. But I managed to convince her with one of her favorite flavors: coconut. Drowned in a little pools of coconut milk, the chia seeds puff up into gelatinous, tapioca-like orbs, thickening the coconut milk, and she instantly fell in love with Coconut Chia Pudding. When my son sampled a spoonful, he was persuaded as well. Now their eyes both light up when they see a jar of the pudding chilling in the refrigerator.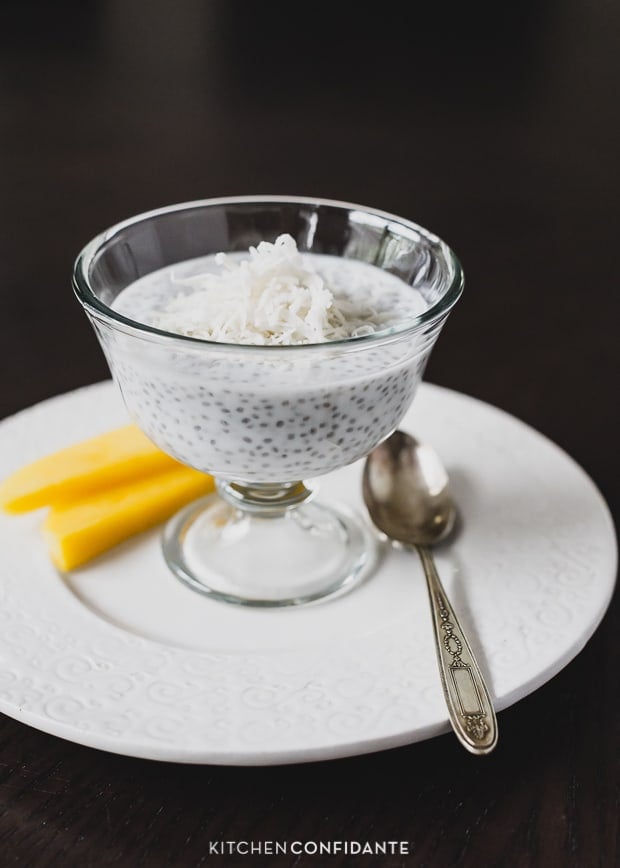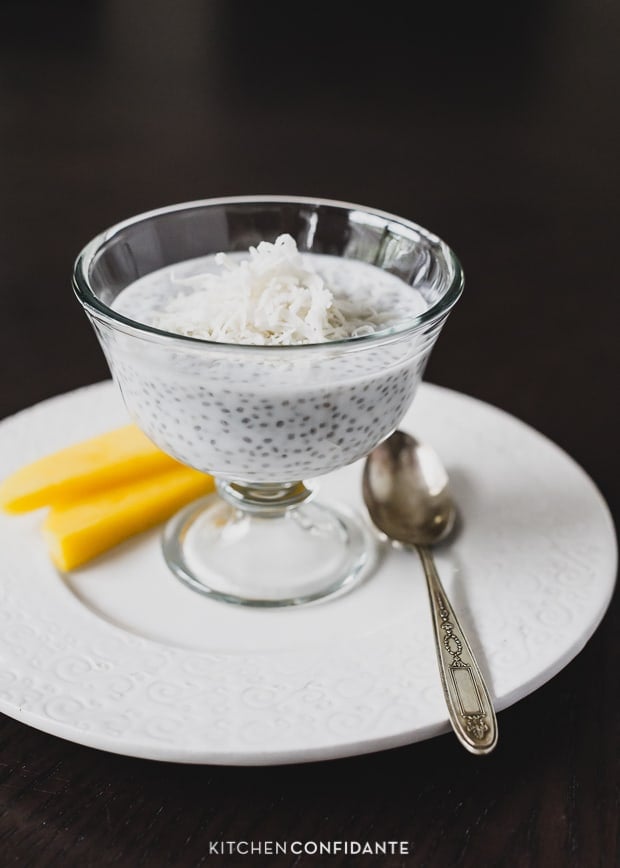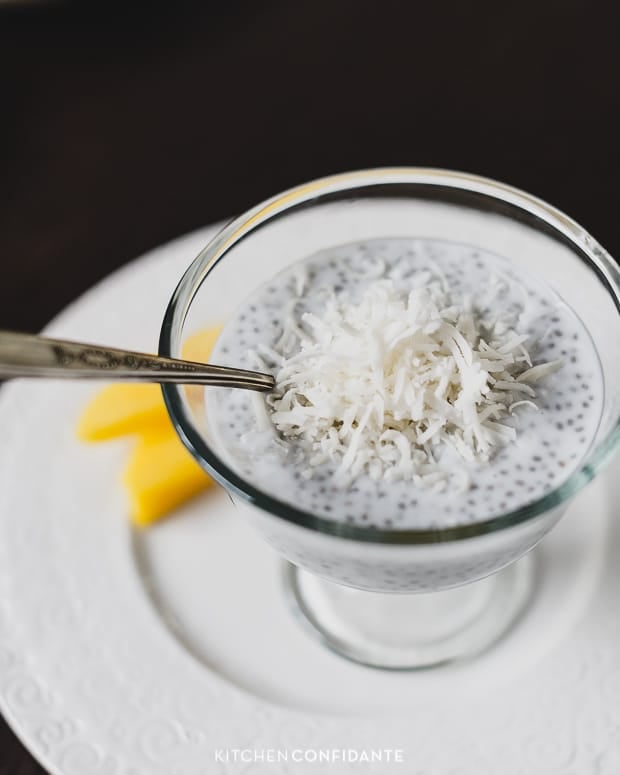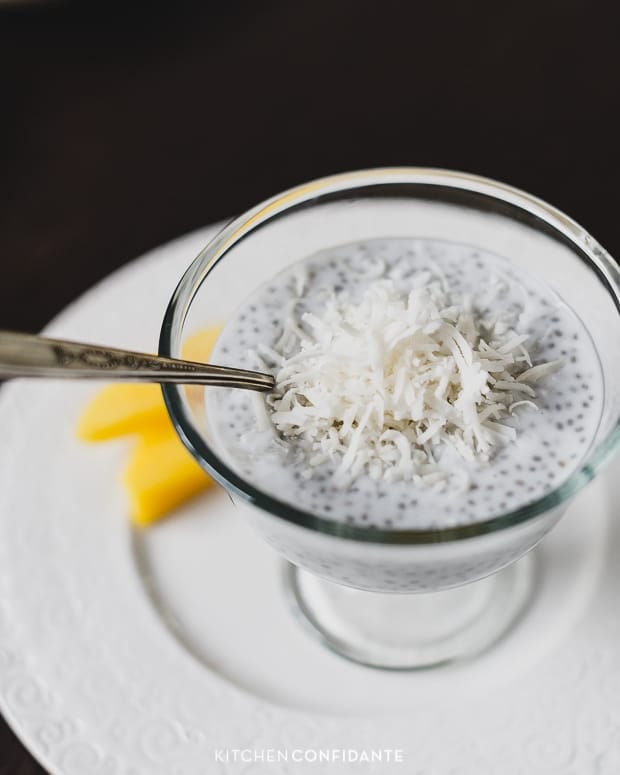 If you're craving a simple and satisfying dessert that won't tire you in the kitchen, or if you're new to chia seeds, I hope you try a spoonful of Coconut Chia Pudding. It will leave you satisfied, and perhaps more time to sneak in the nap you deserve.
Three ingredients (four, including the garnish). It barely qualifies as a recipe, but stir it up and you will be amazed at how simply delicious (and good for you!) this pudding is!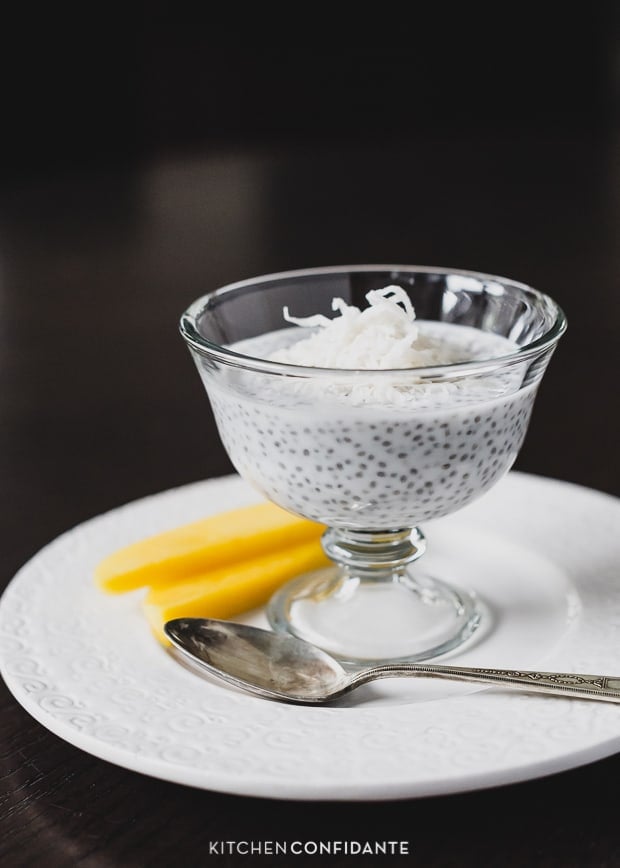 Print Recipe
Ingredients
12 oz light coconut milk*
1/3 cup chia seeds
1/4 cup sugar or agave nectar
Grated coconut, for garnish
Instructions
In a small bowl or large jar, stir together the coconut milk, chia seeds and your choice of sweetener (sugar or agave nectar). Chill in the refrigerator for at least 4 hours, or until the chia seeds puff and expand. Stir one more time and spoon into serving dishes. Garnish with grated coconut and serve immediately.