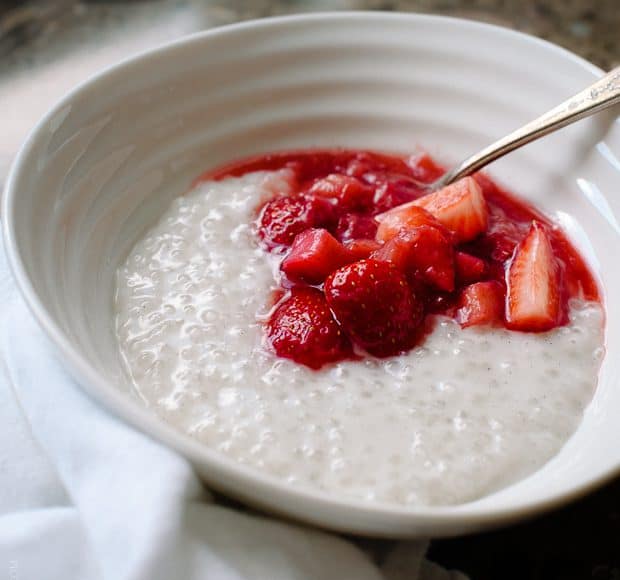 Simple Sundays | Coconut Tapioca Pudding with Strawberry Rhubarb Compote
Some things are just made for each other. Like light rain in springtime. Good wine with good friends. Sitting by the fireplace on a cold night. Fresh bread with soft butter. Bedtime stories and goodnight hugs. Rhubarb and strawberries. The rain came down on Friday,…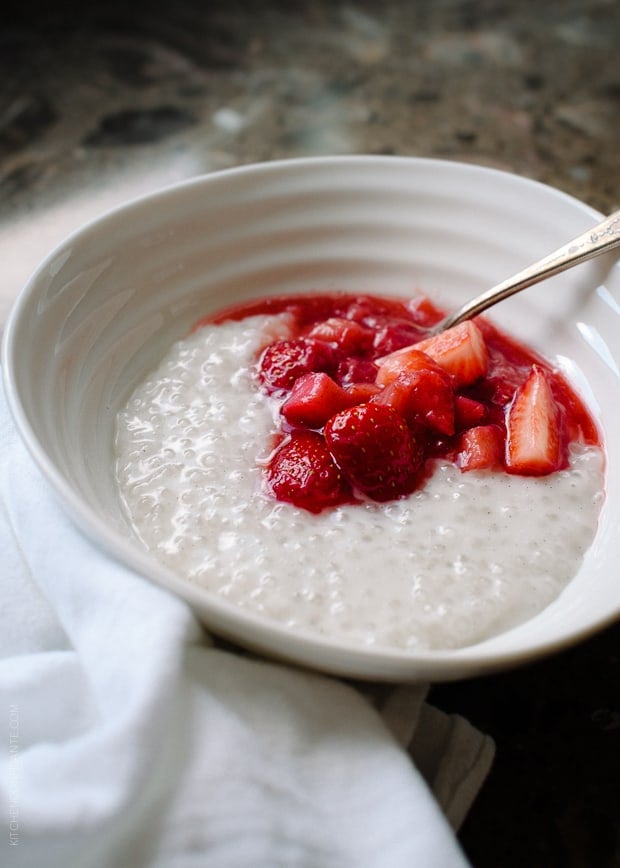 Simple Sundays | Coconut Tapioca Pudding with Strawberry Rhubarb Compote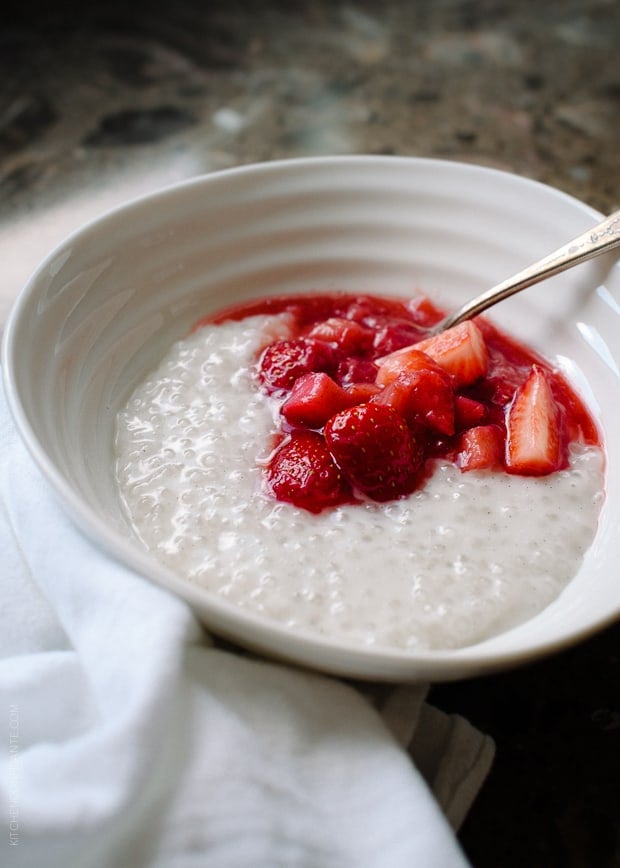 Some things are just made for each other. Like light rain in springtime. Good wine with good friends. Sitting by the fireplace on a cold night. Fresh bread with soft butter. Bedtime stories and goodnight hugs. Rhubarb and strawberries.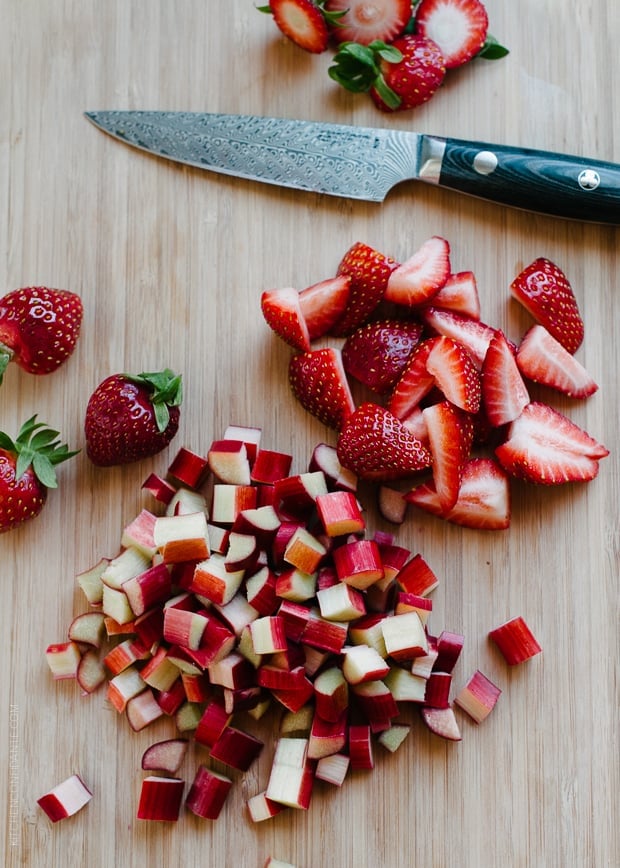 The rain came down on Friday, along with a helping of hail. Our parched hills soaked it up, and we were like moths to a flame, watching the spectacle outside our window. The tapping of hail on our patio was mesmerizing, the little pearls bouncing like ping pong balls, and the kids begged to go outside and run in the rain.
We turned the fireplace on that night and watched a movie. And for dessert, I made Coconut Tapioca Pudding with Strawberry Rhubarb Compote.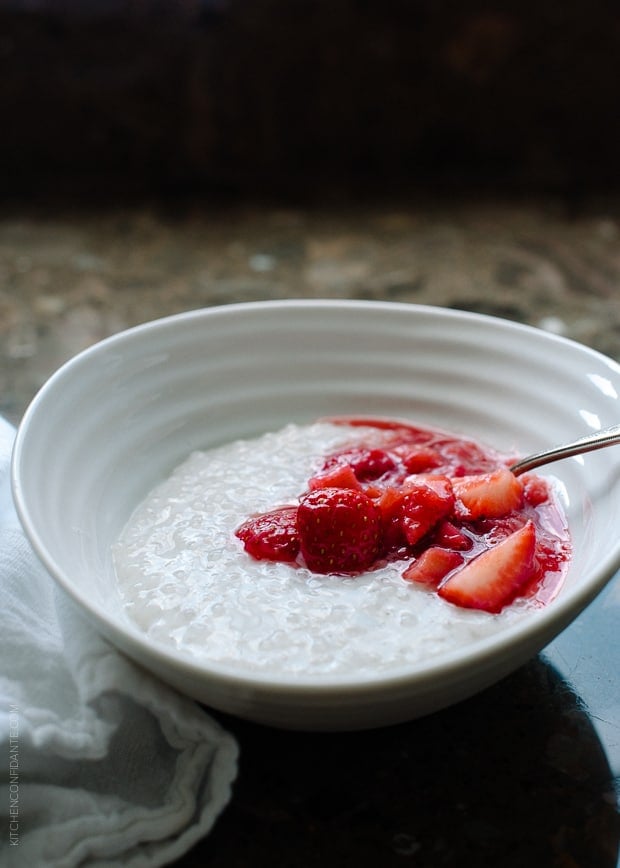 I've been craving a warm coconut pudding, studded with tender tapioca pearls and speckled with vanilla. It seemed like a perfect night for it, and with some rhubarb and strawberries, I made a simple ruby compote. Together, they complimented each other, like they were meant for one another, one spoonful at a time.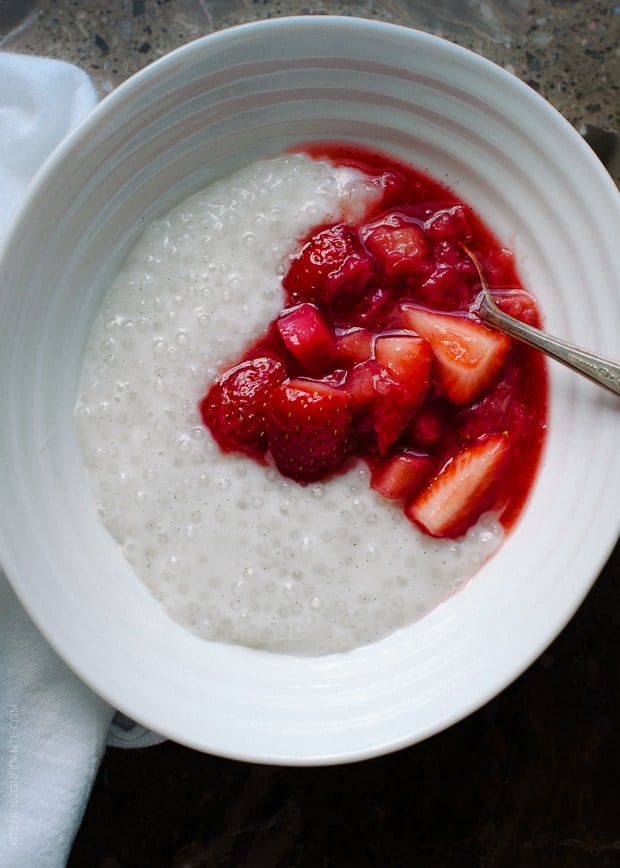 Coconut Tapioca Pudding with Strawberry Rhubarb Compote
A cozy bowl of tender tapioca swirls with ruby hued strawberry and rhubarb. I especially love it warm and fresh off the stove.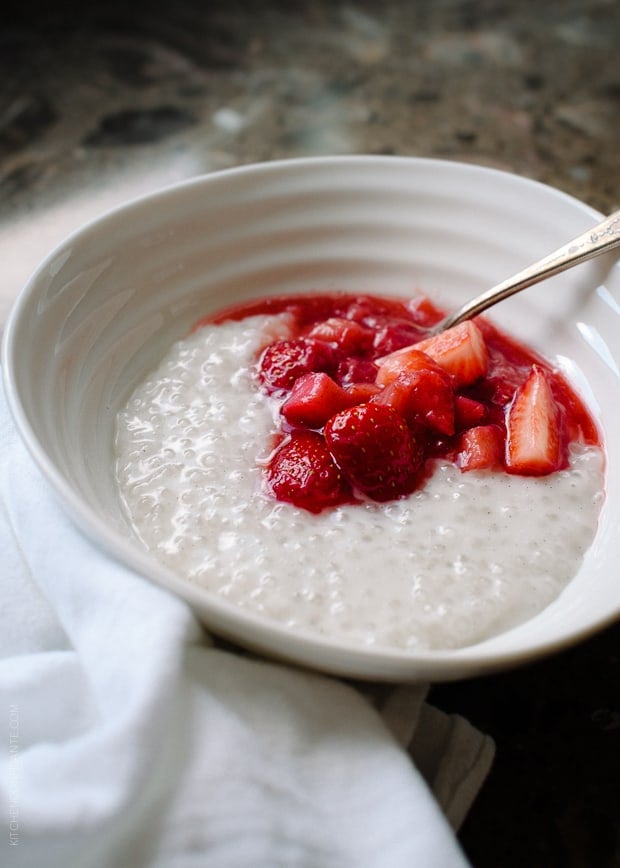 Print Recipe
Ingredients
For the Strawberry Rhubarb Compote
2 cups 1/4-inch diced rhubarb (about 4 medium stalks)
3 tablespoons sugar
1 vanilla bean, split and beans scraped
2 tablespoons lemon juice
1 cup sliced strawberries
For the Coconut Tapioca Pudding
1 13.5 oz can light coconut milk
1/2 cup small tapioca pearls
1 vanilla bean, split and beans scraped
1/4 cup granulated sugar
Instructions
Make the compote by mixing the rhubarb, sugar, vanilla bean and seeds and lemon juice in a small non reactive saucepan. Let it sit for 20 minutes. After the rhubarb has mascerated and released its juices, set the saucepan over low heat and cook for about 5-7 minutes, or until the rhubarb is tender. Transfer to a bowl to cool and discard the vanilla bean. Once the rhubarb is cool, stir in the strawberries. You can use the compote immediately, or if you wish, store it in a covered container in the refrigerator until ready to use.
In a medium saucepan, let the tapioca pearls sit in the coconut milk for about 15 minutes. Place the saucepan over low heat and and warm the coconut milk until it is just beginning to simmer. Drop in the vanilla bean and add the sugar. Let the tapioca cook, stirring frequently, taking care to not cook too quickly or let the coconut milk boil. Cook for about 30 minutes, or until the tapioca is translucent and the pudding is thick. Discard the vanilla bean.
Serve the pudding warm or at room temperature with the compote.
Compote lightly adapted from Rhubarb-Strawberry Compote by Pichet Ong, The New Greenmarket Cookbook: Recipes and Tips from Today's Finest Chefs & the Stories Behind the Farms That Inspire Them, by Gabrielle Langholtz (Da Capo Press, 2014).