Blueberry Crisp
Once upon a time I was a graduate student…a grad student who loved food. I had grad student friends…who all loved to eat. Which was kinda hard sometimes, living near a fantastic foodie city like Chicago…on a grad student's budget. But we made do, and…
Blueberry Crisp
Once upon a time I was a graduate student…a grad student who loved food.
I had grad student friends…who all loved to eat.
Which was kinda hard sometimes, living near a fantastic foodie city like Chicago…on a grad student's budget.
But we made do, and one of our rituals were our Thursday night dinners.  Four of us would take turns hosting and cooking dinner for everyone.  We would bring our papers/clinic notes/thesis drafts/lap tops, and we would "work," eat, and watch Friends and E.R.  On one of those Thursdays, my friend Liz called and asked, "Do you have a food processor?" I actually did, a little mini one that my friends had given me before I left New York.  Liz hurried over and brought an unfinished dessert, a Blueberry Crisp, made the topping and popped it into the oven.  Half an hour later, the aroma of cinnamon and blueberries permeated my tiny apartment.
I fell in love with blueberry crisp.  A la mode.
Shortly thereafter, I met my soon-to-be-hubby, and this was the first dessert I made for him.  I still make it today, and when I do, the scent of it baking instantly reminds me of Chicago, good friends like Liz, and the start of feeding my husband's tummy.
I love the simplicity of this recipe.  Flour, sugar, butter, cinnamon and oats for the topping.  And while you can make the topping in the food processor, I actually prefer a good, old fashioned pastry cutter.
The pastry cutter leaves a nice crumb, and it's very cathartic, working the butter into the flour.  Oh, and there's less clean up (so yeah, maybe I'm just lazy in the dishes department).  This recipe is versatile; you can make it with blueberries, apples, mixed berries, or whatever fruit strikes your fancy.  If I have fresh blueberries, great, and if not, I just use frozen. And that means we can have blueberry crisp all year round!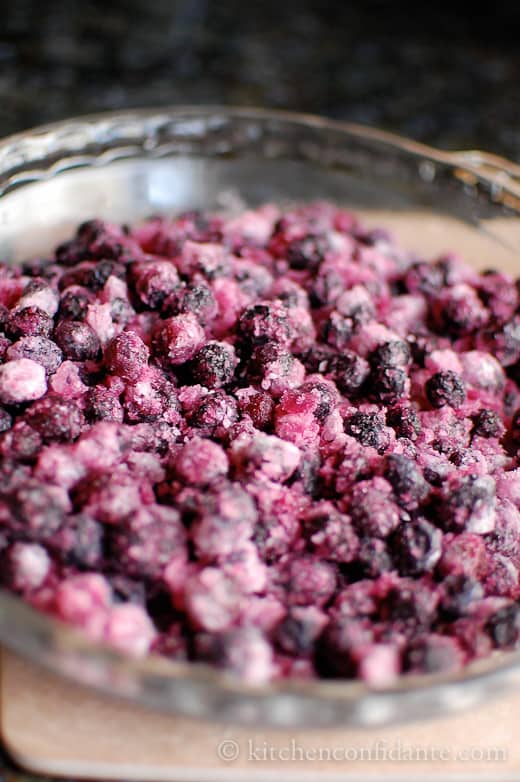 Print Recipe
Ingredients
Filling
2 pints blueberries (fresh or frozen)
1-2 tablespoons sugar
1-2 tablespoons flour
Topping
3/4 cup flour
3/4 cup packed light brown sugar
6 tablespoons butter
1/2 cup rolled oats (regular oatmeal)
1/2 teaspoon cinnamon
Instructions
Preheat oven to 350 degrees. Combine the blueberries, sugar and flour, and toss to mix. Put in a buttered shallow baking dish (pie pan or 8×8 brownie pan). To make topping, combine flour, sugar and butter and mix until it looks like course crumbs. Add oats and cinnamon and mix a little more. Spread topping evenly over fruit and pat down gently with your fingertips. Bake until the top is light brown and crisp, about 35-40 minutes. Serve warm with ice cream (this part is not optional).
Notes
Make ahead tip: You can easily assemble the topping or the whole crisp in advance.  Cover tightly and place in the freezer until you are ready to bake.  That makes one less thing to worry about when you're entertaining!
Adapted from In a Shaker Kitchen: 100 Recipes From the Shaker Tradition by Norma MacMillan