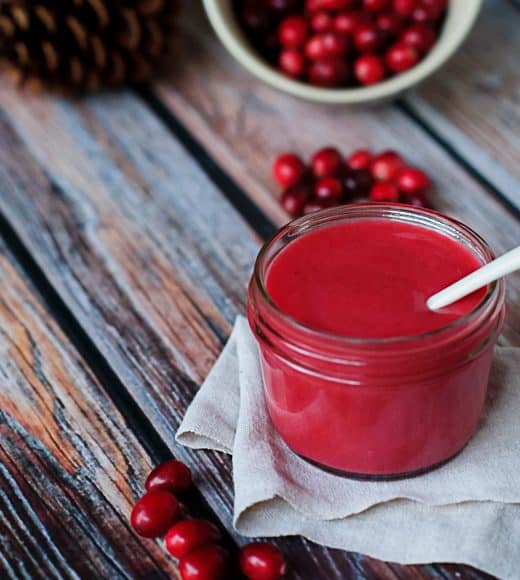 Simple Sundays | Cranberry Curd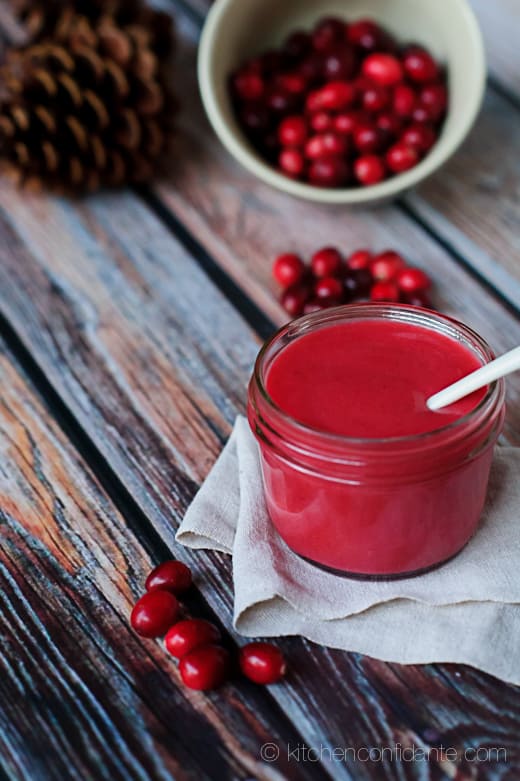 Simple Sundays | Cranberry Curd
Walking in circles amongst rows and rows of firs and pines, we breathed in the heavenly scent of fresh evergreen. This one! No, this one! My family pounced on a majestic pine, one that would clearly (at least it was obvious to me) never even fit through our front door. Um, you guys, that is department store size. How about this one? I pointed in the direction of the shorter, more suitable trees. Each specimen was considered. Too scraggly, too full. The branches are too weak. The needles too spiny. We were in search of the perfect Christmas tree.
We found the one. It didn't seem perfect, but it was one we could all agree on. A short ride home, and the decorating was underway.
A quick check of the equipment revealed that we had gotten rid of our yards and yards of tree lights last season. While my husband and kids ran off to the store to pick up some new strands, I took some of the beautiful fresh cranberries that I was not able to cook for Thanskgiving and set them to bubble into a luxurious Cranberry Curd. By the time they returned, my curd was setting in the refrigerator.
I found myself sneaking spoonfuls of the vivid curd – my goodness, if you love Lemon Curd, then I just know you will love this Cranberry Curd. Dare I say it's even better? I just couldn't stop myself! So good plain, I tell you. But I know it'll be amazing to play around with. This morning, I tried some with pancakes. I was in heaven.
When the tree was all trimmed and it was time to admire our handiwork, we all stood back to admire it. The tree that seemed about right in the Christmas tree lot turned out to be perfect. We all agreed, it was the best tree we've ever had – the height was perfect, the shape was perfect, the needles were soft, the branches were sturdy. Our ornaments filled it perfectly. And then it was time for the big lighting.
And our hearts sank.
Two shades of white. Cool on the top. Warm on the bottom.
Not perfect.
We were so disappointed. And tired. And then we decided, you know what, nothing is ever perfect. The kids loved it, two toned and all. My husband and I decided to love it too. At least we know we'll never forget this tree. And one day, we'll laugh…and be more careful to check the lights!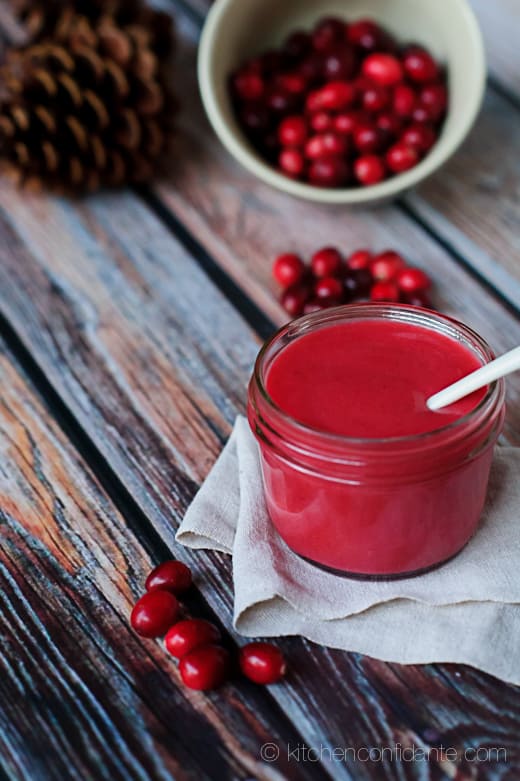 Print Recipe
Ingredients
1/2 pound fresh cranberries (a little over 2 cups)
1/2 cup water
3 egg yolks
1 whole egg
3/4 cup sugar
4 tablespoons unsalted butter, cut into small cubes
Instructions
In a small saucepan, combine the cranberries and water, cover, and place over medium heat. Cook until the cranberries pop and the liquid bubbles. Pass the cranberries through a strainer, pressing well with a spoon. Be sure to scrape all the lovely red puree on the underside of the strainer into the bowl to use. Pour the cranberry puree back into the saucepan and set aside. Let it cool a tad.
Whisk together the egg yolks and egg until combined. While whisking, pour in sugar and whisk until a light yellow color. Add the egg mixture to the cranberry puree in the sauce pan, and continue whisking until creamy and well incorporated, about one minute. Place over medium heat, whisking constantly, until the custard thickens and can coat the back of a wooden spoon, about 8-10 minutes. Remove the pan from the heat, and stir in the butter, one cube at a time. Strain into a bowl or jar, cover surface with plastic wrap and chill in the refrigerator for at least one hour.