Filipino Meatball Noodle Soup: Misua Bola-Bola + 5 Years
When this all started, I was shopping in the toddler section, dressing my son in adorable little jeans and pint-sized plaid. He would wear them, no questions asked. My daughter was still reading her way through Junie B Jones, and tumbling every week at gymnastics.…
Filipino Meatball Noodle Soup: Misua Bola-Bola + 5 Years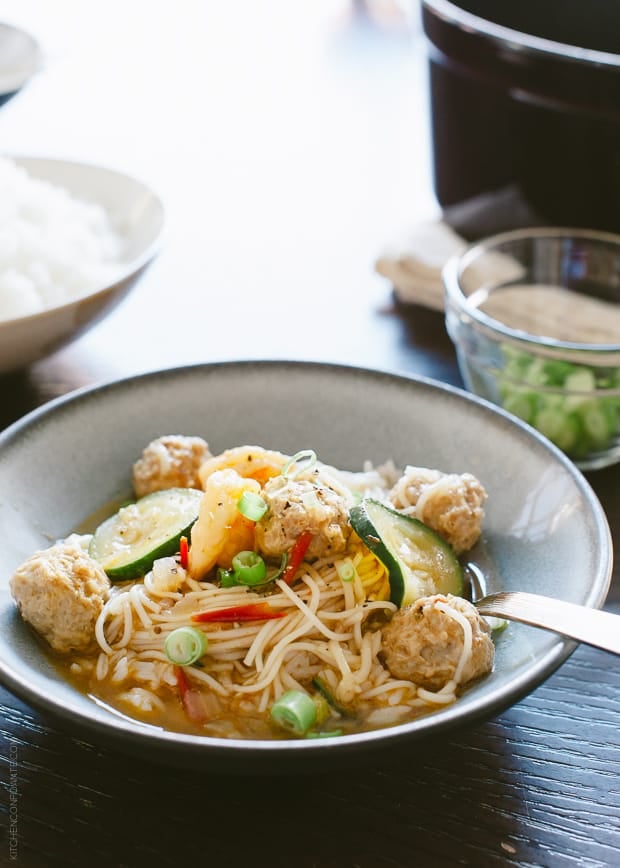 When this all started, I was shopping in the toddler section, dressing my son in adorable little jeans and pint-sized plaid. He would wear them, no questions asked. My daughter was still reading her way through Junie B Jones, and tumbling every week at gymnastics. Somewhere along the way, I wrote my first post, and five years later, one of the questions I still get is, "why did you start a blog?" And I realize that what it boils down to is this: my children.
Yes, I do love to cook, and I love finding ways to express creativity, whether it is through a recipe, writing about my experience and photographing it. Writing this blog was simply something I had to do. It was an idea I couldn't shake, and something I just had to try. But at the heart of it all, all I wanted to do was preserve these recipes and our family stories for them. I know my time on this earth is borrowed, and when I am gone, I want them to have this journal of the food we ate, so that one day, they can recreate it for their own families, and remember.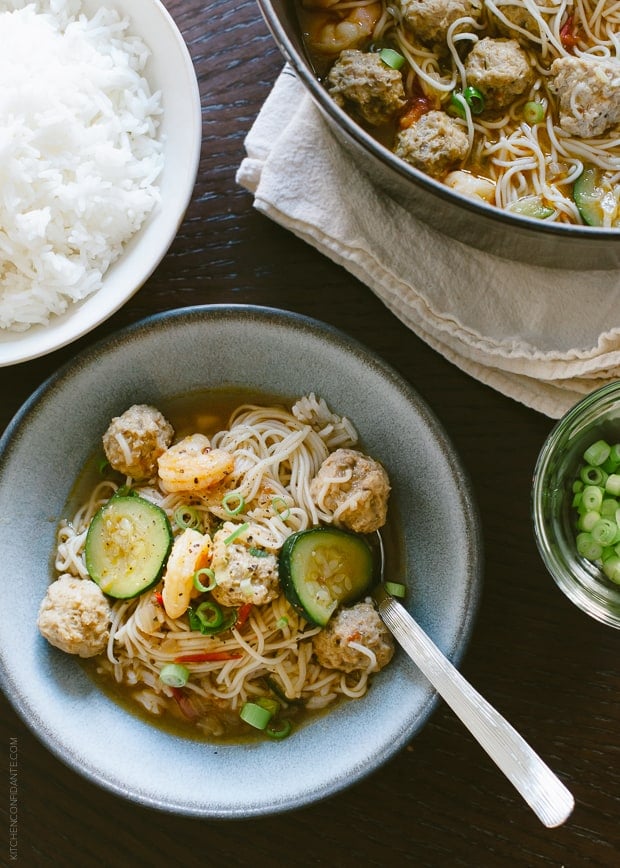 I want them to remember pancakes and waffles each Sunday, the summers that we grilled and the chickpea salad that was always on the table, the smoothies after school, and the arroz caldo I would make when they were feeling sick. I want them to remember Papa's chicken and his banana bread. I want them to taste it all and share it, so that those memories live on.
I turned 40 last year, and I can't help but think of my own mother. She was a brilliant baker but not quite a passionate cook, but each time I make something that reminds me of her, I am comforted to know that she is still with us. I lost her before I could ask her how to make her lumpia or how to make her cheese pimiento. Thankfully, I have pieced together how to make many dishes of my childhood, either from her scribbled notes and recipes that I keep close in a folder, or from my aunt, who is truly the one who taught me how to cook. And though it pains me to say so, it is because of my mother's loss to cancer that I found my way in the kitchen. Cooking for my family out of necessity taught me that there is joy in cooking, each recipe bringing me back to her.
Five years of blogging has brought me so much – it has been personally and professionally rewarding, in ways I never imagined. I have cooked and photographed, and learned from many mistakes along the way. Something is missing, though, and that is this: I haven't shared enough of the recipes that mean the most to me. There's still so much more, particularly the recipes with flavors that I grew up on.
Let's start with this. Filipino Meatball Noodle Soup: Misua Bola-Bola.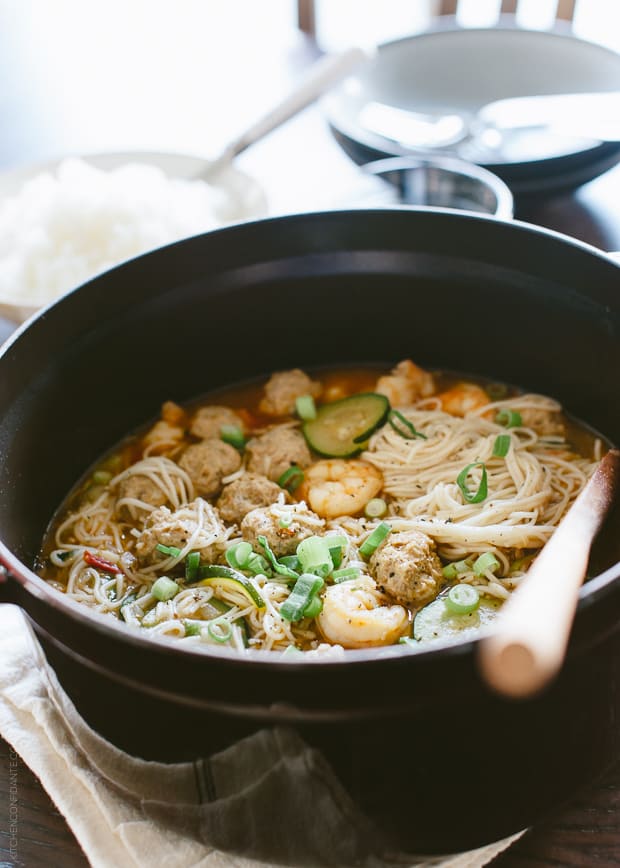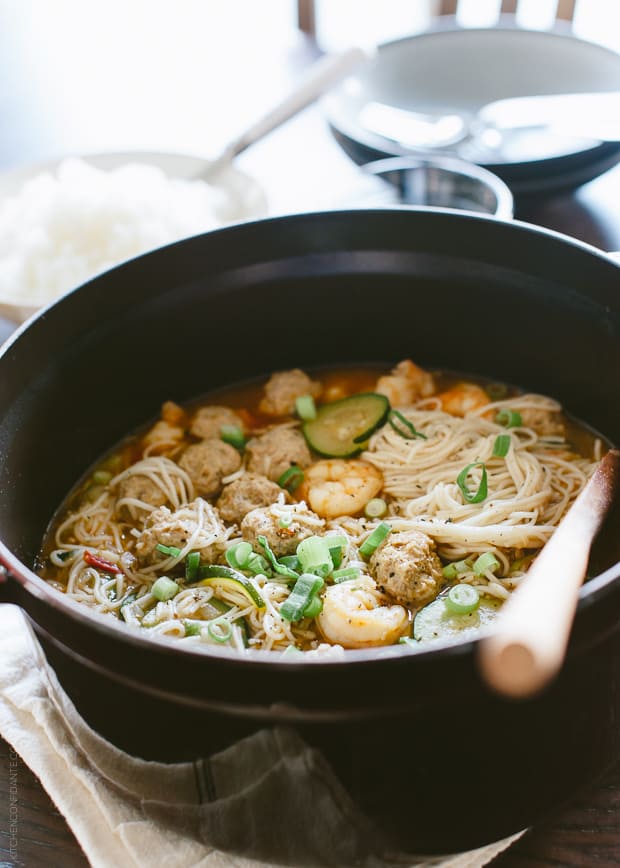 When I was a little girl, if I could ask for any dish, I asked for Bola-Bola. Partly because the name gave me a chuckle. Translated, bola-bola means balls, or meatballs. And what kid doesn't like meatballs? But it's much more than that. Imagine meatballs swimming in a noodle soup, with bites of shrimp and zucchini. The best part, though, is the rich broth. The secret to this dish is that there are so many, and I mean many, layers of flavor. The broth is made with a homemade shrimp stock, and blended with a little beef stock and a splash of fish sauce. There is an umami, for lack of a better word, that I can't describe. You can taste the garlic and onion and tomato that is sauteed, and when the little pork meatballs cook in the stock, there is even more flavor that is added to the dish.
I introduced Misua Bola-Bola to my family as the Filipino version of Italian Wedding Soup. If you think of it this way, it's not so foreign. But personally, I think it's better. My husband decided he loves it more than pho, and believe me, that says a lot. I don't know how other Filipino families eat their Misua Bola-Bola, but growing up, we ate it over rice. So I leave it up to you. Enjoy it as a noodle soup, or like I do – a steaming bowl of noodles, rice and meatballs, with lots of "sabaw" or broth.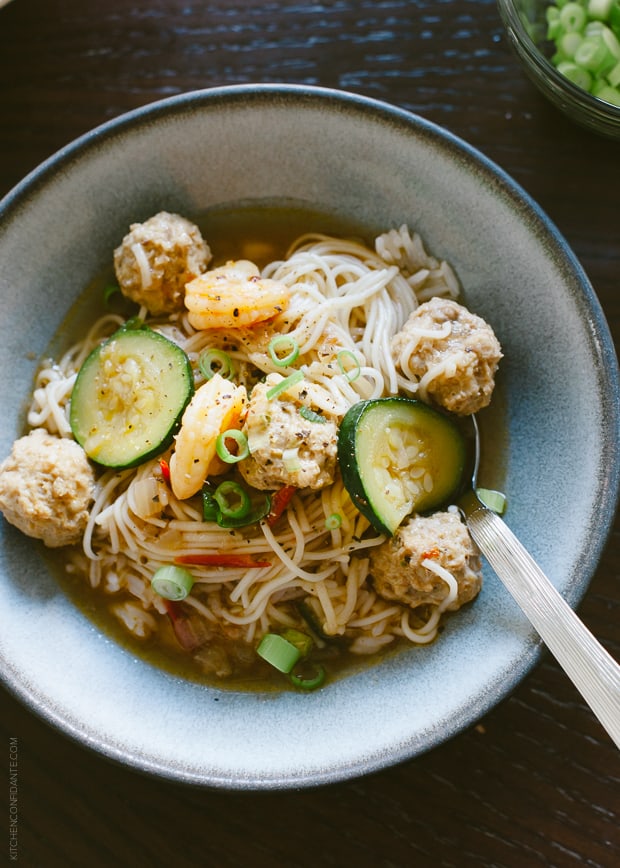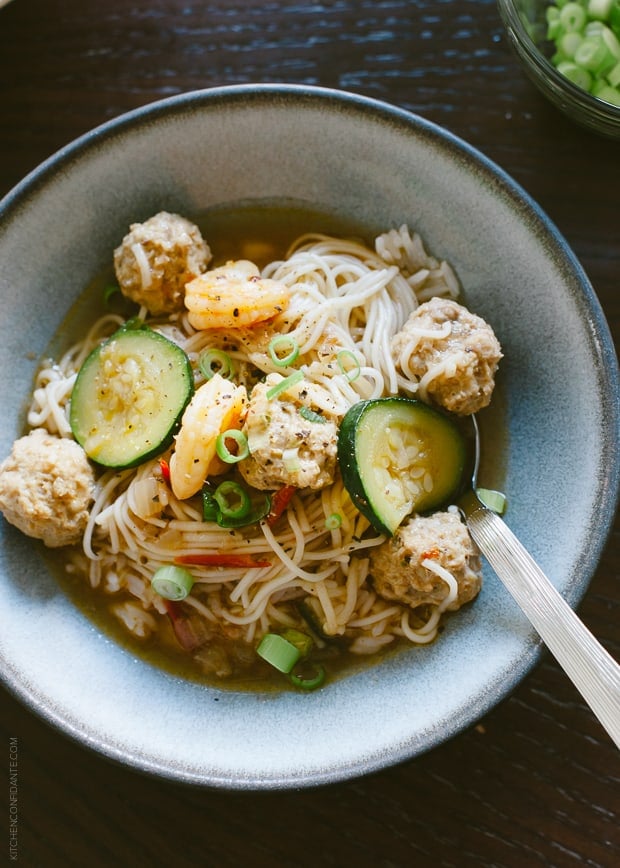 Five years of blogging and there is still so much to introduce to my family. I guess that's the best part of food, isn't it? There's always more. The kids are much older now. My son has begun to impose his own fashion sense and my daughter is growing more passionate about her own creativity. I'm grateful for each day that I have with them, that I can feed them, and teach them. Bola-bola was important for me to share with them, and with you.
Filipino Meatball Noodle Soup: Misua Bola-Bola
This personal favorite features pork meatballs, and a flavorful broth rich from homemade shrimp stock. This soup was one my favorite meals growing up, and now my children love it, too. If you are familiar with Italian Wedding Soup, then I like to say that this is the Filipino version. Misua (pronounced "mee-swa") noodles are Chinese wheat noodles; If I can't get to the Asian market, I often use Japanese Somen noodles, which are readily available at most grocers.
Print Recipe
Ingredients
For the bola-bola/meatballs:
1 lb ground pork or beef
1/2 cup finely minced onion (about 1/2 onion)
1 teaspoon salt
1/2 teaspoon pepper
1 egg
2 tsp cornstarch
For the shrimp stock:
the shells and heads, if possible, from 1 lb of shirmp, mashed
4 cups water
1 1/2 teaspoons salt
1 teaspoon pepper
For the soup:
2 tsp canola oil
3 cloves garlic, minced
1 tomato, diced 
1/2 cup finely minced onion (about 1/2 onion)
4 cups shrimp* or beef stock
2 cups beef stock
1 lb shrimp (optional)
2 tablespoon fish sauce (patis), or more, to taste
freshly ground black pepper
2-3 zucchinis, sliced
6 oz misua or somen noodles
2 stalks of scallion, finely sliced
Instructions
In a large bowl, mix together the ground pork or beef, onion, salt, pepper, egg and cornstarch. Form into 1 inch meatballs. This should yield about 45 meatballs. Let it sit in the refrigerator while you make the soup.
Make the shrimp stock by combining the shrimp shells, water, salt and pepper in a medium sauce pan. Bring to boil over high heat, then lower heat to a simmer. Cover and cook for at least 10 minutes. Strain the broth and discard the shells. Set aside.
Heat the oil over low heat in a large pot. Brown the garlic in the oil, and set aside.  Saute the tomato and onion for one minute over low heat.  Add stock plus 2 cups of beef stock.  Bring to a boil over high heat, then add the meatballs, one at a time.  Season with fish sauce and freshly ground black pepper, to taste.  Let come to a boil, then lower heat to a simmer.  Add the browned garlic and cover. Let the soup simmer for 30 minutes.  
Meanwhile, cook the misua or somen noodles separately according to the package directions. Drain and set aside.
Add the zucchini, shrimp and noodles to the soup.  Garnish with scallions and serve over rice if you wish.
Notes
* Note on the shrimp stock: While the making a quick shrimp stock is not at all difficult, if you are pressed for time or need to eliminate the shrimp for allergy concerns, the dish can be made with all beef stock. If you can, however, I would highly recommend including it!
If you can not find somen noodles, udon noodles also work in a pinch!