Lobster Cobb Salad Recipe
Lobster Cobb Salad is a classic with an elegant twist. Perfect for special occasions or when you want to spoil yourself with something out of the ordinary!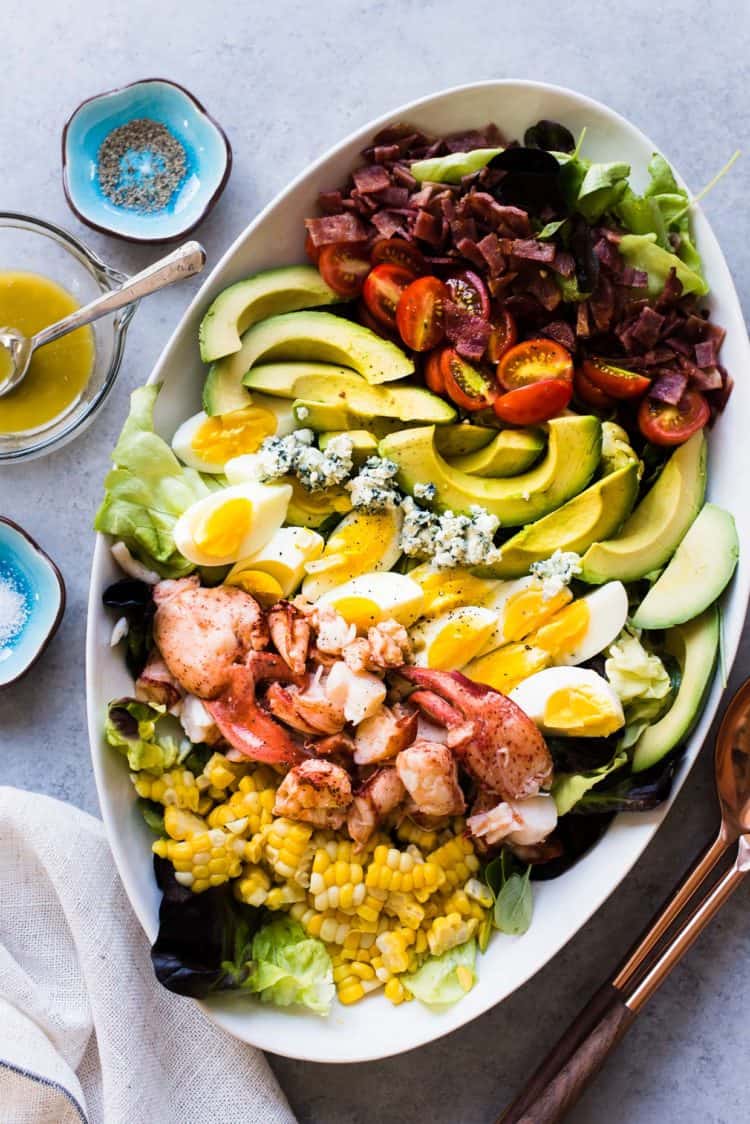 Lobster Cobb Salad Recipe
Lobster Cobb Salad is a classic with an elegant twist – simple sophistication at its finest!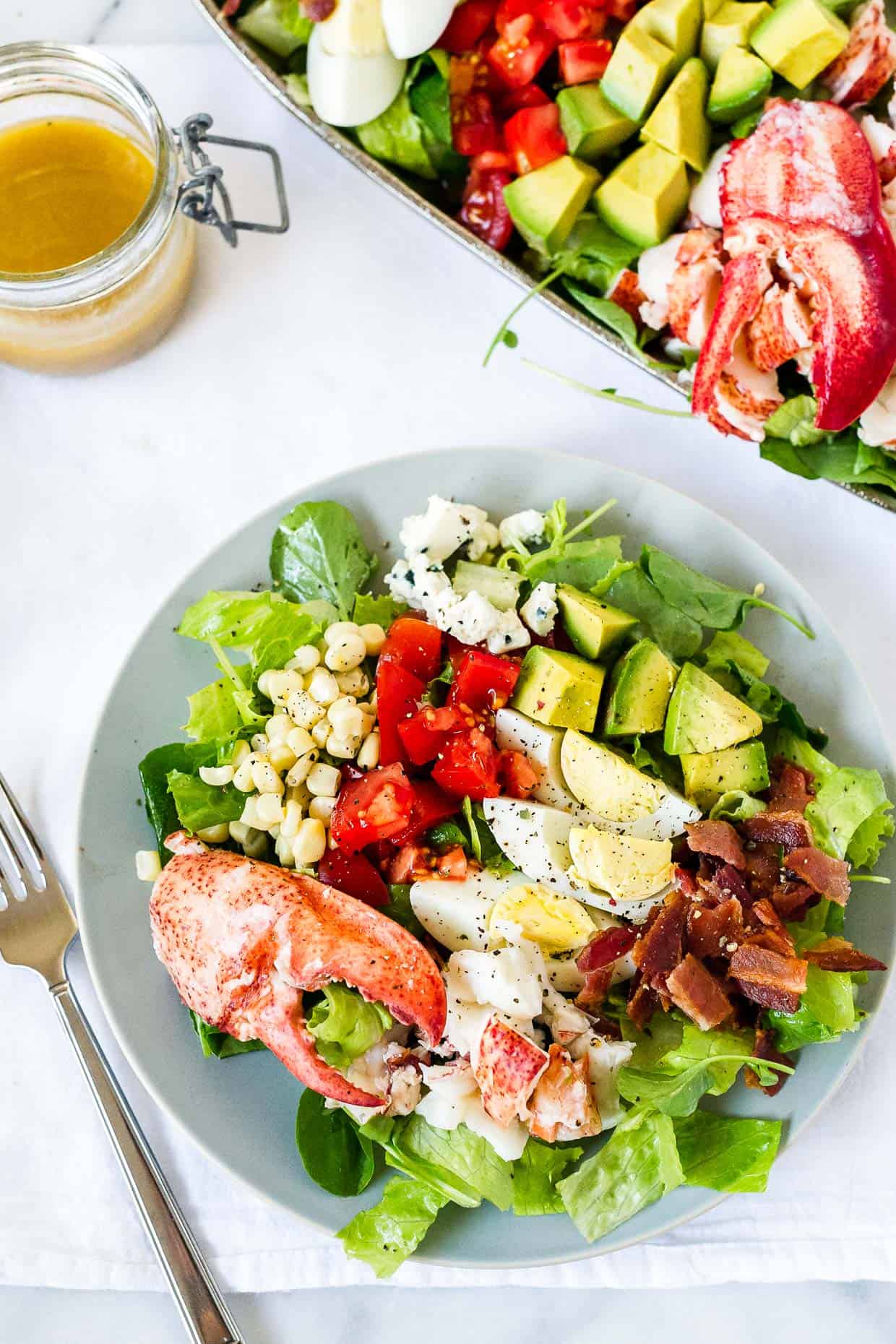 We were at an airport restaurant a few weeks ago, waiting for our flight back to San Francisco. I scanned the menu and saw the cobb salad. With memories of my father in law still raw in my heart, I ordered it, his favorite salad.
The phone rang several nights ago. It was my husband, on a business trip in LA. "What did you have for dinner?" I asked. I expected the answer to be sushi – especially since he is always eager to visit his favorite spot while in town. But after a long day, he was drained and decided to walk downstairs to the hotel restaurant instead. The Lobster Cobb Salad caught his eye. Each delicious bite reminded him of dad, and he raved, "You've got to make this."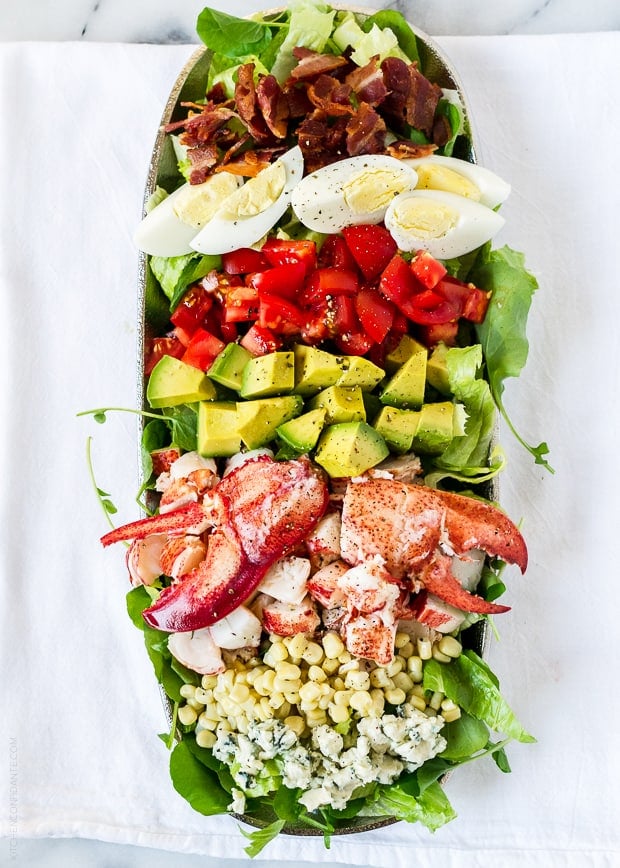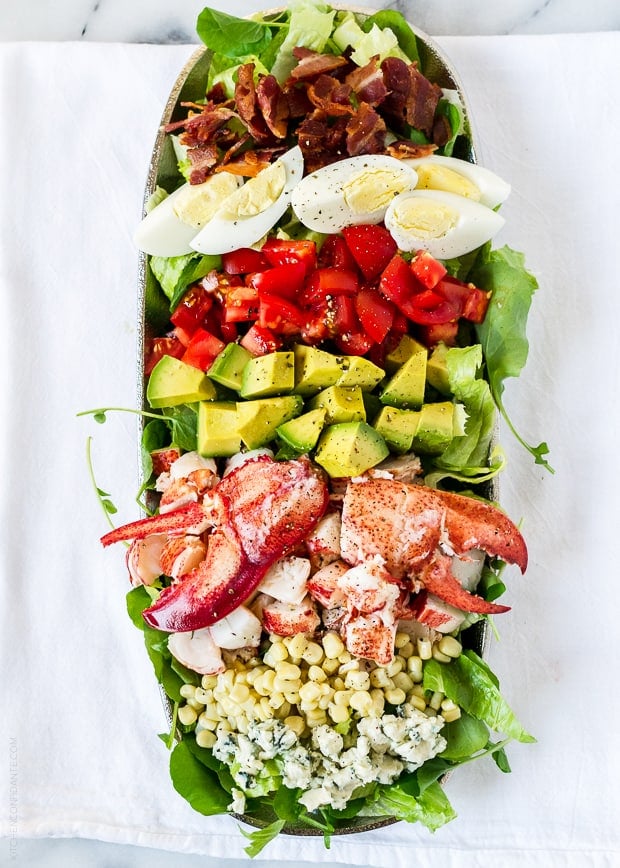 Early yesterday morning, he went in search of lobster, and returned soon after with two plump specimens. Into the boiling pot they went, their fate destined for a delicious salad. Then as I chopped up the vegetables, I thought of my father in law; it was his birthday. It seemed right to make this dish.
He was so fond of this humble salad – it seemed to be his favorite thing to order whenever we ate together. It's a salad you can find nearly anywhere, and I came to take it for granted. But I learned a thing or two as I was preparing this post. That it was actually a California original, created in 1937, at what was the Brown Derby restaurant in LA. That there was, indeed, a Mr. Cobb – the restaurant's owner. That there is an ease as well as a finesse to assembling a beautifully composed salad. I wonder what my father-in-law would have thought of our lobster version? I like to think that he would have wholeheartedly approved.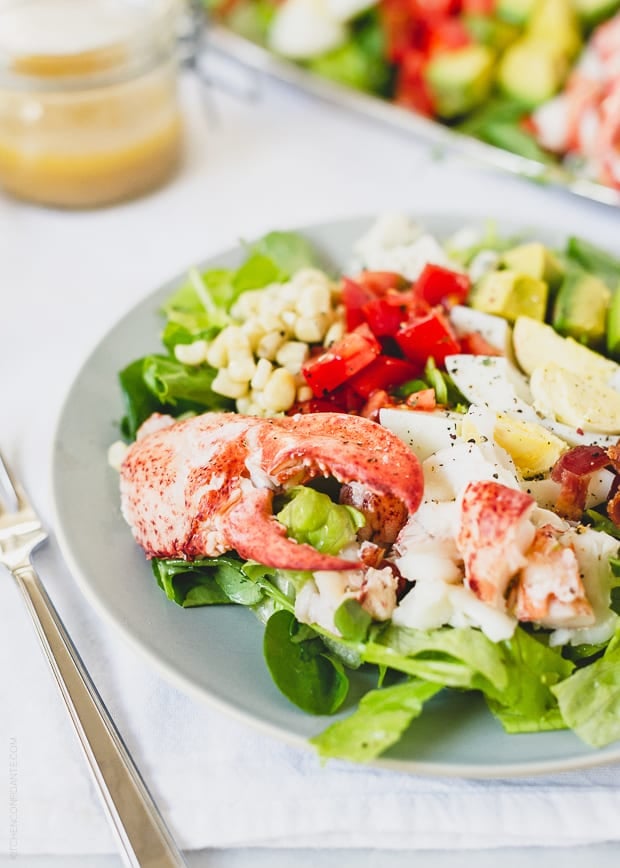 Still Craving Lobster?
Grilled Chimichurri Lobster and Chimichurri Potato Salad
Lobster Corn Chowder

More Salads with a Fun Twist!
Artichoke Salad with Fried Mozzarella
Kale Persimmon Salad
Chickpea Salad Sandwich with Feta
Avocado Cucumber Salad
Lobster Cobb Salad
This is a classic with an elegant twist. But don't be frightened – lobster prices have been fairly reasonable lately, and if its a matter of cooking the lobster, well, you can always buy it already cooked.
Ingredients
For the dressing:
1/4

cup

extra-virgin olive oil

2

tablespoons

sherry vinegar

1

tablespoon

lemon juice

1

teaspoon

Dijon mustard

1

teaspoon

Worcestershire sauce

1

teaspoon

blue cheese

1

clove

garlic

minced

1

teaspoon

Kosher salt

to taste

1/4

teaspoon

freshly ground black pepper

to taste
For the salad:
1

head romaine lettuce

chopped

1

bunch watercress

some of the stems trimmed, chopped

6

oz

cooked lobster meat

chopped (see notes below)

2

oz.

blue cheese

crumbled (I used Point Reyes Original Blue.)

6

strips cooked bacon

roughly chopped

3

hard-boiled eggs

peeled and diced

2

medium tomatoes

seeded and diced

1

avocado

peeled, pitted, and cut into ½" cubes

1

cup

cooked corn kernels

Kosher salt

to taste

black pepper, freshly ground

to taste
Instructions
For the Dressing: Combine the olive oil, vinegar, lemon juice, Dijon mustard, Worcestershire sauce, blue cheese, garlic, salt and pepper in a blender. Blend until creamy.

Optionally, this can also be done with a whisk.

Store in an airtight container in the refrigerator until ready to use. This can be done a few days in advance – the flavors do improve with time. Be sure to whisk before using.

For the Salad: Boil the lobster, then chop.

Toss the romaine lettuce and watercress in a large bowl with a few tablespoons of dressing.

Arrange on a platter and top with the lobster, blue cheese, bacon, eggs, tomatoes, avocado and corn.

Season to taste with salt and pepper. Serve immediately.
Notes
Inspired by the Lobster Cobb Salad served at the Ritz Carlton, Marina del Ray, California and adapted from Cobb Salad, Saveur (July, 2012), originally from The Los Angeles Times California Cookbook (Plume, 1981) and Cobb Salad by Ellie Krieger, Healthy Appetite with Ellie Krieger via Food Network..
Nutrition
Calories:
454
kcal
|
Carbohydrates:
17
g
|
Protein:
22
g
|
Fat:
34
g
|
Saturated Fat:
9
g
|
Polyunsaturated Fat:
4
g
|
Monounsaturated Fat:
20
g
|
Trans Fat:
0.02
g
|
Cholesterol:
217
mg
|
Sodium:
1365
mg
|
Potassium:
749
mg
|
Fiber:
5
g
|
Sugar:
5
g
|
Vitamin A:
1621
IU
|
Vitamin C:
18
mg
|
Calcium:
155
mg
|
Iron:
2
mg