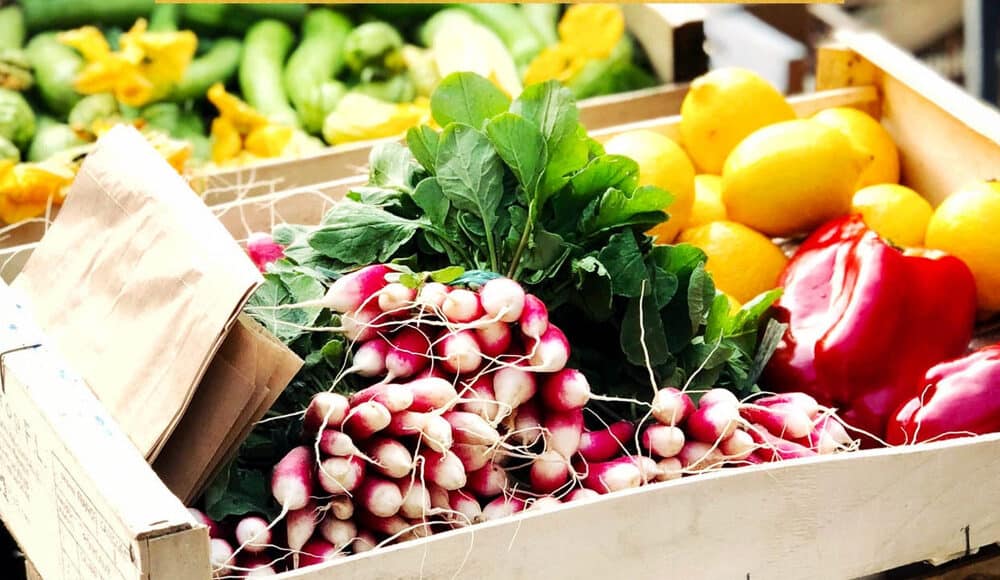 Nice Travel Guide: A Taste of The French Riviera (The Côte d'Azur)
Planning a trip to Nice, France? Join me for our family's picks on places to eat, sleep and visit while in The French Riviera in this Nice Travel Guide.
Nice Travel Guide: A Taste of The French Riviera (The Côte d'Azur)
Planning a trip to Nice, France? Join me for our family's picks on where to eat, places to visit, and tips while vacationing in The French Riviera in this Nice Travel Guide.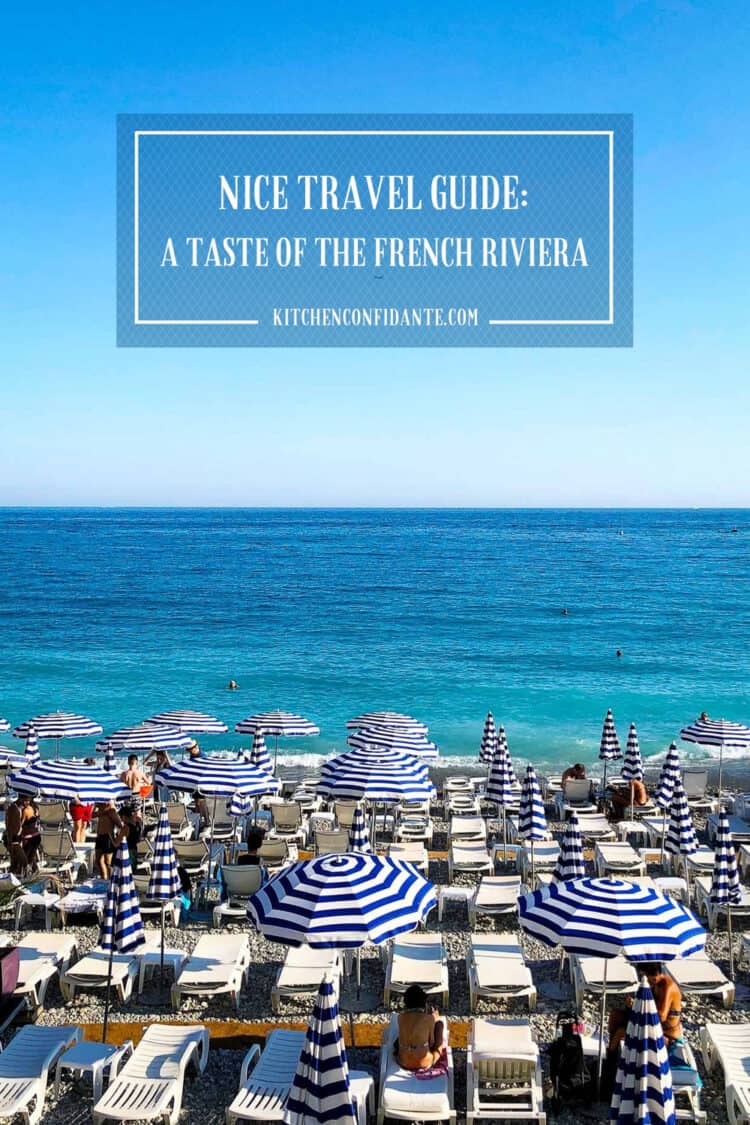 The shining blue waves of the Mediterranean Sea, golden light bouncing off pastel walls in the alleys of the Old Town, the sweetest and most delicious fruits and vegetables at the morning market, late evening suppers eaten al fresco, and a rich history with Italian subtitles — there is so much to fall in love with in the French Riviera town of Nice along the Côte d'Azur!
We spent some time last summer exploring the south of France and found Nice to be a perfect home base for our adventures. From the moment you step off the high-speed train from Paris, you feel as though you are no longer in France, as it enjoys its own distinct character, flavored by its rich Italian history blending into the colorful French city. Between the very Italian architecture, ample pizza, pasta, and gelato, not to mention expresso (indeed, spelled with an x) – Nice is the perfect marriage of sunny, relaxed Italian heritage and the elegance and sensibility of France.
None of this comes as a surprise when you consider that Nice was actually an Italian city that was annexed to France in the mid-1800s during the Italian Wars of Independence. What resulted is this unique town, where it is easy to fall into a leisurely pace and truly relax.
Nice Travel Guide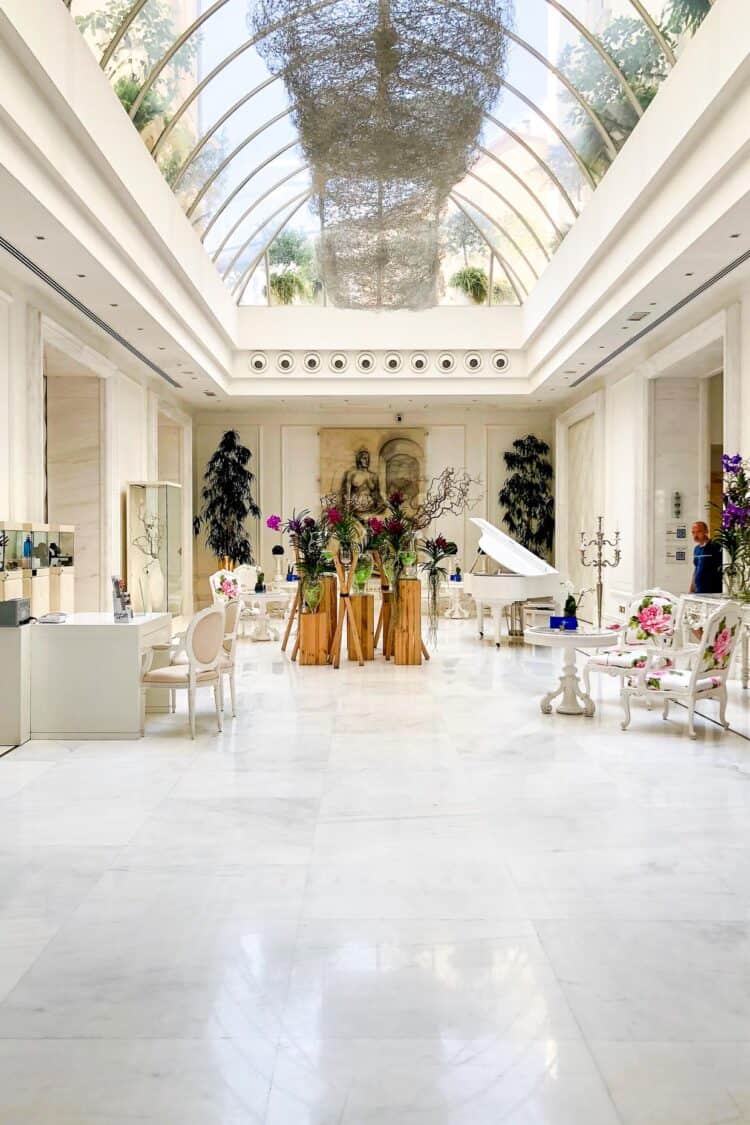 Stay
We stayed at the Boscolo Exedra Nice, part of the Autograph Collection. What I loved most about this boutique hotel was its location. Walking distance to the train station for day trips, and a short walk to the Promenade des Anglais and Old Town, it was right in the center of everything we wanted to walk to, without having to hop on the trolley. It has both an indoor and outdoor pool, and a splash in the indoor pool along with a relaxing stop at the spa was the perfect respite from the hot summer sun after a morning of exploring, before getting ready for a leisurely late dinner.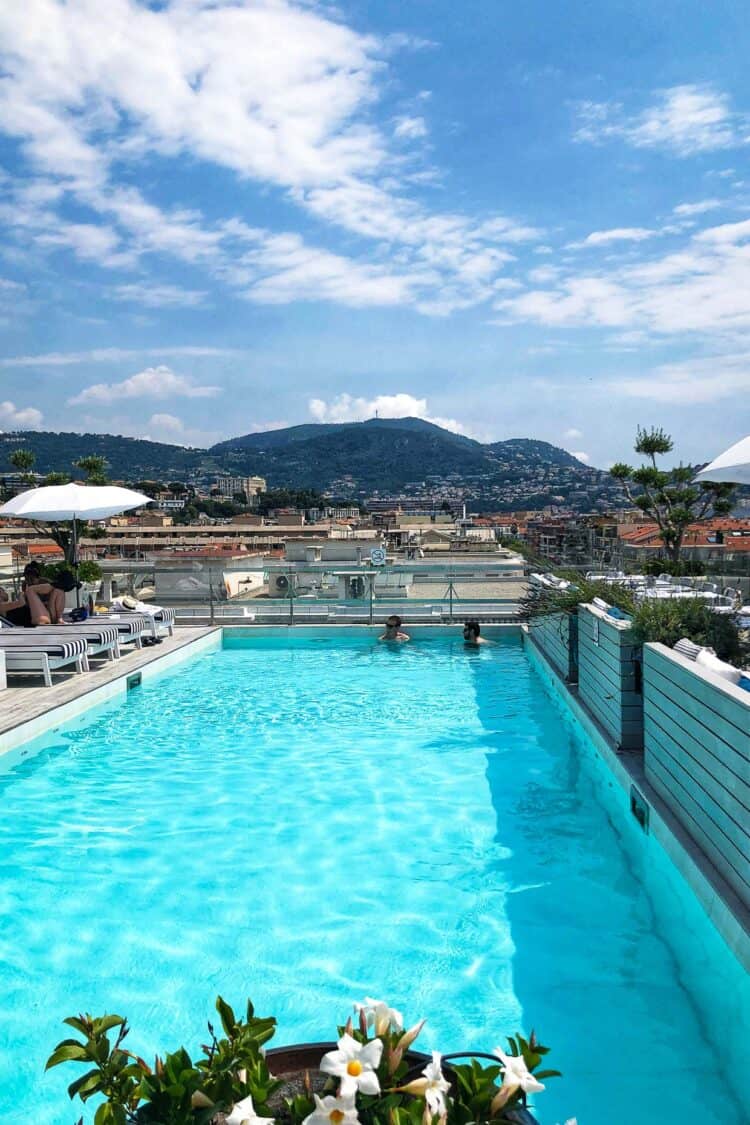 Overall, it was a comfortable stay, with large, airy rooms and gorgeous architecture, but I do feel as though the staff can work a little harder when it comes to the level of service you expect from similarly classed hotels. Its prime location still makes it one of my top choices if I ever return. A new underground tram line is scheduled to open June 2019 in front of the hotel, and once that is open, it will make this an even more desirable location to stay.

Eat & Drink
If your time in Nice is short, then the one place you should go to is Le Cours Saleya, for the market. Eat your way through each stall. Filling up on the fruits, vegetables, and olives will feel like enough, but you can also get other delicious bites.
Try Pissaladiere, the Nicoise thin crust pizza with caramelized onion, anchovies and olives.
Pizza, in general, is a must, after all, remember Nice's Italian heritage! Try a slice at Les Amoureaux. (6 Boulevard Stalingrad)
For more Italian food, Acchiardo is a must (absolutely homey and exquisite – plan on it and make a reservation). (38 Rue Droite)
Socca is a must-try while in Nice. These thin chickpea crêpes are a staple and the ideal street food. Try them at Chez Pippo (13 Rue Bavastro) or Socca d'Or (45 Rue Bonaparte).
Gelatto abounds and with so many different flavors, you'll never run out of new ones to try while you're in Nice. Go to Fennochio Gelato (2 Place Rosettie) for a scoop! Also try Gelateria Azzurro (1 Rue Sainte-Reparate) with one of their homemade waffle cones.
Looking for brunch? Maison Mariass 1901 (9 Rue d'Italie) was a favorite. This tiny, charming neighborhood restaurant with its simple menu serves up incredible omelettes, freshly squeezed orange juice, croissants, and excellent coffee.
Head to Chez Juliette (1 Rue Rossetti) for a late dinner and sit outdoors as you enjoy classic French favorites. Leave room for the poached pear with chocolate sauce.
If you're looking for a fitting dinner to say farewell to Nice, we loved Le Comptoir du Marché (8 rue du Marché). So charming, and the food is perfectly done. Truly a must.
More restaurants that came highly recommended include:
La Table Alzieri Nicois
Au Rendez Vous des Amis
Alto Resto
Le Local – Italian
Oliviiera
La Merand
Le Bistro Antoine
Peixes – for fish tapas
And if you are craving more sweets and are tired of gelato, indulge at Pâtisseries Lac (12 Rue de la Préfecture, multiple locations) and Deli Bo (5 Rue Bonaparte)!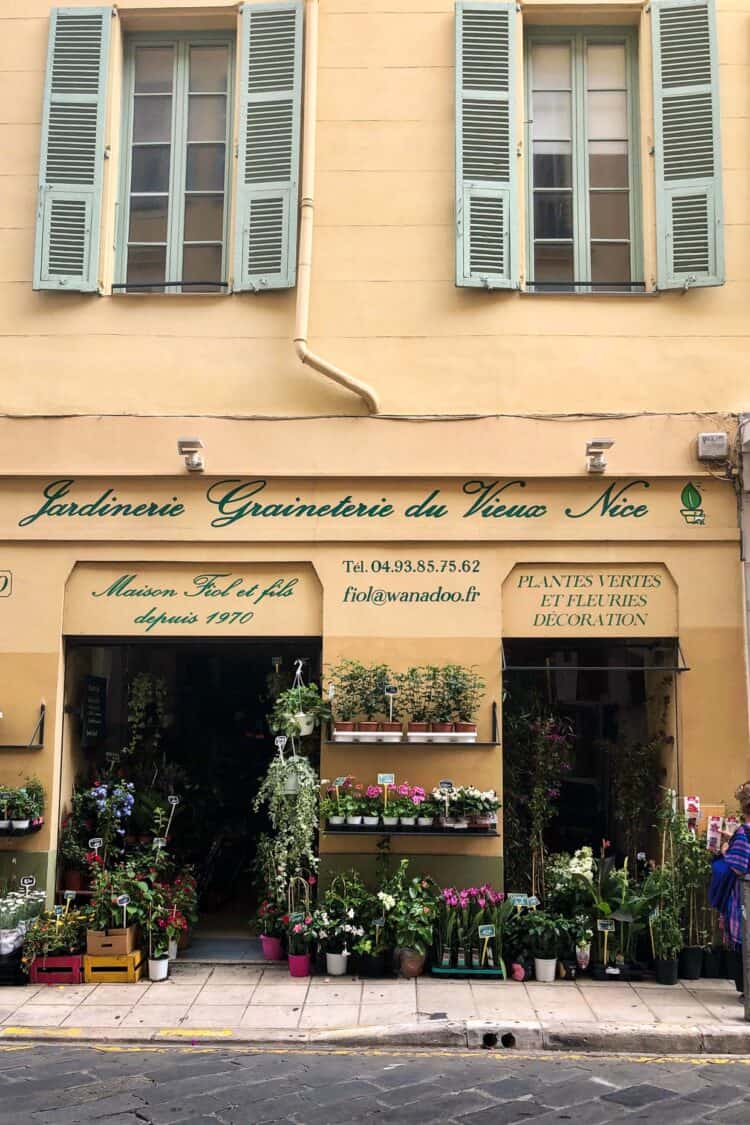 See & Do
Wander the Marché aux Fleurs Le Cours Saleya in the heart of Old Town and immerse yourself in one of the loveliest flower and produce markets France has to offer! From sweet lavender to fresh figs, olives and spices to fragrant olive oil, there is so much to taste and see. It was our favorite place to have breakfast or lunch, with stands selling fresh crepes, pissaladière, and socca. Stock up on fruits and olives to snack on during the day.
In the evening, Le Cours Saleya transforms into a crafts market, a lovely place to find souvenirs. Wander the winding streets and settle in for a late dinner at one of the delicious restaurants in the Old Town. This part of Nice is especially lovely at night.
Stroll along the Promenade des Anglais. Stop into the historic and art-filled Hotel Negresco for a drink or simply to soak in the art.
Walk up to Castle Hill for a birds-eye view of Nice.
Explore the shops along Avenue Jean Médecin and find yourself at Place Massena, the heart of Nice, right on the edge of Old Town. The Fontaine du Soleil is a good meeting point for friends and family.
Art lovers won't want to miss Musée National Marc Chagall.
Day Trips from Nice
Nice's central location makes it the perfect home base for day trips to explore the French Riviera.
Take a side trip to the medieval city of Éze in Provence-Alpes-Cote D'Azur. Go early, especially in the summer — one, to beat the heat, but more importantly, to beat the crowds that will arrive from the cruise ships.
After exploring Éze, head to nearby Monaco for a touch of glamour. Splurge on lunch at Café de Paris Monte-Carlo.
Visit the picturesque Cannes, Antibes, and Saint-Tropez and explore the luxurious side of the French Riviera.
Other towns to visit: Menton along the French and Italian border, Villefranch sur Mer, and Aix-en-Provence.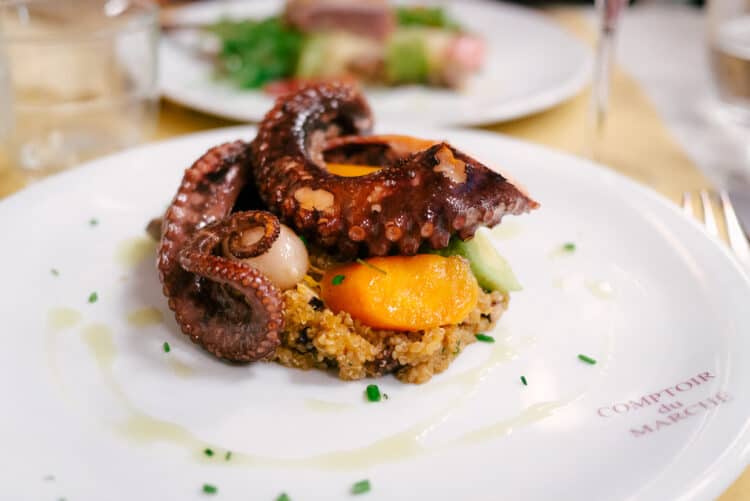 MORE FAMILY TRAVEL GUIDES
New York Travel Guide: A Taste of Midtown
Paris Travel Guide: A Taste of The City of Lights
A Taste of London: A Family Travel Guide
A Taste of Hong Kong: A Family Travel Guide
A Taste Of Cruising the Mexican Riviera: Travel with Princess Cruises
A Taste of Deer Valley, Utah: A Family Ski Travel Guide