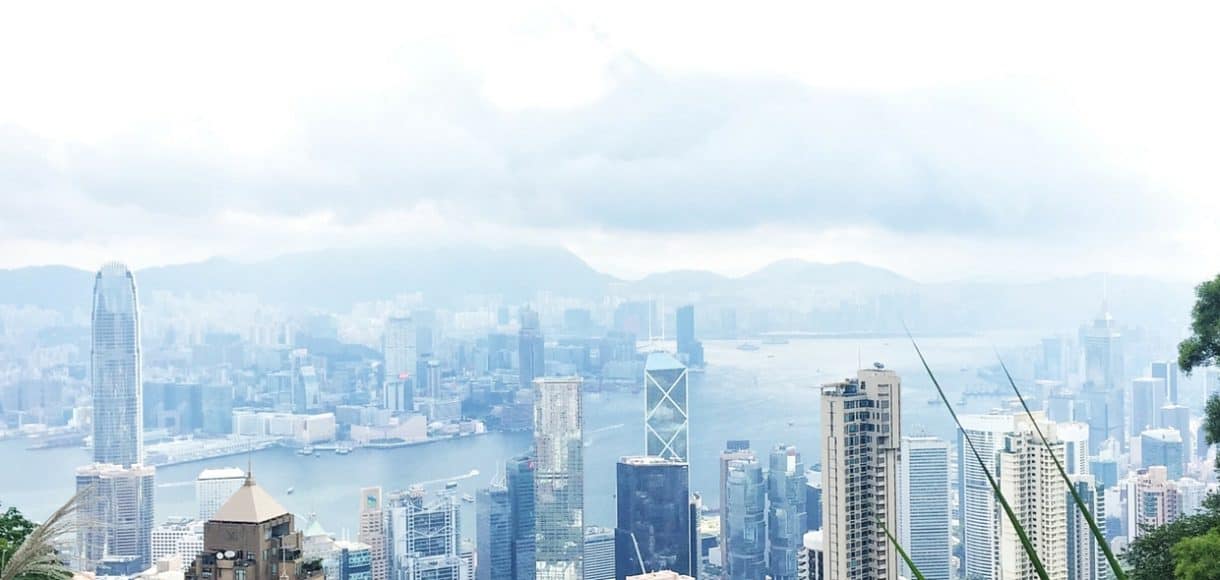 A Taste of Hong Kong: A Family Travel Guide
We absolutely loved traveling to Hong Kong as a family. We got to experience so much – food, activities, shopping, experiences… we loved everything we packed into our trip. I created this Hong Kong travel guide to help you start to plan your own adventure!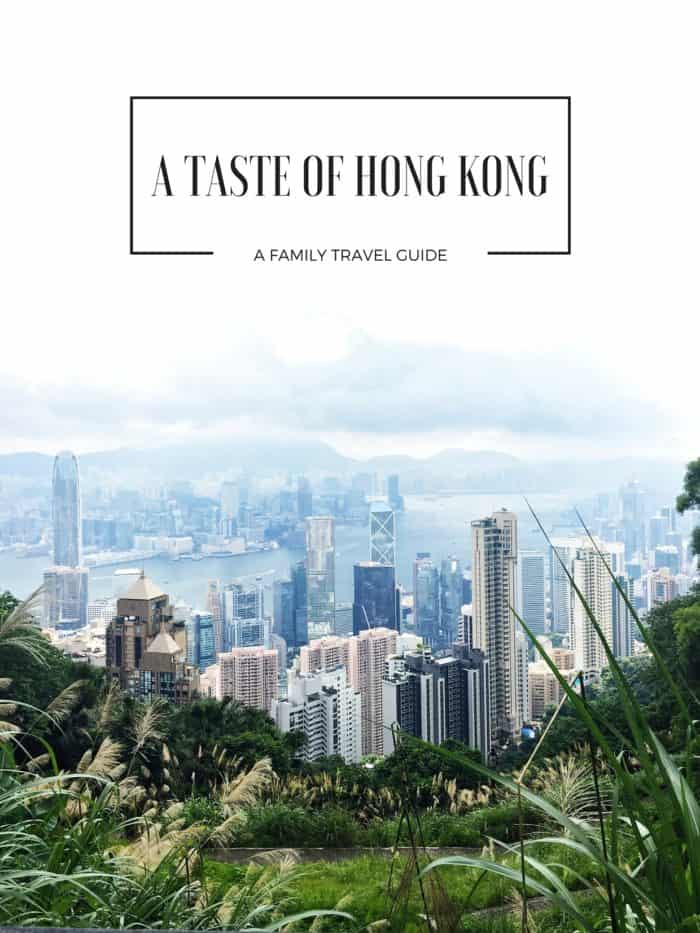 A Taste of Hong Kong: A Family Travel Guide
Planning a trip to Hong Kong? Enjoy this Hong Kong Travel Guide for our family's picks of places to savor, stay and play in Asia's World City!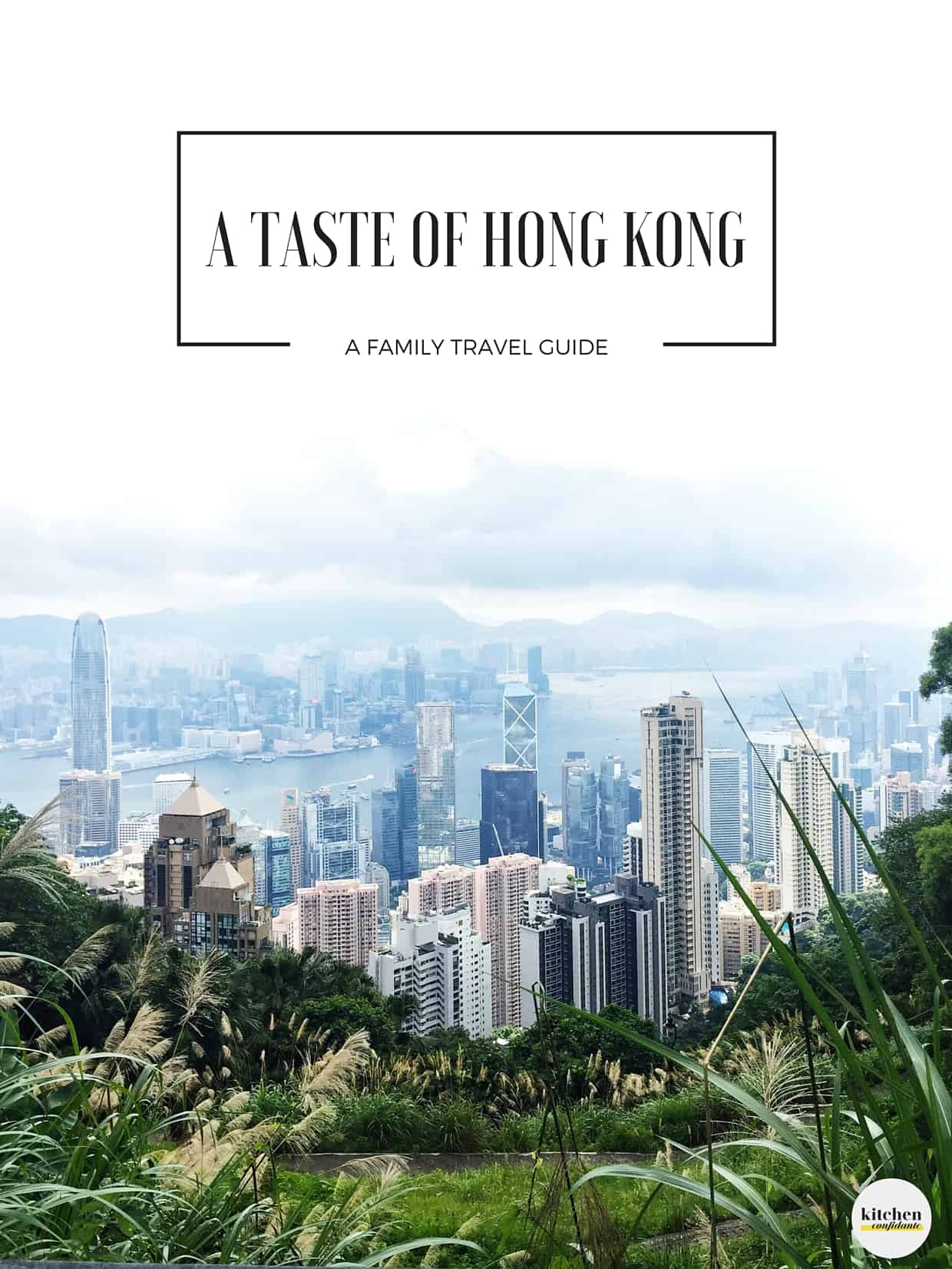 Hong Kong as a Destination for Families
When friends and family ask us where our summer plans took us this year, I get the feeling that most are surprised when we tell them Hong Kong. Part of this might be due to the fact that over the years, we've often craved beach resort destinations, but perhaps more likely is the fact that a lot of people don't think of Hong Kong as a family destination.
To the first point, it is true that when the children were smaller, it was far easier to vacation in a place where we could essentially stay put. Beaches and pools seemed far more attractive than carrying diaper bags and car seats all over a new, exploration-worthy city. Our children are getting older now, and for us, it was time to introduce them to the world of long-haul flights and the sights and sounds of a different culture.
And although most people associate Hong Kong with the fast-paced world of business, what made Hong Kong especially enticing to us, even in the hottest of summer months, is that it is a perfect introduction to China — it's like dipping a toe into the larger pool. There's an energy and metropolitan feel similar to New York City, which the kids love, while having the island climate and feel of Honolulu, but on a grander scale. With Hong Kong's history of British rule, there would be many Western influences. And, perhaps most importantly, there were dumplings.
The food. This is what enticed the kids (and us!) the most. My daughter, in particular, insisted that during our trip she would eat nothing but dumplings. With that as her motivation, we were quite content to make that happen.
Our Hong Kong travel guide was designed with our family in mind. We had to strike a balance between the things my husband wanted to see and do, all the food I wanted to taste, and all the activities the kids would find appealing. We traveled to Hong Kong for about 10 days, with a side trip to Macau, which I will share with you in a later post (stay tuned). I think we did a fairly good job of making sure we found a balance between kid activities and grown-up ones. If anything, there was never a shortage of attractions, and there wasn't quite enough time to visit everything on our lists. I suppose this simply means we must return again. In short, Hong Kong proved to be an ideal family vacation, and we can not recommend it enough.
If you plan to travel to Hong Kong with your family, this Hong Kong travel guide will help you to consider the following places to stay, savor, and play!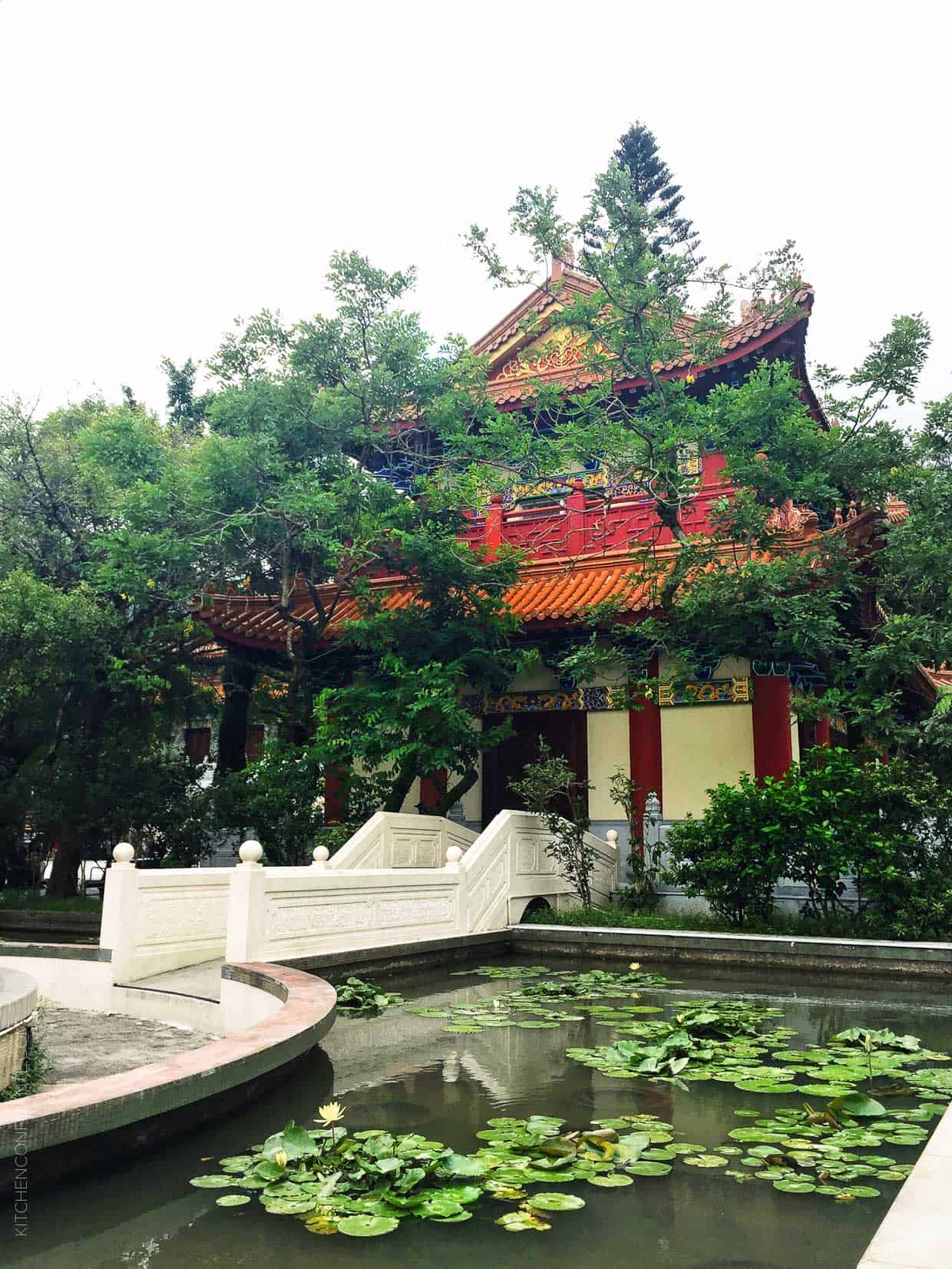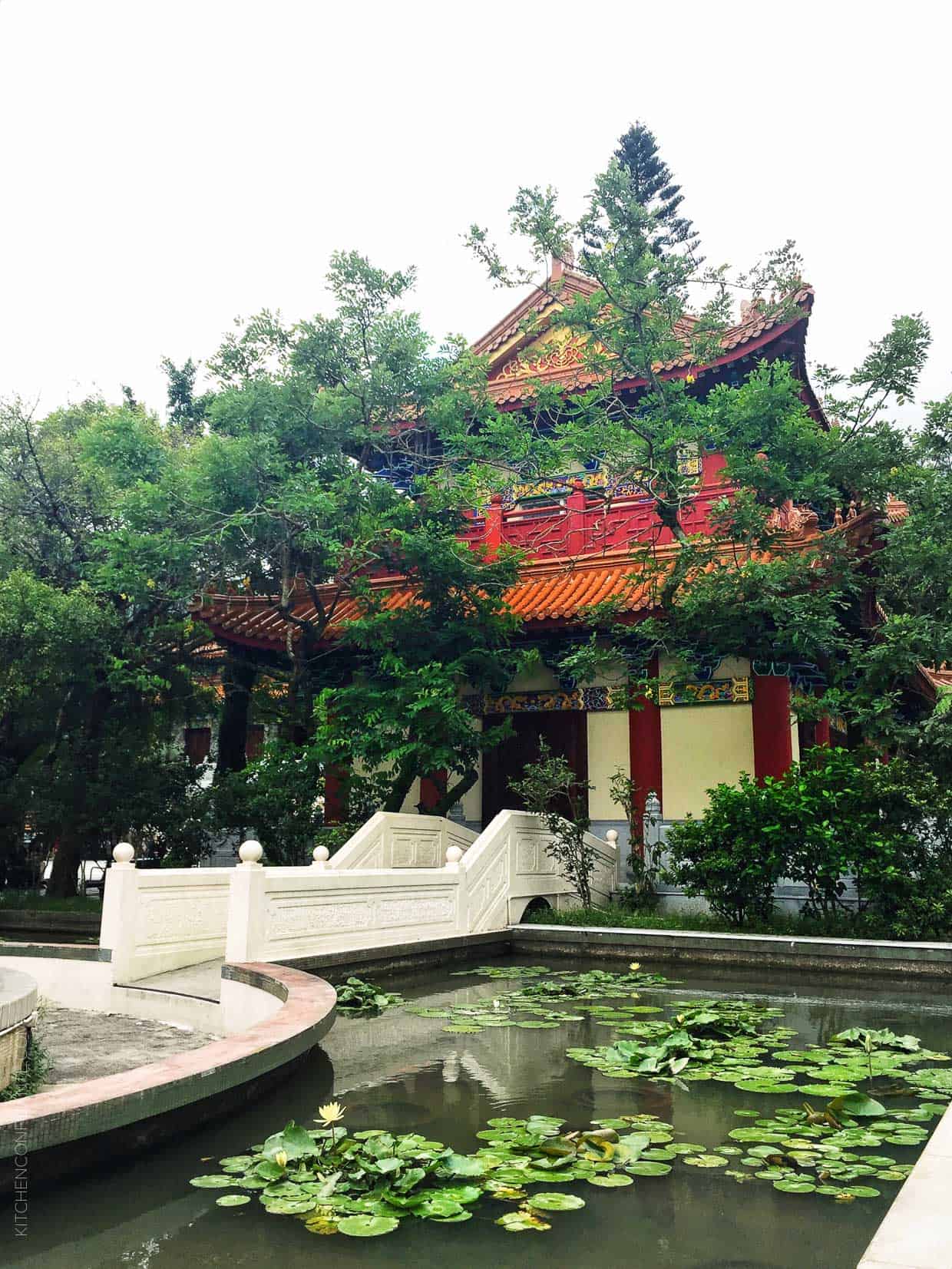 Want to Skip Ahead?
Where to Stay
Where to Eat
What to Do
Hong Kong Travel Guide Tips
Hong Kong Travel Guide: STAY: Where to Stay
Traveling as a family of four, we have come to value certain things when it comes to selecting a place to stay. I personally prefer staying in a hotel when we travel. Although we also love staying in apartments/homes for other types of trips, for me, vacation means not having to cook or clean, and having the convenience to order room service when we are tuckered out from exploring. Besides, being in another country, I want to taste everything I can. That means finding inspiration in local foods rather than cooking for myself. Convenient location and space are also critical!
Hong Kong is not lacking in a plethora of accommodations – we considered all of them for our Hong Kong travel guide, from spacious apartments to a wide range of hotels in all the neighborhoods. We decided that the Ritz-Carlton, Hong Kong suited our needs best. Located in Kowloon, the Ritz-Carlton, Hong Kong occupies the top floors (floors 103-118) of the International Commerce Center (ICC). This gives its occupants an unparalleled view of Victoria Harbour and the city of Hong Kong. With so many attractions touting views of the city, quite honestly, there was nothing better than actually sleeping and waking up to an amazing view from the world's highest hotel!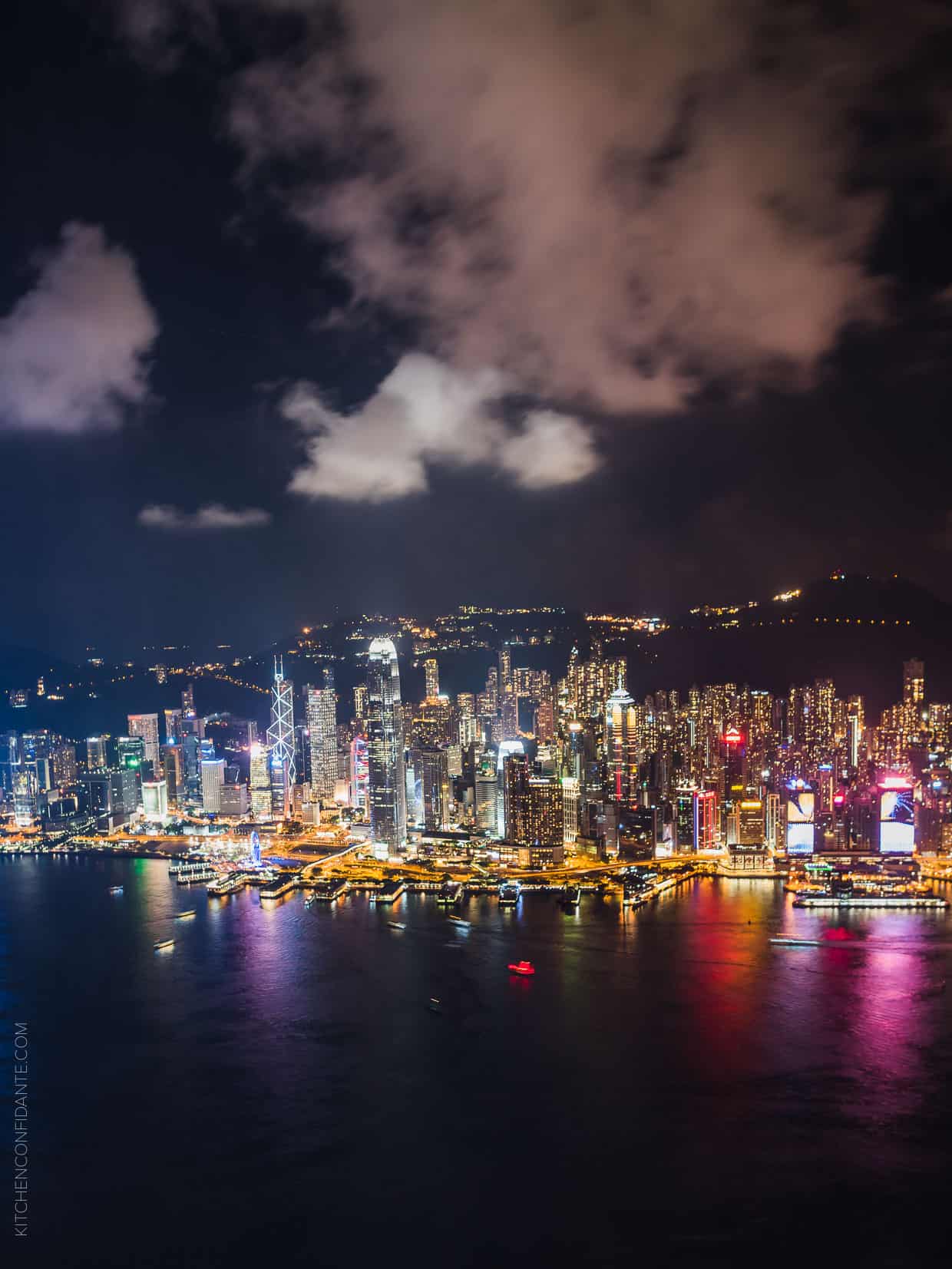 We found that the hotel was extremely convenient with its proximity (just downstairs) to the MTR subway (more tips below) and all the sites Hong Kong has to offer. Even getting to and from the airport is simple. The MTR Airport Express stop is just downstairs and a few escalator rides away. If shopping is your thing, the hotel sits atop Elements Shopping Mall, which has a plethora of shops and restaurants (even an ice rink!), just in case you forget your selfie stick or designer handbag.
Arriving at night, we were greeted by sparkling skyline views from our Grand Victoria Harbour Room and found that it had enough space to accommodate a wonderful surprise for our son: a cozy tent! He was in glamping bliss – imagine sleeping in a tent on the 113th floor!? Other children's amenities – from smaller robes and slippers to colorful toothbrushes and drawings on the tub – made both of them feel extra special.
Aside from the views, what truly made the hotel stand out was the impeccable service. Even by Ritz-Carlton standards, my husband and I agree that what makes the Hong Kong property special are the people who work there. In particular, the staff at the Club Level Lounge, which is located on the 116th floor, were incredibly warm and welcoming. If you are a family (or even if you are not), we highly recommend staying in a room with access to the Club Level Lounge. There are six food presentations throughout the day – including breakfast, snacks, afternoon tea, hors d'oeuvres, and dessert. It is especially convenient when traveling with children and dealing with jet lag, not to mention everyone's various appetites. We also loved that if we were too tired to go out for dinner, we could order room service to be served at the Club Level Lounge.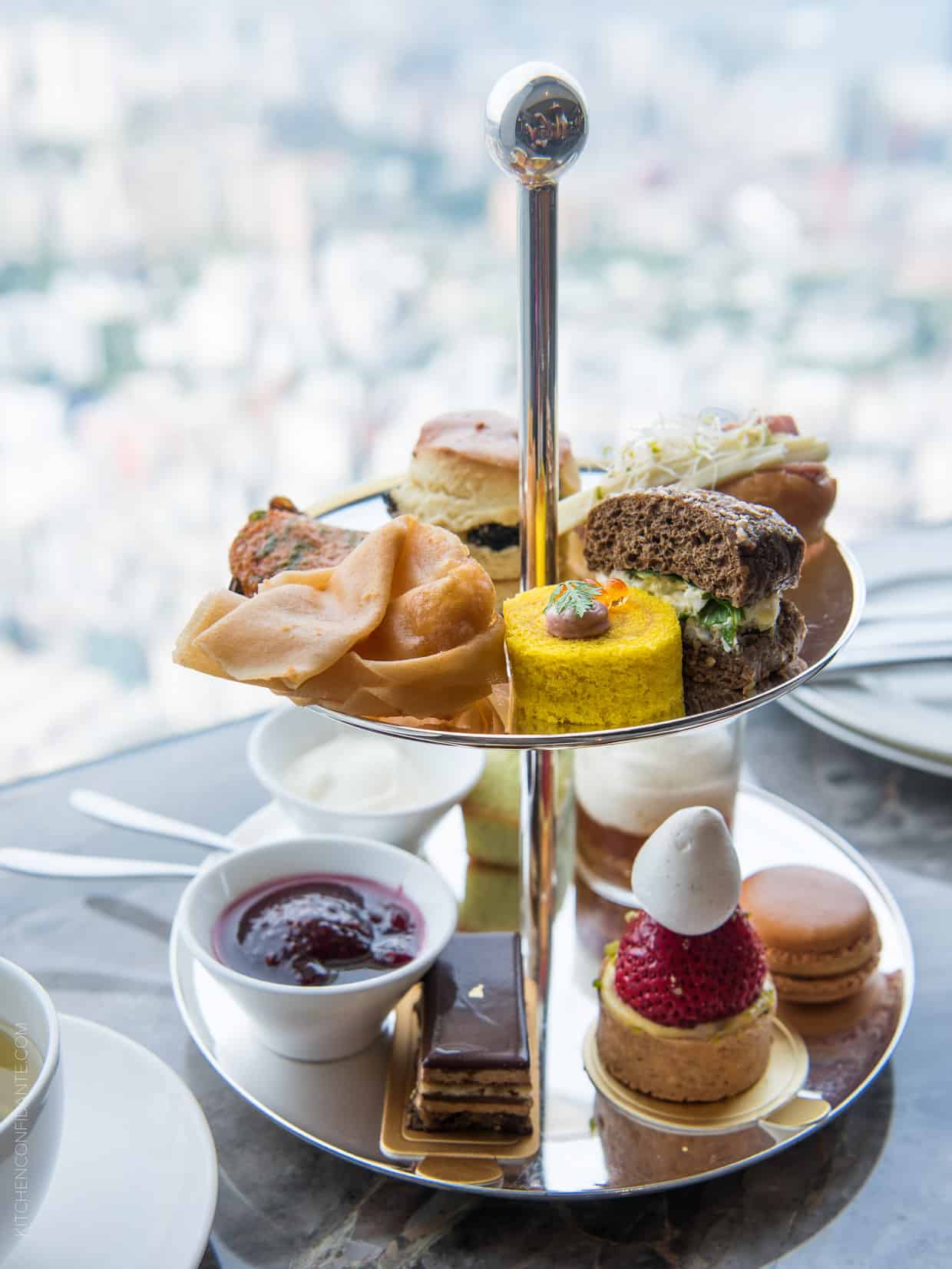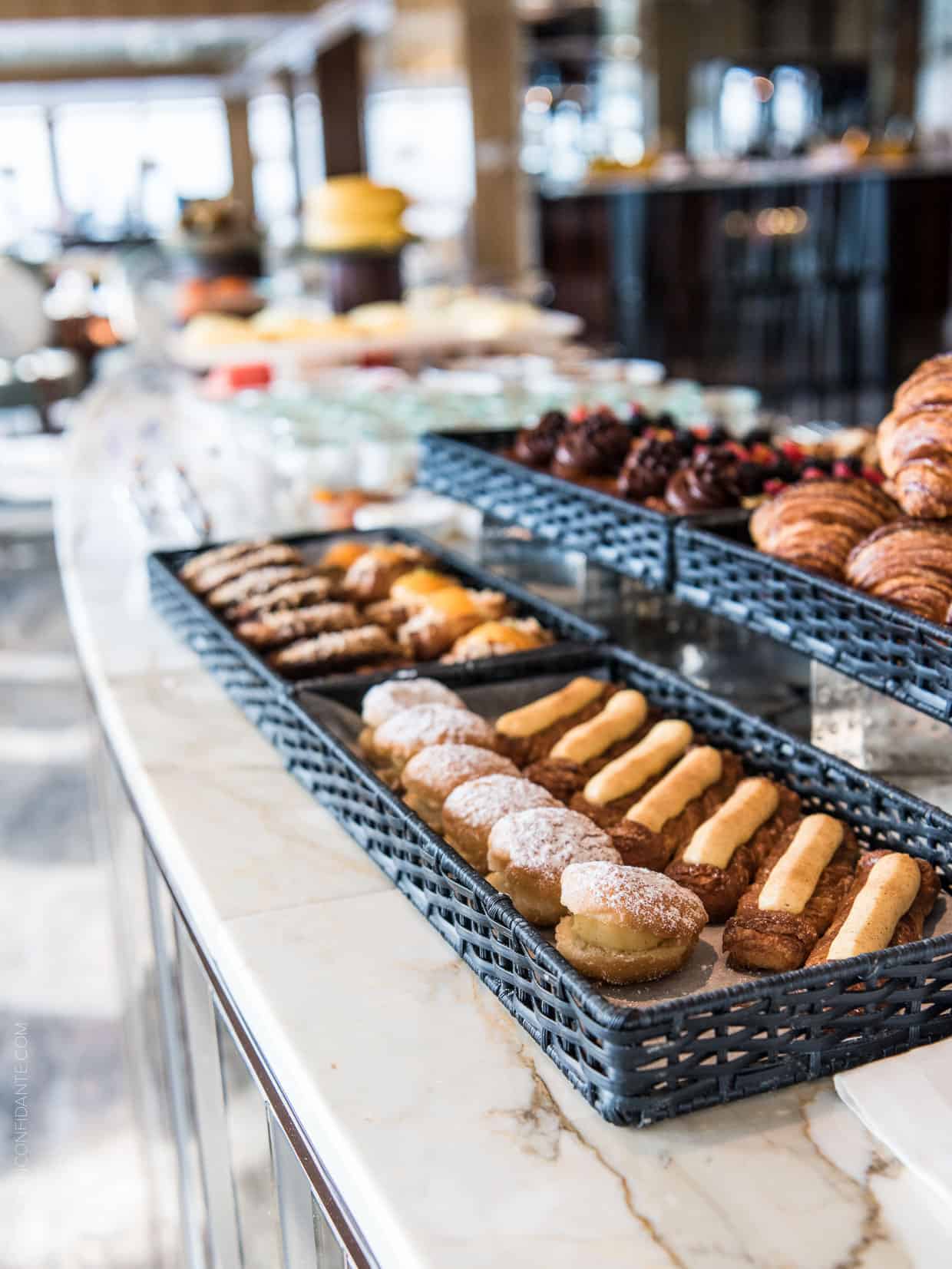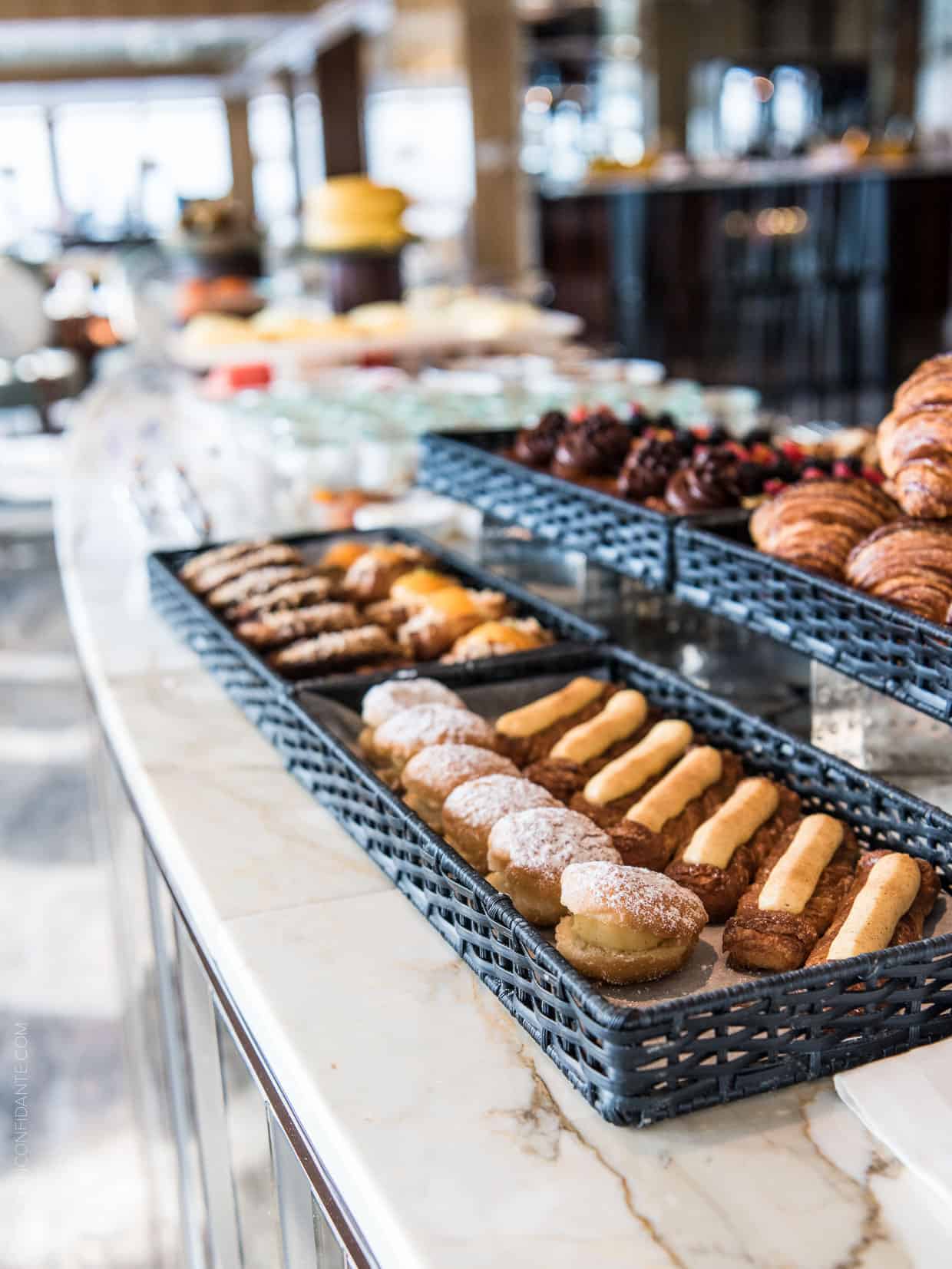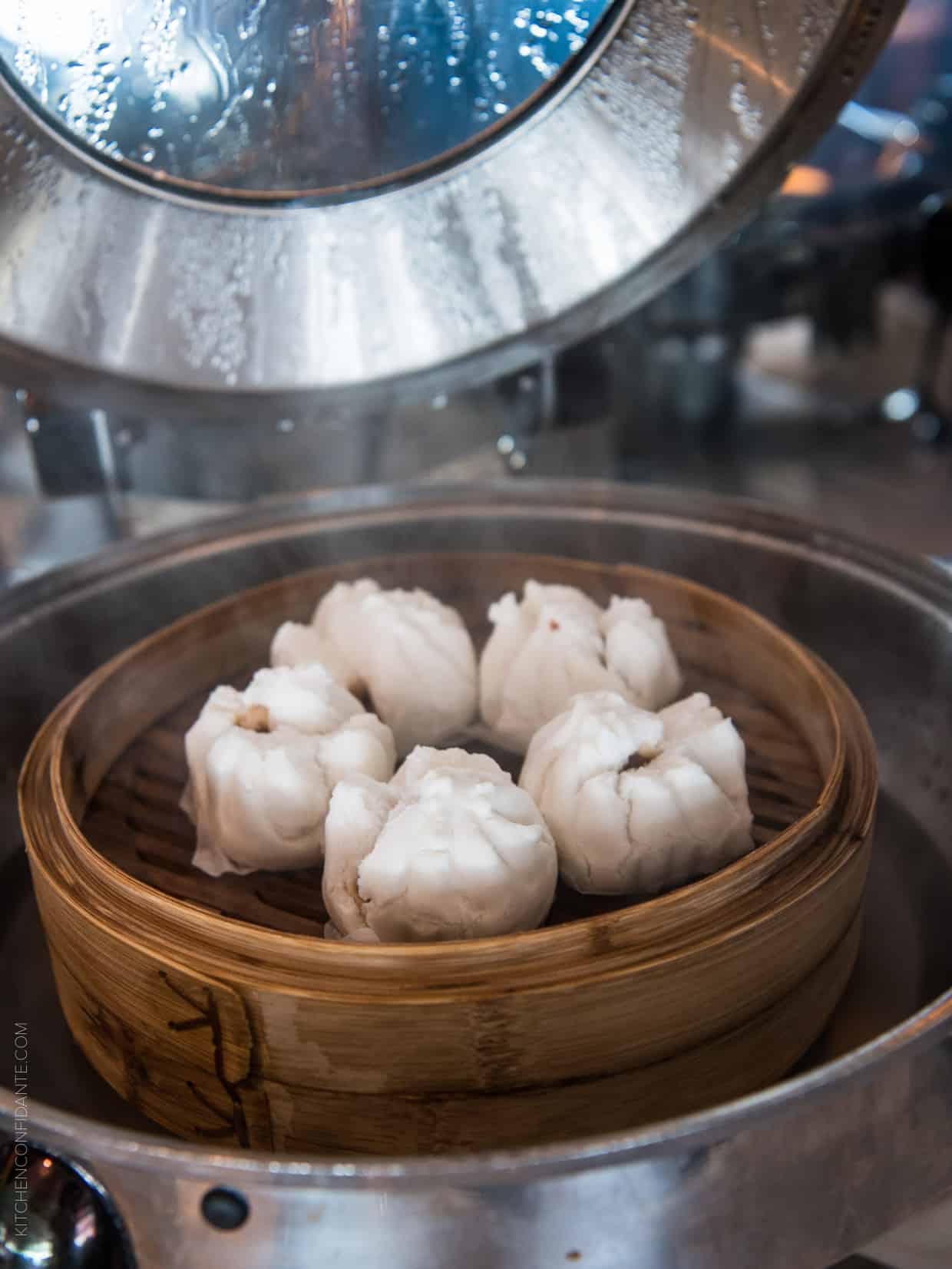 If you were to ask the kids their favorite part of the hotel, aside from the Club Level Lounge, perhaps the one thing better is swimming in the world's highest pool!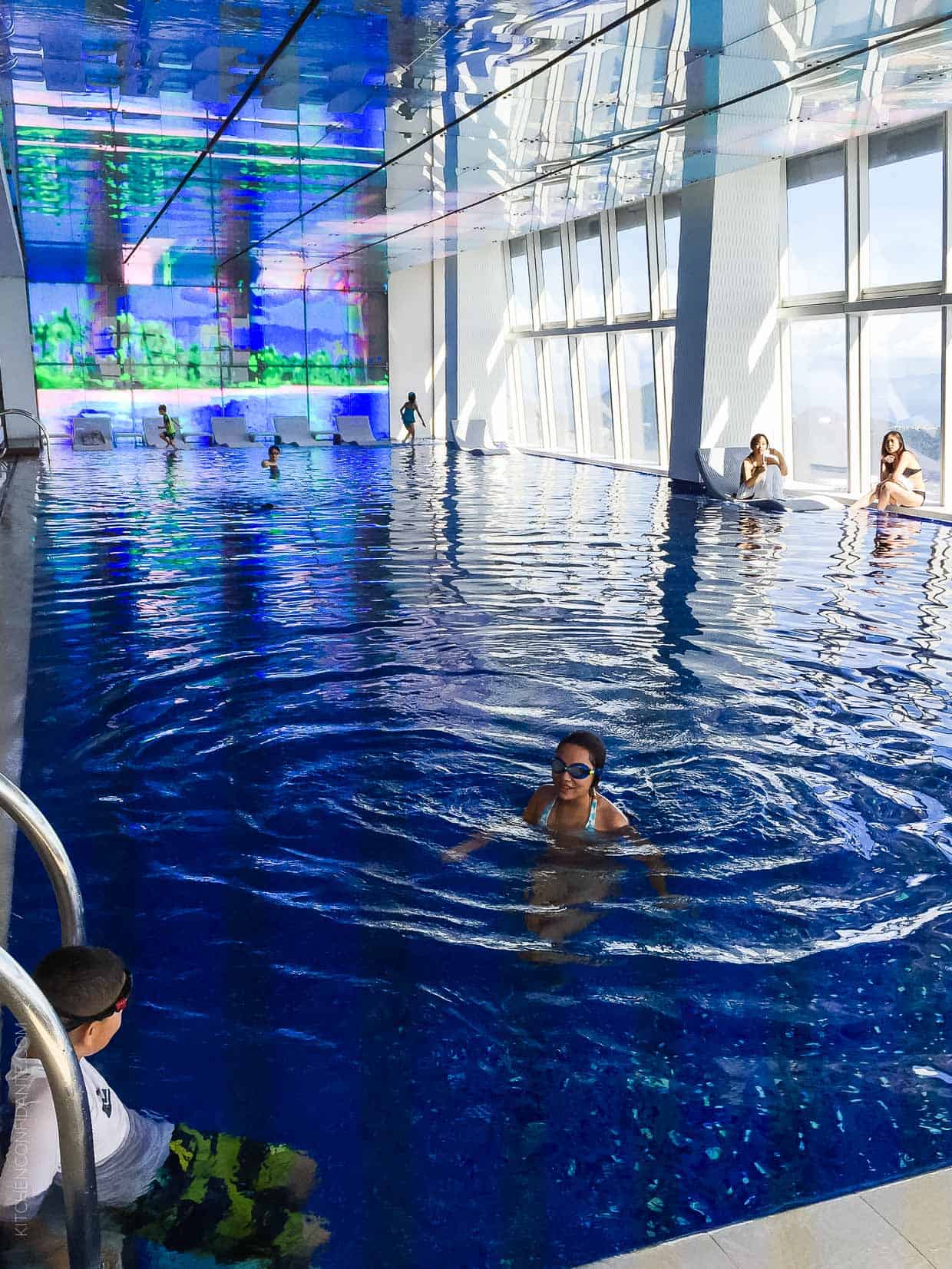 The hotel pool sits on the 118th floor, and after long days of walking in the humidity, the kids loved cooling off in the gorgeous pool with panoramic views.
We can not stress enough how much we enjoyed our stay and how the Ritz-Carlton, Hong Kong was perfectly suited to our family's travel needs. We all miss it, my son, especially, who keeps asking if we could move there. While we can't make those wishes come true, we certainly plan to return.
Ritz-Carlton, Hong Kong
International Commerce Centre
1 Austin Road West
Kowloon, Hong Kong
Hong Kong Travel Guide: SAVOR: Where to Eat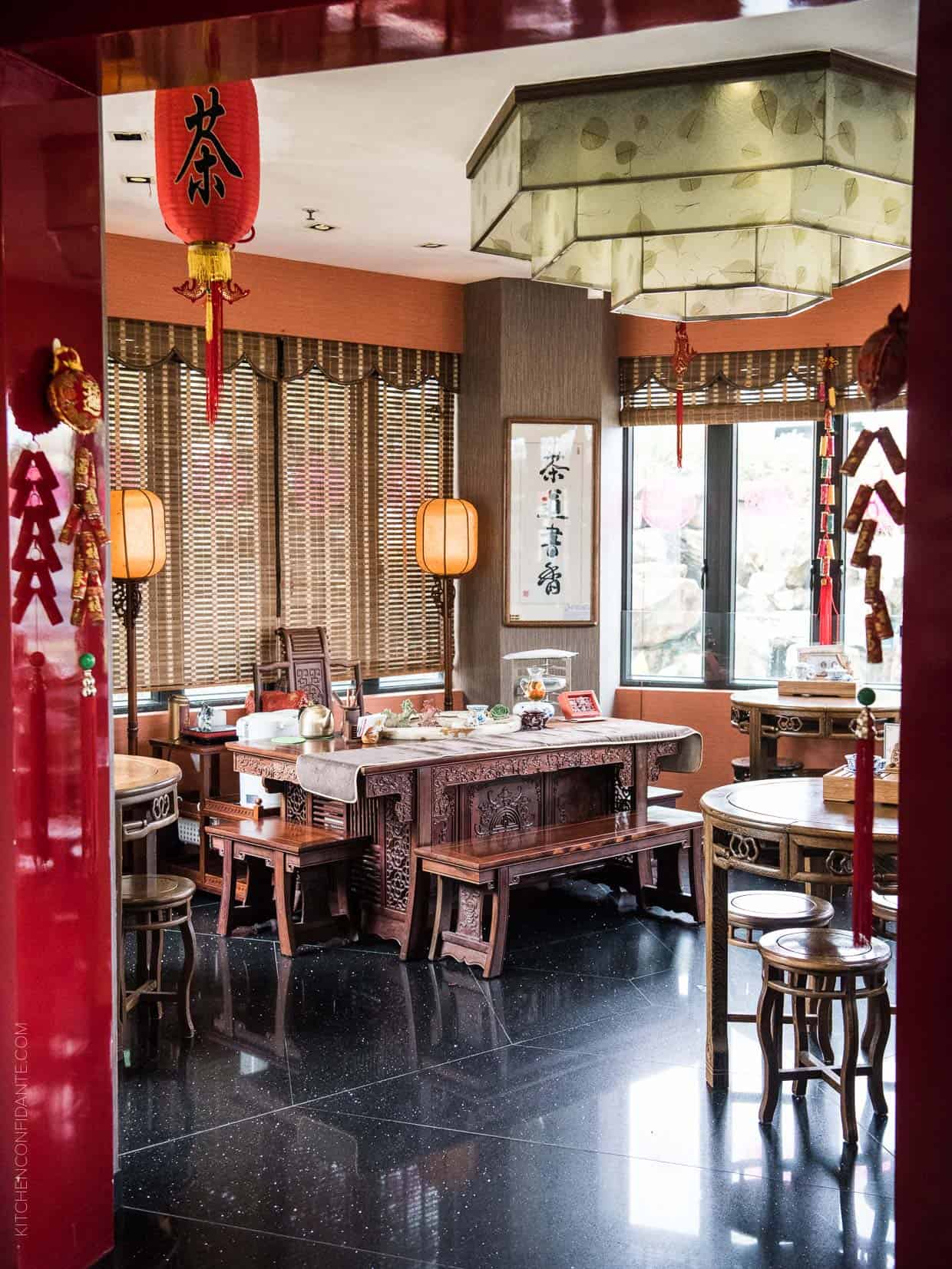 I have to admit that there was not nearly enough time to eat our way through Hong Kong properly! From cheap eats to Michelin-starred restaurants (and even cheap Michelin-starred restaurants!), Hong Kong has it all. For us, dim sum became a daily affair, and my dumpling and bun-loving kids' dim sum dreams came true.
For those of you who use Yelp or OpenTable, check out Hong Kong's version: OpenRice, for reviews/directions.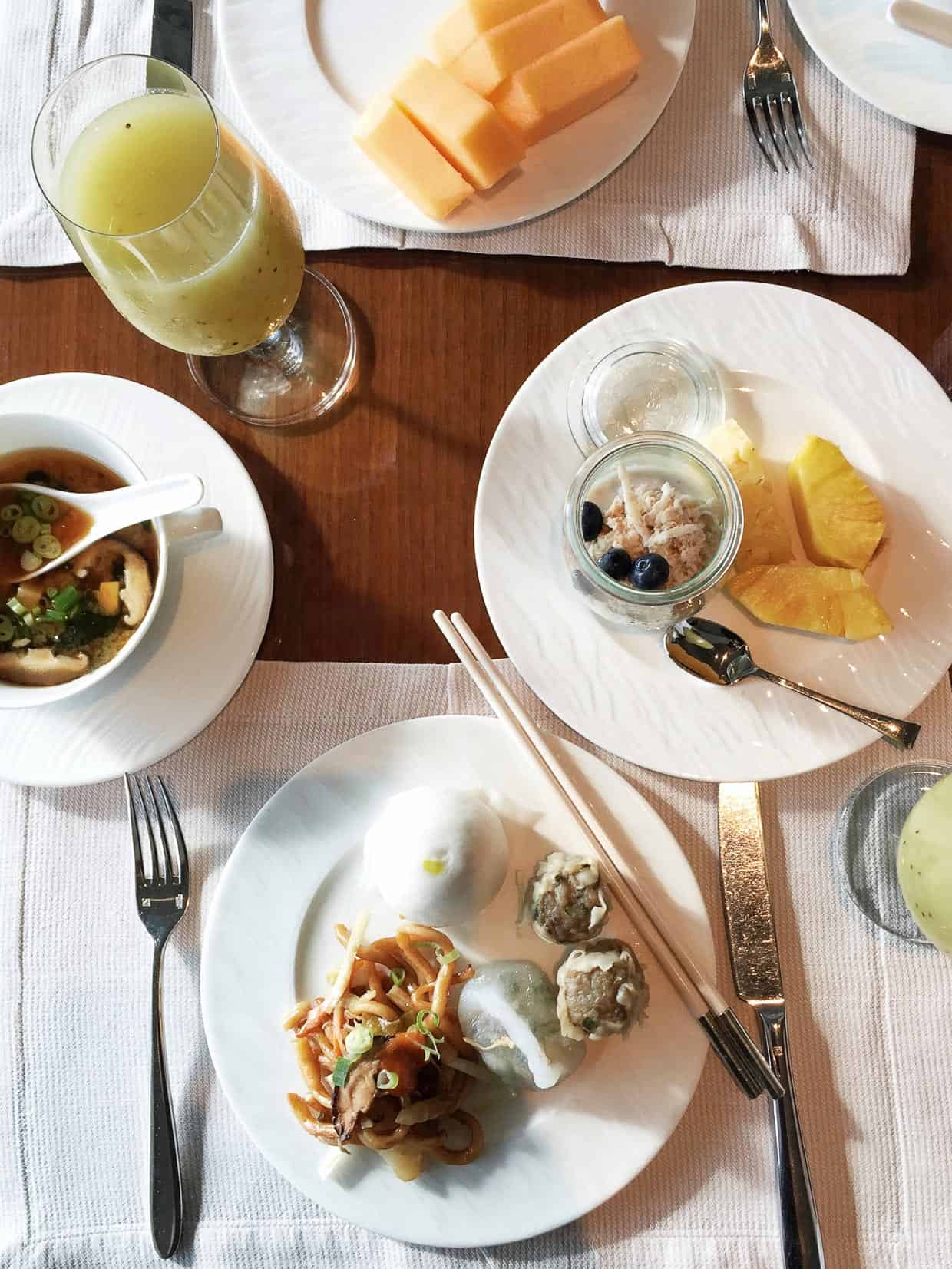 Recommended Spots
Here are some places to savor:
Tim Ho Wan (multiple locations)
Olympian City Location (easily accessible in Kowloon via MTR)
2 Hoi Ting Rd
Tai Kok Tsui, Kowloon
The world's most affordable Michelin-starred restaurant specializing in dim sum. They are most known for their baked BBQ pork buns, but locals admit that for dim sum, there are other even better places to try. Definitely go for the BBQ pork buns, which can even be taken to go.
Yum Cha
Central Location:
2/F, Nan Fung Place
173 Des Voeux
Central
Tsim Sha Tsui Location:
3/F, 20-22 Granville Road
Tsim Sha Tsui, Kowloon
Traditional as well as inventive dim sum that comes highly recommended by locals.
OZONE Bar
Elements, International Commerce Centre (ICC)
1 Austin Rd W
West Kowloon
Enjoy afternoon tea or a drink with stunning views at the Ritz-Carlton – at the highest bar in the world.
Hello Kitty Chinese Cuisine 中菜軒
Lee Loy Mansion
332-338 Canton Rd
Yau Ma Tei, Kowloon
Every little girl's dream come true! My daughter was in heaven, and I admit so was I. Even my husband and son had to admit it was pretty cute, and we all agree that the dim sum was surprisingly very good, too!
Mak's Noodle
77 Wellington St
Central
This Anthony Bourdain hole-in-the-wall favorite is a noodle shop famous for its wonton noodles.
Yat Lok
G/F, 34-38 Stanley Street
Central
Michelin-starred Hong-Kong style restaurant that specializes in Cantonese BBQ and homemade dumplings.
Chachawan
206 Hollywood Rd
Sheung Wan
Thai-inspired street food and cocktails serving Issan favorites.
Tai Cheong Bakery
(multiple locations)
Famous for their custardy egg tarts!
Tatsujin Ramen 拉麵達人
Shop 4, G/F, Haven Mansion
108 Woo Sung Street
Jordan, Yau Ma Tei
Kowloon
This very tiny hole-in-the-wall dishes out incredible bowls of brothy Japanese ramen.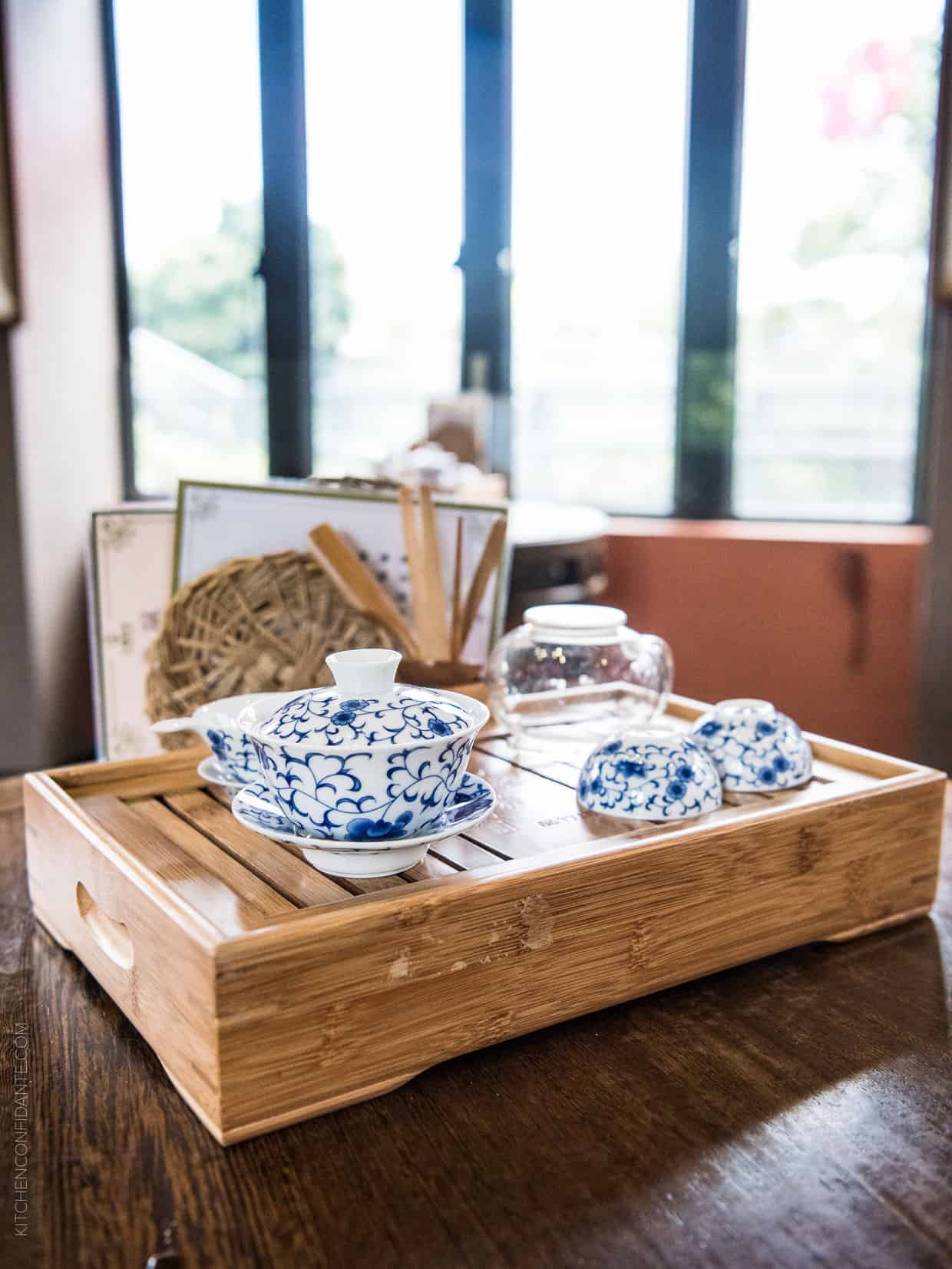 Hong Kong Travel Guide: PLAY: What to Do
Hong Kong offers so much for grown-ups and kids alike. You'll never run out of things to see and do. Here are some of our favorites.
Visit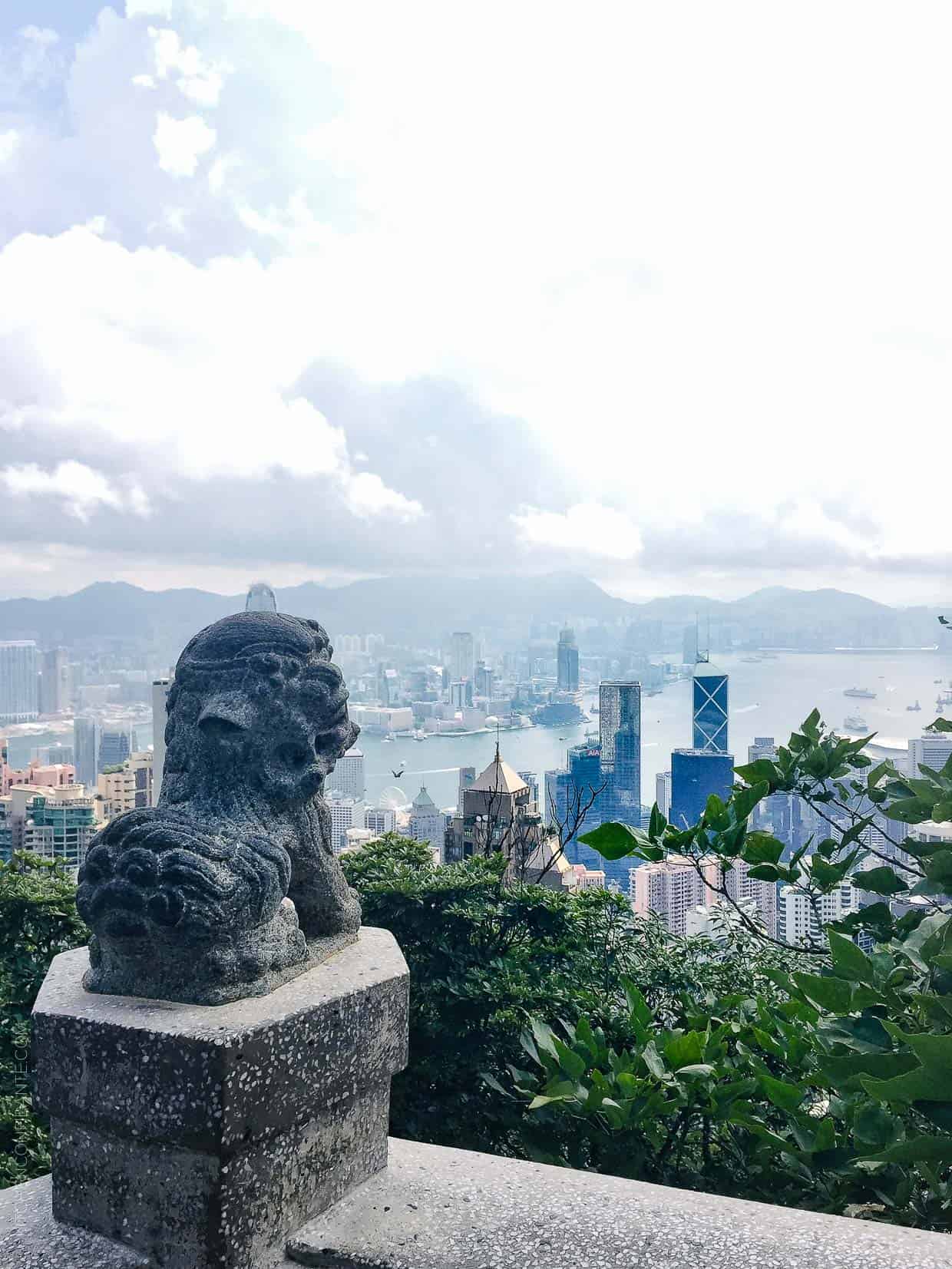 Enjoying Hong Kong's sweeping skylines is a must, and there are many ways to enjoy these aerial views. There are skyscraper observation decks, ferris wheels, and one of the time-honored must-sees: The Peak. Boasting the highest point on Hong Kong Island, the peak is situated in a neighborhood that is considered the most coveted, dating back to colonial times. The kids loved taking The Peak Tram. This historic funicular railway dates back to 1888 and used to service the residents tucked in the hills. These days, it takes tourists up the very steep climb. It's definitely a must, at least once. Use your Octopus Card (see tips below) and skip the line for tickets.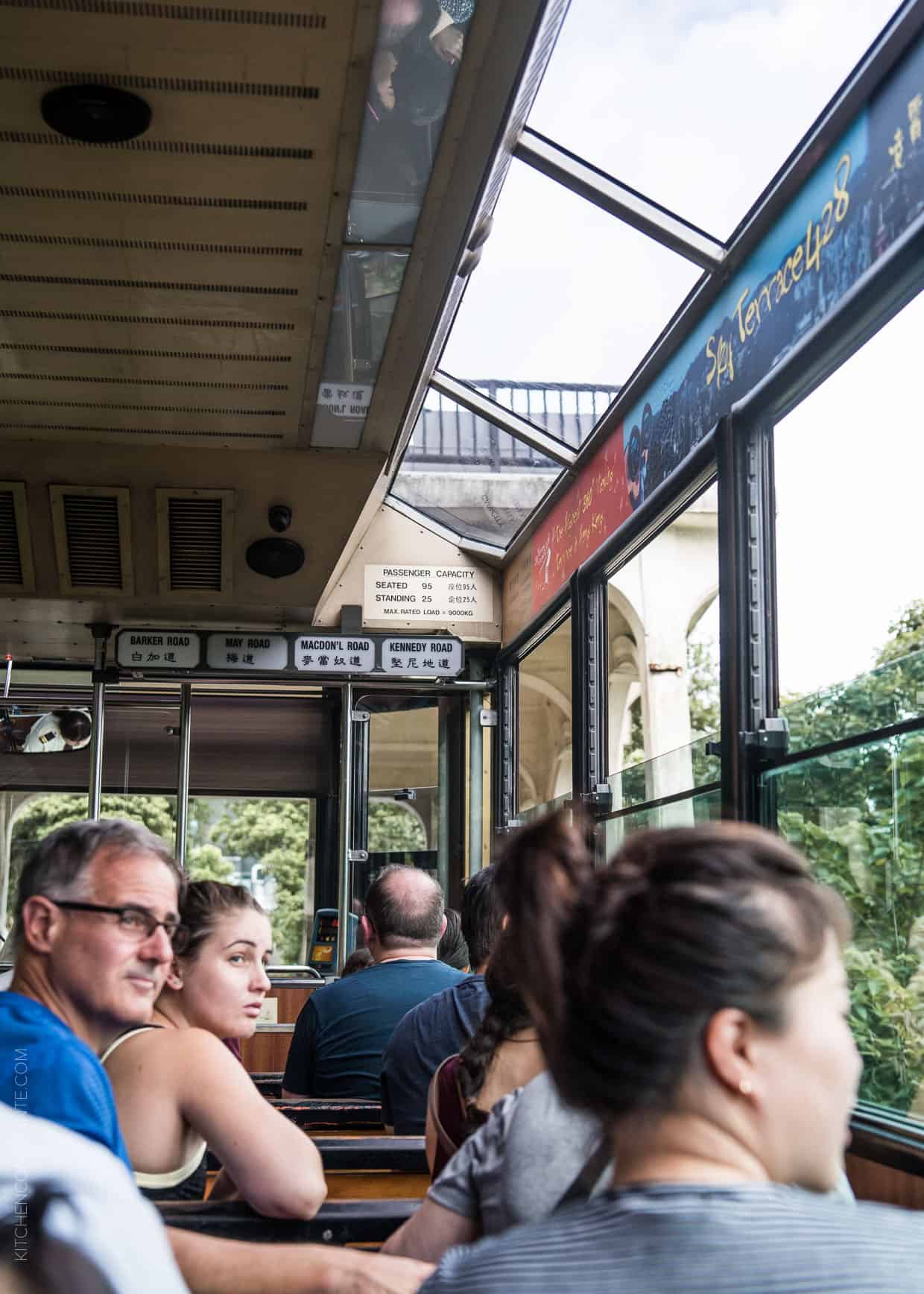 Once you're at the top of The Peak, you can enjoy the views from The Peak Tower and the Peak Circle Walk. We recommend going simply for the views. Shopping might be tempting, but you can find all of that, at better prices, at Ladies Market (more on that below).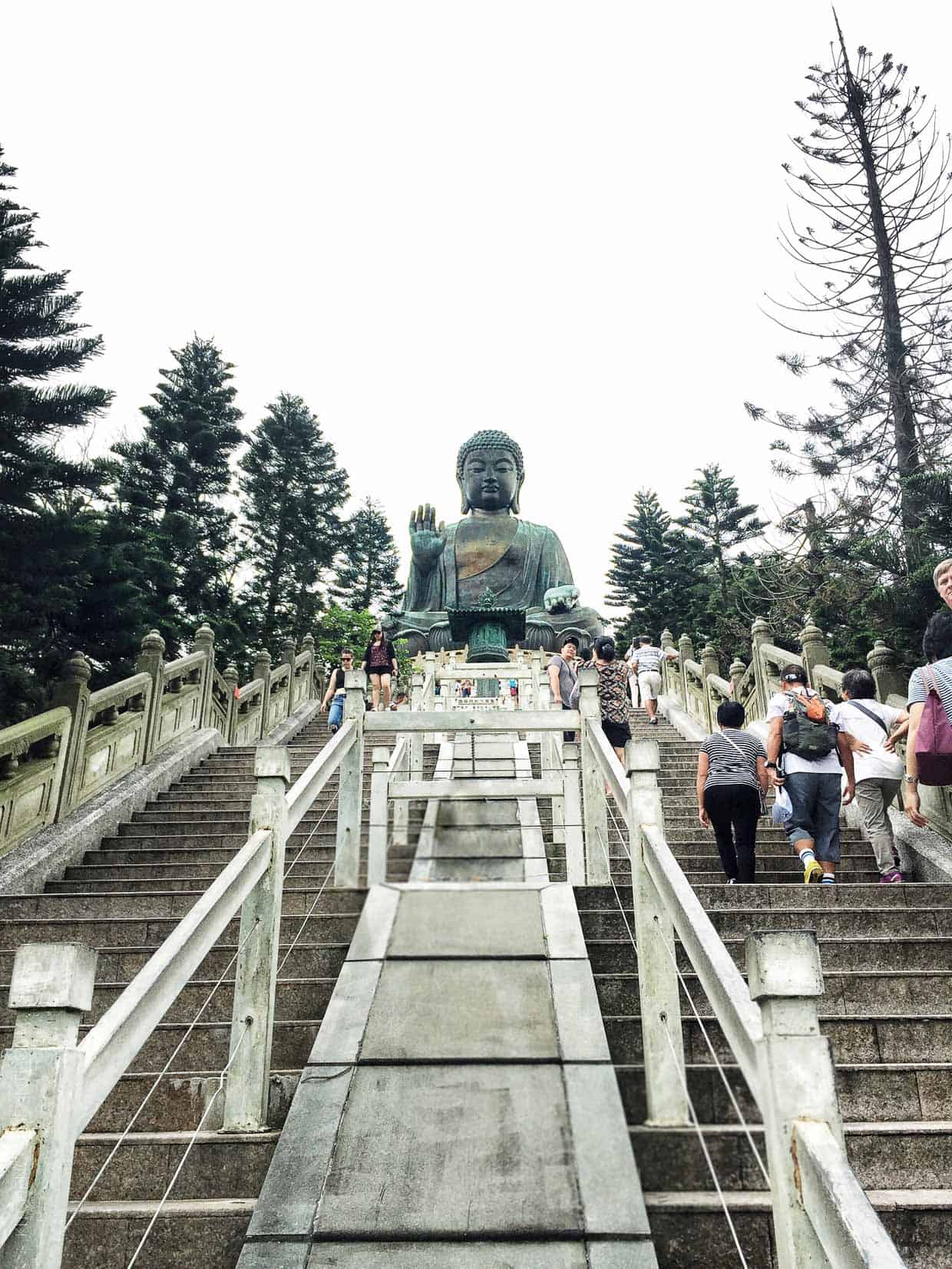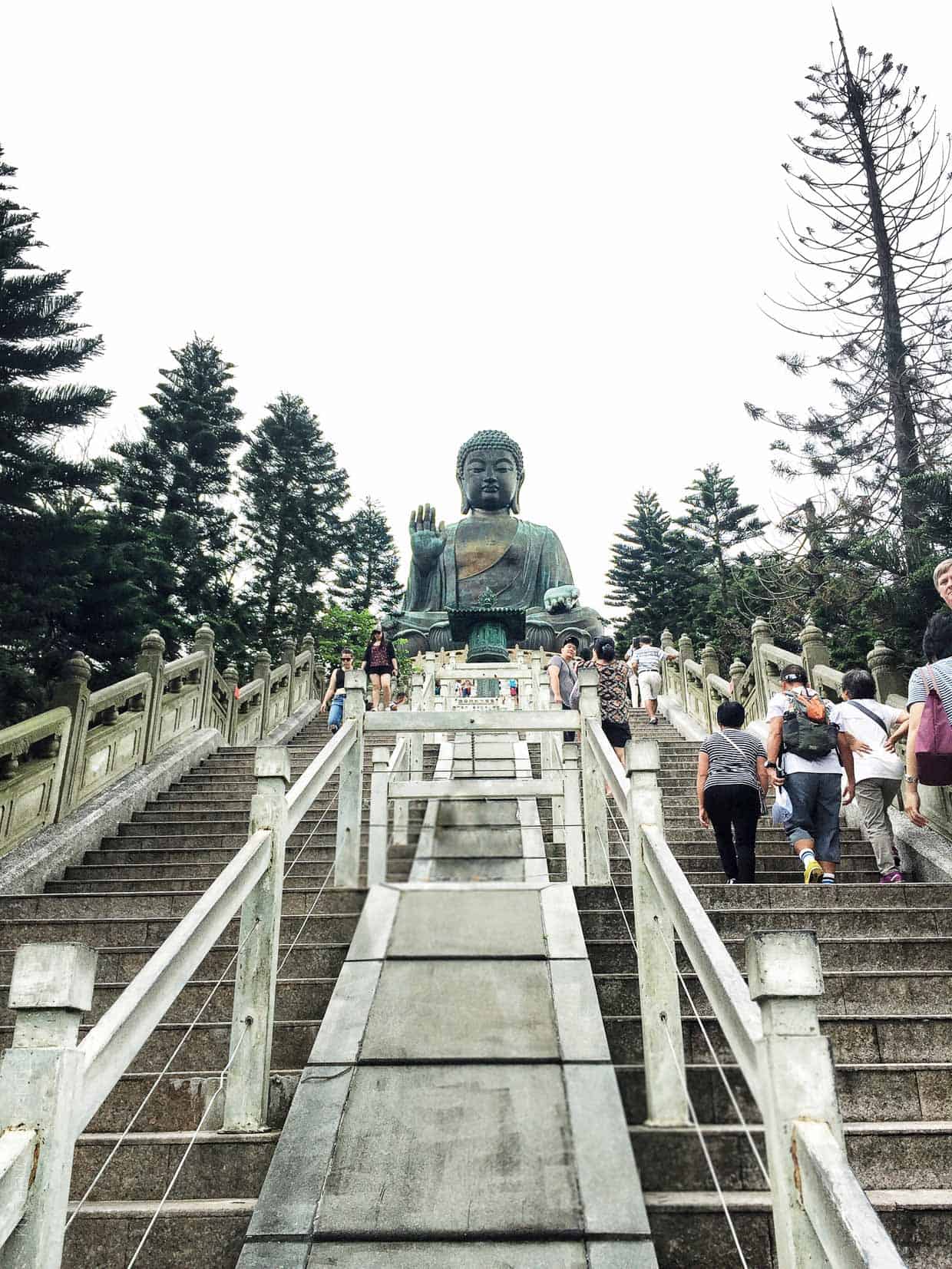 Kids and grown ups alike will love taking the Ngong Ping Cable Car into the mountains of Lantau Island where the Tian Tan Buddha statue sits majestically, with views of the Po Lin Monastery and the sea beyond. There are several options in cable cars, and we definitely recommend upgrading to the crystal cabin. To be able to see through the glass bottom is breathtaking!
Also, plan to arrive early, and even better yet, arrange with your hotel concierge to pre-purchase your cable car tickets, as the line definitely snakes along as the day progresses. Walking up the 268 steps to see the Big Buddha was perhaps our favorite excursion. We definitely couldn't leave it off of this Hong Kong travel guide! While the cable car ride is a must, I really want to return (perhaps in cooler weather) and try hiking from the town of Tung Chung to the Big Buddha!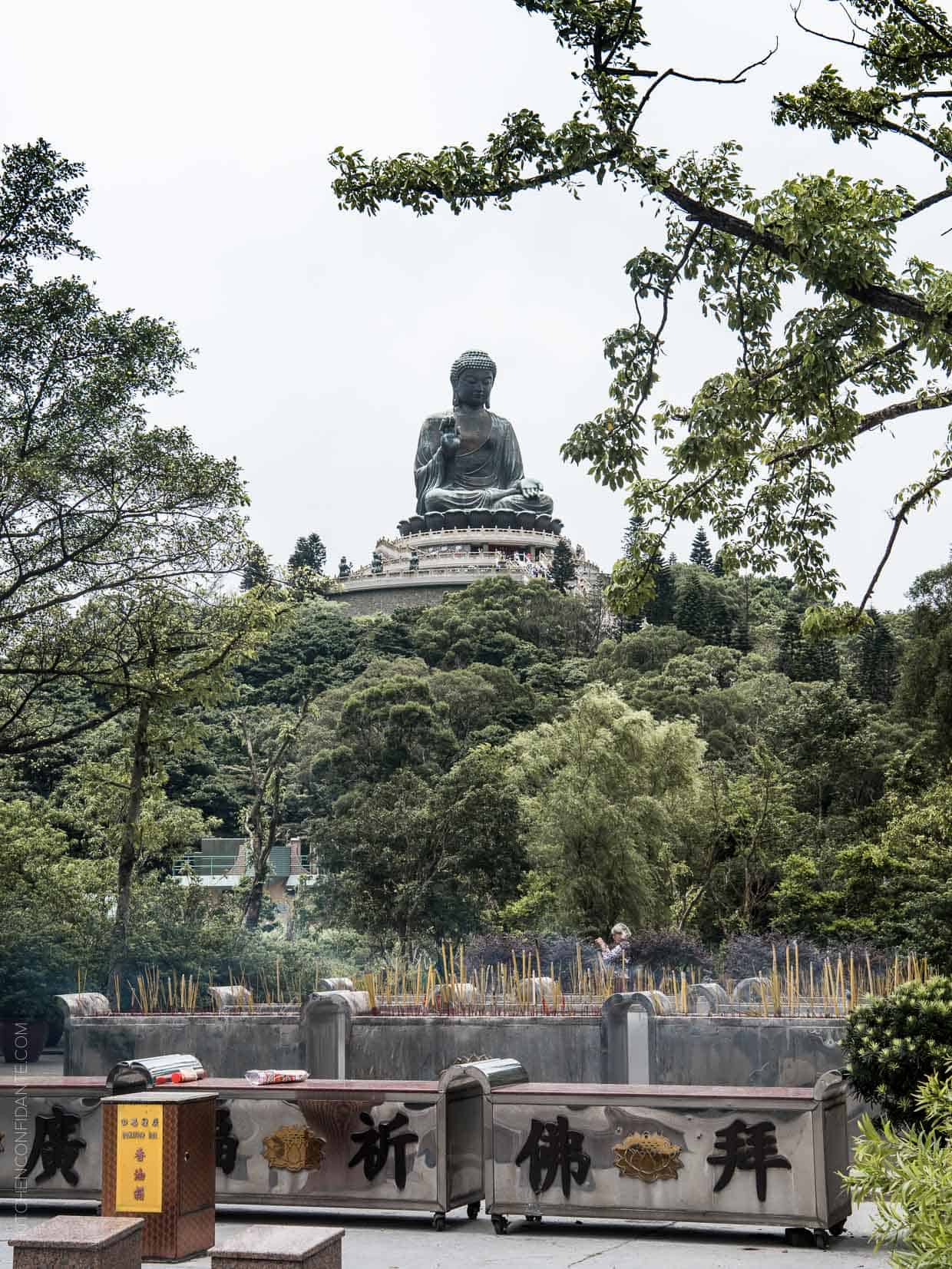 Adjacent to The Big Buddha is the beautiful Po Lin Monastery, which is serenely set in peaceful gardens. Definitely take the time to stroll and find some inner quiet.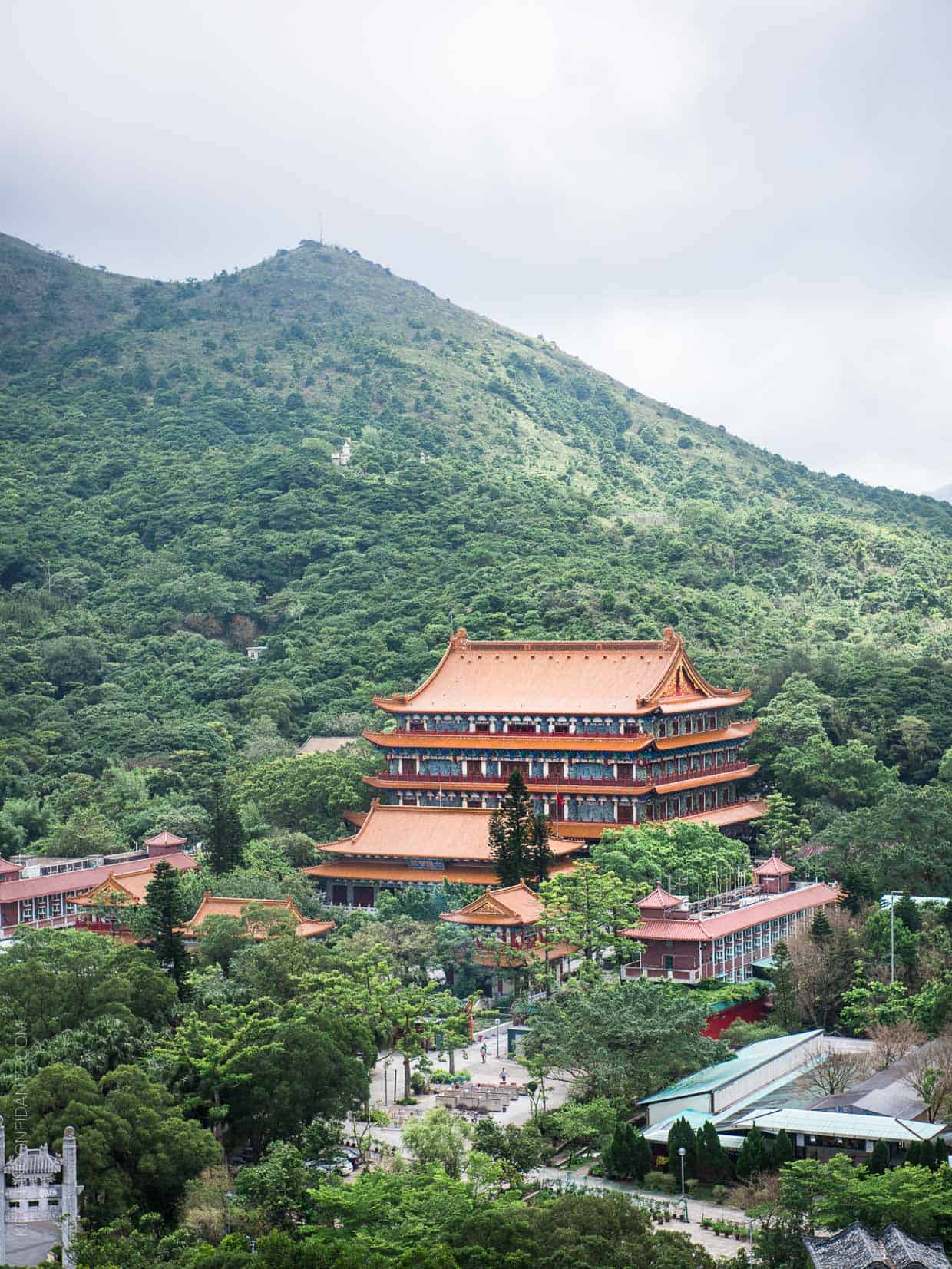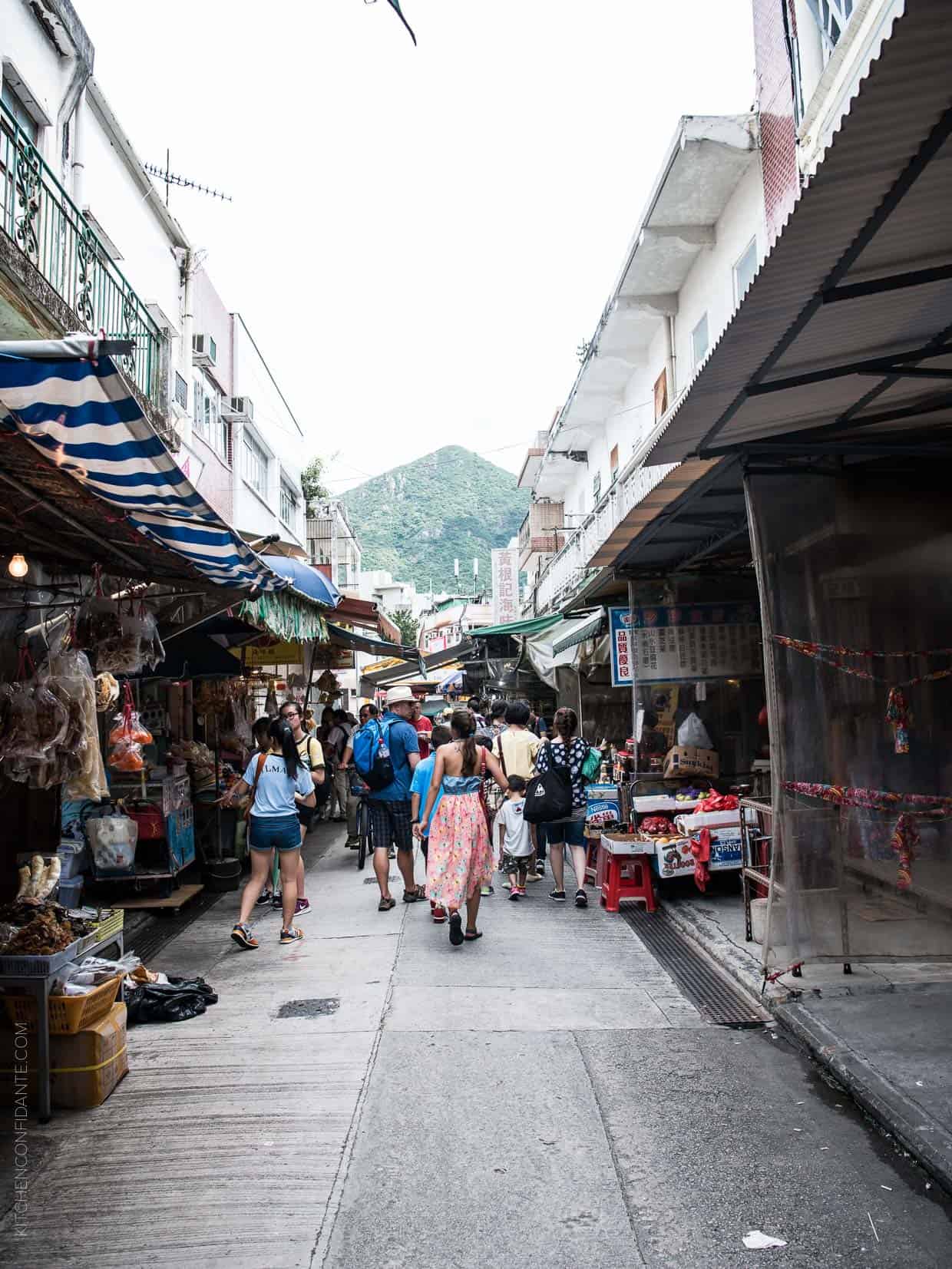 After visiting Big Buddha, the fishing village of Tai O is a short cab or bus ride away. The buses that provide transport from Tung Chung accept Octopus cards (see tips below). You can also take a taxi – just be sure to hail a blue taxi. Blue taxis run exclusively on Lantau Island, while red taxis can only take passengers in Lantau if they are returning to Hong Kong Island or Kowloon. We tried both taxi (to) and bus (from), and either option gives you another beautiful glimpse into Lantau on your way to Tai O during the 45-50 minute drive. While in Tai O, meander through the markets and try a few bites of the very cheap and delicious seafood/street food, and explore the last remaining stilted fishing village in Hong Kong that give you a peak into simpler times.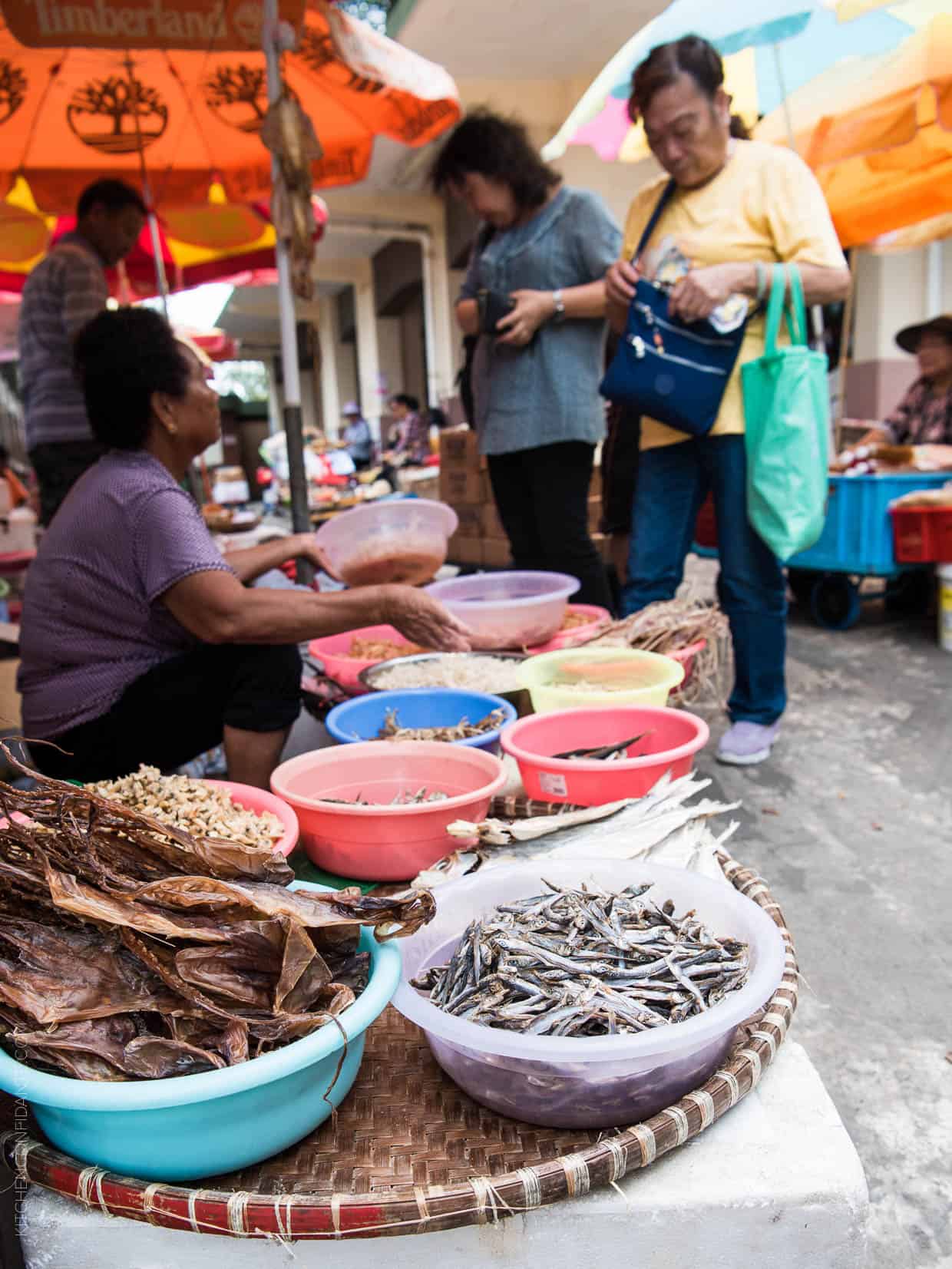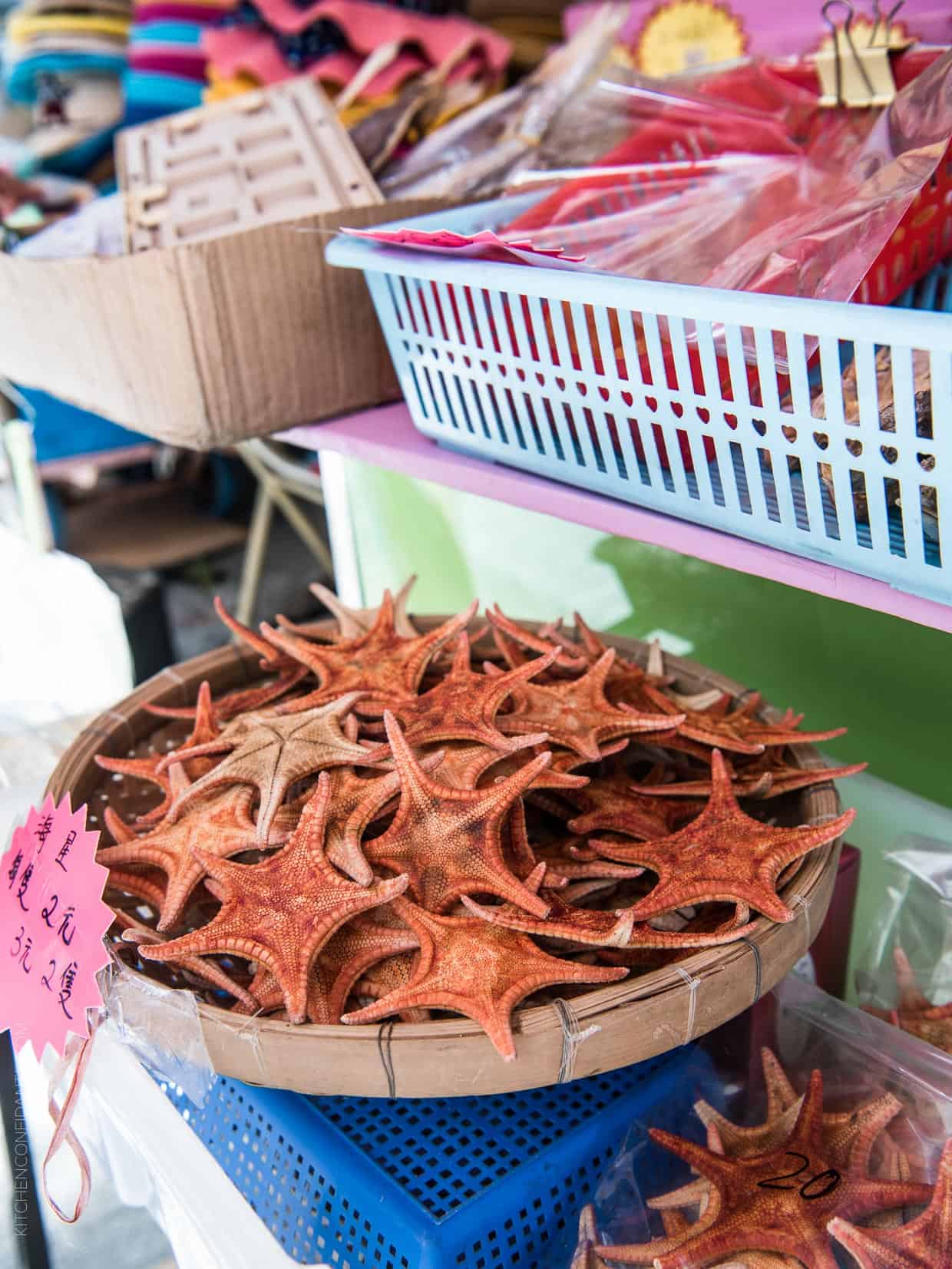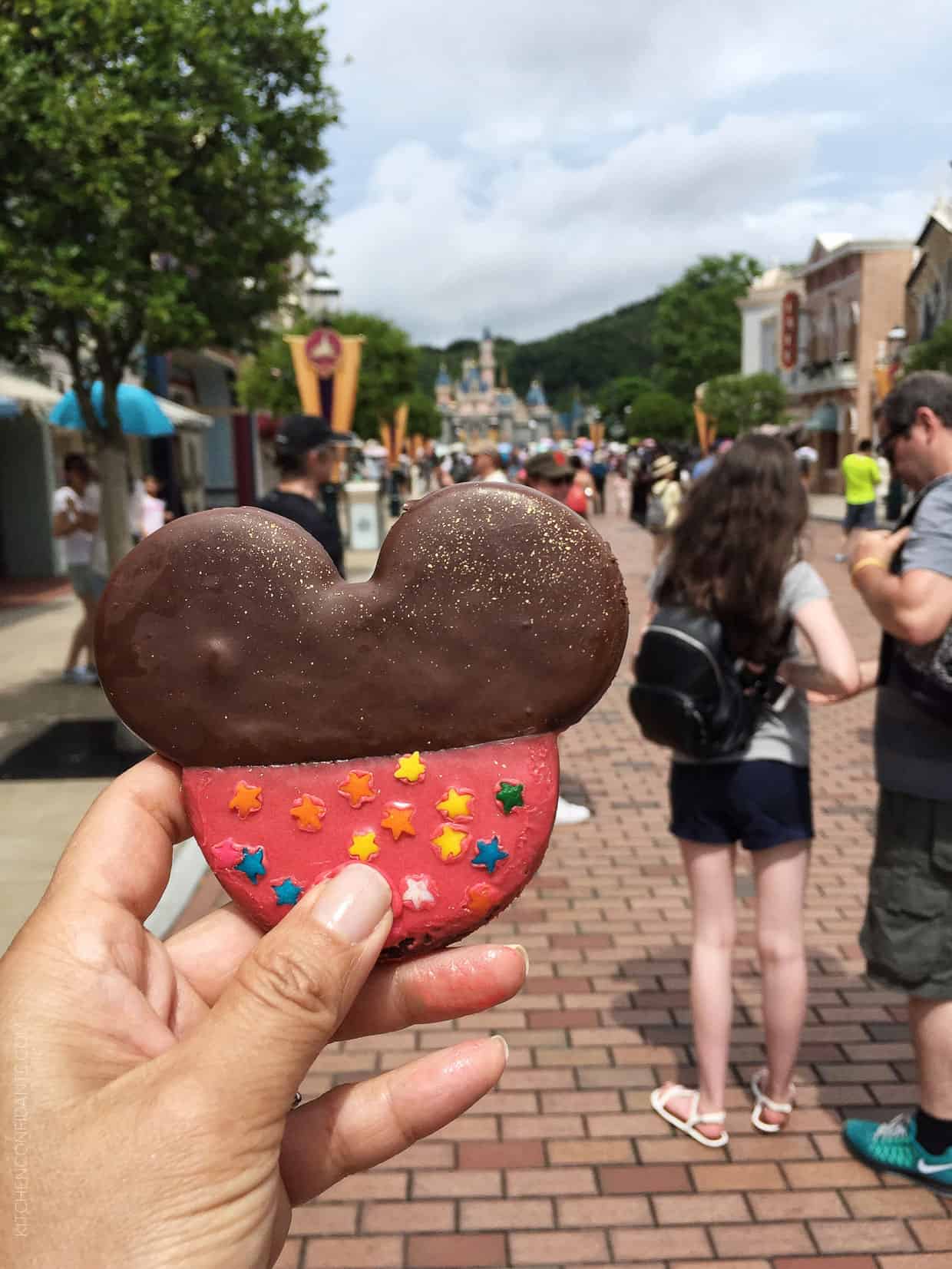 I have to admit, we dangled the Disney bait to entice our kids to visit Hong Kong. If you have children, we do recommend visiting Hong Kong Disneyland. There's just the right combination of unique-to-Hong-Kong attractions and familiar Disney favorites. The size makes it manageable to cover the entire park in just one day. In case you were wondering whether or not to allocate two days to Hong Kong Disneyland, let me assure you, one day is plenty to experience all the magic.
The best part of Hong Kong Disneyland is how easily accessible it is from Hong Kong. Also located on Lantau Island, there is a dedicated Disneyland Resort Line that connects to the MTR from the Kowloon, Hong Kong, and Hong Kong International Airport stations. We were able to get there from our hotel in Kowloon in just 30 minutes!
You'll be happy to know that there are plenty of dining options. We were most surprised at how the quality of the dim sum was quite nice at the Plaza Inn on Main Street, USA. The family-style dim sum was great, we all adored the Mickey pork buns, and it was a great way to escape the mid-day heat!
Lastly, go mid-week, if possible. Fewer crowds mean less time in lines, which will allow you to explore the park faster and to your heart's content!
Shop
Between street markets and high-end luxury boutiques to massive malls, there is no shortage of shopping in Hong Kong.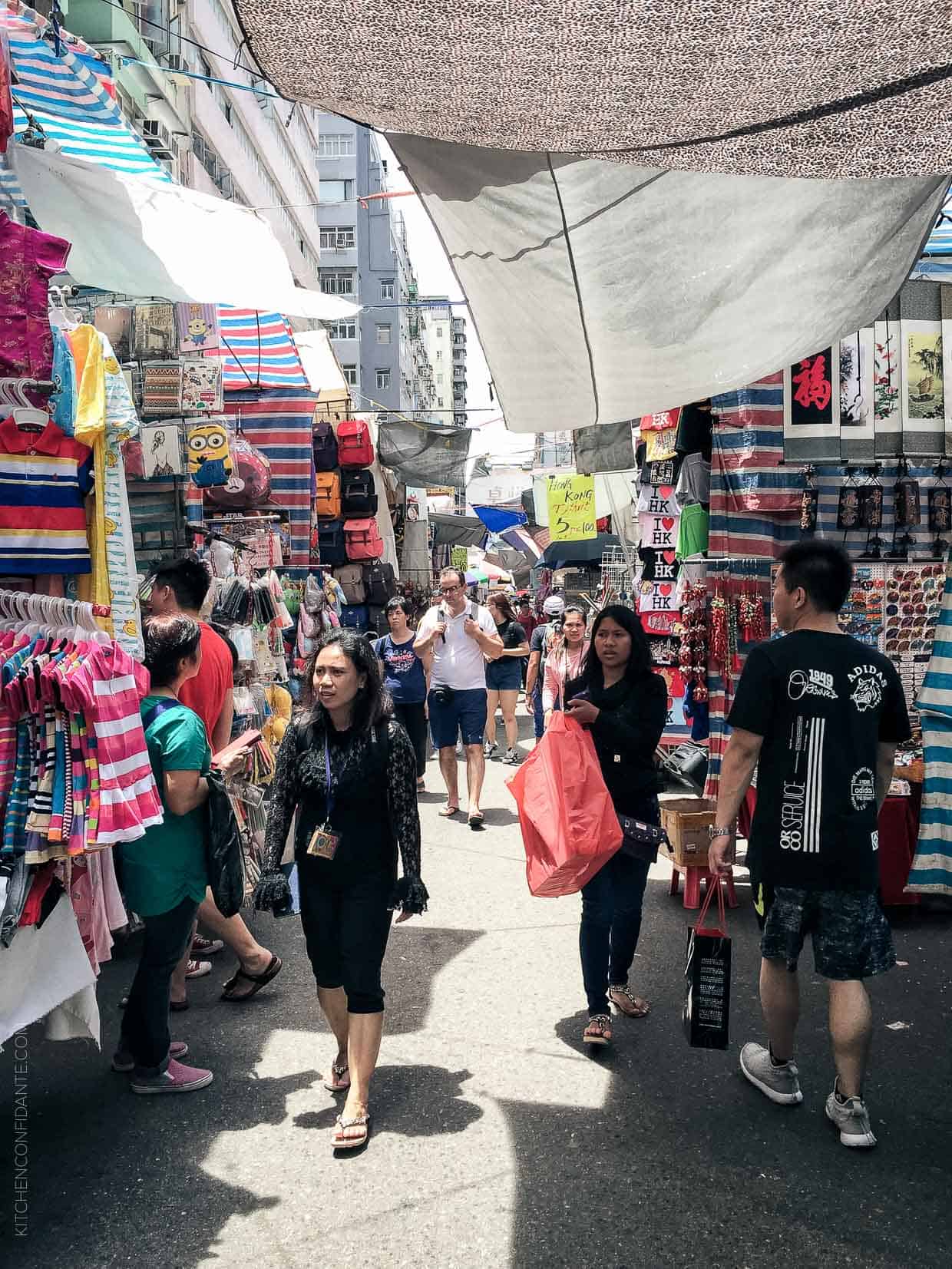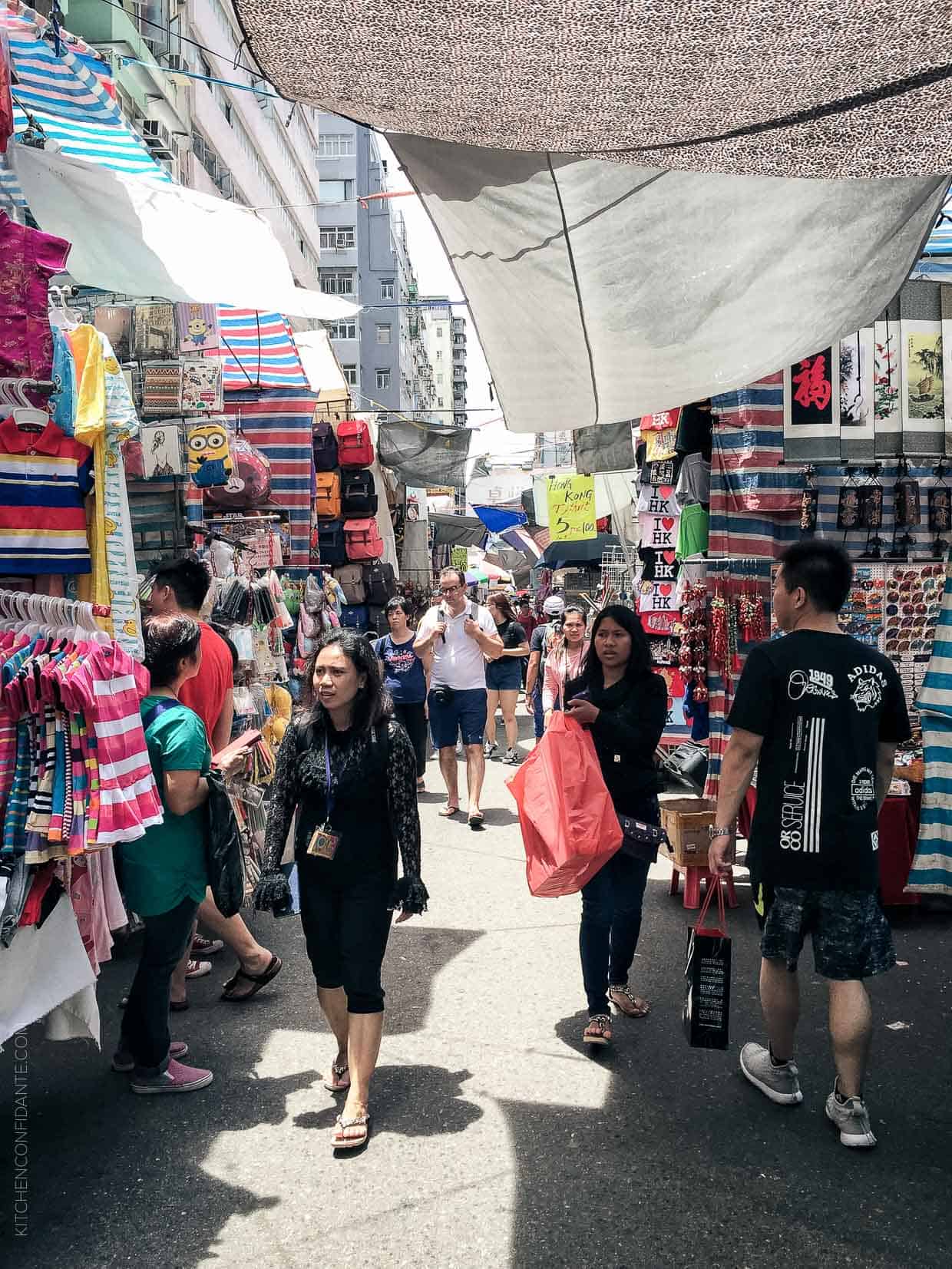 Ladies Market
Tung Choi Street, Mong Kok, Kowloon
Practice your haggling skills as you shop your way through this stretch of over 100 stalls. There are a lot of bargain souvenirs to be found.
Temple Street Night Market
Temple Street, Yau Ma Tei, Kowloon
This market comes alive in the evening hours, and along with shopping, there are lots of stalls to grab a quick bite.
In's Point
530-538 Nathan Rd
Yau Ma Tei
Kowloon
If you're traveling with kids, chances are you're traveling with Lego fans! This mini-mall is a must for hard-to-find and collectible Legos, from minifigures to sets!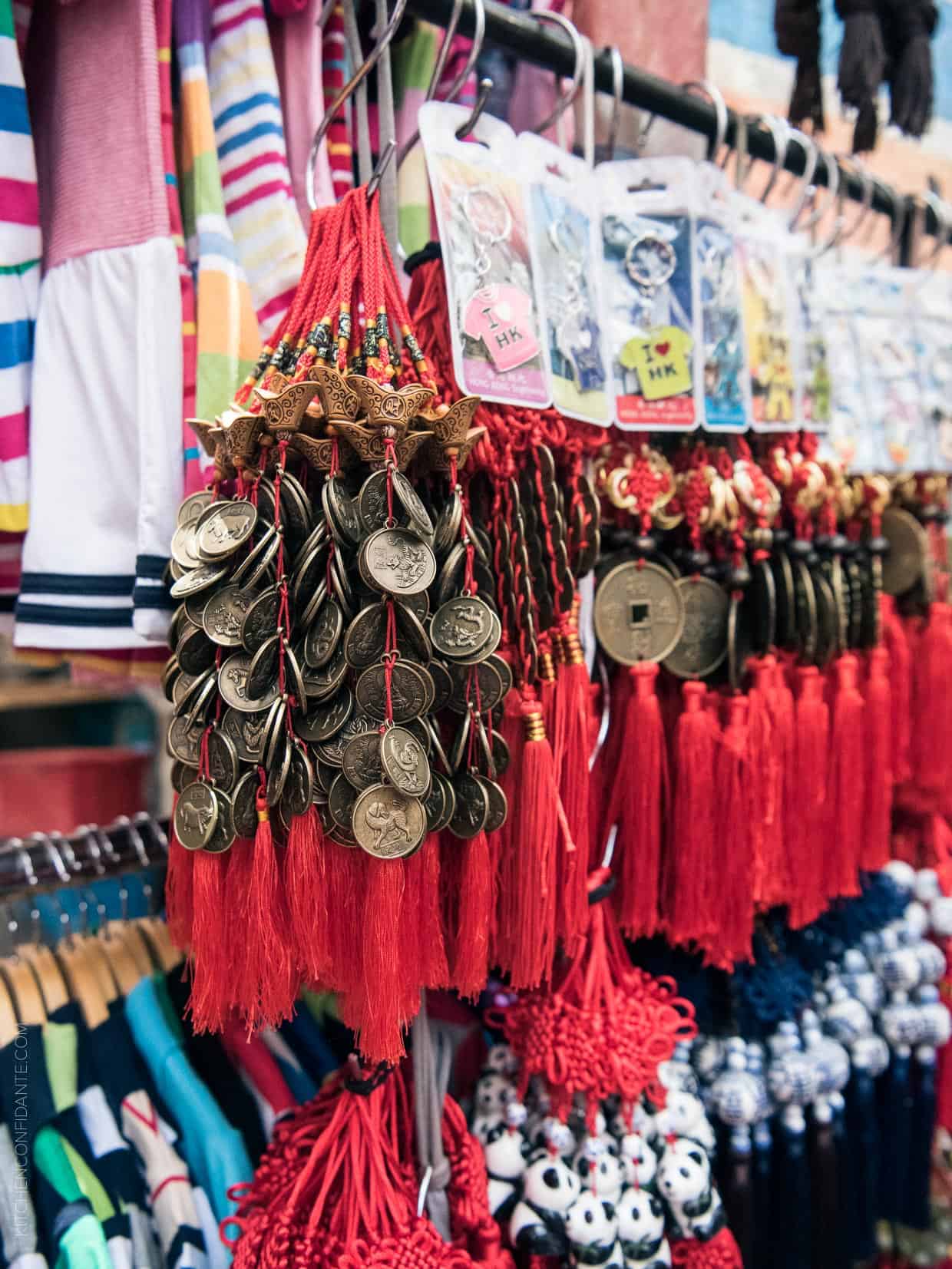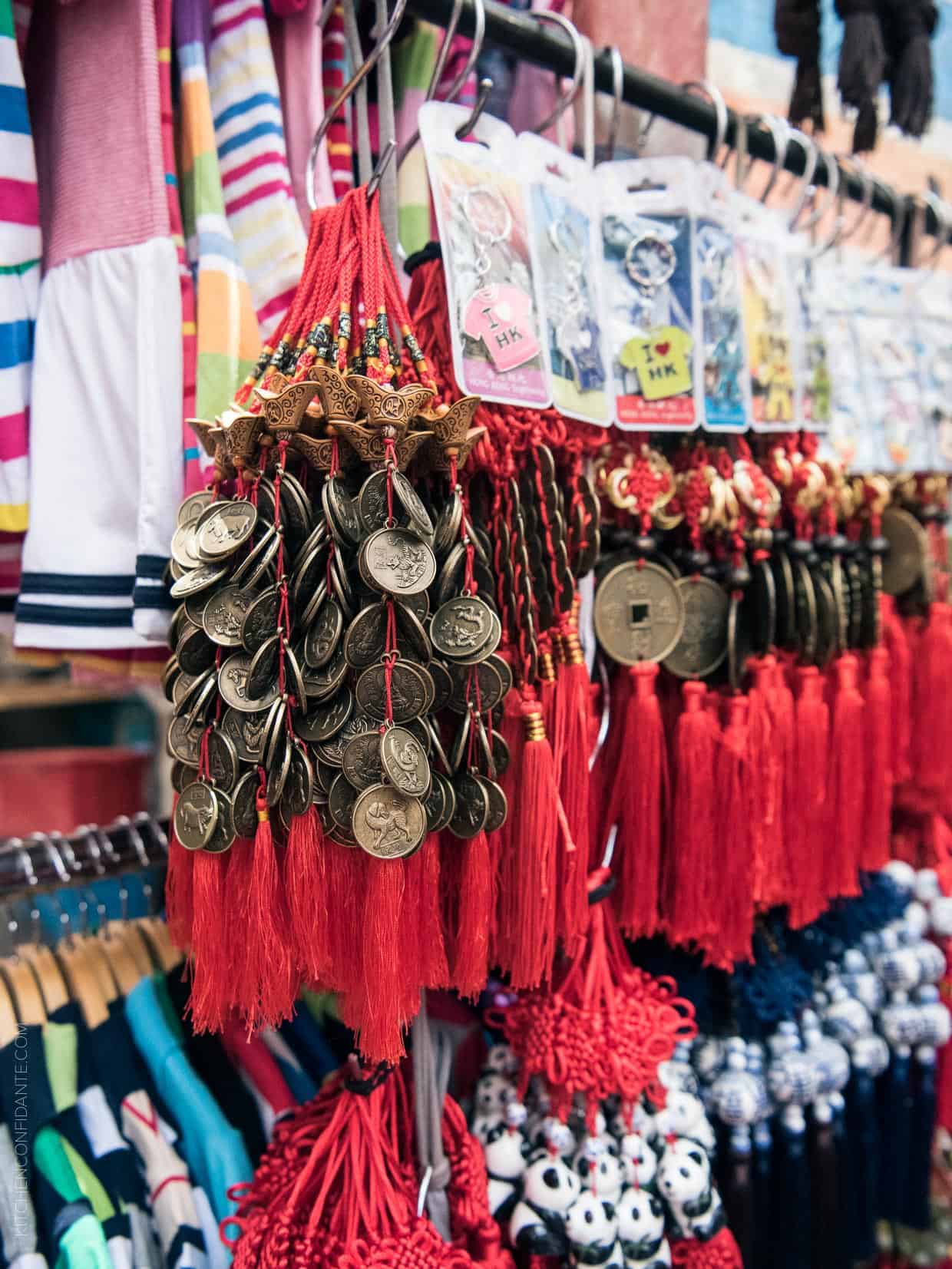 Outdoors
With a bustling city, it's easy to forget that there are miles of hiking trails and beaches, all easily accessible. We didn't have time for a beach day, and when we return, I hope to hike to the top of Big Buddha. Meantime, here is a list of ways to enjoy the outdoors in Hong Kong.
HONG KONG TRAVEL GUIDE TIPS
Hong Kong is divided into the following major areas: Hong Kong Island, which is south of Victoria Harbour, Kowloon peninsula to the north, the New Territories which stretches north into China, and Outlying Islands, which includes Lantau Island, where the airport, Big Buddha, and Disneyland Hong Kong is located.
Upon arriving, pick up an Octopus Card, which can be used not only on the MTR (including Airport Express) and buses all over Hong Kong, but at many shops and restaurants, as well. Think of it as a subway card with extra benefits! You can easily add value at many stations, and have it refunded when it is time to return home.
Take the MTR + Airport Express. I can't say enough about how efficient, clean, and easy to use the subway is in Hong Kong. Taking the MTR was my favorite way to get around, and we found it even easier than taking taxis, where we often encountered communication hiccups.
As soon as we landed, we hopped aboard the Airport Express. This got us to our hotel in a short 20 minutes – probably faster than having to deal with traffic! Check with your airline; in many cases you can check in your luggage up to 24 hours in advance from the Airport Express station, making your departure even more convenient.
Exchange adequate currency before you go. Even though the Octopus Card is handy, and credit cards are accepted at most vendors, you will find that cash is still required in many places, especially taxis.
Write your destination on a card for taxi drivers. When trying to communicate with taxi drivers, it was easier to hand them a card with our destination translated into characters. We would plan our day and ask our concierge to kindly write it on a hotel business card for us. One side would tell the taxi driver our intended destination, and the hotel card would help us get home!
Skip the Symphony of Lights. The skyline at night is quite dazzling on its own, and to be honest, it was hard to distinguish the difference between the show and its regular sparkle. Save your time and use it for something else.
Map it out! To help you get started, here is my Google map of our Hong Kong travel guide to help you find your way! You'll find all the sites and restaurants I listed here, plus many more.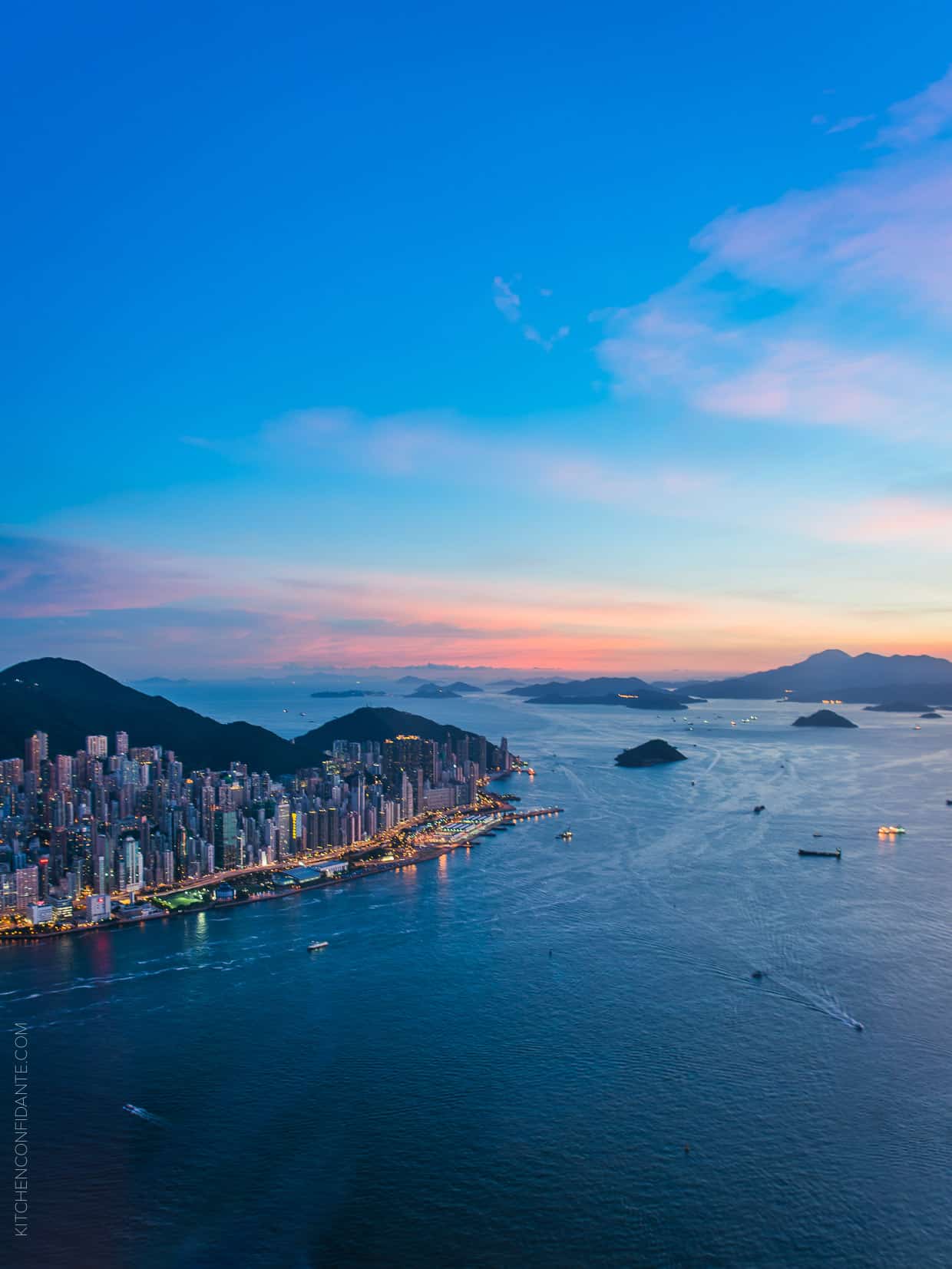 Our Trip Rating: 10/10
I hope you enjoyed this peek into our family's adventures in Hong Kong. If you joined me on Snapchat, I hope that was fun, too, and if you have any questions about planning a trip to Hong Kong, with kids or without, comment below. I'd be happy to answer your questions!
Disclosure: Warm thanks to The Ritz-Carlton, Hong Kong for offering a special media rate and for making our stay so memorable. Thank you, too, to the Hong Kong Tourism Board for their recommendations!
Want More Travel Guides?
A Taste of London: A Family Travel Guide
New York Travel Guide: A Taste of Midtown
Paris Travel Guide: A Taste of The City of Lights
Nice Travel Guide: A Taste of The French Riviera (The Côte d'Azur)
A Taste Of Cruising the Mexican Riviera: Travel with Princess Cruises
A Taste of Deer Valley, Utah: A Family Ski Travel Guide