Skillet Soda Bread
Despite the fact that I have written, in bold, black, capital print, the words "check id" on the back of my credit cards, I am caught by surprise whenever a cashier actually asks to check my id. This simple precaution that has become frustratingly necessary…
Skillet Soda Bread
Despite the fact that I have written, in bold, black, capital print, the words "check id" on the back of my credit cards, I am caught by surprise whenever a cashier actually asks to check my id. This simple precaution that has become frustratingly necessary is often overlooked, and I wonder what's the difference anyway, because I still have to deal with fraud too often.
But yesterday was different. As I snaked my way through Oakland airport, stopping at the various shops along the way to fill my bag with drinks and snacks for my flight, each and every single merchant actually asked to check my drivers license. And it was when I was paying for a chicken panini that the woman asked me if my last name was intentional.
I had forgotten that my business credit card has my blog name on the front, too, and for a moment also forgot the irony that she noticed – that here I was, with Baker for my last name, and the funny coincidence that I have a business that has something to do with cooking.
It piqued her curiosity. And since no one was behind me in line, I found myself chatting with her about what I do, on the blog and off, when she asked me what I was cooking for Thanksgiving. She shared with me that she has a new set of pots and pans that were in their boxes. They were intended for Thanksgiving dinner, but her mother passed away. They were supposed to cook together. My heart felt deeply for her, and I told her how very sorry I was, and I truly was, because, as you know, I haven't had the chance to cook Thanksgiving dinner with my own mother for over twenty years.
"You should open it," I urged her. "And cook Thanksgiving dinner for her, in your heart." When she looked back at me, her eyes told me she understood.
If that lady was you, and you saved my business card and see this, I hope you do. I will be thinking of you this Thanksgiving as I mash the potatoes and chop the giblets for the gravy, and I will be cooking for you, too.
My mother had a tradition of making soda bread during the holidays. I've shared it with you once before, and this skillet soda bread is even simpler.
Adapted from my mom's Irish Soda Bread and Irish Soda Farls from the Wall Street Journal.
This simple recipe for skillet soda bread that bakes so quickly, you can satisfy your bread cravings faster.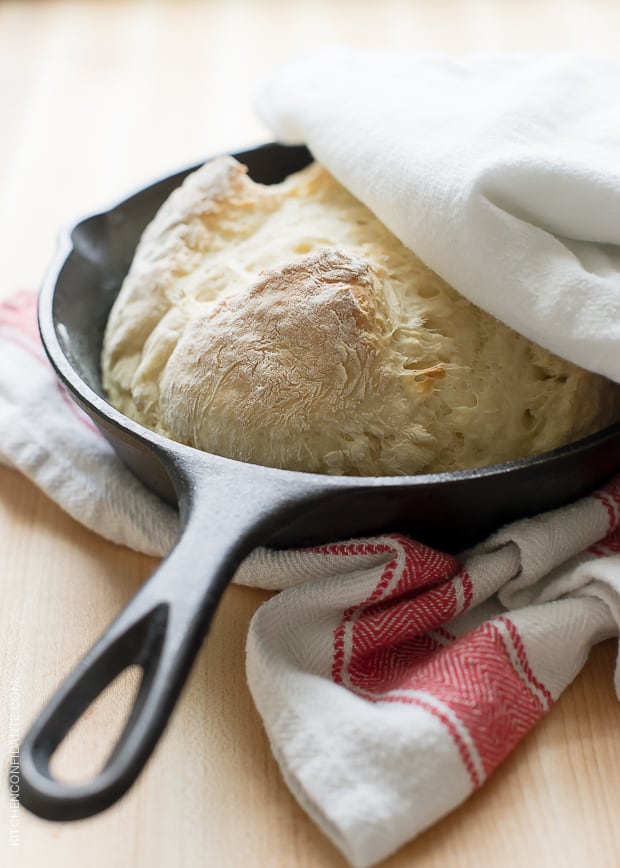 Print Recipe
Ingredients
2 cups all-purpose flour, plus more for dusting
1 teaspoon baking soda
2 teaspoons sugar
1/2 teaspoon baking powder
1/2 teaspoon kosher salt
1 1/4 cups buttermilk (see notes below)
Instructions
Preheat the oven to 375°F. If you wish, line the skillet with parchment paper. However, you can skip this step if you wish.
In a large bowl, whisk together the flour, baking soda, sugar, baking powder and salt. Create a well in the center and pour in the buttermilk. Slowly stir with a wooden spoon, scraping down the sides as you it becomes a sticky dough (see notes below).
Dust a work surface generously (use about 1/4 cup) with flour. Dump the dough onto the surface and with floured hands, gently and quickly knead the dough into a round. Use a sharp knife to cut a cross in the dough, but do not cut all the way through. Use a bench scraper to carefully transfer the dough into your skillet.
Bake for about 20-30 minutes, or until the bread is golden and makes a hollow sound when tapped. The bread will be fully cooked and fluffy on the inside. Remove the skillet from the oven and let it cool for about 30-45 minutes on a wire rack, with a kitchen towel draped on top.
Notes
The dough will be very sticky; I have received comments saying that the dough is thin like cake batter. That should not be the case -- the quality of your buttermilk will really make a difference here. Do not substitute with "buttermilk" made with milk and vinegar or lemon juice, as that will be too thin. You will want to use a good quality, thick buttermilk. If you still feel that the dough is too sticky, simply add a little more flour until you get the consistency as the one pictured in the post.