Nutella S'mores Parfaits
I still have that old planner somewhere, that thin, black, academic edition day-timer. I lived by that book. I lived by the fine blue ink that marked those important dates in my capital letter print: thesis defense, stats exam, flight home for Christmas. My life…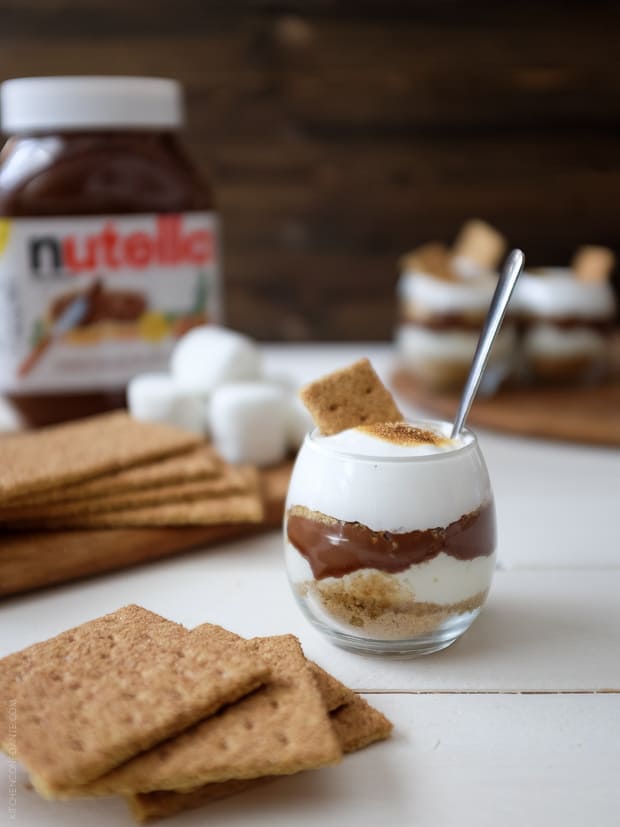 Nutella S'mores Parfaits


I still have that old planner somewhere, that thin, black, academic edition day-timer. I lived by that book. I lived by the fine blue ink that marked those important dates in my capital letter print: thesis defense, stats exam, flight home for Christmas. My life was ruled by the penciled notes: clinic notes, thesis revisions, laundry (because yes, in order to do well, even the mundane had to be scheduled), dinner with Liz, Robin and Beth. Monday to Friday, I lived and breathed by rule of my planner, and I couldn't have survived graduate school without it.
But there were two boxes at the end of each weekly spread that I looked forward to most. Saturday and Sunday. Usually pencil days, I treated them as blue pen days. And in the summer months, penciled in were weekly pilgrimages to Ravinia.


In the suburbs of Chicago, nestled in a green-leafed neighborhood, not too far from downtown, is Ravinia. Friends likened it to Hollywood Bowl, though at the time, I had not yet lived in LA, and there was nothing I could compare it to back in New York. Ravinia was a musical mecca in the summer – an open air theater, where beyond the seats, you could find your spot of grass – under a tree or under the stars, if you prefer, and spread out your picnic and listen to anything from jazz to the symphony. I celebrated my 25th birthday enraptured by the Joffrey Ballet one weekend, and the next listening to John Williams conduct the Chicago Symphony through his scores. Star Wars and Indiana Jones themes rose in the summer night air that evening.
My first date with my husband was even at Ravinia. The Cowboy Junkies played that night, their soulful, mournful crone echoing through the trees.
I made it a point to go to Ravinia each weekend if I could. It was a haven from the academic grind, an escape. Something to look forward to. I went for the music, for the company of friends, and for the picnics.
Some brought simple fare – premade sandwiches or crackers and cheese. Others brought feasts, with low tables and candlelight, gourmet spreads that would last hours of the performance. Sometimes an artist would draw me to Ravinia, sometimes, it was just the chance to be surrounded by music and peace.
These days, my summer playlists are a little different. I find myself singing "Everything is awesome!!!" or "I like to move it, move it," sometimes to the eye rolls of my kids. I've become a mother, I guess, and the music has changed a bit. The venue, too.
One of these days, we'll have to take the kids to Ravinia. And plan a picnic. I already know what I would bring for dessert. These Nutella S'mores Parfaits are a layered treat, and something I would have loved to have had under the stars. Crumbled graham crackers, whipped cream, a little dollop of Nutella, and a bit of marshmallow fluff. Now that's music to my ears.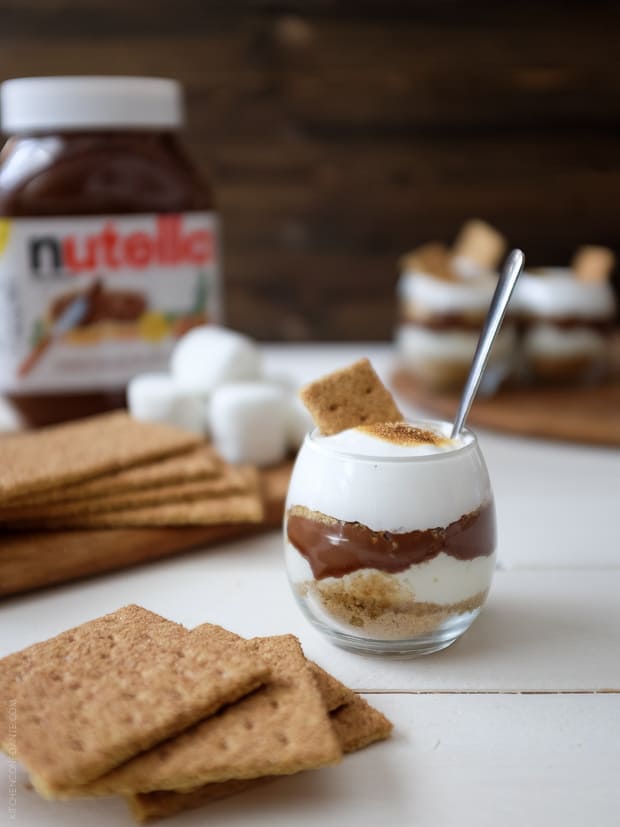 Nutella® hazelnut spread is a happy start to every day! Pick up a jar of Nutella in the spreads aisle and enjoy it with whole wheat toast, waffles, pancakes, strawberries, bananas and many other foods. Nutella. Spread the Happy™.
Disclosure: Compensation was provided by the makers of Nutella via Mode Media. The opinions expressed herein are those of the author and are not indicative of the opinions or positions of Nutella.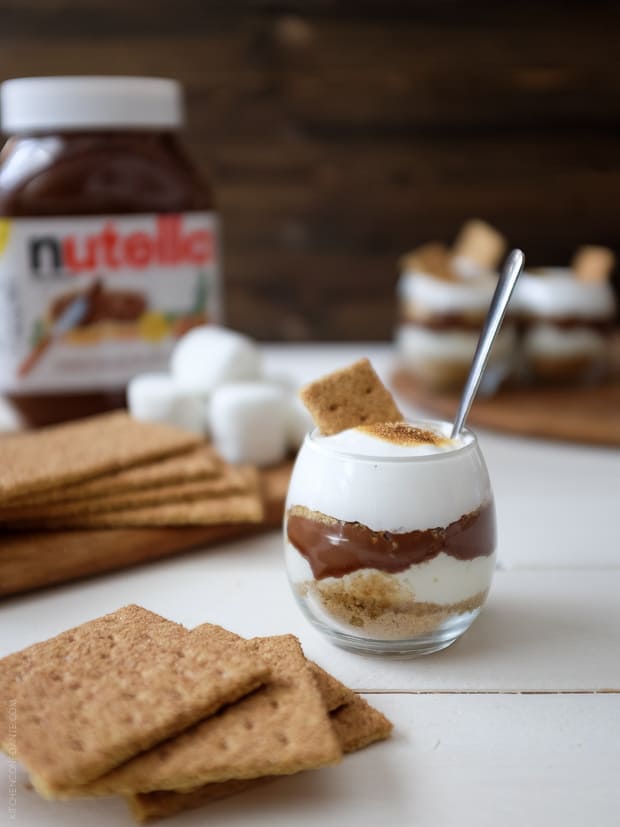 Print Recipe
Ingredients
3/4 cup graham cracker crumbs (about 6 crackers, crumbled)
1/2 cup heavy cream
1/4 cup Nutella
1/2 cup marshmallow fluff
Instructions
Place 2 tablespoons of graham cracker crumbs at the bottom of each cup. Place about 2 tablespoons of whipped cream, followed by about 1 tablespoon Nutella, spreading the layers evenly from the inside to the edges. Sprinkle with about another tablespoon of graham crackers, then another tablespoon of whipped cream. To the top of each, place a dollop of marshmallow fluff. Brown the top of the marshmallow with a kitchen torch if you wish, be careful not to burn it. Insert a graham cracker on top and serve immediately.
The components of the dessert can be prepared in advance, but the dessert is best when assembled right before serving. However, in a pinch, you can also prepare the parfaits in advance and refrigerate until ready to serve.