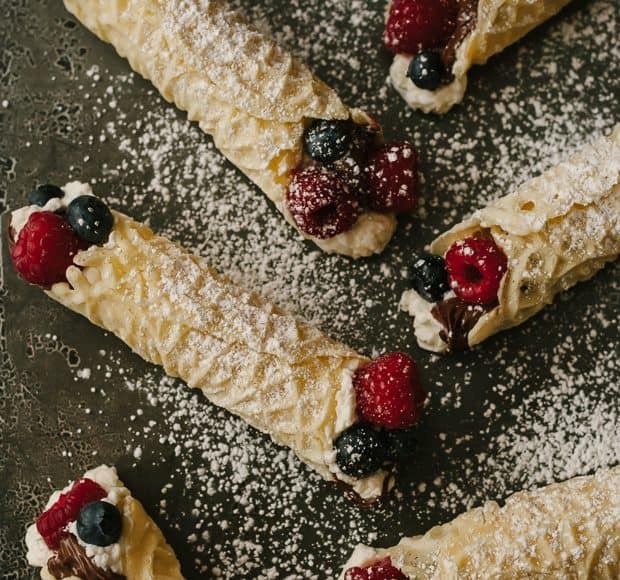 Nutella Berry Filled Waffle Cookies (Pizzelle)
It used to be: Running through the sprinklers. Reading a book from cover to cover…outdoors. Dripping popsicles and rinsing the juice from your hands under the garden hose. A fresh batch of pizzelle from the neighbors. Feeling the wind through your hair as the boat…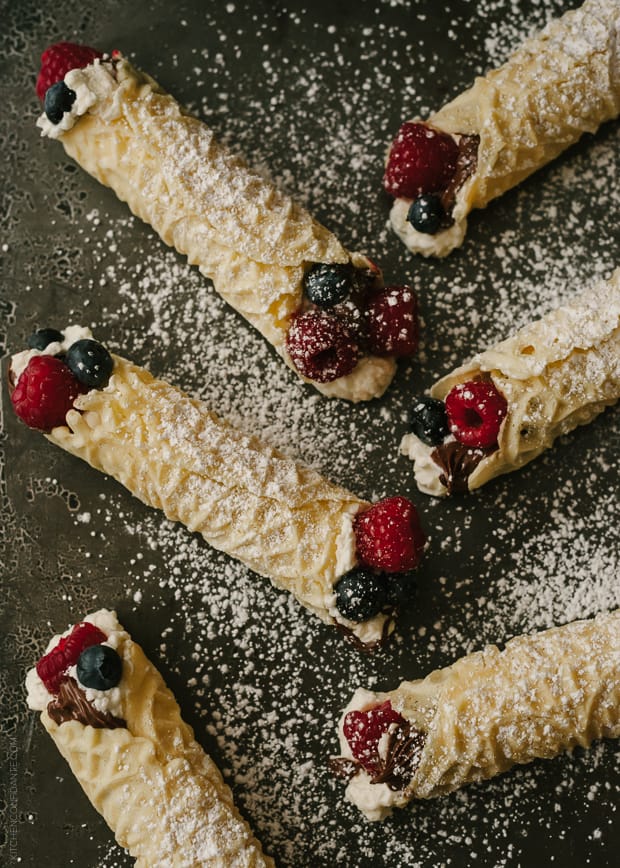 Nutella Berry Filled Waffle Cookies (Pizzelle)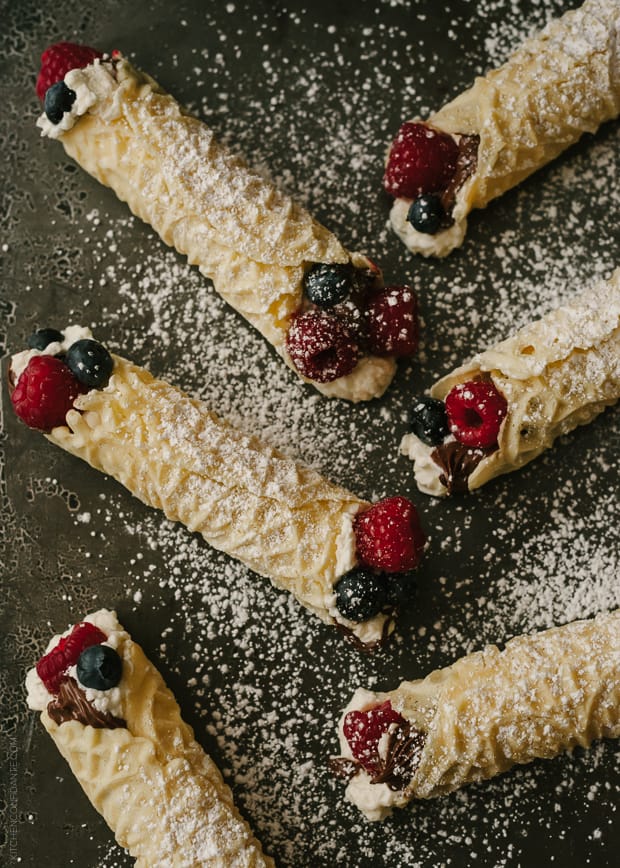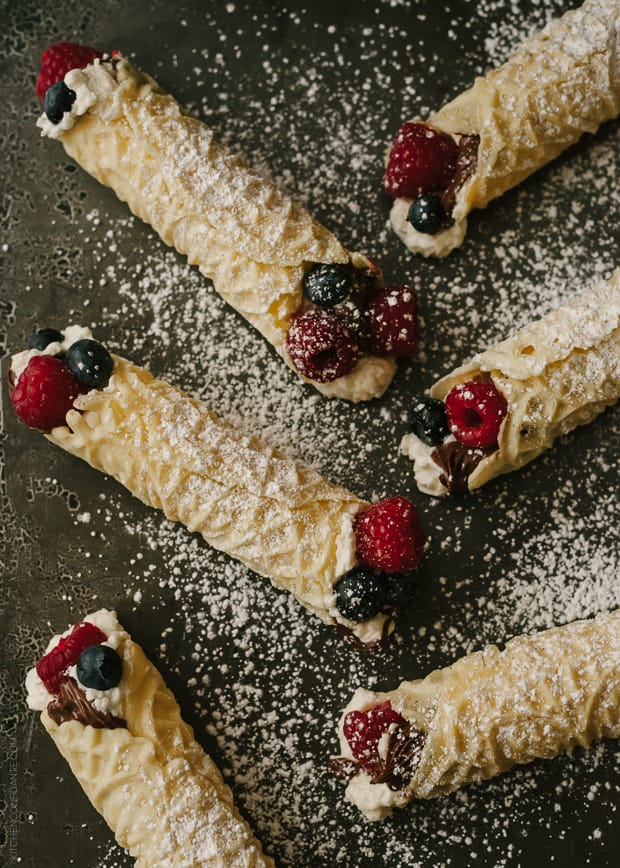 It used to be: Running through the sprinklers. Reading a book from cover to cover…outdoors. Dripping popsicles and rinsing the juice from your hands under the garden hose. A fresh batch of pizzelle from the neighbors. Feeling the wind through your hair as the boat sailed out of the marina. Picnicking under the canopy of an old oak tree. Running in the dark and catching fireflies in an old jar.
Ah, the simple joys of summer.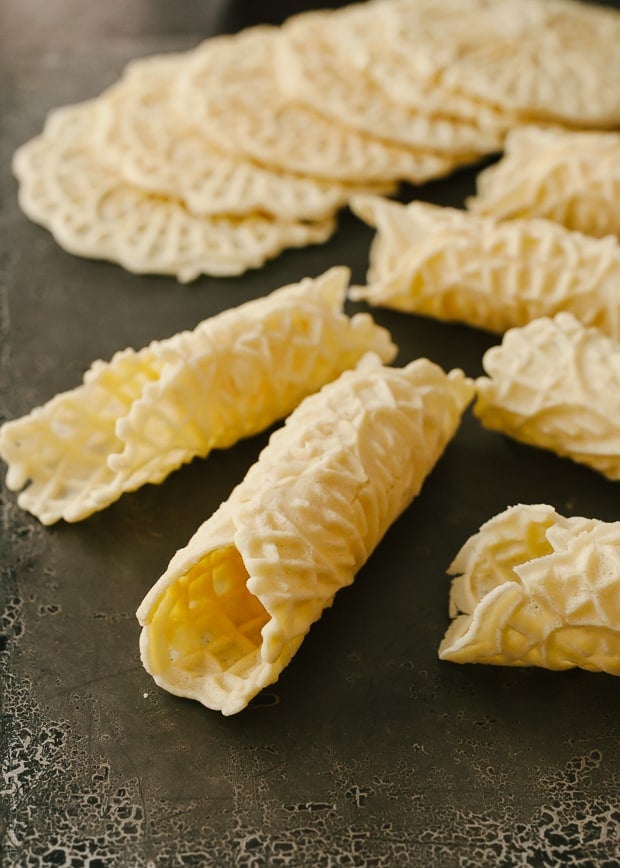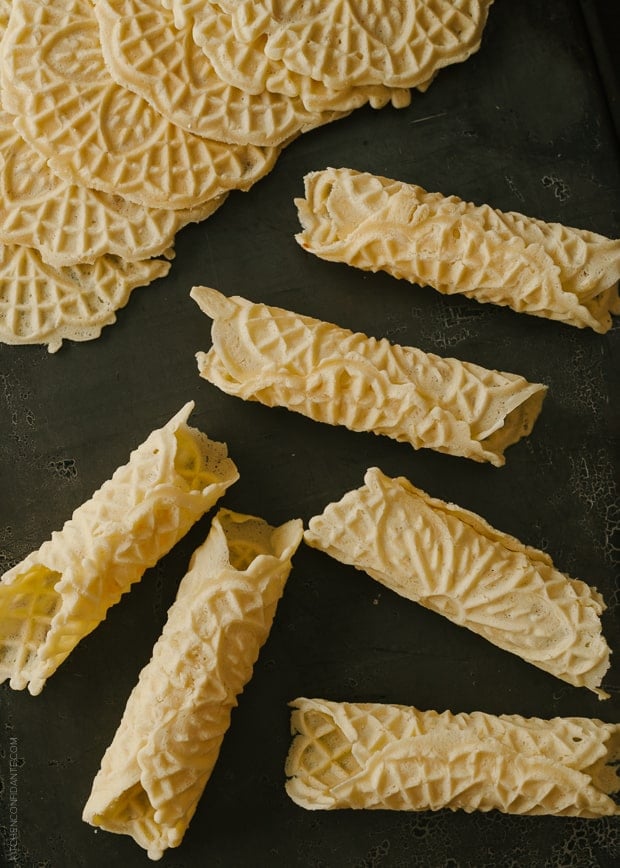 Now they are: Gathering with neighbors for a summer block party. A children's movie projected on a bed sheet over the garage door. A fire pit and s'mores at the ready. A glass of sangria (with lots of fruit). Watching my daughter and son bob in the pool. Dinner on the grill.
What about you? What little things bring you joy each summer?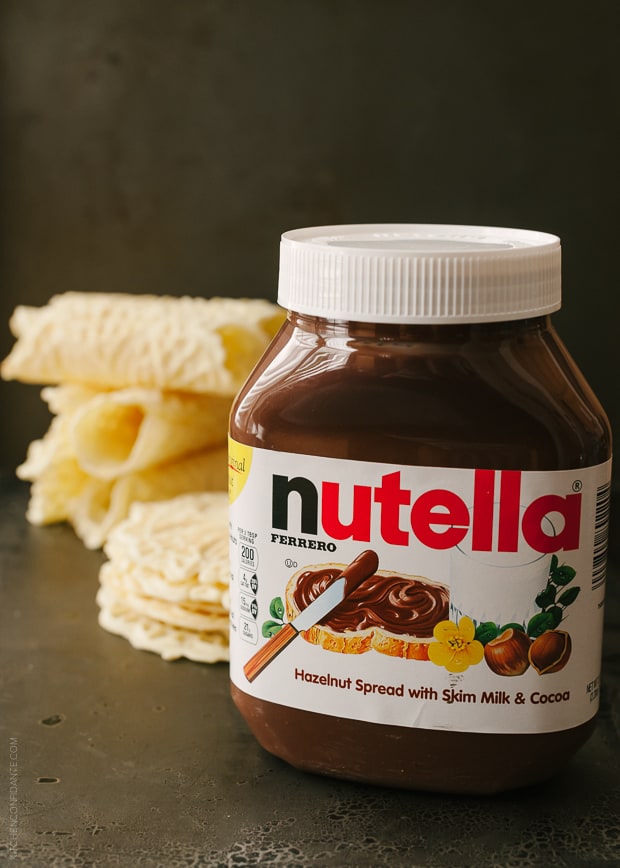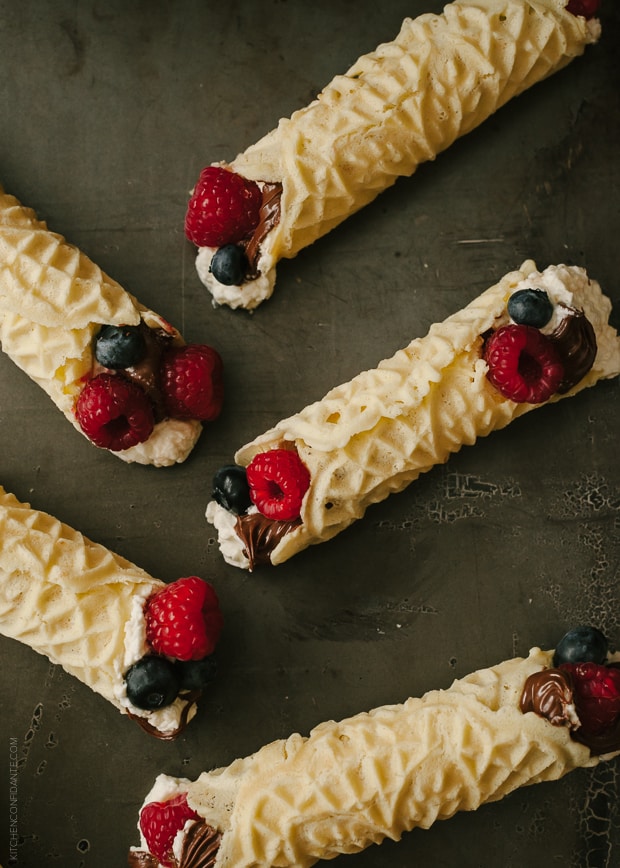 I'm looking forward to the weekend, where the neighbors will gather at dusk and greet the stars as they appear. There will be bites and glasses of wine, and s'mores for the kids. It's those little things that bring happiness, and it's always fun to spend time with friends up and down the block. It seems we're always zipping in and out of our garages, running to and fro. It will be nice to reconnect.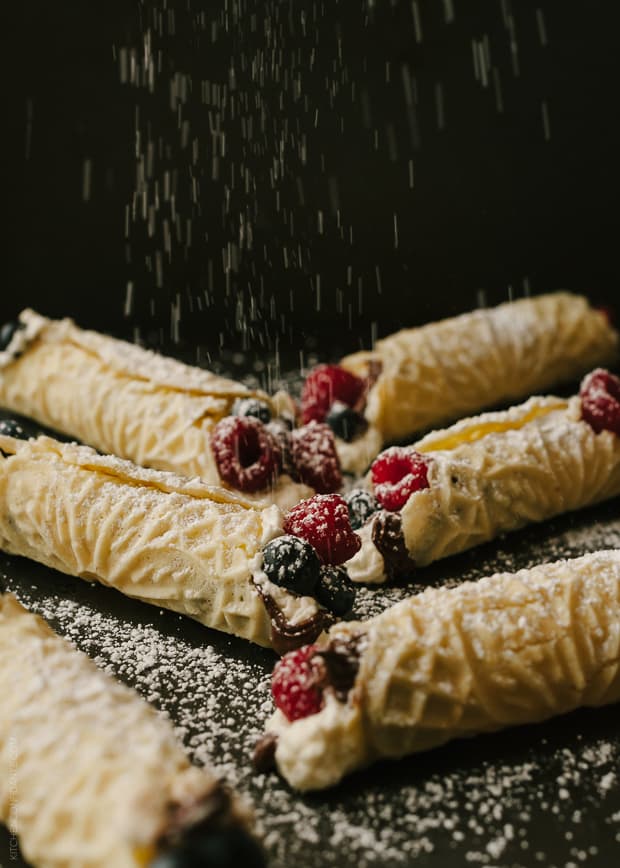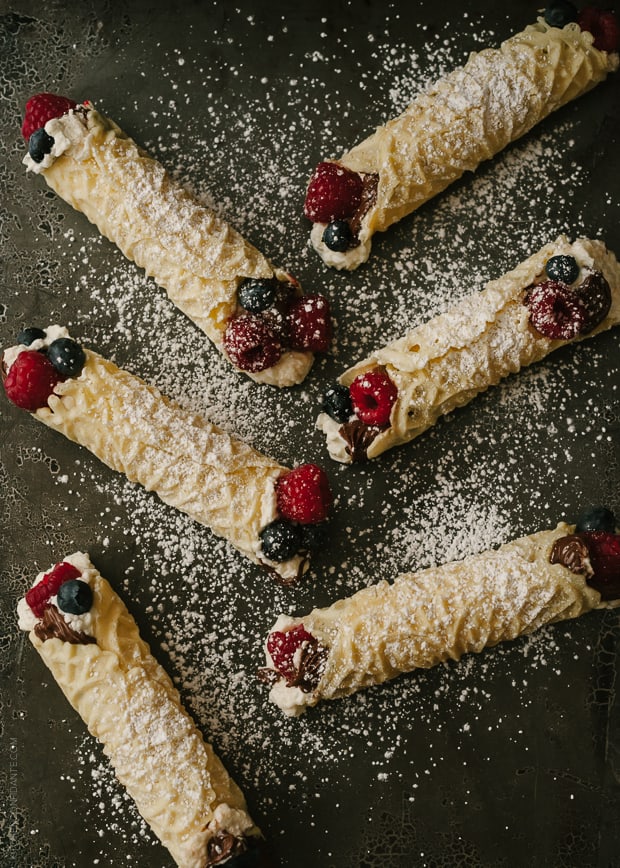 You know what else spreads some happiness? Nutella Berry Filled Waffle Cookies (Pizzelle). My children were craving cookies over the weekend, when temperatures were approaching the triple digits again. Weary to fire up the oven, I remembered my neighbor, Mrs. B, and her crispy pizzelle that she would make and bring me in the summer. I played with them, rolling them into shapes while still warm, then filled them with some light whipped cream, summer berries, and of course, Nutella. How could I not? If you don't have a pizzelle maker, don't worry! I have included the recipe, but you can also use good old store bought waffle cones! It's a light summer treat that will bring smiles all around.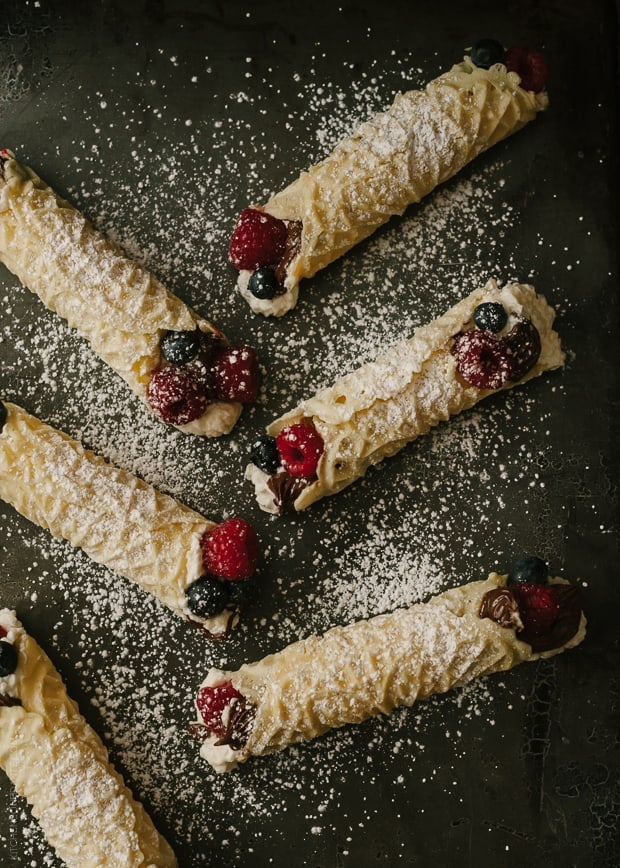 Nutella® hazelnut spread is a happy start to every day! Pick up a jar of Nutella in the spreads aisle and enjoy it with whole wheat toast, waffles, pancakes, strawberries, bananas and many other foods. Nutella. Spread the Happy™.
Disclosure: Compensation was provided by the makers of Nutella via Mode Media. The opinions expressed herein are those of the author and are not indicative of the opinions or positions of Nutella.
Nutella Berry Filled Waffle Cookies (Pizzelle)
If you have the time (and a pizzelle maker), making your own waffle cookies is so much fun, and a treat in the summer since you don't have to fire up the oven. But for a quick and equally satisfying treat, try this with store bought waffle cones and get the kids to help!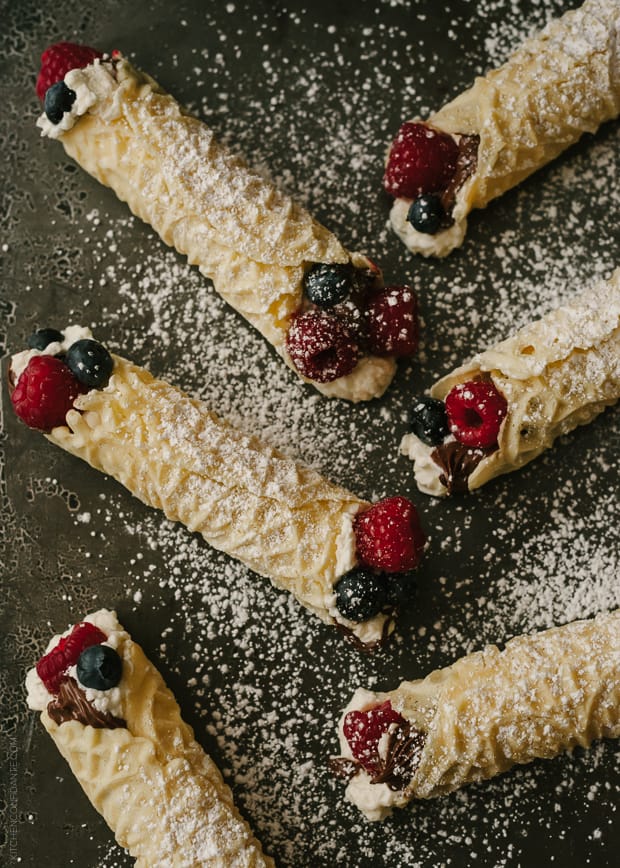 Print Recipe
Ingredients
For the Nutella Berry Filled Waffle Cookies (Pizzelle):
1 dozen waffle cookies (pizzelle) or waffle cones (see below)
1 cup assorted berries (blueberries, raspberries, sliced strawberries)
whipped cream (see below)
Nutella
powdered sugar
For the Pizzelle
(makes about 2 dozen)
3 large eggs, well beaten
3/4 cup granulated sugar
3/4 cup unsalted butter, melted
1 1/2 cups all purpose flour
1 teaspoon baking powder
2 teaspoons vanilla
For Whipped Cream
1 cup heavy cream
1/4 cup granulated sugar
Instructions
For the Waffle Cookies/Pizzelle:
In a large bowl, add and beat the ingredients in the order listed, beating well after each addition. Drop by rounded spoonfuls onto the enter of the preheated pizzelle maker, about 2 tablespoons. It takes a little practice, but sometimes you have to drop the batter just a bit higher than the center, to allow for the waffle press. Close the lid and cook until the steaming stops, about 60 seconds. Remove the cookie with a fork and shape by gently rolling around a cylinder while still hot. Place on a cooling rack to dry.
For the Whipped Cream:
Place Using a mixing bowl and whisk attachment that has been chilled in the freezer, whip the heavy cream until stiff peaks form. Store in a tightly sealed container in the refrigerator until needed.
Assemble the Nutella Berry Filled Waffle Cookies (Pizzelle):
If you wish, place the whipped cream and Nutella into piping bags, otherwise, using a small spoon works just as well. Insert a few berries into the cookie/waffle, then fill with the whiipped cream and Nutella. Garnish with a few more berries on either end. Sprinkle powdered sugar before serving. For maximum cookie crunch, serve immediately.