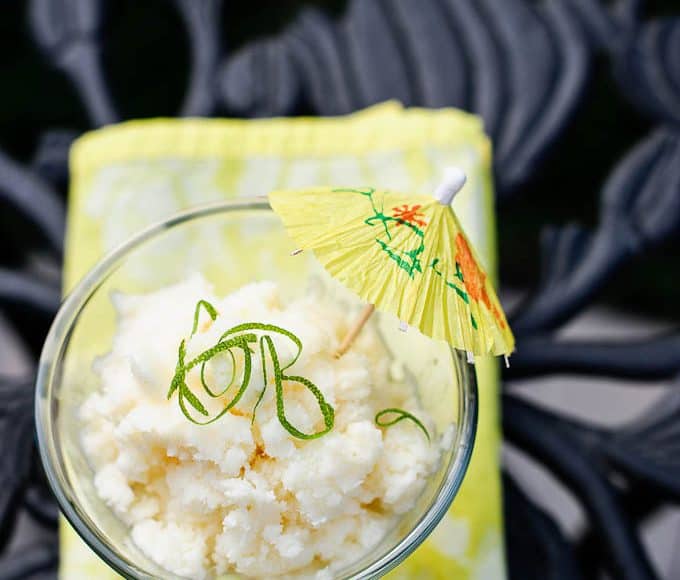 Island Cocktails on sisterMAGAZINE
Hosting a summer party? Want to make something special for a beach themed dinner? Ready to feel like you're at the pool even though you're stuck in the daily grind? Island cocktails are the way to go.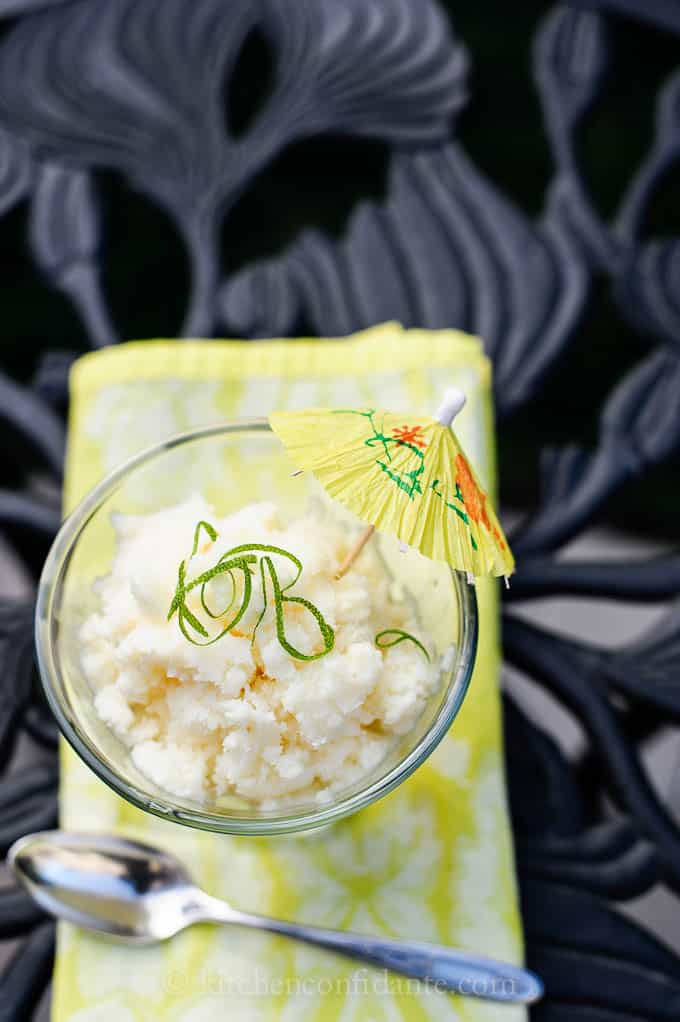 Island Cocktails on sisterMAGAZINE
This Pina Colada Granita (or these other island cocktails and the desserts inspired by them) is sure to be a hit for whatever mood you're in. Go ahead and grab your sunglasses and ditch your clocks and schedules – your mind is going to be on island time as soon as you dig in.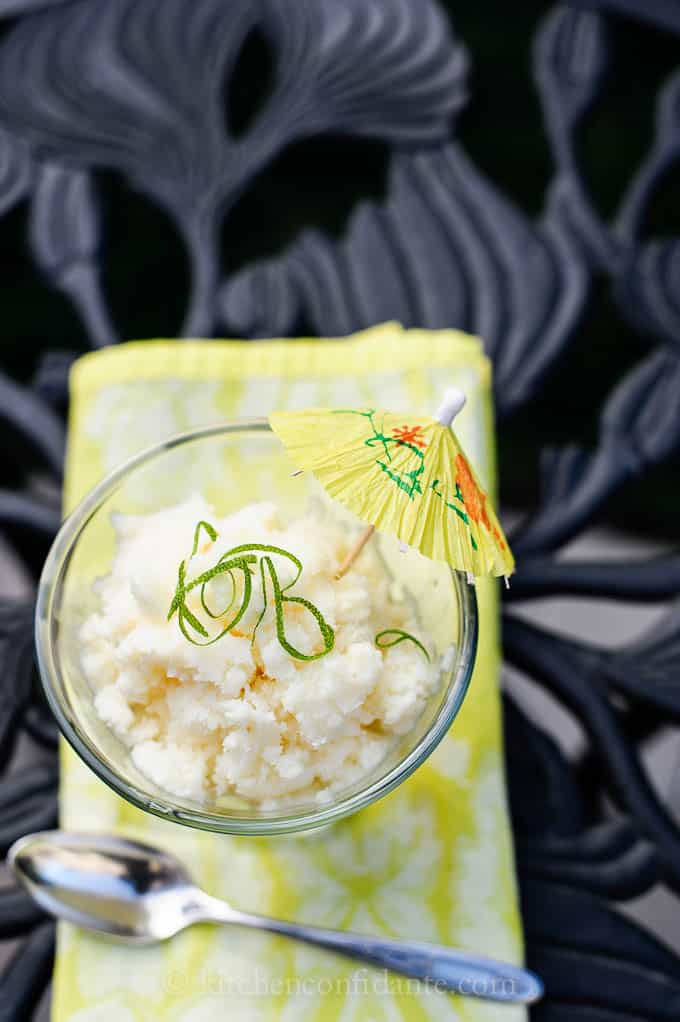 This post first appeared August 19, 2012 as part of the Simple Sundays series. I hope you enjoy these favorite recipes from my kitchen!
Island Cocktails
Do you see that cocktail umbrella? Oh yes, you know what that means. I have a treat for you. Yes you, the hard working grown up, the one who is hopefully enjoying a leisurely Sunday before the Monday grind. Say it with me: Pina…Colada…Granita.
Oh yes. Pina Colada Granita. The perfection of island cocktails. I like to think of it as snow cones for grown ups. Cool and frosty, and definitely boozy – doesn't that sound divine?
But it doesn't stop there.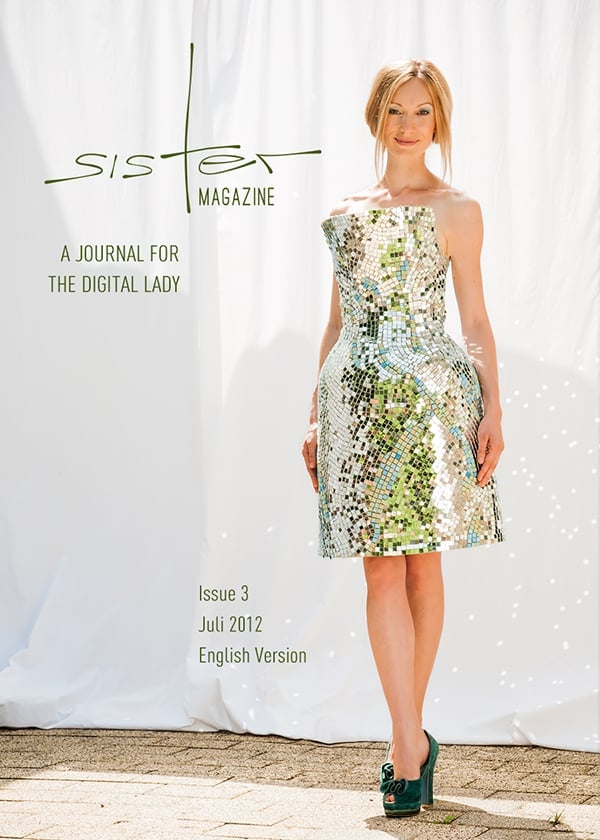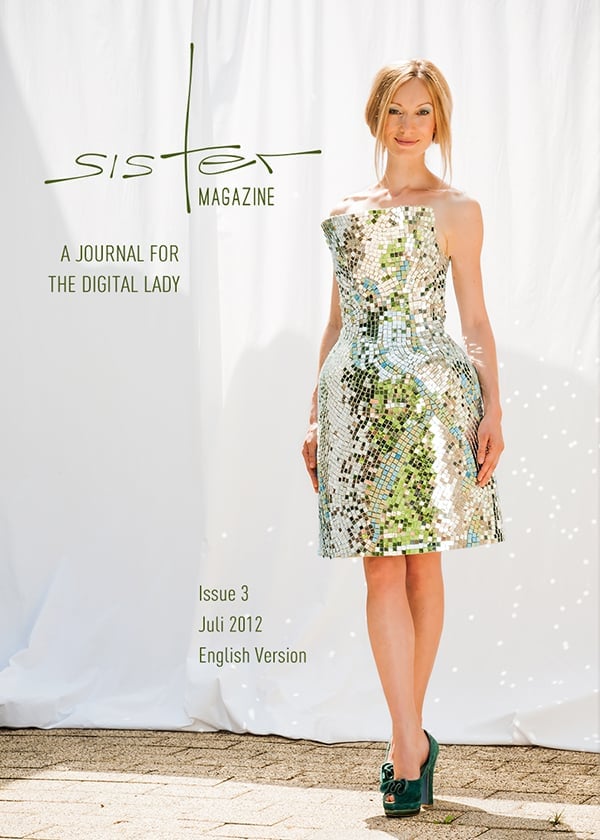 sisterMAGAZINE
I am pleased to share that my images and recipes for island cocktails and cocktail inspired desserts were featured in the Summer issue of Berlin-based sisterMAGAZINE. Co-founder and Editor Theresa ("Thea") Neubauer first contacted me several months ago, introducing me to this sophisticated and dynamic new online magazine, and I was not only instantly drawn by its modern sensibility and international flair, but was so touched by the fact that it was the partnership of two sisters that brought this magazine to fruition.
You know how dearly I value the special relationship between sisters; hearing their story and how Toni and Thea harnessed their talents to creating a magazine for modern women in this digital age was simply inspiring. So when Thea asked if I would be interested in contributing to sisterMAG's Issue N°3, I was more than pleased to collaborate. I took inspiration from a recent vacation, so the article features two original recipes, Pina Colada Panna Cotta and Pina Colada Granitas, as well as several other cocktail-inspired desserts that have been previously published on Kitchen Confidante.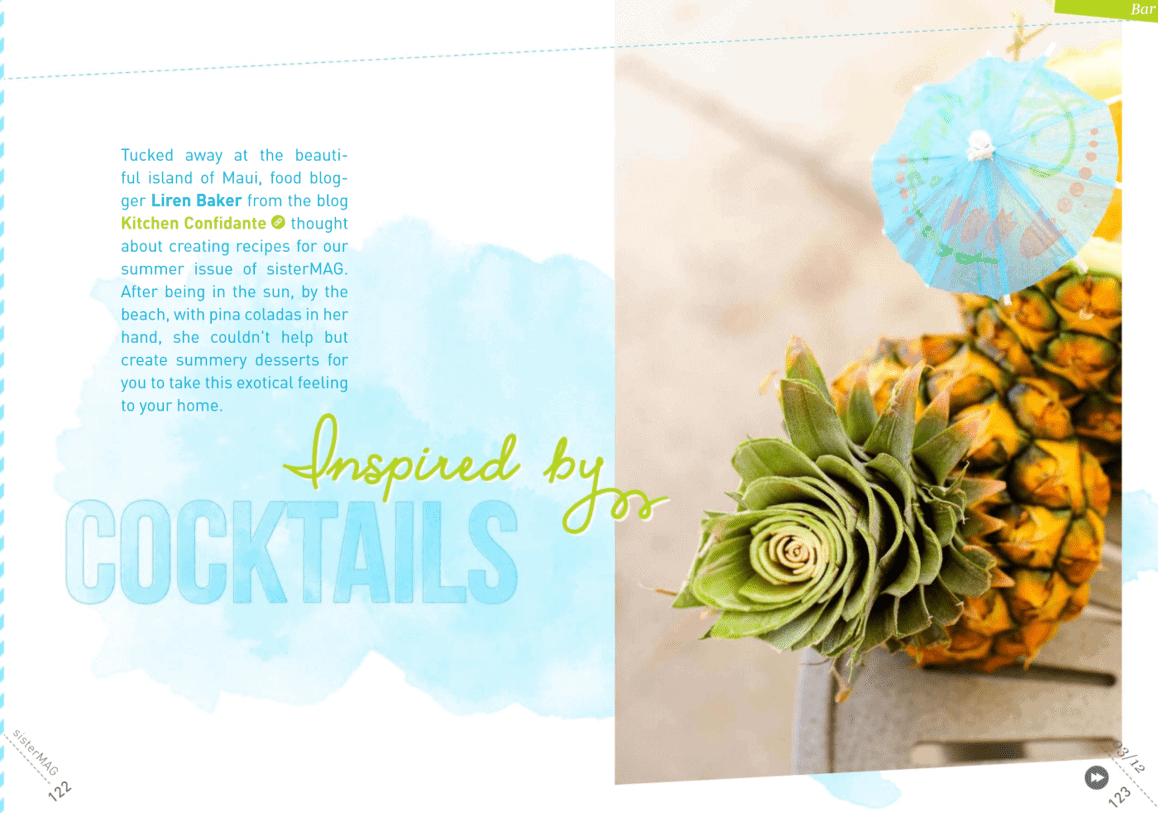 Check it out starting on page 122. I think you'll find that SisterMAGAZINE not only has an enormous amount of delicious inspiration, but also fabulous features on photography, fashion and travel. And that is just the beginning. Cheers!
More Cocktail Inspired Desserts
Pina Colada Muffins
Margarita Bars

More Island Cocktails
Peach Sorbet Mojito Float
Kiwi Lime Mojito
Red White and Blue Berry Sorbet Floats
Watermelon Lime Margaritas
Ginger Cantaloupe Sangria
Pina Colada Granita
Whether you're at the beach, or just want to feel like you're at the beach, this Pina Colada Granita is bound to please!
Ingredients
1

cup

pineapple juice

2

cups

fresh pineapple chunks

1

cup

rum

(like Malibu Caribbean Rum or Bacardi Puerto Rican Rum)

3/4

cup

cream of coconut

(like Coco-Lopez)
Instructions
Place pineapple juice, pineapple chunks, rum, and cream of coconut into a blender and blend until smooth.

Pour into a container (a loaf pan or 8×8 works), cover tightly, and freeze for at least 5 hours or overnight.

When the granita is firm, use a fork to scrape the granita until fluffy.

Place in serving glasses and enjoy.
Notes
Alternatively, one 20 oz can of crushed pineapple can be used in place of pineapple juice and fresh pineapple chunks.
Nutrition
Calories:
226
kcal
|
Carbohydrates:
29
g
|
Protein:
0.3
g
|
Fat:
5
g
|
Saturated Fat:
4
g
|
Polyunsaturated Fat:
0.03
g
|
Monounsaturated Fat:
0.01
g
|
Sodium:
15
mg
|
Potassium:
84
mg
|
Fiber:
2
g
|
Sugar:
26
g
|
Vitamin A:
25
IU
|
Vitamin C:
23
mg
|
Calcium:
9
mg
|
Iron:
0.2
mg
Pina Colada Panna Cotta
This dessert not only tastes amazing, but looks so special! It's perfect to pair with a fun island themed party!
Ingredients
1

14 oz can

coconut cream

1/4

cup

water

2

package

unflavored gelatine

1/2 oz total

1

15 oz can

cream of coconut

2

tablespoon

agave nectar, simple syrup, or sugar

to taste
Instructions
For the Panna Cotta layer:

In a saucepan, combine 1 cup of coconut cream with 1/4 cup of water. Sprinkle 1 package (1/4 oz) gelatin over the coconut cream and let it sit for 5 minutes. Warm the saucepan over low heat and stir, until the gelatin dissolves completely.

Add the remaining coconut cream and cream of coconut, and cook over medium heat until steam rises, stirring periodically. Turn off the heat, cover the pan, and allow to sit for about 20 minutes.

Pour the mixture into your ramekins or serving cups and chill in the refridgerator for at least 4 hours.

Sprinkle 1 package gelatin (1/4 oz) over 1/2 cup cold pineapple juice, let stand 1 minute. Take other 1/2 cup of pineapple juice and bring it to a boil, add to gelatine mixture and stir thoroughly, until the gelatin dissolves, about 5 minutes. Sweeten to taste, depending on the pineapple juice with agave nectar, sugar, or simple syrup.

When the coconut panna cotta layer is firm, add a layer of pineapple gelee to each ramekin/serving cup. Return to refridgerator and chill for another 4 hours.
Notes
Coconut cream is not the same as coconut milk.
Coconut cream is produced in a similar fashion, that is, by cooking a combination of shredded coconut with coconut water. However, coconut cream has less water and is thicker in consistency. If you have trouble finding coconut cream, coconut milk can be substituted, however if will not have as rich of a consistency. 
Cream of Coconut, ont he other hand, is coconut cream that has been sweetened, and is used in things like pina coladas. My favorite brand for cream of coconut is Coco Lopez.
Nutrition
Calories:
303
kcal
|
Carbohydrates:
30
g
|
Protein:
48
g
|
Fat:
1
g
|
Saturated Fat:
1
g
|
Polyunsaturated Fat:
0.01
g
|
Monounsaturated Fat:
0.04
g
|
Sodium:
136
mg
|
Potassium:
37
mg
|
Fiber:
0.1
g
|
Sugar:
30
g
|
Vitamin C:
0.03
mg
|
Calcium:
38
mg
|
Iron:
2
mg