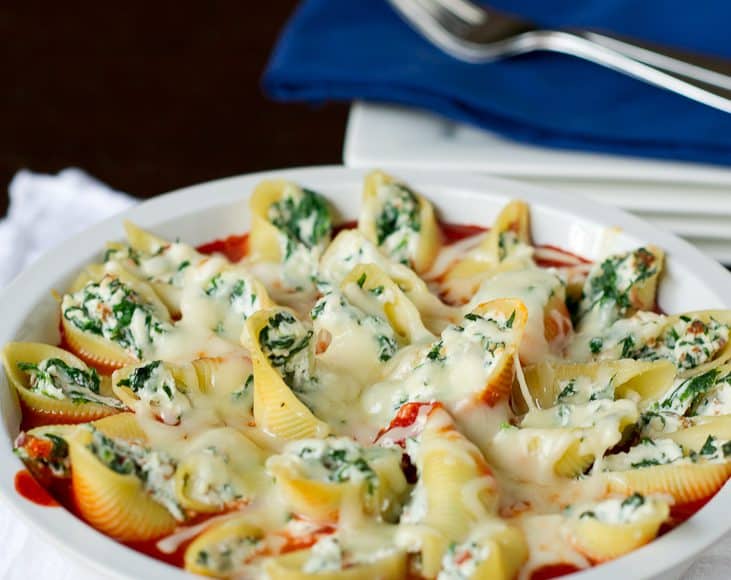 Prosciutto and Spinach Stuffed Shells
When it comes to dried pasta, I have to confess, I am sometimes attracted to particular pastas for very superficial reasons. I won't beat around the bush – pasta is pretty, don't you think? I find myself drawn to certain pastas because of their shape…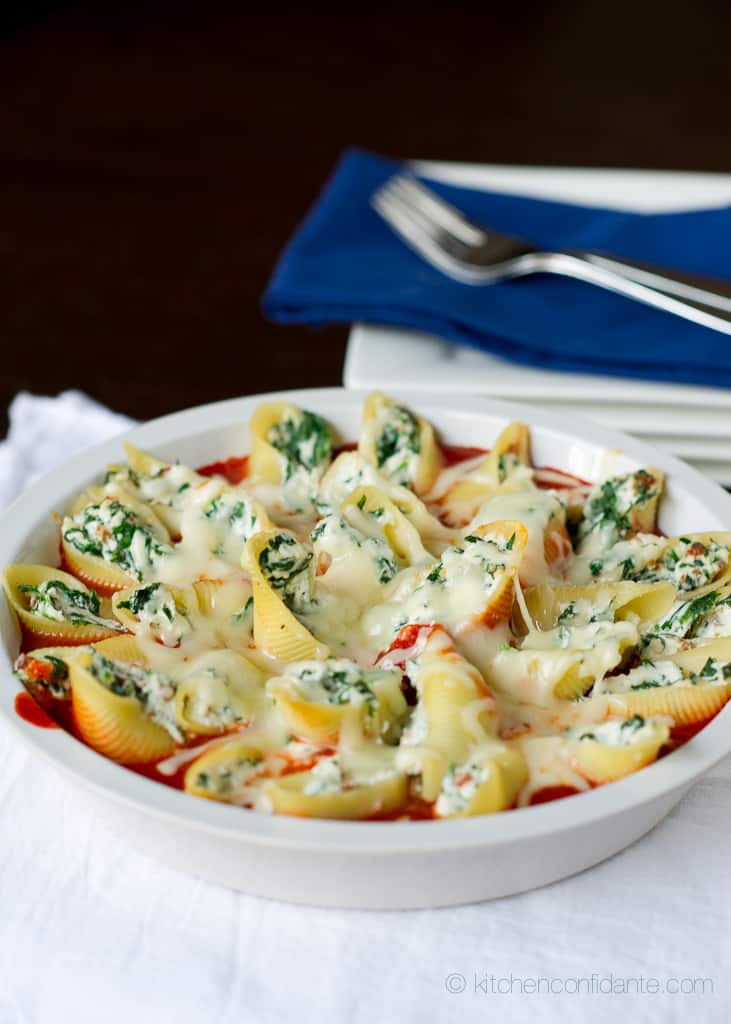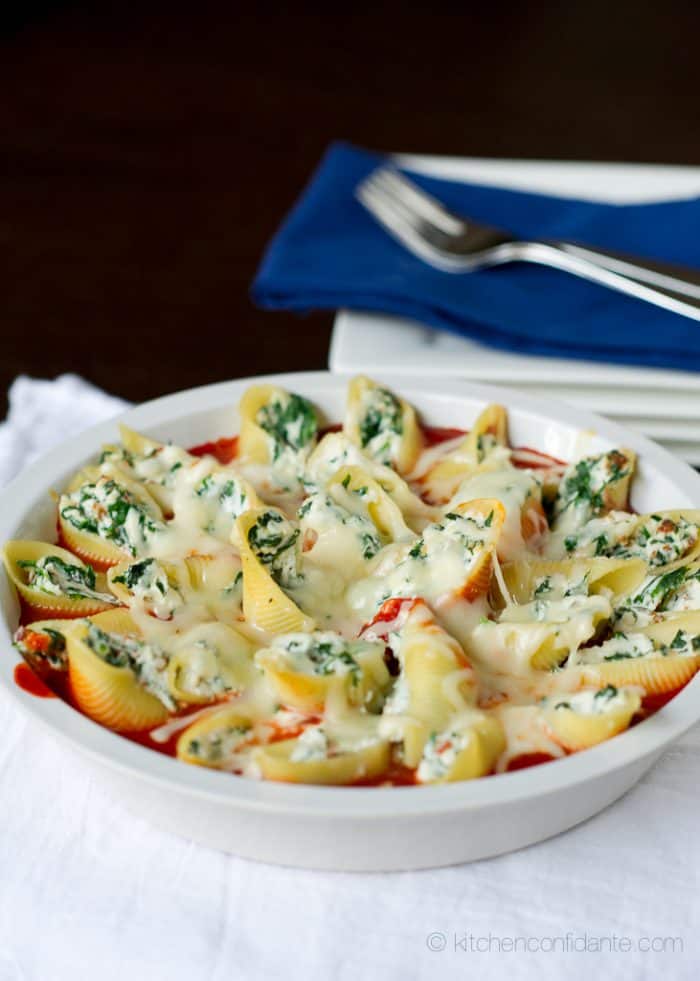 Prosciutto and Spinach Stuffed Shells
When it comes to dried pasta, I have to confess, I am sometimes attracted to particular pastas for very superficial reasons. I won't beat around the bush – pasta is pretty, don't you think? I find myself drawn to certain pastas because of their shape or their color, and how could you not? The artisanal pastas on the grocer's shelves are little works of art: delicate, perfectly formed, and with elegant lines. So I buy them. I may not have a plan for my little treasures when it goes into my basket, but that kind of thing works itself out eventually.
I opened my cupboard one afternoon to find myself staring at these lovely conchiglioni. And then I hoped that I had some ricotta cheese in the refrigerator. There was a split second of regret as my handful of pasta hovered over the rolling boil. These shells are too lovely to cook, what a pity! But that lasted all of a flash. I was on to better (gooier) things.
Prosciutto and Spinach Stuffed Shells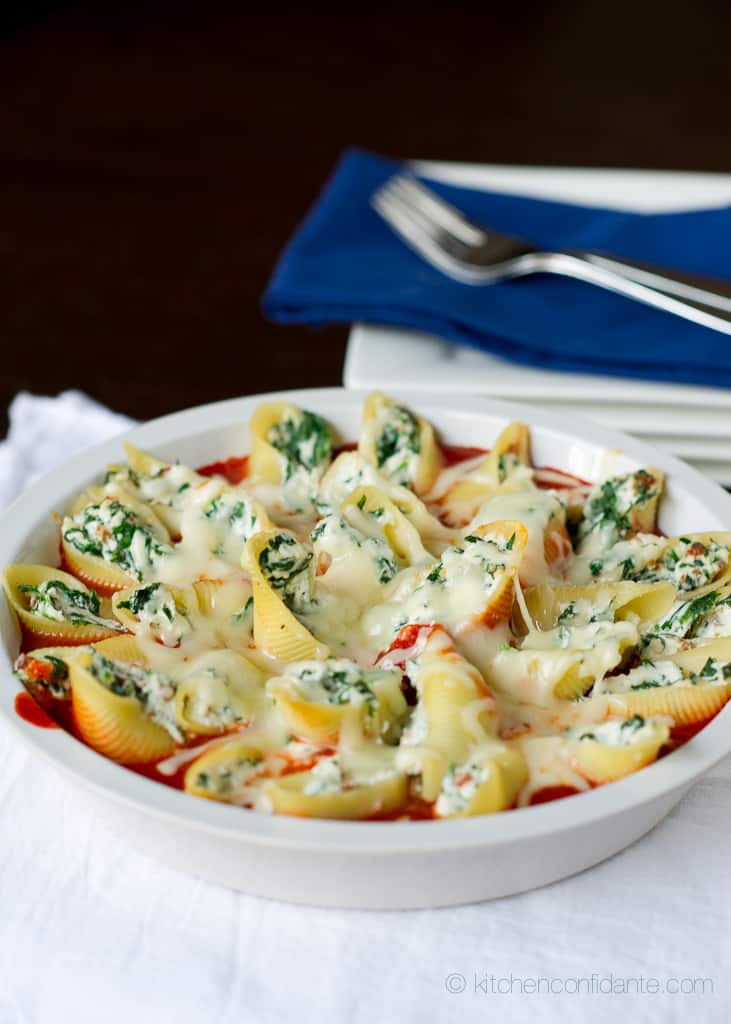 Print Recipe
Ingredients
12 ounces jumbo shells pasta
10 ounces fresh baby spinach
6 ounces prosciutto, thinly sliced and finely chopped
1 (15-ounce) container whole milk ricotta
1 egg, lightly beaten
1 cup grated parmesan cheese
1/2 teaspoon freshly ground black pepper
1 cup marinara sauce
1/2 cup mozzarella cheese, shred
Instructions
Preheat the oven to 375°F. Butter your baking dish.
Bring a large pot of salted water to a boil and cook the pasta according to the package's directions, about 10 minutes, until al dente. Drain and set aside.
In a microwave safe bowl covered with plastic wrap, cook the spinach in the microwave for about 2 minutes. Chop the spinach. In a medium bowl, combine the chopped spinach, prosciutto, ricotta, egg, parmesan cheese, and pepper.
Pour marinara sauce into baking dish. Fill the pasta shells with about 1-2 tablespoons of the prosciutto, spinach and ricotta mixture and arrange in the dish. Sprinkle top with mozzarella cheese. Place in the oven and bake for about 25 minutes, or until the top of the dish is golden brown and the sauce is bubbling. Remove from the oven and serve immediately.