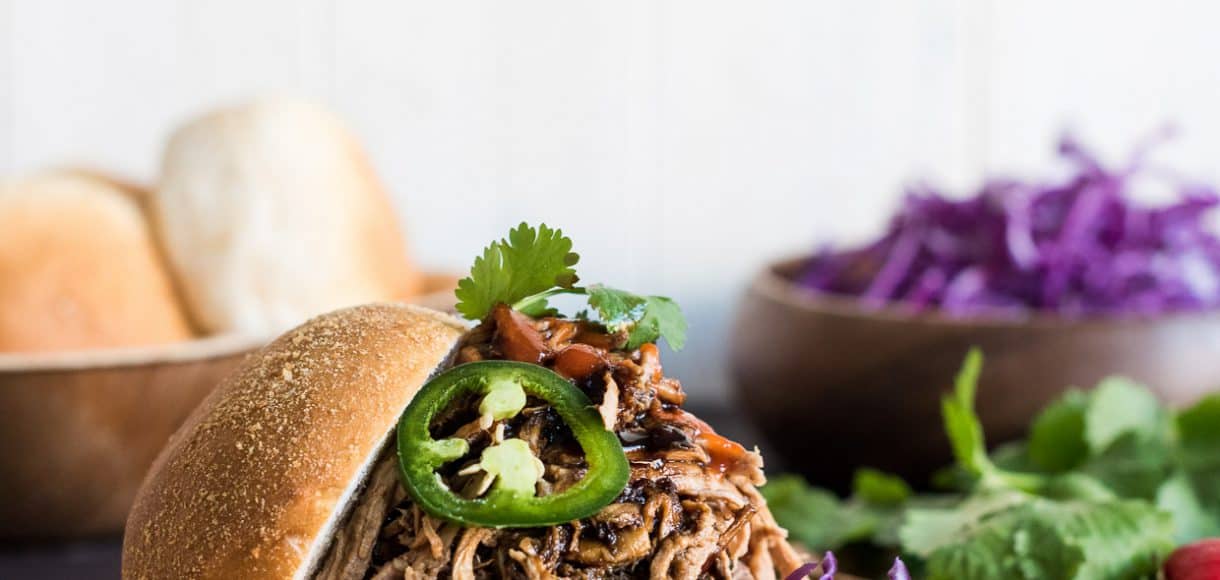 Slow Cooker Filipino Adobo-style Pulled Pork Sandwiches
In our little sleepy – but tug-on-your-heartstrings-adorable – town in the suburbs of San Francisco, there is a little village theatre tucked in a tree shaded spot downtown that is home to local productions. It's a place where my own children have found the magic…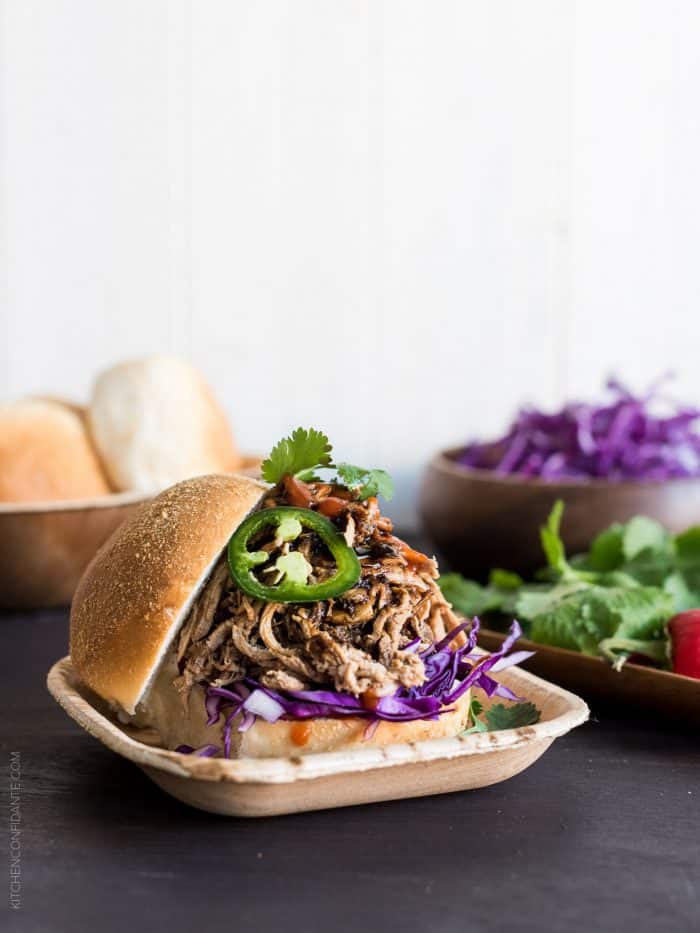 Slow Cooker Filipino Adobo-style Pulled Pork Sandwiches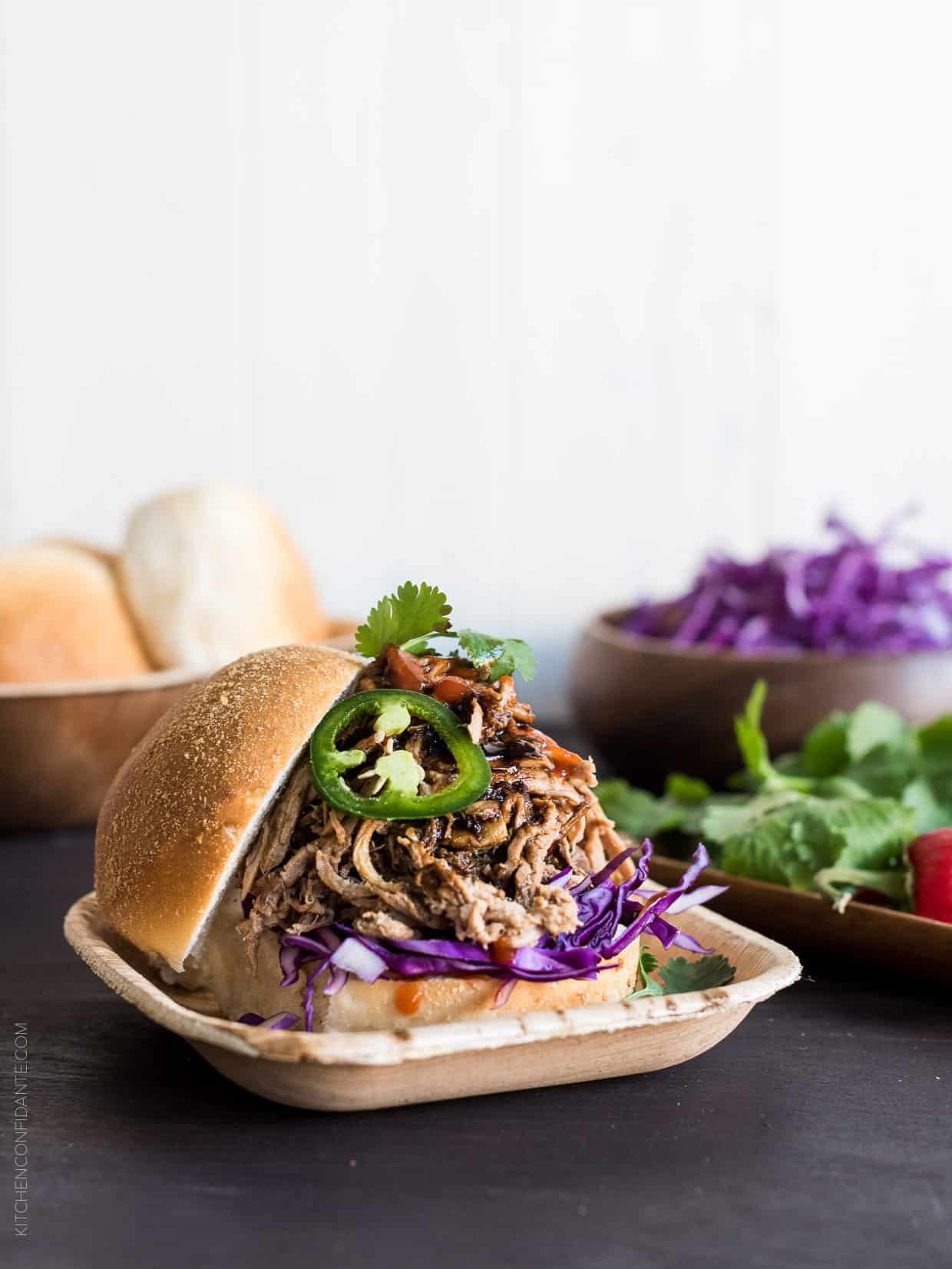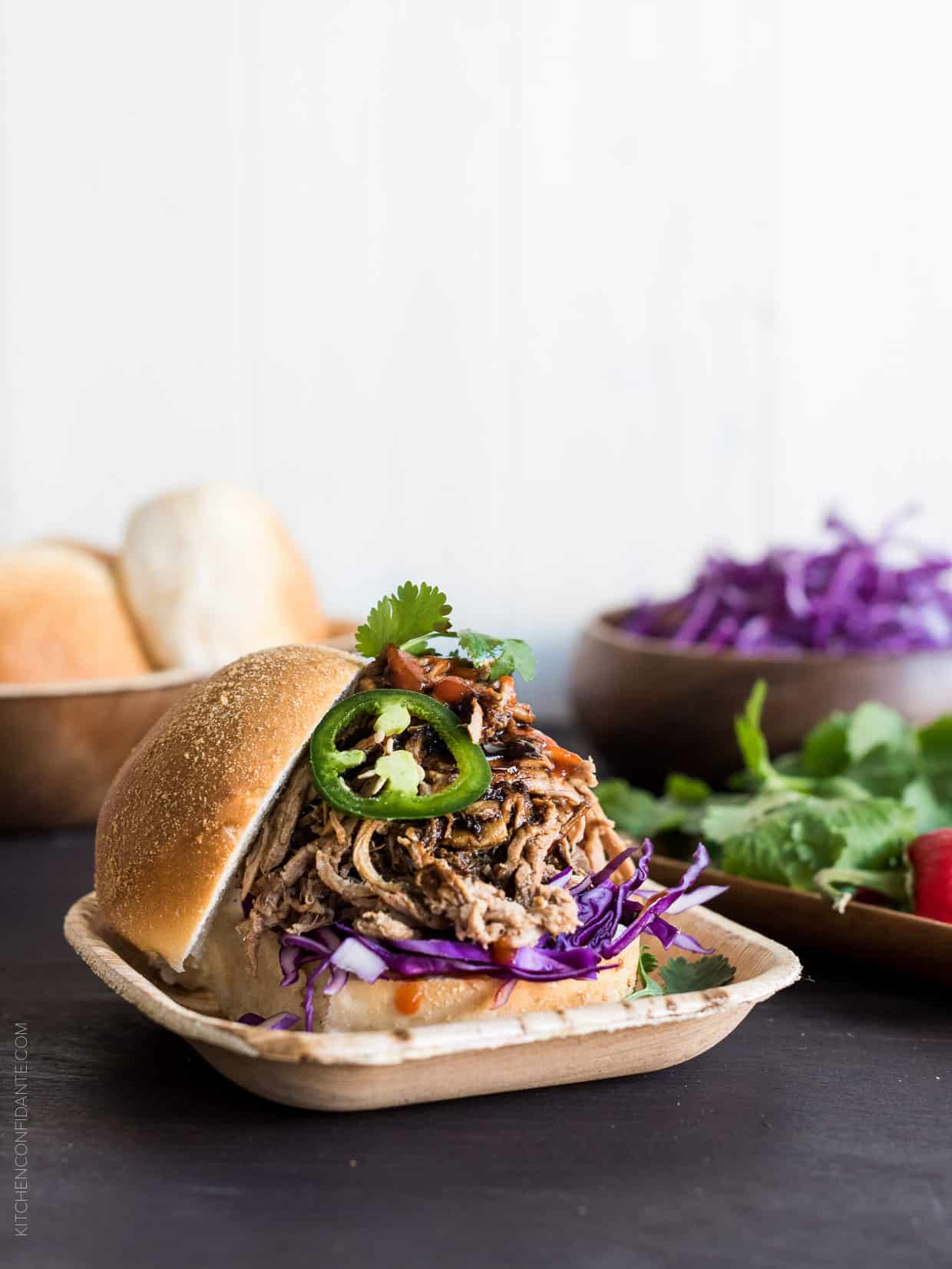 In our little sleepy – but tug-on-your-heartstrings-adorable – town in the suburbs of San Francisco, there is a little village theatre tucked in a tree shaded spot downtown that is home to local productions. It's a place where my own children have found the magic of the stage capture their hearts, whether they're on it or in the audience. Actually, they're usually on that stage, so this weekend, it was a little odd for them to be sitting next to my husband and I to watch a show.
But we did know the performers! The children of one of our dearest and oldest friends are dancers with the American Center of Philippine Arts, and I was so excited to share the beauty of our cultural heritage with my own children. From the romantic, Spanish-influenced dances of the Philippine's colonial rule, to the spirited dances that speak to celebration and fiesta, to the colorful and mesmerizing dances of the Muslim influenced southern region of the Philippines, the show was not only delightful, but nostalgic.
I was reminded of songs my parents used to sing or play on the piano, and the dances I performed in college. It brought me back to countless rehearsals, and gorgeous costumes, and the pride my own parents had when they would watch me perform.
And I realized this was a big gap in my children's upbringing and was excited to share more.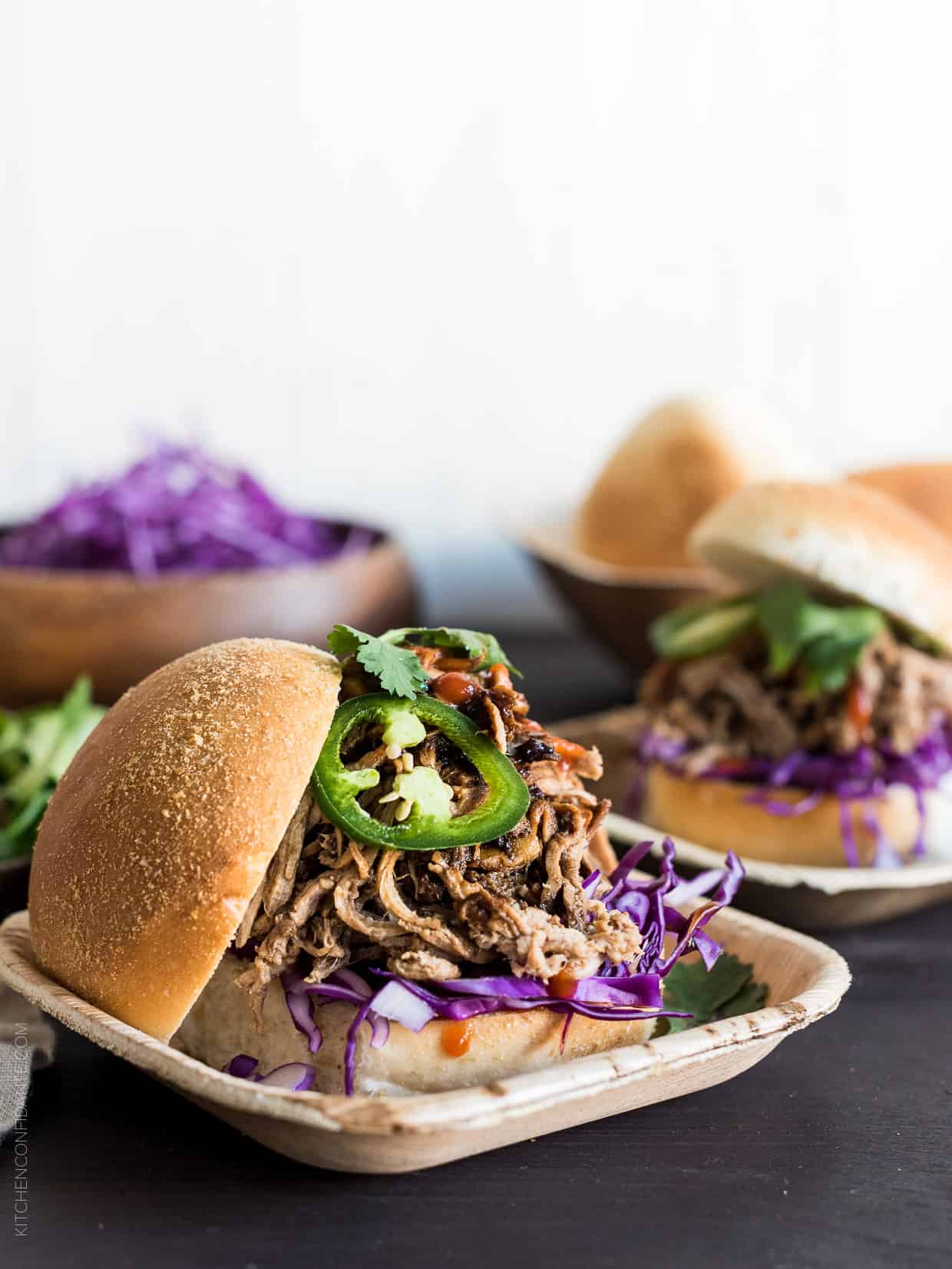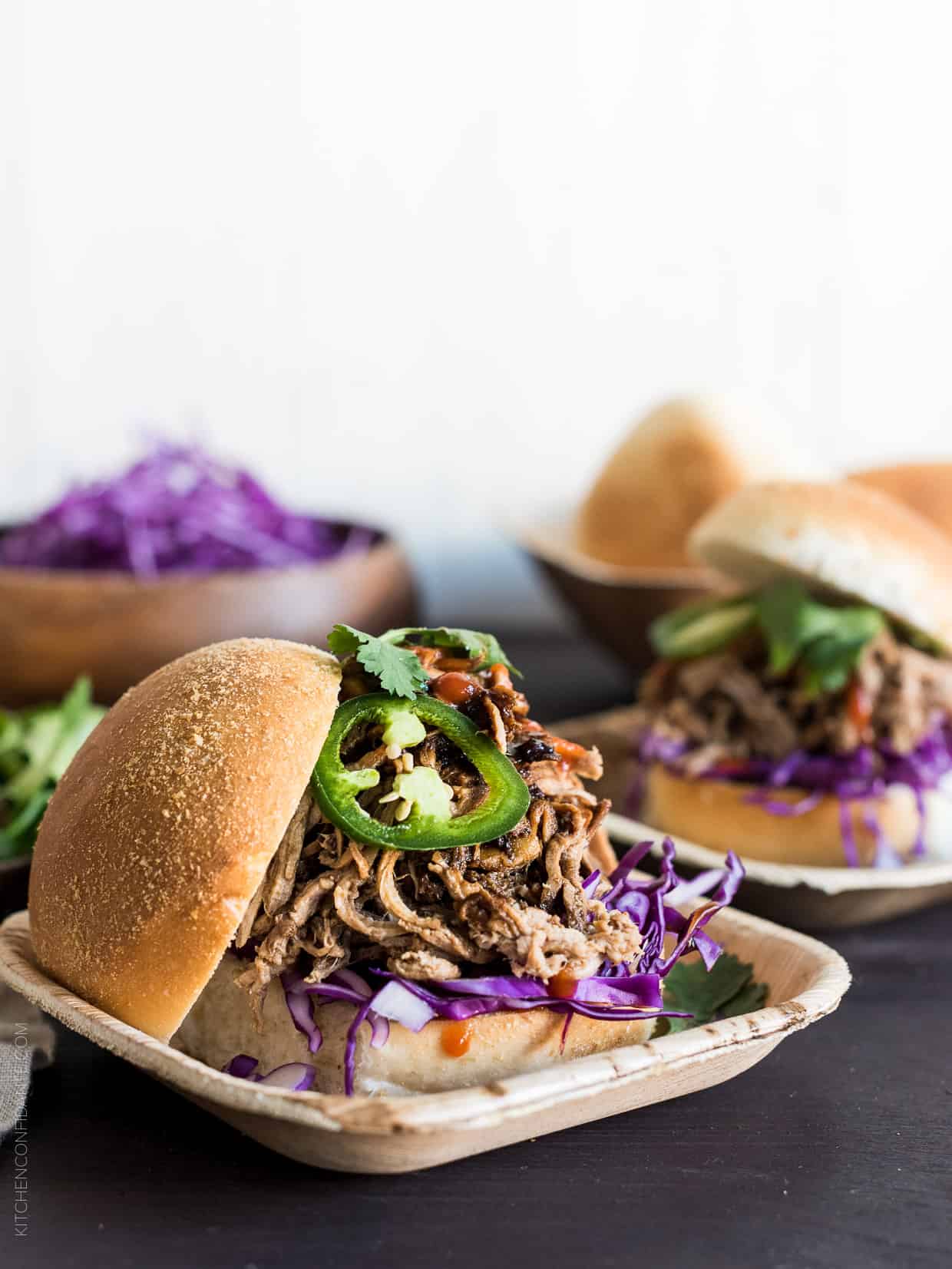 Realizing that there is so much more to share was a little sobering, but I am comforted by the fact that when it comes to food, my children have a genuine appreciation for the flavors I love from my heritage. These flavors get reinterpreted often and I love sharing them with you — and these Slow Cooker Filipino Adobo-style Pulled Pork Sandwiches are just another example of how the beloved Adobo style of braising (often chicken or pork) are delicious in so many ways. The slow cooker makes this effortless, the bold flavors of vinegar, garlic and soy sauce make it tasty, and who doesn't like a pulled pork sandwich? Your tastebuds may even do a little dance.
Products Used for This Recipe
(may include affiliate links)
[show_shopthepost_widget id="1437028″]
Slow Cooker Filipino Adobo-style Pulled Pork Sandwiches
Put the slow cooker to work and make these delicious Filipino Adobo-style Pulled Pork Sandwiches!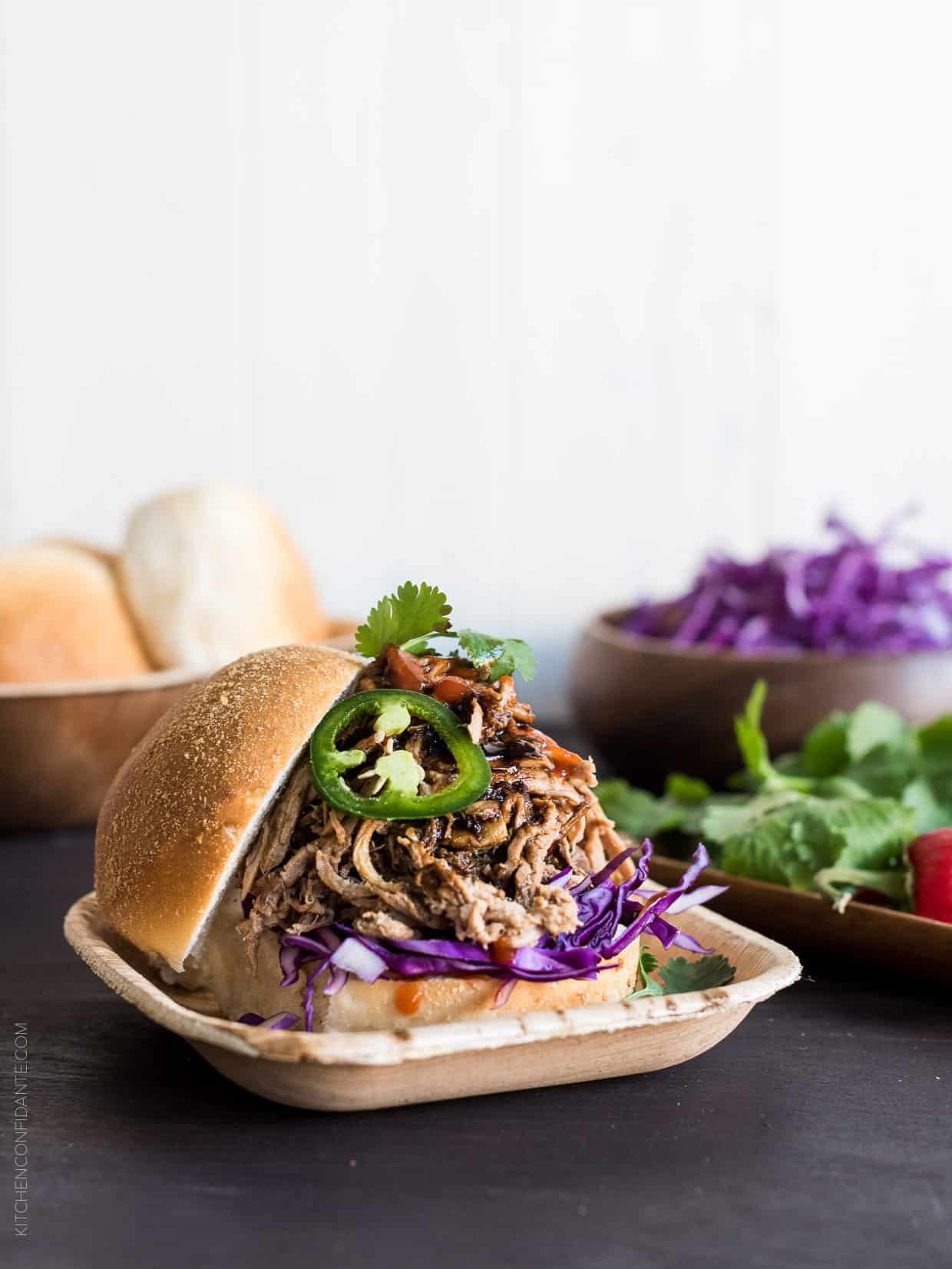 Print Recipe
Ingredients
5-6 lb pork shoulder or pork butt
kosher salt
freshly ground black pepper
1 small head of garlic, finely minced or crushed
3/4 cup cider vinegar
3/4 cup good quality soy sauce (I like Silver Swan)
2 bay leaves
2 tablespoons honey
2 tablespoons molasses
pinch or two of cayenne pepper, optional
For serving:
buns
sliced red cabbage
jalapeno slices
Sriracha or your favorite hot sauce
cilantro
Instructions
Season the pork shoulder/butt generously with salt and pepper on all sides and place it in the slow cooker. Whisk together the garlic, vinegar and soy sauce and pour it into the slowcooker.
Cover and set the slow cooker for 10 hours on low (if you are in a rush, you can also try 6 hours on high) or until the pork is fork tender and coming apart. If possible, rotate the pork shoulder once during cooking (this helps, but is not necessary).
Once cooked, carefully transfer the pork to a cutting board. Shred the pork using two forks, and discard any fat. Stir in about 1/4 cup of the liquid to keep the pork moist.
Discard bay leaf. Transfer the liquid remaining in the slow cooker into a sauce pan, and stir in the honey and molasses, along with some cayenne pepper. Let it come to a boil, then then lower heat to a simmer, and cook for about 5 minutes. If you have an immersion blender, blend the sauce together to puree the sauce into a smoother consistency if you wish. Adjust seasoning if necessary. Remove from heat.
Assemble the sandwiches by placing a layer of cabbage on one half of a bun, top with pulled pork, some sauce, sriracha, jalapeno and cilantro. Top with the other half of the bun and enjoy immediately.