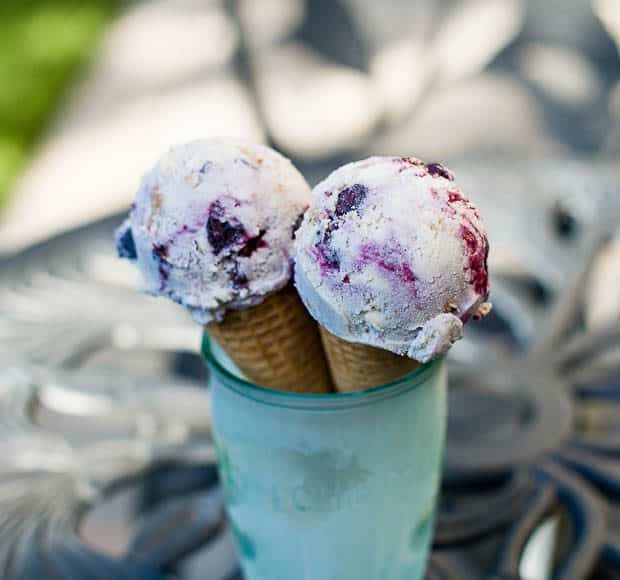 Blueberry Crisp Ice Cream
Homemade ice cream. It's undeniably the best. And it's even better when you create a rich custard, add homemade blueberry filling, and then bake a crisp to stir in – giving the ice cream little crunches in the best ways! Yep. It's blueberry crisp ice cream.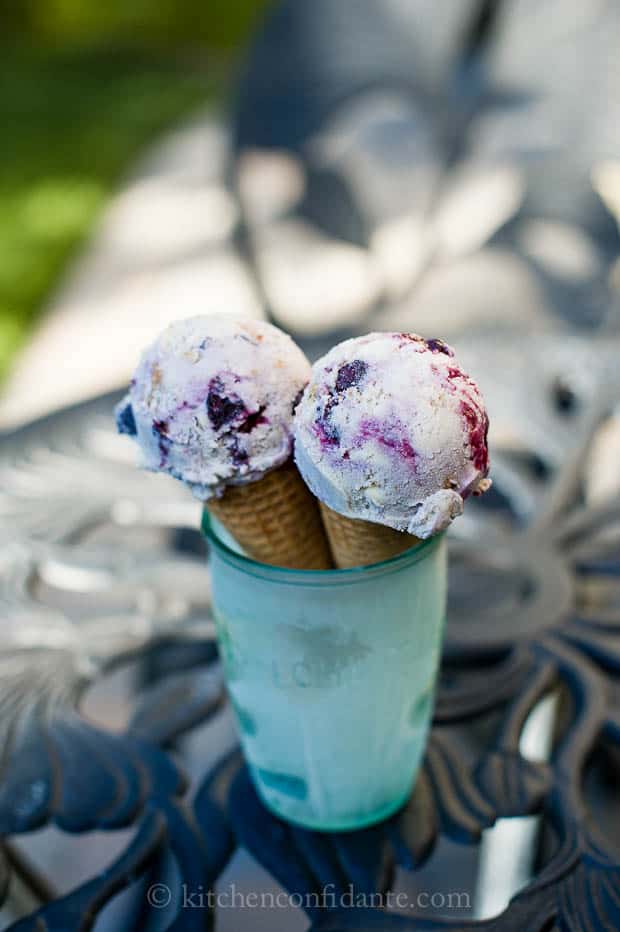 Blueberry Crisp Ice Cream
Is there anything more iconic to childhood than ice cream? And yet does anyone ever grow out of their obsession with the frozen treat? This blueberry crisp ice cream takes homemade ice cream up a notch – including not only fun color and flavor with blueberries, but also magical crunchy "crisp" that takes this ice cream from good to addictive.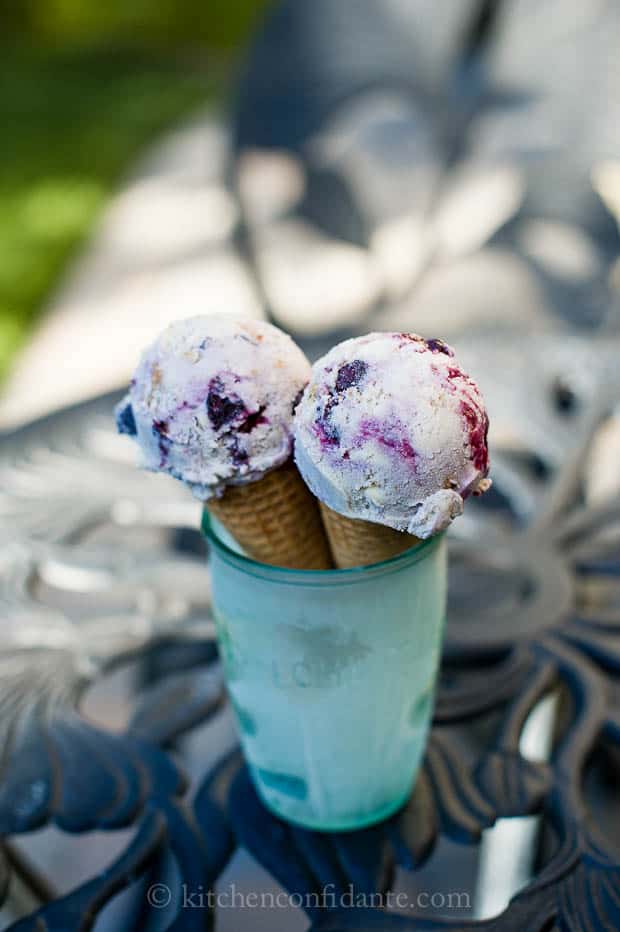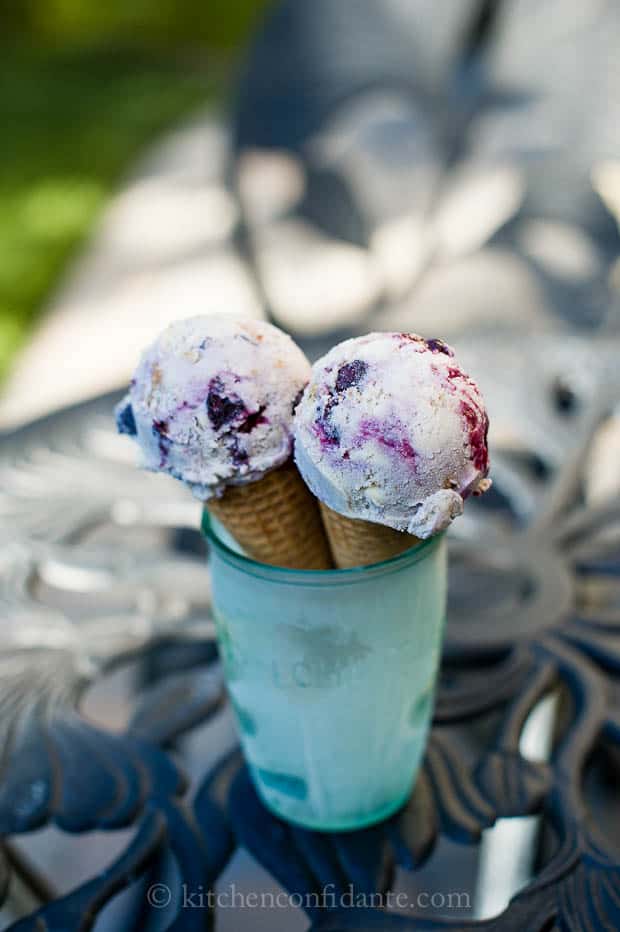 Were there doggies when you were little, mama? Was there power? Mama, were there phones when you were growing up?
These are some of the questions I've been fielding this week. Apparently, they think I must be ancient.
I can understand some of the questions. My kids hear me talking of a world without computers or cell phones. They hear stories of when I used to drag the telephone from the kitchen into my bedroom, with a 24 foot coil stretching the length of the house. On a recent vacation, they spotted a pay phone and it became one of those teaching moments – imagine, you put money into a slot to make a call!
These days, it's totally normal for them to ask, "are you going to tweet that?" or, "oooh, can you put that on Instagram?"
Wait till I tell them about ice cream.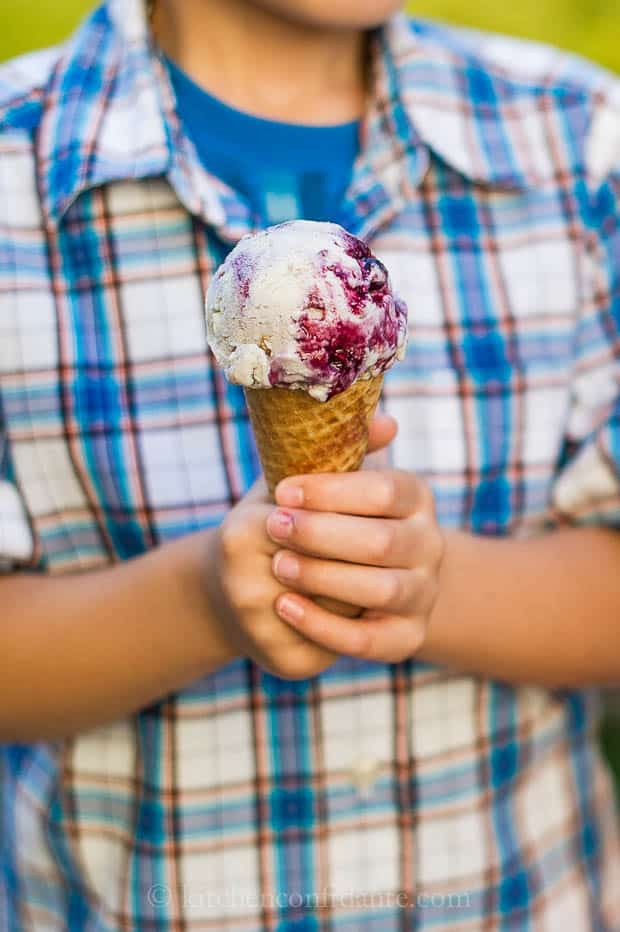 During those, ahem, simpler times, ice cream meant just a few flavors. Vanilla. Chocolate. Strawberry. Fancy meant Butter Pecan or Pistachio, Neopolitan or Rainbow Sherbet. Eventually, Baskin Robbins gave us 31 flavors, and wow, that was bold. And when Ben and Jerry's came along, they were practically the ice cream messiahs.
The flavors you can find today are just so much more exciting – herbs and cheeses make their way into ice creams, and even balsamic reductions. These kids don't know how good they've got it.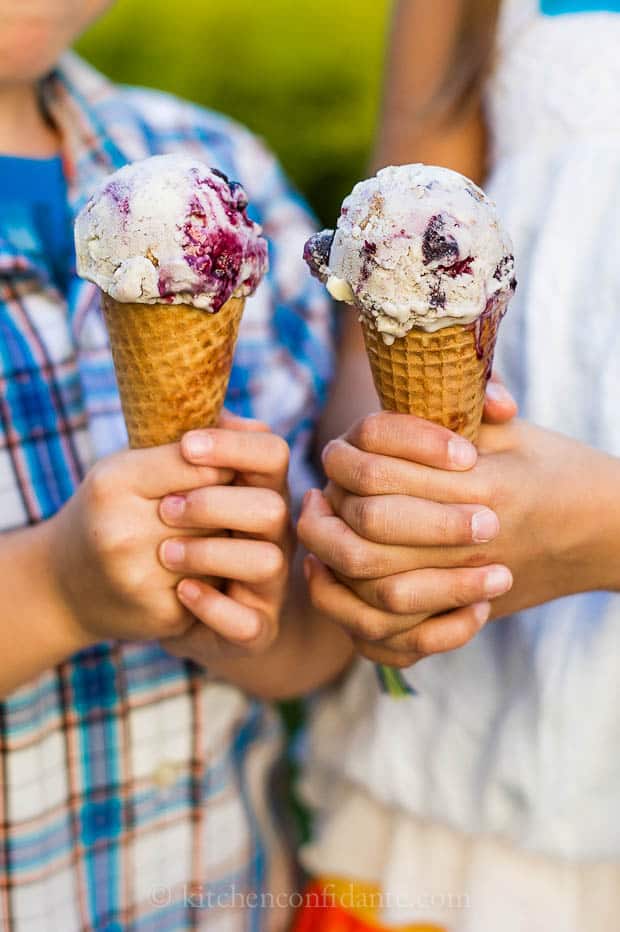 I was in an ice cream making mood the other day – the bug has bitten, ever since my foray into Chai Tea Ice Cream reignited my passion for making ice cream. This time, I was craving Blueberry Crisp, but I wanted to try it inside out and a la mode. I stirred the custard and coaxed it into creaminess, then made the filling and baked off the crunchy topping (the best part, don't you think?). I churned and mixed it all up together into a frozen dream. Each lick was heaven.
It's good mama! the kids called out as they ate their cones outside. These kids. I think tomorrow I'll tell them about how I used to walk to school. In the snow.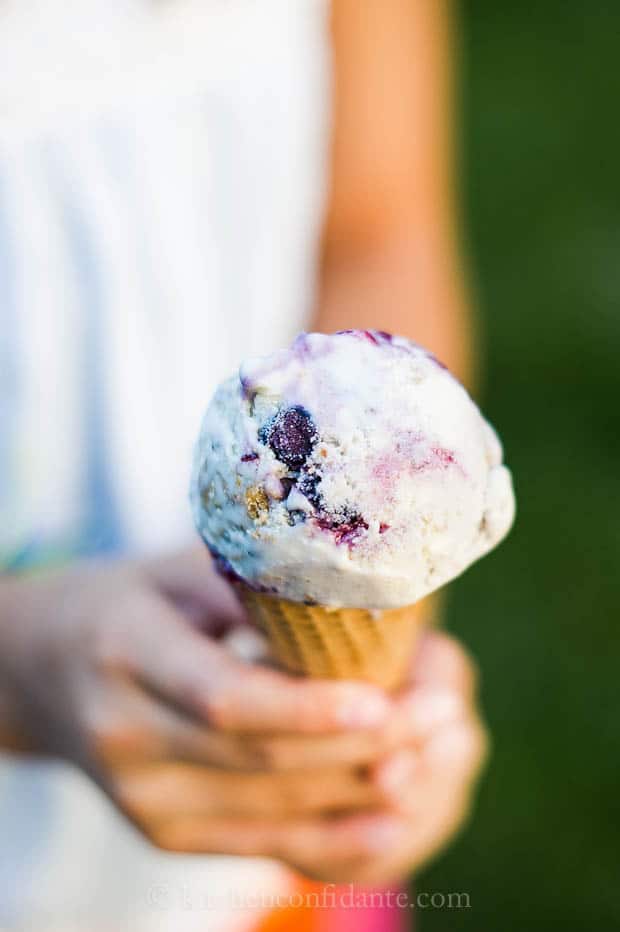 More Homemade Ice Cream Ideas
Tea Poached Pears with Earl Grey Ice Cream
Cranberry Almond Swirl Ice Cream
Pumpkin Ice Cream Sandwiches
Strawberry Frozen Yogurt
Mango Ginger Sorbet
Crisp Recipes
Cranberry Apple Crisp
Stovetop Rhubarb-Cherry Crisp
Stuffed Pear Crisp
Strawberry Rhubarb Crisp (Vegan-Friendly)
Blueberry Crisp Ice Cream
To me, there's nothing more summery than Blueberry Crisp, a la mode. Put it all together in this dreamy ice cream. I promise you, you won't regret it.
Ingredients
Ice Cream Base
2

cups

heavy cream

1

cup

whole milk

2/3

cup

sugar

divided

1/8

teaspoon

vanilla

pinch

of salt

4

egg yolks
Blueberry "Filling"
1

cup

blueberries

1/4

cup

apple juice

1/2

cup

granulated sugar

1

teaspoon

vanilla
Crisp
6

tablespoons

flour

6

tablespoons

light brown sugar

packed

3

tablespoons

butter

cubed

1/4

cup

rolled oats

1/4

teaspoon

cinnamon
Instructions
In a medium sauce pan, combine the heavy cream, milk, 1/3 cup sugar, vanilla, and salt, and bring to a gentle simmer over medium heat. Use a wooden spoon to stir, dissolving the sugar, and bring the cream mixture to about 175 degrees (about 8 minutes).

Turn off the heat, cover the pan, and allow the vanilla infused cream to steep for 15 minutes.

Meanwhile, whisk the egg yolks in a separate bowl, and slowly add the sugar, whisking for about 4 minutes, or until the eggs are light in color and thick.

When the cream finishes steeping, ladle 1 cup of the hot cream in a drizzle into the eggs while whisking to temper. Pour the egg mixture back into the saucepan, and gently cook over medium low heat, stirring constantly with a wooden spoon for about 8-10 minutes. The custard is ready when you are able to coat the back of your wooden spoon and run your finger down, leaving a line.

Prepare an ice bath. Strain the mixture into the prepared bowl of the ice bath. Depending on your sieve, you may need to strain twice to get a nice, smooth consistency.

Let the ice cream custard cool for 1 hour in the ice bath, stirring periodically. The ice cream may then be churned immediately or, if you like, the following day (keep the mixture chilled in the refrigerator until then). The longer the custard cures, the better.

While the custard is cooling in the ice bath and/or curing, make the blueberry "filling" and "topping." In a small sauce pan over medium heat, stir together blueberries, apple juice, and sugar until the sugar is dissolved.

Bring to a boil then lower heat and simmer for about 10-15 minutes, or until the sauce has thickened. Stir in the vanilla.

Allow the compote to cool completely in the refridgerator before using. Again, this can be done in advance, just store in the refridgerator in an airtight container.

Preheat the oven to 350 degrees F. Butter a small baking dish (about 3×6 inches). Combine flour, sugar and butter using a pastry blender, two forks, or a food processor, and mix until it looks like course crumbs. Add oats and cinnamon and mix a little more. Spread topping evenly in buttered dish, and pat down gently with your fingertips. Bake until the top is light brown and crisp, about 25 minutes. Let it cool completely, then break into 1 inch pieces.

Pour the custard into the chilled bowl of your ice cream maker and churn for about 25-30 minutes. At the end, swirl in the blueberry filling and churn some more. Do the same with the chunks of crisp. Freeze in an airtight container in the freezer at least 1 hour before enjoying.
Notes
Ice cream base based on Tyler Florence's Vanilla Ice Cream Base, via Food Network.
Nutrition
Calories:
480
kcal
|
Carbohydrates:
51
g
|
Protein:
5
g
|
Fat:
29
g
|
Saturated Fat:
18
g
|
Polyunsaturated Fat:
2
g
|
Monounsaturated Fat:
8
g
|
Trans Fat:
0.2
g
|
Cholesterol:
179
mg
|
Sodium:
142
mg
|
Potassium:
164
mg
|
Fiber:
1
g
|
Sugar:
44
g
|
Vitamin A:
1195
IU
|
Vitamin C:
2
mg
|
Calcium:
102
mg
|
Iron:
1
mg