Sweet Potato and Kale Coconut Curry Soup
Red curry makes this light and healthy Sweet Potato & Kale Coconut Curry Soup perfect for a cozy meal. If you wish, make it more hearty by adding lentils or beans! "There's something about new houses and rainy winters," my husband said, as he surveyed…
Sweet Potato and Kale Coconut Curry Soup
Red curry makes this light and healthy Sweet Potato & Kale Coconut Curry Soup perfect for a cozy meal. If you wish, make it more hearty by adding lentils or beans!
"There's something about new houses and rainy winters," my husband said, as he surveyed the weather forecast with his vigilant eye.
Our first winter in California was christened with relentless rainstorms, each day the sky opening to downpour on us as we commuted to and from work, barely giving us a break. It was a good ski season, so we heard, but we were too busy getting settled in our very first house at the time. There was no time to take advantage of the snow in the mountains. Instead, there were rainy trips to Home Depot, and we spent those wet nights and weekends busying ourselves with home projects.
When we weren't working on the house, we nested, we planned our wedding, and I spent any spare moment I could in the kitchen. I cooked, and I baked, tackling recipe after recipe.
Looking back, that first winter was a very cozy time.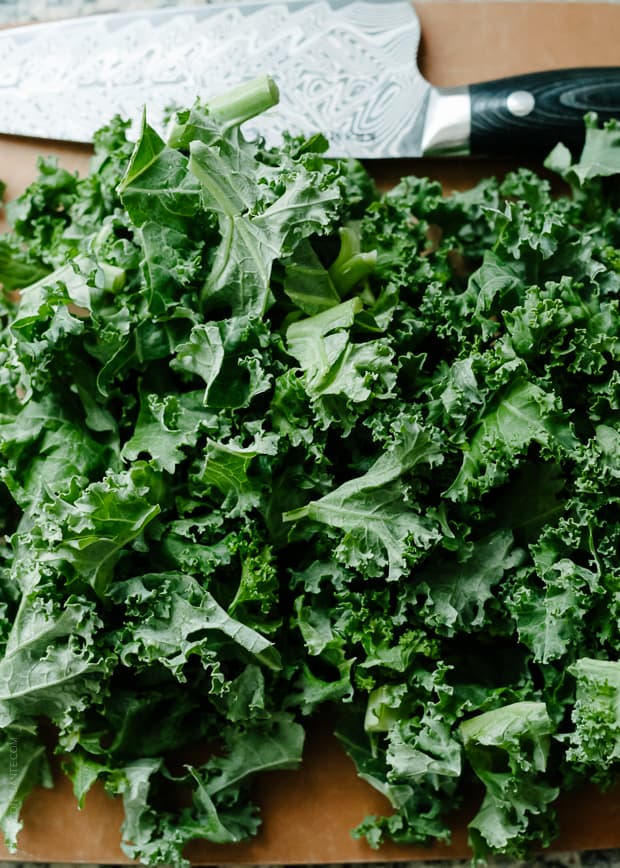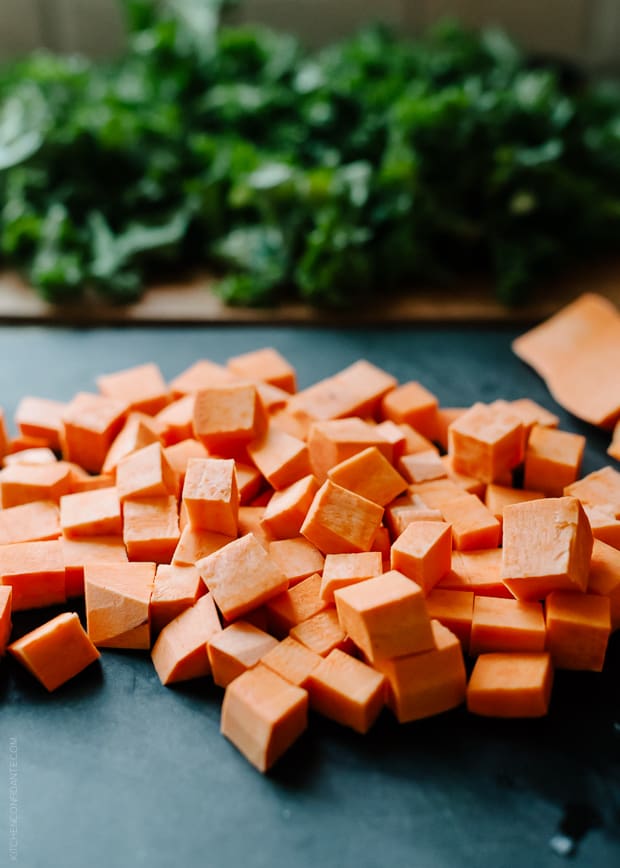 Our second house in LA was the same. Flash floods and hillside landslides were the story of our winter there, along with finding ways to entertain a one year old.
And our third house? Another wet winter – landscaping projects saw long delays, and this time, we did play in the mountains – with toddler and a 5 month old in tow – in spring snow, no less!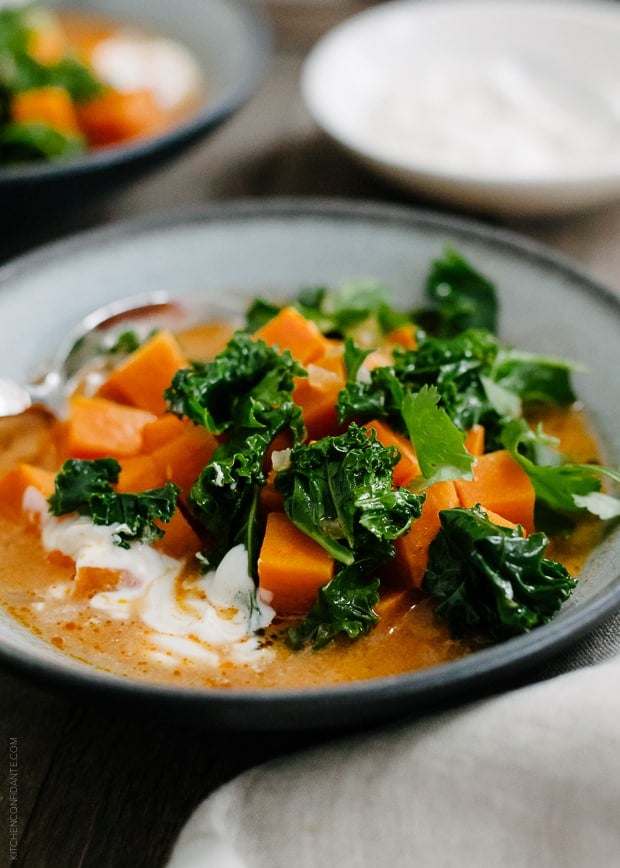 Here we are, our fourth house, and as fate would have it, the heavens poured our very much needed rain all week, and there's more to come. Soup is what I crave, and I keep finding ways to sneak it into rotation. This Sweet Potato and Kale Coconut Curry Soup was my favorite lunch this week – the Thai-style red curry infusing its rounded heat in the coconut broth, mixing with the sweetness of the sweet potato and the bite of the kale. It was the perfect soup for nesting, for staying in from the rain.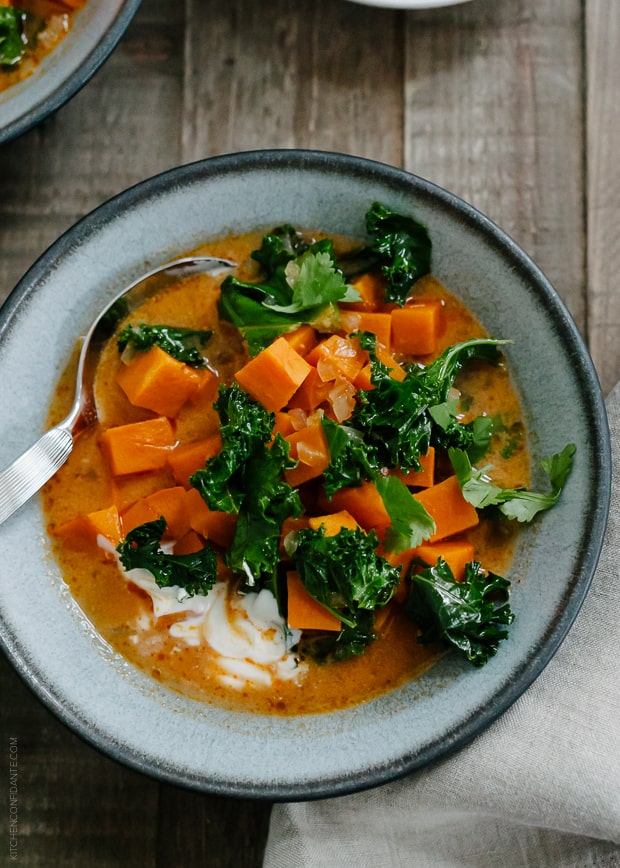 Eat Seasonal in December
I love joining Becky from Vintage Mixer and our friends each month as we share dishes that embrace #EatSeasonal! This month, so many of my favorite foods are featured in such creative ways!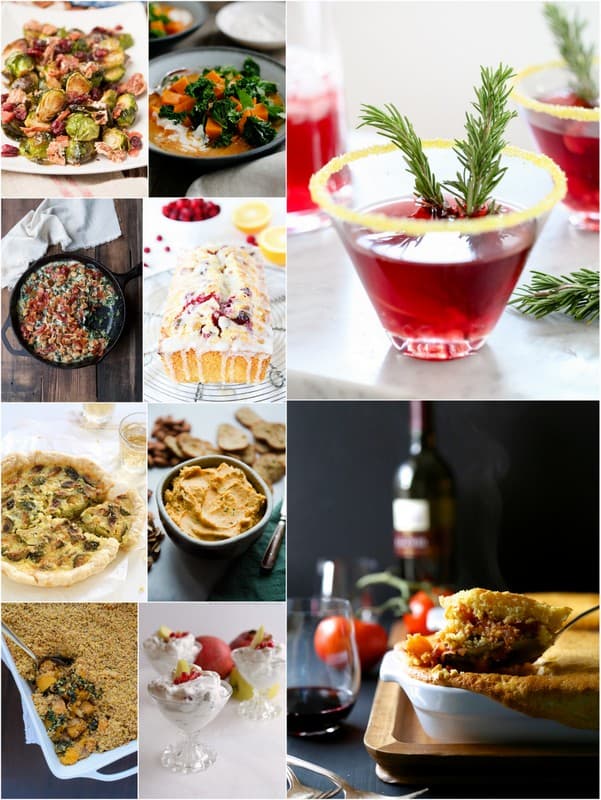 Get the delicious recipes:
Brussels with Candied Nuts by Oh Sweet Basil
Pomegranate Martini by Foodie Crush
Kale and Collard Green Gratin by Vintage Mixer
Orange Cranberry Bread by Two Peas and Their Pod
Brussels Sprouts and Gruyere Quiche by Completely Delicious
Roasted Butternut Squash Dip by Cafe Johnsonia
Winter Squash Tamale Pie with Harissa by Climbing Grier's Mountain
Butternut Squash Casserole with Sausage and Sage Breadcrumbs by The Law Student's Wife
Dixie Salad with Pomegranates by Bless the Mess
Balsamic Glazed Butternut Squash & Endive Salad by Project Domestication
Sweet Potato and Kale Coconut Curry Soup
Red curry makes this healthy soup hearty and perfect for a cozy meal. If you wish, make it more hearty by adding lentils or beans!
Print Recipe
Ingredients
2 tsp canola oil
3/4 cup shallots or red onion, finely chopped
4 teaspoons red curry paste (add more if you would like more heat)
4 cups chicken broth
1 cup unsweetened light coconut milk
1 1/2 teaspoons fish sauce
1-2 sweet potatoes, peeled and diced in 1/2 inch pieces (about 3 cups)
3 cups chopped kale, stems removed
kosher salt, to taste
freshly ground black pepper, to taste
1/4 cup coarsely chopped fresh cilantro
creme fraiche, for serving
Instructions
In a medium sauce pan or pot, heat the canola oil over low heat. Add the onions and cook until translucent, about 2-3 minutes. Add the red curry paste and stir into the onions for about a minute, until fragrant. Pour in the chicken broth, coconut milk and fish sauce and increase the heat to medium-high, and bring to a boil. Let it cook, stirring occasionally for about 5 minutes, then add the sweet potatoes and kale. Cook for about 5-10 minutes, or until the sweet potatoes are fork tender, taking care to not let them get mushy. Adjust seasoning with salt and pepper if necessary.
Serve the soup while hot, garnishing with cilantro and creme fraiche.