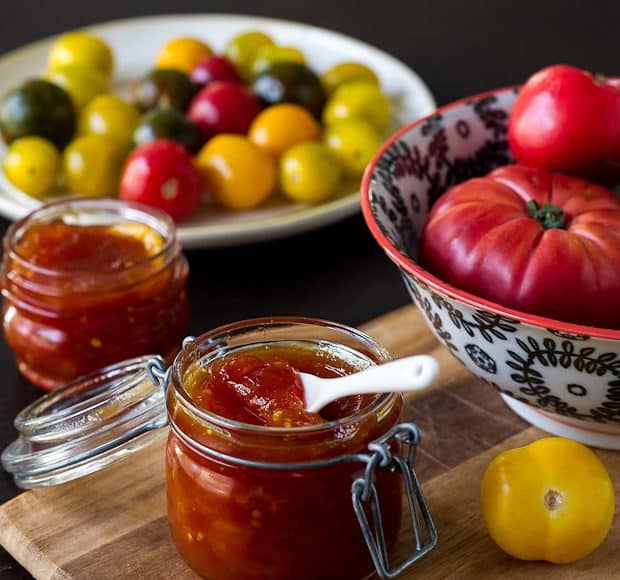 Simple Sundays | Tomato Jam
There was a lovely stillness when I awoke this morning. I was cradled in a warm bed, nestled under a cloud of down, my head resting on my pillow. The sunlight streamed through the shutters and on the bedside table, steam from a fresh cup…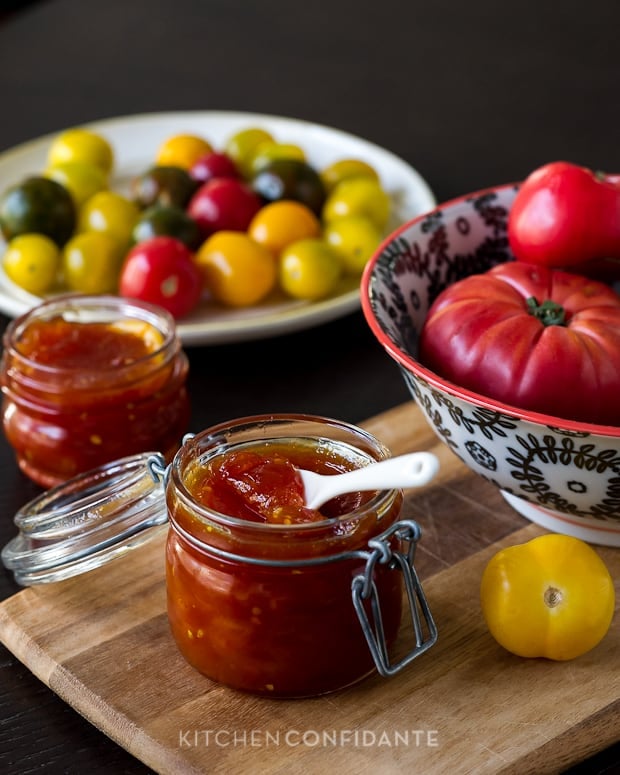 Simple Sundays | Tomato Jam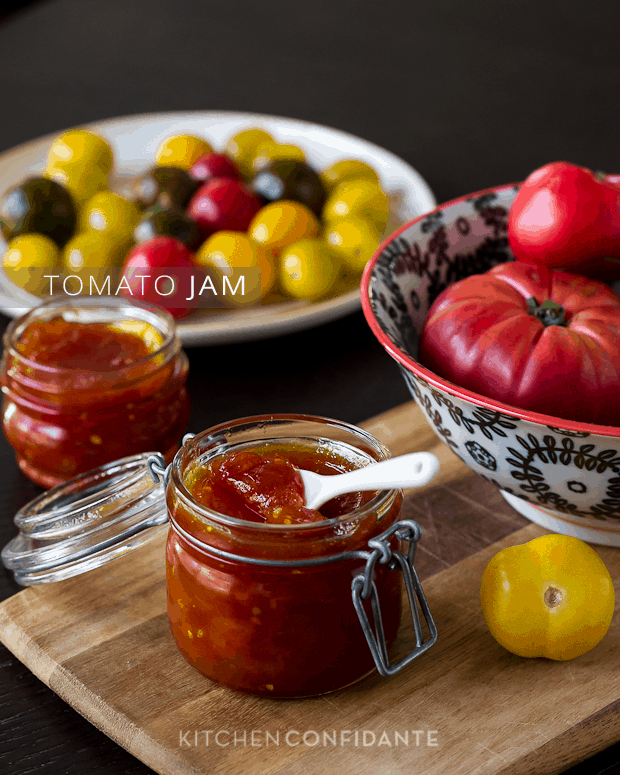 There was a lovely stillness when I awoke this morning. I was cradled in a warm bed, nestled under a cloud of down, my head resting on my pillow. The sunlight streamed through the shutters and on the bedside table, steam from a fresh cup of French pressed coffee rose.
Oh, it's so good to be home.
After several days of roughing it with my daughter on a field trip in the foothills of Sonora, it was heaven to return to the comforts of home, to my shower and hairdryer, to the coffee that my husband makes so perfectly, just the way I like it, to my kitchen filled with foods that I love. Nothing like a little camping to make you appreciate the little things.
There is one other thing I do appreciate. I have been fortunate to join my children on so many of their field trips. I am finding that I learn just as much as they do when it comes to California's history. Around this time last year, my daughter and her class visited a local farm where they learned about the early settlers to this valley, the walnut groves and fruit trees that used to dot the hillsides, and the foods that would come out of their rustic kitchens. They tasted fresh churned butter, along with a mystery jam.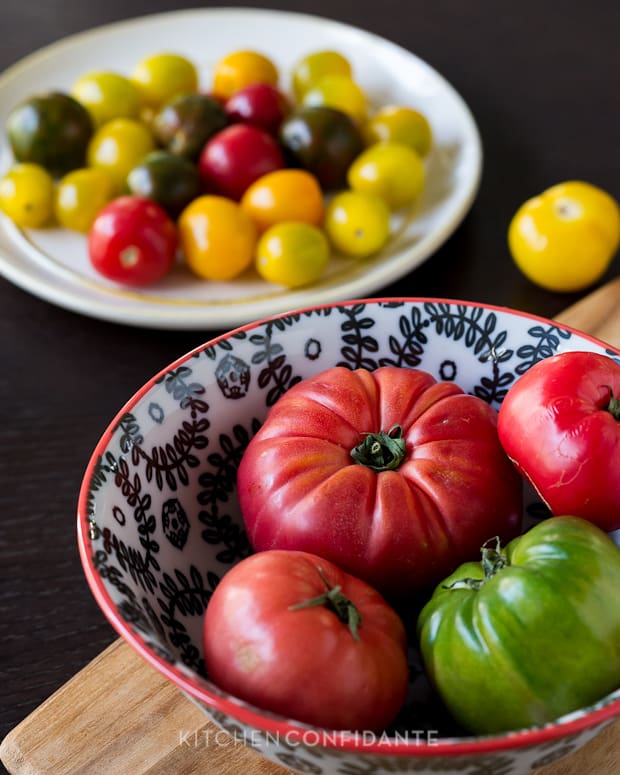 "Can anyone guess what fruit is in this jam?"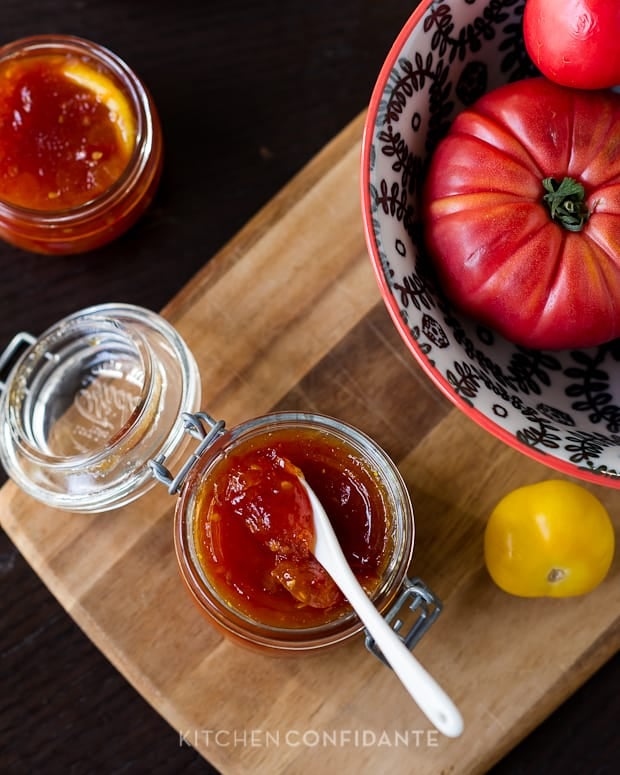 A generation of taste buds raised on strawberry jams and grape jellies yelled out guess after failed guess. No one could pin point the flavor. The surprise was audible when the docent smiled and told the defeated students, "It's tomato."
Tomato Jam. I fell in love fast and knew I had to make my own. Now that summer is upon us and bushels of heirloom tomatoes are coming our way, I hope you take a moment to give this a try. I love it on buttered toast, or with a smear of tangy goat cheese and wine. I don't even bother canning it, it goes so quickly.
The foods of necessity have transcended time. This simple recipe is one I wouldn't change. Straightforward and reliant on the ripeness of a harvest, this beautiful jam is a delicious way to preserve the joys of a ripe tomato, both then and now.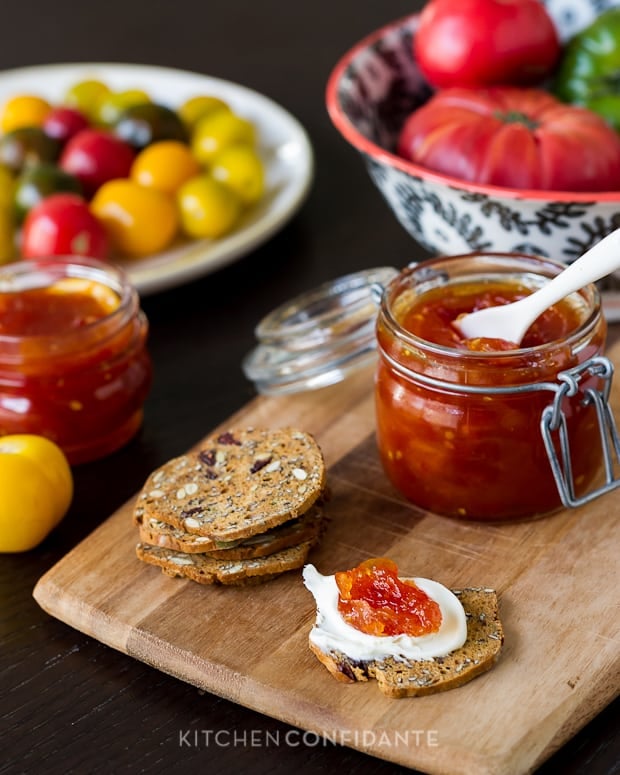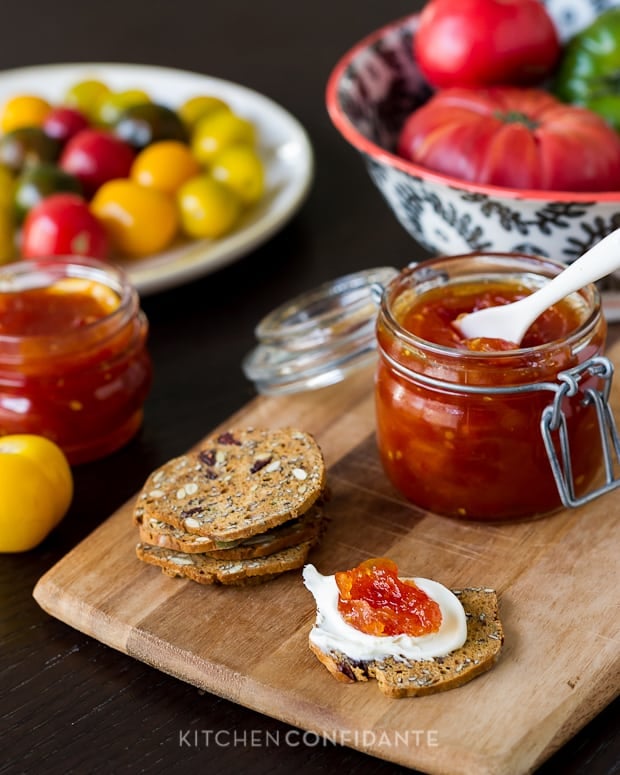 There's something about a tomato jam that reminds you that it is technically a fruit. If you've never tried tomato jam before, I just know you will love it!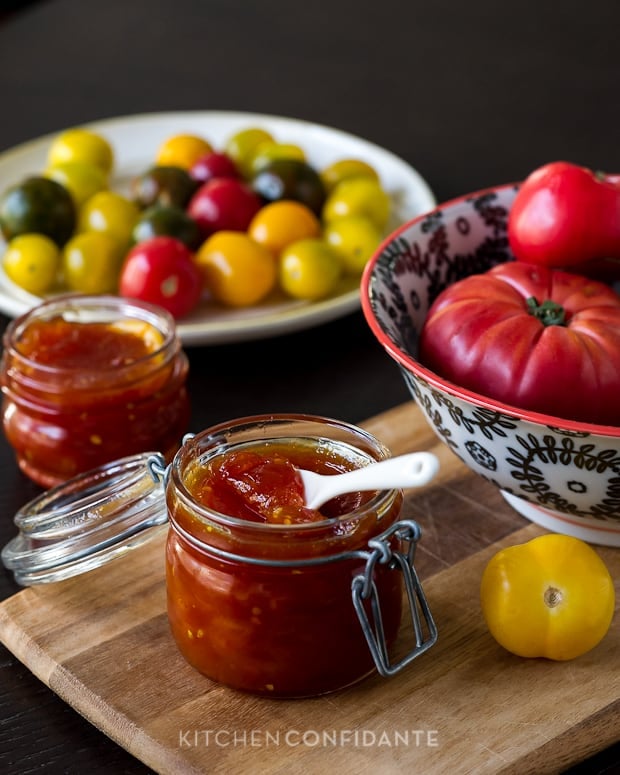 Print Recipe
Ingredients
3 lbs ripe tomatoes
1 lemon, thinly sliced
1 package fruit pectin (about 3 tablespoons)
4 cups sugar
Instructions
Sterilize your jars.
Prepare a large pot of boiling water. Gently scald the tomatoes, then peel, core and quarter the tomatoes. Use your hands and a sieve to squeeze out the seeds and juice. Set aside the pulp for the jam.
Place the tomato pulp in a large saucepan and bring to a boil. Lower heat to a simmer, and let it cook for about 10 minutes, stirring often. Place 3 cups of pulp in a separate large saucepan and stir in the sliced lemons and pectin. Bring to a boil, stirring constantly. Stir in the sugar and continue cooking at a boil for about 3 minutes. Remove from heat and skim off any foam from the surface. Continue to stir as it cools for 5 minutes.
To preserve in a waterbath:
1. Ladle jam into hot jars, one at a time, leaving 1/4-inch headspace. Wipe rims. Center lids on jars. Apply bands and adjust to fingertip tight.
2. Place filled jars in canner, ensuring jars are covered by 1 to 2 inches of water. Place lid on canner. Bring water to gentle, steady boil.
3. Process jars for 10 minutes, adjusting for altitude. Turn off heat, remove lid and let jars stand for 5 minutes.
4. Remove jars and cool. Check lids for seal after 24 hours. Lid should not flex up and down when center is pressed. Clean and store jars according to manufacturer's instructions.