Midnight Snack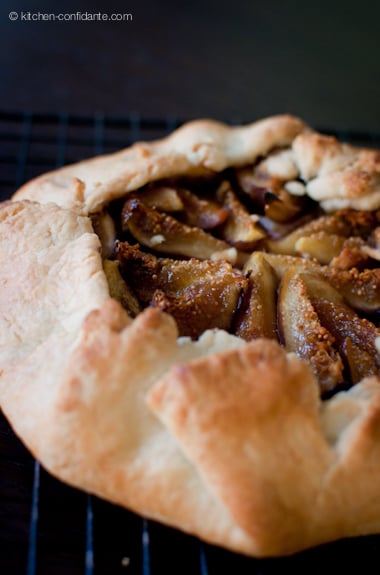 Once in a while, late at night when the house is quiet and I should be winding down, resting in bed, I find myself tip-toeing downstairs into the kitchen, looking for a midnight snack. This does not happen often, but when it does, I usually crave one thing in particular.
Figs.
Fresh, ripe and tender figs, sliced in half, drizzled in honey and eaten with a morsel of goat cheese. To me, that is the ultimate, the perfect midnight snack.
Imagine the torture when I have that craving in the middle of January, when figs are just about as rare as fireflies in California.
So when I see the first figs in the markets come summertime, I can't help but do my own happy dance. It means indulging in a fruit that I find so incredibly satisfying, no matter the preparation. And I do see it as an indulgence, because for some reason, I am the only one who appreciates figs in my house, at least when it's not in a cookie or bar. When I buy fresh figs, they are all for me.
I decided to create a galette that combines the flavors of my ultimate midnight snack. My Fig, Honey & Goat Cheese Galette is perfect for those night time cravings, but it's also wonderful as a lunch with a salad of fresh greens, at a brunch, or an appetizer with a good crisp Chardonnay. Frankly, it's delicious any time of the day.
Fig, Honey & Goat Cheese Galette
Makes one 8-inch rustic galette.
1 disk Pate Brisee (1/2 recipe, see below)
5 oz goat cheese
5-6 fresh figs, sliced in small wedges
3-4 tablespoons good quality honey
1 tablespoon cream or milk
Preheat the oven to 400 degrees Fahrenheit.
Roll pate brisee into a 10-inch disk about 1/8-inch thick on a sheet of parchment paper. Using a fork, cream the goat cheese and incorporate about 1 1/2 tablespoons of honey into the softened cheese. Spread in the center of the dough, leaving a 2 inch perimeter. Arrange the figs on top of the goat cheese, then fold the edge of the dough up on the figs, pleating as you make your way around the galette. Lightly brush the dough with cream or milk. Transfer galette with the parchment paper onto a heavy baking sheet.
Bake in the oven for about 35 minutes, or until the crust is golden brown. Remove from oven and drizzle the figs with the remaining honey. Enjoy while warm.
Pate Brisee
Recipe from The Martha Stewart Living Cookbook, Oxmoor House, 2000. It can also be found here.
Makes 2 medium disks.
2 1/2 cups all-purpose flour
1 teaspoon salt
1 teaspoon sugar
1 cup (2 sticks) cold unsalted butter, cut into small pieces
1/4 to 1/2 cup ice water
Place flour, salt and sugar in the bowl of a food processor and pulse till incorporated. Add the butter and pulse for about 10 seconds, until the mixture looks like crumbs. With the food processor running, add the water in a slow drizzle until it comes together in a ball. Take care not to get the dough too wet. Divide the dough into two parts, place each ball on plastic wrap, flatten into a disk. Wrap the dough tightly and store in the refrigerator for at least 1 hour before using, or overnight until ready to use. The dough can also be frozen.
71 Responses to "Midnight Snack"
Pingback: Auld Lang Syne « Kitchen Confidante

Pingback: Apricot Galette | Kitchen Confidante
Leave a Comment