Fig, Honey and Goat Cheese Galette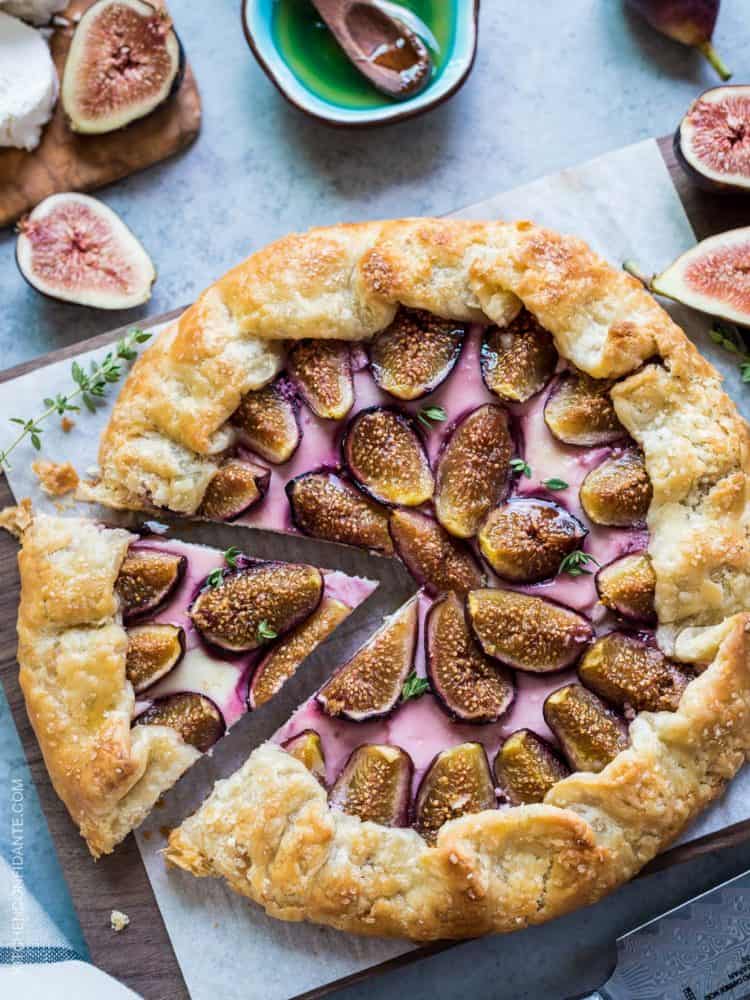 Fig, Honey and Goat Cheese Galette
Fig, Honey and Goat Cheese Galette is a fig lover's dream. Nestled in a flaky, buttery crust are sweet figs, tangy goat cheese and drizzles of sweet honey. Make it while fig season is here.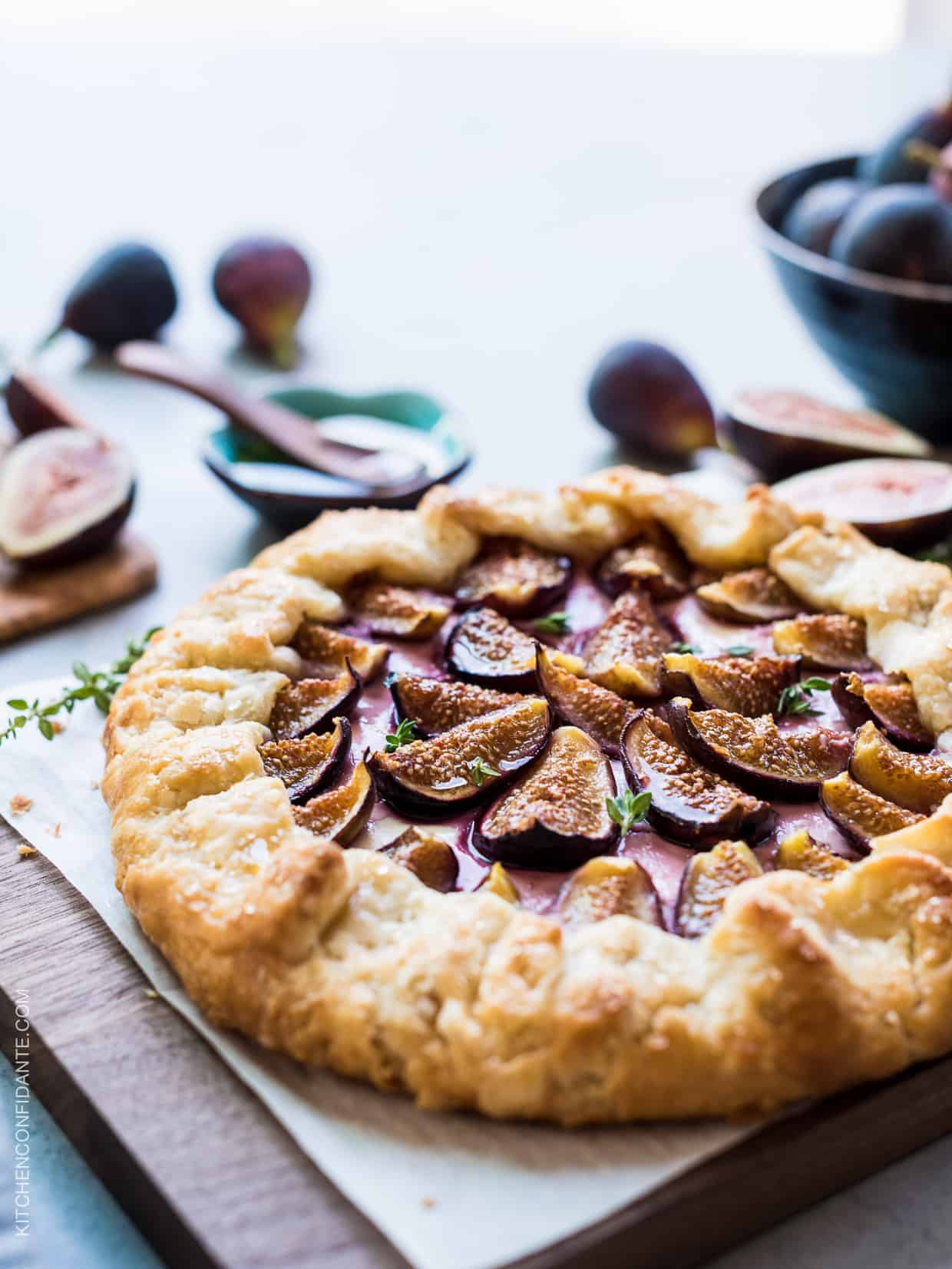 Once in a while, late at night when the house is quiet and I should be winding down, resting in bed, I find myself tip-toeing downstairs into the kitchen, looking for a midnight snack. This does not happen often, but when it does, I usually crave one thing in particular.


Figs.
Fresh, ripe and tender figs, sliced in half, drizzled in honey and eaten with a morsel of goat cheese. To me, that is the ultimate, the perfect midnight snack.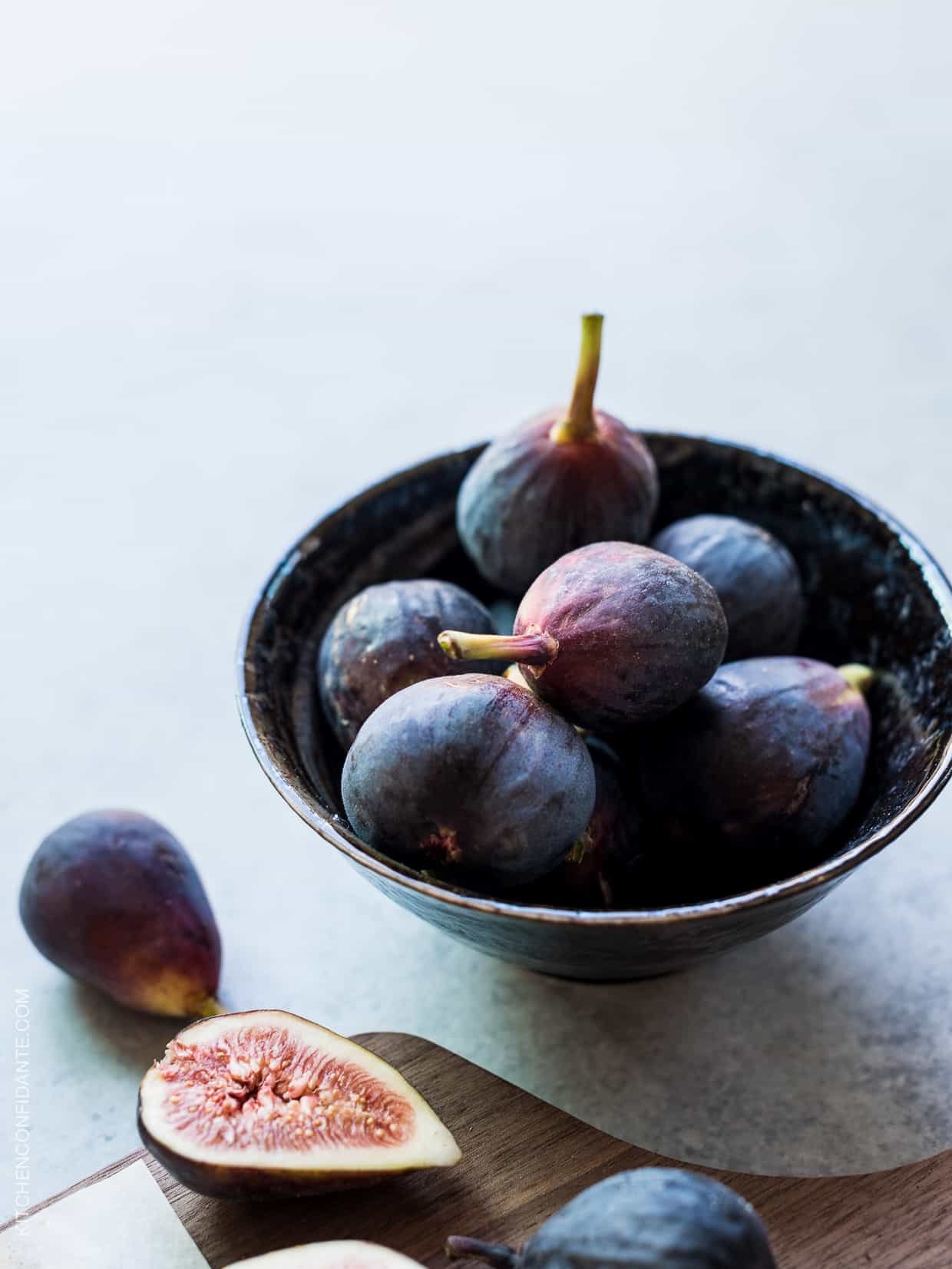 Imagine the torture when I have that craving in the middle of January, when figs are just about as rare as fireflies in California.
So when I see the first figs in the markets come summertime, I can't help but do my own happy dance. It means indulging in a fruit that I find so incredibly satisfying, no matter the preparation. And I do see it as an indulgence, because for some reason, I am the only one who appreciates figs in my house, at least when it's not in a cookie or bar. When I buy fresh figs, they are all for me.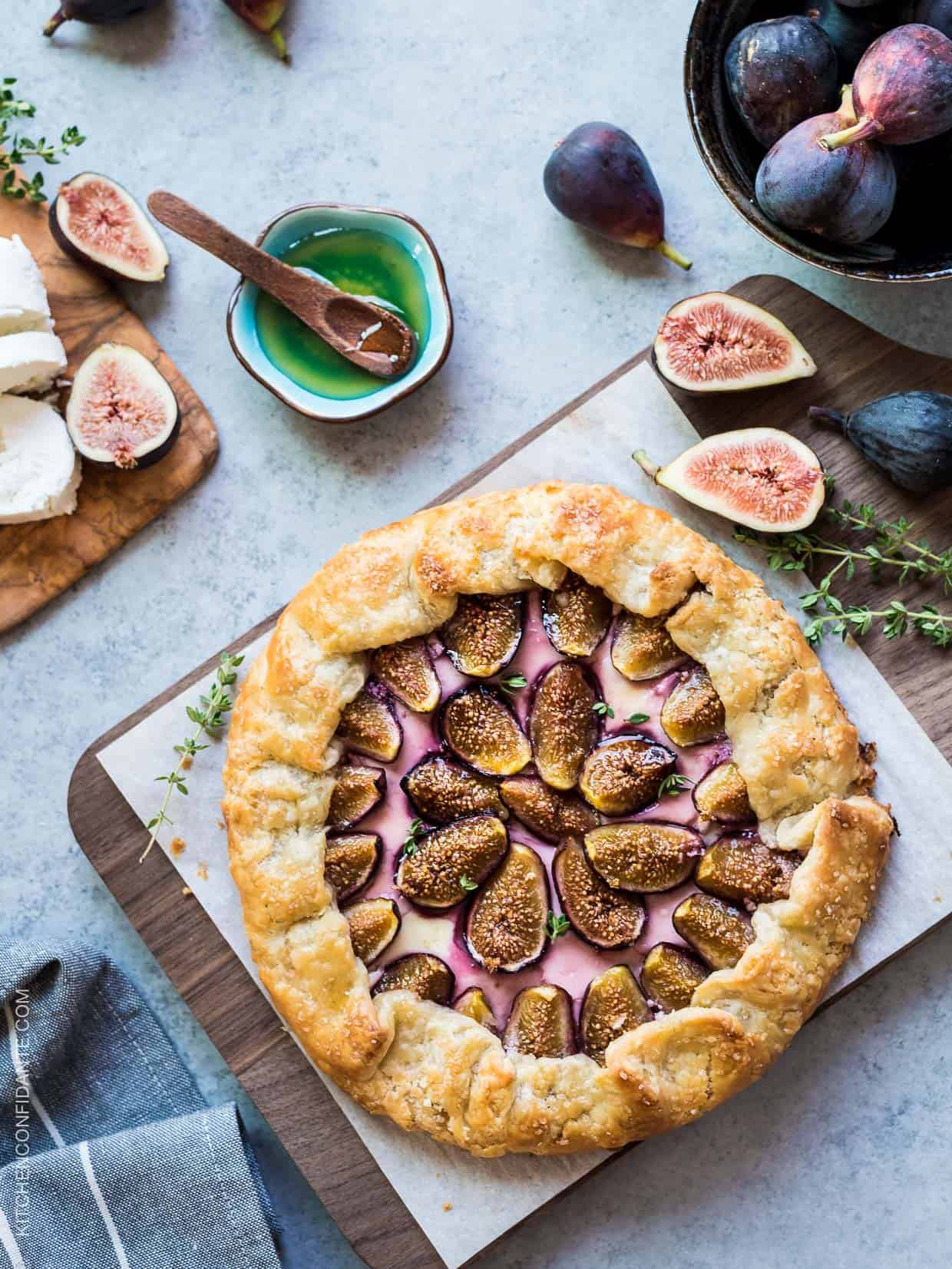 I decided to create a galette that combines the flavors of my ultimate midnight snack. My Fig, Honey and Goat Cheese Galette is perfect for those night time cravings, but it's also wonderful as a lunch with a salad of fresh greens, at a brunch, or an appetizer with a good crisp Chardonnay. Frankly, it's delicious any time of the day.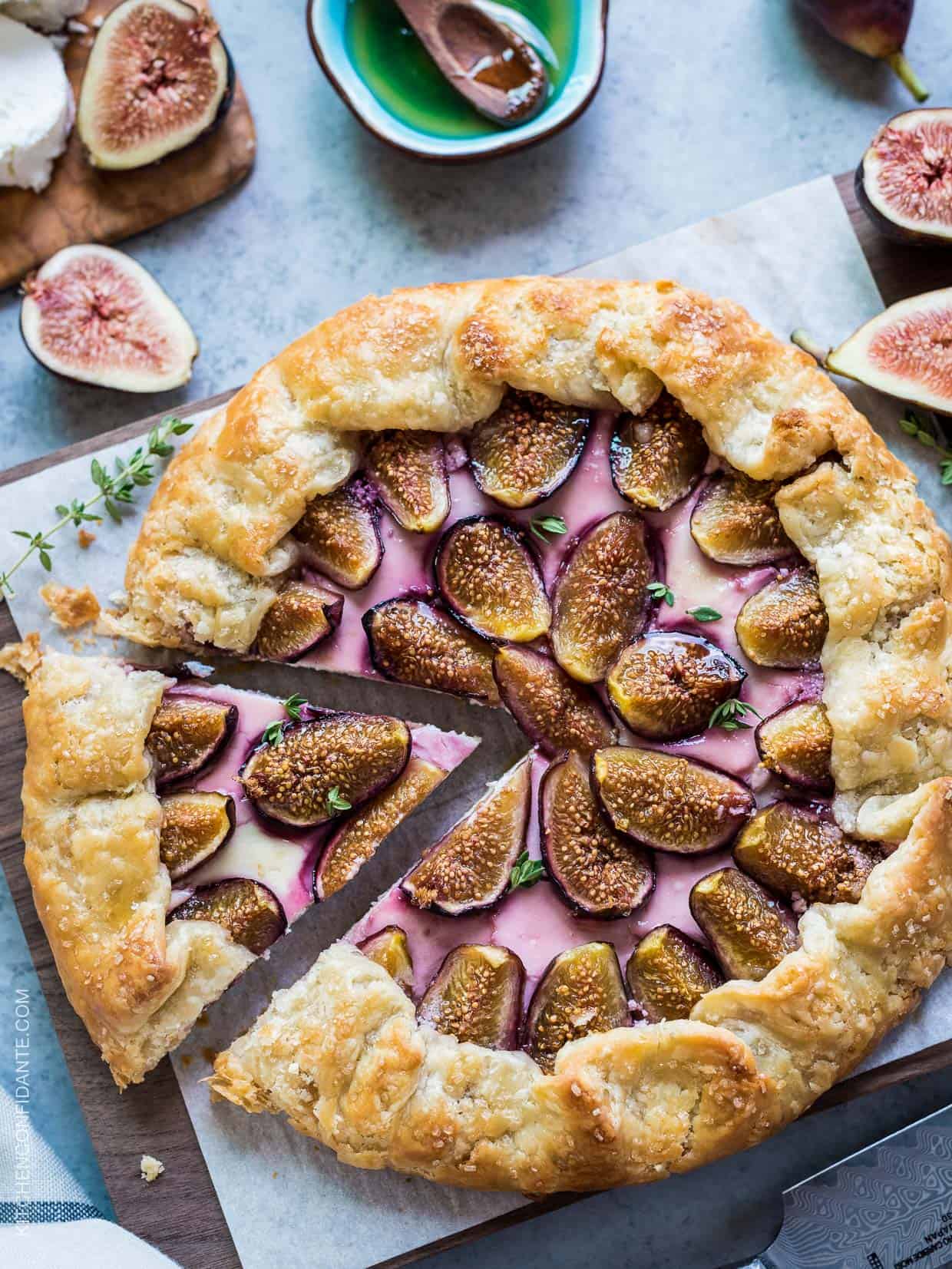 Note: This post first appeared July 23, 2010; the recipe has been updated from the archives with a flakier dough, improved kitchen notes and recipe annotation, and updated photographs. I hope you enjoy this favorite from my kitchen.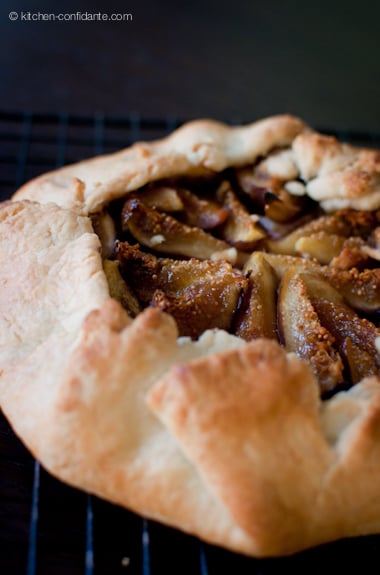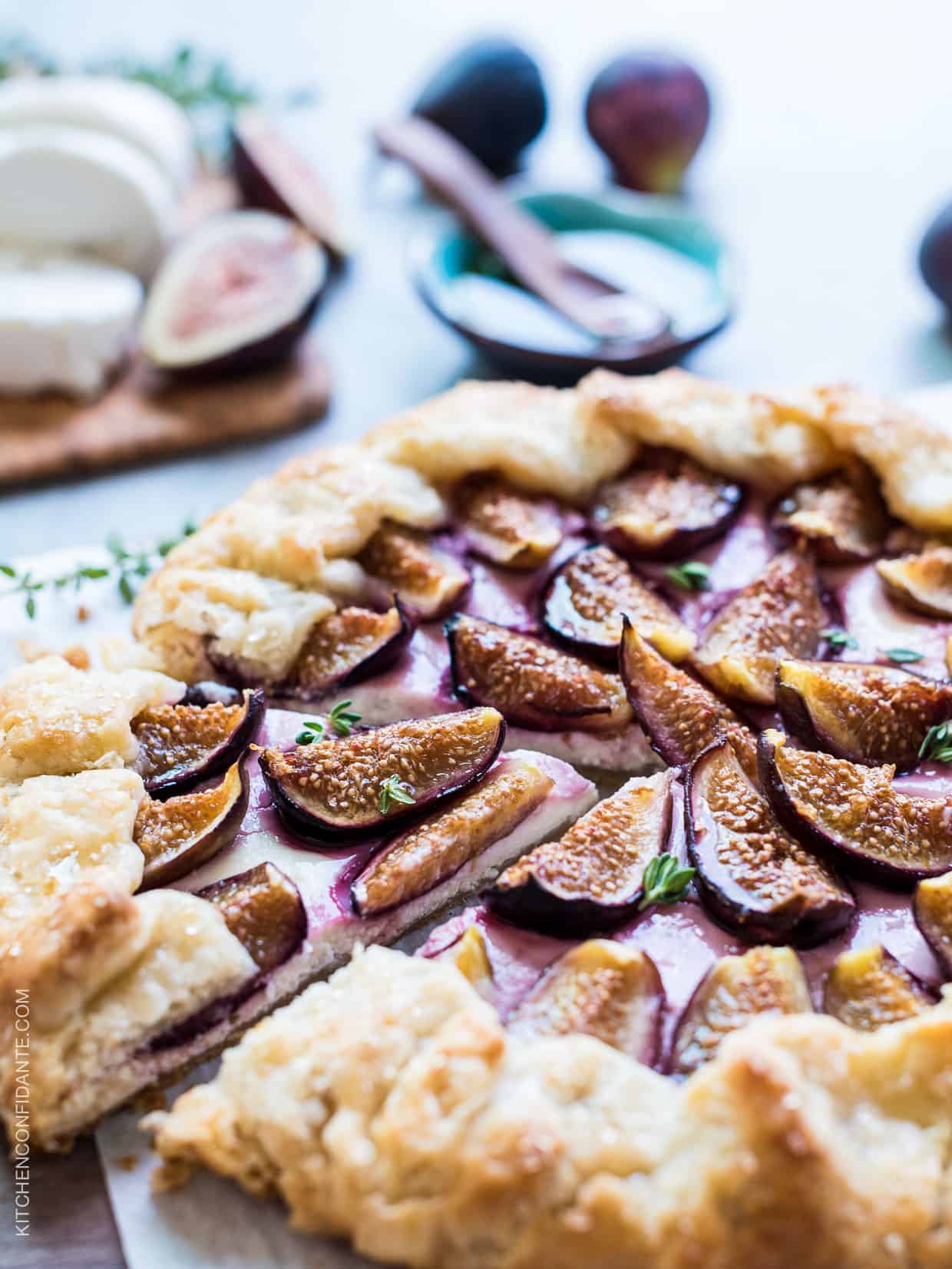 More Fig Recipes to Try:
Chocolate Banana Fig Bread
Fig and Almond Butter Smoothie
Fig, Jalapeno Jam and Blue Cheese Pizza
Honeyed Fig Trifle with Goat Cheese Mascarpone Yogurt Cream
Fig Balsamic Jam
Fig, Honey and Goat Cheese Galette
Fig, Honey and Goat Cheese Galette is a fig lover's dream, and one of my favorite ways to enjoy fig season. Nestled in a flaky, buttery crust are sweet figs, tangy goat cheese and drizzles of sweet honey. I first shared this recipe when I started my blog in 2010, and have been making it each summer since.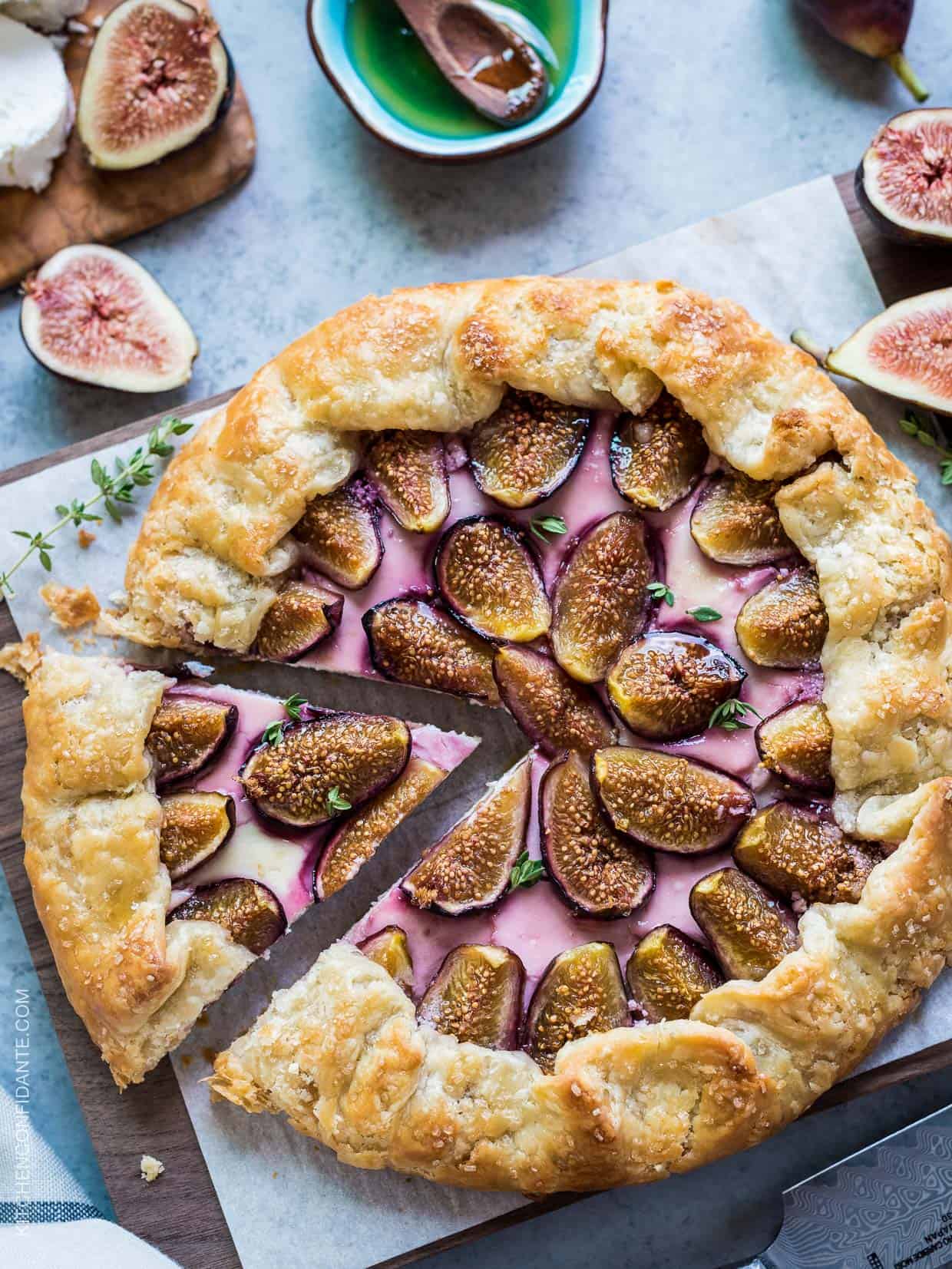 Print Recipe
Ingredients
Dough
1 cup all-purpose flour
1 tablespoons granulated sugar
1/2 teaspoon salt
1/2 cup (1 stick) unsalted butter, frozen
1/4 cup ice water
Filling
5 oz goat cheese, room temperature
2 tablespoons good quality honey, plus more for serving
6-7 fresh figs, quartered (about 1 1/2 cups sliced figs)
1 large egg
1 tablespoon water
2 teaspoons demerara sugar
fresh thyme leaves, for garnish
Instructions
Make the dough:
In a medium bowl, stir the flour, salt and sugar together with a fork or a whisk. Grate the butter with a box grater and add to the flour. Using your fingers, begin to work the butter into the dough until you have coarse crumbs. Stir in the water a tablespoon at a time, using a fork to incorporate it into the dough, checking it with your fingers by pinching the dough together. You can also do this with a food processor, if you wish. Do not over work the dough – you want to be able to see bits of butter within the dough, and it will still be rather shaggy and loose. Turn the dough out onto a lightly floured surface and use your hands to bring it together into a ball, but be careful not to overwork the dough. When the mixture pulls together into a ball, wrap the dough in a piece of plastic wrap, form it into a disk, and refrigerate for at least an hour or overnight.
Make the galette:
Preheat the oven to 400°F.
Roll the dough into a 10-inch disk about 1/4-inch thick on a sheet of parchment paper.
In a small bowl, use a fork to cream the goat cheese and 2 tablespoons of honey into the softened cheese. Spread in the center of the dough, leaving a 2-inch perimeter. Arrange the figs on top of the goat cheese, then fold the edge of the dough up on the figs, pleating as you make your way around the galette.
Whisk together the egg and water. Lightly brush the dough with the egg wash, and sprinkle the dough with demerara sugar. Transfer the galette with the parchment paper onto a heavy baking sheet.
Bake in the oven for about 30 minutes, or until the crust is golden brown. Remove from oven and drizzle the figs with the remaining honey, and sprinkle with fresh thyme. Let it sit for about 5 minutes before slicing. Enjoy while warm.
Notes
The dough can be prepared in advance, which can come in handy if you are making this for entertaining. Make the dough up to three days in advance (or longer, by storing tightly sealed in the freezer).