Persimmon Apple Crumb Pie
Your kitchen will smell like autumn as sunset-hued persimmons bake under a blanket of a sweet oat streusel in this Persimmon Apple Crumb Pie.
Persimmon Apple Crumb Pie
Sunset hued persimmons bake under a blanket of a sweet oat streusel in this Persimmon Apple Crumb Pie.
It used to be that persimmons were a rare treat, something that I might find only at the farmer's market, or at my local Asian market. Actually, I think I can safely say that I had my first taste of persimmons when I moved to California, a gift from a friend's friend's garden.
But lately, persimmons have been on my radar more. I see them now at the grocery, and I seem to be seeing more recipes for them, too. And after my sister, who now lives in Southern California (and has been initiated into the world of persimmons) asked me if I had any recipes for this sunset hued fruit, I realized that I have only cooked with them a handful of times.
It was time to change that.
Now what to make? For some reason, I have been craving a buttery crust, and while I often shy away from pies, a crumb pie is something I can handle. This Persimmon Apple Crumb Pie began to take shape and I have to admit, I felt rather proud of myself as I pulled it out of the oven. No, there are no pretty lattices or etched leaves, or fancy patterns, but it smelled like autumn had descended and I knew the crumb topping would be as tempting as the filling itself.
My daughter came in to investigate the smell in the kitchen. You see, persimmons are new to her, too.
"What do persimmons taste like?" she wanted to know.
Hmmm. I had to think about it.
"Well, it's kind of mild, like a pear."
She inspected the pie and asked for a little sliver, just in case she didn't like it.
The sliver disappeared. And a bigger slice took its place on the plate.

Eat Seasonal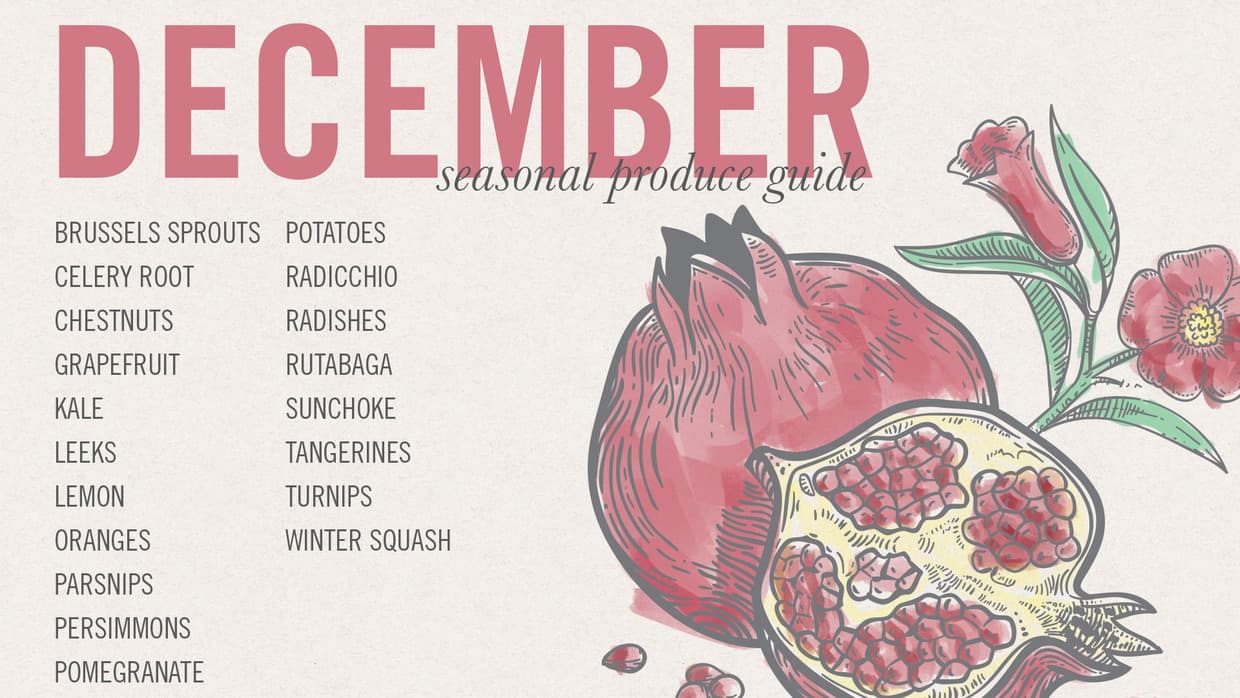 This is the cozy time of year, and the time I embrace those rare treats, like persimmons, of course, cranberries and my beloved chestnuts. Citrus is back, and stunning pomegranates. Who said winter is boring? I think you'll agree with this month's delicious Eat Seasonal roundup that is organized by Becky of Vintage Mixer. Join us and our friends as we share dishes that embrace eating seasonal! Check out the December seasonal food guide and these recipes for more #EatSeasonal inspiration.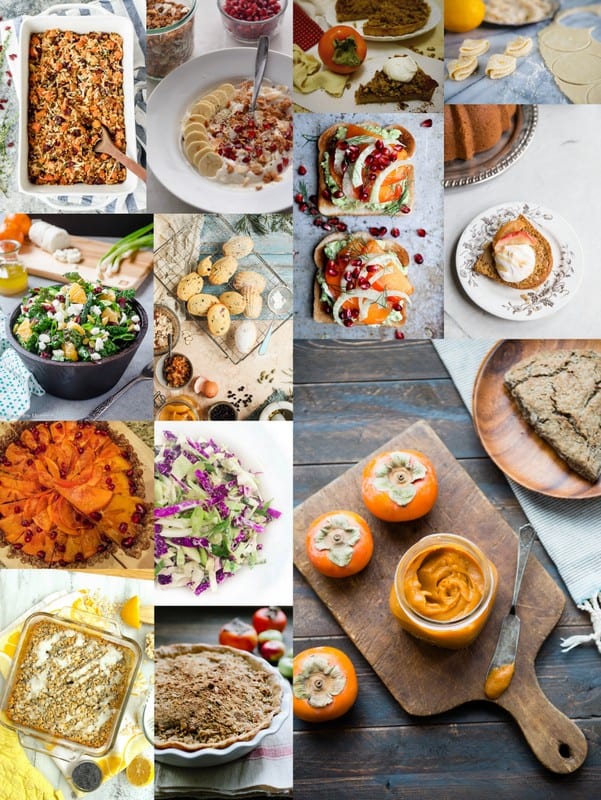 Chicken and Wild Rice Casserole with Butternut Squash and Cranberries by Well Plated
Pomegranate Yogurt Bowls by Mountain Mama Cooks
Persimmon Pumpkin Tart with Streusel Top by Suitcase Foodist
Meyer Lemon Cottage Cheese Sugar Cookies by Food for My Family
Kale Salad with Goat Cheese, Cranberries and Orange by Flavor the Moments
Christmas Stollen Madeleines with Preserved Lemon by Simple Bites
Avocado Toast with Persimmon, Pomegranate and Fennel by Floating Kitchen
Butternut Squash Cake with Roasted Apples and Spiced Cream by Vintage Mixer
Persimmon Tart with Pecan Crust by Letty's Kitchen
Cabbage Slaw with Honey Lime Yogurt Vinaigrette by The Lemon Bowl
Roasted Persimmon Butter by Cafe Johnsonia
Lemon Poppyseed Baked Oatmeal by Project Domestication
Asian Orange Glazed Chicken by Foodie Crush
MORE GREAT RECIPES TO TRY IN DECEMBER
Oven-Roasted Chestnuts
Pomegranate Berry Smoothie
Cranberry Pomegranate Mojito
Cranberry Pomegranate Baked Brie
Quinoa Salad with Roasted Red Beets, Oranges and Pomegranate
Chestnut Salad with Pomegranate Dressing
Persimmon Apple Crumb Pie
Sunset hued persimmons bake under a blanket of a sweet oat streusel in this Persimmon Apple Crumb Pie.
Ingredients
1

pie crust round

homemade or store bought is fine

2 1/4

pounds

persimmons

peeled and cut into 1/2 inch chunks (the fruit should be ripe but not too soft)

1/2

pound

apples

your favorite kind - I used Lady apples, peeled, cored and cut into 1/2 inch chunks

2/3

cup

granulated sugar

2

tablespoons

all-purpose flour

2

teaspoons

cinnamon

2

tablespoons

unsalted butter

room temperature
Crumb topping:
3/4

cup

all-purpose flour

3/4

cup

light brown sugar

6

tablespoons

unsalted butter

1/2

cup

rolled oats

regular oatmeal

1/2

teaspoon

cinnamon
Instructions
Preheat the oven to 400°F.

Drape the pie crust over a 9 inch pie pan, gently pressing it to form to the pan. Trim any excess dough and flute the edges in your desired pattern.

In a large bowl, toss the persimmons, apples, sugar, flour and cinnamon. Place the fruit filling into the pie pan. Dot with pieces of the softened butter.

Make topping by combining the flour, sugar and butter using your fingers, a pastry cutter or a food processor, mixing until it looks like course crumbs. Add oats and cinnamon and mix a little more. Spread topping evenly over fruit and pat down gently with your fingertips.

Bake for 15 minutes, then lower the heat to 350°F. Continue baking for another 30-40 minutes, or until the topping is golden brown, and the filling is bubbling within. Remove from the oven and let it cool before slicing.
Nutrition
Calories:
4699
kcal
|
Carbohydrates:
866
g
|
Protein:
36
g
|
Fat:
143
g
|
Saturated Fat:
32
g
|
Sodium:
1493
mg
|
Potassium:
4038
mg
|
Fiber:
19
g
|
Sugar:
318
g
|
Vitamin A:
122
IU
|
Vitamin C:
684
mg
|
Calcium:
534
mg
|
Iron:
38
mg