Simple Sundays | Overnight Refrigerator Oatmeal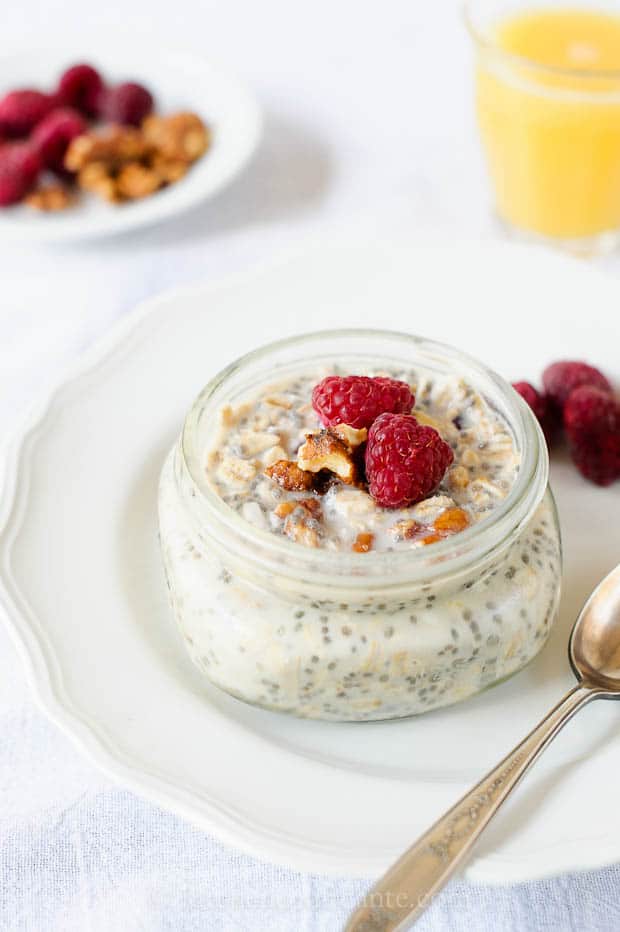 Simple Sundays | Overnight Refrigerator Oatmeal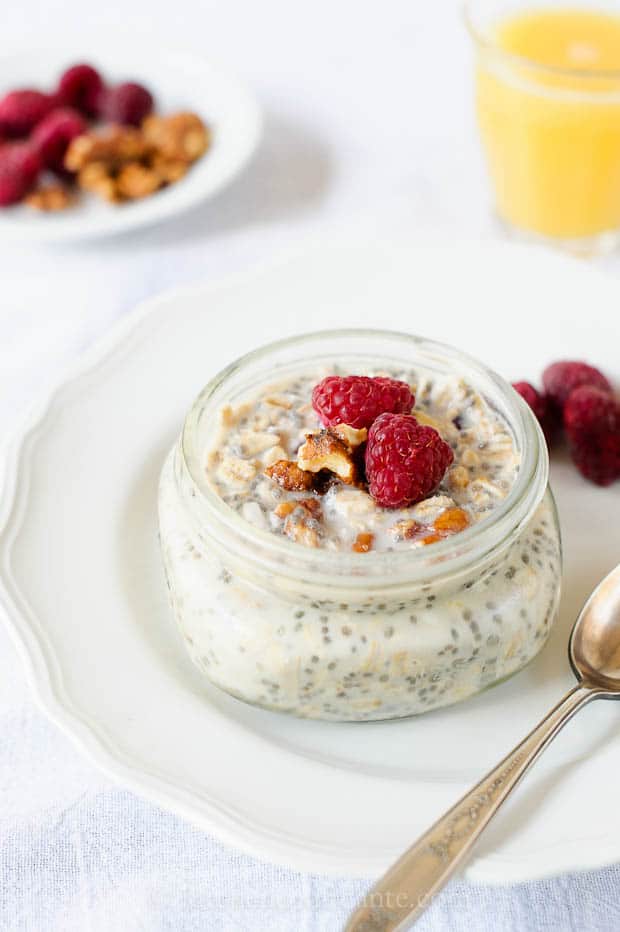 I may have been living under a rock, but if you were like me a few weeks ago, you would have thought that oatmeal could only be eaten piping hot off the stove or baked in a cookie or dessert. My soon to be sister in law – actually, my sister's soon to be sister in law (for us, it's one big happy familia, so I'll just call her that) — messaged one day sharing her new favorite breakfast: an Overnight Refrigerator Oatmeal loaded with healthy fruits and chia seeds. I was instantly intrigued. No cook oatmeal? Chia seeds?
After a little investigating I soon learned that this has been wildly popular, at least on the internet, and I can understand why. Is it incredibly healthy? Absolutely. We all know oatmeal is a solid way to start the day, our grandmothers taught us that, but with the chia seeds, it is a delicious source of antioxidants and fiber, and a great way to enhance your hydration. Chia seeds are rather hot with athletes right now – I imagine that some of our Olympians are noshing on chia seeds as they compete in this summer's Games.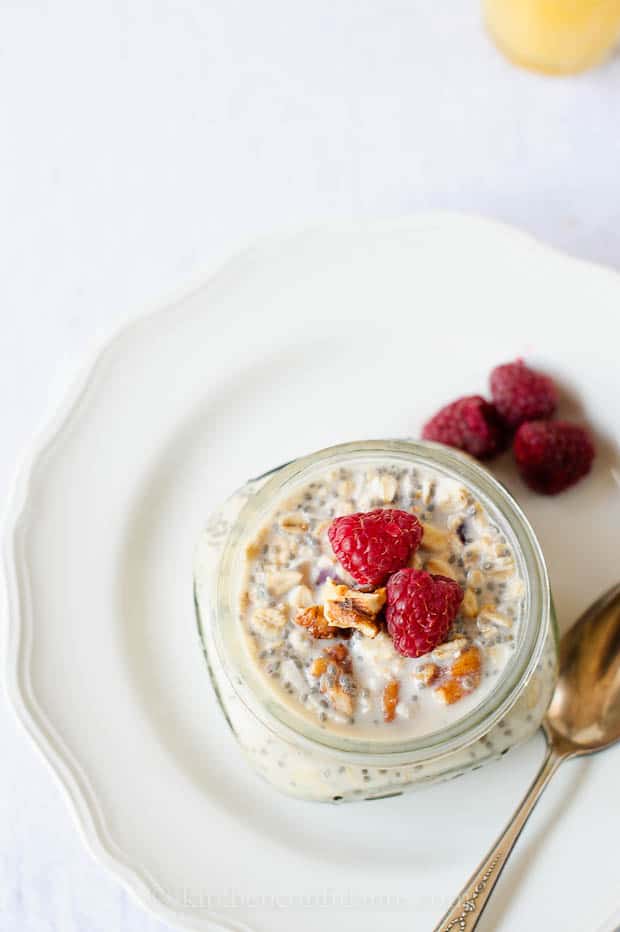 But good-for-you stuff aside, I have become hooked on overnight oatmeal. It's wonderful for summer mornings that start with the promise of an active day ahead. Open the fridge, and it's ready – hearty and healthy, and perfect with fresh fruit. I love how the chia seeds puff up into little teeny gels, it's like having tapioca pudding. I may not be running marathons or competing, but it gives me the boost I need for my own day's hurdles.
More Overnight Oatmeal Inspiration
Skinny Overnight Oats in a Jar, SkinnyTaste
Coconut Mango Overnight Oatmeal, Oh My Veggies
Overnight, No-Cook Refrigerator Oatmeal, The Yummy Life
Overnight Oats, Two Ways, Pepper Lynn
Overnight Refrigerator Oatmeal
What I love about this recipe is that there are no hard or fast rules. Don't like soy milk? Use skim milk. Or almond milk. Use fresh or dried fruit, or both. Drizzle some maple syrup. Make this a mid day snack with carob chips and nuts. The possibilities are endless.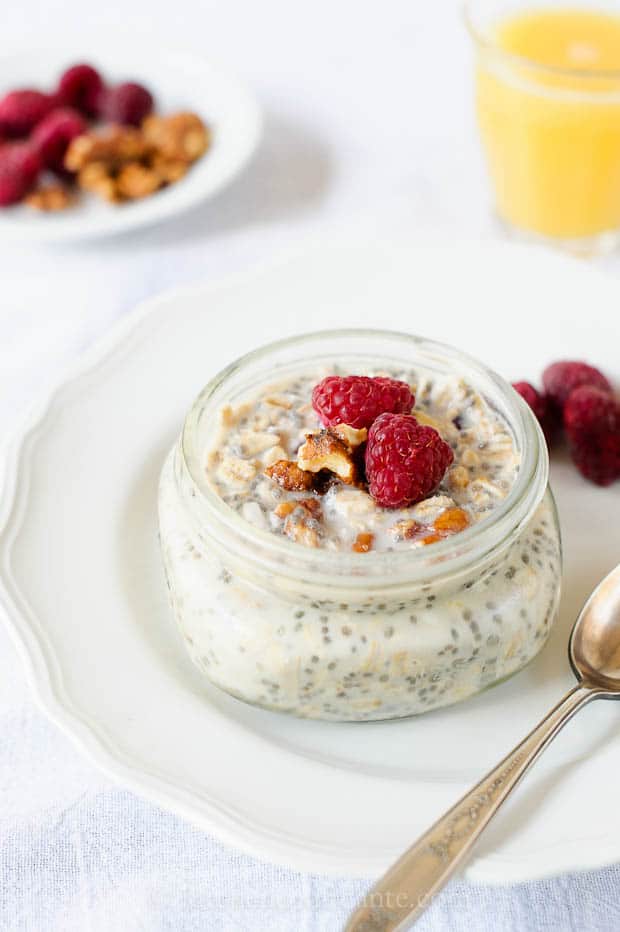 Print Recipe
Ingredients
1/4 cup oats
1 tablespoon chia seeds
1/2 cup vanilla soy milk
2 tablespoons dried cranberries
1 tablespoon shredded coconut
1 tablespoon crushed walnuts
fresh fruit
Instructions
In a 250 ml or 8 oz mason jar, combine the oats, chia seeds, vanilla soy milk, dried fruit and nuts. Cover with lid and shake until combined. Refrigerate for at least 5 hours or ideally, overnight. Top with fresh fruit in the morning and enjoy!