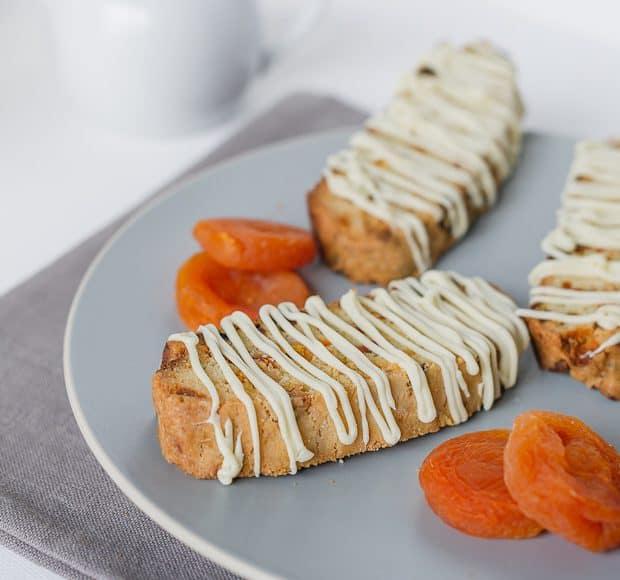 Apricot & White Chocolate Biscotti
I'm not sure what it is, but I have this odd obsession with adopting an Italian nonna. Rather, having an Italian nonna adopt me. As much love and pride and affection I have for my grandmother, an amazing cook, and whom I miss terribly, I…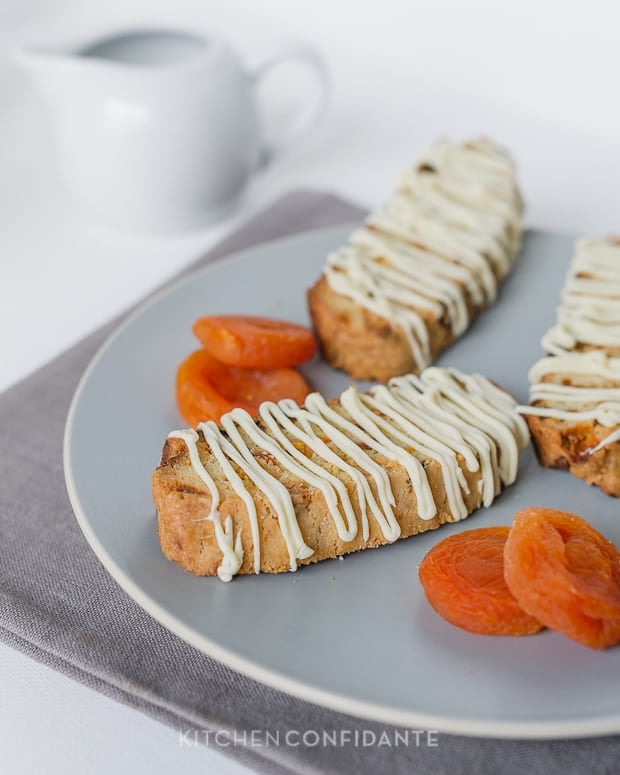 Apricot & White Chocolate Biscotti
I'm not sure what it is, but I have this odd obsession with adopting an Italian nonna. Rather, having an Italian nonna adopt me. As much love and pride and affection I have for my grandmother, an amazing cook, and whom I miss terribly, I do think if I could have a new grandmother to love, I'd find one who could teach me the secrets behind silky tomato sauce, homemade pasta and fresh mozzarella. We would make pizzelle together and bake fresh pizza in a wood-burning stove. Perhaps chat about life over a glass of Barolo. She would dispense her sage secrets to me, culinary and otherwise, and I would soak them up like ladyfingers in rum.
I would ask her, "Have you ever made Apricot & White Chocolate Biscotti?"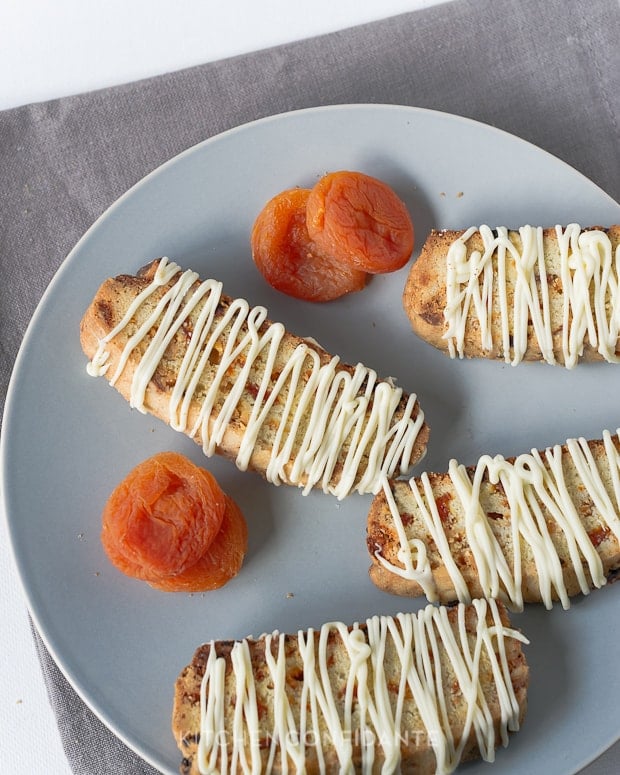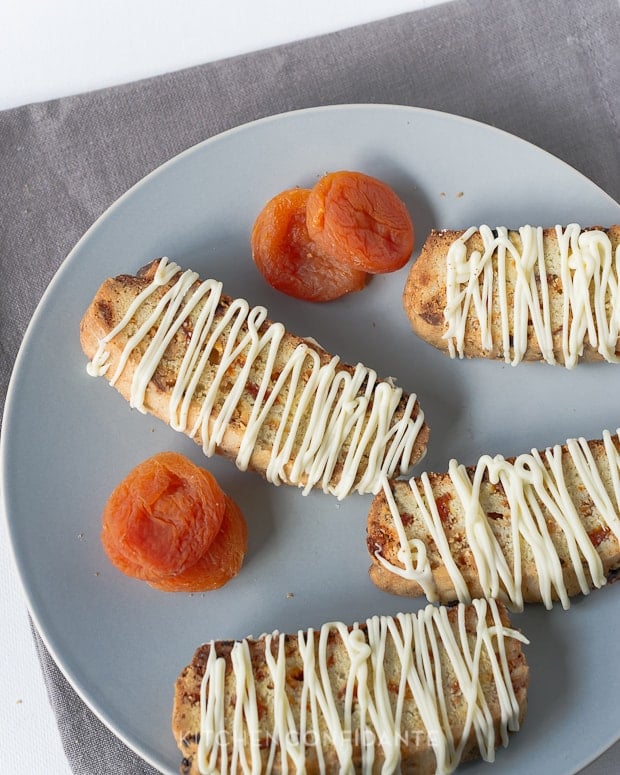 Like many dishes, biscotti held a mystique for me — but I realize with many Italian dishes I tackle, there really is no mystery. Simplicity is often at the core. And these biscotti are perhaps the most non fussy and forgiving. There is no rolling out of dough, tedious cookie cutting or icing. I love its rustic charm.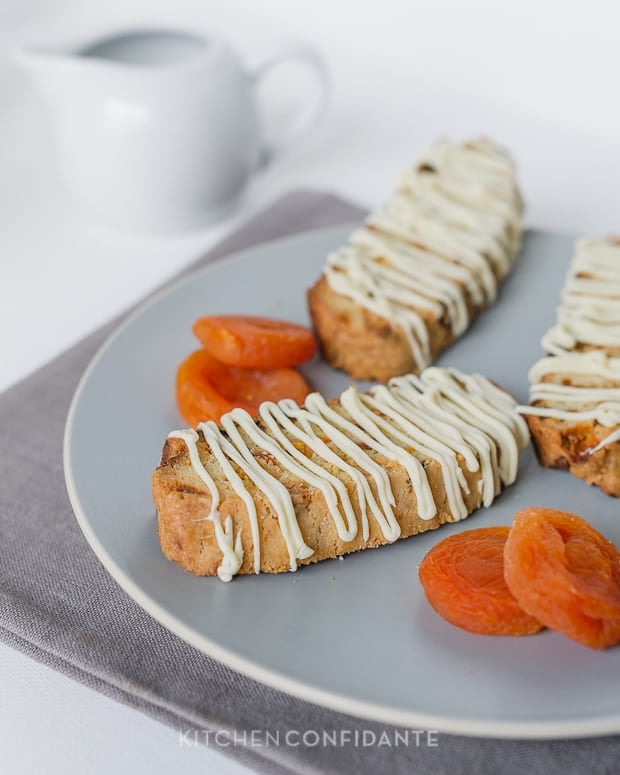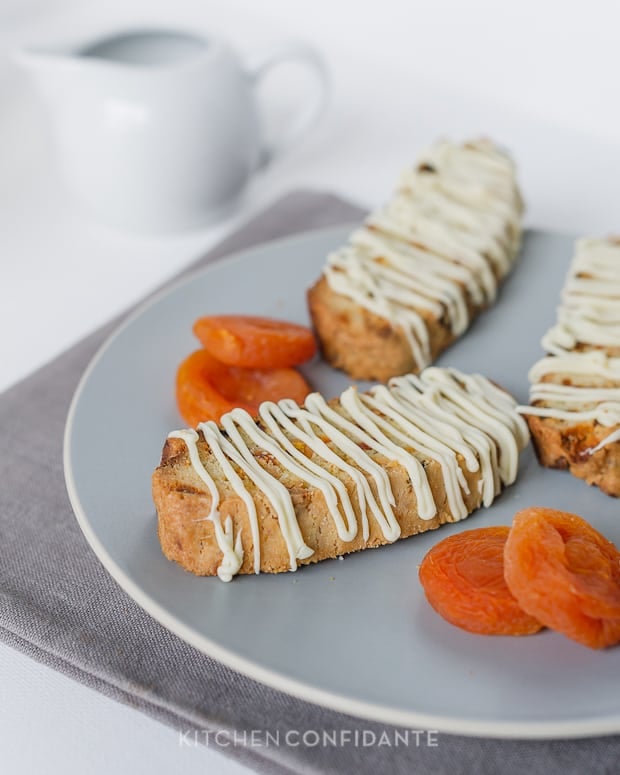 Since I don't have a nonna, I hope you can join me instead. I'll pour you a strong cup of coffee. Or is espresso you would prefer? We can sip and nibble and chat about our next adventure in the kitchen together.
APRICOT & WHITE CHOCOLATE BISCOTTI
There was a time when I thought that the biscotti was a difficult cookie to make. Boy was I wrong! If you love crunchy cookies, you must give this a try.
Ingredients
2

cups

all-purpose flour

1 1/2

teaspoons

baking powder

1/2

cup

unsalted butter, room temperature

3/4

cup

sugar

1

teaspoon

grated lemon zest

1/4

teaspoon

salt

2

large eggs

1

cup

finely chopped dried apricots

about 12 dried apricots

2

cups

white chocolate chips

divided
Instructions
Preheat the oven to 350 degrees. Prepare a baking pan by lining it with parchment paper or a silicone mat.

In a medium bowl, whisk together the flour and the baking powder.

In the bowl of an electric mixer, mix the butter, until it is soft and fluffy. Add the sugar, lemon zest and salt, and mix in. Add the eggs one at a time, and mix until just incorporated.

Stir in the flour mixture until just combined, followed by the apricots and 1 cup of the chocolate chips.

Place the dough onto your prepared baking sheet and form it into a rectangular log, about 13x3 inches. Place in the oven and bake for about 35 minutes, or until the cookie log is golden brown. Let it cool for 30 minutes.

Transfer the cookie onto a cutting board. Using a serrated knife, cut on a slight diagonal in 1/2 inch slices. Return the cookies to the baking sheet, arranging them cut side down. Bake for 10-15 minutes, until the cut sides are golden. Transfer the cookies to a rack to cool completely.

Melt the remaining white chocolate in a double boiler (if you do not have one, bring a little water to a simmer in a small saucepan and place a heatproof bowl over it). Carefully transfer into a piping bag or ziploc bag. Drizzle generously over the cooled biscotti. Place in the refrigerator to firm for about 30 minutes.

Store the cookies in a sealed container.
Nutrition
Serving:
1
cookie
|
Calories:
260
kcal
|
Carbohydrates:
35
g
|
Protein:
3
g
|
Fat:
12
g
|
Saturated Fat:
7
g
|
Cholesterol:
35
mg
|
Sodium:
59
mg
|
Potassium:
196
mg
|
Sugar:
24
g
|
Vitamin A:
450
IU
|
Vitamin C:
0.3
mg
|
Calcium:
65
mg
|
Iron:
1
mg