Banana Cream Pie with Greek Yogurt Cream
In my hands, I held a time machine. The box was familiar from a time long ago, the warm yellow and red script bringing me back to an era of hair bangs and headbands, purple shirts (purple anything), and my [purple] unicorn bike. My fingers…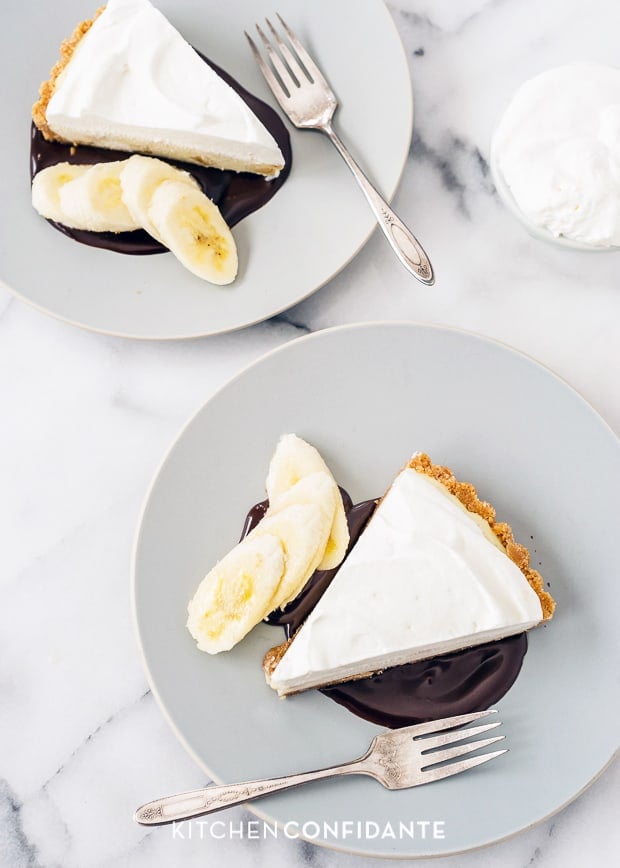 Banana Cream Pie with Greek Yogurt Cream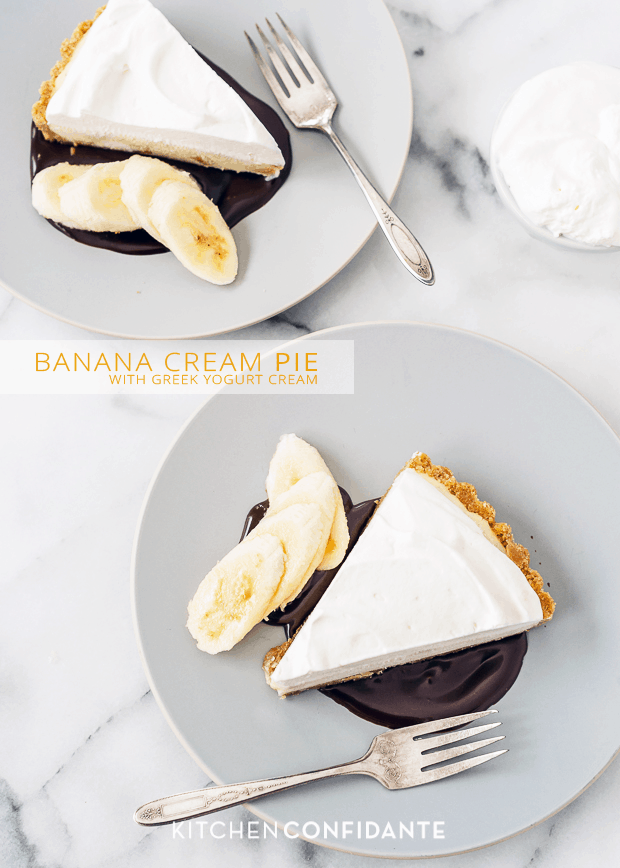 In my hands, I held a time machine. The box was familiar from a time long ago, the warm yellow and red script bringing me back to an era of hair bangs and headbands, purple shirts (purple anything), and my [purple] unicorn bike. My fingers slipped under the flap and opened the plastic, and I pulled out a wafer. That first crumble brought me back in time, to lazy summers reading under the lilac tree, when I would sneak into the cupboard for snacks to bring outside. Nilla wafers were delicious then, and it turns out, delicious still.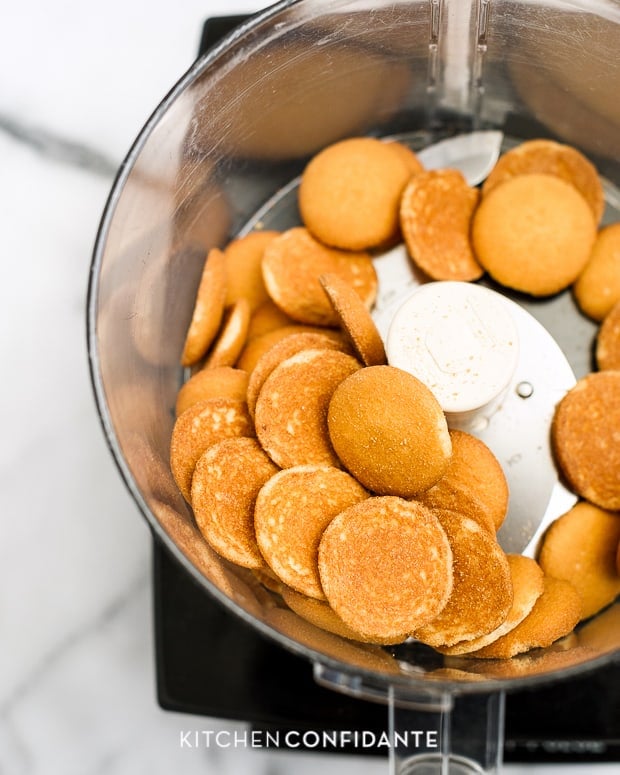 I haven't bought a box in years, but I was on a mission. I craved the little cookies to eat on its own, and my husband was craving a Banana Cream Pie. It's nothing I particularly craved, it's not even a nostalgic dessert for me, but I am always happy to oblige, and besides, I wanted to see what all the fuss is about.

Perhaps it is the word cream that kept me from making it. Or all the whipped cream on top. In all it's simplicity, Banana Cream Pie can be a very decadent dessert, especially when made just right. I thought I would offer a comprise: would it still be possible to bite into a creamy slice of pie, lightened a tad with Greek yogurt? It turns out that the answer is, yes!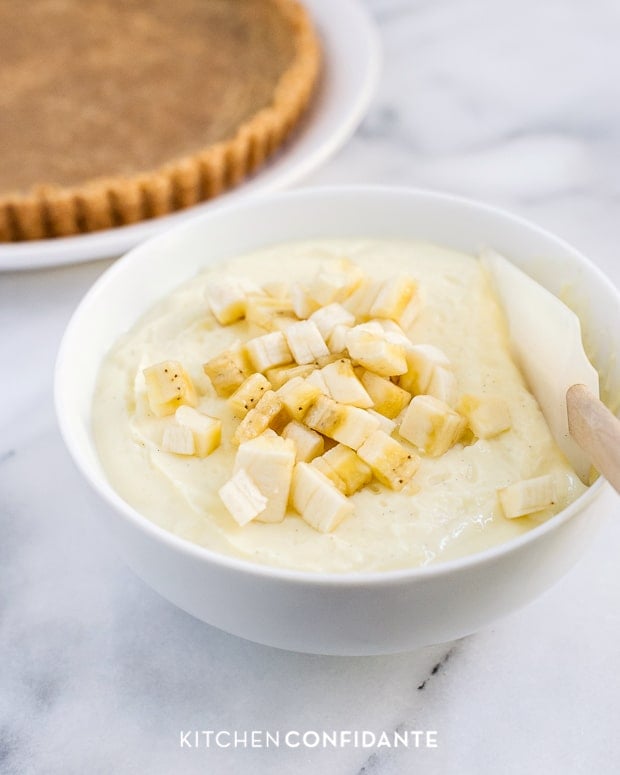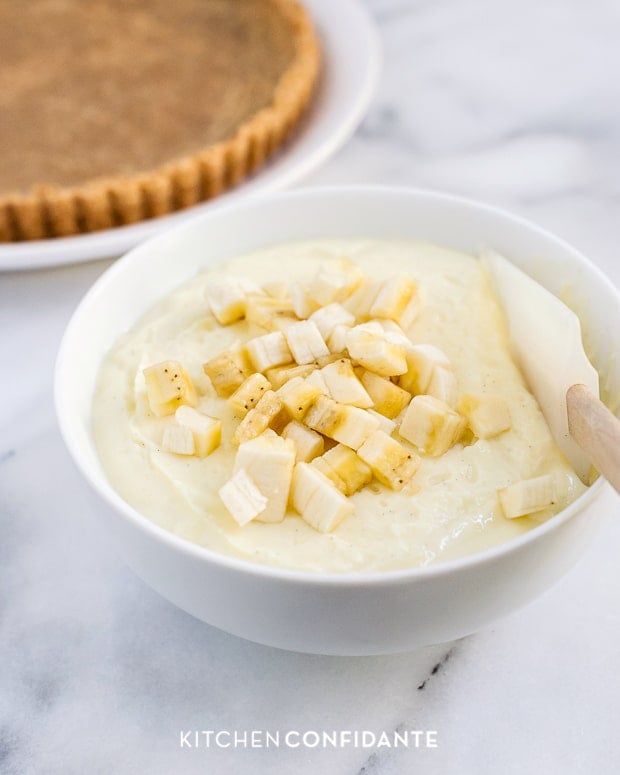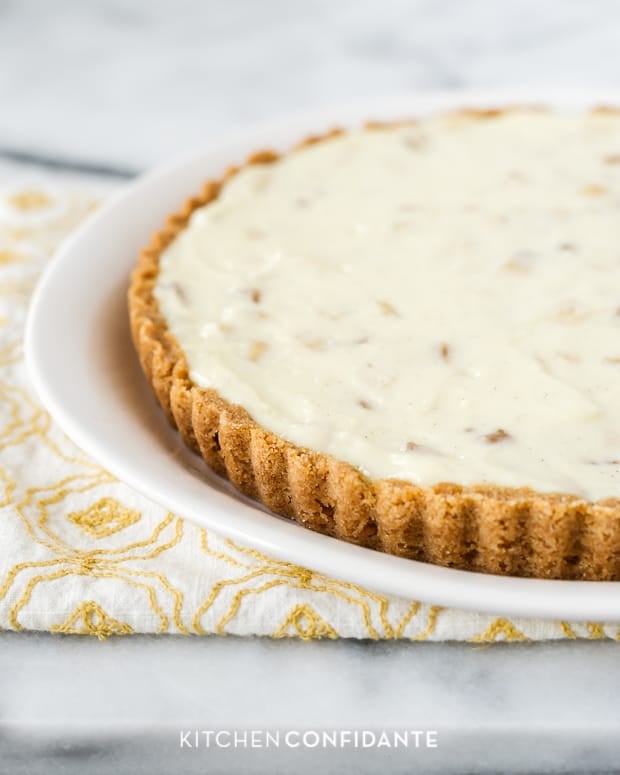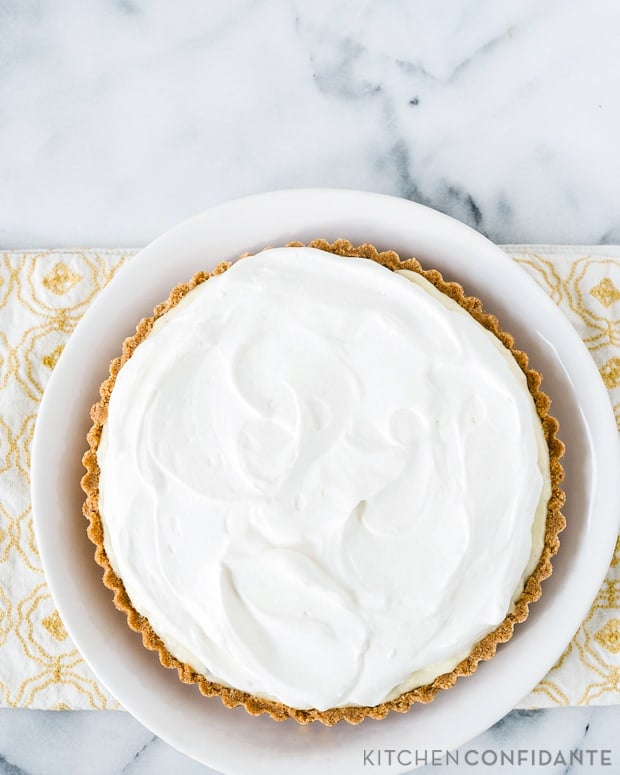 This pie is filled with a pastry cream lightened with yogurt that lends to the familiar texture we all love, and little cubes of freshly sliced banana folded in. And the Nilla wafer crust, well, I added a little bit of oomph with some cinnamon graham crackers. It doesn't sound like a profound change, but it makes all the difference in the world. For one, having this lighter version means I'm sure to make a slice of nostalgia a little more often. I understand this love for Banana Cream Pie now. And it received a resounding thumbs up from my husband. Had I not told him about this skinnier version, he would not have known any different.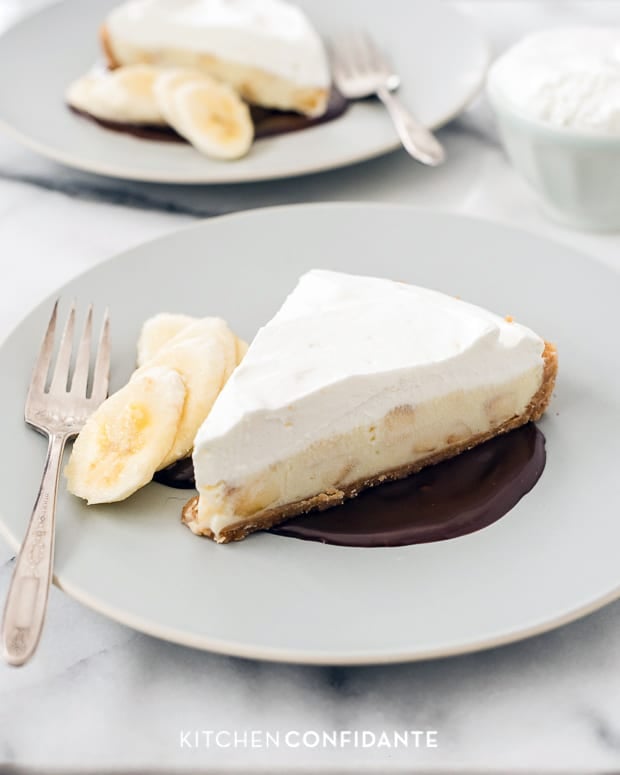 And this slice of Banana Cream Pie with Greek Yogurt Cream? Well, it's for you!
Disclaimer: I received a package from the folks at Chobani to help me find ways to enjoy Greek yogurt in my kitchen. While I did receive this package, I was not sponsored to write a post. As always, all opinions are my own.
Banana Cream Pie with Greek Yogurt Cream
A lighter version of a classic, the greek yogurt lightens up the thick pastry cream and adds to its silky texture. The best part for me? The fresh cubes of banana, folded in.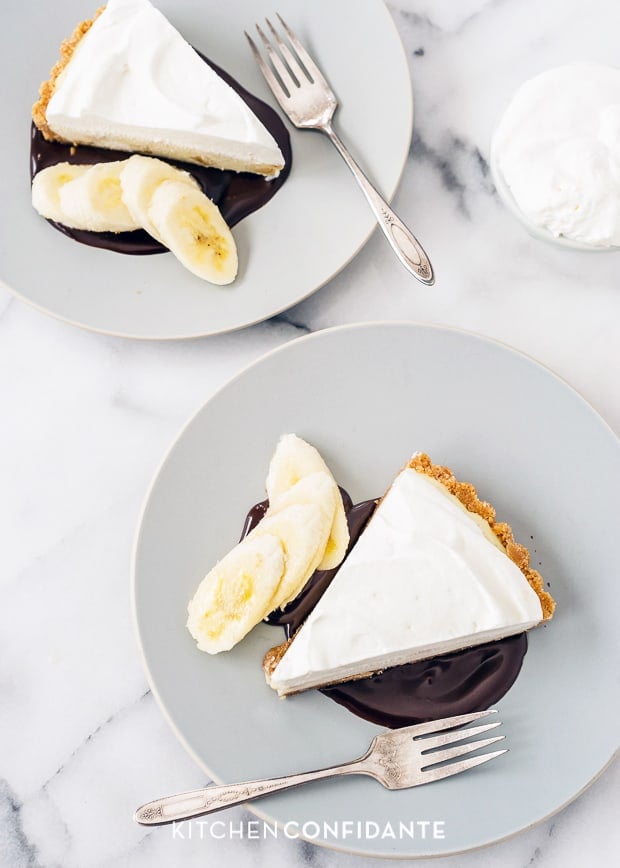 Print Recipe
Ingredients
For the Nilla Wafer-Cinnamon Graham Crust:
40 Nilla Wafers
2 sheets cinnamon graham crackers
6 tablespoons unsalted butter, melted and cooled
1/3 cup sugar
For the Greek Yogurt Banana Pastry Cream:
1 cup skim milk
1/2 vanilla bean
1/2 cup plus 2 tbsp sugar
1/4 cup cornstarch
4 large egg yolks
2 tbsp butter, cubed
1 cup Greek yogurt with vanilla (I used Chobani)
1 small banana, peeled and sliced into 1/4 inch cubes
For the Whipped Cream:
1 cup heavy cream
1/4 cup sugar
Splash of vanilla
Instructions
Preheat the oven to 350 degrees.
Make the Nilla Wafer-Cinnamon Graham Crust:
Prepare crust by using a food processor or blender to process the Nilla Wafers and graham crackers until fine. You should have about 2 1/4 cups. Add butter and sugar, and pulse. Pour into pie or tart pan, pressing down with fingers or measuring cup, creating an even layer up the sides of the pan. Chill in the refrigerator for about 20 minutes, or until firm.
Place a layer of parchment paper on the crust and place ceramic weights or beans on top. Bake for about 15 minutes, or until the crust is golden and firm. Cool completely on a wire rack.
Make the Greek Yogurt Banana Pastry Cream:
In a small saucepan, combine the milk and vanilla bean and bring to a light bubble of medium heat. In a separate bowl, whisk together the sugar, cornstarch, and egg yolks, then slowly ladle in the warmed vanilla milk, whisking constantly. Pour the mixture back into the saucepan and cook over medium low heat, while whisking, until it just starts to thicken. This will happen very quickly. Remove immediately, then whisk in the cubes of butter, strain into another bowl, and fold in the Greek yogurt. Cover with plastic wrap, applying it directly to the surface of the cream to prevent it from forming a skin. Place in the refrigerator to chill for at least 4 hours or overnight. Right before assembling, fold in the cubes of fresh banana.
Make the Whipped Cream:
In a cold mixer bowl (I like to put my mixer bowl and whisk in the freezer beforehand), whisk the heavy cream, sugar and vanilla until soft peaks form. Store in a tightly sealed container in the refrigerator until read to serve.
Assemble the Pie:
Pour the pastry cream into the crust and level with a spatula. Keep chilled in the refrigerator until ready to serve. Top with whipped cream before serving.