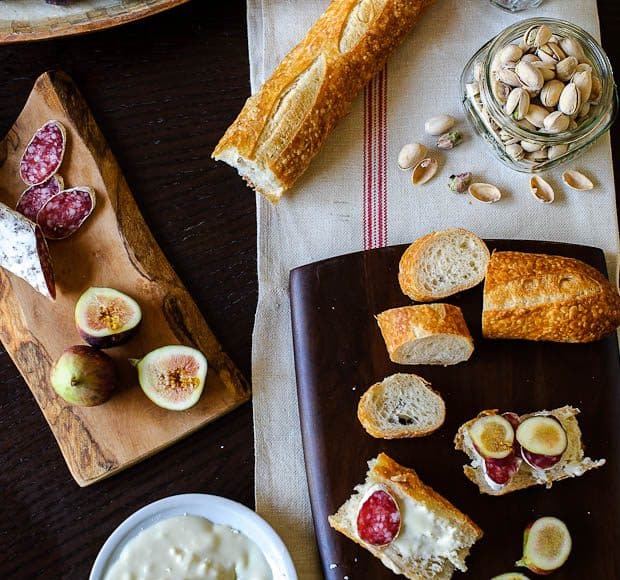 Goat Cheese Crostini with Figs and Honey
Goat Cheese Crostini: the perfect charcuterie for any time you're entertaining. The honeyed goat cheese is the perfect gentle sweetness to mix with your favorite additions! I love adding figs in the summer, but this is fantastic with any seasonal charcuterie meats, fruits, and vegetables!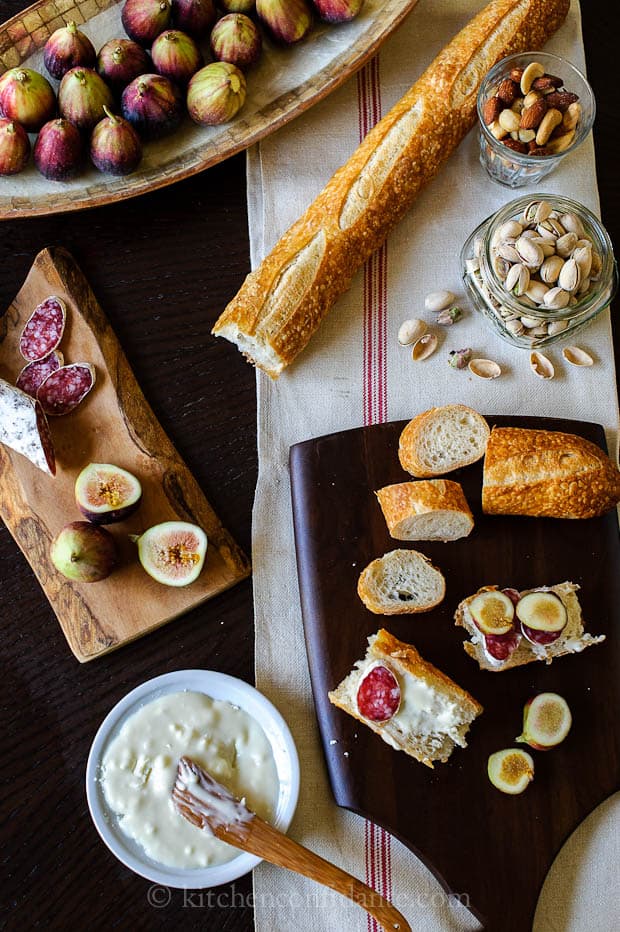 Goat Cheese Crostini with Figs and Honey
Standing around a kitchen island or sitting at a table while nibbling from a charcuterie board is one of the best ways to start a gathering. This honeyed goat cheese crostini with figs (or anything else that you want to serve) is a fantastic appetizer that guests can put together exactly as they choose!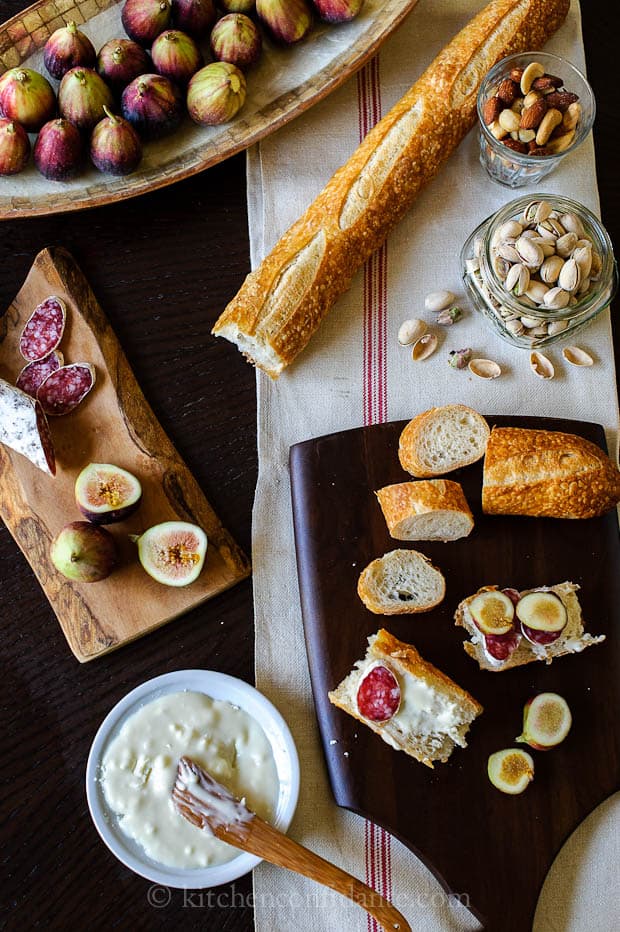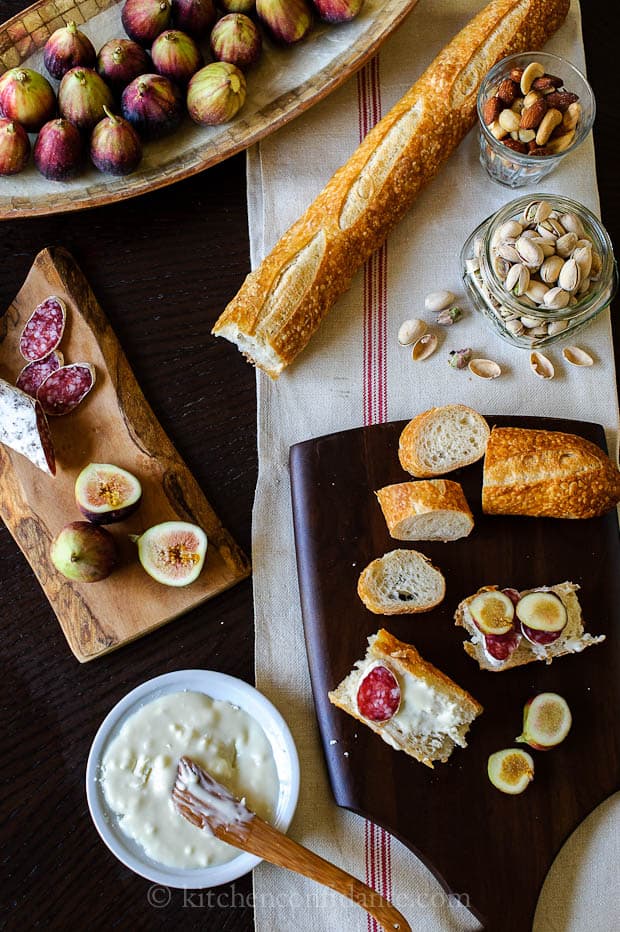 This post first appeared August 10, 2012 as part of the Entertaining Simply series. I hope you enjoy this favorite from my kitchen!
My head was still in wedding clouds this week as we returned from a weekend full of love and hugs from our large extended family. Our trip down to San Diego was busy and delicious, full of adventure, and scattered with plenty of tears – both joyous and reminiscent. There was ocean kayaking in La Jolla with my sister and her dearest friends, amazing food, and for the kids, we made time to visit Legoland. The rest of the weekend was spent with family from all over the country, celebrating one of the most touching weddings I have ever attended or been part of in my life. Everyone joked that Kleenex stock went up that weekend. If you're a stockholder, you can thank me for that. You're most welcome.
Many of you have asked for pictures, and I will share some very soon. But today I wanted to share something just as sweet.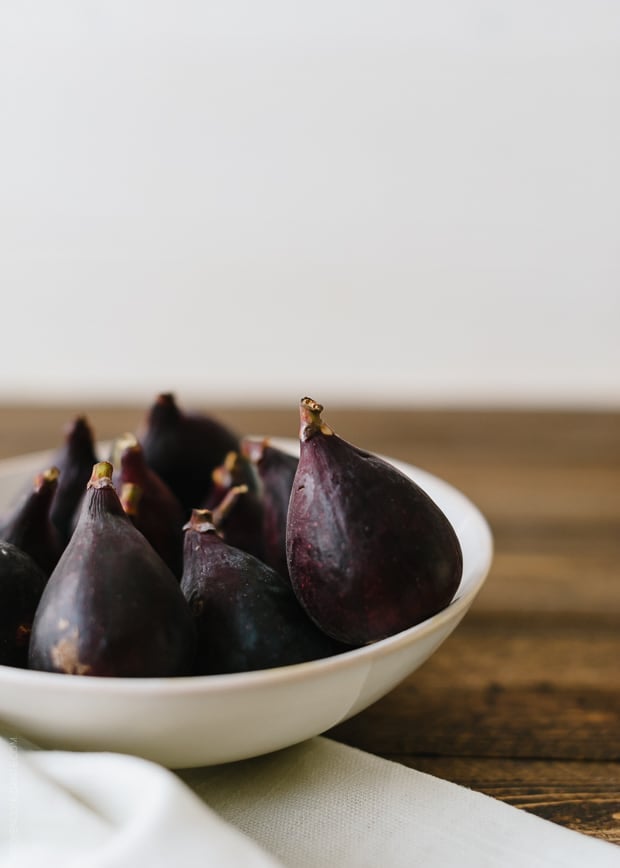 Summer Delights
As we drove up the corridor between Southern California and the Bay Area, the cool temperatures of San Diego were quickly replaced by triple digits. Between my exhaustion from the wedding and the heat, I gave myself permission to take a miniature vacation from cooking. There has been take out and old favorites that didn't require arduous thought or photographing. And I have been enjoying my food fresh and simply, which, as you know, is my preferred way of eating when it gets hot.
On my first trip to the market this week, I replenished the pantry and the fruit bowls, and I was especially delighted to find more beautiful figs. So today, I want to share my favorite way to enjoy them (a lovely goat cheese crostini) along with all of my tips for finding the perfect fresh figs.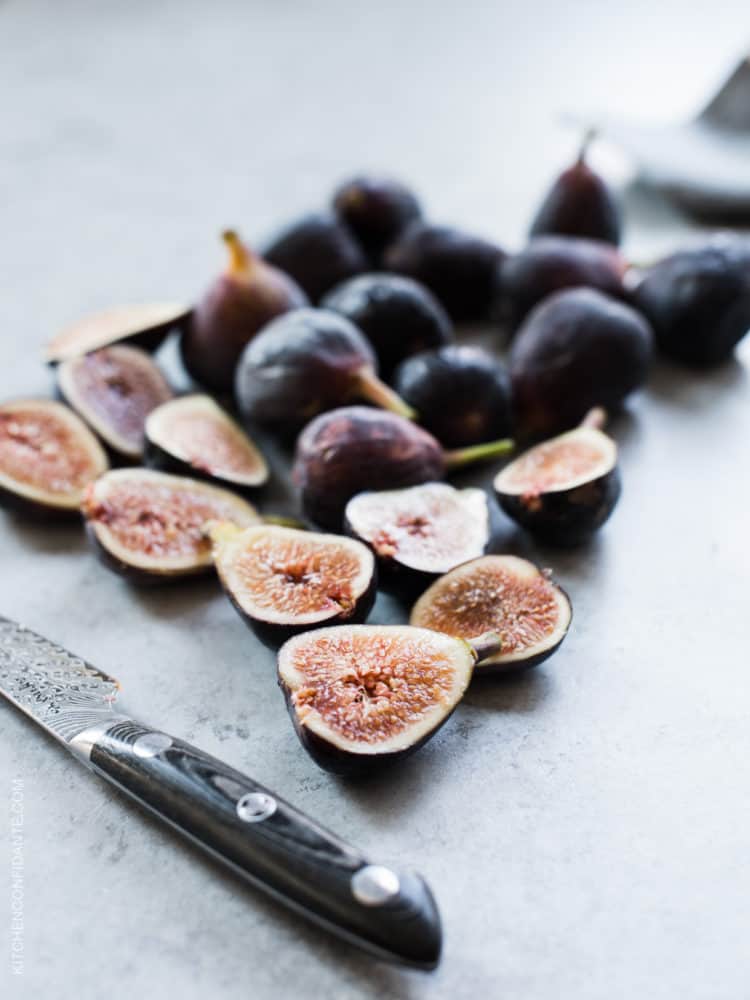 When summer temperatures creep towards the triple digits, the desire to fuss in the kitchen is not as keen. I find that my summer cooking really differs from my winter style quite drastically – perhaps you are the same way? In the colder months, I love spending hours in the kitchen, sheltered from the cold and the typical Northern Californian winter rain, coaxing braises and baked treats in the oven. Those are the days my oven is on all day long, churning out luscious and comforting dinners by afternoon's end.
But once the summer sun emerges, I do my best to stay out of the kitchen. You know by now that most dinners are prepared on the grill, and that I try not to fire up that oven. Instead I opt for effortless desserts that showcase the season's fresh, sweet fruit.
And for me, one of summer's best fruits are the figs.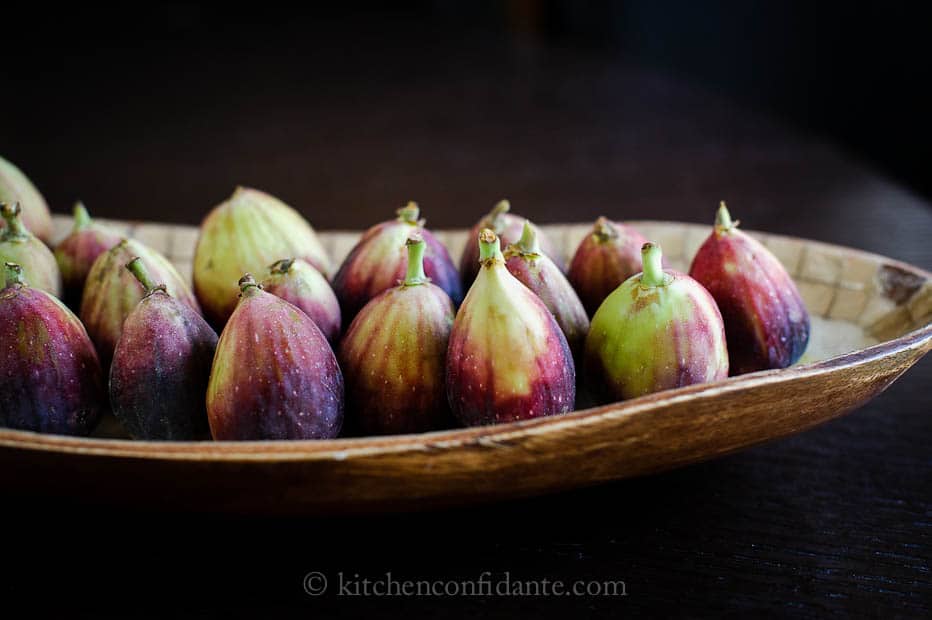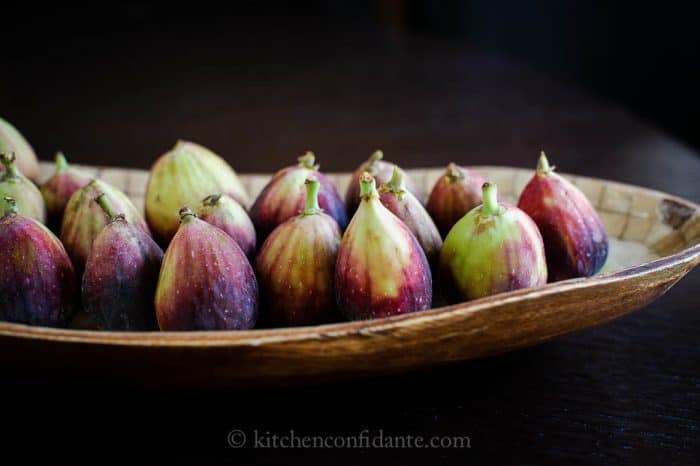 Entertaining: Less can be more
My friends will tell you: I love figs. I love cheese. And I love wine. So when it comes to simple summer entertaining, I think that some of the best gatherings you can have with friends revolve around the concept of not cooking.
When you can embrace this idea, the stress of entertaining can roll off your shoulders. By focusing more on excellent ingredients rather than preparing them, you can focus more on your guests. I am willing to bet that they might welcome a get-together that is deliciously informal.
Honeyed Goat Cheese & Fig Crostini
First, pick up the freshest baguette you can find. Then head to the market and bring home the sweetest figs. Source out lovingly cured charcuterie and creamy goat cheese. Dried nuts and fruits round it out. That's all you need! If you like, indulge in a silky mound of burrata. But keep it simple and you'll be pouring out wine in no time.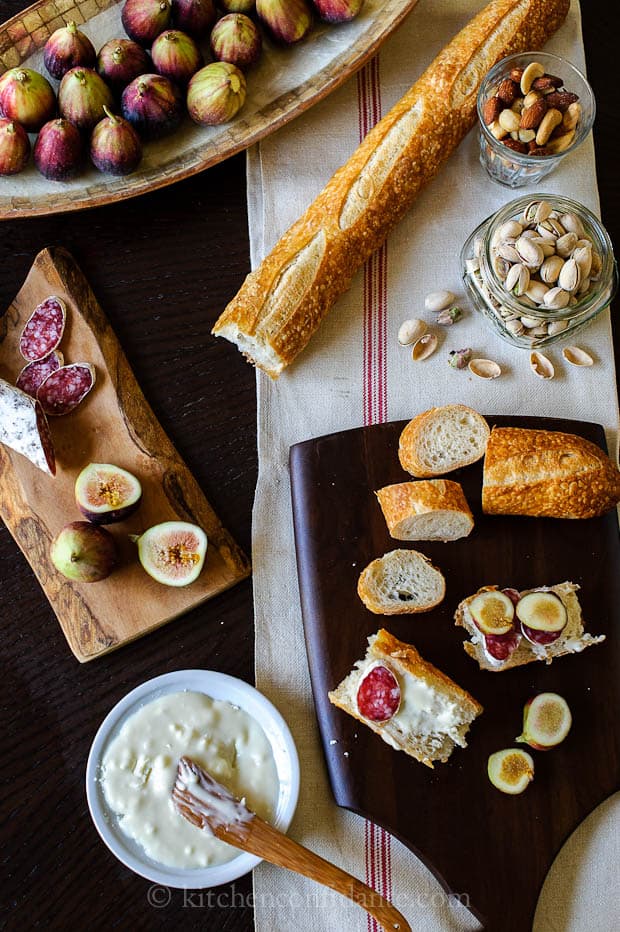 For me, the best way to enjoy figs is smothered with some honeyed goat cheese. Alternate bites with a slice of salami or prosciutto. A nibble of bread. A sip of wine. I think you get the idea.
Cheers!
More Entertaining Options:
How to Make a Charcuterie Board
Spiced Nuts: Sweet and Spicy Roasted Nuts
Olive Cheese Straws
Caramelized Grape, Brie, and Walnut Bites
Garlic Parmesan Bagel Chips
Caramelized Brussels Sprouts Crostini

Goat Cheese Crostini with Figs and Honey
If you can find creamed honey, you will probably find it to be better than regular liquid honey. I adore its smooth texture and flavor, and think it works especially well when blending it with goat cheese. This combination is perfect on a crostini as an appetizer, but satisfying enough for a dessert on its own.
Ingredients
2

lbs

fresh figs

12

oz

goat cheese

1/4

cup

creamed honey

2

small best quality salami

thinly sliced

1-2

baguettes

sliced
Instructions
Trim the stems and slice the figs.

In a small bowl, cream together the goat cheese and creamed honey.

After that, there are no rules! Assemble the crostini yourself, or allow guests to smother the honeyed goat cheese on a slice of baguette and top with figs and salami. I prefer the latter method.
Nutrition
Calories:
318
kcal
|
Carbohydrates:
46
g
|
Protein:
12
g
|
Fat:
11
g
|
Saturated Fat:
7
g
|
Polyunsaturated Fat:
1
g
|
Monounsaturated Fat:
3
g
|
Cholesterol:
21
mg
|
Sodium:
402
mg
|
Potassium:
327
mg
|
Fiber:
4
g
|
Sugar:
29
g
|
Vitamin A:
600
IU
|
Vitamin C:
2
mg
|
Calcium:
133
mg
|
Iron:
2
mg